Boston High School:

Anthony Davis
September, 26, 2012
9/26/12
2:09
PM ET
By
Roger Brown
| ESPNBoston.com
Strange as it may sound, David Coggins couldn't have been happier last Thursday when he learned that he would be ineligible for the first four games of the 2013 season.

Coggins, a three-star receiver from Sacred Heart High School in Waterbury, Conn., feared he would lose his entire senior season because of recruiting violations committed by representatives of Naugatuck High School. Instead he received a four-game suspension and is allowed to practice with his Sacred Heart team.

"It's a weight off my shoulders," said Coggins, who committed to Boston College in July. "I was worried about my future."

Earlier this month Naugatuck officials reported to the Connecticut Interscholastic Athletic Conference that former Naugatuck football coach Rob Plasky gave money to the parents and legal guardians of three Sacred Heart players – Coggins among them – who intended to transfer to Naugatuck.

Plasky resigned once the recruiting allegations surfaced, and all three players remained at Sacred Heart.

"I didn't know my legal guardian took the money," Coggins said. "I wanted to transfer because I couldn't afford Sacred Heart. Some of that money was for tuition [past due]. Now I have my tuition [reduced]."

Coggins, who missed all of last season with an ankle injury, said he is no longer committed to Boston College.

"It's not out there yet, but I have de-committed from BC," he said Tuesday night. "I wanted to keep my options open and see what else is out there."

Coggins caught 78 passes for 1,427 yards and 13 touchdowns as a sophomore. He's made 139 receptions for 2,256 yards and 17 touchdowns in his two years of varsity football.

According to Coggins, Temple and Illinois are among the schools that have shown interest. He also has an offer from Central Connecticut State.

"BC isn't out of the picture," Coggins said. "I'm hoping more schools call after the season.

On the rise: Anthony Davis is the rarest of the rare. He's a Division I football recruit from the state of Vermont.

Davis wasn't born and bred in the Green Mountain State, but he is spending a post-graduate year at Vermont Academy in Saxons River. After an injury-plagued senior season, he's hoping a year of prep school will increase his college options.

"He was heavily recruited as a junior, but did not play at all last year because he was injured, " Vermont Academy coach Mike Atkins said. "Recruiting fell off, so he needed another year for that reason, and, academically, to prepare for college."

Davis, a wide receiver/defensive back, has offers from Bryant and Elon, but Atkins said several Division I schools are showing interest.

"I just called Penn State [Friday] morning because they inquired about him," Atkins said. "Athletically, he could be at that level, but he's not there yet. He fancies himself as a wide receiver, but I think he's a better defensive back. He's athletic enough where he could make a mistake and still recover from it.

"He will try out for the basketball team, which has five for six Division I-level kids, some who have already committed – that's the kind of athlete he is."

Going Green: Former Everett quarterback Jonathan DiBiaso has guided Phillips Exeter Academy to a 2-0 start. DiBiaso, the Gatorade Player of the Year in Massachusetts last year, has committed to Dartmouth.

DiBiaso completed 9 of 13 passes for 179 yards and three touchdowns in Saturday's 34-13 victory over Worcester Academy.

"I've only been here a month and I've already learned so much," DiBiaso said.

DiBiaso picked Dartmouth over Harvard. He also considered Pennsylvania and Holy Cross.

"Once I went on my official visit [to Dartmouth] I was pretty much sold," he said.

Footnotes: Boston College-bound quarterback Tim Boyle passed for 276 yards and three touchdowns to help Xavier (Middletown, Conn.) defeat North Haven 49-12 last weekend. Xavier, the top-ranked team in Connecticut, has won 28 games in a row. … Bedford (N.H.) senior Will McInerney, a 6-foot-7, 275-pound tackle, has taken on an assistant coach's role this season. McInerney will not play this fall because he had surgery on each knee earlier this year. According to Bedford coach Kurt Hines, the four schools that have made scholarship offers – New Hampshire, Fordham, Wagner and Colgate – have said they will honor those scholarships as long a McInerney passes a physical in the spring.

Recruiting information regarding high school or prep school football players in New England can be sent to Roger Brown at rbrown@nhfootballreport.com.
September, 8, 2012
9/08/12
12:16
AM ET
By
Adam Kurkjian
| ESPNBoston.com
BROCKTON -- There have not been a lot of recent instances where Brockton was beaten as soundly as it was by BC High in last year's season opener.
The Eagles' 42-0 win was complete in every phase on their way to a Division 1 Super Bowl title. The loss sent Brockton into a tailspin that resulted in a 5-6 season, the program's first losing mark since 2001.
Well, last night at Marciano Stadium, the Boxers delivered a rousing counterpunch with a 21-0 shutout that felt even more decisive than the final score indicated.
"Last year, we couldn't match them, physically," said Brockton coach Peter Colombo. "This year, we obviously did."
And then some. Both lines dominated for the host Boxers, as they rushed for 310 yards and held BC High to 143 total and just 62 in the second half.
[+] Enlarge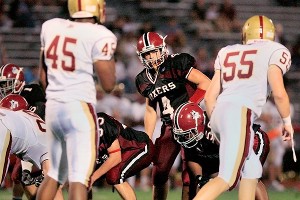 Jon Mahoney for ESPNBoston.comBrockton QB Austin Roberts orchestrated the offense in a vengeful shutout of rival BC High.
Senior quarterback Austin Roberts led the way for Brockton with 139 yards and two touchdowns on 23 carries, while junior tailback Aaron LeClair added 83 yards and a TD on seven attempts and fullback Ricardo Calixte contributed 61 yards on 10 rushes. Brockton only threw two passes (one interception, one incompletion), but didn't need to the way their front was blowing BC High off the ball. The Boxers completely eschewed the passing game in the second half with zero attempts but didn't punt, either. Their four second-half possessions read: touchdown, touchdown, lost fumble, touchdown.
The defense was physical and had its way between the hashes just as much as the offense did. Nowhere was that more apparent than at the end of the first half with the game still scoreless, when BC High marched inside the Brockton 10. On third down, quarterback Dan Collins took off and made a leaping attempt to the goal line but was leveled a yard short by a host of Brockton tacklers. After a timeout, BC High decided to go for it but Collins' sneak was stuffed by backup middle linebacker John Flaherty. The momentum lifted Brockton into the second half and the Boxers never looked back.
"I can't describe it. I'm still speechless, actually," said Brockton defensive back Micah Morel, who made an interception in the second half and played tight man coverage in the first half on Villanova-bound receiver Lincoln Collins. "I mean, I know it was only 21-0, but whenever you pitch a shutout against the No. 2 team in the state, that's saying something. That's saying a lot."
STRENGTH IN SENIORS
Usually, when BC High and Brockton meet up, no matter what the final score says, the ledger of the line play favors BC High. That was not the case Friday night. Not even close. Despite boasting Virginia-bound lineman Jack McDonald, BC High was pushed backwards on both sides of the ball by Brockton's line. The difference? For the first time in at least seven years (maybe longer), Brockton started five seniors on the offensive line. The defensive line is also a veteran unit. Four-year starters Joe Previte and Anthony Davis led the way, as Previte showed off the strength he displayed this offseason in throwing up a 410-pound bench press. On defense, players like Malik Cooley-Walker, Jeff Celestin and Max Castor were in the backfield all night.
LEADING ROLE
Like many teams, the Boxers have taken on the personality of their quarterback and it looks like it will pay big dividends this fall. Roberts is a tough runner who creates extra yards after contact and is simply a natural leader on the field. Many of his runs were just pure sneaks that he turned into 5-yard gains as the line pushed the pile forward. Coach Peter Colombo had the difficult task of retooling an offense that was shut out four times last season and built one around the strengths of his returning talent. The option scheme used most prominently in the college game by the likes of Navy and Georgia Tech can only work with a smart, tough quarterback and Roberts has both of those traits in abundance. He is also bigger, stronger and faster than he was last year, as he simply refused to go down on the first hit.
ROUGHED UP
BC High came into the game missing fullback/linebacker Luke Catarius to injury. The Eagles were also out three other starters on both lines, which needs to be factored in to an extent when taking into account how much Brockton controlled things physically. But at the end of the game, BC High suffered yet another brutal setback when quarterback Brendan Craven was carted off after getting hit low as he released a pass on the final possession of the game. In a scene eerily similar to Preston Cooper's season-ending ankle injury against Everett, Craven's injury looked very serious and left a pall over an already shaken squad.
BROCKTON 21, BC HIGH 0
BC High (0-1) 0 0 0 0 – 0
Brockton (1-0) 0 0 7 14 – 21
Third Quarter
Austin Roberts 1 run (Levon Merian kick)
Fourth Quarter
Aaron LeClair 10 run (Merian kick)
Roberts 23 run (Merian kick)
August, 22, 2012
8/22/12
1:03
PM ET
By
Adam Kurkjian
| ESPNBoston.com
If there's one word that Micah Morel could use to describe his anticipation for the 2012 football season, it isn't excited or nervous or happy.

Since Brockton lost to Bridgewater-Raynham last Thanksgiving to be kept out of the playoffs with a 5-6 overall record, the senior safety has felt something different all offseason.

Hungry.

Hungry to prove that one of the worst statistical seasons in the program's storied history is also a thing of the past, hungry to show that he can be as good as the many recent Boxer safeties to go on to play Division I football, hungry to help a famished offense reach the end zone after not being able to do so at an alarming rate in 2011.

Most of all, Morel is starving, ravenous in anticipation to regain a once-proud program's place among the state's elite.

"There was a lot of emotion and feeling right after the season," Morel said. "The number one thing is I'm just hungry to get back to what Brockton always was. There's been so many greats and the last two years were really disappointing. We really need to turn the ship around and really, really get the ball rolling this year. We've really worked so hard as a team. We just need to take one good thing as it comes."

Once a promising third baseman and outfielder on the baseball diamond, Morel has focused his workouts all offseason on improving himself as a football player under the tutelage of Michael Williams, who supervises an intense training regiment to those in the city who choose to accept it. Morel calls the workouts "one of the hardest things we've ever done."

In addition to the current players that participate, some of the former Boxers that have moved on to the next level also come back and get involved. One former player that has had a particular influence on this group is current Boston College safety Dominique Williams, who is Michael's nephew.

"I get to talk to [Dominique] quite a bit," said Morel, who made four interceptions in his first year as a starter last season. "We text each other quite a bit and talk about football, life. I really listen to any tips he gives to me and the rest of the team. After last year, we're really, really focused on working together as a team. What he's said to us motivate us really got us. I can honestly say we worked harder as a team than any season I can think of."

"The thing [Morel] has in common [with previous Boxer defensive backs] is the awareness you look for in a guy in that position," said Brockton defensive coordinator and secondary coach Bobby O'Neill. "He understands the big picture, takes on the responsibility of making the checks.

"A lot of those guys going into their senior year, it just clicked and became good football players. At that position, it doesn't always happen overnight. As a junior, Dominique would be in position a lot of times and just didn't finish. As a senior, he did. [Morel] is very similar. In the run game, I think you'll see a vast improvement. I think the pass game he's going to be fine. He learned a lot last year. I expect it to all come together. He's worked hard. He's been in the system three years. I expect it to all come together."

Morel definitely wants to put his name in there as the next Brockton defensive back to get a Division I scholarship. But he makes a clear distinction that the only thing that will fill the hole in his stomach left by last year's famine is getting his high school team back to its winning ways.

"I'm getting some good interest (from colleges), but I'm focused on winning right now," he said. "Once we keep winning one game at a time, the rest will take care of itself. I'm not concerned with playing selfish, individual ball out there. All that matters is winning and the rest will take care of itself."

Sounds like he's ready to eat.

BROCKTON AT A GLANCE
2011: 5-6 (2-0 in the Big Three)
Coach: Peter Colombo (10th season, 77-29-1)
Key Returnees: Austin Roberts, Sr. QB, 5-10, 185 lbs.; Micah Morel, Sr. S/RB/WR, 6-0, 190 lbs.; Joe Previte, Sr. OT/DT, 6-3, 250 lbs.; Anthony Davis, Sr. G/DT, 5-11, 250 lbs.; Moise Eduard, Sr. LB/RB, 5-8, 220 lbs.; Ricardo Calixte, Sr. OLB/RB/WR, 6-0, 195 lbs.; Malik Cooley-Walker, Sr. DT, 5-8, 240 lbs.; Jeff Celestin, Sr. DE/TE, 6-0, 220 lbs.; Max Castor, Sr. DE/TE, 6-0, 215 lbs.; Matt Adams, Sr. C, 6-2, 200 lbs.; Aaron LeClair, Jr. DB/RB, 5-8, 170 lbs.; Kervin Jean-Claude, Jr. LB, 6-0, 200 lbs.; Sebastian Porter, Jr. OT, 6-2, 270 lbs.
Strengths: Defense, offseason commitment.
Weaknesses: Offense, tough schedule.

Outlook: After a disappointing season in 2011, the Boxers have the potential to field the type of defense that this traditional powerhouse is used to with experience returning at every positional unit. Morel and LeClair lead the secondary while big things are expected from Calixte, Jean-Claude and Eduard at linebacker. Celestin, Castor, Cooley-Walker, Davis and Previte all saw significant action on the defensive line in 2011. However, it's the offense that needs a major rebuilding job after getting shut out four times a year ago. Roberts returns as the team's signal-caller and promises to steer an option attack that will feature a committee of backs. The offensive line returns four-year starters Previte and Davis and will be an overall experienced group that figures to be physically stronger than last year's. We will know just how much this team has recovered from last year right away when it takes on BC High, Reading, Xaverian and St. John's Prep in its first four games.
September, 3, 2011
9/03/11
1:19
AM ET
By
Adam Kurkjian
| ESPNBoston.com
It's not often that a Brockton Boxer is literally a boxer.

Austin Roberts, though, a junior Swiss Army knife for the Division 1 powerhouse and No. 5 team in the state, actually puts on gloves and hits people when he's not doing it in shoulder pads.

Roberts lives in East Bridgewater, but is able to attend Brockton because his father Ralph -- an assistant coach with the Boxers -- is a sophomore English teacher at the high school. He started boxing in his early teens at Eddie Bishop's Gym in West Bridgewater.

"I've definitely became tougher because of boxing," said the 5-foot-8, 175-pounder, who is 2-1 in three amateur bouts. "It's an awesome experience sparring with people a lot better than me. It teaches you to remember to stay in the ring no matter how much you're taking a beating. It made me a better foottball player in that sense.

"I love being an underdog. I'm, you know, a smaller person. I'm only 5-8. Going against taller people bigger people, you have to out-tough them every chance (you) get."

"He loves it maybe moreso than I thought," noted Ralph. "He does like getting in the ring with people."

He got one such chance earlier than expected in 2009, when a suspension to starting quarterback Sam Previte forced the freshman, then only around 5-6 and 150 pounds, into action against Waltham on Thanksgiving and a date with unbeaten Xaverian in the Division 1 semifinals.

Against Waltham, Roberts completed 9-of-16 passes for 148 yards and a touchdown in an 18-11 win.

Facing unbeaten Xaverian the following Tuesday was a different animal. Still, the freshman didn't go in to the situation intimidated.

"I was just thankful for the opportunity to get the experience as a freshman," he said. "I was more excited than anything."

When Xaverian took a 21-6 lead deep into the fourth quarter, the game looked finished.

But Roberts led the Boxers on a two-minute drill that culminated in a 28-yard strike over the middle to Dominique Williams, now a safety at Boston College. Williams ran in the two-point conversion out of the Wildcat and it was 21-14 with 1:28 to play.

The Boxers nearly recovered an onside kick, but Xaverian was able to hold off the comeback bid and eventually win the Super Bowl the following Saturday.

"Yeah, I mean I've thought about that (onside kick) over and over thinking what could have happened," Roberts said.

By the time his sophomore year rolled around, Roberts was first on the depth chart at quarterback before Paul Mroz eventually overtook him. However, that didn't keep Roberts off the field. His strength as a quarterback to this point in his career has been running the option, so he did that in spots and also held for extra points as well as other various special teams duties.

"Obviously I was a little disappointed that I wasn't able to get the starting job," Roberts said. "But I was contributing and I wanted to have a good attitude by just getting better and waiting my chance."

This season, those chances are abundant. While he still comes in and runs the option, he also starts at outside linebacker and slot receiver and rarely comes off the field.

"Auggie comes in and immediately runs the option as well as any high school quarterback I've seen," said coach Peter Colombo. "That's good to know we have that. He's also playing on defense, playing at wide receiver, showing his versatility.

"Guys that play multiple positions are intelligent players and they wouldn't be able to do that without that and I think it showed on defense; he's just always around the ball. If the ball hits him in the hands, it's going to be our football."

"As a freshman and sophomore game the game was very fast," Roberts said. "This year we're able to get to the plays faster. I know the plays a lot better. I also got work last year at the J.V. level and now I can crank it up to the next level to varsity."

So far, the whole defense has cranked it up to another level in that respect.

"(The defense is) tougher than last year," Roberts said. "We had to be. We're smarter, too. We've got a lot of smart kids on the field. I don't know. We've got to clean it up before (the BC High) game. I think we know we've got work to do."

Sounds like he's ready to rumble.

Coach: Peter Colombo (9th season, 72-23-1)
Last year: 8-3
Key returnees: Paul Mroz, QB, 6-2, 195, Sr. (64-of-130 passing for 1,322 yards, 12 TD, 7 INT, 398 yards rushing on 59 carries, 6.75 yards per carry, 8 TD); Josh Brewster, RB, 5-9, 175, Sr. (177 yards on 34 carries, 5.21 ypc); Dino Hyppolite, DT, 6-0, 250, Sr. (30 tackles, 1 sack, 2 fumble recoveries); Jesse Monteiro, WR/CB, 5-8, 170, Sr. (16 catches for 271 yards); Lucas Depina, WR/K/P, 6-2, 180, Sr. (4 catches, 162 yards, 3 TD); Khahleell Alcide, LG, 6-0, 220, Sr.; Jerrod Shelby, WR/TE/OLB, 6-4, 190, Sr.; Devante Cartwright, CB, 5-9, 170, Sr.; D.J. Brown, DB, 6-0, 190, Sr.; Austin Roberts, OLB/QB/WR, 5-8, 175, Jr.; Ryan Kelley, ILB, 6-2, 210, Jr.; Joe Previte, OT/DT, 6-2, 260, Jr.; Anthony Davis, G/DE, 6-0, 250, Jr.; Micah Morel, S/QB, 5-11, 175, Jr.; Moise Eduard, OLB/RB, 5-8, 225, Jr.
Strengths: Quarterback, speed, offense, young talent.
Weaknesses: Inexperience on defense, pass rush.
Outlook: Offensively, the Boxers have the potential to be better than a year ago despite losing speedy wideout Albert Louis-Jean (Boston College) and shifty running back Trevon Offley (Suffield Academy). Mroz, with a year of experience under his belt and a deep group of weapons to spread the ball around to in Brewster, Depina, Monteiro, Depina and Cartwright. Brewster will get to run behind an offensive line that includes three three-year starters in Alcide, Previte and Davis. The defense has strength on the defensive line but has lacks a pure pass rusher off the edge. The linebackers are sure tacklers and the secondary has excellent corners and a safety in Morel that is already drawing FBS interest despite not having started a single varsity game yet. The schedule offers no favors with BC High, Xaverian and St. John's Prep in the first four weeks. If the Boxers survive that stretch relatively unscathed, there is nothing holding them back from their first appearance at Gillette Stadium since 2008.
August, 27, 2011
8/27/11
5:28
PM ET
By
Adam Kurkjian
| ESPNBoston.com



WESTWOOD, Mass. -- Brockton coach Peter Colombo had one message for his team following its impressive showing in a scrimmage with Central Massachusetts powerhouse St. John's of Shrewsbury, at Xaverian High.

"Keep this in perspective. It was a scrimmage," said the coach of the preseason No. 5 team in the state. "I think we know that the sky is the limit this year."

It certainly looked that way Saturday.

Brockton's offense scored twice in its four plays and -- from the first string to the end of the depth chart -- the Boxers found the end zone at least once on every possession. The Pioneers moved the ball well in spots but found the end zone just once. While keeping score in a first scrimmage can be taken with a grain of salt, strictly first team against first team, Brockton led, 20-6, and overall it was 42-6. Each team went for two-point conversions after every score.

"You keep it in perspective," Colombo said. "(The Pioneers) have been real good the last two years, and maybe a little inexperienced this year, which I thought we exploited. But I'm very happy with being in pads two days; the execution was very good. People's attitudes, we've got people people in different positions adjusting. And (our) defense is young but I liked the way they ran to the ball. I thought the hitting was excellent for first day."

"All around good game: offense; defense. It was just a good game," said senior Jesse Monteiro, a wide receiver and cornerback. "Everybody stepped it up from the sophomores and the juniors and the seniors. Played as a team, and that's what you have to do to make it."

The players seemed to absorb Colombo's message well.

"Stay humble," Monteiro said. "Don't let it get to our heads because we have a lot more work to do. It's a long journey."

The first step wasn't too shabby.

Some other observations:




-- Brockton quarterback Paul Mroz looked superb. At this time last year, the signal-caller wasn't nearly as patient with his reads and was prone to scrambling before the play fully developed. The senior, who received a waiver earlier this month to return to the team and is on track to graduate in January, went through his progressions and found the open receiver, spreading the ball around evenly to his weapons.

"The offensive line did a great job," Mroz said. "They gave me confidence and if they give me time to throw I think I can make the throws happen.

"All offseason I've been working with these (receivers) so I got to adjust to their speeds and the timing on the routes. They do a great job running them."

His first pass was around a 50-yard completion to Jerrod Shelby to set up a touchdown run by Josh Brewster. After a first-down strike to Monteiro, Mroz kept the ball on a zone read, found the sideline and scored a 60-yard touchdown that was aided by a thunderous block by Shelby on a trailing Pioneer defensive back.

"It was a basic read, read the end," Mroz said. "He came in, he went with Brewster, so I just went around the whole team and I had good lead blocking on the way there. I saw Bubba (Shelby) the whole way. The defender didn't even see that one coming.




-- Brewster looks like a capable replacement for departed All-State tailback Trevon Offley, now doing a post-graduate year at Suffield Academy. Brewster, a senior, runs downhill with decisive cuts and has soft hands coming out of the backfield. He finished with two touchdown runs and caught a two-point conversion on a nicely-designed and executed weakside throwback.

"I think Josh could be in the tradition of Brockton High running backs," Colombo said. "We've got to make sure we get the ball in his hands enough because we want to spread it around, be balanced. But still, he's a weapon that we want to exploit."

Backups John Gomes and Moise Eduard scored on touchdown drives led by junior quarterbacks Austin Roberts (who also played outside linebacker and slot receiver) and Micah Morel, respectively. Junior Josh Laboard also had a rushing touchdown.

-- Defensively, the Boxers are young and inexperienced, but there is talent. Despite missing starting cornerbacks D.J. Brown and Devante Cartwright for much of the scrimmage, the Boxers made good plays on the ball and only let up one long reception. Morel came up and filled the running lanes well at safety. An all-junior linebacking corps of Eduard, Johashy Cornely, Ryan Kelley and Roberts was stout inside the tackle box with Eduard coming up with one of the biggest hits of the day on a third-and-short at midfield. Juniors Jeff Celestin, Malik Cooley-Walker, Anthony Davis and senior Giovanni Hyppolite held their own against a big and physical St. John's offensive line. The backups also played well up front, as junior defensive tackle Rodney Thomas swallowed up a play in the backfield on the last defensive series.

-- For St. John's, an always-good offensive line got better when senior Ethan Borchelt came out for football for the first time and won the starting left tackle job. At 6-foot-6, 250 pounds, the Pioneers found good yardage running to his side. Borchelt, who rows crew and plays basketball, has room to fill out his long frame and shows good technique for a first-year varsity player. The offensive line will be even better once junior Michael Marto (6-3, 280) returns to the lineup.

"It was the first full contact (Borchelt's) had other than in a controlled camp-type structure and practice," said St. John's coach John Andreoli. "But just in terms of getting his body where it needed to be and keeping his lower half down lot and walling guys off, he did a pretty good job. We were very pleased with what he did and I think he's going to keep getting better. So he's going to be somebody to watch."

-- St. John's senior captain Brendan Melanson, a returning starter at center, has transitioned well into taking over an inside linebacker spot.

"I kind of had some butterflies going into this game, how I was going to do," he said. "Basically it was an easy move. I feel like coach 'A' is great to learn from. He's got so much knowledge. So I feel like it's been an easy switch. I think I did pretty well today but I definitely have something to move on from and learn from."

-- The battle for the Pioneers' starting quarterback job is between junior Connor Kurtz and sophomore Andrew Smiley. Kurtz led the Pioneers on their only touchdown drive with a nice pass down the seam to Drew Ortone for a big gain that helped set up a short touchdown run by senior Sean Wilson. No matter who wins the job, he will have a deep and talented group of runners to hand the ball to. Efrain Montalvo is a speedy slot receiver who picked up good yardage on jet sweeps, while junior Shadrack Abrokwah and freshmen Devon Jones and Taquar Stewart also had nice long gains.

"Sean Wilson just ran with a lot of pop today," Andreoli said. "He was delivering blows and making nice cuts. Efrain Montalvo: he's a 4.4 guy legitimately and he has some really nice hips and can get in the open field really quick...And those freshmen - Devan and Taquar - they've got a fourth and fifth gear. They have a natural ability to run the ball and get to the open area. Those were a couple hit-and-spins that were pretty impressive today.

"We've got a lot to do. But we saw some really good things today."