Boston High School:

Anthony Hodges
March, 22, 2012
3/22/12
4:59
PM ET
THE SUPER TEAM
Guard – Aaron Calixte, Jr., Stoughton
An exceptional athlete gifted with a tenacious motor, and one of the state's most dynamic scorers, the 5-foot-11 Calixte was the driving force behind the Black Knight's run to the Division 2 Eastern Mass. final, and asserted himself as the state's premier point guard. For his junior season, he averaged 19 points and six assists, and was named a Hockomock League All-Star. Calixte also stands out on the gridiron for the Black Knights' football squad.
Guard – Tyrese Hoxter, Jr., Charlestown
After playing in the shadows of former All-Stater Akosa Maduegbunam a year ago, the 6-foot-3 Hoxter thoroughly burst onto the scene and had a monster campaign for the Townies, leading them to the TD Garden floor for the first time since 2005 before bowing out to Brockton in the Division 1 Eastern Mass. Final. This season he averaged 19 points, eight rebounds, three assists and two steals.
Guard – Tyrell Springer, Sr., Springfield Central
After falling short of a state title two seasons ago with New Leadership, the 6-foot-2 Springer led Central to the DCU Center floor this season where the Golden Eagles captured their first Division 1 state title since 1991. The centerpiece of one of the state's most athletic lineups, Springer averaged 15.3 points, 7.5 rebounds, seven assists and 7.3 steals. He is undecided on college plans.
Forward – Jake Layman, Sr., King Philip
The 6-foot-8 Layman was one of the most dominant players in Massachusetts this season, with the ability to score both inside and out, as the Warriors set a school single-season record for wins (18) before suffering a surprise upset in the Division 2 South quarterfinals. In 21 games, he averaged 26.5 points, 16 rebounds, 5.8 blocks, 3.2 assists and three steals. He closes his career with with 1,752 points, 1,098 rebounds and 391 blocks, giving him career averages of 20.6 points, 12.9 rebounds, 4.6 blocks, 2.8 steals and 2.6 assists. This is his second appearance on the Super Team; he also captured the Hockomock League's MVP for the second straight season. Layman, who was named ESPN Boston's "Mr. Basketball" earlier this week, is ranked the nation's No. 62 overall senior by ESPN, and will continue his career next season at the University of Maryland.
Center – Sayvonn Houston, Sr., Brockton
A nightly double-double machine, Houston established himself as one of the state's most dominant true centers, making life difficult down low as the Boxers went 23-3 and made their first Division 1 state final appearance since 1985. He saved his biggest performances for the biggest stages, such as his 20-20 night in the Division 1 South semifinals, or his 22-point, 13-rebound effort in Brockton's overtime win over Charlestown in the Division 1 Eastern Mass. Final at TD Garden. Houston is undecided on college plans.
BEST OF THE REST
Jalen Adams, Soph. G, Melrose
Quickly rising as one of the Bay State's most complete scoring guards, the 6-foot-1 Adams took home Middlesex League MVP honors after averaging 21 points per game. He led the Red Raiders to an 18-2 regular season record, before they fell to state runner-up Brighton in the Division 2 North semifinals. Adams has already declared that he will be transferring to Wilbraham & Monson Academy next season, where he will reclassify to the Class of 2015.
Jaylen Blakely, Jr. G, Brockton
Like Houston, the 5-foot-11 Blakely saved some of his best performances for the crunch time in the playoffs, such as his eight-assist performance in the Boxers' win over Catholic Memorial. Blakely distributed evenly to Brockton's talented shooters and post players, as they went 23-3 and reached their first state final appearance since 1985.
Matt Droney, Sr. F, Catholic Memorial
A terrific shooter, the 6-foot-4 Droney was named the Catholic Conference's MVP after a season of averaging 20.7 points, six assists and five rebounds per game. He also became the eighth player in school history to surpass 1,000 points earlier this season. The Canton resident will be doing a post-graduate season next year at the Taft School in Connecticut.
Darien Fernandez, Jr. G, Wareham
The 5-foot-7 waterbug demonstrated a tenacious motor in leading the Vikings to their second Division 3 Eastern Mass. Final appearance in three seasons. Wareham was the state's last unbeaten before losing to state champion Danvers. For the season, Fernandez averaged 24 points, 10 assists, eight rebounds and five steals, and recorded three triple-doubles. He needs just 45 points next season to reach 1,000 for his career.
Rony Fernandez, Sr. G, Charlestown
Fernandez was one of the most outstanding point guards of the MIAA tournament, leading the Townies to a thrilling win over Lexington in the Division 1 North final before bowing out to state runner-up Brockton in the Eastern Mass. Finals. For the season he averaged 16 points and seven assists. He is undecided on college plans, but is currently fielding interest from Division 1 programs such as Maine, Northeastern and Hartford.
Joey Glynn, Sr. F, Cardinal Spellman
The 6-foot-5 Abington resident did it all this season for the Cardinals, averaging a double-double (18.5 points, 12 rebounds, three steals, 2.2 blocks) as they lost to Eastern Mass. runner-up Wareham in the Division 3 South semifinals. For his career, Glynn scored 1,425 points. He will continue his career next season at Bentley University.
Steve Haladyna, Sr. G/F, St. John's Prep
One of two repeat All-Staters, the 6-foot-3 Haladyna was unable to lead the Eagles deep in their Division 1 state title defense, but he still leaves the Danvers campus as one of its most decorated basketball stars. He averaged 22.4 points and 9.5 rebounds per game, both team highs, and for his career he finishes with 1,392 points -- second all-time on Prep's scoring list. The South Hamilton resident will continue his career next season at Tufts University.
Malik James, Soph. G, Brighton
The 6-foot-1 James elevated his game when the Bengals needed it most, as they made their first state final appearance in school history, falling to Mahar in the Division 2 title game. For the season, James averaged 18.1 points, 8.2 assists and 4.2 rebounds as the Bengals won their first-ever Eastern Mass. title.
Jameilen Jones, Jr. G, BC High
BC High's season came to an unexpected halt as the Eagles loss in the first round of the Division 1 South tournament, but the 6-foot-2 Jones has established himself as one of Eastern Mass.'s premier two-way players. For the season, he averaged 17 points and eight rebounds as the Eagles went 15-6.
Zach Karalis, Sr. G, North Andover
The 6-foot-1 Karalis was one of the driving forces for the Scarlet Knights, who went 21-2 and reached the playoffs an unprecedented 47th straight time. For the season he averaged 15.9 points and shot 46 percent from the field, to go along with 6.5 rebounds, 4.7 assists and 1.8 steals. Karalis will continue his career next season at Worcester Polytechnic Institute.
Kevin LaFrancis, Sr. C, Acton-Boxborough
After a stellar season in leading the 21-2 Colonials to a Division 1 North semifinal appearance, the 6-foot-6 LaFrancis was named the Dual County League's MVP. He averaged 19.5 points and eight rebounds this season, and finishes his career at A-B with 1,012 career points. He is undecided on college plans.
Alex Lopez, Sr. G, Springfield Commerce
The 5-foot-10 Lopez led the Valley League in scoring for the second straight season, averaging 22.3 points as the Red Raiders went to the Division 1 Western Mass. Finals and took state champion Springfield Central to the wire. He led Western Mass. in field goals made (185) and total points (512). Lopez is currently undecided on college plans.
Damian Lugay, Sr. G, Weymouth
The 6-foot-2 Lugay led the Wildcats to a second straight 17-win season, before they were bounced in the first round of the Division 1 South tournament. For the season he averaged 18.1 points and just under four assists, and leaves Weymouth as a two-time First Team All-Bay State Conference. Lugay is undecided on college plans.
George Merry, Sr. C, Danvers
At 6-foot-7, Merry was a force at both ends of the floor for the Falcons, known for his ability to redirect shots as much as his scoring touch. He averaged 16.1 points, eight rebounds and 6.6 blocks as Danvers captured its first Division 3 state championship in school history. Merry is currently undecided on college plans, but showing interest from several schools in Divisions 2 and 3.
Marcus Middleton, Jr. G, Stoughton
Tasked nightly with locking down the opposition's top scorer, Middleton established himself as one of the state's premier on-ball defenders. Middleton averaged 16 points per game for the Black Knights, who won the Division 2 South title before bowing out to state runner-up Brighton in the Eastern Mass. championship at TD Garden. Middleton also stars on Stoughton's football squad.
Matt Mobley, Sr. G/F, St. Peter-Marian
One of state's most pleasant late-blooming surprises, the 6-foot-3 Mobley was one of the leading scorers in Central Mass. as the Guardians made it all the way to the Division 1 Central Final. For the season, he averaged 23.2 points in leading SPM to its most successful season under head coach Marcus Watson. Mobley finished his career at SPM with 1,175 points, and will do a post-graduate season next year at Worcester Academy.
Tyler Nelson, Soph. G, Central Catholic
The 5-foot-11 Nelson established himself as one of the state's premier shooters, as the Raiders made it to the Division 1 North semifinals before bowing out to champion Charlestown. He averaged 15.5 points and four assists this season, shot 42 percent from three-point range, and 91 percent from the free throw line.
Colin Richey, Jr. G, Whitinsville Christian
After winning a Division 3 state title a year ago, the 6-foot Richey nearly led them back, as the Crusaders lost in the final seconds to state runner-up St. Joseph Central in the state semifinals. For the seaosn, Richey averaged 16.8 points, 6.7 assist and 6.3 rebounds for the Dual Valley League champions.
Kamari Robinson, Jr. F, Springfield Central
The 6-foot-5 Robinson was a rock underneath for the Golden Eagles, who captured their first Division 1 state title since 1991 and third overall. He was a nightly double-double threat this season, averaging 13 points, 11 rebounds, four steals and three assists, as Central went undefeated in Massachusetts.
Michael Thorpe, Sr. G, Newton North
The Tigers went run-and-gun this season, and the 5-foot-11 Thorpe kept them thoroughly going. One year after reaching the Division 1 South finals, he nearly led them back, before losing to state runner-up Brockton in the semifinals. He was named the Bay State Conference's MVP, with averages of 15 points and four assists. Thorpe will continue his career next season at Emerson College.
DEFENSIVE PLAYER OF THE YEAR

MARCUS MIDDLETON, STOUGHTON
The kind of on-ball pressure Middleton provided nightly to some of the state's premier scorers can take its toll physically, but he was routinely up to the task. As teammate Aaron Calixte saw a barrage of double-teams and box-and-one's, Middleton did his part at the other end, hedging off screens and staying one one's hip, chasing them all over the floor. As much praise as Calixte will get in this unprecedented season for the Knights, an equal amount must be thrown Middleton's way.
ALL-DEFENSIVE TEAM
G – Marcus Middleton, Jr., Stoughton
G – Anthony Hodges, Sr., Holy Name
G – Darien Fernandez, Jr., Wareham
F – Jake Layman, Sr., King Philip
C – George Merry, Sr., Danvers
COACH OF THE YEAR

HUGH COLEMAN, BRIGHTON
The Bengals lost their best player before the start of the tournament, and backpedaled into the playoffs with uninspiring losses to Acton-Boxborough and Madison Park. Yet in the end, they were one step away from the school's first-ever state title. Coleman is an unabashed disciple of the legendary Jack O'Brien, and staples of those historic Charlestown squads are sprinkled all over the program. Not only has Coleman done a remarkable job bringing the team to heights never before reached in his three seasons at the helm, but this is a program that will be dangerous for the next few years.
RUNNERS-UP:
Paul Connolly, Newton North
Dean O'Connor, Franklin
FINALISTS:
Kevin Brogioli, Wareham
John Gallivan, Stoughton
Reggie Hobbs, Lexington
Malcolm Smith, East Boston
Chad Softic, Mahar
John Walsh, Danvers
Dennis Wilson, Madison Park
January, 17, 2012
1/17/12
2:57
PM ET
By
Brendan Hall
| ESPNBoston.com
With many teams across the state reaching the midway point of their schedule this week, here are my mid-season picks for our annual MIAA All-State, All-Defensive, and Coach of the Year awards.

THE SUPER TEAM
G – Aaron Calixte, Jr., Stoughton
G – Steve Haladyna, Sr., St. John's Prep
G – Tyrese Hoxter, Jr., Charlestown
F – Jake Layman, Sr., King Philip
F – Isshiah Coleman, Jr., New Mission

BEST OF THE REST
Yadoris Arias, Sr. G, Lawrence
Tyler Delorey, Sr. G, Holy Name
Matt Droney, Sr. G/F, Catholic Memorial
Joey Glynn, Sr. F, Cardinal Spellman
Leroy Hamilton, Sr. F, New Mission
Jameilen Jones, Jr. G, BC High
Kevin LaFrancis, Sr. C, Acton-Boxborough
Alex Lopez, Sr. G, Springfield Commerce
Damian Lugay, Sr. G, Weymouth
George Merry, Sr. C, Danvers
Marcus Middleton, Jr. G, Stoughton
Matt Mobley, Sr. G/F, St. Peter-Marian
Brian Mukasa, Soph. G, Sharon
Tyler Nelson, Soph. G, Central Catholic
Quinton Perkins, Sr. G, Fitchburg
Luis Puello, Sr. G, Central Catholic
Colin Richey, Jr. G, Whitinsville Christian
Kamari Robinson, Jr. F, Springfield Central
Tyrell Springer, Sr. G, Springfield Central
Michael Thorpe, Sr. G, Newton North

ALL-DEFENSIVE
G – Luis Puello, Sr., Central Catholic
G – Anthony Hodges, Sr., Holy Name
F – Jake Layman, Sr., King Philip
F – Antonio Ferreira, Sr., Stoughton
C – George Merry, Sr., Danvers

COACH OF THE YEAR FINALISTS
Scott Boyle, Lowell
Hugh Coleman, Brighton
Paul Connolly, Newton North
Paul DiGeronimo, Fitchburg
John Gallivan, Stoughton
Paul Neal, Lawrence
Brendan Smith, Boston Latin
Malcolm Smith, East Boston
Mike Vaughan, Mansfield
John Walsh, Danvers
January, 7, 2012
1/07/12
12:00
AM ET
By
Brendan Hall
| ESPNBoston.com
(Video courtesy of Christian Bradley)

WORCESTER, Mass. -- Jason Chavoor took one look at it, and deferred to whoever was upstairs.

"That's a prayer," the Holy Name coach chuckled. "You just pray, you hope it goes in."

But like some of the city's coolest in the crunch, the kid delivering the prayer had a different frame of mind as he assertively stepped behind the three-point line on the right wing, took a kickout pass from point guard Jacek Louisville and let the ball fly.

Senior Tyler Delorey summed up what would be his last-second game-winning shot in this thriller over cross-city rival St. Peter-Marian as "just what people expect from me", saying it was "all about how bad I wanted to win this game."

"That was the most intense shot I ever took," he smiled. "But it felt so good leaving my fingers, and I'm just proud to win it."

The shot, coming off an inbounds play that was designed for Louisville as the top option, made it 70-67 for the Naps (9-0) with 2.6 seconds left. Down the other end, SPM's Matt Mobley (15 points, six rebounds, two blocks) hucked up an errant three that was tipped back in at the buzzer. But by then, the floor was already being overrun with celebration from the over-capacity crowd at the Naps' home gym.

Early on, the Naps looked poised to break take this one going away, as they closed out the first half on a 15-2 run to take a 34-28 lead over SPM (5-2) headed into the break. A Delorey three from the top of the key capped a 9-2 Holy Name run to start the third quarter, and the Naps went up by as much as 13 before the Guardians mounted their comeback.

Mobley, after going cold for two quarters, erupted in the last few minutes to string together some key baskets. After Anthony Hodges (22 points, five steals) knocked down a pull-up in the paint, Mobley turned right back around with the same shot with 1:07 left, cutting the lead to 62-58. Mobley then hit two free throws to tie it up at 65-65 with 43.6 seconds left. On the next Guardians possession, Mobley set up another tying score, dishing it to Tim Berry, who promptly was fouled and sank both shots for a 67-67 knot with 12.6 seconds left.

Chavoor called a timeout, and on the inbounds play Delorey slipped off a switching Guardian defender, and took a quick feed from Louisville as the point guard was trapped.

"He hit the big shot when they needed him," SPM head coach Marcus Watson said of Delorey's shot. "We were trying to stop the ball and force him to make a difficult shot, and our rotation to the back side was slow. He hit a good shot.

"I thought we showed a lot of character, a lot of perseverance when we were down 13, to keep battling back the way we did."

Delorey finished with 14 points, with nine of them coming on the three ball.

"The ball rolled our way," Chavoor said. "Tyler's a four-year player, he's close to scoring 1,000 points, and he made some unbelievable three-pointers. We obviously needed every single point...[but] even after missing free throws earlier he came back strong, the three was a great shot by a four-year varsity player."

Hodges dogs Mobley: One of the key moments in SPM's late rally might have been at the two-minute mark of the fourth quarter, when Hodges took a high lob over the top of the Guardians' press only to be denied at the last instance by Mobley's outstretched hands. Mobley pinned Hodges' layup against the backboard, and let out a roar as he flexed for a moment along the baseline.

Up to that point, Hodges had done a great job bottling up the late-blooming swingman, whom he considers a good friend. Mobley got off two quick three-pointers to start the game, but was held without another field goal until the fourth quarter. Hodges -- also a star wide receiver -- harrassed Mobley the way a star striker in soccer is often marked, keeping his hands active and his hips loose as he chased the sometimes-elusive Mobley around the offensive zone.

Hodges is considered one of the premier on-ball defenders in Central Mass., and tonight's effort was certainly a justification. In all, Mobley was held to 5-of-13 from the field.

"I know how he plays, and I knew I had to lock him down pretty much the whole game," Hodges said of defending Mobley. "I know he's a three-point shooter, pretty much [does] it all for SPM, and I knew if I held him to less than 20 points we could get the win."

"Matt's a good player, Anthony just tries to limit him," Chavoor said. "Anthony played so many minutes full speed. When Matt was in the game, we kept Anthony in the game. When Matt was out, we tried to rest Anthony. I don't know what his points were...but you know, Matt's a tough player."

Was it the shoes? Hodges already garners some attention on the court for his choice of purple shoes (oddly enough, the primary color of SPM), but drew more turned heads when he re-emerged from the locker room after halftime wearing bright, almost flourescent orange sneakers.

We'll resist the easy "must have been the shoes" zinger here, as it pertains to Hodges' inspired second-half performance. But allow the senior guard to explain.

"[The purple shoes] were pretty tight for me, and I put the orange shoes on because they're a little bigger [in] size," he said with a smile. "They felt comfortable...I was trying to go out with the purple to pretty much take them off."

Postal Service: One area the Guardians were efficient in tonight was their post play. The Naps don't roll out a kid over 6-foot-3, while SPM wields three able bodies in the low post in Berry (6-foot-6), Brian Foley (6-foot-5) and Steve Flynn (6-foot-5).

Flynn, who is also a star quarterback and pitcher at SPM, started a perfect 6-for-6 from the field. He was tough early with his back to the basket, either banking it from the elbow or taking his man baseline with a quick spin and finishing with a soft touch. He sizzled a bit, going 4-for-10 the rest of the way, but still finished with team high's of 18 points, 12 rebounds and four blocks.

There were other factors that led to SPM's demise, including costly turnovers and two second-half technical fouls on team captains, but Watson liked the size advantage on the interior.

"That was our thing going in," Watson said. "I didn't think they could match up inside, and when we executed our gameplan they didn't have much of an answer. What happened was we fell into a running game with them.

"You look at the transition points. Take those transition points away -- I think we gave up 16 in transition -- you take those away and it's a different game."
December, 18, 2011
12/18/11
4:43
PM ET
By
Brendan Hall
| ESPNBoston.com
WORCESTER, Mass. -- Holy Name point guard Jacek Louisville characterized East Boston's pressing defense Friday night as "like playing 7 on 5 at times". This afternoon, in one of the matinees of the BasketBull Catholic School Showcase, he may well have found more of the same.
[+] Enlarge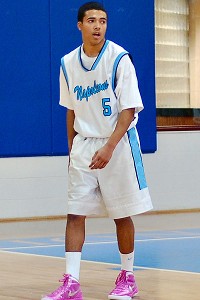 Brendan Hall/ESPNBoston.comHoly Name point guard Jacek Louisville (23 points, 10 rebounds, 7 assists) asserted himself in the most crucial moments.
But just like on Friday night, the Napoleons were able to claw their way to an ugly, hard-fought win. Holy Name fought off a late rally from St. Joseph's of Pittsfield to down the Crusaders, 63-59, and improve to 3-0.
"We faced East Boston on Friday night and they pressed the hell out of us," said Holy Name head coach Jason Chavoor. "I thought we would improve, because East Boston presses 12 deep, so they can bring lines in. But credit St. Joe's, they did a good job. We made some poor decisions, poor turnovers, we've got seniors out there that need to make better decisions. But it is our third game of the year, we're still working out the kinks."
The Naps went into the break trailing 33-31, but opened the third quarter on an 8-2 run, dominating the glass in those first three minutes with seven defensive rebounds. But the Crusaders quickly came back at the other end for its own 9-2 run, before Louisville snuck the Naps ahead in the final minute, drawing contact on his left-handed drive and converting the three-point play.
"Jacek made some plays that were huge, and when we needed them," Chavoor said of Louisville, who led all scorers with 23 points, 10 rebounds and seven assists. "He came to play, one of the few kids that came to play today."
Holy Name extended jutted out to its largest lead of the game, 55-49, with 4:45 to go, on a three-pointer from the left wing by Tyler Delorey (12 points, 11 rebounds), courtesy a dish from the top of the key by Anthony Hodges.
Louisville was called for a five-second violation with 30 ticks to and holding a 63-59 lead, but the Crusaders came up empty on the ensuing possession, missing an open layup. Mike Woll came down with the rebound with eight seconds left and was immediately fouled, but he missed the front end of a one-and-one. Still, the Naps were able to hold on.
Dan Kegbeh also had 10 points for the Naps. Senior center Mike McMahon and junior guard Taverick Roberson led St. Joe's with 16 points each.
Press gives Naps problems:
The Crusaders frustrated Holy Name all afternoon with full-court zone presses. Most efficient was a tight diamond-and-one package, sticking four defenders up inside the arc. Even as the Naps adjusted, St. Joe's was efficient in trapping the sidelines, able to force ballhandlers into repeated unforced errors and turnovers.
"Once we got the ball inbounds, we had to make quick passes," Louisville said. "Because if we waited too long, they were trapping us and we couldn't get rid of it."
Hodges playing hurt:
Hodges sprained his ankle in Friday's win over Eastie, and Chavoor said the senior was "maybe 50 percent" today, "if we were lucky".
Still, Chavoor praised the defensive effort of Hodges, also a star wide receiver this fall on the Naps' Super Bowl finalist football squad. Injury and all, he was able to keep St. Joe's dynamic scorer Roberson in check, holding him to six points in the second half.
"Anthony is our sole guy that presses, and he did a real good job maintaining [Robinson]," Chavoor said. "Kid's a pretty good ballplayer. Anthony's pressure, and his denial, kept the ball out of his hands."
Louisville Slugger:
One of the strengths of Louisville's game is his ability to initiate contact on his drives to the basket. This afternoon, he attempted 10 free throws, making seven of them, including several three-point plays.
In a game like today, Louisville asserted himself as a scorer as much as he was a distributor. Asked if he'd like to see Louisville as more of a distributor, Chavoor said "absolutely", but also added it's up to the senior to do what's best.
"Jacek, I kinda leave it up to him," Chavoor said. "So if he wants to pass, he can pass. If he wants to shoot, he's gonna shoot. When he passes it, you've got to make the layup. But Jacek's tough, he's shifty, had a great game. He's one of the few guys that came to play today, and the sole reason we won."
September, 10, 2011
9/10/11
8:25
PM ET


WORCESTER, Mass. -- David went down this time versus Goliath.

Anthony Hodges couldn't bear to talk about the game with a straight face. Doused in sweat, the Holy Name wide receiver fought back tears from underneath his helmet, his gaze directed at his feet.

The scoreboard read 22-21 with time expired, the Naps' rival No. 9 St. John's of Shrewsbury had once again gotten the best of them. It was the same result as it's always been during the last quarter century of the one-sided rivalry, but none of the near capacity crowd at Assumption College will soon forget the gut exhibited by the Holy Name sideline.

"We're a smaller team, but we can play against anybody," said Hodges, a senior. "They can have as many players as they want, but we have players that have heart."

The Naps (0-1) list 26 players on their varsity roster, two of which are freshmen. Compared to the 49 the Pioneers (1-0) carry, many of whom play on just one side of the ball, the mere numbers game handedly favors St. John's. When considering Holy Name lost three of its top players to dehydration during the course of Saturday's game, the Naps had no business being in the game until the last minute of the fourth quarter against a bigger, skilled opponent of St. John's ilk.

Still, there they were, one two-point conversion away from stealing the biggest upset of the young high school football season.

"It was a 44-minute game, that's what you get when you play Holy Name," Pioneers head coach John Andreoli said. "They're a solid, physical team. They have a lot of guys going both ways, but they hung in there for a long time. I give our guys a lot of credit because there were a lot of opportunities in that game to let it get away from us."

The Naps moved to within a point of St. John's with 3:26 to play after Hodges hauled in a 21-yard touchdown pass from Seamus O'Sullivan.

After the touchdown, Holy Name head coach Mike Pucko was playing for the win with a two-point conversion. Running back Quron Wright reached the end zone unscathed, however, a holding penalty wiped out the successful try and pushed the Naps back 10 yards. Holy Name's second attempt at two points was denied with a pass from O'Sullivan falling incomplete at the goal line.

"After the first half, the kids were beat," Pucko said. "We tried icing them down and we knew we were in for a rough second half. But they hung together. They hung together and they played well. They helped each other out. The young kids filling in were learning new positions on the fly, coaches have been doing their jobs through the first three weeks because these kids who haven't played high school football before were playing the No. 1 team in the area and they did their jobs."

St. John's ran out to a 14-0 lead in the first quarter thanks to two rushing touchdowns by senior running back Sean Wilson.

The Naps cut the deficit to six by halftime after Wright's rushing score and successful two-point attempt.

Holy Name quickly took the lead to start the second half. Hodges took the opening kickoff back 82 yards for a touchdown, blazing down the left-hand sideline uncontested. The point after try had the Naps up 15-14.

However, the Naps couldn't keep the momentum going, as a couple of costly fumbles and a safety undid the offense late.

A Holy Name fumble recovered by Brendan Melanson set up Wilson's third rushing touchdown of the game for a 20-15 St. John's lead. Melanson left another mark on the Pioneers' victory, dragging down Wright on a carry from the end zone for a safety with 5:32 to play.

The safety proved to be the deciding points of the game.

"I was proud of our defense for digging their heels in the way that they did." Andreoli said.

The Naps had one last chance to tie the score after forcing St. John's three-and-out on its possession following Hodges' receiving touchdown.

Holy Name had the ball back with 31 seconds to play, but Jimmy Andreoli intercepted O'Sullivan's pass over the middle to ice it.

Meanwhile, Hodges tried to compose himself and look toward the brighter side of the loss.

"I feel bad for the next team that has to play us," he said, cracking a smile.

EXTRA POINTS
-- Big defensive stops and, in particular, turnovers sparked several of the Pioneers' touchdowns. St. John's defense helped set up the first score of the game when Barron Dandridge intercepted O'Sullivan on a screen pass. "We were certainly expecting a run to his side there," Andreoli said, "so we sent pressure off that edge, but then he read pass, went up and batted the ball. He's just athletic and was able to catch it and get the ball back for us."

-- Pioneers running back Sean Wilson could emerge as a dark horse for ESPN Boston's Mr. Football award. While the St. John's offense might be without D1 talents like Dan Light and Richard Rodgers of last year, Wilson looked as though he'll take on a greater role as a feature back with his 178-yard performance on 26 carries in the win. Running behind a hulking offensive line anchored by left guard Ryan Anger will help his cause. "I told him before the start of the game that I was excited to watch him get his senior year started," Andreoli said. "He's worked awful hard in the offseason He's become a terrific two-way player for us. He's a football player. He loves to be on the field, he doesn't want to come off the field. And, when he's on the field, he makes plays."

-- About that Pioneers running game. Part of what makes it hard to defend is St. John's spread attack. Even with junior quarterback Connor Kurtz under center, the Pioneers can air it out (even with Efrain Montalvo out with an injury on Saturday). However, with Wilson possessing the toughness to run between tackles and the speed to cut it to the outside, St. John's trap blocking schemes present problems for opposing defenses. "We were more concerned about all the play-action passes and the quick screens," Pucko said. "We thought our four down linemen would be able to handle it, but they couldn't They were trapping them and doing some different things. Our linebackers got test and by the second half, they'd figured it out, made some adjustments and played much better in the second half."

-- And back to those fallen Naps. Three Holy Name players were taken to UMass Medical Center with dehydration, including a severe case with Sean Zuromsky, who was lifted off the field into an ambulance after a 20-minute delay in the fourth quarter. As the Naps' ranks thinned, however, Pucko was able to find new-found depth. "We had a freshman at corner in the second half that did a great job. We moved some kids in the [defensive] backfield, [including] our quarterback, They were a little big and physical for us, so we had to throw the ball a little more than we normally do, but we had a lot of kids step up and show that they can play football." How's that for modesty? Credit is also due to Pucko's staff (which is small in its own right) for having the youngsters ready and able to fill in at a moment's notice. No small task this early in the season.