Boston High School:

Antonio Ferreira
March, 6, 2012
3/06/12
11:17
PM ET
By
Ryan Lanigan
| ESPNBoston.com



BROCKTON, Mass. -- Stoughton's star point guard Aaron Calixte said before the game that losing wasn't an option. His performance showed just how serious he was.

The junior poured in 22 points, and added eight assists and three steals, to lead the No. 4 seed Black Knights to a 68-42 victory over Hockomock league rival and ninth seeded Oliver Ames, in a Division 2 South semifinal at Brockton High.

"He's pretty good," Stoughton head coach John Gallivan joked. "He's the kind of guy when he gets the ball, it's kind of an 'Uh-oh, who has to go guard him?' When we spread the floor like that, it's a tough match up for anybody."

After a back-and-forth first quarter, Calixte's partner-in-crime Marcus Middleton scored a quick five points to push Stoughton ahead 18-13 entering the second stanza. Calixte then took over with 10 points, outscoring the entire OA team himself.

The Black Knights received a career night from senior Antonio "Nuke" Ferreira, who put up 16 points (10 in the first quarter) and 15 rebounds -- 10 of which came on the offensive glass. Both totals were career highs. He also added four blocks.

"He got his points when we were having trouble getting them," Gallivan said. "He gave us some room to breathe and to catch our breath and get out legs under us, and that was huge."

The two rivals split the season series with each team winning on their home court and the Tigers with the victory in the second meeting –- something Gallivan thought was beneficial, saying the loss was "possibly" a blessing in disguise.

"It's hard," Gallivan said of beating a team on the third game. "It's hard to beat a team in our league two times."

Oliver Ames head skipper Don Byron said his team was used to scoring in the 60-point range, and credited the Black Knight defense on how they played. Gallivan also credited his team's defensive adjustments from the two teams' prior meeting as a key.

"One was to stop their sideline break which killed us last game," Gallivan said. "The other thing was in their man-to-man sets, we had trouble with some of their flex stuff. We paid a lot more attention to detail on that. I thought we did a much better job tonight.

"Defense was the main focus all week. Last time we played them, they scored more points against us than anyone had all season. We just made a commitment to defense."

Bruha Goes Out Fighting: Oliver Ames senior captain and 1,000-point scorer Nick Bruha didn't get off to the best start, but he made sure he finished the game -- and his high school career -- strong.

Off a combination of cold shooting and solid defense from Middleton, Bruha entered halftime with just one field goal and a total of 4 points. There was no quit in the guard, who dropped 14 in the second half to finish out his last game in orange with 18 points.

"It's going to be real odd not to have him in the gym," Byron said. "He's been running the team. When I came, he was a sophomore and he started every game for three years."

In traditional fashion, Bruha found success in a number of ways, including his aggressive drives to the hoop and his three-point game.

"The next time I walk into the gym, he won't be there," Byron added. "I remember Nick as a five-year-old kid. He had a terrific career, a tremendous career."

A Rivalry Continued: The semifinals matchup between these two Hockomock Davenport Division rivals was just another chapter in the storied history between these schools. With their home courts separated by less than seven miles, these kids have grown up playing with and against each other.

"This rivalry is history and it's epic," Gallivan said. "Every time we play, there's a story, and tonight obviously went our way. There was no telling going into this game what was going to happen."

As soon as each of these teams won last week, they each eagerly tried to find out if their rival would be their next opponent. When they did, the hype began. And when it was all said it done, with Stoughton putting their mark on this chapter, it was hard to describe how it felt for Ferreira.

"I can't, it's like unexplainable," he said. "And plus we're going to the finals. It's crazy."

Role Players Fill in Nicely With the attention normally focused in on Calixte and Middleton, Ferreira stepped in nicely, but he wasn't the only one. Junior Steffan Jackson -- who missed the majority of the teams' second meeting, and the following three weeks -- grabbed 13 rebounds (6 offensive) and added two blocks.

"Steffan missed the last time against these guys," Gallivan said. "That's the big part of our team. He's been the missing link the last couple of games. Having him back is huge."

Stoughton also saw sophomore Mike Gallagher and senior Raymond Bowdre come in throughout the game and play an important part. Gallagher got an offensive rebound and floated in a runner to put the Black Knights up by 11 in the second and then went on to hit a three at the buzzer of the third quarter.

Up Next: Stoughton will now play Hopkinton High in the D2 South Finals on Saturday at UMass-Boston's Clark Athletic Center. The Hillers are coming off a thrilling 64-62 win over Wellesley tonight in the other D2 South semifinal, at Taunton High.

And in case we need another reminder that Hopkinton is the defending D2 South champ, they knocked out No. 2 seed and would-be state title contender King Philip in the quarterfinals.
January, 24, 2012
1/24/12
11:47
PM ET
By
Brendan Hall
| ESPNBoston.com
WRENTHAM, Mass. -- John Gallivan remembers the first time his star point guard was in a situation like this.

The Stoughton head coach recalled two years ago when a young Aaron Calixte, at the time a freshman, went to the line needing to make one crucial free throw. Calixte promptly clanked the shot, and the Black Knights went on to lose a close one.

"I think he basically said to himself, 'That's never going to happen again'," Gallivan said.

And it hasn't. The electric 5-foot-11 junior point guard put on an offensive clinic in the first half, but was attacked for shooting fouls repeatedly by the fourth quarter. But in going 8-of-12 from the charity stripe in the fourth quarter, he kept the No. 6 Black Knights just enough ahead to hold off No. 9 King Philip, 73-69, in a thrilling atmosphere at the Warriors' gymnasium.

"It feels good, really good," said Calixte, who finished with 29 points, eight rebounds and eight assists. "We came to their home court, they had a crazy home crowd and we shut them up. We just did good, we played well."

Between KP's prized 6-foot-8 Maryland signee Jake Layman, and Calixte -- who has started to garner interest from Division 1 schools, including an offer from Towson -- this game had some considerable hype coming into it. And the billing did not disappoint, with both stars carrying their teams for stretches of this one. Calixte had 19 points by the half and several swift dishes, while Layman finished the night with 30 points and 13 rebounds.

KP (9-2) cut the Stoughton (10-1) lead to 60-56 with under three minutes to go in the contest, but the Black Knights seized control with some heads-up play on the break. First, Marcus Middleton (20 points) drew a shooting foul and sank both free throws; the next trip down, Steffan Jackson (seven points, seven rebounds) cut backdoor for a quick layup.

On the ensuing KP possession, Stoughton's Antonio Ferreira came up with a steal near midcourt, drove to the lane and delivered a behind-the-back pass to Calixte, who was taken down hard but nailed both free throws to make it a 66-58 game.

Stoughton increased its lead to 10 with under a minute to go, but the Warriors got off two quick three-pointers from Sam McDonald to make it 71-66. But Calixte hit two more free throws to ice it.

The Knights led 44-36 at the half, but just 53-52 after three quarters.

"Middleton and Calixte were tremendous tonight," said KP coach Sean McInnis. "I think they went 27 of 33 from the free throw line. Tough to beat a team like that."

Marking Layman: The key matchup tonight was how the Black Knights, who don't dress a player over 6-foot-2, were going to defend against the 6-foot-8 Layman, a returning ESPN Boston Super Teamer who has single-handedly toyed with teams at times so far this season.

The task was given first to Middleton, the team's best on-ball defender, who at 5-foot-10 gives up nearly a foot to the nation's No. 61 overall player. Reminded of this, Gallivan cracked, "It's only a foot."

Yes, Layman got his buckets, leading all scorers on the night. But Middleton covered him from end line to end line, digging his chest into the big man's midsection, keeping his hands and hips active, and generally making him labor on any movement into the painted areas.

When it wasn't Middleton pressing on Layman, Gallivan left the duties to Jackson, with Calixte rotating in with some help defense.

"Marcus is just an animal defensively," Gallivan said. "He covers everybody's best player, so why should we switch it? And the other guys helped Marcus. You can't chin Layman and expect to box him out at the same time, so the other kids helped him, kept him off the boards a few times."

McInnis conceded that Layman "worked for every point that he had."

"He's such a tremendous defender," McInnis said of Middleton. "John does such a great job with them on defense, he preaches defense, and that's exactly what we saw tonight. Middleton was tremendous on Jake, took away some of his inside game on Jake, and what happened to us is that it too Jake out of the flow of the game, where it was tough to get Jake inside because he was fighting so hard to get down there. He exhausted a lot of energy to do that."

Switch to zone hushes Warriors: In the second half, Stoughton switched to a unique 2-3 zone defense that gave the Warriors some trouble. Gallivan would surmise later that "You throw it all against the wall and you see what sticks," but this was certainly a package he'll keep in his binder.

Installed just two days prior to tonight's game, the Black Knights' zone was tight for the most part, cutting off diagonal lanes through the zone, forcing ball reversals around the perimeter and long lobs over the top to the opposite sidelines. Against the zone, the Warriors went through stretches where they settled for circumventing rather than penetrating, and it showed on the stat sheet -- KP was just 11 for 32 from the field in the second half, with seven of the baskets coming from three-point range.

Layman's buzzer-beating three to end the third quarter fired up the home crowd, as he flexed to the student section. But against the zone, those moments were too few in between.

"I think we started to feel comfortable taking those shots," McInnis said. "We felt as though the zone was open in the middle, but I think our guys saw that first look at the three and took that shot...I think some came in the flow, and some were shots that we're gonna work on in our shot selection. I think that we forced a couple up -- we took some on the first pass that we could have had two or three passes later."
January, 17, 2012
1/17/12
2:57
PM ET
By
Brendan Hall
| ESPNBoston.com
With many teams across the state reaching the midway point of their schedule this week, here are my mid-season picks for our annual MIAA All-State, All-Defensive, and Coach of the Year awards.

THE SUPER TEAM
G – Aaron Calixte, Jr., Stoughton
G – Steve Haladyna, Sr., St. John's Prep
G – Tyrese Hoxter, Jr., Charlestown
F – Jake Layman, Sr., King Philip
F – Isshiah Coleman, Jr., New Mission

BEST OF THE REST
Yadoris Arias, Sr. G, Lawrence
Tyler Delorey, Sr. G, Holy Name
Matt Droney, Sr. G/F, Catholic Memorial
Joey Glynn, Sr. F, Cardinal Spellman
Leroy Hamilton, Sr. F, New Mission
Jameilen Jones, Jr. G, BC High
Kevin LaFrancis, Sr. C, Acton-Boxborough
Alex Lopez, Sr. G, Springfield Commerce
Damian Lugay, Sr. G, Weymouth
George Merry, Sr. C, Danvers
Marcus Middleton, Jr. G, Stoughton
Matt Mobley, Sr. G/F, St. Peter-Marian
Brian Mukasa, Soph. G, Sharon
Tyler Nelson, Soph. G, Central Catholic
Quinton Perkins, Sr. G, Fitchburg
Luis Puello, Sr. G, Central Catholic
Colin Richey, Jr. G, Whitinsville Christian
Kamari Robinson, Jr. F, Springfield Central
Tyrell Springer, Sr. G, Springfield Central
Michael Thorpe, Sr. G, Newton North

ALL-DEFENSIVE
G – Luis Puello, Sr., Central Catholic
G – Anthony Hodges, Sr., Holy Name
F – Jake Layman, Sr., King Philip
F – Antonio Ferreira, Sr., Stoughton
C – George Merry, Sr., Danvers

COACH OF THE YEAR FINALISTS
Scott Boyle, Lowell
Hugh Coleman, Brighton
Paul Connolly, Newton North
Paul DiGeronimo, Fitchburg
John Gallivan, Stoughton
Paul Neal, Lawrence
Brendan Smith, Boston Latin
Malcolm Smith, East Boston
Mike Vaughan, Mansfield
John Walsh, Danvers
January, 10, 2012
1/10/12
11:13
PM ET
By
Brendan Hall
| ESPNBoston.com
STOUGHTON, Mass. -- During the preseason, much of the talk within the Hockomock League circles surrounded two teams boasting talented individuals players -- King Philip and Maryland-bound stretch forward Jake Layman, along with Stoughton and their electric junior point guard Aaron Calixte.
All this, in spite of Mansfield's resume -- a Division 1 South title last March, some of the state's best coaching, and overall supremacy over the league the last few seasons.
Suffice it to say, after tonight there are no questions about who still reigns supreme in one of the MIAA's most competitive conferences. The Hornets dispatched KP to start the season; tonight, they knocked off recently-anointed No. 2 Stoughton, 73-66, after trailing by 13 headed into the final frame.
With the win, the Hornets run their league winning streak to 26 games, dating back to a loss to North Attleborough on Jan. 15, 2010.
"I told my guys, we're not going down without a fight," Hornets head coach Mike Vaughan said. "That's a great team. We had to play a lot of outstanding basketball for a lot of time, just to get ourselves back in the game.
"I like that team a lot. They compete, they play hard. We had to make some big plays down the stretch, and we weren't going down without a fight."
Down 58-45 headed into the final frame, the Hornets (5-3) strung together a series of big plays for an impressive 21-0 run that put the clamps on any Stoughton comeback, after the Black Knights (6-1) led for the first 24 minutes.
It started with some terrific play around the glass from freshman forward Brendan Hill (16 points, six rebounds, two blocks), and stiff defense on the perimeter from Ryan DeAndrade and Michael Hershman. The Hornets seized the lead with some heady play by senior captain Brian Hershman (15 points). First, the guard stole a loose ball near midcourt that had Calixte (28 points, eight assists) initially lost control of, driving in for an easy layup to tie it at 58 apiece.
The next trip down, Mansfield took the lead for good with a perfectly-executed backdoor play right through the heart of Stoughton's 3-2 zone. A high entry pass was dumped into the elbow to Hill, who took one touch and immediately slapped it back out to the three-point line on the right wing. From there, Brian immediately fired a diagonal pass to the opposite post, where Greg Romanko cut down the baseline for a wide-open layup and 60-58 score.
The Hornets never trailed again.
"Every day in practice, we go through a zone," Brian said. "We run a certain play, we swing it, then look for back cuts, anything that's open, take a layup."
Interestingly enough, Brian threw the same pass two possessions earlier, only to have it stolen by Calixte.
"I'd throw that pass 10 times, make it nine times," Brian said.
From there, the Hornets were able to make all their requisite late free throws to ice this one. In all, they made 13 of 15 free throws in the fourth quarter; and in total, they outscored the Black Knights 28-8 in the final frame.
"It's kind of an age-old story of we gave in, in a lot of different ways, to pressure, mentally and physically," Stoughton head coach John Gallivan said. "We just had an internal collapse across the board. We didn't want to do the things we normally do. We had guys hiding from the ball, just dying to get rid of it, and we missed some shots we didn't hit, and all of a sudden we haven't scored in five minutes. You can't do that against a Mansfield team."
Hill 'the real deal':
Coaches and players both within the Hornets program and around the Hockomock are already speaking highly of the freshman Hill, who came off the bench and provided the needed spark in the fourth quarter. When they speak of his potential, they're talking about plays like the one he made early in the fourth quarter, a block of the physical Calixte as he crossed up his defender and drove to his right towards the basket -- a clean block but one that nonetheless planted the Division 1 guard prospect square on his behind on the floor.
"He's gonna be a special player," Vaughan said. "He's still learning varsity basketball, and what it takes to play at this level. He got beat up pretty early for a couple of quarter there, and I called him out at halftime. To start the fourth, he showed what kind of a special player he's going to be the next four years and the type of plays he can make for this team."
Brian Hershman takes the praise just a tad further.
"He's gonna be the deal," Brian said. "Give him another two years, he's gonna be one of the best players in the state. He's already showing it right now. He's dominating.
"He sees the floor tremendous. You see his passes, no-look passes, he finishes down low, [he can] do it all."
Chess match:
Vaughan showered praise upon Calixte, calling the electric junior "fun to watch", even admitting that sometimes, "I get caught up watching on the sidelines."
Asked about devising a game plan to slow him -- the junior sizzled slightly in the second half, finishing 10 of 23 from the field -- Vaughan chuckled.
"Throw the house at him?" he asked rhetorically, with a laugh. "The house, the garage, the cars, everything. I mean, we did everything we could to neutralize him, and he's...just special. He made big play after big play, and that's the way he'll do it all year, and that's how he's done it up to this point."
Lately, Gallivan has been adding a new ripple to the Black Knights' offense when opponents key on Calixte. Last Friday night against Oliver Ames, a 63-44 win, Calixte went to the blocks and posted up whenever the Tigers came out in a box-and-one defense. Tonight, a similar strategy played out, with Calixte drawing fouls on the floor against DeAndrade when he went to the blocks.
On the other end, Gallivan has been experimenting with putting Antonio Ferreira at the top when in zone defenses. The sparky Ferreira -- whose one-handed slam lifted the crowd to end the third quarter -- could be a nuisance in this look, with his long arms able to disrupt the passing lanes while hustling back quick enough to crash the boards.
When we last checked in with the tattooed one (nicknamed "Nuke", and equipped with his own special chant from the student section) during the preseason, Gallivan
told ESPNBoston.com
, "He's playing with unbelievable passion and confidence...He's about 6-2, but he plays like he's 6-6."
"We'll throw stuff against the wall and see [what sticks]," Gallivan said of the strategies with Calixte and Ferreira. "In a game like this -- especially with Mike Vaughan coaching the other team -- if you stay in anything too long, they're eventually going to rip you to pieces. You've got to mix things up."
December, 31, 2011
12/31/11
12:09
AM ET
By
Matt Noonan
| ESPNBoston.com
RANDOLPH, Mass. -– For the first time in school history, Stoughton (5-0) captured the Blue Devils Holiday Classic tournament by defeating host Randolph, 66-36.

"They're a good team," said Randolph head coach Kalon Jenkins. "They're a very good team, very well coached, they play tough, [and] there's a lot of familiar faces for me on that team, [but] I thought for us, knowing how good they are, we had a little bit of stage fright, we had some moments to do some things, but that's a very good team."

The Black Knights wasted little time after winning the opening tip to secure the lead, and eventually the game, as senior forward Steffan Jackson sparked his offense with a highlight reel dunk, which then led to an 11-2 run to close out the first quarter. That gave them an 18-7 lead.

Randolph (3-1) attempted to rally midway through the second, as junior forwards Emmanuel Manoli and Chisom Echebiri connected on back-to-back three-pointers before Stoughton head coach John Gallivan called a timeout.

Stoughton then responded by scoring 16 points, and holding the Blue Devils to just four points for the remainder of the opening half to take a 39-19 lead into the break.

"[We had to] stop missing the box outs, and stop trying to run for dunks and just run for lay-ups," said Gallivan, when asked to elaborate on what he said to his team during the second quarter timeout.

The head coach continued by saying, "I think we probably left eight points on the court tonight where we should have got a fairly easy lay-up, and we didn't because we were trying to set our feet up or our hands up for a dunk, and we end up dropping the ball or missing the dunk."

Junior co-captain Aaron Calixte (21 points, four assists, four steals), helped the Black Knights grow their lead even more during the first few minutes of the second half, as he knocked down his second three-pointer of the evening, as well as two back-to-back free throws before his team secured a 30 point lead in the fourth quarter.

"Basketball is a game of runs, and we're always going to run every single game, but we just capitalized off the run, [and] didn't make too many mistakes, and we [then] kept scoring and defending well," said Calixte.

"I think we try to make it a one possession at a time mind frame," said Gallivan. "They're hard workers, and they want to play, they love playing, and whether it's a starter or sub, they're going to play as hard as they can."

Stoughton's reserves finished the game, and held Randolph's bench to just five points during the closing seconds to preserve the win, and their fifth victory of the season.

Myers Struggles: Blue Devils senior co-captain Devante "D.J." Myers struggled all game, and didn't record his first and only field goal until the fourth quarter.

"He's been a little bit colder this year than last year. He's taken some good shots," said Jenkins. "As a coach, I just have to get him more opportunities to shoot the basketball. [If he] can get himself in a rhythm, he'll be fine."

Gallivan also commented on the play of Myers when he stated, "We talked about their guys, and he's definitely one of their guys. Sometimes it's like that. You have a tough night shooting the ball, but it does a lot of other things that are impressive that maybe don't show up on the stat sheet."

Calixte named Tournament MVP: After Friday's game concluded, Calixte was awarded the most valuable player of the tournament. He was humble when asked about the honor, explaining that his team's victory was more important than a plaque.

"It doesn't mean anything [because] it's a team effort, so it's all about my team," said Calixte.

Stoughton's junior guard and co-captain Marcus Middleton (11 points) and senior forward Antonio Ferreira (8 points) were announced as two of the members of the all-tournament team as well.

Friends and Allies: After the game concluded, John Gallivan told the media that this game was special for him because he was able to coach against a former co-worker, but also a close friend. Jenkins was an assistant under Gallivan from 2003 to 2009.

"This is our first time [playing in the Blue Devils Holiday Classic]," he said. "It was a special game for me because Kalon and I coached together for seven or eight years, and we were very good friends. We talk every day. We talk about his team, and my team, and to have the two teams play is definitely different."

December, 11, 2011
12/11/11
11:43
AM ET
By
Brendan Hall
| ESPNBoston.com
RANDOLPH, Mass. –- While some schools across the state kicked off their regular-season basketball schedule this weekend, for others it was an opportunity to get in one last tune-up before the game start counting for real. All Saturday long at Randolph High School, a number of teams got in two scrimmages at a time, including Foxborough, Concord-Carlisle, Dennis-Yarmouth, Weston, North Quincy, Marshfield, Randolph, and Rhode Island power La Salle Academy.
The most anticipated games came in the evening, where defending Division 2 state champion and preseason No. 3 New Mission squared off with two rising D2 powers ranked in ESPN Boston's preseason poll, No. 13 Stoughton and No. 5 King Philip.
Each game consisted of two eight-minute quarters. Stoughton blew the doors off of Mission in the first quarter, 25-2, but the Titans stormed back and won the second quarter 18-2. KP took the first quarter of its scrimmage with Mission, 13-4, and played to a 9-9 tie in the second.
Duke Nukem:
One of the most impressive performances of the night had to be that of Antonio Ferreira, Stoughton's senior spark plug around the rim. Much of the attention with Stoughton this preseason has come as the result of the Black Knights' dynamic backcourt of Aaron Calixte and Marcus Middleton; but with a visible lack of size, the slashing abilty of the 6-foor-3 Ferreira comes as a positive.
[+] Enlarge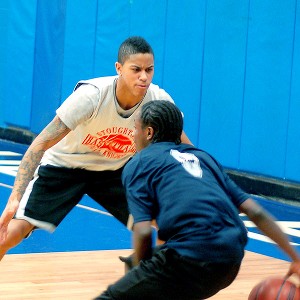 Courtesy of Brendan Hall Stoughton forward Antonio Ferreira was a spark plug against New Mission and will play an integral role in the front court as the season wages on.
The Denver Nuggets have Chris "Birdman" Andersen. The Knights have Ferreira, a lanky, wild-looking ball of energy equipped with a thick Mohawk and sleeve of tattoos running down his right arm –- including his nickname, "Nuke", inked boldly in Olde English lettering along his outer forearm. In the first quarter against New Mission, Ferreira had three blocks on Mission's touted forward Isshiah Coleman, and had some overall terrific rotations in the low post.
Ferreira's emergence could be just what the Knights need to divert attention, and could be a nice story to boot. He came up through the Stoughton youth system, moved to Worcester at the start of high school, only to return last year and inch along, in the words of head coach John Gallivan "very slowly."
"We sorta saw a light come on in his eyes this year," Gallivan said. "He's playing with unbelievable passion and confidence, and as you saw tonight, he gets up quick. He's about 6-2, but he plays like he's 6-6. I thought he was the most dominant player out there for the first four minutes tonight."
Also of notice was the emergence of senior forward Steffan Jackson, who hasn't played since his freshman year due to academic troubles. Jackson drew the biggest crowd reaction in the first quarter when he made a block on the defensive end, then came down in transition and shifted his torso 180 degrees mid-air for a reverse layup over the 6-foot-4 Coleman.
"He obviously made some mistakes out there like he was in his freshman season two and a half years ago," Gallivan said. "But still, he made some unbelievable athletic plays."
Angle pursuit:
If you followed our football coverage this fall, you've probably heard us mention a few times about the skill crossover between lacrosse and football, especially with skill positions. Stoughton had success this fall in football, especially in the secondary with Middleton and Calixte, and that closing speed translated nicely in the Knights' 2-2-1 press.
"Aaron and Marcus have been playing together since the fifth grade in football, basketball," Gallivan said. "They know each other, they know what the other one's doing, and they were really effective."
Coleman gets his work:
New Mission head coach Cory McCarthy said the scrimmage with KP was a game "they had circled on their calendars for a while", and it might have something to do with the above video. That's Coleman dunking on two Warriors players last September at the Beantown Hoops Shootout.
[+] Enlarge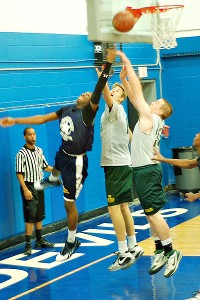 Brendan Hall King Philip's Maryland-bound forward Jake Layman had some nice rotations but "has a long way to go," according to coach Sean McInnis.
Against KP, Coleman was saddled with the task of posting up Jake Layman, the Warriors' Maryland-bound superstar forward. In the first quarter, Layman came up with a block of Coleman, then played a smart rotation by cutting off his driving lane; when Coleman tried to go opposite baseline, Layman stretched out just long enough for a help defender to cut in and help stuff the forward as he tried to hit a reverse layup.
Then in the second quarter, Coleman returned the favor. He forced Layman into a bad shot, then took a charge on the next possession. Then for good measure, Coleman took one more charge the next trip down, before capping it off with another vicious block.
"I thought we played Layman well tonight," McCarthy said. "But we weren't consistent with it. We weren't learning from our lessons."
Said KP head coach Sean McInnis of Coleman, "This has been an ongoing thing, this matchup, and hopefully we get to see them one more time [in March]. I thought Isshiah is tremendous, and has come a long way since August alone. He's a tremendous player."
Growing pains:
At 6-foot-8 and a gifted skill set, and already ranked in the Top 50 for the Class of 2012 by ESPNU, Layman will inevitably win games with his length at this level. But no matter his star power, McInnis said Layman "has a long way to go."
Layman came up with back-to-back steals of entry passes on the wing, but he also had some struggles around the rim and turned the ball over when bringing it up. Ballhandling no doubt will be an area of improvement going forward.
"We're definitely going to be working on ballhandling, and being able to shoot up off the dribble," McInnis said. "I think those two things right there will make Jake a better player. But he'll make all of us better players, as we get Jake to be able to do that."