Boston High School:

Aram Ouligian
November, 11, 2013
11/11/13
12:36
AM ET
By
Josh Perry
| ESPNBoston.com
TAUNTON, Mass. -- It took nearly the full 80 minutes for him to get a chance, but when the ball fell to Silver Lake senior striker Paul Beatty in the box, he was ready to pounce.
Beatty scored with fewer than two minutes remaining and then added a game-winner in the second overtime to lead the top seeded Lakers to a dramatic 2-1 victory over Needham in the Division 1 South sectional final on Sunday night at Aleixo Stadium in Taunton.
The Rockets double-covered Beatty the entire game with Greg Evans marking him directly and captain Daniel Alpert giving cover behind him. The strategy worked for 78 minutes, as Beatty struggled to find room to run and went minutes at a time without even touching the ball.
Down by a goal late in the game, Silver Lake started to throw people forward and the strategy paid off in the final two minutes when the ball was not properly cleared by Needham and a cross was nodded into the path of Beatty by Pat Hutchinson. The senior settled the ball off his chest and slid his shot just past the sprawling Adam Lassman to make it 1-1.
[+] Enlarge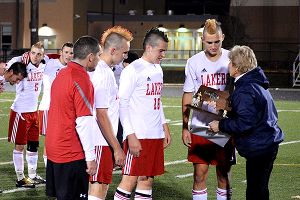 Josh Perry for ESPNBoston.comMembers of the Silver Lake soccer team celebrate their sectional title.
Needham had looked very strong up until that point, but the Lakers carried the momentum into overtime. Three minutes into the second overtime, Alpert tried to head a pass back to Lassman only for Beatty to beat the keeper to the ball and fire a left-footed winner that sparked celebrations on the bench and in the stands.
Head coach Dan Correia knew that Beatty would come through eventually. He remarked, "Even though they contained him for the most part, you could tell that they were very conscious of every touch that he had. We felt it was a matter of time that we get him the ball in the right spot."
Correia also commented on his team's ability to persevere and battle to the end of the game. He noted, "We haven't had to do it often, but it's good to know that the guys are mentally tough and can do it."
Needham head coach Don Brock, whose team had not lost since September of 2012, was disappointed with the final result, but proud that the Rockets had a strong season, despite losing eight starters from last year's state championship team.
"The one with two minutes left, we had that game won if we didn't let them score," Brock said. "We just goofed a little bit, as kids will do, but I'm very proud of the way we played."
He added, "It speaks volumes for the few seniors that we have back from last year and the program. It speaks volumes that we can reload like that and we'll be back next year."
It was a very even first half between the top two seeds in D1 South and two teams that had yet to lose this season.
Needham created a few chances down its right side with Matthew Brand playing in a cross that Marco O'Donnell tapped just wide. Junior captain Aram Ouligian also had a header flash wide on a corner and later had a shot deflect inches wide of the post. On the ensuing corner, Brendan Nemes almost put the ball into his own net but keeper Stephen McSwain was able to get his hands on it.
The Lakers best scoring opportunities came from set pieces, including a Beatty corner that had to be cleared off the line and then the rebound shot went narrowly wide.
Coming out of halftime, the Rockets took control of the game and began to dominate the midfield behind strong play from Ouligian and Jordan Angel. Five minutes into the second half, O'Donnell crossed from the left and Brand had a diving header saved by McSwain. It was a warning for the Lakers, but a minute later they were behind.
Ouligian drove forward into the box and sent in a low cross from the right that was tapped in by Hantzly Murat, who was able to get in front of his defender. The goal seemed to inspire the Rockets. Needham started flying all over the pitch and closing down Silver Lake as soon as it got possession.
Beatty was increasingly isolated and Correia looked for any answer to try and get back into the game, including moving the forward out to the left wing in hopes of getting him more touches.
Correia explained, "We shifted a lot of guys forward in the last 10 minutes. We went from 4-5-1 to 4-4-2 to 3-4-3, whatever we had to do."
Silver Lake thought that it had found the equalizer with six minutes remaining, but defender Tim Barrow (who also scored the winner against New Bedford) was ruled offside by the assistant referee.
Four minutes later, Beatty had his chance to keep the Lakers season alive.
"It's something that we've talked about all season," remarked Correia. "You can't control the little things. If you go down a goal, who cares; just go out and get the next one."
Silver Lake will take on north sectional champion Somerville in the state semifinal on Tuesday night at 7:15 p.m. at Taunton High.
D1 South Girls: Franklin 2, Bishop Feehan 1
Taylor Cogliano had a goal and an assist and freshman Meg Adams scored the winner with only two minutes remaining to lead Franklin to a 2-1 victory over Bishop Feehan in the D1 South final at Taunton High. It was the Panthers second consecutive sectional title and third in the past four years.
Head coach Tom Geysen reflected on how far the Panthers have come from the preseason to now.
He explained, "In the whole preseason we didn't score a single goal. Three days before our first game, we scrapped the whole thing – offense, defense, everything. It's just been a work in progress the whole time and they keep working on it."
The Shamrocks took the lead in the 37th minute on a goal by leading scorer Maddie Jolin. A long throw was played into the box and Jolin was able to slide a tough angled shot past an onrushing Dani Lonati and inside the far post.
Lonati redeemed herself in the second half with a series of good saves that kept Franklin in the game. She slid to stop a Jolin breakaway and then another from Allie Luongo. She also tipped a hard shot over the crossbar. Those saves would turn out to be huge, as Franklin turned its possession into goals.
Cogliano blocked a Feehan clearance and beat the defender and the goalkeeper to the ball before picking out the top corner and making it 1-1. It was the fourth straight tournament game with a goal for the junior.
"Taylor has stepped up the last three games. Big players step up in big games and that's what she's done," said Geysen.
With two minutes remaining, Cogliano read a bouncing ball and then out jumped a defender to flick a header into the path of Adams. The freshman was able to get a toe on the ball just ahead of the Feehan keeper and it rolled inside the post.
Geysen noted, "She's going to do numerous things wrong because she's young, but all of a sudden she'll do something that makes you say, 'Wow, where did that come from?' She makes people make mistakes and she has the ability to capitalize when she does."
Franklin will face north sectional champion Newton North in the state semifinal on Tuesday at 5 p.m. at Taunton High.
October, 18, 2013
10/18/13
12:22
AM ET
By
Josh Perry
| ESPNBoston.com


NEEDHAM, Mass. -– The No. 17 Framingham Flyers went into Thursday afternoon's game with No. 2 Needham at DeFazio Field needing a win to tie the Rockets at the top of the Bay State Conference's Carey division.

Framingham dominated the first half, but after the break the defending state champions started to control play and finished as the stronger team. Despite a host of chances, neither team could find the back of the net and it ended 0-0, leaving Needham on top with just a few more league games left on the schedule.

"I thought we played good in the first half and in the second I thought they had us on our heels a little bit," said Framingham head coach Dan Avery. "We had one stretch in the second where we applied pressure, but I can't believe it was 0-0 at halftime."

He added, "The way we played in the first half, we needed to have the lead."

Needham came close early in the first half when junior captain Aram Ouligian took a ball on the half-volley but lifted it just a foot over the bar. That would be the last, solid chance for the Rockets in the opening 40 minutes as the Flyers attackers kept Needham back on their heels.

Midway through the first half, junior captain Brian Nardizzi and Joao Costa played a one-two on the edge of the box, before Costa slid the ball into the path of Vinny Matias. Matias took a touch but his shot was into the chest of Needham keeper Adam Lassman. A few minutes later, Nardizzi again found space on the left side of the box and drove to the byline, but his cross to the oncoming Matheus Correa was scrambled away by the Needham defense.

Just before halftime, junior Doug Ferreira hit a shot that no one on the Needham defense had any chance of stopping, including Lassman. But, unfortunately for the Flyers, the shot that seemed destined for the top corner, drifted off the far post, dribbled across the line, and slipped out the other side. It was inches from being a golazo, instead it was another opportunity missed.

"We knew they had great skills," said Needham head coach Don Brock about the Flyers attackers. "[The defense was] getting bitten in the first half; guys were faking and they were diving in so we told them to stay away from that."

When asked if he had made any halftime adjustments, Brock replied, "No we didn't. We just told them to be more aggressive and to mark their men a little tighter."

The instructions may seem simple, but the Rockets were a much different team after halftime and the hosts started to take control of the midfield. With Ouligian and junior Paul Kondratyev winning the ball back and distributing it out wide to attackers Matthew Brand, Jason Miller, and Don Igo, Needham started to create chances and force the Flyers back.

Ouligian missed a pair of headers from inside the box as the Rockets started to play dangerous crosses into the box. The best chance for either team came on a cross from left back Andres Pinto to Kondratyev, who had raced into the box but could not keep his volley under the bar.

"[We] just didn't create enough opportunities in the second half and I don't really have a good reason why that happened," said Avery. Obviously, if I could have told you why, then I would've done something about it."

The draw keeps Needham on top of the Carey division and keeps the defending champs unbeaten this season, despite losing nine starters from last year's team. Brock, who is now in his 46th season as coach, credited the strength of the overall program for keeping the Rockets relevant again this year.

He said, "We obviously lost some key players, no question about it, but our JV squad and freshmen squad coaches and staff have done an outstanding job. We have a good system here in Needham and we're proud of it."

Brock added, "It's a young squad; I only have two or three seniors that are contributing. I'm pleased with how the progress has gone this season."

Framingham will be disappointed to not get the victory that would have brought it back to the top of the standings, but Avery is pleased with his team's effort and has high expectations for the postseason.

"We have the skill to compete with anybody; it's the mindset," he remarked. "Just keeping composure and playing with poise, I think that's the key for us."
September, 3, 2013
9/03/13
4:29
PM ET
By
Josh Perry
| ESPNBoston.com
With MIAA soccer matches kicking off this week, here are four storylines to watch for the new season:

1. Realignment changes dynamic of postseason.

The MIAA realigns this season and a number of teams will be competing in different divisions this year. The biggest change is that Division 2 now only exists in Eastern Mass. This means a shift for several teams out West, including Belchertown, which now has its girls playing in Div. 1 while the boys are expected to dominate in Div. 3. Two-time defending D2 state champion Groton-Dunstable also faces a jump up to D1 in Central Mass.

In the boys' South sectionals, these changes have suddenly created a D2 tournament that will be as difficult as just about any sectional in the state. Division 1 South semifinalists Dartmouth and Oliver Ames, along with fellow playoff teams Nauset, Walpole, and Catholic Memorial will all be dropped down. The teams combined for seven wins in the 2012 D1 playoffs and, when added to D2 mainstays like Canton, Medfield, and Hingham, will provide a deep bracket filled with potential state champs. One team not included in that list is last season's D2 South winner, Medway, which will now compete for the D3 title.

All of the movement will add some spice come October and November as many of the teams (for example the Dedham girls, who have been moved to D3) compete in leagues with teams in higher division or schedule those opponents to prepare for the playoffs.

2. What happens when the face of the program leaves?

The Needham boys will be without their all-time leading scorer, Mac Steeves, this season and on the girls' side there are a number of programs that have lost not only good players, but among their best ever.

Franklin's Kristi Kirshe, Peabody's Hayley Dowd, Oliver Ames' Kendall Andrew, Canton's Lauren Berman, Nashoba's Kim Slade, and Concord-Carlisle's Andrea O'Brien are just a few of the graduates that have left question marks around entire programs. (Apologies to anyone not mentioned - it's a very big list.)

Many of these teams are familiar faces in the rankings and will find a way to be successful even without the big name (Franklin for instance is still considered the team to beat in D1), but that is an amazing amount of talent moving on and it has changed the whole perspective on how successful these teams can be. It has opened the door for new league and sectional champions.

In many cases these players were not only the best player and the talent that produced wins on the field, but also the foundation on which the team formulated its game plan. Now, coaches may have to adjust to lesser talents that are not able to decide games on their own and players will have to step up and take responsibility where before they could simply pass to the star. It's a challenge that will be interesting to watch this season.

3. A true rivalry out West.

Ludlow, boasting 17 state titles, has long been the dominant force in the West region, but last year Amherst earned its first ever sectional title and showed that it could compete with the best. This season, Ludlow is considered the team to beat but, with seniors Brandon Vazquez and Eric Gooden, Amherst believes that it has closed the gap. Both teams are ranked in the preseason Top 10 and now there are two teams that people out East have to ask about at the start of every year.

If the fans of Belchertown had their way, there would be a third team to add to the rivalry. The Orioles put up numbers last year that would make Barcelona jealous, but it is hard to determine the caliber of teams that they are competing against. With the drop into D3 this season, the gap between Belchertown and the top teams in the West is even larger, making it even more difficult to rate them.

4. Mr. Soccer and Miss Soccer races heat up.

Going into the season, there are a number of players to watch out for and the race for the second annual ESPNBoston.com Mr. and Miss Soccer awards (won last year by Mac Steeves of Needham and Kristi Kirshe of Franklin) has the potential to be very close.

Here are preliminary lists of some of the male and female players to watch heading into 2013:

Boys – Thayrone Miranda (Sr., F, Somerville); Dave Stapleton (Sr., M/F, Oliver Ames); Klisman Souza (Sr., M, New Bedford); Brandon Vazquez (Sr., M, Amherst); Noah Martins (Sr., M, Dartmouth); Aram Ouligian (Jr., D/M, Needham); Michael Dushman (Sr., M, Bedford); Paul Beatty (Sr., F, Silver Lake); Bobby Ivatts (Jr., M, Walpole); Lucas Resende-Verge (Sr., K, Weymouth).

Girls – Caitlin Harty (Sr., F, Beverly); Taylor Cogliano (Jr., F, Franklin); Kate Holleran (Sr., M, Oliver Ames); Lauren Petit (Sr., M, Medfield); Kayla Steeves (Jr., M, Needham); Breanne Moreau (Sr., M, Belchertown); Brooke Murphy (Sr., F, Monson); Maddie Jolin (Jr., F, Bishop Feehan); Alexis Fruzetti (So., F, Whitman-Hanson).