Boston High School:

Asante Sandiford
February, 1, 2014
Feb 1
2:14
AM ET
BOSTON -- It's been a down year for the Boston City League, but one that New Mission has thoroughly dominated. In league games this season, the No. 2 Titans have beaten opponents by an average of 30.7 points, including a 30-point drubbing of Charlestown in their first meeting back in December.
The second meeting -- complete with a 25-minute array of halftime festivities, and a hostile home crowd -- didn't go as planned. The Titans escaped Charlestown, 67-65, on a night it was honoring former Townie and UConn guard Shabazz Napier with the retirement of his jersey. And for Mission head coach Cory McCarthy, this was exactly the kind of win they needed.
"It was good, and in this environment," McCarthy said. "I think there's, like, Satan or somebody hanging on top of that rim, and he might be 10 feet tall, because we shoot the ball well and we just could not for the life of us hit anything from the perimeter."
In this gym, with its unique lighting and less-than-forgiving rims, the Titans (12-2) had to rely on their interior game, led by seniors Asante Sandiford (21 points, 10 rebounds) and Fred "Bam" Rivers (11 points, seven rebounds).
[+] Enlarge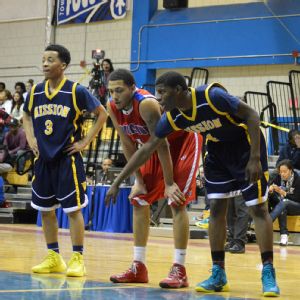 Brendan Hall/ESPNBoston.comAsante Sandiford (21 points, 10 rebounds) was a force in the post as New Mission staved off Charlestown.
Sandiford gave the Townies (9-7) fits early, drawing foul after foul underneath as players either leaped at his pump fakes or found themselves in awkward positions trying to handle his pivots. Sandiford went 6-for-8 from the line in the first quarter -- including three trips to the free throw line in the first 80 seconds of the game -- then dominated the paint in the second, going 5-for-6 from the floor.
Rivers, meanwhile, had to come up big late after finding the bench early, picking up his second foul just four minutes into the contest.
Clinging to a 62-60 lead following a free throw from Charlestown's Taris Wilson (18 points), Mission's Randy Glenn dribbled to the right wing and called for a Rivers pick to his left. The runway clear, Glenn blew by his defender and picked up a foul on the way up, sinking one of two for a three-point lead.
Charles Washington rimmed a pull-up attempt from the elbow on the ensuing Charlestown possession, and Rivers was there underneath to scoop the rebound and pick up another foul, hitting both free throws for the 65-60 lead.
After a Charlestown basket the other way, Rivers was sent flying to the floor after receiving the inbounds pass, and with his two made free throws and just 16.6 seconds left the game looked in hand at 67-62.
Not to be outdone, Oliver Benner (18 points) heaved up a deep three-pointer from the top of the key, then dragged Tyrique Lee into the Townies bench for the foul (after brief scuffling, players from both teams had to be separated, but no technical fouls were assessed). With 1.6 seconds left Lee missed both free throws, but Rivers corralled the board on the second shot to seal the victory.
"It was definitely a test," Sandiford said. "It shows we have to stay together at all times and keep our team chemistry up. Down the road we had a couple breakdowns, missed a couple of free throws, we were losing our head because of the crowd. It's very intense in here. But we learned that we have to finish at all times."
January, 25, 2014
Jan 25
1:01
AM ET
Brendan C. Hall
ESPN Boston High Schools Editor

FIRST TEAM

G – Tyler Nelson, Sr., Central Catholic
He's always been one of the state's premier shooters, but his game has evolved this season as he continues to fight through box-and-one's. He has grown up quite a bit in terms of toughness.

G – Dizel Wright, Sr., Putnam
One of the state's best on-ball defenders and the humble kid on an otherwise very vocal team, he sets the tone at both ends of the floor for the state's undisputed No. 1 team.

F – Tyonne Malone, Soph., Putnam
One of several prep school transfers that arrived with plenty of hype, the 6-foot-3 slasher has been an integral force on the wing for the Beavers. Long with plenty of athleticism to get to the rim at will, there's a lot of upside to be excited about.

F – David Murrell, Sr., Putnam
It's an MMA fight at times trying to battle on the boards with the Beavers, and the returning All-State forward sets the tone for one of the state's best rebounding teams.

C – Anthony Green, Sr., North Quincy
One of the best revelations of the 2013-14 season, the late-blooming 6-foot-9 center has showed marked improvement from where he was at this time a year ago. And the Red Raiders have been a large benefactor.

SECOND TEAM

G – Tommy Mobley, Jr., Newton North
Some folks would like to see him become more assertive on the glass, but there is no denying Mobley's shooting ability. He might be the most automatic three-point marksman in Massachusetts.

G – Makai Ashton-Langford, Soph., St. Peter-Marian
If you haven't seen him yet, you are missing out. He is the Guardians' most talented lead guard since Naadir Tharpe, and has backed up the mound of hype behind his high-major potential in this first half of the season.

G – Aahmane Santos, Jr., Catholic Memorial
Santos returned from prep school a much more aggressive –- and visibly faster –- player. At times it seems like he is operating at a different speed than the other nine players on the floor, and that's one of the bigger reasons why the Knights are averaging upwards of 86 points per game so far.

F – Asante Sandiford, Sr., New Mission
Franklin Pierce commit proved a lot to me with the way he battled one of the nation's top big men, Karl Towns Jr., at the Shooting Touch Shootout. The Titans have been absolute piranhas on defense this season, with Sandiford at the forefront.

F – Tyree Robinson, Jr., Durfee
It's been a few years since the Hilltoppers were this good, and I'm not sure how competitive they'd even be without landing this Notre Dame Prep transfer.

THIRD TEAM

G – Giulien Smith, Jr., Catholic Memorial
Like seemingly a half-dozen other Knights, Smith can shoot it. But it's his ability to create his own shot that makes him and Aahmane Santos one of the most dangerous backcourts.

G – Rocky DeAndrade, Sr., Mansfield
The Hornets started the season down three starters to injury, yet they haven't skipped a beat. Credit that to DeAndrade, who has become faster after a diligent offseason.

G – Elijah Rogers, Sr., Brookline
You can make the case for Rogers to be a lot higher on this list. The Warriors had a tough start to the season, but they may have hit their stride. When Rogers is on, it is a spectacle.

F – Gary Clark, Jr., Everett
Arguably the best two-way player on one of the state's most tenacious defenses.

F – Fred "Bam" Rivers, Sr., New Mission
This might be the Titans' best squad since 2010-11, and as the nickname implies, this fearless, wide-bodied 6-foot-4 post is one of the primary reasons. There isn't a player in Massachusetts he's afraid to make uncomfortable. Oh, and he can step out and shoot it, too.

Coach of the Year: Kevin Barrett, North Quincy
A few other names here could fit the bill, such as Mansfield's Mike Vaughan, Fitchburg's Jack Scott or North Andover's Paul Tanglis. But a year ago at this time, Anthony Green was a timid kid who moved gingerly and couldn't stay on the court without getting fatigued or racking up fouls. Now, he's become the Raiders' own "Nerlens Lite", and the biggest reason for their 11-0 start. And while we're at it, raise your hand if you'd heard of Eftham Butka at this time last year (Don't lie). Now, he's the Raiders' most dangerous scorer. All of this speaks to Barrett's commitment to player development, a trait that sometimes feels like a lost art in today's AAU-ficated grassroots culture. That shouldn't be overlooked.

***

Chris Bradley
ESPN Boston correspondent

FIRST TEAM

G - Dizel Wright, Sr., Putnam
The most complete player on the state's most complete team. A built, athletic point guard who can guard a variety of positions and put up double-figure rebounding totals, Wright should be considered a serious contender for Mr. Basketball, as should these next four candidates.

G - Tommy Mobley, Jr., Newton North
The state's most lethal shooter has turned into one of it's best overall scorers. Mobley has lit some of the state's best teams up this year, averaging 20 points per game as Newton North has emerged as one of the best teams in Division 1.

G - Guilien Smith, Jr., Catholic Memorial
In terms of pure scoring ability, there may be no better player in the state than Smith. Smith has deep range on his three-point shot, the quickness to get to the hoop off the dribble, and now the upper body strength to finish. He's a big reason why CM is 12-1.

F - David Murrell, Sr., Putnam
Wright may be Putnam's best player, but Murrell is the glue guy for the state's number-one ranked team. Averaging double-figure points and rebounds, he makes for a superior duo with sophomore Tyonne Malone.

F - Anthony Green, Sr., North Quincy
North Quincy has been one of the state's most pleasant surprises this year, and their do-it-all 6-foot-9 center hes led them every step of the way. Several scholarship-level college programs and prep schools have shown interest in Green in recent weeks.

SECOND TEAM

G - Makai Ashton-Langford, Soph., St. Peter-Marian
His 26 point outbreak against St. John's on Friday night is just another reminder why the 6-foot sophomore is considered to be one of New England's best talents. Ashton-Langford has been the guy who makes the Guardians go this year, averaging 17 points a game.

G - Aamahne Santos, Jr., Catholic Memorial
Santos has had several games where he he never reached double-figure scoring totals, yet he seems to have as much of an impact on a game as any point guard in the state. A super athlete who is also lightning-quick with the ball in his hands, Santos is the key behind Catholic Memorial's high-powered offense.

G - Tyler Nelson, Sr. Central Catholic
Much was expected out of Nelson this year, and for the most part, he has delivered for 11th-ranked Central Catholic. The Fairfield University commit has been the main focus of opposing defenses all year long, yet still manages to hit shots at a high clip.

F - Tyonne Malone, Soph., Putnam
Malone struggled at first to find his fit in an extremely talented Putnam rotation, but he has emerged as one of their best reliable players the past few weeks in wins over Woodstock Academy (Conn.), Springfield Cathedral, Springfield Central, and Northampton. A gifted athlete at 6-foot-3, Malone is already on the radar of several mid-major and high-major Division 1 programs.

F - Tyree Robinson, Jr., Durfee
The transfer from Notre Dame Prep has immediately helped turn things around at Durfee -- a team starving for a playoff appearance after several years of relative anonymity. A standout 6-foot-4 athlete who plays AAU for the Boston Amateur Basketball Club (BABC), Robinson's rebounding motor and elite athleticism have made him well worth the price of admission.

THIRD TEAM

G - Elijah Rogers, Sr., Brookline
Rogers has been the catalyst all year long for Brookline, a team who is 7-3 and looking to build off of last year's playoff run. An athletic point who can also make plays for others, he has proven to be one of the top pure point guards in the state.

G - Erick Rosario, Jr., Lynn English
It has been on Rosario to do a lot of the heavy lifting offensively with counterpart Stevie Collins out injured. A quick, clever combo guard, Rosario has proven to be one of the state's best pure offensive threats--whether it's knocking down outside jumpers or finishing acrobatic lay-ups around the rim.

G - Ryan Boulter, Jr., Mansfield
The lone blemish on the Hornets' 12-1 record is Thursday's three-point loss to Hockomock foe Attleboro, and Boulter has been a big reason why. With star forward Brendan Hill out for the year, Boulter has manged to pick up a lot of the slack offensively for Mike Vaughan's Hornets.

F - Gary Clark, Jr., Everett
Everett has been one of the state's best teams, now at 10-0, and Clark's inside-out offensive attack has helped bring some balance to a high-scoring offense. Playing alongside a loaded Everett backcourt, Clark has excelled playing down low: rebounding at a high-rate and finishing shots in the paint.

F - Fred "Bam" Rivers, Sr., New Mission
Rivers may not look the part of a gifted athlete, but to his credit, he has proven just the opposite so far for Cory McCarthy's Titans. At 6-foot-4, Rivers has the foot speed to guard multiple positions, he has shown that he is one of the best rebounders in the state, and he can even stretch the defense with his feathery three-point touch.

Coach of the Year: Cory McCarthy, New Mission
With a few star players in Franklin Pierce-bound forward Asante Sandiford, sharpshooter Shaquan Murray, and do-it-all forward Fred "Bam" Rivers, McCarthy has been able to build around that trio with one of the state's deepest rotations and stingiest defenses -- giving up just 47 points a game. The 11-1 Titans are as tough an out as any team in the state and they appear to be the favorite statewide in Division 2 midway through the season. Catholic Memorial's Denis Tobin, St. John's Prep's John Dullea, and Mansfield's Mike Vaughan should all be in the conversation for this one, but at this point in the year nobody has gotten more out of their team than McCarthy.

***

John Botelho
ESPN Boston correspondent

FIRST TEAM

G - Dizel Wright, Sr., Springfield Putnam
He's been the best player on the best team in the state all year, and only seems to be getting better.

G - Tommy Mobley, Jr., Newton North
The junior is the best shooter I've seen this year, or in recent memory for that matter. Everyone know the ball is going to end up in his hands and still no one seems to be able to stop him. Has a shot to reach 1,000 points this year with another deep tourney run for the Tigers.

G - Aamahne Santos, Jr., Catholic Memorial
The leader of an explosive CM offense that leads the state in points, Sanots has done a little bit of everything for the Knights. Known for his premier offense, his defense might be even better as he's caused fits for Catholic Conference point guards all year.

F - Fred "Bam" Rivers, Sr., New Mission
He's capable of scoring, rebounding, or playing solid defense on other bigs down low for No. 3 New Mission. Combining with Shaquan Murray and Asante Saniford, Rivers has helped make Mission the team to beat statewide in division two.

F - Ryan Boulter, Jr., Mansfield
Unbeaten Mansfield has looked unstoppable early on despite losing returning All-Stater Brendan Hill for the year to a knee injury, and Boulter might be the biggest reason why. The junior has led an explosive offense -- averaging more than 17.6 per game on a team with four guys in double figures

SECOND TEAM

G - Tyler Nelson, Sr., Central Catholic
Pushing him to the second team was one of the hardest calls to make, but I think it speaks more to the impressive guard play statewide this season than anything else. Nelson is one of the most dynamic players in the state, and a second half surge could push him onto the first team.

G - Rocky DeAndrade, Sr., Mansfield
Second for the No. 2 Hornets in scoring behind Boulter, DeAndrade is capable of taking over games and can score from anywhere. He's poured in over 16 per game so far as the Hornets have cruised to an 11-0 mark.

G - Elijah Rogers, Sr., Brookline
The returning All-Stater has taken his game to another level this year, guiding an offense that can run with anyone. He went off for 28 points to hand Bay State rival Newton North it's only loss, and finding a player in the state who elevates his game for big opponents would be a tough challenge.

F - David Murrell, Sr., Putnam
Returning All-Stater gives Putnam arguably the best 1-2 punch in the state with Wright, and is a major reason they've been atop the rankings all season. He was tremendous at the Hoop Hall Classic last week, netting 27 and grabbing 12 rebounds against rival Springfield Central before going off for 15 points and 15 rebounds against defending Connecticut Class L champ Woodstock.

C - Obi Obiora, Sr., Brookline
The big man averaged nearly a double-double a year ago, and looks like he's headed for one this season. A total game changer on the defensive end, he's also capable of taking some focus off of Rogers on offense.

THIRD TEAM

G - Jack Loughnane, Soph., BC High
His offensive game is an impressive one, and he's among the best 3-point shooters in Eastern Mas. He's the catalyst for the Eagles' offense, and is a major reason they're ranked No. 10 in the state.

G - Markus Neale, Sr., Dorchester
The Bears don't have much in the way of height, but Neale plays taller than his 6-foot-2 frame would suggest. He's a playmaker on both ends of the floor, can score from beyond the arc or by going to the hoop, fights for rebounds and bolsters an athletic Dorchester defense.

G - Ryan Roach, Sr., Cardinal Spellman
A Stonehill commit, Roache has been tasked with running a Cardinals offense that features several players who would be the "go-to" guy on a lot of teams. None of the Cardinals are averaging crazy point totals, but the team is unbeaten in league play. Their only losses have come against Mansfield, Franklin and No. 24 St. Bernard's.

F - Matt Nicholson, Sr., Rockland
Tyler Gibson swallowed up a ton of the publicity for Rockland a year ago, but Nicholson gave the Bulldogs a second very good scoring option. This year, with Gibson and Bryan Tavares graduated, Nicholson has been tasked with being the guy for Rockland, and he's delivered to the tune of 22 points and eight rebounds per game for the 7-3 Bulldogs.

C - Anthony Green, Sr., North Quincy
The 6-foot-9 big man for the unbeaten Red Raiders makes his biggest impact in something that isn't quantifiable through statistics, as the number of possessions he changes on the defensive end is staggering. Coach Kevin Barrett said earlier this year that he was blocking seven shots per game during the tourney last year, and altering at least as many. That means he's single-handedly effecting the outcome of more than 10 possessions per contest, and that doesn't include the way the rest of the Red Raiders defense can play in the faces of their opponents, knowing he's back there as a last line of defense.

Coach of the Year: Bo Ruggiero, Cohasset
An argument could be made for plenty of guys this year, and people like Cory McCarthy at New Mission and Mike Vaughn at Mansfield (being unbeaten despite losing Hill is pretty impressive) certainly deserve some consideration. That said, Ruggiero has put together one of his finest coaching performances, which is saying a lot when you consider he's got more than 500 career wins on the sidelines. The Skippers graduated a 1,000 point scorer a year ago in Shane Haggerty, and lack a star to lean on this season. Guys like Chris Haggerty, Rocco Laugelle, Henry Brown and Joe Buckley have just come together to play good fundamental hoops. They've gone all in on defense, and are allowing a South Shore League best 39 points per game this year. At 10-0, they have to be considered among the favorites, if not the favorite, to capture the MIAA Div. 4 crown this year.
January, 19, 2014
Jan 19
10:40
PM ET
By
Josh Perry
| ESPNBoston.com
BOSTON -- Heading into halftime trailing 25-20, New Mission needed to find a spark and way of creating offense against Walpole's 1-3-1 zone. Head coach Cory McCarthy and his staff had plenty to say to the Titans at the break and it seemed to work, as New Mission turned things around quickly in the third quarter.

"That's our game plan every night -- to be the best third quarter team in high school basketball," McCarthy joked after the game. "We've had some huge third quarters this week. They're making [the coaches] look smart.

The Titans used an 18-4 run in the third quarter to take the lead and the momentum away from Walpole. New Mission never looked back and pulled away for a 59-43 victory over the Rebels on Sunday night in the MLK Invitational at Wentworth Institute of Technology.

"That's been our defense all year," explained Walpole head coach Dave St. Martin. "To beat that, you need to knock down some shots, which they did. Their big guys really play well together, high-low, and I just felt that defensively we held them to 59, but offensively we missed a lot of shots that we usually take."

"We haven't seen a 1-3-1 all year," explained McCarthy. "I knew they were going to play it, but they were so quick to close the gaps that we couldn't do what we normally do. These guys are so smart that you start doing something over and over then you actually start making the right decisions."

He added, "Once we swung the ball to the wings and get the ball inside to the big guys, then we started to finish and dominate."

Early in the game, the Walpole zone limited New Mission's ability to get the ball inside, but when the Titans were able to enter it into the post it was very successful. Senior forwards Fred Rivers (game-high 22 points) and Asante Sandiford (10 points) combined for 17 points in the opening half, all of them in the paint.

Scott Arsenault knocked down three shots from beyond the arc for the Rebels in the first half and senior forward Adam Quinlan (team-high 17 points) scored eight points, including a lay-up that made it 25-20 with only second s remaining in the half.

In the third quarter, New Mission turned up the defensive intensity. Walpole's offense started to wilt against the pressure and turnovers allowed the Titans to get out into transition for easy baskets. Senior guard Shaquan Murray provided the offensive spark with eight points in the third. His corner three-pointer gave the Titans a 33-31 lead -- a lead they would not relinquish.

"We wanted to force the ball handler to the sidelines to cut the floor in half and make it harder for them to get it to the shooters and give us time to close on their shooters," explained McCarthy about New Mission's intense half-court trap." I think after a while they got flustered because they had to cover a lot of ground to get shots off."

St. Martin admitted that the defensive pressure forced his team to rush things on the offensive end and the empty possessions allowed the Titans to get out in transition. He also noted that senior point guard Ryan Fogarty (seven points) was in only his second game back from an ankle injury and facing as much pressure as he will see all season.

He remarked, "They pressured him all game. If he can handle this pressure, then he should be fine for the rest of the year."

The defensive pressure continued in the fourth quarter. Murray (16 points -– all in the second half) knocked down a pair of threes, Tyrique Lee had an old fashioned three-point play on the break and both Sandiford and Rivers got easy lay-ups in transition. Quinlan tried to keep Walpole in the game with seven points in the fourth, but it was not enough.

"They're a heck of a team and I think for us it was a great test because I think we have a good team," asserted St. Martin. "Not a lot of people know about us, but our goal is to try and meet those guys again in the Garden."

McCarthy pointed to his three top scorers as the keys for what New Mission will achieve this season. He said, "We're going to go as far as Fred, Asante and Shaquan go. It has to be all three of them turned on and when all three of them are on then we're as good as anyone."
December, 29, 2013
12/29/13
11:31
PM ET
By
Chris Bradley
| ESPNBoston.com
BOSTON -- As the second half continued to carry on, it was quite clear that one team was significantly more energetic than the other.

Top-ranked Putnam withstood an upset bid from New Mission on Sunday afternoon at the BABC Holiday Classic, pulling away in the second half to knock off the Titans, 69-52,

New Mission was able to dwindle the Putnam lead down to six, 36-30 early in the third quarter, but the Titans collapsed down the stretch, playing their third game in as many days against the buzzsaw that is the defending Division 1 state champion Beavers.

Dizel Wright led Putnam with 20 points and 8 rebounds, while Jonathan Garcia (12 points) and David Murrell (10 points) each put up double figures. Forwards Asante Sandiford (14 points, 7 rebounds) and Fred Rivers (13 points, 14 rebounds) led the Titans, who took on Putnam (4-0) after playing New Hampshire power Bishop Guertin and St. Joseph of New Jersey -- who is considered to be one of the best high school teams on the East Coast -- on Friday and Saturday, respectively.

The Beavers' fast-paced attack left New Mission (3-2) exhausted in the second half, taking the Titans out of their gameplan and therefore allowing Putnam to pull away significantly after leading by 9 at halftime.

"We felt like we had a good plan, we knew exactly what they were gonna do, but you can't simulate that speed," New Mission coach Cory McCarthy said. "We tried to do some things in the walk-through today that were pretty effective, but after awhile once you're tired, you stop thinking, and you stop sticking to the gameplan.

"Although they turned the ball over, they were still disciplined enough to beat us down the floor. They've got five guys who will beat you down the floor, we've only got three. That's the difference in the game: their transition points was probably in the 30's or 40's."

Wright turned in an outstanding performance for the Beavers, about 24 hours after he was forced to leave Putnam's game against Cambridge because of a dislocated shoulder. Though Wright said the injury was something he can play through, Putnam coach William Shepard will insist his point guard see a doctor about the shoulder when the team gets back to Springfield.

"I spoke to him about that last night, he said it happened to him several times this year. It comes out, he puts it back in, but we've got to get that looked at. He says he's able to play through it," Shepard said. "He's shown some senior leadership. Dizel's been awesome, in practice, in games, he's just awesome. He's having a great start to his senior year, a great start."

Putnam was able to contain New Mission shooting guard Shaquan Murray, who is considered to be one of the MIAA's best shooters, to 10 points on 4-for-17 shooting from the field.

"That's what we hang our hat on: defense. Being accountable, now let's hope we can hold it down where we have to hold it down: the defensive end. We played the way we were capable of playing," Shepard said.

Murray, the Titans' anchor on the offensive end and defensively on the perimeter, never could get anything going against the Beavers' high-pressure defense. Rarely getting a chance to sit during New Mission's stretch of three games in three days, Murray wore down in the second half.

"I think Shaquan's tired, he doesn't get too much time on the bench," McCarthy said. "He just didn't have any legs, he didn't create any steals...He wasn't Shaquan. Bam and Asante will come out five or six times a game, Shaquan stays on the floor. I think we could have rested him more. We just need him to make people better."

The uptempo play was a speed New Mission hadn't seen all year, and likely won't see for the rest of their schedule, but McCarthy hopes the experience will pay dividends for the talented Titans' – perhaps the favorite statewide in Division 2.

"They got us to play out of character, and they sealed the deal. They're experienced, they're relentless; they're the number-one team in the state for a reason," McCarthy said. "The last two games we played, we won't see anybody that good for the rest on the season. If we can keep it up we'll be on track for bigger goals, we've got bigger goals."

Shepard said the overnight stay in Boston was a bonding experience for his team—a trip that included ordering pizzas and watching movies yesterday afternoon at their hotel in Chelsea after knocking off Cambridge. The Beavers will go home with an undefeated record and Valley League play set to start this coming Friday against West Springfield. The next big challenge for Putnam will likely come Jan. 10, where they'll take on a tough Northampton squad at American International College.
December, 29, 2013
12/29/13
3:49
AM ET
MEDFORD, Mass. -– They read the scouting reports, they read the hype, and New Mission's undersized forwards knew they were in for the heavyweight bout of their lives against 7-foot-1 behemoth Karl Towns, the Kentucky-bound center who is considered St. Joseph (N.J.) High's most talented export since Andrew Bynum.

Asante Sandiford knew he might have to take a liberty or two to stay even. Fellow forward Bam Rivers admitted exhaustion after the game, the Titans having played their second contest in as many days, and a third on the docket in less than 12 hours.

But going the other way, it wasn't a clean affair either, Towns sporting a speckling of blood down the right side of his jersey in the post-game ("Elbow hit a tooth," he explained, with a laugh).

The Falcons breezed out of Tufts University's Cousens Gymnasium with a 71-49 win over Mission (3-1), highlighted by a monster night from Towns (20 points, 19 rebounds, 6 blocks) -– but not before getting a bit of a scare in the first half.

After the 6-foot-4 Rivers slapped the opening tip-off away from Towns, the Titans took a 5-0 lead on a beautifully-executed kickout to the corner for Rivers. Junior guard Randy Glenn (13 points) drove to the elbow and found Tyrique Lee to the blocks. Rather than go up with it, Lee immediately slapped the pass into the corner, where the wide-bodied Rivers buried a trey.

Shaquan Murray then gave the Titans their final lead of the night, 9-8, with a runner at the buzzer. From there, it was all St. Joe's.

The Falcons opened the second quarter on a 17-5 run, with plenty of highlight-reel fodder along the way. Up 10-9 early the quarter, Towns got a piece of a Sandiford layup attempt, flicked a frozen rope of an outlet pass deep up court, and watched as Vanderbilt commit Wade Baldwin completed a three-point player at the other end.

A few moments later, Towns took a backdoor lob from sophomore Breein Tyree and slammed it home with authority. That was followed up later by another backdoor alley-oop, this one from Baldwin to Marques Townes, for a 30-15 lead shortly before the break.

St. Joe's led 33-15 at the break, and 54-31 after three quarters.

Holding down Towns: It was a tall task, but somebody had to do it. In this case it was Sandiford (11 points, nine rebounds), the 6-foot-4 Franklin Pierce commit, that was saddled with manning up Towns. Giving up nine inches to Towns -– the No. 6 overall player in the Class of 2014, according to ESPNU –- made everything a chore for Sandiford. But he was up for the challenge, at times taking liberties just to stay even with the big man.

There were times when Sandiford hooked an arm around Towns' midsection, and Towns would reach over Sandiford with his free arm for an easy basket. There were other times when Towns was held down with a tug of the jersey, only to pick up a foul on his way up and convert a three-point play. Other times, Towns saw a double-team, or he saw tight traffic as multiple bodies crashed to the basket.

For his part, Sandiford said those liberties were his own calling, saying "We do whatever it takes".

"I've just been blessed with a lot of talent, I've worked hard in the gym, and I expect this when I go out," Towns said of the physicality. "I expect to get hammered, and have the liberty to just do mostly anything they want against me. I just have to go out there and play my game, and everything will come."

When Mission coach Cory McCarthy went to scout St. Joe's the night before, in the Falcons win over Archbishop Wood (Pa.) on the first day of the Shooting Touch Shootout, he noted how many three's Towns attempted. McCarthy thought his kids "could have been tougher, could have been grimier", but had a suspicion it was going to be a physical game today.

"Just as I thought, when somebody plays against us, they're gonna be good, because we play so antagonistic that people get mad and start playing really well," McCarthy laughed. "So I think we really aggravated him and pissed him off a bit. I don't mind that. He's a hell of a player.

"I thought we did a good job on him. He got some dunks, but he played like a man, and he had to play like a man to beat us. I felt like we were in the game most of the game, and our kids never gave up.

Said Towns of the physicality, "For me, this was a very good game, and I was happy that I was able to be a little bit more physical than I have been in the last few games."

Three times, Sandiford attempted the "dream shake" move made famous by Hall of Famer Hakeem Olajuwon, but was unable to convert any of the attempts. Once, he drew a foul from Towns, the big man's only foul of the game. Another time, he was simply stuffed.

For a move with such a unique degree of difficulty, Sandiford executed it well. It's just that, well, the guy he did against just happens to be Olajuwon's height.

"Just because he's taller doesn't mean anything," Sandiford said. "You can still work him, know what I mean? You can use your post moves, and use quicker feet."

Towns said he enjoyed the matchup with Sandiford.

"I had seen how everything was playing, and coach came in today, when they said the starting lineups, and said 'You're taking No. 4 [Sandiford] today'," Towns said. "I said, 'No problem'. I always love playing against the best players on every team, so I'm just glad he was at my position today and I was able to play him."
December, 20, 2013
12/20/13
2:16
AM ET
By
Brendan Hall
| ESPNBoston.com
HYDE PARK, Mass. -– The last three seasons, New Mission has had the luxury of being able to go long like few other teams in the Boston City League had been able to do, with 6-foot-7 wing Nate Anderson and 6-foot-4 pogo stick Isshiah Coleman manning the frontcourt.
This year's Titans? Devoid of size, with just four players over 6-foot, head coach Cory McCarthy –- in his unapologetically colorful candor -– summed them up as "a bunch of Napoleons".
And like one of the French emperor's fabled invasions, when the Titans get rolling, it's a full-on blitz. Trailing by two after one quarter to Boston City A rival Charlestown, Mission outscored the Townies 24-5 in the second quarter to blow the doors open, en route to a 76-46 win in front of a raucous home crowd.
"We've got a bunch of Napoleons running around. We call it 'Napoleon Defense'," McCarthy said. "They're so fast, and they're so unpredictable. They're crazy, they're nuts, they just want to be big so bad, but they're just like Napoleon out there."
Trailing 17-15 after one quarter of play, the Titans (2-0) opened the second with a 14-2 run to put the lead into double digits. Girthy 6-foot-4 senior forward Fred "Bam" Rivers (10 points) provided the spark with some electric play at both ends of the floor.
First, he rebounded his own block, took two dribbles and heaved an outlet pass upcourt to Tyrique Lee, who drew a foul as he converted a driving layup. Several possessions later, Rivers showed off his inside-out versatility with another block, then coming down the other end and stepping out for a three-pointer in the right corner, making it 27-17.
Much of their success came with breaking the Townies' (0-1) press, carving right through the middle of their 1-2-2 and 2-2-1 sets for some easy transition baskets. But the Townies didn't have much luck with the zone either. One sequence late in the second-quarter barnstorm left Mission's Asante Sandiford (nine points) wide open on the left wing for an uncontested three. Daring him to shoot, the Franklin Pierce commit sank it effortlessly.
Coupled with constant man-to-man pressing from guards Shaquan Murray (23 points), Randy Glenn (10), Marcus Allen, Charles Mitchell and Lee, Charlestown struggled for most of the night. In the first half alone, they committed 16 turnovers, including nine in the first quarter.
"They [Charlestown] are a long team, so we thought we could run on them, honestly," Murray said. "We thought once we got to the middle, we'd look opposite and it would be right there. And once the middle guy got it, we just went right up the court for a layup. It wasn't always working, but we got it there and we broke it. We tried to slow it down as much as we could."
Said McCarthy of the press, "I knew we could put the pressure on, and our pressure is different. You don't know who's gonna trap who, when and where, and if they stay as mentally focused as they did in the second half we'll be alright… I realized from last year, I had to get better, and I had to be the one to get better. My players are always good, but I had to get better."
Viva La Bam
As his nickname implies, the wide-bodied Rivers can be a heavy load to handle underneath on nights like tonight, giving up size and length to Townies' 6-foot-6 senior forward Freddy Oliveira but giving him all he can handle on the boards. In the Titans' press break, Rivers will often set up in the middle to facilitate a quick break up either sideline.
Overall, his ball-handling ability makes the Titans pretty flexible in spite of their lack of size, with Rivers able to take the ball up top and facilitate some high-low offense.
"He's like a point forward, actually," Murray said. "It's been a blessing. He's got a very nice IQ, he can pass the ball, he can rebound, and he can score, so it's really been a huge help to our team."
Added Sandiford, "Anything you can think of, he can do. We all believe in him, he believes in us."
Murray noted how much Rivers has improved his dribbling skills, to which McCarthy retorted.
"He's always been a good dribbler, it's just like..." McCarthy began, stumbling to find the right words. "Sometimes a basketball player is really good with dribbling the ball one dribble. Once you maintain the third dribble, you can get all the way to the basket. He just had to be a three-dribble guy –- half-court, three point line, all the way to the basket. He can dribble the ball, man."
Benner benefits
After three seasons at Boston College High, 6-foot-4 senior forward Oliver Benner has landed at Charlestown for his senior season. Based on the early returns, he could fit a nice role for the Townies in the frontcourt.
Through the first four minutes, Benner had seven rebounds, and he finished with 15 on the night. Long and lanky, he demonstrates good battle around the basket and didn't get caught out of position many times. His offense was limited to start, finishing 4-of-7 from the field after not attempting a field goal in the first quarter, but look for him to get more involved as the season progresses.
"We're just trying to teach him to play our style," Charlestown coach Edson Cardoso said of Benner, a South Boston resident. "He can be a great factor. He rebounds, he has a good mid-range shot. We'll get him more involved in the offense."
Hell Week
Mission is off until Dec. 27, when they endure a brutal stretch of three games in three days against some immensely stiff competition. First, they'll take on Bishop Guertin (N.H.) in the first day of the BABC Holiday Classic. Then on Dec. 28, in the second day of the Shooting Touch Shootout, they'll take on Metuchen, N.J. powerhouse St. Joseph's, which features the No. 6 overall player in the nation, Kentucky-bound senior center Karl Towns. The Titans then conclude the three-day swing back at the BABC, where they will face defending MIAA Division 1 state champ Putnam, the current No. 1 team in ESPNBoston.com's statewide poll.
The last time Mission faced a player as talented as Towns, current UCLA forward Kyle Anderson
had his way with the Titans as Jersey City, N.J. juggernaut St. Anthony crushed them, 68-25
, to conclude the 2011 Shooting Touch Shootout. But if you know anything about Mission, it's that they will never waver in their supreme confidence. Mission players got giddy when the subject of St. Joe's was brought up in post-game.
Rivers, the man who will most likely match up with the 7-foot-1 Towns, acknowledged the talent but said simply, "I don't care who you are, I'm coming at you my hardest."
With a boast, Rivers added, "We feel that they need to be ready for us."
"They'd better be ready," Murray chimed.
Added Sandiford, "They need to hear about us. We're focused. We're ready to stand as a family, stand together. We know they're a top team, but we're a top team as well. We're a family. We've got that chemistry. We're ready for any challenge. We're the Titans."
Told of his players' remarks, McCarthy reinforced that confidence, acknowledging this is a different squad from the one last season that boasted more athleticism – and more talent – but bowed out early in the Division 2 North tournament. Clearly, McCarthy is pleased with the way this team gets after it. When asked about matching up with Towns, he went into rare form.
"He's good, he's gonna play for [John] Calipari –- wonderful, you know? Who is Karl Towns?" he said.
Laughing, he continued, "What do you call it, a [quintuple] team? That's what he's going to get. And then the guy who gets the ball is going to see five guys too. We're just going to play 'Napoleon Basketball', because even our big guys are gonna be little guys compared to them."
OK, so what about Putnam?
"What about Putnam? They're looking in the mirror. They're just guys that people know, and we've got guys that nobody knows. I think they're ready for us, and they're gonna be tough to beat.
"Do we think they're going to beat us? Absolutely not. But they're just better than us right now. I'm sure they're better than us. You can put that on record, they're better than us. So hey, don't beat us too bad, we just want to have a strong showing."
December, 12, 2013
12/12/13
11:59
AM ET
By
Chris Bradley
| ESPNBoston.com
WORCESTER, Mass. -– Seventh-ranked New Mission traveled to Worcester on Wednesday night to take on No. 13 ranked St. Peter-Marian. The Titans, behind a balanced scoring attack, beat the Guardians 65-41 after four 8-minute quarters.

Titans' pressure too much
New Mission built an early lead thanks to their halfcourt trap, which helped contain star sophomore Makai Ashton (12 points) in the first half and senior sharpshooter Connor Brown (3 points) throughout the game. A lot of the turnovers came via Shaquan Murray (18 points), Asante Sandiford (11 points), and Tyrique Lee (10 points), as a result, the Titans' scoring trio was able to benefit off the turnovers and finish several easy lay-ups in transition.

"Definitely the difference," New Mission coach Cory McCarthy said, "We're just fast man, ever since we started practicing I wake up hoping that the speed doesn't go away. We're so fast I think I'm dreaming, and they're so smart. We're not big, but you can just feel the pressure around after awhile. We want it so that everybody is uncomfortable. We just want to make people feel uncomfortable this year."

McCarthy has had some talented teams in years past, but for the last two seasons have faltered down the stretch because of injuries. With a deep and talented lineup that allows him to rotate in fresh defenders, the coach hopes to wear opposing teams down with their halfcourt pressure.

"The more mayhem the better, we want 32 minutes of absolutely Hell, of mayhem—that's how we want it to be this year," McCathy said, "Even if we're down 40, we're still gonna be trapping and pressing."

SPM coach Marcus Watson noticed the pressure right away and acknowledged it as a major reason for the Titans being able to pull away. The Guardians ball handlers faltered often to New Mission's halfcourt pressure, but it was the type of competition that Watson wanted his team to see.

"I think they're pressure D was great. The only thing we're working on right now, we have a small gym, was just working on our motion offense. I have not put any special plays in, any sets, so this was something that we needed," Watson said, "New Mission, I have a lot of respect for Cory and what he does with those kids. They're tenacious, they're well-coached, and he's doing a great job."

Murray, Rivers get it done
Murray didn't just get it done defensively on Wednesday, he also helped lead the Titans' offense in a very efficient shooting night. Whether it was finishing tough lay-ups in transition, shooting off the dribble, or hitting some deep jumpshots, Murray helped keep the Guardians defense in check every time he was on the floor.

McCarthy had plenty of praise for his star shooting guard after the scrimmage.

"He probably played half the game. That's his nature, you'll never know but he just gets baskets. That's what he does, he gets baskets. He doesn't try anything he can't do, I'm always happy with him. He's one of the few kids I'm always happy with, and I'm a miserable guy."

Rivers, a bruising 6-foot-4 power forward who goes by "Bam", scored 14 points for the Titans—including a perfect 2-for-2 from behind the three-point arc. With great vision down low and quick instincts, Rivers was able to facilitate from the paint for all the scorers around him.

"Yeah, he can hit [threes]," McCarthy said, "He's the best passing big guy around. He can pass the ball, he can set one hell of a screen, he can shoot, he can post up."

Said Watson, "We'll be a different team Saturday"

The Guardians will need to get it together quickly, with top-ranked Putnam on the schedule on Saturday at the Pioneer Valley Tip-off. Putnam, the defending Division 1 state champion who returns a boatload of talent, will be looking for make an early statement on Saturday against the Guardians -- one of the most talented teams in the state.

"This is exactly what we needed, there's a reason we wanted to play New Mission before this Saturday, and we're not going to see pressure like that again. We'll be okay, we'll bounce back, my kids are resilient and that' exactly what we needed," Watson said.

The Guardians will have two days of practice to prepare for Putnam, but for now Watson wants to focus on gradually getting better as a whole. SPM got severely outrebounded and shot a much lower percentage from the floor than New Mission, so Watson is looking to make sure his team his more prepared next time they take the court.

"I know we have great guard play, we need to do a better job collectively as a team, helping out on defense, boxing out, pushing the ball in transition -- just coachable, correctable things," Watson said. "There was nothing from a talent standpoint that I was worried about, it was an effort thing that we have to address."