Boston High School:

Ashley Russell
June, 22, 2014
Jun 22
6:25
PM ET
Braintree High rising senior point guard Ashley Russell, the state's reigning Gatorade Player of the Year and ESPN Boston Miss Basketball, has verbally committed to the University of Pennsylvania, she announced just a few moments ago on her Twitter account.
Very excited to announce my official commitment to UPenn to play basketball!

— Ashley Russell (@AshleyRussell__) June 22, 2014
The 5-foot-10 Russell spearheaded a Wamps squad that was among the state's stingiest, as they captured their third straight South sectional title and their first MIAA Division 1 State Championship since 2006. The Wamps went wire to wire as the No. 1 team in ESPNBoston.com's statewide poll in 2013-14, leading the state's top division in points allowed per game (34.8) and going unbeaten against in-state competition, their lone loss coming to national power Christ The King (N.Y.).
On the season, Russell led the Wamps in nearly every major statistical category, averaging 13 points, 11 rebounds, five assists and four steals. One of her more impressive performances came in a win over Lynn English in the Eastern Mass. Final at TD Garden, where she achieved a rare point-less double-double, recording 13 rebounds and 11 assists in spite of a 1-for-10 effort from the field.
"I am just so excited to play at UPenn and become part of such a successful program," Russell said. "Their coaching staff is just one of the best, and I can't wait to play for them."
Fairfield, Hofstra, Colgate, UMass-Lowell, Bentley and Stonehill were among the other schools offering Russell at the time of her commitment.
Russell is the first of Braintree's heralded "Big Four" of Division 1 recruits to make their college decision. Rising senior forwards Molly Reagan and Bridget Herlihy, and junior guard/forward Brianna Herlihy, all hold multiple Division 1 offers.
February, 16, 2014
Feb 16
11:07
PM ET
By
John Botelho
| ESPNBoston.com
WELLESLEY, Mass. -– Once Lauren Petit caught fire for the Medfield girls basketball team in the opening round of the IAABO Board 27/Comcast tournament at Babson College on Sunday, it was clear that Archbishop Williams didn't know how to douse the flames as she lead the Warriors to a dominant 66-46 win and a spot in Monday's final against No. 1 Braintree.

Medfield trailed 13-9 after one quarter but the senior point guard erupted for 16 of her game-high 28 points in the second, sending the Warriors into the locker room at halftime with a 29-16 lead.

"It was huge for us because we were struggling to score," said Medfield coach Mark Nickerson. "We weren't getting too much going offensively, and she came up and hit a few 3's early to keep us in the game really when it looked like they might run away quickly. It kind of sparked the team. We were able to settle down and run some things, and were able to find some gaps when they had to come out and cover her."

Coming out of the break, Medfield continued its surge and by the end of third they had extended their lead to an impressive 53-29 over the recently-hot Bishops.

During the third, Petit tossed one of her six assists to classmate Kristin Fechtelkotter slashing toward the hoop. The senior forward finished in easy fashion, joining Petit with over 1,000 career points.

"Those two girls have spent a good portion of a lot of our games on the bench in the second half, because we've been up on teams," said Nickerson. "Those two girls are really special talents, and I don't think they always get the credit they deserve because they're numbers aren't crazy, off the wall, but they're putting up those numbers in 17, 18 minutes a game a lot of times."

Added Petit: "I'm so excited that she got to 1,000. We've been teammates forever -– growing up, playing AAU and playing, I was just happy and proud for her to get it."

Fechtelkotter was the only other Warrior in double figures, finishing with 11 points. Payton Ouimette chipped in eight points and Kate Thomas added six in the win.

While Petit made sure the offense never cooled, the Warriors (20-1) were just as impressive on the defensive end. Only Leah Spencer (10 points) reached double figures. Victoria Dean added nine points, but Williams was never able to mount any significant momentum against Medfield's defense.

Braintree blocks Westford's best shot: In the early going of the other first round game, Westford came out firing and looked like they were going to give the No. 1 Wamps a run for their money. Braintree's significant height advantage became too much though as the Ghosts just couldn't get comfortable on the offensive end and fell 57-29.

By the end of the game the Wamps had blocked 12 shots, and won the rebounding battle 41-16. Their length inside also clogged up passing lanes all night, leading to an impressive 16 steals in the win.

"With our length, we can of collapse our defense into the middle and that makes us pretty tough at times," said Braintree coach Kristen McDonnell. "We say every game that if we win the rebounding battle, we win the game, and so far that's been true."

The staunch defense held the Ghosts at bay, and the Wamps offense used a balance attack to run away with this one. Three different Braintree players reached double figures, led by Molly Reagan's game-high 12 points.

The Herilhy sisters, Bridget and Brianna, both added 10 points apiece. Braintree got nine points from point guard Ashley Russell and both Keelah Dixon and Maura Russell chipped in with five points.

Russell also paced rebounding, grabbing a dozen boards while providing a high energy effort that included four assists, three steals and two blocks.

"She's our leading rebounder coming from the point guard position," said McDonnell. "Most of those come on the offensive end; she's just incredible. She's like the energizer bunny, you pull the string and she just goes and goes. Ashley sets the tone right away for us every single game. Not only does she have the work ethic, but she has a real knack for knowing where the ball is going to fall."

Westford used a 5-0 run midway through the second to pull within seven, but Braintree erupted for 11 unanswered points in the final three minutes of the quarter to take a 31-15.

They never slowed from there, and by the time the Ghosts scored again –- on a free throw midway through the third, Braintree had made it a 17-0 run. When Westford netted their first field goal of the second half -– with under two minutes to go, the Wamps had opened up a 42-20 lead.

Samantha Hyslip was the most effective weapon for Westford, tallying nine points and grabbing five rebounds for the Ghosts, who will take on Archbishop Williams in the consolation game of the tournament tomorrow afternoon.
January, 17, 2014
Jan 17
11:22
PM ET
SPRINGFIELD, Mass. -- A year ago this weekend, in its first foray into the loaded Hoophall Classic, Braintree's young budding stars made a statement, throwing figurative haymakers at Springfield (Ore.) and the nation's No. 1 overall player, 6-foot-5 center Mercedes Russell, in an eventual nine-point loss.

Tonight, they came in a year wiser, less wide-eyed. But the end result was the same, a 69-52 loss to Queens, N.Y. powerhouse Christ The King in which they had no answer for Duke-bound guard Sierra Calhoun (30 points, six rebounds) and Siena-bound forward Kollyns Scarborough (21 points, 14 rebounds).

Still, the Wamps -- currently ranked No. 1 in ESPNBoston.com's statewide poll -- came away with similar sentiments of confidence as they head back east.

"The nicer thing this time around is we felt like we could come in and play our own game, that we didn't have to change our philosophy based on a 6-7 girl," Wamps head coach Kristen McDonnell said. "But we knew this was a challenge for us, and it was gonna be a big test. We came out competitive, battled the whole time.

"I just think there's so many positives to come out of playing a team like this, with players at that high level, it highlights what we need to work on more than playing some of these other teams."

The Wamps (8-1) came out of the gates with purpose, going toe to toe with the Royals in the opening minutes. Molly Reagan (11 points) put back an errant three-point attempt by Ashley Russell (13 points, six rebounds), then tied it at 7-7 off a great dish from Bridget Herlihy (12 points, six rebounds). When Calhoun came back the other way with her second of four 3-pointers on the night, Russell followed up with another counterpunch.

Russell missed another three in the corner to start off the possession, but Brianna Herlihy (15 points, seven rebounds) came down with the board and kicked it back out to Russell up top. Russell pulled up for a jumper and missed again, but came down with her own rebound and drew a foul on the way up, sinking both free throws to close the gap to 10-9.

The Royals closed the quarter on a 9-4 run, then widened the gap in the second to take a 39-23 lead into the break. Scarborough put back her own missed layup to start the quarter, followed by an effortless bank three by Calhoun then another Scarborough basket, off a well-thread pass in transition from Deja Johnston, to make it 26-13. From there, the Wamps were never able to close the gap back to single-digits, holding their own on the defensive end but unable to keep up in transition.

Christ The King held a 37-32 advantage on the glass and shot 46 percent from the floor, while Braintree finished up shooting 37.3 percent after a forgettable first half from the floor (8-for-26). Christ The King committed 26 turnovers, to just 21 from Braintree; the Wamps also held a 13-9 advantage in steals.

High praise for Russell: McDonnell was asked about a moment in the third quarter when Russell dove into the press table, head first, going after a loose ball. As usual when talking about her dogged floor general, it brought a wide smile to the coach's face.

"I love this kid. Honestly, she's one of the hardest workers I've ever seen on any team," McDonnell said. "The kid never quits ever. She is so tough. Whatever college gets her is going to be very lucky."

Down the hallway, Christ The King coach Bob Mackey had even stronger praise for the 5-foot-9 junior, who is drawing a scattering of interest across Divisions 1 and 2.

"That kid can play for me any day of the week -- twice on Sunday. That kid's got a game," Mackey exclaimed. "It's a mistake if somebody's not recruiting that child, because she can play. She works hard, she's the kinda kid that makes coaches look good, and she makes her teammates look good too.

"She can do so many things, she's left she's right shes all over the place, she gets to the rim she can knock down a jump shot, and she doesn't stop. She wore through…we had three different kids guarding her in the game. One kid did a good job on her, came off the bench and did a really nice job, but it's tough. She's a good player."

Even was Mackey was broached on different subjects, such as matching up with Reagan and her unique high-low game, the conversation ended up drifting back to Russell's inspiring grit.

"I was impressed, I was really impressed with [Russell], seriously," he continued. "[Brianna Herlihy] got Player of the Game? My player is [Russell]. She got them going, she is the engine."
January, 13, 2014
Jan 13
12:42
AM ET
NEWTON, Mass. – Braintree's last trip to the Reggie Gymnasium,
a January 2013 upset by Newton North that knocked the then-No. 1 Wamps from atop their perch
, was a forgettable experience. Head coach Kristen McDonnell admitted this afternoon's return to the home court of Newton North was a date that "has been circled on our calendar for a while".
That upset a year ago saw the Tigers jump out to a double-digit lead early and never look back. This time, it was the Wamps (7-0) jumping out early, wading through a physical Tigers (7-1) defense to take an 18-point lead into the final quarter, then holding on tight for a 53-42 victory in the first of two Bay State Conference clashes between these teams.
"I was proud of the way these kids came out and toughed it out right away," McDonnell said. "We knew the first 2-3 minutes of this game was going to be everything, just to show the tempo of the game and how bad we wanted it. And I thought, figuratively, we threw the first punch tonight. And at times we got sloppy, but it's just stuff that we'll be able to work with going forward."
Those first few minutes were about as physical a fight as the Wamps have probably seen so far this season, yet by the end of the first quarter they were ahead 17-8, and extended the lead further to 28-16 at the break. That included a putback from Brianna Herlihy (11 points) followed by a walk-up three-pointer by 6-foot-2 center Molly Reagan, from deep behind the arc, late in the stanza.
Junior point guard Ashley Russell took over in the third quarter, scoring 12 of her game-high 21 points in the frame with some darting play around the rim, sandwiched between a pair of sweet strokes from the perimeter. She extended the lead to 37-22 with a three-pointer, then followed it up the next trip down with an old-fashioned three-point play, grabbing her own rebounding after over-shooting the basket from the baseline and drawing a foul on the way up to a put-back.
A few possessions later, Russell made it 43-25 with a three in the corner, off a beautiful cross-court pass from Bridget Herlihy (10 points) on the opposite wing.
"Ashley is a warrior," McDonnell said. "I told her the other day, 'I will go to war with you any day of the week'. She's just so tough, and she's not flashy but she gets it done possession by possession, offensively and defensively."
From therein, however, North was the aggressor, and nearly pulled even. Trailing by 18 to start the fourth, the Tigers cut the lead down to six with four minutes to go. After being bottled up for most of the game, Holy Cross-bound guard Infiniti Thomas-Waheed exploded for seven points in the final eight minutes.
Snatching a defensive board at her own baseline, Thomas-Waheed went coast to coast, finishing near the rim to cut Braintree's lead to 43-33, then fired up a trey the next trip down. Freshman Sayawni Lassiter (14 points) then grabbed her own rebound off a missed one-and-one free throw, drew a foul again, then made 1-of-2 at the stripe to bring the lead down to 43-37.
Thomas-Waheed fouled out with three minutes to go, however, leaving the Tigers without their best on-ball defender. With a void on the wing, the Herlihy sisters took advantage, Bridget hitting her sister Brianna along the baseline for a 10-point lead with 2:04 to go.
Solving Infiniti:
The last time North and Braintree squared off, the 6-foot Thomas-Waheed was a royal pain for the Wamps at both ends of the floor, leading the Tigers with 13 points but also turning in some inspiring defensive stops along the wing to make entry passes a chore.
With a full head of steam, there are few in Massachusetts quite like Thomas-Waheed, gliding like a gazelle in transition for some of the most beautiful coast-to-coast finishes you'll see around, and using her length and lateral quickness to harass a team's top scorer all the way to the exit signs.
Tonight, however, Thomas-Waheed ran into some struggles early, held to just two points until the final quarter. Junior Bridget Herlihy proved a worthy adversary, as the two exchanged blocks and deflections.
"We knew she was a long player, she could play really good defense, she could run through people in three strides and be at the basket," Russell said of Thomas-Waheed, an ESPN Boston All-State selection last season. "We knew we had to stop her on defense. Our main focus on defense was, 'Where is Infiniti?' We had to know where she was at all times, because she can shoot, she can drive, she can do everything. We had to contest everything with her.
"We knew they screened a lot on the outside for her, when our coach scouted her, she saw that they would screen her a lot on drives to the basket. We focused on hedging off screens."
Boy scouts:
It is not uncommon for women's basketball teams at the college level to use male players on its scout team. Newton North coach Linda Martindale is probably no stranger to the strategy, from her playing days at the University of Arizona; according to McDonnell, Martindale let it slip to her after last year's upset that she had employed to strategy to prepare for the Wamps.
McDonnell kept that thought in her memory bank, and now regularly uses JV players from the boys' basketball team on scout several times a week.
"They're great because the athleticism of the boys in general just makes us up our game in practice," McDonnell said. "We've been doing that a lot, and it really helped a lot. All the colleges do it, and [Martindale] actually said that when they won last year, she said they brought in the JV team to play against them. I was like, 'Oh, I'll keep that one in the back of my head'. So now we have a whole scout team. They have uniforms. It's pretty funny, it's good."
March, 12, 2013
3/12/13
1:38
AM ET
By
Shawn Myrick
| ESPNBoston.com
BOSTON -– Central Catholic girls' basketball went right after early season state champion favorite Braintree tonight.
The Raiders (21-5) looked for quick counter attacks and a heavy in-the-paint assault to put a tall Wamps' squad in foul trouble. Central handed Braintree (24-3) its second straight Division 1 Eastern Mass. championship loss with a 55-51 win the at TD Garden.
The Raiders will play Central/West champ Holy Name (22-2) in Worcester's DCU Center on Saturday.
[+] Enlarge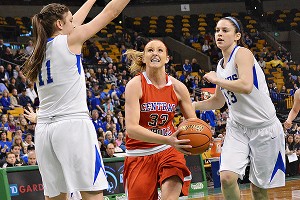 Brendan Hall/ESPNSenior Casey McLaughlin (18 points, 13 rebounds) led the way for Central Catholic as the Raiders captured their first Division 1 Eastern Mass. title since 2009.
"We struggled up until to the last game winning that big game," said Raiders coach Susan Downer. "We just tried to go at them and try to use our athleticism to break them down a little bit. I think we did a good job of getting them into foul trouble early on."
Central lead for the final 19:09 as it created turnovers out of its newly instituted 2-3 zone and forced 17 fouls from Braintree. Ahead only 51-49 with 1:19 left in the game, junior Courtney Walsh cut into the lane and underhanded a pass along the to junior Amanda Williams along the baseline for a layup to maintain control. Braintree's Ashley Russell got the throw in quickly to the opposite basket on the rebuttal and set up fellow sophomore Molly Reagan for a 53-51 layup with 51.8 seconds left.
The Wamps had one more chance to equalize, but Williams punched the ball out from behind on a cut by Braintree sophomore Bridget Herlihy as senior Casey McLaughlin settled it.
"(Coach) always yells at me for reaching in and it is always a foul," said Williams. "She went by me before and I was not going to let it happen again."
Walsh nailed a pair of foul shots to seal the win at 55-51. Walsh lead the Raiders with 19 points, while McLaughlin buried 18 points and grappled 13 rebounds.
Central was 17 of 22 from the line.
"Never as big as those," said Walsh. "I just tell myself this is what you play for and just put them in. I had to do it for my team and I had to do it for myself."
"If your going to get to these games the thing that is going to change the game is free throws," added Braintree coach Kristen McDonnell.
Trailing by as much as 12 in the fourth quarter, Braintree switched its player alignments on the press and cut the margin to two within the final two minutes.
McLaughlin nailed a 10-foot floater and drew a point from the charity strike to give CC the 51-39 advantage. Scoring the next 10 points, Wamps' Herlihy ducked a defender in the paint and finish a short shot to start the run at 6:07.
Herlihy flicked a down-low pass to Reagan at 1:29 to bring the score to 51-49.
"We were forced to (change up the matchups), because of foul trouble," said McDonnell. "We did not come out as hard on our man-to-man (and) we tried to pack it in within the three-point line. We tried to take our taller girl Molly (Reagan) off their big other big girl instead of in the middle."
Tied 26-26 with 4:51 left in the first half, Central pulled ahead for good with a rebound and pair of one-and-one foul shots from Walsh. The Raiders outscored Braintree 11 to two in the next 4:37, including a three-pointer from Walsh assisted by junior Alexandra Nagri for a 37-28 lead early in the third quarter.
"We have never played a 2-3 zone," said Downer. "We had one day to prepare yesterday. They adjusted (and) they jumped to the ball."
On a team that boast two girls over six feet tall, 5-foot-9 Russell has been a ball hawk on the boards all season. Russell dropped 17 points and grabbed 15 rebounds, while Reagan scored 11 points and grabbed six rebounds.
The Wamps -- who lost 54-39 to three-time defending Division 1 state champ Andover last year at this stage -- will return nine players including its four highest scorers from tonight.
"(Russell) never gives up", said McDonnell. "The second it leaves her hand she is going to get it again. I never thought we got in a rhythm in the first half."
January, 18, 2013
1/18/13
9:51
PM ET
By
Brendan Hall
| ESPNBoston.com
SPRINGFIELD, Mass. -- It's tough scouting a team from the other side of the country. It's even tougher when it's the No. 1 player in the country you're going against, and all you've got to work with are a couple of YouTubes.

But it'd be hard to walk away from Braintree's 51-42 loss to Springfield (Ore.) tonight at the Hoophall Classic, at Springfield College's Blake Arena, and not be impressed with Wamps head coach Kristen McDonnell's gameplan.

Against the Millers' Tennessee-bound superstar, 6-foot-5 forward Mercedes Russell, Braintree came out and put real estate at a premium in the paint. Bracketing and sandwiching Russell with a triangle-and-two defense in the first quarter, they made sure Russell would have to earn her baskets, as the Millers struggled to funnel offense inside to her. When they switched to a man-to-man, alternating between sophomores Molly Reagan and Bridget Herlihy, they positioned well and were able to jump passing lanes for some deflections.

"I guess it's tough when you're scouting and you're only going off highlight films," McDonnell said. "And then you're trying to come up wtih a strategy to stop this big-time player. Our goal was to sandwich her at all times.

"For the most part, we were effective in what we were trying to do. The thing is that any letdown we have, she's going to take advantage of. The handful of times we did, she scored. I thought we played really hard, though."

Russell, ranked the nation's No. 1 overall senior by ESPN HoopGurlz, finished with nearly a triple-double, with 25 points (8-of-11 field goals), 17 rebounds and eight blocks.

"It was crazy," said the 6-foot-2 Reagan, who finished with 11 points and six rebounds. "Meeting someone who's that tall and that talented, with Tennessee and stuff, it was just interesting to put what you know you can do against someone of that [caliber]. You have to raise your own level."

The Wamps (11-1), ranked No. 1 in ESPNBoston.com's statewide poll, took a 10-8 lead after one quarter thanks to a deep buzzer-beating three from sophomore Bridget Herlihy, completing an 8-2 run. But things unraveled quickly after that, with the Millers outscoring Braintree 16-1 in the second quarter, allowing no Wamp field goals. Where Russell was adequate in the post in the first quarter, she was a catalyst in transition, triggering a series of fast breaks with deep outlet passes, then cleaning up as the trailer charging down the lane. In the halfcourt, she would step out to the elbow and clear the runway for Danea Swartout (10 points) or Ashley Richey (eight).

At the half, Russell had 14 points, eight rebounds and six blocks. Meanwhile, Braintree had registered just three field goals, part of a dismal 3-for-34 effort from the field (just 8.8 percent).

However, the Wamps found some late life in the fourth quarter, cutting the Millers' lead to 40-36 with 6:08 to go after a quick five-point swing. First, sophomore Ashley Russell (11 rebounds) drew a foul on the way up after freshman Brianna Herlihy (14 points) missed a layup, and completed the three-point play. On the ensuing inbounds pass, Reagan snatched a high outlet pass near the scorer's table and peppered one off the glass. That was the last field goal the Wamps registered for the game, settling for free throws the rest of the way as Springfield closed out on a 12-6 run.

Russell vs. Reagan delivers: The most intriguing matchup was between Mercedes Russell and Reagan, who herself holds an offer from Boston College. The battled posed all sorts of challenges for Reagan -- "Her arms are so long!" she exclaimed -- the latter some kind words to say about Reagan.

"It was a good matchup," she said. "She is tall, she's strong, and very physical."

Within Massachusetts, Reagan is held in high regard not just for physically imposing her will with her back to the basket, but also for being able to pop out for 16 to 18-footers, and filling the lane in transition. Russell, it goes without saying, is just on another level.

"She's the best I've ever seen," McDonnell said, including her own playing days at Stonehill College. "She's a 6-5 guard, you know? And she can take it from the perimeter. To have an entire team's offense and defense be based on one girl says a lot for her.

"And what's nice is she doesn't shoot it every time. She gets it to the open person, so she's feeding her teammates, she really does it all. Credit her, and credit her team."

Heating up on the recruiting front: Reagan isn't the only young Braintree star catching Division 1 interest locally. Rhode Island and UMass have offered both Herlihys', while Boston College has also offered Bridget. Holy Cross, meanwhile, has extended an offer to all three of the aforementioned. The Wamps' other star sophomore, Ashley Russell, figures to get her share of interest as well.
January, 9, 2013
1/09/13
10:57
PM ET
By
Shawn Myrick
| ESPNBoston.com


BRAINTREE, Mass. -- On a team that prides itself on its size, it was 5-foot-9 guard Ashley Russell who came up the biggest for Braintree girls' basketball on Wednesday.

Leading her team with 17 points and nine rebounds, Russell pushed the host Wamps (9-0) to their first big win with a 54-31 besting of previously-undefeated Fontbonne Academy (7-1).

"A majority of our defensive (practice) is rebounding drills," said Russell. "We usually try to help on the post and off our guard somewhere in the middle (on offense). When we are playing defense my player usually shoots it (and) when they do not have it I try to help off down low."

Braintree, who struck first, lead the entire game and pulled away in the third quarter off 10 points from Russell.

Leading 20-13 at half, the sophomore guard followed up a 10 foot jumper with a steal and a counter lay-in to give Braintree its first double-digit margin up 24-13 after 1:26 in the second half.

"We talked about spacing on their zone," said Braintree coach Kristen McDonnell. "We were sending girls to the same spot and it was where the defenders were. Look at the weak side and try to dump it in that way."

The Wamps finished the Ducks with nine straight points starting after the first minute of the fourth quarter. Freshman Brianna Herlihy grabbed a two-on-one counter layup to start the run, while sophomore forward Molly Reagan put back a missed lay-in for a 45-27 advantage with 3:42 remaining.

"We definitely knew they were going to do a zone," said McDonnell. "What we had devised was not as effective in the first half. We brought our whole team up so there was more room to work with in the back."

Brianna Herlihy grabbed a throw-in under the basket and finished off the backboard for the first score at 6:57, while Russell stole the ball and forced a pair of free throw scores for an early 7-3 lead at 3:47 in the first quarter.

Two-Pronged Attack: A majority of the Ducks' scoring came from seniors Georgia Bourikas (16 points) and Bentley commit Jennifer Gemma (10 points, eight rebounds).

Bourikas caught and finished a pass under the basket from Gemma to cut the deficit to 11-9 at 4:05 in the second quarter, while a pair of back-rim three-pointers by Gemma temporarily settle Fontbonne with a 24-19 deficit at 5:20 in the third quarter.

Man vs. Zone: The two squads ran very different offensive and defensive fronts throughout.

The Ducks looked to slow the game by combining a 2-3 zone defense with long pass-heavy possessions on offense. The taller Wamps speed the tempo by working the boards on the attack and forcing turnovers off a man-to-man defense and an early game full-court press.

"We run a different type of game than them," said McDonnell. "We wanted to press right away to get into out (fast) tempo and let them play to us. They run a really tough zone that makes us slow it down."

Youth and Size: Though they certainly do not appear it on the court, the Division 1 South defending champs are a young team. The Wamps start three sophomores and a freshman, including six-foot-two Reagan and sisters Bridget and Brianna Herlihy (both near 6-foot).

Reagan had 10 points and eight rebounds, while Brianna tallied seven in both points and rebounds.

"We had to for the first time really this season adjust to what another team was doing," said McDonnell.
November, 25, 2012
11/25/12
1:34
PM ET
With the first MIAA-sanctioned practices of the 2012-13 season set to commence tomorrow, today we're looking at the top storylines and top players from across the state.

Check back with us later in the preseason for our first Top 25 poll and our Preseason All-State Teams. But for now, here are the storylines to watch, and our projected Super Teams.

***

Brendan Hall
ESPN Boston High Schools editor

Reading Machine Rages On
Had it not been for Andover and superstar Nicole Boudreau, the Division 2 state champ Reading Rockets would have been garnering far more attention last season. The Rockets were one of the state's most dominant forces from wire to wire, going 25-0 en route to the program's first state title. They were one of the state's most explosive offenses (64.3 points per game), and blew out nearly everyone -- their average margin of victory was 27.1, with their only threats coming in the North final (49-46 over Arlington Catholic) and Eastern Mass. Final (71-64 over Scituate, in overtime).

The conversation in Reading starts with Richmond-bound guard/forward Olivia Healy, a two-time ESPN Boston All-State and one of the early favorites for our Miss Basketball award. The 5-foot-10 senior can play any position on the floor, excels on the boards, and is as physical as they come. But every superstar needs a supporting cast, and you can't do much better than Assumption-bound guard Morgan O'Brien in that regard.

With Andover expected to level off following the graduation of one of the MIAA's best ever (Boudreau), we're most likely looking at Reading starting the year at No. 1 in our statewide girls' poll, which will be released later this preseason.

Fierce, Fierce City A
Over the offseason, the Boston City League voted overwhelmingly to split into three tiers for boys basketball, based on competitive balance. And with it, the city's "A" division instantly becomes the state's toughest league. City A is comprised of Brighton, New Mission, Madison Park, Charlestown and East Boston -- all teams expected to start the season in our statewide Top 25 poll -- and with the new scheduling setup, we're looking at appointment viewing in the city nearly every night.

Charlestown-Eastie, Mission-Brighton and Eastie-Madison are the city's three fiercest basketball rivalries. Now, on top of those series, we're getting two installments of Mission-Madison, Brighton-Eastie, Charlestown-Mission, Madison-Brighton, and so forth. Brighton and MP figure to be the favorites here, but this is going to be an absolute grinder of a league. Of the highest degree.

Swat Team
Anyone that watched the University of Kentucky last season can tell you how valuable Anthony Davis was despite an unpolished offensive game. Heck, he was named the Most Outstanding Player of the Final Four despite going just 1-for-10 from the field in the championship game.

Last year our Defensive Player of the Year award went to a guard, Stoughton's Marcus Middleton, but I'm looking at a number of frontcourt shot-blockers to contend for the award. Any conversation about swatters in the MIAA has to begin with New Mission's Isshiah Coleman, but keep an eye on Cambridge's Fredens Deneus, a 6-foot-6 junior who is expected to have a breakout season. Rockland's Tyler Gibson, a UMass-Lowell commit, will alter many a shot in the South Shore League. Also keep an eye on Holy Name's Dan Kegbeh, only 6-foot-1 but blessed with some impressive ups.

On the girls' side, Holy Name's Brianna Frias is my early favorite for Defensive Player of the Year. The 6-foot junior committed to Providence over the summer, and averaged six blocks per game last season as the Naps went 20-0 in the regular season and captured the No. 1 seed in Division 1 Central.

Sizzlin' Sophs
Across the state, there are a number of Class of 2015 players to get excited about. Springfield Central's Chris Baldwin has yet to play in an MIAA game, having played his freshman season down the street at Hillside School, but he is already garnering significant hype. Wakefield's Bruce Brown showed freak athletic ability at times during his freshman campaign for the Warriors, and figures to be regarded as one of the state's elite by season's end. Same for Mansfield's Brendan Hill and St. John's of Shrewsbury's Davon Jones.

Central Catholic junior Tyler Nelson is on the short list as everyone's favorite shooter, and deservedly so, but Newton North sophomore guard Tommy Mobley is as automatic as they come. He plays a different role for the Tigers than his older brother, 6-foot-8 Yale forward Greg Kelley, did several years ago. But when you talk about the elite shooters in the state, Mobley has the potential to be in that conversation.

Also keep an eye on Falmouth guard Craig Green, a three-sport star who's already on the radar for track and field. He turned many heads last June, when he placed third in New Englands in the 100-meter dash. He has run as fast as a 10.6 in the event so far in his young career.

On the girls' side, we all know the capabilities of Braintree's Molly Reagan. The 6-foot-1 center was a key cog in the Wamps' run to the Division 1 South title last March, and she already holds Division 1 offers. On the flip side, Archbishop Williams' Jaylen Williams committed to Penn State this past summer despite playing limited minutes for the Bishops.

But the potential speaks for itself. For one, Williams is 6-foot-3 and long. For another, there is plenty of pedigree. She is the daughter of former New England Patriots defensive lineman Brent Williams, and the younger sister of two high Division 1 college football players -- North Carolina offensive tackle Brennan Williams, and Ohio State linebacker Camren Williams.

Open Waters in the North
I'm not sure which will be the more interesting race in the North -- Division 1 girls, or Division 2 boys.

In Division 1 girls, we're looking at a number of contenders in the North. Nobody's counting out Andover in spite of the talent graduated, but it should be an interesting race in the Merrimack Valley Conference with Central Catholic and Billerica figuring to start the year high in many polls. Lincoln-Sudbury will be another contender, led by Lafayette-bound forward Ashley Lutz, as will be Lynn English and reigning Northeastern Conference MVP Catherine Stinson. The ultimate wild card might be Cambridge, led by Georgia Tech-bound guard Donnaizha Fountain. And don't count out Somerville, either, with Indira Evans in the fold.

Division 2 North will be an interesting bracket. New Mission returns a strong core, but so does Brighton, behind returning All-State guard Malik James, forwards Nick Simpson and Prince Unaegbu, and one of the state's best shooters, Daivon Edwards. Ditto Wakefield, with Bruce Brown expected to have a breakout year alongside seniors Kendall Hamilton and Mikol Blake-Green.

SUPER TEAMS

Boys
G - Jameilen Jones, Sr., BC High
G - Tyler Nelson, Jr., Central Catholic
G - Malik James, Jr., Brighton
F - Kamari Robinson, Sr., Springfield Central
F - Tyler Gibson, Sr., Rockland

Girls
G - Donnaizha Fountain, Sr., Cambridge
G - Sarah Hope, Sr., Medway
G/F - Olivia Healy, Sr., Reading
F - Ashley Lutz, Sr., Lincoln-Sudbury
C - Molly Reagan, Soph., Braintree

***

Ryan Kilian
Editor-in-Chief, New England Prep Stars

Central Reign
Can Central Catholic represent Eastern Massachusetts in the state finals this season in Division 1? Central returns a battle tested and veteran group that represented EMass Division 1 as the top seed in last season's MIAA tournament. Central boasts key returnees Tyler Nelson, Joel Berroa, Doug Gemmell and Nick Cambio.

Veteran Sophomore Talent
Mansfield's Brendan Hill and Wakefield's Bruce Brown are two of the top returning players in Massachusetts. They are also only sophomores. Both sophomores started and lead their respective teams deep into tournament play as freshman and we can expect even bigger seasons from both this year.

Best Frontcourt?
Massachusetts has a very strong group of point guards this season but the depth in the frontcourt is down in part of the continued flood of players to prep schools. New Mission (Nate Anderson and Isshiah Coleman) and Central Catholic (Gemmell and Cambio) are at the top of the frontcourt ranks but look out for North Andover and Charlestown to also have improved front lines with the development of returning veterans as well as additions of new talent to the mix.

Replacing Boudreau
It will be impossible to replace two-time Miss Basketball Nicole Boudreau (Boston College), but Andover does return senior Devon Caveany, and the glue of the squad in top defenders Jackie and Rebecca Alois. Expect some more classic Central Catholic and Andover battles for years to come in the MVC.

Special time for City of Braintree
The city of Braintree boasts some the best young female talent in the state, with Braintree High School and Archbishop Williams sharing city quarters.

Braintree returns Coach of the Year Kristen McDonnell and a lineup featuring returning senior Rachel Norton, and sophomores Ashley Russell, Bridget Herlihy, and Molly Reagan. Archbishop Williams returns Southern New Hampshire commits Olivia Conrad and Sara Ryan along with Alana Gilmer and Penn State commit Jaylen Williams.

SUPER TEAMS

Boys
G - Bruce Brown, Soph., Wakefield
G - Tyler Nelson, Jr., Central Catholic
G - Jameilen Jones, Sr., BC High
F - Brendan Hill, Soph., Mansfield
F - Kamari Robinson, Sr., Springfield Central

Girls
G - Kayla Burton, Sr., Newton South
G - Donaizha Fountain, Sr., Cambridge Rindge
G - Olivia Healy, Sr., Reading
G - Tajanay Veiga-Lee, Sr., Fenway
F - Saliah Serrette, Sr., Weston

***

Chris Bradley
ESPN Boston correspondent

Springfield Central Is Back
Saying that Kamari Robinson and sophomore transfer Chris Baldwin are the best frontcourt in the state is no stretch. Robinson helped lead Central to last year's division 1 state title, averaging a double double while the Golden Eagles went undefeated against MIAA opponents. The 6-foot-7 Baldwin is already drawing in interest from high major division 1 college programs. A strong, athletic forward who is known for his rebounding and sky-rising dunks, he'll make quite a duo with Robinson, a member of last year's ESPN Boston All-State Team.

Senior Cornelius Tyson could be primed for a big year as well. The 6-foot-1 guard made quite a showing in last year's state championship game against Brockton, knocking down four 3-pointers in the second half to lead Central to the Division 1 title.

Can anyone knock off St. John's of Shrewsbury?
The Inter-High has two legitimate Top 25 teams in Worcester South and Doherty. Will this finally be the year that St. John's doesn't run away with the Division 1 tournament in Central Mass.? The Pioneers have won five consecutive Central Mass. Division 1 championships, and return yet another talented core from last year's team. Sophomore point guard Davon Jones has already asserted himself as one of the best guards in the western half of the state, juniors Charlie Murray and TJ Kelley will be a tough duo on the post, and 6-foot-5 senior Ken Harrington is one of the best shooters in central Mass.

Brighton looking for revenge
Last year's loss to Mahar in the Division 2 state title game was demoralizing to say the least for the Bengals, but another year of maturity should help Brighton come tournament time this year. Junior playmaking guard Malik James will be one of the very best in the MIAA, and he'll have plenty of weapons around him with forward Nick Simpson and guards Theo Oribhabor and Daivon Edwards. The Boston City League will be a rock fight this year, but battle-tested Brighton will reap the benefits of a tough schedule come tournament time.

New Mission young, but talented
Sophomore guards Greg Bridges, Randy Glenn, and Juwan Gooding will make for quite a show this year when put together with 6-foot-5 forward Isshiah Coleman and 6-foot-7 forward Nate Anderson. The Titans will be young, with less experience at the guard position than many of their opponents, but when all is said and done this could end up being the most talented team in the state this year.

Who will emerge in D3?
Picking favorites in Division 3 is like splitting hairs. Wareham has Darien Fernandez, a waterbug considered one of the best point guards in the state. Danvers returns four starters from last year's state title team. Quaboag has one of the best inside-out duos in D3 with Thomas Jankins and sophomore Jake Wisniewski. Hopedale has a deep, versatile lineup. Whitinsville Christian has won three straight central Mass. championships. Out in Pittsfield, St. Joseph Central returns the majority of their core from last year's state finals team—including scoring guard Taverick "Tank" Roberson. Any of these teams could emerge and make a deep run into the tournament in February and March.

SUPER TEAMS

Boys
G - Malik James, Jr., Brighton
G - Tyler Nelson, Jr., Central Catholic
F - Jameilen Jones, Sr., BC High
F - Kamari Robinson, Sr., Springfield Central
F - Tyler Gibson, Sr., Rockland

Girls
G - Kayla Burton, Sr., Newton South
G - Sarah Hope, Sr., Medway
G - Donnaizha Fountain, Sr., Cambridge
F - Casey McLaughlin, Sr., Central Catholic
F - Olivia Healy, Sr., Reading

March, 28, 2012
3/28/12
6:49
PM ET
By
Brendan Hall
| ESPNBoston.com
With the unveiling of our MIAA All-State Teams for Boys and Girls late last week, the 2011-12 basketball season has come to close. But before we officially slam the book on another exciting season of hoop, and move on to spring sports, I wanted to get out a few thoughts on the landscape for next season.

To whet your appetite for the 2012-13 season, here are my early projections on the state's must-see teams to watch:

BOYS

Central Catholic - Plenty of talent returning with this squad, which captured the No. 1 overall spot in Division 1 North despite missing Luis Puello (ankle) for most of the season. ESPN Boston All-State guard Tyler Nelson returns as one of the state's top shooters, but the Raiders also return all three of their regular bigs in Joel Berroa, Doug Gemmell and Nick Cambio.

New Mission – Apparently it's never too early for bulletin board fodder, because head coach Cory McCarthy is already making some barnstorming rounds, telling ESPNBoston.com this afternoon that if the Titans don't win the Division 2 state title next year, "I should be fired." Bold, yes, but it's hard not to like a lineup of Isshiah Coleman, Nate Anderson, Greg Bridges, Damion Smith and Shaquan Murray. There is some promising talent in those ranks.

Mansfield – Folks are talking about the Hornets being one of the South region's top teams in two years' time, between promising freshman Brendan Hill and sophomore Michael Hershman. I'm of the camp that believes with those two versatile parts, paired with a terrific coach in Mike Vaughan, the future is now.

Taunton – Shaquille O'Neal Davis. That's legitimately his full name, and one you certainly will not forget by this time next year, for reasons that have nothing to do with The Big Aristotle.

West Springfield – Terriers return virtually everyone, including Chris Lipscomb, Paul Bessette, Andy McNulty, Dewey King, and leading scorer Riyadh Asad. West Side is the early favorite next year in Division 1 West.

St. John's (Shrewsbury) – Junior transfer Tarik Octave was one of the nice surprises of the playoffs, and freshman Davon Jones has shades of former Pioneers great David White all over him (Doesn't hurt that Jones was also the Pioneers' starter at safety last fall, too). A boat load of underclassmen return, including Ken Harrington and T.J. Kelley, which should more than make up for the graduation of Matt Palecki.

Danvers – Falcons graduate 6-foot-7 center George Merry, an ESPN Boston All-State selection, but return some terrific guards. Nick McKenna, Nick Bates, Eric Martin and Dan Connors can all shoot the ball, and are perfectly-suited for John Walsh's four-out offensive system. My early pick to repeat at D3 champs.

BC High – Eagles return what ought to be one of the state's best backcourts in point guard Charles Collins and ESPN Boston All-State swingman Jameilen Jones. Throw into the mix one of the region's best basketball minds in Bill Loughnane (he of four state titles) and it's hard to think of the Eagles as anything but a favorite in the South.

Springfield Central – A plethora of talent graduates, including Chris Prophet, Lee Turner, Jevaughn McMilian, and ESPN Boston Super Teamer Tyrell Springer. But All-State forward Kamari Robinson should have another terrific season, and the way Cornelius Tyson exploded onto the scene in the Division 1 state final makes us all wonder if he's about to realize the potential that many in the Springfield area have been talking about for so long.

Stoughton – Super Teamer Aaron Calixte and Defensive Player of the Year Marcus Middleton formed the state's best backcourt in 2011-12. If all goes as planned, they'll be well-equipped to defend that notion next season.

Wareham – Vikings might not endure an unbeaten regular season again next year. But another year of All-State point guard Darien Fernandez means they're not going anywhere.

GIRLS

Braintree – Wamps started three freshmen this year: Ashley Russell, Bridget Herlihy, and 6-foot-1 center Molly Reagan. Expect them in conversation for state title contention from now until their time runs out in 2015.

Archbishop Williams – Ditto the Bishops, who have two 6-foot freshmen to look forward to the next three seasons. Add in sophomores Olivia Conrad and Leah Spencer, and their fiery mouthpiece Sara Ryan, and this could be another top-five team come December 2012.

Reading – The Rockets made a flawless run through the Division 2 gauntlet, winning their first Division 2 state title in school history as one of two final unbeaten squads in Massachusetts. Two-time Middlesex MVP and ESPN Boston All-State Olivia Healy returns, as does guard Morgan O'Brien.

Andover – Golden Warriors are expected to come down to Earth with the graduation of two-time ESPN Boston Miss Basketball, Nicole Boudreau, and UConn lacrosse commit Ally Fazio. What might be overlooked amidst Andover's unprecedented run to a third straight state title is that there were plenty of terrific complimentary backcourt pieces in the underclass.

Central Catholic – Raiders treaded water after some injuries early on. But once junior forward Casey McLaughlin was back to full strength, they made a run all the way to the Division 1 North semifinals. Have to imagine they'll be in conversation again next year.