Boston High School:

Assabet Valley Tech
June, 12, 2014
6/12/14
12:30
AM ET
By
John McGuirk
| ESPNBoston.com
WORCESTER, Mass. -- What would a state championship be without Turners Falls involved?

After a year's absence, the Indians are heading back to the Division 3 state finals. With six titles already to its credit, Turners Falls (23-2) will be seeking No. 7 when they match up against Greater New Bedford Voke (19-9) in the final Saturday here beginning at 1 p.m. The Indians are currently tied with Apponequet Regional for second most state softball titles. Only Bishop Fenwick, with eight, have more.

"This key to our success has been that all us get along and we all support each other," said junior Amber Caouette, who, along with teammate Jenna Putala, belted consecutive home runs in the fifth inning. "That was something we really didn't have last year and we lost (in the WMass final). There was really no connection within the team. But we have grown from it and moved on to this year. Now we are winning again so it's all good."

The Indians, who carry just two seniors, got to this point after rocking Assabet Valley, 5-1, on Wednesday. Turners Falls did what they do best – jump on the opposition early and not let them up for air. Against the Aztecs (21-5), the Indians claimed a 2-0 lead after the first inning on a two-run single by sophomore Mackenzie Phillips.

"Getting those runs early was huge," said legendary Indians coach Gary Mullins, now in his 35th season here. "It takes a little pressure off and calm most of us down. Assabet is a nice club. They hit the ball hard. I thought the top of their order is very tough. Going back to the state finals never gets old for us. For the most part it's a new group of girls who will get that experience."

Mullin's club knocked off Assabet in the 2012 state semifinal en route to the second of back-to-back state championships. Last year, the Aztecs defeated Mt. Everett in the semi round before winning it all.

Phillips, also the Indians' pitcher, didn't have her best stuff inside the circle but had enough to keep Assabet off-track. Phillips, who hurled a perfect game in her team's WMass final against Pathfinder on Saturday, scattered eight hits and picked up six strikeouts.

"If you said we would get eight hits before we played I would have told you that we won the game," Aztec head coach Mike O'Brien said.

Turners Falls picked up a solo run in the third. After loading the bases, Aztec pitcher Maddy Parmeter was called for an illegal pitch with two out, thus allowing Putala, who reached on an error, to trot in from third base.

While Phillips continued to frustrate the defending state champion Aztecs, her offense continued to provide her added run support. Any chance for Assabet to get back into this one proved futile after Putala and Caouette went yard to push the Indians' advantage to five runs.

"They hit two bombs over the fence which is something I have not seen since I've been coaching," O'Brien lamented. "That team has a lot of talent and their pitcher throws strikes and I wish them well in the final. Unfortunately we didn't come up with those clutch hits to keep us in the game. I wish we had the money swing today but all we had was loose change."
June, 3, 2014
6/03/14
2:39
PM ET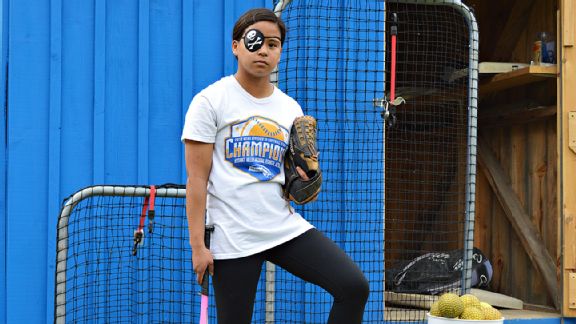 Brendan Hall/ESPNBoston.comJosie Burlingame lost her right eye when she was an infant, but you'd never know it watching her on a softball field.
Paul Burlingame raced to the mound fearing the worst. His daughter, Josie, had just been struck in the face with a line drive back through the box. But by the time he and the coaches of her Little League baseball team convened around the center of the diamond, she was already waving them off.
"I needed to check to see if she was missing any Chiclets," Paul Burlingame said, recalling the heart-racing incident. "All she wanted was everybody to get off the mound and get into the game. That's who she is. She's not going down without a fight."
It's in Josie Burlingame's nature. Adopted by her parents in 2000 from an orphanage in the Philippines, the Assabet Valley Regional Technical High School sophomore softball left fielder doesn't know any other way to be.
Her softball coach, Mike O'Brien, says she's just like any other teenage girl -- worried about prom dresses this time of year. She loves music and recently took up playing the guitar after several years of piano lessons. But softball always is Josie's first priority. She's fiercely competitive and is set on returning the Aztecs to the district championship game and, perhaps, a second straight Division III state title. A second-year starter for Assabet, she craves the exhilaration of winning that she felt in her only high school season, when she was the Aztecs' lone freshman starter in the field.
There's a side of Josie Burlingame that isn't immediately apparent, though. What sticks out first is her engaging personality, her ability to make a joke out of life's troubles. That comes from a place of inner strength, a supreme confidence in one's self.
"I feel like I should make the most of out of everything because you can't change anything," Josie said.
You really get to know Josie Burlingame when you look in her eyes.
---
Retinoblastoma claimed Josie Burlingame's right eye when she was an infant. While that might have scared other prospective parents away -- also considering that doctors were unsure, at the time, whether the cancer would spread to her other eye -- the Burlingames already had experience. They adopted Josie's older sister, Marilyn, under the same set of circumstances in 1998. Marilyn, then 4 years old, had lost an eye due to injury in her early childhood. And although the Burlingames already had two biological children -- Zach, 27, and Harrison, 25 -- they couldn't help but fall in love with Josie when the Philippines-based adoption agency called.
The Burlingames believed it was important to expose their daughters to sports at a young age. Josie's mother, Erin Burlingame, had a high school friend who'd played hockey with the same disability, so Marilyn played soccer for a time, but didn't take to sports like Josie would. Erin signed Josie up for what she thought was T-ball when she was 8, but instead was the low level of Little League baseball.
"We had real concerns how she would do, whether she'd actually be able to catch the ball," Paul said. "She really took to it, though. She spent all winter practicing how to pitch inside the house."
Soon she was pitching.
"I was the only kid who could do it," Josie said coolly.
Josie was always such a natural at athletics that few even knew she had a prosthetic eye. That even carried over to high school when Josie, a resident of Leicester, tried out for Assabet's softball team.
"I had no idea she only had one eye until somebody mentioned it to me," O'Brien said. "We didn't know about her coming in, but pretty quickly we saw she could play. The fact that she only has one eye just made it that much more impressive. We wanted her to play varsity. We wanted her on this team."
Even with the good news that Josie made the varsity team, her parents were a little hesitant. The adjustment to high school is big enough and they didn't want Josie to have to watch the game from the bench in her first year. But she started in left field from the get-go, helping the Aztecs to their first state championship. Josie hit .380 with 20 RBIs last season. She also was a spot pitcher behind starter Maddy Parmeter, registering a 1.08 ERA and 22 strikeouts in 13 innings pitched.
---
Assabet Valley softball is, in itself, an underdog story. The program O'Brien inherited in 2009 was something out of "The Bad News Bears." O'Brien recalled players showing up to practice wearing jeans and work boots. Supplies were limited and some players entering the program didn't have gloves on the first day of practice.
[+] Enlarge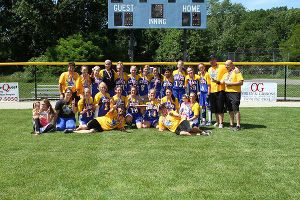 Brendan Hall/ESPNBoston.comAssabet Valley Tech softball coach Mike O'Brien has taken his crew from "Bad News Bears" territory to perennial district contender.
There's also the matter of how the school and, by extension, the team is comprised. Unlike most public schools, which can draw from established town-based feeder programs, Assabet's school district encompasses seven communities in the Interstate 495 corridor. Additional communities -- such as Leicester -- are able to send students to Assabet on a tuition basis. The students come from an array of socio-economic backgrounds and there's a high number of special needs pupils.
O'Brien, who is a special needs teacher at the school, believes that's what sets Assabet apart. It fosters an understanding to which students from other schools might not be exposed. That helps in building a team.
"We're not able to pick and choose our players coming in," O'Brien. "We have the players we have. That's why it's so important that these girls come together and buy into it."
They have.
In each of the past five seasons, the Aztecs have qualified for the state tournament and have won sectional titles in each of the past two seasons. So the bar is now set exceedingly high.
But this season has come with obstacles, as well. Two Assabet softball players lost their fathers in the past year. It has impacted the entire community.
Maddy Parmeter's father, David, was the Aztecs' biggest fan. Even as he struggled with treatments from prostate cancer, he made it to all of Assabet's games in its state title run last year. When David Parmeter died in September, Maddy was simply happy to have left her father with the lasting memory of a championship celebration.
"With softball, you come out here and you kind of forget about everything else," said Parmeter, a captain. "It's an escape for me. My father loved to watch us play, he was our No. 1 fan. He loved to watch me play because it's my passion."
---
Josie Burlingame has a reputation as a prankster on the team. She's upfront about her physical disability and makes it a point of laughter. She told junior shortstop Jocelyn Orangio not to get in the car with her because she can't see on the passenger side. During offseason team workouts, Josie went around snatching the cell phones of unsuspecting teammates, including that of senior captain Jen Casavant, leaving them with selfies of herself with her prosthetic eye out of its socket.
Josie also has built a reputation as a clutch performer. She lifted Assabet to a 3-2 win over Littleton in last year's Division III Central tournament with a walk-off two-run single.
On Thursday, she hit a solo home run in Assabet's win to start this year's district tournament. (Oh, by the way, she was hitting over .500 for most of this season, as well.)
She doesn't think she's doing anything out of the ordinary, though. It's just like Josie talks about coming on to the team last year –- when she was just another face. It's how the Aztecs feel, as a team. It embodies who they are.
"They just didn't know how good I was," she said.