Boston High School:

Atlantic Coast League
October, 15, 2013
Oct 15
7:10
PM ET
By
Josh Perry
| ESPNBoston.com
New Bedford holds on to the top spot in the boys' soccer Top 20 again this week after a draw against South Coast rival Dartmouth and a tough road win at Agawam.
Right behind the Whalers in second is Needham. Everyone keeps saying that the defending state champs are not as good as last year, but nobody has been able to beat the Rockets yet this season. Head coach Don Brock has his team heading towards another possible Bay State Conference title.
North Andover jumped up a couple of spots after extending its perfect start to 13-0. But the big move was former No. 1 Ludlow dropping from third to ninth after a loss to Chicopee and another draw with rival Amherst. The Lions have lost two and drawn two over the last two weeks.
Nauset continues to move up after clinching its third consecutive Atlantic Coast League title. The Warriors have improved throughout the season and are living up to the preseason hype.
A pair of unbeatens make their way into the Last 10 Out, as Martha's Vineyard improved to 12-0-2 and Norton sits at 9-0-4.At 9-1-3, Belmont also moved back into the Last 10 Out.
For this week's complete poll, click
HERE
.
The Road Ahead:
Keep an eye on several huge games this week, including a Catholic Conference (and Top 10) showdown between St. John's Prep and BC High on Wednesday as well as a huge Bay State Conference clash between Needham and Framingham on Thursday. Prep also has another Top 10 matchup next Monday against Silver Lake.
November, 20, 2012
11/20/12
1:20
PM ET
For the first time in site history, we're pleased to announce that ESPN Boston will honor the top boys' and girls' MIAA soccer player with its first-ever Mr. and Miss Soccer Awards this year.
The winners will be announced on Monday, Dec. 3, but we've whittled down our lists to a final five candidates today.
Without further ado:
MR. SOCCER FINALISTS:
Felix DeBona, Sr. F, Somerville
- The D1 North champions were led by DeBona's 29 goals, including the lone goal against St. John's Prep that clinched the sectional title. DeBona's scoring propelled the Highlanders to 15th in the NSCAA national rankings, a Greater Boston League title, and an undefeated regular season.
Dave MacKinnon, Sr. GK, Oliver Ames
- MacKinnon was named an All-American for his commanding play in net for the Davenport division champions. He gave up only four goals during the regular season with 13 shutouts and was named the Hockomock League MVP. In the playoffs, MacKinnon's save during the shootout helped the Tigers beat league rival Franklin in the opening round.
Nate Pomeroy, Sr. F, Groton-Dunstable
- Pomeroy, who is bound for Brown University next season, notched two goals in the D2 state finals to clinch back-to-back titles for the Crusaders. Pomeroy was named to the All-New England team and named Mid-Wach B MVP this season. He had eight goals in the 2012 postseason run.
Cody Savonen, Sr. F, Nauset
- Savonen led Nauset to the D1 South sectional quarterfinals and eclipsed the 20-goal mark for the season. He had a hat trick in a 3-0 win over Plymouth South that wrapped up the third Atlantic Coast League title of his career and scored the winner in the opening playoff game against Wellesley.
[+] Enlarge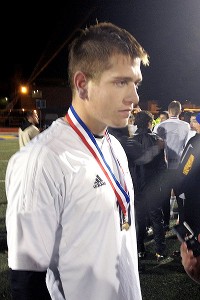 Courtesy of Josh PerryNeedham senior captain Mac Steeve led the Rockets to a Division I state title and is a finalist for our inaugural Mr. Soccer Award.
Mac Steeves, Sr. F, Needham
- The Rockets all-time leading scorer was named an All-American this season and led Needham to the Division 1 state title. Steeves also showed his ability to step up in big games. He scored both goals (and drew the penalty for the second) against Somerville in the state semifinals and scored the winning goal in the state finals against Amherst.
Honorable Mentions:
Osla DeBrito (New Bedford), Mike Lynch (Weymouth), Thayrone Miranda (Somerville), Brandon Miskin (Needham), Ryan Rose (Acton-Boxborough), Justin Rothemich (Sutton), Zach Scafati (Franklin), Stowe Simonton (Concord-Carlisle), Dave Stapleton (Oliver Ames), Brandon Vazquez (Amherst).
MISS SOCCER FINALISTS:
Lauren Berman, Sr. F, Canton
- With over 40 goals this season, Berman was the standout player for the Davenport division champions and a Hockomock League All-Star. Berman's accomplishments earned her All-American status and she will be playing in the ACC for the University of Maryland next season. She finished her career with over 130 goals.
Kristi Kirshe Sr. F, Franklin
- Kirshe eclipsed the 100-goal plateau for her career during the D1 playoffs. She scored in the state semifinal and scored both goals to lead the Panthers to the program's first-ever state title.She is an All-American as well as the state MVP. Compiling more than 30 goals this season, Kirshe helped a young Franklin team to an undefeated season.
Jen Narlee, Sr. M, Medfield
- Narlee is the leader of a very strong defensive unit for the D2 state champions. A physical presence in the center of the field, Narlee does many of the little things that do not get on the scoresheet. Many of the Warriors' opponents saw their attacks snuffed out by Narlee's positional play. That strong defense has helped Medfield win two of the past three state titles.
Andrea O'Brien, Sr. F, Concord-Carlisle
- O'Brien finished her career with over 100 goals and will take her talents to Boston College next year. An All-New England selection and submitted for All-American consideration, O'Brien helped lead the Patriots to a Dual County League title and to the second round of the tournament.
Kimberly Slade, Sr. F, Nashoba
- Slade is one of the brightest stars in the Central region. The senior forward was an All-New England selection and her playmaking ability helped lead the Chieftains to a sectional title and trip to the state championship game, where she scored the team's only goal.
Honorable Mentions:
Kendall Andrew (Oliver Ames), Mimi Borkan (Medfield), Jillian Cavanaugh (Belchertown), Taylor Cogliano (Franklin), Laura Courtney (Nashoba), Hayley Dowd (Peabody), Caitlin Harty (Beverly), Maddie Jolin (Bishop Feehan), Alexa Poulin (Central Catholic), Kayla Steeves (Needham).
November, 13, 2012
11/13/12
6:03
PM ET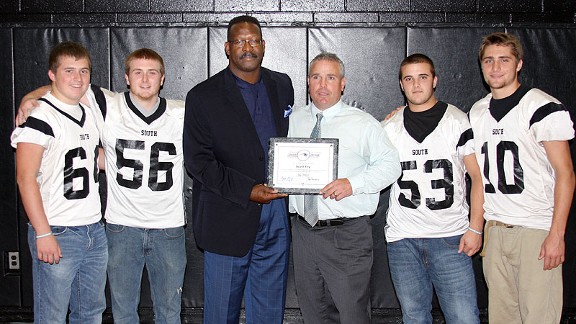 Courtesy of New England Patriots Scott Fry's Plymouth South football team clinched the Atlantic Coast title for the first time in school history.
After a thrilling last-minute win over Nauset to secure Plymouth South's first-ever Atlantic Coast League football title, Panthers head coach Scott Fry was named the New England Patriots Coach of the Week on Tuesday.
Here's more from the team's release:
Plymouth South High School's Scott Fry has been named this week's New England Patriots High School Coach of the Week in recognition of his team's 13-12 comeback, last second victory over previously unbeaten Nauset High School on Friday, Nov. 9. The win clinches the Atlantic Coast title for the first time in school history. Following a Nauset touchdown with 40 seconds left in the game, Fry called a hook-and-ladder play on third down with 20 seconds remaining that resulted in a 62-yard game-winning touchdown. The New England Patriots Charitable Foundation will donate $1,000 to Plymouth South High School's football program in Fry's name in recognition of his Coach of the Week selection.

Patriots and Pro Football Hall of Fame linebacker Andre Tippett, the team's executive director of community affairs, visited Coach Fry and his team on Tuesday, Nov. 13 at Plymouth South High School. The visit and check presentation will be featured on the team's weekly television magazine show, Patriots All Access, which airs at 7 p.m. on Friday, Nov. 16, on WBZ-TV in Boston and will be available immediately after on Patriots.com.

This is the 17th year in which the Patriots join the National Football League in conducting the High School Coach of the Week program, which recognizes outstanding high school coaches and promotes youth football throughout New England. Tippett oversees the program as part of the New England Patriots Charitable Foundation's commitment to youth football initiatives.

"What an outstanding play call and excellent team execution of the hook-and-ladder play to pull out a victory by Coach Fry and the Panthers," Tippett said "I'm thrilled to present this award to Coach Fry and his team following an emotional and historic victory. I could still sense the team's excitement during my visit. The Patriots are proud to reward Coach Fry and Plymouth South High School with a donation to the football program and we wish them luck throughout the playoffs."

At the conclusion of the season, one high school coach will be named the New England Patriots High School Coach of the Year and will receive an additional $2,000 contribution toward the school's football program.
November, 9, 2012
11/09/12
1:42
AM ET
NO. 5 WALPOLE (9-0) AT NO. 21 NATICK (8-1)
The Skinny: The most anticipated regular-season matchup is finally upon us. A swelling crowd is expected to turn out for this one, as the Bay State Conference's Herget division title is on the line. Natick is looking to bounce back after coming up on the wrong side of one of the year's biggest upsets (a 40-34 loss to Wellesley), but Troy Flutie, Brian Dunlap and co. will have to do it against one of the state's stingiest defenses. Walpole hasn't allowed a point since Sept. 28, and hasn't allowed a touchdown since Week 3.

Scott Barboza: I'm shudder to think that we might not have any questions to answer during our Sunday night chat this week now that we're finally about to give our picks on this game. Walpole, 27-21.

Brendan Hall: I'm sure the primary topic of discussion in this Sunday night's Top 25 chat will be "What's your prediction for Natick-Walpole in 2013?" Walpole, 20-17.

NO. 17 NAUSET (9-0) AT PLYMOUTH SOUTH (6-3)
The Skinny: Raise your hand if you thought this would be the de facto Atlantic Coast League championship back in August. South's Dylan Oxsen leads the state in rushing touchdowns (28), doing so behind a uniquely modified pistol attack that gets the hard-charging junior downhill in a hurry. Written off a month ago, the Panthers are suddenly in prime position for their first postseason berth here, but they'll have to find a way to neutralize all the chicanery that comes with Nauset's single wing attack, led by running back Jimmy Sullivan.

Barboza: It's time we start considering Oxsen as a serious candidate for our Offensive Player of the Year Award. Plymouth South, 13-7.

Hall: If you know me, you know I'm a fiend for the ground-and-pound. For that reason, can't go wrong with either team, but I'm sticking with my preseason pick. Nauset, 28-21.

NO. 23 ABINGTON (9-0) AT EAST BRIDGEWATER (6-3)
The Skinny: Abington can clinch the South Shore League title with a win over the Vikings, and are the favorites here behind a dynamic offense led by Babila Fonkem, Pat Dwyer and Brandon Cawley. Defensively, the Green Wave are allowing just under seven points a game the last three weeks, but they figure to have their hands full trying to slow down quarterback Andrew Benson in the option game.

Barboza: I'm going to mention Brandon Cawley's name again just because the other night on Twitter he's said I only mention the running backs. JK guys, JK. Abington, 32-24.

Hall: If this is truly Abington coach Jim Kelliher's last season, then you can't find a more fitting farewell. Abington, 31-20.

SHARON (7-2) AT FOXBOROUGH (7-2)
The Skinny: Is the clock about to strike midnight on Sharon? The Eagles remain unbeaten in the Hockomock's Davenport division, but still have two big league games on the slate. The first one is Friday night, where they will attempt to contain tailback Kiivone Howard, who leads the Hockomock in rushing yardage (1,405).

Barboza: Foxborough quarterback Mike Slaby could be the difference-maker. Foxborough, 23-17.

Hall: What would a Hockomock League berth be without a little bit of mathematics? Foxborough, 21-7.

MARBLEHEAD (8-1) AT BEVERLY (9-0)
The Skinny: The Magicians claimed the CAL/NEC Tier 2 title last season with a senior-laden team. However, Marblehead's in the mix again, even after a surprise loss to Salem a few weeks back. Meanwhile, the Panthers can clinch the league crown with a win on Saturday. The vaunted Panthers offense (averaging 38 points per game) and its rushing attack is closing in on 3,000 combined rushing yards on the season, led by a backfield of Brendan Flaherty and Kenny Pierce. The Magicians have relied on 1,000-yard passer Ian Maag (13 touchdowns) for a bulk of their offense.

Barboza: It's been a nice bounce back run for Marblehead in an attempt at a repeat title, but, after all, this is the #yearofthepanther. Beverly, 28-14.

Hall: We love Jim Rudloff's mind games as much as the next guy, but the Magicians are simply overmatched here against one of the state's best rushing attacks. Beverly, 35-21.

BISHOP FEEHAN (6-2) AT SOMERSET-BERKLEY (9-0)
The Skinny: As in each of the last three seasons, the Eastern Athletic Conference title will be determined in a matchup between the Shamrocks and Blue Raiders. Feehan came away with a decisive victory last year, but Somerset-Berkley is looking to lay claim to its second crown in the last three years. The Blue Raiders are led by a dynamic back field of Garrett Carlos and Mike Garrant, but they'll encounter a physical Feehan front seven anchored by linemen Chris Barthe, Seamus Cuddy and Mitch Matrin.

Barboza: Nick Freitas escapes with EAC title No. 2. Somerset-Berkley, 27-20.

Hall: In terms of EAC supremacy, Feehan had the 2000's. And now, Somerset has the 2010's. Somerset-Berkley, 24-17.

FRANKLIN (7-2) AT MANSFIELD (6-3)
The Skinny: The Panthers get back into Hockomock Kelley-Rex play after a startling loss to Taunton two weeks ago. If Franklin is to hold out hope of hanging around in the division race, they'll need a win at Mansfield on Saturday. The Hornets are in a similar situation having dropped a close decision to North Attleborough two weeks ago. Look for the Hornets, led by Robbie Rapoza, to pound the ball on the ground and play some ball control in trying to keep the Panthers' spread attack on the sideline. Franklin junior quarterback Nick Zucco has been a revelation this year, but the Panthers can also run the ball behind Kyle Finamore. The Mansfield defense has been bolstered by junior linebacker Alex Ruddy, who currently leads the team in tackles.

Barboza: As predicted a couple weeks back, the Kelley-Rex picture is only obfuscated more. Expect another wild finish. And, of course, another prediction my friends in Mansfield will relish. Franklin, 38-36.

Hall: If the Hornets can establish the run game early, they can do just enough to hold off a furious Franklin rally. Mansfield, 27-24.

KING PHILIP (8-1) AT NORTH ATTLEBOROUGH (6-3)
The Skinny: Another pair of Kelley-Rex teams with one division loss meet in this rivalry game. The Red Rocketeers have cobbled together a three-game winning streak, following a three-game losing streak in the middle of the season. The better news yet for North in recent weeks its improving health, seeing several key contributors return to the field in recent weeks. Meanwhile, King Philip has rolled through Attleboro and Oliver Ames by a combined 75-21 margin since its loss to Mansfield.

Barboza: I find myself simply rooting for another chaotic finish to the Kelley-Rex division race, but I'm sticking with my preseason pick. KP, 24-21.

Hall: This is a new team with Sean Peters and Alex Jette both healthy. I'm looking at a return to early September form down the stretch for the Big Red. North, 30-23.
February, 25, 2012
2/25/12
3:45
PM ET
FRANKLIN, Mass. -- With the Super 8 tournament selection and seeding meeting in the books, here's a couple of lingering impressions from Saturday's proceedings at MIAA headquarters.
LAST TO BE THE FIRST ONE OUT
Defending Division 1 state champion and Atlantic Coast League champion, No. 16 Marshfield (18-2-2) was the last team in contention for a Super 8 spot, only to split a second-round vote with St. John's of Shrewsbury, 3-3, with one vote going to Westford Academy.
The Pioneers ended up advancing to the field of 10, taking the No. 9 seed.
While the Rams weren't considered a shoo-in for the field, they did receive the No. 7 ranking from the Massachusetts State High School Hockey Coaches Association earlier in the day — a legitimate vote of confidence in their resume.
After the meeting, Marshfield head coach Dan Connolly didn't have any hard feelings on the decision.
It was time to get back to business.
"I'm going to go meet with the team, right now," Connolly said. "We've got practice this afternoon."
There's plenty to prepare for, with the Rams looking to make a repeat run to the Garden.
"We had a great regular season, but now it's over and it's on to the postseason," Connolly said. "The truth of it is that there a lot of great teams that got left out of the [Super 8] tournament too, when you talk about Westford Academy and Norwood and Reading and Milton and Falmouth."
He added, "Now we have to get ready for the D1 South tournament. It's going to be a battle, there are going to be a ton of great teams in that bracket.
CENTRAL AND WESTERN MASS REPRESENTED
Many pundits, us included, had Springfield Cathedral (No. 6 seed) targeted for the top six, but perhaps the surprise entrant into this year's field was St. John's of Shrewsbury. The Pioneers (15-4-3) pulled a play-in game with the ninth seed.
While we didn't have the Pioneers in our final field projection on Friday, we're not taken aback entirely by the Pioneers selection. Through the year, multiple Eastern Mass. coaches who've had St. John's on the schedule told us about how hard they were to play against, particularly the speed of first-liners Kevin Emmerling (24-25-49) and Vin D'Amato (22-13-35).
Now, whether they
should
have been put in ahead of the two-loss squad from Marshfield, we feel that will be a point for debate for quite some time.
The only thing that can silence that sentiment will be how the Pioneers perform on Monday night.
WE ARE SPARTA
We touched on it a bit
last year
, but Saturday only underscored the fact that St. Mary's of Lynn has become an official Massachusetts hockey powerhouse (the boys' team that is).
The Spartans (18-1-3) took the No. 2 seed, to no surprise, behind Malden Catholic, on Saturday. Last year, St. Mary's made its first Super appearance with a play-in game, which they went on to lose in dramatic fashion.
Now head coach Mark Lee can rest easy until his team opens up pool play.
SELF-CRITIQUE
So how'd we do in fingering the Super 8 field? I'd say so-so.
In our
last projection
, we had nine out of the 10 Super 8 participants correct, with St. John's (S) substituted for Westford Academy.
NOTES
… What should have been a happy day for the BC High community was overcast by the funeral for the father of sophomore forward Steve DeForge. Our thoughts and condolences go out to the DeForge family and the BC High community.
… Talk about putting in extra work. While others might enjoy any downtime afforded to them during school vacation week, St. John's Prep forward Sam Kurker (26-26-52) was out playing with the U.S. National Team Development Program U-18 team in an exhibition game at the University of Alabama-Huntsville on Friday night.
January, 30, 2012
1/30/12
4:09
PM ET
The MIAA boys' hockey Top 25 poll has been updated for this week
here
.
There was a little movement to our Top 10, with St. Mary's of Lynn falling a couple of spots to No. 4, after an unexpected tie against Archbishop Williams. St. John's Prep assumes the No. 2 position.
Falmouth shfited up to No. 15 after a tremendous 7-1 thumping of No. 24 Marshfield, opening up the Atlantic Coast League title race again. Braintree was the big mover of the week, as the Wamps move to their high-water point for the season, jumping six spots to No. 16.
Arlington Catholic also vaulted back into the poll, after a two-week absence, after beating Catholic Central rival Austin Prep, 6-4.
January, 29, 2012
1/29/12
12:56
AM ET
FALMOUTH, Mass. -- When 18th-ranked Falmouth and No. 16 Marshfield met back on Jan. 7 at Hobomock Arena, Rams' goaltender Kyle Moran stood on his head to help his team to a 1-1 draw that night against the Clippers. On Saturday night the clubs renewed their rivalry at the Falmouth Ice Arena, and Moran and his team left town with their heads spinning.

Dating back to Dec. 29 Moran had limited the opposition to just a single goal in eight of the nine games that the Rams had played. He gave up just two in the other, as Marshfield went 8-0-1 during that stretch.

On Saturday night Falmouth scored 3 times in the first 9:38 of the game en route to a 7-1 shellacking of the Atlantic Coast League leaders. Brothers Justin and Ben Taylor each had 2 goals in the game as the Clippers improved to 9-2-3 overall on the season (6-1-2 ACL) and qualified for the MIAA tournament in the process. Marshfield fell to 10-2-1 (6-1-1 ACL) on year.

Both teams seemed fired up when the puck dropped, but the Clippers had a little extra hop in their steps. After suffering a disappointing 4-2 loss to Dennis-Yarmouth earlier in the week, which may have cost them a chance to wave the ACL championship banner at season's end, head coach Buddy Ferreira responded by giving them the day off on Thursday. That extra day of rest seemed to work wonders as the Clippers played with endless energy for 45 minutes.

FHS lit the lamp for the first of many times just 3:29 into the game. Center Nicky Lineaweaver let one fly from the slot that missed wildly to Moran's left and careened into the corner. The quick forward chased his own miss and was the first one there. He sent it back to the point for linemate Travis Howe, who ripped a slapper that never left the ice and beat Moran to the near side for a 1-0 lead.

Lineaweaver's effort on the play summed up how the Clippers played all night. "They just wanted it more than us, plain and simple," Marshfield head coach Dan Connolly said. "That's the bottom line. Kyle Moran probably wants a few of those back, but they kicked the crap out of us, bottom line. They wanted it a heck of a lot more than our kids. They won every battle, our kids were just playing slap hockey with the puck…we played terrible and they made us pay."

Less than four minutes later Falmouth doubled its lead on one of those shots that Moran certainly would like to have a do-over on. Falmouth senior defenseman Justin Taylor won the puck outside the blue line and turned toward the goal and just let one rip from about 60 feet out that caught the goalie napping and sneaked through the 5-hole to make it 2-0.

Junior Durham Ghelfi added a power play goal for the Clippers about two minutes later, burying a rebound of a Trevor Theroux shot and the Rams were reeling.

Falmouth skipper Buddy Ferreira, who is in year 31 of his coaching tenure at Falmouth, said that his team's all-out effort was a pleasant happenstance. "I'm totally surprised, for two reasons. One, to do that to Marshfield, and two, this is what makes you come back as a Coach every year. People say coaching makes you old, no it keeps you young because kids just do different things. This is a totally different team."

Ferreira's troops showed no complacency the rest of the way with the lead. Sophomore goalie Cody Garcia robbed Joe Admirand with a swipe of the glove at the 2 minute mark and then later stopped a penalty shot awarded to Chris Perry. Garcia came out to attack the shooter on the penalty shot, forcing his backhand bid wide.

After the Clippers' goalie bailed them out with a couple big stops they rewarded him by padding his cushion with a pair late in the second period to open up a 5-0 lead before MHS got a late one to make it 5-1.

Theroux set up Ben Taylor with a brilliant diagonal feed that the freshman buried to make it 4-0 at 9:45 and then, just 48 seconds later, the Clippers got a shorthanded goal from Storm Fotiu, who blocked a shot and was off to the races, beating Moran with a pretty move.

Marshfield got on the board at 11:16 when Trevor Salmon buried a Kevin McDougall rebound. They almost got another in the last minute, on a laser from Mike Carbone, but Garcia deflected the shot and then swept his glove behind his back to bat it to the boards before it could cross the goal line. There was a controversy over whether or not the puck had actually crossed the line, but Connolly said it was a moot point.

"Unless it counted for six it didn't really matter," he said.

The Taylor brothers finished off the scoring in the third period, chasing Moran from the game. Older brother Justin got his second of the night when he intercepted a clear-out by the Rams and walked in to undress Moran at the 3:32 mark. A minute later younger brother Ben tipped in a rebound of a Cody Murray slapper to make it 7-1.

"Today, we got back to playing the way we were the last time we played Marshfield," Ferreira said.
January, 7, 2012
1/07/12
11:55
PM ET
Matt Kinchla will be replaying the shot in his mind for a while and each time he's going to ask himself the same question, "how did he make that save?"

The villain in the Falmouth High forward's recollections will be Marshfield High goaltender Kyle Moran, whose glove stop midway through the second period of Saturday night's game at the Hobomock Arena drew oohs and aahs from the crowd, and probably a fair share of cuss words on the Clippers' bench.

Thanks to that stop, and several other worthy of his personal highlight reel, Moran helped the ninth-ranked Rams escape with a 1-1 draw against 20th-ranked Falmouth in a showdown for first place in the Atlantic Coast League.

Marshfield is now 5-1-1 overall, and 3-0-1 in the ACL. Falmouth has the same league record and is 6-1-2 for the campaign.

"It was a great save. He really bailed us out today, their goalie played great too, but Kyle was the story," Marshfield head coach Dan Connolly said.

Falmouth bench boss Buddy Ferreira said that the stop was the difference in the game.

"Their goalie made a huge, huge big-time save that otherwise we walk out of the building with a 2-1 win."

Moran's robbery on Kinchla came with 8:14 to play in the second period, with the Clippers attacking on a power play and looking to double its slim lead. Defenseman Joe Meloni spied the forward sneaking down the right wing side all alone and rifled a backdoor pass that Kinchla swiped at for the near post. Moran (21 saves) lunged back to his left and snared the puck, which was behind him, out of the air to keep the game a 1-0 contest.

Moran made another great stop four minutes later, this time robbing Ben Taylor. The freshman forward attempted to finish off a 2-on-1 breakaway with Durham Ghelfi, but Moran got his left leg pad down in time to kick aside the snipe. He also stoned Storm Fotiu with 3:30 to play, again with the leg pads.

Falmouth keeper Cody Garcia (18 saves) also had a fantastic day in the other net for the Clippers. The sophomore stymied several quality chances by the Rams, including a big one on top scorer Mikey Carbone, who had a point in every game the Rams had played prior to this one, with 1:29 to play in the first period. Carbone broke alone toward the Falmouth net and attempted a cross-over move, but Garcia stopped the bid and then covered up as he was run over by Carbone. Garcia also had a sweet glove save on Chris Perry with 7:22 to play in the game, preserving the tie.

Each goaltender was also the recipient of an assist from his best friend, the pipe. Taylor popped one off the post with 54 seconds to play in the second period. Marshfield defenseman Joe Kiley rung the pipe with just over 7 minutes left in the third.

The only people in the building that were as busy as the keepers were the referees. From the outset it was apparent that the two squads were going to play with playoff-caliber ferocity, and the refs gave their whistles a workout because of it.

"It was a war, it was like watching the Vancouver-Bruins game today, it was the same type of thing," Connolly said. "I don't think there was much 5-on-5 in the second period, which took us out of our flow, and it probably took Buddy [Ferreira] and his team out there flow, too. We were getting lines together, and jumbling guys around."

It was while killing one of four Falmouth power plays in the game that the Rams netted their lone goal of the night.

Connor McLean chased a dump-in behind the Clippers' net, took on two Falmouth players and won the puck out of a scrum where he was able to center it to Perry in the slot for a quick snap shot that beat Garcia upstairs to knot things up at 1-1 with just 3 seconds left in the second stanza.

"Connor McLean won a battle, then won another battle and put it out front and then Chris Perry was right there to bang it in. It was opportunistic, but it was all the result of hard work of Perry and those boys," Connolly said.

Perry's goal was the lone mark against a Falmouth defense that owned the rest of the night. Marshfield clearly wanted to play an up-tempo style, but the Clippers never let them enjoy space in the open ice.

"Defensively we just bottled them up," Ferreira said. "They tried to spring that forward out of the defensive end all night and our forwards were just right on them. They were physical with them, boy they laid some hits out there…big time hits."

Falmouth upped the ante on the physical side of the game from the opening drop of the puck and it paid quick dividends. With a hit in the neutral zone Travis Howe jarred the puck away from Marshfield and led a quick 2-on-1 break from the red line. He fed it ahead for Cyrus Wickersham, who rifled a quick wrist shot past Moran for a 1-0 lead just 3:12 into the action.

Falmouth also nearly pulled off a last second miracle of its own at the end of the game. With less than a second to play Nicky Lineaweaver tipped a pass out of the corner by Justin Taylor upstairs on Moran. The keeper's great night ended with one last Falmouth frustration as he was able to block the puck with his shoulder and cover it up with 0.2 seconds remaining on the game clock.

"They owned us in the first period, we were lucky to be down just 1-0," Connolly said.

Ferreira admitted that his team's biggest shortcoming is its lack of a big-time scorer, but the Clippers try to make up for that with hard work, which they certainly did against Marshfield. The coach left town quite satisfied with what he got from the maroon and white.

"Outside of 3 seconds, we walk out with a win. I'm not upset. That was a good performance, 3 lines, 4 defensemen and solid goaltending against a team that could be a Super-8 team," Ferreira said. "We don't have a lot of snipers. Could we win or come out with a tie against a team where we outplayed somebody but just couldn't bury it? Tonight we showed that we could, and that's a good sign."

Connolly and his Rams were just happy to get out of the game without losing a share of first place in the league standings.

"They're very good, so getting a point out of this was good. We were hoping to get two [points] in our home building, but we were lucky to get one, we were," Connolly admitted. "So we take that out of the game, that we did earn a point. We did [dodge a bullet]. They out-played us, they definitely deserved the two (points) tonight, I thought. Our kids played hard, they got better as the game went on, but they dominated the first for sure."
October, 26, 2011
10/26/11
3:38
PM ET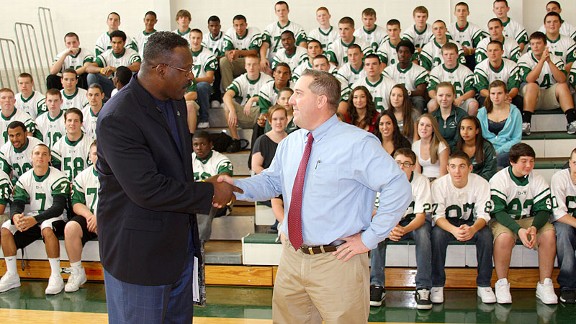 New England PatriotsDennis-Yarmouth's Paul Funk was named the New England Patriots' Coach of the Week following the Dolphins' first 7-0 start since 1960.
Dennis-Yarmouth football head coach Paul Funk has been named this week's New England Patriots High School Football Coach of the Week in recognition of his team's 42-0 victory over Cranston West (R.I.) on Friday.
The win marks the school's first 7-0 record since 1960 and gives the Dolphins a 3-0 record in the Atlantic Coast Conference. Dennis-Yarmouth came out on top of a game between two highly ranked teams, with No. 7 Dennis-Yarmouth overpowering the third-ranked Division 1 team in Rhode Island.
The New England Patriots Charitable Foundation will donate $1,000 to Dennis-Yarmouth' football program in Funk's name in recognition of his Coach of the Week selection.
Patriots and Pro Football Hall of Fame linebacker Andre Tippett, the team's executive director of community affairs, visited Coach Funk and his team on Tuesday at D-Y.
The visit and check presentation will be featured on the team's weekly television magazine show, Patriots All Access, which airs at 7 p.m. on Friday, Oct. 28 on WBZ-TV in Boston and later on Patriots.com.
"I am pleased to present this week's Coach of the Week Award to Coach Funk and the Dennis-Yarmouth football program," said Tippett on Tuesday. "The Dolphins' stingy defense and high-powered rushing attack are a testament to great coaching, hard work and true teamwork. I enjoyed visiting with Coach Funk and his team and wish them success as they continue their historic season."
At the conclusion of the season, one high school coach will be named the New England Patriots High School Coach of the Year and will receive an additional $2,000 contribution toward the school's football program.
March, 4, 2011
3/04/11
12:05
AM ET
BOURNE, Mass. -- During the regular season, when Marshfield and Falmouth met in Atlantic Coast League play, the teams first played to a 2-2 tie before the Rams took a 5-1 league win in their second meeting.

If the two disparate results were any indication of Thursday's Division 1 South playoff game at John Gallo Ice Arena, the later example held true to form.

The third-seeded Rams didn't look past the young Clippers and came out blazing, outshooting Falmouth 13-3 in the first period and running out to a 4-0 lead. Marshfield didn't look back from there, taking a handy 6-1 win.

"We talked to the kids about higher seeds getting bounced from the tournament," Marshfield head coach Dan Connolly said. "They took that to heart. There have been four years that I've coached where we've been paired against teams that we'd played twice during the regular season, so even though you may have already played them, the third time is always the most important. That's the one you need to win."

Ryan Connors and Matt Burchill led the way with three-point games, with Connors picking up two goals. Ty Martina and Chris Perry each had two-point games.

Martina and Burchill traded off setting up each other's goals to start scoring for Marshfield. The Rams followed up with two power play goals in the final four minutes of play. Jimmy Connors buried a one-timer feed from Perry and Ryan Connors. Defenseman Brennan Quackenbush followed with Marshfield's second goal on the man advantage.

The Rams (15-3-5) continued to dominate play in the second period, outshooting the Clippers by a 10-3 margin. Ryan Connors got in the fray with a goal of his own on an assist from Burchill for a 5-0 lead.

Cody Murray put Falmouth on the board with 11:59 remaining in the third period with an unassisted power play goal.

Ryan Connors rounded out scoring with 6:36 remaining with assists from Perry and Jimmy Connors.

"We've got good speed, so we just want to get the puck from our own end, up the ice," Connolly said. "We had pretty good passing throughout, and our team likes to go, go, go and we were able to do that tonight."

Marshfield advances to meet 11th-ranked Norwood in a quarterfinal game on Saturday.
November, 15, 2010
11/15/10
6:35
PM ET
ANDOVER 88, LOWELL 82...NATIONAL RECORD?
This past October 30, two Texas high school football teams combined for 165 points in a battle for playoff position, with Jacksonville High defeating Nacogdoches High, 84-81, in the 12th overtime. According to KLTV, the Tyler, Texas-based ABC affiliate covering the game, that set a national record.
If all that's true, then what went down last Friday night at Cawley Stadium is a national record. Andrew Coke ran for eight touchdowns for Andover to lead the Golden Warriors to an 88-82 victory over Lowell in the eighth overtime. Meanwhile, Raiders quarterback Kyle Edwards threw for eight touchdown passes in the loss, four of them to Josh McGlauflin.
The Red Raiders had an opportunity in the eighth overtime to score, but were stopped inches short of the goal line on a fourth-and-three play. The game was tied at 28 after regulation, and the teams traded touchdowns in seven straight overtime periods -- including six straight successful two-point tries by either side -- before Coke marched in from 10 yards out on the Golden Warriors' first play of their eighth-overtime possession.
"I've never seen anything like that," Andover head coach E.J. Perry told ESPNBoston's Scott Barboza. "It was a tremendous accomplishment by this team to put it all on the line. Now we'll have the chance to play with all the marbles on the line against Central Catholic on Thanksgiving Day. It's been a great honor to coach kids like this that are so resilient.
"But I give a lot of credit to those Lowell kids as well. I went over to talk to them after the game and I told them that they had nothing to be ashamed of."
With that win, the Warriors have set up a winner-take-all battle with Central Catholic on Thanksgiving for the Merrimack Valley Large's playoff berth. But it's a pyrrhic victory, as Boston College-bound tight end Brian Miller went down with a knee injury in the first half; his status for Thanksgiving is unknown right now.
"No real update right now," Perry told correspondent Roger Brown in his recruiting blog
today
. "Brian was not able to get an MRI over the weekend. The orthopedist who was on hand was somewhat optimistic it wasn't an ACL, but without an MRI there now way to know for sure. He's getting that [Monday]."
D-WHAT? D-Y!
Paul Funk arrived at Dennis-Yarmouth in 2001, fresh off a successful stint as an assistant at storied Everett, to find a Dolphins program so barren that it had relegated itself to junior varsity status. D-Y faced problems not only with numbers, but with plain old futility -- the Dolphins had won just six games in the 1990's.
Fast forward to Friday night, and the Dolphins are staring at their second Atlantic Coast League title in four years, thanks to a gritty 14-7 win over Plymouth North.
"In nine years, this is what we've got, and I'm pretty proud of that," Funk told ESPNBoston's Brendan Hall. "It's alot of hard work from alot of people."
It was the usual recipe to success for the Dolphins, with linebackers Tommy Kennedy and Victor Andrade leading a swarming defense that marked hard-nosed fullback Matt Walsh all night and kept the Eagles' vaunted running game stalled in first gear. Meanwhile, Matt Montalto wasn't putting up video-game numbers as usual, directing Funk's high-octane spread attack, but he was good enough in the second half, running and throwing for a touchdown each.
Montalto now joins his brother, Nick, as quarterbacks to lead the Dolphins to a share of the ACL.
"He is as good a competitor, as a winner, as you'll ever find," Funk said. "He's been a winner since he was seven. You always have a chance with him at the helm. His older brother was the same way, (Matt's) just an unbelievable person."
As for that elusive playoff berth...
With the league slates of both D-Y (9-1, 4-1) and Marshfield (5-4, 4-1) wrapped up, fate lies in the hands of North (7-3, 3-1), which has one ACL game left -- Thanksgiving archrival Plymouth South (4-6, 2-2). A North win on Thanksgiving creates a three-way tie for the ACL, and would give the playoff berth to the team that has gone longest without making the playoffs -- in this case D-Y, which has never played past the holiday in the Super Bowl era.
You can be rest assured the Dolphins will be scoreboard-watching on this one. This same scenario played out in 2007, when they went 10-1 but with a loss to Marshfield needed a North win on Thanksgiving to create a three-way tie. South took down North in what was considered a big upset, and the Rams went on to the Division 1A Super Bowl before bowing to Chelmsford on a late field goal.
WHALERS ROCK BIG 3 BOAT
New Bedford could've let its boat sink after suffering four straight losses to start the season, however Dennis Golden's squad righted ship with four wins entering Saturday's matchup against Brockton. Then, the Whalers did the unthinkable, upsetting the Boxers, 23-21.
"Well, we've been much better in the last month than we were in the first month," Golden told Scott Barboza on Sunday. "I'm really proud of the way that our kids have battled back when they very easily could have let things slide."
Now, New Bedford can clinch a Division I playoff berth with a win over Durfee on Thanksgiving Day.
The Whalers jumped ahead of the Boxers, 14-0, at halftime and never trailed in the contest. To close out the win, New Bedford embarked on a 20-play drive, spanning eight minutes and forty seconds of the fourth quarter. Although the Whalers didn't score, Brockton got the ball back with only five seconds remaining, scant time for the Boxers to get a game-winning score.
"Our offensive line was amazing on that final drive," Golden said. "They were just amazing and that was huge for us, keeping the ball out of the hands of their offense at the end of the game."
BLUE RAIDERS PILLAGE EAC CROWN
The Somerset sideline dumped the water bucket over head coach Nick Freitas' with around 30 seconds remaining.
Still, Freitas wasn't about to go Gore v. Bush on calling his team's number in the Eastern Athletic Conference race.
"I didn't feel safe until it was down to point-six second left on the clock there," Freitas said after the Blue Raiders' 49-28 win over Bishop Feehan on Friday.
The Shamrocks once again proved that the EAC runs through them, despite losing their first five games of the season. Feehan won when it counted, taking their first three EAC contests before falling to Somerset.
And the Blue Raiders weren't about to look past their opponent.
"That's all we could think about this year," lineman Ian Levesque said Friday about their matchup with Feehan. "We knew it was going to come down them in our last [conference] game. We knew we had to be ready for them. We had a hard week of practice. We watched extra film. We knew it was going be that tough."
HEAD OF THE CLASS
VALVOLINE PEAK PERFORMERS OF THE WEEK: NEW BEDFORD'S OFFENSIVE LINE
The Whalers line of Jason Brierly, Lance Burlingame, Janny Dosreis, Jacob Medeiros, Oliver Pires and Darian Sousa-Bizarro carried New Bedford in its upset over Big Three rival Brockton.
THE CLASSMATES
Andrew Coke, Jr. QB/RB, Andover
- The leading scorer in Division 1 added immensely to his already-impressive totals by scoring eight touchdowns in the Golden Warriors' 88-82, eight-overtime win over Lowell.
Matt Costello, Sr. WR, Everett
- The senior had another tremendous day receiving in the Crimson Tide's 45-0 win over rival Malden, making eight catches for 195 yards and three scores.
Seth DeMello, Sr. RB, Somerset
- He provided the biggest spark in the Blue Raiders' 49-28 win over Bishop Feehan to clinch their first postseason berth of the Super Bowl era, carrying 20 times for 245 yards and scoring six touchdowns (four rushing, two passing).
Ryan Lipka, Sr. WR, Bishop Fenwick
- With six catches in the first half of a 36-0 loss to St. Mary's last Friday, Lipka became the first player in the state of Massachusetts to catch more than 100 balls in a season.
Quinton Perkins, Jr. ATH, Fitchburg
- The versatile speedster was vicious on the ground for the Red Raiders, carrying the ball 17 times for 278 yards and six touchdowns in a 56-33 shootout win over Gardner.
Andreas Robinson, Soph. QB, Phillips Exeter
- In a 56-33 win over archrival Phillips Andover, Robinson ruled the day with 297 yards and four touchdowns on 31 carries.
October, 25, 2010
10/25/10
1:41
PM ET
It was a weekend of wild finishes and even wilder individual performances, and now we're trying to make sense of it all. Here's to the week that was...
TROJANS SHOW GRIT
Dan Buron's Bridgewater-Raynham team might have been the only concerned parties who truly believed they had a chance to knock off Xaverian on Friday.
It had been a mixed bag so far for the Trojans (5-2) who prior to their 21-19 overtime win over the Hawks had yet to win a game over an opponent that had a winning record. B-R had also incurred losses to D-IIA powers Duxbury and Plymouth North.
But let Friday's performance be a warning to all as to how dangerous the Trojans can be.
"I told them all week long, only the guys in this room, on this football field, think we have a shot and I said if you don't think we have a shot don't come out with me," Buron told
The Enterprise
of Brockton. "I go out to win every game.
"I told them when we came out, if you play as a team, we've got a shot tonight. If you play as individuals, and run around, we won't have a shot against this team.
However, like any good football coach, Buron also warded off any question as to what the win over Xaverian meant; it was just that, a win.
"It was just a great victory for the program, but it doesn't mean anything because we start league play next week and win or lose it doesn't mean a thing," Buron went on to say in
The Enterprise
recap. "All it does is give us confidence. Hopefully, we can use this as a catalyst to get ready for the regular season (league play)."
The Trojans host Dartmouth on Friday in their first Old Colony League contest. B-R then welcomes Barnstable — which has already pocketed two league wins after slipping by Taunton over the weekend — in what should be a make-or-break game for the OCL's playoff berth.
PANTHERS HAVE BITE
It's not as though Holliston isn't accustomed to putting large results on the board, but the Panthers simply looked a little more focused entering Friday night's game at Norton.
"We had really good week of practice and it showed," Holliston head coach Todd Kiley said after Friday's 42-0 win.
That sentiment has particularly rung true with the Panthers since their Week 4 loss to Medway. Since then, Holliston has picked itself up by the boot straps. Following the 28-16 loss to the Mustangs, the Panther's attack, which has averaged 42 points per game, has put results of 42, 50 and 42 points, respectively, on the board in the last three weeks.
So it's clear the upset at the hands of Medway has been a motivating factor.
"If anything, it made us hungrier to want to get back to the top," Panthers quarterback Sean Mayo told ESPN Boston's Scott Barboza. "After being the TVL champs last year, we wanted to act like that tonight. We wanted to play well and we did.
"We just want to keep getting better, get back to the playoffs and go for another TVL championship."
And with their win over the Lancers, Holliston has put itself back in position to do so as the top four Tri-Valley League teams now stand at 6-1 with the league playoffs set to kick off in two weeks.
Certainly, Norton would like another chance to prove they're the TVL's top team when it really counts.
A FEW GOOD BREAKS
The animosity between bordering rivals Abington and Rockland goes deep -- decades deep -- and so Rockland running back and captain Mike Driscoll recalled the back and forth with a half-dozen friends from a town over with delight, all week.
"This rivalry is unbelievable," Driscoll said. "We were all shooting texts back and forth all week, having fun with each other. To come out and see these guys, I feel...God goes out to them. They still have a shot, though."
The Bulldogs were more than happy to escape with a win, and take sole possession of first place in the South Shore League, with a 21-12 comeback win over their archrivals. Abington held the Bulldogs to minus-12 yards of offense on six plays in the first half, but could not solve them over the game's final 15 minutes, as Rockland exploded for 235 yards and 21 unanswered points.
With time winding down in the fourth quarter, Rockland's D.J. Austin threw a flare pass into the left flat that took a backwards skip, and Abington's Dylan Pietresak pounced on the loose ball and marched 50 yards to paydirt. However, the play had been
blown dead at the spot of the incompletion
. Local announcers Shawn Reilly and Kevin Whalen screamed in disagreeance with the call, and it didn't help that two plays later, backup quarterback Ricky Witt came in and promptly tossed the
52-yard game-winning bomb
, a wide-open strike to Tim Fitzgerald.
Asked about the call, Rockland head coach Ken Owen channeled his inner Gregg Popovich.
"The referee blew it dead, OK?" Owen deadpanned. "Next question."
But let's not totally put this on the officiating. Holding a lead late in the fourth quarter, the Green Wave had some breakdowns in the secondary. And with time winding down and half of the field to go, they should have done a better job anticipating a deep strike.
MIDDIES IN FIFTH GEAR
Any questions about Dracut's capability to put points on the board have to be shunned at this point. Last Friday, the Middies traveled to Chelmsford to take on one of the area's best defenses and promptly hung 42 on them in a dominating win. Since starting the season 0-2, they've won five straight and averaged 41.9 points per game, including 60 over Billerica. The triggerman? Who else but Matt Silva, a scrawny 170-pounder whose violent running style often leaves him limping and bracing after games. But he wouldn't have it any other way.
"I want the ball in my hands at all times," Silva told ESPNBoston's Neil Carroll. "I'm the quarterback. If I make a mistake it's my fault, if I throw an interception it's my fault, if I get sacked it's my fault."
The Middies' defense, which is allowing nearly 27 points, remains a quandary. Only Tewksbury failed to score at least three touchdowns, in a 35-14 loss two weeks ago. A trip to Andover this week before meetings with Lawrence and Haverhill should give us a better idea of Dracut's ability in that area, before they head into their Thanksgiving matchup with Methuen, a team that has eaten run defenses alive at several points this season.
EAGLES ON PERCH FOR NOW
After dealing Falmouth its first loss of the season, 28-7, Plymouth North seized the moment, climbing to the top of the Atlantic Coast League.
However, things are still wide open.
"We have three league games left and every week you play for controlling your own destiny," Eagles head coach Dwayne Follette told correspondent Brian Fabry on Friday. "We talked [last season's loss] up, but this was a big enough game that we didn't need the extra motivation.
While Plymouth North assumes the perch for now, the road to the ACL title will likely run through Dennis-Yarmouth, as both the Eagles and Clippers still have yet to play the Dolphins. Looking beyond the aforementioned, Marshfield (although they stand at 3-4 overall) also could still get in the fray, if they take care of business against Falmouth this weekend.
Additionally, Friday's loss could prove a bit more costly for Falmouth if the injury to Clippers running back Nelson Baptiste, sustained during the upset against Plymouth North, has any long-term implications. That is a situation that also bears watching.
HEAD OF THE CLASS
VALVOLINE PEAK PERFORMER OF THE WEEK: BEN PATRICK, SR. RB, RIVERS
The Roxbury resident torched Milton Academy for 325 yards on 26 carries and six touchdowns, both school records, in a 69-40 shootout win Saturday night at Milton High School. Through five games, the 5-foot-9 senior has rushed for at least 200 yards in every game, and piled up 1,162 yards on 112 carries for an average of 10.3 yards a carry. With the performance, Patrick has now clinched 5-0 Rivers its first winning season since 1982. But with these kinds of performances each week from Patrick and his cousin Taariq Allen (718 yards of offense), the Red Wings are thinking NEPSAC Bowls.
THE CLASSMATES
Chris Coady, Jr. RB/LB, BB&N
- The 6-foot-2, 220-pound junior carried 31 times for 284 yards in a 21-14 win over Groton School.
Brett Kidik, Sr. QB, Bishop Fenwick
- In a record-setting day, Kidik threw for 389 yards and six touchdowns in the Crusaders' 44-40 win over Archbishop Williams.
Connor Reardon, Jr. RB, Littleton
- Reardon carried the day for the Tigers, carrying the ball 23 times for 232 yards and four touchdowns in a 39-26 shootout win over Bay Path.
Oshane McCreath, Jr. RB, Malden
- McCreath ran for 260 yards and four touchdowns in a 36-7 win over Cambridge that improved the Golden Tornadoes to 3-4.
Kyle Murray, Jr. RB, Mashpee
- In a 41-12 win over Carver, Murray carved up the defense to the tune of 239 yards on 17 carries and two touchdowns.
Quinton Perkins, Jr. ATH, Fitchburg
- The speedy junior showed off his wheels in a variety of ways in the Red Raiders' 38-19 win over Shrewsbury. Perkins accumulated 239 all-purpose yards and scored in four different ways -- running, receiving, passing and a fumble recovery.
Melquan Pinkney, Sr. RB, Springfield Putnam
- Pinkney dominated Ludlow in a 46-6 win last Friday, totaling 270 yards and four touchdowns. Even more impressive, he racked up 192 yards on five carries in the first quarter.
Mike Ozella, Sr. RB, Medway
- Ozella turned in another strong performance for the Mustangs, rushing for 207 yards and four touchdowns in a 35-6 win over Hopkinton.
Matt Silva, Sr. QB, Dracut
- The tough-minded senior would not be stopped in Friday's 42-21 win over Chelmsford, completig 12 of 19 passes for 206 yards and three touchdowns, and carrying 13 times for 100 yards and two more scores.
Ben Ticknor, Sr. RB, Milton Academy
- Ticknor was strong in his own right in the Mustangs' 69-40 loss to Rivers, carrying 21 times for 341 yards and five touchdowns, including a run of 94 yards.
September, 20, 2010
9/20/10
11:27
AM ET
Now that the dust has settled on Week 2 of the MIAA football schedule, here's what we learned from this weekend's action:
The Atlantic Coast League race is going to be a lot closer than we thought
No. 15 Falmouth and defending Super Bowl champ Marshfield were the figurative favorites in the ACL headed into the 2010 season, but the picture just got a whole lot more crowded.
After a surprise upset of Methuen in Week One, Plymouth North almost pulled off another shocker last Friday against No. 24 Duxbury. Matt Walsh – he of the heroic 77-yard winning touchdown in week one – hauled in a 5-yard pass from Cody Merritt with no time left on the clock, to make it 14-12 Duxbury. The ensuing two-point conversion pass was intercepted and returned 100 yards for the 16-12 final, but a point has been firmly made in year one of the Dwayne Follette era.
Meanwhile, Dennis-Yarmouth – fresh off a 41-38 upset of Barnstable – is averaging 42 points per game, led by junior dual-threat quarterback Matt Montalto. The Dolphins run the spread and like to throw the ball, but a closer look at their program shows they're not some pass-happy outfit. Led by the hulking 6-foot-5, 319-pound Nate Crary at left tackle, the Dolphins are physical at the point of attack, and maintain a nice balance on their zone read behind running backs like Joe Furness and Damion Johnson.
"If you ever needed a big play in any sport, he's the one who's going to do it," D-Y head coach Paul Funk said of Montalto, who also plays hockey and baseball at the school. "That's him, that's his makeup. I'd take that kid anywhere."
As for toughness?
"(I'd rate him) at the top," Funk said. "That's what makes him so great. When your quarterback's as tough as everybody else, everybody else tows the line."
Burlington can score in a hurry
Down 28-14 to Arlington in the fourth quarter, the Red Devils bounced back in a hurry, scoring a whopping 29 points over the final few minutes of the contest to take a 43-28 win going away. Freshman Marcus Odiah hauled in a 25-yard Greg Sheridan pass, then recovered a fumble moments later and scored from three yards out. He then ran in the two-point conversion for a 29-28 lead with 1:15 left.
Seconds later, Kyle Shields intercepted a pass, and Odiah ran it in from 40 yards out to make it 36-28. Anthony Cruz then put the clamps on the win with a 52-yard pick-six on an Arlington Hail Mary heave.
One thing is for certain as Middlesex League play begins next week: The Red Devils are a wild card.
Dan Light is a tough guy to wrap up
Last season, we saw glimpses of Dan Light's ability as a running quarterback for St. John's (Shrewsbury), when he took direct snaps lined up next to quarterback Griffin Murphy as the Pioneers' ball-carrier in Wildcat formations. And now that Light, a senior, has made the full transition from tight end to signal-caller, we're seeing that in full force.
With the No. 4 Pioneers' 37-8 defeat of Longmeadow yesterday, the 6-foot-4, 235-pound lefty has accumulated over 600 yards of offense and 10 touchdowns through two games. On the ground, he is averaging 11.1 yards a carry, and has hooked up with Cal-bound receiver Richard Rodgers for four touchdowns.
At times, Light has shown Tebow-esque abilities carrying the ball. But it's the vision he's developed over the last few weeks that has made him that much more difficult to stop.
"If I looked at him over the last three weeks, he has become a very smart quarterback," St. John's head coach John Andreoli said of Light. "Our offense is really designed around looking at the defense and taking advantage of what the defense gives you, and I see Danny taking more ownership of those calls.
"He's been able to deliver the ball on the long balls, but on the short balls, you know, you see his feet moving around in the pocket and he's very comfortable. And all of that, when you pull people out of the box and give him the ability to run the ball, he's a very dangerous player. That's really the point where we want to get."
Tewksbury's visit to Methuen on Oct. 29 will go a long way to deciding the MVC Small crown
With Lawrence's surprise upset of Lynn English and Tewksbury's surgical handling of Lincoln-Sudbury on opening weekend, the two teams' meeting in Tewksbury last Saturday had the potential for greatness. The Redmen, however, wanted none of that, going up 28-6 on Lawrence at the half en route to an easy 35-6 win.
Sean Connolly led the way for Tewskbury with 101 yards on the ground and 105 through the air, totaling two scores, but watch out for tailback Anthony Arcari. He may be one of the more underrated speedsters in the league.
"The whole team likes to play as a family," Arcari told ESPNBoston's Neil Carroll. "We talked about that all year and on that one drive the offensive line did their job, the quarterback did his job, we ran the ball well and it demonstrated all that Tewksbury can do."
Meanwhile over in Methuen, the two-man game of Cal Carroll and Raudy Minaya that works so well during basketball season has finally broken out again on the gridiron. Carroll (11 of 15, 146 yards) easily dispatched much-hyped Malden on Friday night with a strong second half, finishing with five scores through the air – including three to his good buddy – and another on the ground.
This was the Methuen that so many coaches had raved about during preseason.
"We have some of the toughest lineman around," Carroll told ESPNBoston correspondent Phil Perry. "Steve DiZazzo, Sean Whittaker, they do all the dirty work inside. They watch so much film and work so hard, my success is because of what they can do."
This week is a brutal one for the MVC Small's front runners, with Methuen traveling to Billerica, Dracut hosting Central Catholic and Tewksbury visiting Andover. But based on the early returns, we suggest circling October 29 on your calendars.
Not the Raiders of old
Central Catholic proved more than just the point that they could hang with St. John's Prep in this weekend's game. The Raiders offensive identity has been altered from years past to incorporate the passing game more.
Although head coach Chuck Adamopoulos said in the preseason he hadn't seen a definitive No. 1 quaterback emerge, it looks as though Central Catholic has some able bodies at the position. Transfer student Ben Onett was impressive and accurate in his Massachusetts debut against Marlborough a week ago.
But it was junior Matt McDermott who seemed to take hold of the Raiders' offense this week at St. John's Prep. Adamopoulos again split time between his quarterbacks on Saturday, but McDermott looked as though he might have a hand up on the competition. He was on the field for each of the Raiders' scoring drives and seems to have developed a good rapport with his top target, receiver Xavier Peralta.
It was also telling that McDermott was on the field for the Central Catholic's final drive in the fourth quarter with the game on the line. The Raiders' chance for a comeback was thwarted by an interception in the game's waning moments, but it bears watching how the quarterback situation in Lawrence develops in the coming weeks.
No. 1 Brockton and No. 2 Xaverian have been flawless so far, setting up Saturday's showdown to be one for … well, really, do we need to explain?
Saturday. 1 p.m. Clapboardtree Street, Westwood.
No. 1 versus No. 2.
Public vs. Private.
Need we say more?
HEAD OF THE CLASS, WEEK 2
Taking a look at the weekend's top performers:
Isaiah Jones, Mahar: Tallied 311 yards of total offense and five touchdowns during just the first half in a 46-14 win over Dean Tech. Jones had two rushing scores, two punt returns for a touchdown and an interception return. Mahar ran just 4 plays in first half and was up 46-8 at half.
Ryan Vultaggio, Groton-Dunstable: Vultaggio picked up 279 yards on the ground on just 12 carries to go along with four touchdowns in a 52-34 over West Boylston.
Nick LaSpada, Billerica: The junior quarterback was stellar once again, completing 15 of 23 pass attempts for 318 yards and one touchdown against Woburn. LaSpada also ran for three touchdowns.
Cal Carroll, Methuen: See Phil Perry's story.
Charlie Blackett, Lexington: The senior defensive tackle set up camp in Concord-Carlisle's backfield to the tune of five sacks and was in on a countless number of other plays.
Dan Light, St. John's (S): The quarterback was superb with 296 yards of offense and five touchdowns in a 37-8 win over Western Mass. power Longmeadow.
John Pieterse, Worcester Academy: In his third career start, Pieterse was 16 of 18 for 322 yards and five touchdowns in a 41-14 victory over Blair Academy.