Boston High School:

Austin Joseph
February, 4, 2014
Feb 4
11:58
PM ET
BROCKTON, Mass. -– Almost as soon as he got on the bus departing the St. Bernard's Activity Center last Jan. 19, the 62-52 loss to the Bernardians still fresh on the mind, Joey Crane wanted a second crack at them.
Tuesday night in front of a rowdy home crowd at Cardinal Spellman, that anguish came full circle –- in fact, it exploded. Crane tomahawked homed a breakaway dunk late in the third quarter that put the Cardinals (13-3) up by 29, the piece de resistance of a 71-36 drubbing that split the season series with St. Bernard's (9-5).
[+] Enlarge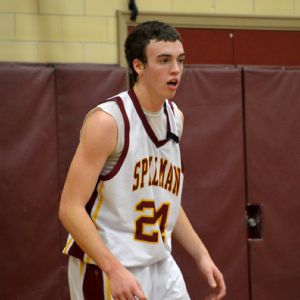 Brendan Hall/ESPNJoey Crane's third-quarter dunk, part of a 17-point effort, brought the house down.
"This feels pretty good. Our other two losses were to Franklin and Mansfield, and we couldn't avenge those because they were one game [in the Shooting Touch Shootout]," said Crane, who finished with 17 points, five rebounds and three blocks. "It feels good to finally get revenge on them [St. B's] in this game."
Added senior point guard Ryan Roach, who chipped in with 12 points and six assists, "We really wanted this one." He then pointed to the student section across the gymnasium and added, "Them just as much as us."
As routs go, this one was a Picasso, and Crane was its master stroke.
The Bernardians were without their star sophomore forward Garrett Stephenson, who injured his right ankle early in last Saturday's loss to Northbridge. And although their own star forward Rory Donovan sat most of the night in foul trouble, the Cardinals were able to take advantage of the absence of Stevenson, who beat up the Cardinals for 15 points in their first meeting.
St. B's came out in a 2-3 zone, and Spellman responded by shooting the lights out, going 4-for-8 from three-point range -- including two from senior Austin Joseph -- as they took a 26-11 lead after the first quarter.
The second quarter saw the Cardinals extend their lead to 40-23 with a series of dazzling plays at both end of the floor. First, Roach pounced on a missed Bernardians' three-point attempt to trigger a fast break, and from there dished a pretty no-look pass to Bryan Barry, who drew a foul on the way up and sank one of two free throws.
Crane then followed up with a block from behind, pinning the ball against the backboard as John Conry attempted a layup. Then on the next trip down the floor, he ripped the ball out of a Bernardian player's grip as he pivoted in the lane, going coast to coast for a layup and 33-16 lead.
"That's something he can do every night," Spellman head coach Mike Perry said. "He's got those kinda tools. He can shoot it, he runs the floor, Ryan [Roach] does a great job finding those guys around the basket, makes real nice passes. If you can score inside and outside, you're gonna be a very good high school player, and I think at the next level he's gonna have that too."
In the third quarter, things truly got untracked.
Up 47-24, Crane dished out of the corner to Joseph, who dribbled along the right wing and then -- seemingly out of boredom -- swung it back to Crane, who drained a three.
A minute later, the Cardinals went vertical. Roach launched an alley-oop from near midcourt to Donovan, who laid in the pass with two hands, for a 54-26 advantage at 4:30 of the third. Then a minute and half later, Crane send the crowd into its loudest frenzy of the night with an authoritative overhand smash, his fourth dunk of the season, to make it 58-29.
"That was awesome," Crane laughed. "And to do it in front of that crowd, it's like nothing else. I was going crazy."
Overall, the Cardinals shot 53 percent from the floor, which included an 8-for-16 mark from three-point range. They also outrebounded the Bernardians 31-23, and outscored them 31-13 over the final two quarters.
Senior Christian LaRoche led St. B's with 11 points, while 6-foot-7 sophomore center Joseph Saba chipped in with 10 points, seven rebounds and two blocks.
Brian Donohoe also had 10 points in the win for Spellman.
Stephenson hopeful to return soon:
St. B's head coach Mark Pierce said that Stephenson will likely miss the next week, possibly two, with the ankle he sprained five minutes into Saturday's contest against Northbridge. The 6-foot-5 Stephenson, a Townsend resident,l is a dynamic inside-out force with terrific post moves, and picked up some additional attention over the offseason from his time playing with the Boston Amateur Basketball Club (BABC).
"Our size is our strength, and obviously losing Garrett hurts us," Pierce said. "We're a different team. Make no excuses, they [Spellman] came out and played very well tonight. But we knew we'd have to work hard on the boards tonight, and then they started hitting three's all over the place and I knew we were in trouble."
December, 27, 2013
12/27/13
4:01
PM ET
By
Andy Smith
| ESPNBoston.com
MEDFORD, Mass. -- Franklin started off its weekend as well as it could, with a 55-48 victory over No. 16 Cardinal Spellman Friday at the Shooting Touch Shootout.
It was just the kind of physical, back-and-forth win Franklin (3-2) needed coming off a 32-point loss to Catholic Memorial earlier in the week.
[+] Enlarge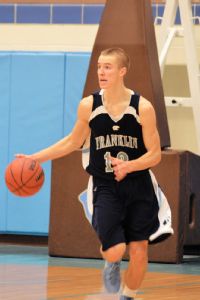 Brendan Hall/ESPNBoston.com Senior guard Chris Rodgers (20 points, 13 rebounds) led Franklin to an upset of Cardinal Spellman in the Shooting Touch Shootout.
"Our No. 1 thing was that we would have to try and outwork them, which is a difficult task because they're a hard working team," said Panthers head coach Dean O'Connor. "We held our own as far as effort. Coming off the last two losses, we're working on getting better. We're really not focused on a game plan as much against a certain team. We're just trying to get better this point in the year. We did show a lot of grit and heart. We were down six and the fourth quarter and came back, so hopefully that's something to build off of."
Franklin took a 27-23 lead into halftime, but it was not without its own self-inflicted issues. It regularly turned the ball over and seemed to be fighting the traveling bug in the first half. Six of its 17 turnovers came from traveling violations.
"That's kind of been an issue the whole season," said senior Chris Rodgers (20 points, 13 rebounds). "We're still working on it. It should be something we can avoid, so we'll just keep working on it in practice. That's all we can do."
Rodgers was a big reason why Spellman's lead never got above six at any point in the game. His effectiveness on the boards prevented any Spellman second-chance opportunities and helped kick-start his team's transition game.
"He was our second leading rebounder last year," said O'Connor of Rodgers. "He's gotten a lot better. His second jump is more explosive. At times he's playing the four for us, even though he's a two-guard. We can go with a small lineup, and we can do that because he can rebound."
Offensively, he was a perfect 8-of-8 on free throws.
Franklin outscored Spellman 15-6 in the fourth quarter to walk away with the victory.
Spellman's Joe Crane lead all scorers with 27 points. He was 6-of-7 from the free throw line.
Breaking Spellman's zone:
Spellman spent the majority of the game in a form of a zone defense. To start the game, it extended its zone out to half court to try and pressure the Franklin guards.
"They were really extending out from all the guard spots," said Rodgers. "What really helped us out was trusting our big men in the middle. Once they started making plays, we figured everything out and everything came together."
Later, it slide back into a more traditional 2-3 zone to force Franklin to play its game on the perimeter.
"We did a good job of skipping the ball and then either taking the open shot or getting the defense to run out at us and playing from there," said O'Connor. "If you keep it on one side against the zone, you're in trouble. That was the key to getting some open looks. Most of our points were off rebounds or transition because they do such a good job in their matchup zone. We solved it a little bit, but I'm glad we don't have to play it again."
Hedge clippers:
In the first quarter, Spellman attempted to set up its ball screen offense and get free cutters rolling to the basket. Franklin initially struggled to defend it, sometimes with both defenders committed to defend the ball handler and forgetting about the player cutting to the basket.
"Their big guys are good and they screen well," said O'Connor. "You're worried about Ryan Roach (3 points) and Austin Joseph (8 points) shooting the ball. We just weren't rotating. They either got their guy to turn the corner (and go to the basket) or they were hitting the guy on the roll because we weren't in the correct defensive position. In the second half, we got a little better at it. They didn't get as many easy hoops off it."
To get the ball handler to commit and make a decision with the ball, the defender guarding the screener jumped out and hedged to cut off the lane to the basket and to try and force the defender to pick up his dribble. That was when the screener would slide his way to the weak side post for an easy layup.
"We weren't hedging very hard, so that was something we needed to work on, but once we started going that, they started getting those rolls" said Rodgers. "It really came together when we had the help side guys really helping out more."
Up next:
Franklin is back in action on Saturday for Day 2 of the Shooting Touch Shootout. It will take on Christian Brother's Academy from Lincroft, New Jersey. The team knows next to nothing about its opponent.
"We don't know much," said Rodgers. "I know they have someone committed to play at Navy next year (Louie Pillari). We don't know anything about them but we'll just come out and play hard. That's all we can do."
January, 18, 2013
1/18/13
2:01
AM ET
By
Mike Scandura
| ESPNBoston.com
WESTPORT, Mass. –- Roll this number around in your mind: nine percent.

That's what Westport's defense forced Cardinal Spellman into shooting from the floor (1-for-11) in the fourth quarter of Thursday night's non-league game.

As a result, the Wildcats rallied from deficits as great as nine points in the third quarter, outscored the Cardinals 20-5 over the final eight minutes and walked off the court with a 52-44 victory -– which gave them a sweep of the season series between the teams.

"We switched it up a little bit," junior forward Richie Hartnett said. "We went to a different defense. It's like a scramble defense. Usually you trap in the corner and everybody rotates around.

"It seemed to work out with them because they couldn't get a set offense going. They'd miss a couple of shots and we got the rebounds."

Indeed.

Westport's ability to rebound was another factor in its ability to out-score Spellman (8-3) 20-5 in the fourth quarter which began with the Cardinals leading 39-32.

Seemingly in an eye blink, Westport (12-1) hit Spellman with a 15-4 run during which Chris Hartnett (Richie's older brother), Carlos Silver and Jake Friar (game-high 19 points, 12 of which came on four three-point shots) each buried a trey.

Friar's shot gave Westport a 47-43 lead with 2:35 remaining.

Then, after Spellman's Paul Preozzi converted 1-of-2 free throw attempts, Westport closed out the Cardinals when Friar converted a layup, Chris Hartnett sank both ends of a two-point foul and Ryan Kirby added another freebie.

Wildcats flash fangs: "My kids had a lot of fight in them," Westport coach Scot Boudria said. "We made some adjustments from the first half to the second half. I think offensively we tended to use picks better. We tended to look for open space instead of everybody cramming to look to the ball.

"I think defensively we really stepped up. Defensively, I thought our rotation was excellent. I thought our rotation allowed us to get into our transition offense which allowed us to score easier baskets in the fourth quarter."

How true.

Westport torched the Cardinals for 83.3 percent shooting (5-for-6) in the final period which enabled the Wildcats to finish with their largest margin of the game -– one reason being they began driving the lane more than they did in the first half when they shot a mediocre 40 percent (10-25).

"That was one of the things we discussed at halftime," Boudria said. "Don't settle for an outside jump shot every time you see one that's open because you can get them often.

"I thought Spellman was more athletic than we were so we were going to have to play basketball at a much higher level in order to be successful. I thought we did that. Every time down, 18 or 20 seconds were taken off the clock. That wears you down defensively. The fourth quarter is when you make your move."

Donovan hot early: Rory Donovan (14 points) and Joey Crane (10 points) were the only Cardinals to reach double figures.

Donovan scored 12 of his points in the first half as the Cardinals took advantage of Westport's cold shooting and forged a 26-21 lead at intermission.

Austin Joseph drained a trey with 3:23 left in the third to give the Cardinals the second of their nine-point leads, this time at 36-27. But once the Wildcats clamped down on defense, especially in the fourth quarter, the outcome virtually was inevitable.

"We don't have a 20-point scorer," Richie Hartnett said. "Everyone averages around 10 points a game. We have lots of assists and great defense which leads to easy baskets. If not, we slow down the ball, work the shot clock down and usually end up getting good shots."