Boston High School:

Austin O'Connor
February, 28, 2011
2/28/11
3:28
PM ET
We're hours away from dropping the puck in the postseason with tonight's Super Eight play-in games.

But we took a little time to sort out the Super Eight field, providing a primer on the teams.

Take a peek:

1. Malden Catholic (16-2-2)
Marquee wins: Lancers had wins over five of the 10 Super Eight teams and that doesn't even include what might have been their most impressive win, an early season triumph over New Jersey powerhouse Delbarton.

Players to watch: F Mike Vecchione, F Ryan Fitzgerald, F Brendan Collier, D Connor Evangelista, F Nick Roberto.

The skinny: Wire to wire, unquestionably the top-ranked team in the state. As in the last couple of seasons, the Lancers enter the Super Eight with lofty expectations and seemingly nothing short of a title will satisfy. MC's depth reaches far beyond its top line of three Division 1 college recruits (Collier, Fitzgerald and Vecchione) and its team speed and passing ability are without parallel. Not only can they score, they can defend as well, led by top defensive pairing of Evangelista and Colin MacGillivray.

X-factor: It's funny how the postseason seems to shave away certain goals into missed chances and oftentimes it due to a hot netminder. So if those once plentiful goals start to ebb away, it will be left to senior goaltender Pat Young to shine. Young is capable between the pipes and he might just show that he's been the most overlooked element to MC's success.

2. St. John's Prep (14-5-1)
Marquee wins: As the runners up in the Catholic Conference, the Eagles nabbed a pair of league wins against both BC High and Catholic Memorial, but it might have been Prep's win against the Knights on Friday that showed they can truly be a threat in the Super Eight. Playing against a CM team with nothing to lose and everything to gain, the Eagles ratcheted up the D in a playoff-like atmosphere.

Players to watch: F Colin Blackwell, F Shane Eiserman, F Sam Kurker, G David Letarte, D Joe Currie.

The skinny: Outside of MC, the Eagles have the deepest collection of eye-popping offensive talent. Blackwell, a Harvard commit, is equally adept as a playmaker as he is a sniper. Eiserman is wise and mature beyond his years as a freshman while Kurker provides grit and a nice scoring complement. The blue line was the perceived weakness of the squad, but they've come a long way with Currie providing veteran leadership, in addition to Scott Derrickson who played a strong second half.

X-factor: Kurker. When the junior winger gets hot, he's hard to stop and creates a dynamism to Prep's offense.

3. BC High (13-4-3)
Marquee wins: The Eagles finished strong, winning their final six games in addition to the Cape Cod Classic tournament to end the season. Their 5-4 shootout with Catholic Memorial was also a classic, as usual. Does a tie against Malden Catholic count as well? Sure.

Players to watch: F Mike Cashman, F Terence Durkin, F Andrew White, D Jack Buckley, D Brendan O'Malley.

The skinny: The Eagles play with plenty of speed, a point of emphasis for first-year head coach John Flaherty when assembling this year's varsity roster, and the young roster has gelled together quickly. More than anything, BC High has taken play to their opponents. They're aggressive on the forecheck and know how to use their speed to their advantage.

X-factor: Experience. The Eagles haven't been to the postseason since 2008, so a good portion of their roster hasn't experienced playoff hockey. How long will it take them to acclimate? A period? A shift? "Hopefully, not even that," Flaherty said. "At the end of the day, it's just another hockey game. It's not different from any others."

4. Weymouth (17-3-2)
Marquee wins: The Wildcats' 5-2 win over fellow Super Eight entrant and longtime rival Hingham at Pilgrim was about as good as it gets for the Weymouth seniors who'd never beaten the Harbormen before. "It's a monkey they've wanted to get off their backs," head coach Matt Cataldo told ESPN Boston after the game.

Players to watch: F Tyler Piacentini, F Riley Flanagan, G Brian Brady, F/D Trevor King, D Andy Sheridan.

The skinny: When are people finally going to stop saying that Piancentini is too small to play on the big stage? He can flat out score. Hey, it worked for Nathan Gerbe, right? Not only does Weymouth have scoring punch, they're well suited for a long postseason run with Brady, a senior, in nets. Outside of MC, the Wildcats were perhaps the state's most consistent team from start to finish and that means something coming in a year of great parity.

X-factor: King has played on the blue line and stepped up front to play center as well this season. Whether it's moving the puck out of his own end, or stepping in to win a faceoff, versatility always comes in handy this time of year.

5. Hingham (13-5-4)
Marquee wins: It might not look as impressive as their upset over Malden Catholic on paper, but the Harbormen's 5-3 win over St. Mary's of Lynn on Feb. 5 got them going. After upsetting the Lancers, Hingham went through a tough 0-3-1 stretch before turning things around with a comeback win that had the intensity of Super Eight matchup.

Players to watch: F Tim Driscoll, D Alex Pompeo, F Matt Hughes, F Austin O'Connor, D Steven Bellew.

The skinny: Let's call spades a spade: the Harbormen are the defending champions, so that has to count for something. Simply put, they've been there and done that, so nerves won't be an issue. Although there was a good amount of turnover from last year's roster, a few of their stalwarts remain in Holy Cross commit Driscoll and Pompeo, who is among the best defensemen in the state. They are terrific building blocks to a Super Eight champion-caliber squad.

X-factor: Derek McInnis was superb during last year's run to the title, but head coach Tony Messina likes to roll his goaltenders and senior Kevin Granatino has been solid in the second half of the season. That gives the Harbormen perhaps the greatest depth in goal in the tournament.

6. Needham (12-6-4)
Marquee wins: Where would the Rockets have been without their 3-2 win over Weymouth on Feb. 9? It was a season-turner. Their 4-3 win over Springfield Cathedral was their raison d'Ítre to the tournament.

Players to watch: D Chris Joyce, F Tom Coleman, F Jeff Rosata, D Scott Atkinson.

The skinny: Who'd have thought the Rockets would end up with the sixth seed after (literally) being left off the table in the first round of Super Eight voting. Of course, head coach Bill Guisti has built Needham into one of the state's premier public school programs and is evidenced by their tough out-of-conference schedule which includes several Catholic Conference teams. So the Rockets are used to playing the best. Joyce is in the conversation when it comes to the state's best defensemen and we've always loved the jam Needham's forward play with. They're truly a tough team to play.

X-factor: Akin to the Harbormen, it will be interesting to see how Needham's goaltending tandem of Evan MacDonald and Connor Murray shapes up. They're both talented and capable of carrying the load.

7. Woburn (17-3-1)
Marquee wins: Life in the Middlesex League night in and night out is no easy thing, so we take the fact that the Tanners were 14-2-0 against league competition as a marquee accomplishment.

Players to watch: F Casey Shea, F Alex Holland, F Daniel Holland, F Eddie Aprile, D Brian Dulong.

The skinny: We had the Tanners pegged for the top six, which means they would have avoided playing Cathedral in tonight's play-in game. But so is life and Woburn enters the tournament as one of the most consistent teams throughout the season …

X-factor: … However, the Tanners haven't played much in the way of their out-of-conference schedule (a Their 6-0 thumping at the hands of St. John's Prep was a good harbinger.

8. Central Catholic (16-5-1)
Marquee wins: It was early, but the Raiders' 4-3 win over St. John's Prep is about as good as it gets.

Players to watch: F Tommy Evangelista, G Kyle Williams, F Nick Pelrine, F/D Nick Leonard, D Ricky Sheehan.

The skinny: The Raiders looked like they might have been on the bubble with fellow DCL/MVC co-champion Billerica coming down the last couple weeks of the season, but Central showed what they are capable of with a huge 6-3 win over No. 4 seed Weymouth on the next to last day of the season. If that team shows up, the Raiders will be extremely dangerous. Evangelista is simply fun to watch.

X-factor: Williams is that type of goaltender who is capable of stealing games for his team.

9. St. Mary's of Lynn (14-5-3)
Marquee wins: The Spartans had some tough luck in their out-of-conference schedule and had just a 7-5-3 record against fellow playoff teams. However, they were simply dominant in the Catholic Central (7-0-3), allowing just 12 goals in 10 games.

Players to watch: G Donald Hesse, D Cam Kennedy, F Bobby Mullins, F Christopher Surrette, F Tim Aylward.

The skinny: There's no bones about why the Spartans are in the fold and that is their defense, which all starts in net with Hesse. Among the elite netminders in the state, Hesse is a game-changer and showed in last year's Division 1 North tournament that he's capable of putting a team on his back. Kennedy is an underrated blue-liner who is equally adept leading the breakout from his own end as he is clearing out the crease.

X-factor: It comes down to the ability for the Spartans to get those mucking-type goals in key situations and then shutting teams down.

10. Springfield Cathedral (12-9-1)
Marquee wins: All but one of the Panthers' games was against a playoff opponent, so they're battled tested and held their own against teams that were considered for the Super Eight, going 4-4-0.

Players to watch: G Zac Rondeau, D Sean Kavanagh, F Frank Crinella, F Dante Christofori.

The skinny: The Panthers always seem to find a way into the Super Eight field and play one of the toughest schedules in the state. They might not be as talented as their previous Super Eight predecessors, but they play good defense in front of Rondeau, who is capable of stealing games on his own.

X-factor: Kavanagh is one of the great hidden jewels in the state.
January, 16, 2011
1/16/11
1:24
AM ET
By
Brian Fabry
| ESPNBoston.com


HINGHAM, Mass -- Top-ranked Malden Catholic was supposed to come in and use Hingham's Derek McInnis for skeet shooting practice firing pucks from every angle. Even Hingham head coach Tony Messina was joking post-game that 'the NHL team was coming in.'

Well, the Lancers didn't realize McInnis was up for the challenge.

The senior goalie stopped a career-high 33 of 34 shots on net as the No.4 Harbormen shocked everyone with a 2-1 victory at a sold out Pilgrim Ice Arena to send the home crowd into a frenzy.

Austin O'Connor put back his own rebound for the power play game-winner with 10:39 left on the clock as the penalties really hurt the offensive flow of the game for the Lancers.

The Harbormen rung up ghosts from the past as they sent Malden Catholic packing in last year's Super Eight semifinals in their last meeting en route to the school's first-ever Division 1A title.

"Probably the most saves [McInnis] ever made," said Messina. "I said to our guys they are shooting a lot but we are getting sticks in the way, tipping the puck, blocking shots and you saw that."

In total, Malden Catholic (7-2-0) peppered McInnis and out-shot the Harbormen, 34-21, in the game. Although the Lancers fired an amazing 64 shots toward net, they only had one goal to show for it.

After a scoreless first period, Hingham (6-1-3) hit the back of the net first as Alex Pompeo scored unassisted at 7:08 of the second period. But the Lancers were not rattled one bit as junior defenseman Connor Evangelista rifled one from the point just 2:22 later in the period off a simple assist from the right slot from BU-bound Brendan Collier to tie the score 1-1 heading into the third. The tying goal came on the power play as Dan Griffin's second penalty of the period proved costly and Mike Vecchione set up a perfect screen out in front of the right post for Evangelista.

After Evangelista's equalizer, the Hingham defense did an excellent job keeping the Lancers' offensive juggernaut out along the boards and along the perimeter. The sold-out crowd seemed to come alive in the third realizing that Hingham has a chance in an arena that Messina likes to liken to Fenway Park. Great to play on, stifling home-ice advantage –- not so great to watch a game.

"It's nice to have the home ice because you can change all the time and we can control that and keep them to the perimeter in this rink because it's small but they still get a good shot off," Messina said. "If we play them again down the road I'm not sure we will be able to control that."

The Lancers picked up their third penalty as Ryan Fitzgerald headed to the penalty box and O'Connor made them pay. With only five seconds remaining on the man advantage, O'Connor was sitting on the doorstep of the crease when he wristed a shot that ricocheted right back to his stick for the put-back, rebound tally.

"I thought [Hingham] played hard the whole way, beating us to the puck, we were waving our sticks looking for the big play and it just didn't happen," Lancers head coach Chris Serino said.

When discussing the untimely penalties, Serino pulled no punches.

"You lose your best line and we lost our best line for the third period. And that's our fault. No one else's fault but ours. Just stupid penalties."

Malden Catholic came this close to tying things up as Collier put an almost-perfect, opposite-post shot on net just outside the left point. Collier's shot hit inside the post and O'Connor's goal held up as the game-winner.

"[O'Connor has] come a long way, the first few years he didn't play a lot and last year he contributed to the team on the defensive end and now we have him on the first line moving the puck around," Messina said. "What can I say, he's scored some big goals this year."

Malden Catholic had one other loss coming into the contest, by forfeit, to Weymouth in a game they won 5-1 but turned over due to an ineligible player.

O'Connor's game-winner keeps Hingham with only one loss, a 5-3 decision against Catholic Memorial.

"What a good hockey game," Serino added. "But I really thought they outplayed us. They beat us to loose pucks, they forechecked harder than we did, they were in great position and were really well coached. We were probably out-coached, so we got out-played and we got out-coached. So they did a good job on us."

MALDEN CATHOLIC - (7-2) 0 - 1 - 0 - - 1
HINGHAM (6-1-3) - 0 - 1 - 1 - - 2

FIRST - NONE

SECOND - H, Alex Pompeo (unassited), 7:08; MC, Connor Evangelista (Brendan Collier), 9:31 (pp).

THIRD - H, Austin O'Connor (unassisted), 4:11 (pp).
January, 8, 2011
1/08/11
11:18
PM ET
By
Brian Fabry
| ESPNBoston.com


BOSTON -- You can't teach an old dog new tricks, but there is nothing stopping the old pup from showing you a thing or two.

In a rematch of last year's Super Eight championship, No. 3 Catholic Memorial avenged their title defeat with a 4-2 win over defending champion, No. 2 Hingham, at the Walter Brown Arena on the campus of Boston University.

The Knights are the kings of the Super Eight with 13 titles in all, their last coming in 2009. But the Harbormen stunned CM, 1-0, in last season's finale preventing the Knights from back-to-back championships for the first time since they won three in a row in 2003-05. The win was the Harbormen's first banner and was also only the second Division 1A crown for a public school in the history of the tournament (Reading, 2008).

But this time, the Knights showed they are back to lay claim to the top spot, as junior Cody Kingston's goal 3:47 into the third period proved to be the game-winner in a game Catholic Memorial never trailed. If there was any sort of revenge factor, Catholic Memorial head coach Bill Hanson was not letting anyone in on that secret.

"Last year was last year, so (Hingham) have a Super Eight trophy at their school, but this is 2010-11 and no one has that trophy yet," said Hanson.

Previously-unbeaten Hingham (4-1-3) controlled the first period, out shooting Catholic Memorial 11-5, and finding numerous scoring chances, as the Knights' defense allowed the Harbormen to roam the slot and pick apart their blue line setup. Both teams, however, headed to the lockers without a tally.

After the scoreless first period, the Knights (5-3) finally broke through on a tip-in goal off the stick of junior forward Thomas Stanton at the 10:47 mark of the second. Sophomore defenseman Justin Ryder fired the puck from the left point, and Stanton had a perfect re-direct to beat Harbormen's goaltender Derek McInnis (14 saves).

The lead didn't last very long, as Hingham lit the lamp 2:42 later on a power play goal, courtesy of the Knights' third penalty of the second period alone. A tripping call on Stanton allowed Tim Driscoll, who had a goal and an assist, to punch home a rebound fired on net by fellow senior Marc Hetnik and the Harbormen were right back in the game.

But with only 40 seconds left in the period, sophomore Jack O'Hear gave the Knights a 2-1 lead on an assist from his brother, senior assistant captain Dan O'Hear (two assists).

"In the second (period) we adjust, in the third we adjust, and like I've told you guys before we just get better and better," Hanson said about his team's penchant for shutting teams down as the game progresses. "(We) were handling the puck better, made real good athletic plays, and we were opportunistic."

No more so then in the beginning of the third period, when some great forechecking by senior Chris Stathopoulous on senior Jared Robichaud forced a loose puck out in front of McInnis and Kingston flipped the turnover into the Knights' third goal of the game, a backhand tally right through McInnis' five-hole.

"Kind of unfortunate, (Robichaud) was in the right spot down low, and we wanted him to center it," Hingham head coach Tony Messina said. "He picked up the puck and made the wrong move to the center of the net -- unfortunately a good team like (Catholic Memorial) takes advantage of those mistakes."

Said Hanson: "That's (all) Stathopoulous and (Miles) McCarthy and they work so well below the faceoff dots. Cody just made a quick release, got rid of the puck, just got it to the goal, and I think that's one (Hingham) might want to have back."

Hingham was not finished, though, as Austin O'Connor cut the deficit in half when Driscoll's blast rang the left post and went behind Knights' goaltender Tommy Knox (17 saves) to the waiting stick of O'Connor, who was sitting on the right post for the easy tap-in poke.

But senior Dan Griffin picked up an untimely contact-to- the-head penalty with 2:45 remaining in regulation which ruined any momentum for Hingham to tie it up before the final horn and allowed Hetnik to double up the score on the power play with 2:11 left to play.

"Obviously you can't take penalties in a game like this, especially a senior, we are going to learn from it," said Messina. "Hopefully we will see (CM) sometime down in the future."

CATHOLIC MEMORIAL 4, HINGHAM 2
HIN(4-1-3) 0 – 1 – 1 - - 2
CM (5-3-0) 0 – 2 – 2 - - 4

Scoring
FIRST – None.
SECOND - CM – Thomas Stanton (Justin Ryder, Tom Barrett), 10:47; HI – Tim Driscoll (Marc Hetnik, Ryan Linehan), 13:17 (pp); CM - Jack O'Hear (Dan O'Hear), 14:20.
THIRD – CM – Cody Kingston (Chris Stathopoulous), 3:47; HI – Austin O'Connor (Driscoll, Alex Pompeo), 8:33; CM – Hetnik (Jack O'Hear, Dan O'Hear), 12:49

Saves
CM – Tommy Knox (17)
HI – Derek McInnis (14)
December, 23, 2010
12/23/10
12:58
AM ET
WILMINGTON, Mass. – St. John's Prep won a period, then Hingham won a period.
But in the end, everything was all even as two of the top 10 high school hockey teams in Massachusetts skated to a 4-4 tie at Ristuccia Arena on Wednesday.
No. 7 St. John's ran out to a 2-0 lead in the first period, only to see the No. 2 Harbormen pick up their physical play in the second. The teams were tied 3-3 headed to the second intermission.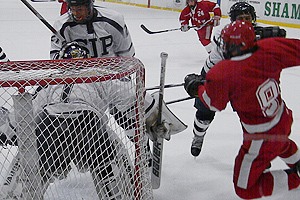 Scott Barboza/ESPN BostonA group of St. John's Prep defenders clear out the traffic in front of goaltender Dave Letarte during the team's 4-4 tie with Hingham at Ristuccia Arena on Wednesday.
In the third, Sam Kurker tallied his second goal of the game for the Eagles, but Austin O'Connor netted the equalizer 1:30 later for Hingham and round out scoring.
"It shows what we have in the locker room," Harbormen head coach Tony Messina said about his team's effort in battling back. "Hopefully, it means good things to come and we'll get better and better as the year goes on."
The Prep (1-0-1) was the sharper team in the first stanza when defensemen Joe Currie and Kurker (on the power play) paced the Eagles to a 2-0 lead.
Hingham (2-0-1) took the ice in the second period a new team. The Harbormen were tenacious in their forecheck and finished their checks. Their efforts paid off when Dan Griffin scored on a goal assisted by James Gordon and C.J. Mulieri 1:57 into the second. The Prep pushed their lead to two goals again on John Farrow's unassisted goal midway through the second.
The Harbormen drew even with two goals from a pair of blue-liners within 1:30 of each other. Freshman John Carlson ripped home a slap shot from the point to get Hingham within one. Then, senior Steven Bellew knotted it up, 3-3, with an assist from captain Alex Pompeo.
"We have a freshman and a sophomore in our starting four defensemen," Messina said. "It's going to take them a while to get adjusted to the speed. I thought we did a good job maintaining the very dynamic first line they have, they're very dangerous."
It looked as though the Eagles might have netted the game winner when Kurker, the junior right winger, scored his second of the game with 4:34 remaining. The snipe was set up on a tape-to-tape pass from Farrow and was a welcome sight to Prep head coach Kristian Hanson. Kurker, who plays with Farrow and center Colin Blackwell on the Eagles' top line, had yet to light the lamp this season, so his outburst came at a welcome time against the defending Super 8 champions.
"It was good for him I think from a mental aspect to score a couple of goals," Hanson said. "I think it kind of sets him in a good position for the season."
However, 1:31 after Kurker's strike, O'Connor tied the score once again on a back-hander assisted by Bellew and Jake Magner.
The teams even drew in shots on goal with 23 apiece with Hingham goaltender Derek McInnis and Prep's Dave Letarte making 19 saves each.
"They scored those three goals in the third period and certainly they could've taken that momentum into the third period," said Hanson whose team faces No. 3 Catholic Memorial in their Catholic Conference opener on Monday. "We talked at intermission about what we needed to do in the third period. It came down to a 15-minute game and who wanted it the most. We scored to take the lead, but this is Hingham and they're the defending Super Eight champs, they've been there before."
"We certainly would've liked to get two points out of it, as I'm sure Tony [Messina] would have, but we'll take the point."