Boston High School:

Avon (Conn.)
November, 29, 2012
11/29/12
6:33
PM ET
The Gatorade Football Players of the Year across all 50 states were announced today. Here's a look at the winners from across New England:

CONNECTICUT: COLIN MOORE, SR. RB/DB, AVON
The 5-foot-11, 185-pound senior running back and defensive back has led the Falcons to a 10-0 record and a berth in the Class L state quarterfinals against New Canaan High, scheduled for Nov. 28. At the time of his selection, Moore had rushed for 2,012 yards and 29 touchdowns on 243 carries. In the defensive secondary, the 2011 All-Pequot Uncas League First Team selection had recorded 21 tackles and an interception.

Moore has maintained a B average in the classroom. During the 2011 Halloween snowstorm, he volunteered as an electrician's assistant to help restore power in the area. He has also donated his time as a peer mentor to intellectually and physically challenged students and also serves as a youth counselor.

"Colin Moore is a tremendous football player," said Paul Philippon, head coach of Canton High. "He's tough, consistent and relentless—he produces in every game. He could have played in any era."

Moore remains undecided upon a collegiate destination.

Moore joins recent Gatorade Connecticut Football Players of the Year Casey Cochran (2011-12, 2010-11, Masuk High School), Kevin Pierre-Louis (2009-10, King Low Heywood Thomas), Mike Osiecki (2008-09, Seymour High School) and Alex Thomas (2007-08, Ansonia) among the state's list of former award winners.

MAINE: ANDREW LIBBY, JR. RB/S, THORNTON ACADEMY
The 6-foot, 195-pound junior running back and safety led the Golden Trojans to an 11-1 record and the Class A state championship this past season. Libby rushed for 1,091 yards and 23 touchdowns on 182 carries, caught 17 passes for 190 yards and two scores and returned four punts for touchdowns, including one in the state title game win over Lawrence High. Libby also recorded 98 tackles, six interceptions, returning one for a touchdown, and forced a fumble.

Libby has maintained a 3.37 GPA in the classroom. He has volunteered locally on behalf of a homeless shelter and food bank, and as part of a fundraising campaign to benefit cancer research. Libby has also served as an area youth football and track coach.

"Andrew is the most important player on Thornton Academy's senior-laden team," said Matt Perkins, head coach of Windham High. "Their offense goes through him. On defense, he's their free safety and allows them to over-play one side of the field because he will control the other side. He is one of the most dynamic players I've seen."

Libby will begin his senior year of high school next fall.

Libby joins recent Gatorade Maine Football Players of the Year Louis DiTomasso (2011-12, Wells High School), Peter Gwilym (2010-11, Cheverus High School), Jack Mallis (2009-10, Windham), Jack Heary (2008-09, Deering High School) and Justin Villacci (2007-08, Gorham) among the state's list of former award winners.

NEW HAMPSHIRE: TYLER GRANT, SR. RB/S, EXETER HIGH
The 5-foot-11, 175-pound senior running back and safety led the Blue Hawks to an 11-1 record and the Division I state title this past season. Grant rushed for 1,238 yards and 20 touchdowns on 173 carries and caught 12 passes for 217 yards and three scores. On defense, he recorded 47 tackles, three interceptions, three forced fumbles and three fumble recoveries. The 2011 New Hampshire Union Leader First Team All-State pick returned both an interception and a fumble for touchdowns this fall.

Grant has maintained a 3.67 GPA in the classroom. He has volunteered locally as part of fundraising campaigns to benefit juvenile diabetes and breast cancer research. Grant has also donated his time as a youth baseball coach and on behalf of a literacy-outreach program.

"Tyler Grant is the main reason for Exeter's success," said Eric Brown, head coach of Concord High. "He truly stands out on both sides of the ball and special teams as well. Not only is he a physical talent, he is a very intelligent football player as well."

Grant will attend Maine's Bowdoin College next fall where he will play football.

Grant joins recent Gatorade New Hampshire Football Players of the Year Jake Kiley (2011-12, New Hampton School), Max Jacques (2010-11, 2009-10, Salem High School), David Zocco (2008-09, Nashua High School South) and Billy Ferriter (2007-08, Nashua South) among the state's list of former award winners.

RHODE ISLAND: ANTHONY FRANCIS, SR. QB, LA SALLE ACADEMY
The 6-foot-1, 193-pound senior quarterback has led the Rams to a 9-1 record and a berth in the Division I state semifinals against Portsmouth High, scheduled for Nov. 28. At the time of his selection, Francis had passed for 2,013 yards and 18 touchdowns, completing 110-of-181 attempts while throwing just two interceptions. A 2011 Providence Journal First Team All-State honoree, he rushed for 633 yards and nine touchdowns on 116 carries through 10 games.

Francis has maintained a B average in the classroom. A member of the La Salle Academy Debate Team, he has volunteered locally on behalf of a day care center, at a homeless shelter and as a youth football coach.

"With Anthony this year it is like having a young coach on the field," said Geoff Marcone, head coach of La Salle Academy. "Anthony knows the offense so well we have given him authority to check in and out of plays. He is the guy that makes the call."

Francis remains undecided upon a collegiate destination.

Francis joins recent Gatorade Rhode Island Football Players of the Year Josh Morris (2011-12, La Salle Academy), Ben Willett (2010-11, Portsmouth High School), Mike Read (2009-10, Barrington), Dave D'Errico (2008-09, North Kingstown High School) and Bobby Bentsen (2007-08, Warwick Veterans) among the state's list of former award winners.

VERMONT: MICHAEL DULAC, SR. OL/DL, HARTFORD HIGH
The 6-foot-3, 272-pound senior offensive and defensive lineman led the Hurricanes to an 11-0 record and their third straight Division I state championship this past season. A three-time First Team All-State selection, Dulac compiled 26 pancake blocks for an offense that accumulated 4,056 rushing yards and averaged 37 points per game. He started 43 consecutive games and helped Hartford to 26 straight wins to close out his career.

Dulac has maintained a 3.71 GPA in the classroom. An active member of his church community, he has volunteered locally as a youth mentor and in association with Hurricane Irene relief efforts.

"Michael Dulac is not only the best lineman we have faced the last two seasons, he is also one of the best players Vermont has produced in the past 20 years," said Sean Murphy, head coach at St. Johnsbury Academy. "He is big, strong and quick and looks like a man against boys when he plays."

Dulac remains undecided upon a collegiate destination.

Dulac joins recent Gatorade Vermont Football Players of the Year Jake Stalcup (2011-12, Burr & Burton Academy), Christian McCormick (2010-11, Rice Memorial High School), Max Librizzi (2009-10, Essex), Mick Wong (2008-09, Hartford High School) and James Durham (2007-08, Spaulding) among the state's list of former award winners.
September, 27, 2012
9/27/12
4:13
PM ET
By
Roger Brown
| ESPNBoston.com
Xavier High School held its opponents to no more than seven points in 12 of 13 contests last season, when the Falcons went 13-0 and won the Class LL state championship. Nine starters from that defensive unit graduated, making defense Xavier's biggest concern entering the 2013 season.

That side of the ball has been anything but a problem through two games, however.
Xavier has allowed seven points in its two contests – victories that extended the program's winning streak to 28 games.
The Falcons have been particularly stingy against the pass. Xavier's Nathan Gonzalez and Max Tylki each had an interception during a season-opening 44-0 triumph over Notre Dame-West Haven, and the Falcons didn't allow any yards passing in last weekend's 49-12 victory over North Haven.
Boston College-bound quarterback Tim Boyle has guided on offense that has had little trouble finding the end zone. Boyle, who suffered through a injury-plagued junior season, has completed 24 of 38 passes for 433 yards.
Xavier, the No. 1 team in the state's media and coaches' polls, is attempting to become the first team to win three consecutive Class LL championships.
Last weekend's results for the Connecticut's top 10 teams, as ranked by the
Hartford Courant
:
Xavier (2-0): Beat North Haven, 49-0. Up next: Fairfield Prep.
Hand (2-0): Defeated Hillhouse 37-19. Up next: Cheshire.
Staples (2-0): Knocked off Bridgeport-Central 49-6. Up next: McMahon.
Ansonia (2-0): Beat Woodland 47-16. Up next: Derby.
Windsor (2-0): Defeated Bristol Central 49-7. Up next: Bristol Eastern.
Greenwich (2-0): Topped Bassick 48-2. Up next: idle.
Ledyard (2-0): Defeated Killingly 35-18. Up next: at Windham.
Berlin (2-0): Snuck past Rocky Hill 25-14.
Holy Cross (2-0): Beat Watertown 28-13.
Glastonbury (2-0): Had no problem beating Newington 63-28. Up next: at Conard.
May, 16, 2012
5/16/12
1:21
PM ET
By
Roger Brown
| ESPNBoston.com
Has Mark Ecke's tenure as Cheshire High School's varsity football coach come to an end?

Right now that's a question Ecke can't answer.
Ecke was suspended following an incident during a junior varsity lacrosse game between Cheshire and Glastonbury on May 3. According to published reports, Ecke berated officials after his son Tucker, a freshman who plays for Cheshire, was hit by a Glastonbury player. Ecke apparently felt the hit was illegal and was upset that no penalty was called.
"Whatever happen with my future as a coach at Cheshire High, it doesn't matter," Ecke told the
Connecticut Post
. "For me, my family is first priority. This was about my son and I'm very protective of him. That's what this was about."
Ecke was reportedly escorted from the field by three police officers. According to the incident report, police were summoned to deal with "unruly behavior."
Ecke, who is employed as a Cheshire police officer, is awaiting a personnel hearing with the Cheshire Board of Education. He was reportedly asked to resign, but refused.
"It was among one of the worst hits I've ever seen in lacrosse," Ecke told the
Post
. "I've been involved in lacrosse for 15 years. I've been a player. I've been a coach. I've taken officiating courses. The official didn't call a blatant illegal hit.
"That's what got me. That's what brought this all about. And as a father, watching this happen, I got upset. I probably yelled more than I should have and I regret that it went down the way it did."
Ecke has guided Cheshire to four state titles in his 17 years as the program's head coach. He coached under current Temple coach Steve Addazio on the Cheshire staff, and was promoted to head coach after the 1994 season.
Cheshire had a 49-game winning streak, which ended in 1996.
Ecke's overall record is 118-64-3.
SOFTBALL STREAK ENDS
When the St. Joseph softball team defeated Westhill 10-6 on May 7 it ended the Vikings' 54-game winning streak in FCIAC games.
Westhill grabbed a two-run lead by scoring three runs in the sixth, but the Cadets responded with a six-run seventh. Taryn Figmic collected the game's big hit, a three-run double with two outs in the seventh and the score tied, 6-6. Figmic had two hits and five RBIs in the victory.
It was Westhill's first regular-season FCIAC loss since a 3-2 setback against Darien in 2009. The program's only other conference loss since then came against Fairfield Ludlowe in the opening round of last year's playoffs.
RALLY KILLER
The Simsbury baseball team was in position to hand Northwest Catholic-West Hartford its first loss of the season. Trailing 7-5, Simsbury loaded the bases with no outs in the seventh, but Northwest Catholic-West Hartford erased the threat by turning a game-ending triple play.
Second baseman Ryan Coursey fielded a soft liner for the first out. The runners were moving on the pitch, so Coursey stepped on second for the second out and then threw to to first for the game's final out.
KINGS OF THE HILL
The first victory of Noah Hahn's varsity pitching career was a memorable one. Hahn, a sophomore, pitched a no-hitter to lead the Avon baseball team to a 12-0 victory over Windsor on April 30.
Hahn, who plays shortstop when he's not pitching, struck out 12 and walked three.
Three other no-hitters have been thrown since that contest. Bristol Central's Matt Blandino didn't allow a hit during a 7-0 triumph over Maloney on May 7, Hamden Hall's T.J. Linta tossed a no-hitter in a 4-0 victory over Greens Farms Academy on May 8 and John Amoroso tossed a no-hitter to help St. Joseph defeat McMahon on May 12.
Blandino struck out 16 and walked one. Linta, a sophomore, struck out six. Amoroso struck out seven and walked two, but wasn't in position to collect the win until Mark Hirschbeck singled in the go-ahead run in the seventh.
LAX POWERS
Henry West and Peter Lindley each scored four goals and Case Matheis collected five assists as the Darien boys lacrosse team defeated Ridgefield 14-11 on May 8 in a matchup between teams that entered the contest undefeated in the FCIAC.
Roger Brown is a freelance writer who has been reporting on high school sports in New England since 1992.
November, 28, 2011
11/28/11
2:21
PM ET
By
Roger Brown
| ESPNBoston.com
Until this year, the Glastonbury High School girls' soccer program had always lacked a finishing kick.

Glastonbury had reached the Class LL championship game six times since 1983, and came away second best each time. That all changed when top-seeded Glastonbury defeated 18th-seeded Trumbull 2-1 Friday to win this year's Class LL title.
"I was doing this for all the [Glastonbury] girls who have been here before us," Glastonbury senior midfielder Liz Otto said. "I'm just so excited we finally got it done."
Otto gave Glastonbury a 1-0 lead when she headed Kayla Orozco's corner kick into the Trumbull goal with 19:45 to play. The Tomahawks doubled their lead when junior Kristen Dragotta scored with 2:41 left.
Trumbull made things interesting by scoring with 2:23 to play, but the Tomahawks hung on to finish the season with a 17-0-2 record.
In last weekend's other girls soccer championship games No. 2 Avon defeated No. 8 Farmington 2-1 to win the Class L title; No. 1 Northwest Catholic beat No. 2 Granby Memorial 4-0 in the Class M championship game; and No. 5 Immaculate defeated No. 7 Litchfield 3-0 to win the Class S title.
May, 4, 2011
5/04/11
6:12
PM ET
By
Roger Brown
| ESPNBoston.com
It took Bob DeMayo 53 years to record 799 victories as North Haven High School's varsity baseball coach. The wait for victory No. 800 may have felt just as long.

After DeMayo collected his 799th victory when North Haven beat Wilbur Cross 14-0, DeMayo had to endure one-run losses to Branford (4-3) and Foran (4-3). Foran pulled out its victory by scoring three runs in the bottom of the seventh.
Then North Haven made DeMayo wait until the 12th inning of Monday's game against Xavier before it pulled out a 6-5 win and handed DeMayo victory No. 800.
"I know it's a milestone and I know I'm close to the end of my career probably, so it's certainly nice," DeMayo told the
Post-Chronicle
. "To see a lot of my former players this week and all the letters I've gotten, it's just been really nice. It does mean something. I'm just surprised it meant so much to other people. That's the nicest thing."
North Haven prevailed when Kevin Erbe walked with the bases loaded in the bottom of the 12th. Mike Acampora pitched five innings to collect his first varsity victory in the milestone win.
The game was played on North Haven's home field, which was named in DeMayo's honor in 2009.
DeMayo began coaching at North Haven in 1959. His teams have won four state championships.
According to the National High School Sports Record Book, Gene Schultz of Kee High School in Lansing, Iowa, has collected more wins than any other high school baseball coach. Schultz began the 2011 season with 1,636 victories.
TARPEY SELECTS WILLIAM & MARY

Fairfield Prep's Terry Tarpey, a 6-foot-5 guard/forward, gave a verbal commitment to play basketball at William & Mary on Tuesday.
Tarpey, a junior, averaged 17 points per game last season, when Fairfield Prep finished with a 21-7 record following a loss to St. Joseph in the Class LL championship game.
William & Mary competes in the Colonial Athletic Association.
STAPLES GETS SECOND CHANCE

The Westhill softball team defeated Staples 5-3 on April 18, but Staples protested the game and had the protest upheld by the Fairfield County Interscholastic Athletic Conference.
The game will be replayed from the point of contention May 15.
The controversy occurred with no outs in the first inning and Westhill's Allie Souza on third base. Staples pitcher Sam Saccomano dropped the ball during her windup and was called for making an illegal pitch.
Souza was allowed to score on the play, which caused Staples coach Mark Giordano to protest the game. He claimed the pitch should have been ruled a ball, and the runner should not have been allowed to advance.
The FCIAC ruled that Giordano's interpretation of the rule was correct.
PASQUALONI WILL SPEAK AT FOOTBALL DINNER

Connecticut's northern chapter of the National Football Foundation and College Football Hall of Fame will hold its scholar-athlete award dinner May 15 (1 p.m.) at the Aqua Turf in Southington.
University of Connecticut coach Paul Pasqualoni will be the event's featured speaker, and Kent's Todd Marble will be honored as the Coach of the Year. The following players will also be recognized: Jason Barnes (Kent), Marcus Biggins (Farmington), Kyle Decker (Simsbury), Joe Dellaquila (Berlin), Nicholas DeNardo (Rocky Hill), Seth DeValve (Manchester), Henry Downes (East Catholic), Jonathan Esposito (Conard), Reid Gustafson (Conard), Josh Helmkamp (Simsbury), Thomas Higgins (Rockville), Steven Hild (Kingswood-Oxford), Alex Kaczmarek (South Windsor), Zachary Lombard (Manchester), Colin Pavano (Avon), Greg Pendergast (South Windsor), Ryan Peloquin (St. Paul), Cody Pudzinski (Torrington), Nick Quattro (Canton), Franco Serrao (Wethersfield) and David Shainess (Glastonbury).
CROSS COUNTRY COACH ON THE MOVE

Xavier cross country coach Dave Kraszewski will leave his current coaching position at the end of the 2011 school year to coach the men's and women's cross country teams at Salve Regina, a Division III school in Newport, R.I.
Kraszewski left Portland and began coaching at Xavier in 2009. Xavier won the Class LL and State Open championships that year. Xavier finished fourth in the State Open meet last season.
The Portland girls won 52 consecutive dual meets and three consecutive Class S championships during Kraszewski's tenure there.
ST. JOSEPH STAYS PERFECT

The St. Joseph baseball team trailed by three runs entering the bottom of the seventh inning, but rallied for a 6-5 victory Tuesday.
Tyler Matakevich scored the game-winning run on an error with one out in the inning. The Cadets raised their record to 12-0 overall and 10-0 in the FCIAC.
DARIEN MAINTAINS POLL POSITION

The Darien boys' lacrosse team, which improved its record to 9-2 by beating Fairfield-Ludlowe 17-4 Tuesday, is ranked No. 14 in the latest LaxPower national rankings.
Roger Brown has covered high school sports in New England since 1992. He currently covers high school and college football in the Northeast for ESPN/Scouts Inc.
August, 18, 2010
8/18/10
6:14
AM ET
By
Matthew Stout
| ESPNBoston.com
Kevin Callahan is entering his 11th year as head football coach at Ridgefield High School this fall. Since 2001, his Tigers have never endured a losing season. They've won nine games four times, and six or more every year but one.

And yet, they've been to the CIAC playoffs twice, playing for -- and winning -- their only state championship in 2002.
Callahan thought something was wrong with that.
"It's nice when kids understand how to win," he said, "but you have to reward winning."
Others thought so, too.
In a change met with sweeping applause from the Connecticut high school football community, the CIAC is implementing a new playoff system this fall that features fewer divisions, more teams and a venue that many feel finally fits the bill.
In recent years, the football playoffs featured four teams earning postseason berths in six divisions. This season, there are only four divisions (LL, L, M, S) but with eight teams qualifying in each, the number of playoff competitors jumps from 24 to 32. The hope is to reward the larger schools who play in more difficult divisions. Last season, three 9-1 teams (two in Class LL, one in L) didn't make the playoffs, and the seasons of four 8-2 teams ended on or around Thanksgiving. In 2008, 14 teams with eight or more wins didn't qualify.
"All other CIAC sports, you win 40 percent of your games, you're in the playoffs," said Berlin coach John Capodice, a member of the CIAC football committee. "I felt the football kids were shortchanged."
[+] Enlarge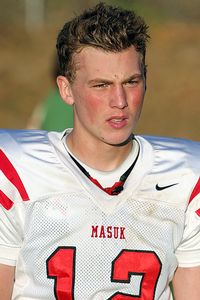 Courtesy of Dave ChoateMasuk-Monroe (Conn.) quarterback Casey Cochran is looking for a repeat performance of last year's state-best 2,968 passing yards in 2010.
It's difficult to find any detractors of the decision, aside from those who would have welcomed further expansion to include as many as 48 teams. Some, such as St. Joseph coach Joe Della Vecchia, believe the system will still keep some deserving schools out only because they're playing tougher schedules.