Boston High School:

BABC Holiday Classic
December, 30, 2012
12/30/12
9:10
AM ET
By
Greg Story
| ESPNBoston.com
BOSTON -- Junior phenom Jared Wilson-Frame led the way for Windsor (Conn.) with 28 points in their BABC Holiday Classic showdown against New Mission, and the Warriors were able to hold off a barrage of points from the Titans in the final minutes, escaping with a 74-71 win.

"Well it's a tough environment to play in, it's a good little gym and they're a good team," Windsor coach Ken Smith said following the game. "I'm pretty sure they're going to make runs. I watched them play the other night [against Mansfield], that's a good team you got there and I'm sure this is going to be a springboard for them."

New Mission trailed by as many as 10 points late in the fourth quarter, but were given a nice boost by Isshiah Coleman in the paint. In the game's final minutes, the senior forward cleaned up on the offensive boards and put back six of his 10 points on the afternoon.

The Titans (4-3) were able to cut the deficit all the way down to one in the closing seconds on a steal and fast-break lay-up from Percio Gomez, but were slow to commit a foul on the ensuing Windsor (5-0) possession and had to settle on sending Wilson-Frame to the line rather than senior Jaquan Harrison.

After Wilson-Frame hit both free throws to extend the lead to three, New Mission, with 7.3 seconds left on the clock, looked to leading scorer Juwan Gooding (18 points, six assists) to send it to overtime. Windsor was ready though, triple-teaming Gooding behind the line as the sophomore tossed up a prayer that found the backboard and the rim, but not the net.

Following the game, New Mission head coach Cory McCarthy attributed his team's loss to their performance at the free throw line (7 of 21), and the effort on the boards by his bigs.

"I'm not upset about the loss at all," McCarthy said. "That's something that the players have to put on themselves. They have to say to themselves 'I have to get better, I have to do better, I gotta help our team win', and that's what it came down to."

"I like Windsor a lot, I like what they did, and I'd play them a hundred times if we could. At the same time, I feel like we didn't stay true to who we were today."

Guarding Windsor: Entering today's game, Windsor averaged just under 80 points per game, including a 94-point performance two weeks ago against South Windsor (Conn.).

The Warriors are led by Wilson-Frame, a 6-foot-4 junior who is drawing interest from Miami, Providence, UConn and UCLA just to name a few.

Included in his 28-point performance was a put-back that put a halt to a 7-0 scoring run in the closing minutes for New Mission, two free throws that found nothing but net with the game on the line in the final seconds, and a silky-smooth drive to net throughout the game that is surely leaving scouts drooling.

"We came out in a diamond and one [press]," McCarthy said. "It was pretty effective against him but he hit some huge hero shots. He played Superman for them tonight and he delivered. I thought our diamond and one bothered him early, and then when Nate [Anderson] came out of the game we had less length on him."

McCarthy was also quick to credit Windsor point guard Tyler Rowe who, despite being listed at just 5-foot-6, gave New Mission fits on the glass and on the floor through out the afternoon.

"He was tremendous, every decision he made was 100 percent right," McCarthy said. "He was totally efficient, and I have no problem with that."

Grueling three-day swing: No matter what the future may hold for this year's New Mission team, no one can look back at the end of the season and say they played a soft schedule.

For that reason, McCarthy likes his team's chances going forward.

In the past three days, the Titans have taken on a Christ The King team thought by many to be No. 1 in the state of New York; beaten previously-undefeated Mansfield, ranked number No. 4 in ESPNBoston.com's statewide poll; and hung until the final minutes against a Windsor team that is also ranking in at No. 4 in Connecticut.

"You will see in the middle of January, how much better we are because of this," McCarthy said of the three-day stretch. "This is no disrespect to anybody else, but we won't see three more teams as good as the three teams we just played for the rest of the year.

"If we can play above, or at that level that we played at for the last three days, I'm confident of where we will be in the end."

Asked what his motivation was to schedule three straight games against three teams of that capability, McCarthy pointed to building his team's character.

"I just want my guys to get tougher," he said. "I want to deflate some egos. If we start reading the clippings, and thinking that we're better than everybody else...It humbles guys.

"So we see that sort of level. Can we match that level? Can we win on that level? I think we can, I think we have some little things that we can work on to get it done."
December, 28, 2012
12/28/12
11:05
PM ET
Correspondent Lucas Shapiro with a video recap of today's matchup between Capital Prep (Conn.) and East Boston, in the BABC Holiday Classic.

Capital won 77-62, led by Levy Gillespie Jr. (25 points) and USC-bound point guard Kahlil Dukes (18 points).


December, 28, 2012
12/28/12
10:09
PM ET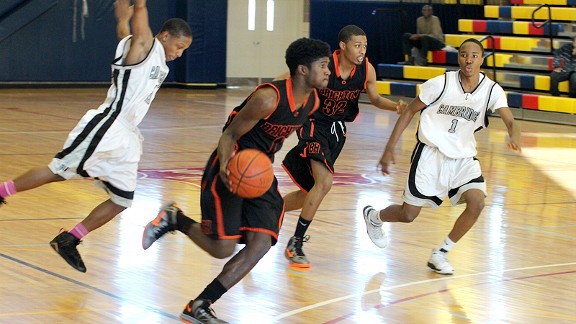 Ryan Kilian for ESPNJunior point guard Malik James (21 points, 9 assists) paced Brighton over Cambridge in the first day of the BABC Holiday Classic.
DORCHESTER, Mass. -— There are going to be nights like Thursday night for a basketball team during a long, grinding season, especially when you go up against a team that is maybe one of the best teams on the national stage.
So all Hugh Coleman wanted to see was an ability to forget, progress and move on to the next opponent after the Bengals 38-point loss to St. Anthony (N.J.). There were ups-and-downs at the Kroc Center in the opening day of the BABC Holiday Classic for the Bengals, but ultimately they did just enough to pull out a 61-58 victory over Cambridge on Friday.
Malik James scored 21 points with nine assists, while Daivon Edwards canned five 3-pointers en route to a team-high 22 points to get the Bengals back to .500 at 3-3. Cambridge fell to 2-2 with the loss.
"They are here," said Coleman. "They haven't given up on themselves. I think they put that loss into perspective. That's a really, really top-notch program that we aspire to be someday.
"Those guys are like a well-oiled machine over there and I think the guys think that we could have hung with them a little bit more had we came out of the gate with a certain kind of mentality and intensity."
Coleman's bunch did come out with that intensity with a 9-1 run to start the game and they were able to finish with it on the defensive end with two huge stops in a three point game.
"After the St. Anthony loss we are just trying to get back to the way we were," said Brighton forward Nick Simpson. "We are trying to get back to how we played New Mission. It's going to take a little while, but we will get back."
SIMPSON COMES BACK
Simpson left the game late in the third quarter when he jammed his right-hand. He left the court for a while but returned and said he had to just deal with the pain.
On his first possession back, Simpson drained a straightaway three-pointer for a 52-47 lead with 6:20 left to go in the game, but it was his late-game defense that pulled out the victory for the Bengals.
Marcus Faison got the ball in the middle of the Brighton zone, and tried to back his way towards the basket. Simpson stayed square and slapped the ball away from Faison and Edwards scooped up the loose ball and was fouled. Edwards hit his two free throws for a 61-58 lead.
"I knew the ball was coming inside because they ball and pass it to the big men," said Simpson. "Once they did his back was to me and I knew he was going to turn to the front, so when he turned to the front I knocked the ball out."
Cambridge had one more opportunity for the tie and a scrambled possession ended up in the hands of Tsega Tenzin. Tenzin fired for a 3 from the right corner, but Simpson was there to get a piece on it and direct it harmlessly away from the basket as the buzzer rang.
"At the end Brighton did a better job of executing than us," said Cambridge head coach Lance Dottin. "We should have been able to execute a little bit better to get some better looks at the basket. I thought we were good when we got the ball on the inside to our big guy, but we turned the ball over and never even got a shot at the basket."
EDWARDS STEPS UP
There haven't been too many 3-point barrages from Edwards this season, but this came close.
Edwards went 5-of-8 from behind the 3-point line and that success was a welcome sight for Coleman. When Edwards can become a lethal weapon from deep that only makes those driving lanes for James get a little bit wider.
"It was great for him," said Coleman. "He's been in a shooting slump and struggling. For him to come out and knock down those shots today was not only big for him but big for us."
December, 21, 2011
12/21/11
1:52
PM ET
The Boston Amateur Basketball Club released the schedule for next week's annual Holiday Classic at Chelsea High School.
Courtesy BABC Director of Operations Jay Demings:
BOSTON, MA - The Boston Amateur Basketball Club (BABC) is proud to host the 2011 Holiday Classic Basketball Tournament from Tuesday, December 27 through Thursday, December 29th at Chelsea High School in Chelsea, MA.

This year's Holiday Classic will feature 11 teams throughout three divisions with schools representing Massachusetts, Connecticut and New Hampshire. Proceeds from the tournament are donated by the BABC to create scholarships for Chelsea High students. To date, Chelsea High School has been the recipient of nearly $70,000 in scholarships since the tournament's inception in 1996.

This year's tournament schedule is as follows:

Tuesday 12/27
4:00 PM - Gm 1 - Malden Catholic vs Everett
5:30 PM - Gm 2 - Cambridge vs Bishop Guertin (NH)
7:00 PM - Gm 3 - New Mission vs St. John's Prep

Wednesday 12/28
4:00 PM - Gm 4 - West Roxbury vs Capital Prep (CT)
5:30 PM - Gm 5 - New Bedford vs Windsor (CT)
7:00 PM - Gm 6 - Reading vs Loser Gm 1

Thursday 12/29
2:30 PM - Gm 7 - Winner Gm 1 vs Reading
4:00 PM - Gm 8 - New Bedford vs West Roxbury
5:30 PM - Gm 9 - Loser Gm 2 vs Loser Gm 3 (Class A Consolation)
7:00 PM - Gm 10 - Winner Gm 2 vs Winner Gm 3 (Class A Final)
December, 28, 2010
12/28/10
10:59
PM ET
By
Corey J. Allen
| ESPNBoston.com
CHELSEA, Mass. -- In preparation for No. 6 New Bedford's game, Whalers head coach Tom Tarpey stressed the need for his team to have the ability to overcome adversity, as they hadn't had to show much against the three teams they had already faced this season.
At the ever-competitive BABC Holiday Classic though, Mansfield would show to be a worthy adversary. Still, New Bedford pulled off a 15-0 run in the fourth quarter to come back and defeat Hornets, 66-62.
"We've been talking the past few days about handling adversity," said Tarpey. "We were down; the kids did a great job, turned it up defensively. They hung in there, kept battling. I think we might have run them down a little bit in the fourth quarter."
Although New Bedford was undefeated coming into today's matchup (now 4-0), the team had yet to see the kind of talent they saw tonight according to players and coaches, so they had to adjust to the skill level. But their defensive prowess (9 steals on the day, 6 in the second half) helped them down the stretch to pull together a comprehensive comeback and stave off a last-minute comeback.
"Fast break points kept us in the game," said Jonathan Fortes, who scored four of his 11 points on that 15-0 run, including a breakaway dunk. "We went hard on the defensive end of the floor and it paid off. We focused on the defense and the offense took care of itself."
Trailing by four at the half, New Bedford was able to stay in the game by tying up the score at 47-all to begin the fourth quarter. The score was 55-49 with 6:10 left after Mansfield's Brian Hershman (17 points, 5 assists) hit a pair of technical fouls shots and then a 3-pointer on the next possession.
Tarpey called a timeout and that's when it became clear to junior Cameron Walker (13 points, 3 assists, 2 steals) that his team could win. After analyzing a matchup between the two teams, Walker saw the potential for the Whalers to capitalize on it.
"We could tell they were really tired and we weren't, so we decided that we'd work together and play great defense," said Walker. "But it definitely started with our stamina. We reached into ourselves and decided that we were going to work hard enough to get the win, and that's exactly what we did."
After scoring 15 unanswered points following the aforementioned timeout, including four apiece from junior Fortes and senior Ray Guillotte (9 points, 7 rebounds, 2 assists), Mansfield had shots, but those shots were contested on every possession.
New Bedford was simply more aggressive, insistently pursuing a win, and it became difficult for the Hornets (2-1) to score.
"I don't think we made any adjustments defensively," added Walker. "We just dug into ourselves and decided that we were going to step it up. We had that defense in all along; we just didn't play it in the first half."
NOTE: The broadcast of New Bedford's battle with No. 1 St. John's Prep at the BABC on Wednesday will streamed live by New Bedford High School's WIMC-TV online
here
.
December, 28, 2010
12/28/10
10:22
PM ET
By
Michelle Bradley
| ESPNBoston.com
Chelsea, Mass. -- Jacquil Taylor, Deondre Starling and Kyroe Qualls-Betts all scored in double figures as No. 8 Cambridge Rindge and Latin School (CRLS) defeated Springfield's Putnam Vocational Technical High, 67-49, Tuesday at the BABC Holiday Classic.

The Falcons improve to an overall record of 3-0, while the Beavers fall to 3-3 on the season.

CRLS came out strong to start the game, scoring 20 points during the opening quarter, while securing its defensive presence on the court by holding Putnam to just 10 points.

The Falcons continued to maintain a double-digit lead for the opening minutes of the second quarter, but Putnam chipped away to the score, coming with five points, 35-27, to end the half.

Lance Dottin, head coach for CRLS, said that during halftime, "I told [my team] to slow down, to be patient."

The halftime pep-talk seemed to work as the Falcons remained dominant on offense, going on a 12-0 run, extending its lead over by Putnam by 16 points. A layup by Putnam's senior guard Alonzo Johnson snapped the Beavers' offensive dry spell, who closed out the quarter with a 9-3 run, making the score 48-37.

During the first minutes of the fourth quarter, the Beavers cut its deficit to nine points, 52-41, but CRLS fired back with a 15-6 run. The Falcons never looked back, recording its third victory of the season, 67-49.

Taylor, the 6-foot-9 sophomore center for the Falcons, led the team with 20 points, while seniors Staring and Qualls-Betts added 14 points each.

Of his 14 points, Qualls-Betts scored 11 points during the first half, including nine points from beyond the arc.

Junior guard Jordan Almore led the scoring for the Beavers, scoring 10 of his 12 points from the free throw line. Seniors Jesus Rosario and John Toledo also chipped nine points each for Putnam.
December, 28, 2010
12/28/10
10:13
PM ET
CHELSEA, Mass. – Facing an unfamiliar opponent, No. 18 BC High had to adjust on the fly. It's not as though the Eagles had the opportunity to advance scout Tuesday's opponent at the BABC Holiday Classic at Chelsea High School.

The Eagles faced off against Mount Si of Snoqualmie, Washington and came out a little flat, falling behind 19-9 by the end of the first quarter.

But BC High stuck it out, ratcheted up its defense to draw even at the half. Senior point guard Bryan Hurley took care of the rest in leading the Eagles to a 57-44 win, pouring in a game-high 17 points, including five 3-pointers.

"We obviously didn't have a scouting report on them," Eagles head coach Bill Loughnane said, "so we had to adjust after the first period and I thought the guys did a really good job of that."

The Wildcats were paced to their early lead by senior swing man Dallas Smith, who scored the bulk of his team high 13 points in the first.

However, the Eagles (4-1) did a better job containing Smith and disrupting looks to basket in the second quarter, when they erased a 10-point deficit to draw even before the half.

Mike Corcoran drained a three and then Hurley transitioned a steal into an uncontested pull-up with 20 seconds remaining in the half to make it 27-27.

"We were giving [Smith] open looks and we just couldn't stop him," Loughnane said. "I know we needed to do something to try to take him out of the game. I think our defensive intensity really picked up in the second half."

It also helped that Hurley caught fire at just the right time, pushing the Eagles ahead in the second half.

Junior forward Dan Curtis also reached double figures for the Eagles, chipping in 12 points.

"We need Bryan [Hurley] to play well for us if we want to win games," Loughnane said. "This was just another case and point of that happening."

It's not the only time a Hurley has been depended upon to lead the Eagles to victory. Bryan's older brother Chris was the fulcrum to BC High's Division 1 state title in 2007, the school's first basketball championship in 90 years.

"They're different," Loughnane said of the brothers Hurley, "but it's a different team, too. We need points from Bryan to win. Back when Chris was playing, we were huge, we were enormous. We had six guys over six-foot-six. He had to distribute the ball a bit more.

"I wish the Hurleys had another one though, I'd be happy about that."