Boston High School:

Barry Greener
August, 21, 2014
Aug 21
2:12
PM ET
On Monday,
we unveiled our statewide MIAA Top 25 preseason football poll
. Today, we continue our annual countdown of the poll with Nos. 15 through 11.
In case you missed our earlier installments:
Nos. 25-21; Nos. 20-16.
NO. 15 BOSTON COLLEGE HIGH
Coach:
Jon Bartlett (5th season, 33-12)
Last Season:
6-5, lost in Division 1 South Semifinals
Returning Starters:
9 (6 offense, 3 defense)
Key Returnees:
Sean Holleran, Sr. QB, 5-11 185 lbs.; Nick Locken, Sr. OL/MLB, 6-1 240 lbs.; Will Johnson, Jr. WR/DB, 5-8 160lbs; Ryan Black, Sr. OL/DT, 6-2 245 lbs; Scott Gosnell, Sr. DB, 6-2 195 lbs; Christian Dallas, Sr. TE/DE, 6-3 200 lbs.; Shane Libby, Sr. TE/LB, 6-3 240 lbs; Brendan Smith, Sr. RB/OLB, 6-0 195 lbs; Brendan Lynch, Jr. OL/DT, 6-5 270 lbs.
Strengths:
Commitment, attitude.
Weaknesses:
Inexperience on defense.
Outlook:
When Jon Bartlett took over in May for his second stint as head coach for BC High, one of the first things he stressed to his players was how much of a "team" they needed to be. It didn't take players long to buy into the system, after learning that the man that had been their head coach for the past two seasons (Joe Gaff), would be returning to the staff as an assistant for Bartlett. "For coach Gaff to not only bring coach [Bartlett] back but to also stay with this team, it showed us how committed he is to all of us," explained senior quarterback Sean Holleran. "That commitment makes us even more excited to play." The Eagles will look towards Holleran's leadership to guide the Eagles on offense and also their signature I-formation that will feature senior running back Brendan Smith. With a history of producing talented running backs in recent years, none of this will be possible without the power from the offensive line led by Nick Locken, Ryan Black and Brendan Lynch. On defense, inexperience may be a weakness heading into camp, but coach Bartlett has faith in his younger players to step up when they get their number called. Two returning players to keep an eye are ball-hawking senior defensive back Scott Gosnell and senior linebacker Shane Libby. The Eagles will be challenged like always, having to go through the gauntlet, that is the Catholic Conference, but with plenty of leadership from captains and seniors alike, BC High will be determined and use their loss to conference foe Xaverian in last year's D1 South Semi-finals as extra motivation.
-MIKE UVA
NO. 14 HOLLISTON
Coach:
Todd Kiley (12th season, 91-33)
2013:
9-2, Division 4 South finalists
Returning starters:
17 (8 offense, 9 defense)
Key Returnees:
John DoCarmo, Sr. OL/DL, 5'11, 235 lbs; Nick Athy, Sr., QB/S, 6', 200 lbs; Zach Elkinson, Sr., WR, 5'9, 175 lbs; Joe Bellomo Sr., RB., 6', 215 lbs.
Strengths:
Experience, athleticism, strength.
Weaknesses:
Depth.
Outlook:
It's been an offseason keyed on conditioning for last year's runner-up in Division 4 south, with many of the returners on Todd Kiley's Panthers surpassing their personal records in the weight room this summer. Holliston can be expected to be a favorite in the Tri Valley League as well as in Division 4 south this year, a year after falling to Dennis-Yarmouth 26-7 in last year's D4 south title game. Holliston will also be one of the most experienced teams in Eastern Mass., returning eight starters on each side of the ball to give the athletic squad a veteran presence. "We're definitely a senior laden team , a lot of experience. Our guys have taken it up on themselves to put themselves in position to get a title. A lot of them have been working since day after Thanksgiving last year," Kiley said. After averaging nearly 40 points per game last year, the offense will be based around captain quarterback Nick Athy, his favorite target: senior receiver Zach Elkinson, and running back Joe Bellomo – all three of whom made the cut for our pre-season all-state watch list. The Panthers will get things started quickly this week, heading to No. 25 Natick, who reached the D2 south semifinals last year, in a scrimmage on Saturday "I'm good friends with Coach Mortarelli, Kiley said of the Natick coach, "He's done a great job with those guys. They just put together a solid product every year. A lot of people would have thought they'd take a step back, but they're just as good as they were last year. That's gonna be an awesome test on Saturday." Look for a stingy and experienced Panthers defense to terrorize the TVL this year, led by linebackers Connor Lefevra and Derek Kiley and defensive lineman Michael Chipman. Their toughest test may very well come in just a matter of weeks, when they travel to take on Duxbury on September 5. "This is a hungry group, they're very focused. It was a great summer, they worked their tails off," Kiley said, "Getting that close like we did last year gave these guys some experience. That experience is really going to pay off for our guys."
-CHRIS BRADLEY
NO. 13 MARBLEHEAD
Head Coach
: Jim Rudloff (6th season, 41-17)
2013
: 9-2, lost to Tewksbury in Div. 3 Northeast sectional final
Returning starters:
10 (5 offensive; 5 defensive)
Key Players
: Brooks Tyrrell, Sr. RB/DB, 6-0, 195 lbs.; Derek Dumais, Sr. OT/DT; 6-5, 315 lbs.; Dan Marino, Sr. OT/DT, 6-3, 245 lbs.; Will Millett, Sr. TE/OLB/LS, 6-4, 220 lbs.; Spencer Craig, Sr. QB, 6-2, 205 lbs.
Strengths
: Running game; depth and experience on offensive line; special teams return units.
Weaknesses
: Lack of game experience at key positions on defense.
Outlook:
One of the most talked about players in the state entering this football season will not be playing a down past December. Marblehead's Brooks Tyrrell is a game-changing athlete both on the gridiron and the lacrosse field, but will stick to the latter when he matriculates to Notre Dame next year. While he's with the Magicians, Tyrrell presents a multi-faceted threat, allowing Marblehead to run inside out of a single-back set while also presenting a threat as a receiver out of the backfield and across formations. The Magicians' running attack is also advantaged by a pair of college-grade tackles in recent UMass commit Derek Dumais and fellow senior Dan Marino. Dumais presents a versatile element to Marblehead's line, as he can play both tackle positions and kick inside to guard. Look for a breakout season from Will Millett, an adept blocker and pass catcher at tight end, who will also be an integral part of the Magicians' defense at outside linebacker.
-SCOTT BARBOZA
NO. 12 DENNIS-YARMOUTH
Coach:
Paul Funk (13th season, 89-45-1)
Last Season:
11-3 (4-2 ACL), lost in Div. 4 State Final
Returning starters:
11 (6 offense, 5 defense)
Key Returnees:
Michael Dunn, Sr. QB/DB, 6-1, 200 lbs; L.K. Metz, HB/LB, 5-11, 180 lbs, Andrew Jamiel, JR, SE/DB, 5-9, 145 lbs; Zack Mancini, SR, G/DT, 5-8, 220 lbs; Nick Coelho, SR, C/DE, 6-1, 215 lbs; Chip Evangelista, SR, G/LB, 5-11, 185 lbs.
Strengths:
Speed and athleticism, offensive line, linebackers, secondary.
Weaknesses:
Defensive line, depth.
Outlook:
The 2014 Dolphins will go as far as senior Michael Dunn can carry them, and don't be surprised if that is a return trip to the Div. 4 Superbowl. D-Y graduated a talented group of seniors in the offseason including most of their offensive backfield, but D-Y seemingly has the ability to mass-produce undersized, yet athletic and speedy skill players that perfectly fit into their read-option scheme. Dunn is the lone exception to the Dolphins undersized nature, sporting a 6-1, 200-pound frame and was the Dolphins main weapon from every offensive skill position last season. But with the departure of QB Spencer Tyler, Dunn will take the majority of snaps under center. Despite the move to primary signal caller, head coach Paul Funk says Dunn will still be a threat across the field, "It wouldn't surprise me if there were times where [junior quarterback Ian] Crosby was under center and Dunn lines up in the slot. He's one of those kids who can do it all and him running in our triple option from quarterback is definitely something that we like." Flanking Dunn in the backfield is L.K. Metz who will likely see a sizable increase in his workload at tailback and split out wide is Andrew Jamiel after a breakout sophomore campaign. D-Y also returns three starters from the offensive line; center Nick Coelho and guards Zack Mancini and Chip Evangelista. The question mark surrounding the Dolphins this year is their defensive line. Typically undersized, 2014 looks to be the same up front for D-Y, but their strength remains in the second and third levels where Metz and Evangelista return at linebacker and for those unfortunate to reach the secondary, will be welcomed by Dunn. Over the past three seasons, the seniors have amassed a 15-1 record at home, but only once in the opening four weeks of the season will they be in the friendly confines of the Lagoon (week two vs. No. 19 Plymouth North) while traveling No. 23 Barnstable, No. 24 Marshfield and Scituate.
-PHIL GARCEAU
NO. 11 WALPOLE
Coach:
Barry Greener (6th year, 46-11)
2013:
7-4, lost in Division 3 Southwest Quarterfinals
Returning Starters:
10 (5 offense, 5 defense)
Key Returnees:
Steve Cuqua, Jr. RB, 5-10, 185 lbs.; Matt Ordway, Sr. OG, 5-10, 210 lbs.; Andy Papirio, Sr. WR/DB, 5-10, 175 lbs.; Chris Bender, Sr. FB/DE, 6-0, 215 lbs.; Jack Lavanchy, Sr. WR/S, 6-1, 180 lbs.; Lovie Salvant, Jr. RB/ROV, 5-10, 165 lbs.; James Murphy, Sr. LB, 5-10, 185 lbs.; Mike Curran, Jr. LB, 5-6, 175 lbs.
Strengths:
Speed, secondary, linebackers.
Weaknesses:
Experience at quarterback, depth at running back.
Outlook:
After a sophomore season in which he racked up over 1,500 rushing yards –- including his 300-plus yard, six score performance in an overtime epic with rival Natick –- there is a wave of hype beginning to build around Cuqua, who now clocks in the 4.5 range for 40-yard dash and has put on some more muscle in the offseason. "We can run, we're pretty quick," Greener said. But the Rebels are thin beyond Cuqua, and are hoping the speedster stays healthy. With the graduation of Will Bolster, the Rebels will have two juniors, Tyler Berkland and Noah Maire, vying for the starting spot under center. Defensively, though, they should be in much better shape after last year's trial by fire. Injuries in the secondary led to a slew of youngsters thrown to the wolves, but what was a deficiency a year ago is arguably now their strongest asset. The Rebels will likely stick to a 4-2-5 to counter many of the spread looks they now see in the Bay State Confernece. Between Lavanchy and Papirio -- the latter considered one of the better man-to-man defenders on Walpole's basketball team -- there is a lot to like. "He's a physical corner -- he'll hit you," Greener said of Papirio. Overall, the Rebels have a solid foundation in the junior and senior classes after enduring injuries to key players a year ago, and look suited make another quality run through the BSC. As usual, October's meeting with Natick could decide the Herget division.
-BRENDAN C. HALL
November, 2, 2013
11/02/13
12:20
AM ET
By
Josh Perry
| ESPNBoston.com
NORTH ATTLEBOROUGH, Mass. – James Kummer and Jack Blasť each accounted for three touchdowns for North Attleborough, as the Rocketeers rolled 35-7 over Walpole in a Division 3 Southwest first-round game on Friday night at Community Field.

North Attleborough scored on five of its seven possessions and did not give up a touchdown until the final five minutes of the game. However, the result could have been very different, but for a huge defensive play early in the first half.

On the first play of the second quarter, trailing 7-0, Walpole was just two yards away from tying the game. The Rocketeers defense needed to make a play and it was senior linebacker Kyle Rodriguez that provided it.

As sophomore running back Steve Cuqua crossed the line of scrimmage, Rodriguez put two hands on the ball and ripped it away. North took over at the one and proceeded to march 99 yards on seven plays for a touchdown, which made it 14-0 and took all momentum away from the Rebels.

"It was a big momentum changer," said Rodriguez, who also recovered a fumble on the opening Walpole possession. "Down on the one-yard-line, if they score then it changes the game. He had the ball in front of him a little bit and I just knew that I had to make a play."

Head coach Don Johnson admitted that the North defense needed those turnovers, as the Rocketeers were struggling to contain Cuqua.

"It was really important at the time because I don't think you can say we stopped them much in the first half. That's actually something that we work on – getting takeaways. We haven't gotten too many this season, but we had two big ones tonight."

The North offense took advantage of the Walpole turnovers thanks in large part to the Rocketeers offensive line creating huge running lanes. North racked up 286 yards on the ground led by quarterback James Kummer (13 carries, 74 yards) and tailback Chris Hunter (13 carries, 118 yards).

The play of the line also helped North in the passing game with the Rocketeers line opening a huge hole up the middle for a shovel pass from Kummer to Blasť for a 22-yard touchdown that capped the 99-yard drive.

The Kummer to Blasť combination had a big first half with five completions for 78 yards. In the final minute of the second quarter, they hooked up for a 25-yard reception on fourth and 18 from the Walpole 35. The play kept the drive going and Kummer would finish it off with a one-yard sneak, which made it 21-0 at the break.

Johnson credited the experience of playing against the strong teams in the Hockomock League for developing his young offensive line. He remarked that the offense is starting to click and the Rocketeers were able to put together three long scoring drives.

He explained, "We knew it was going to take time and then the one senior that we had in there, [Evan] Sweeney, got hurt playing those three monster teams in the Hock. So, we finally got all our guys back and we've just continued to get better every week; it really showed it tonight."

Walpole had an opportunity to get back into the game early in the third quarter after a Hunter fumble, which junior Jack Lavanchy recovered. But the Rebels went three and out and North took its next drive 72 yards in 14 plays, which ran out the clock in the third quarter. Kummer's second one-yard touchdown of the game put North ahead 28-0.

Walpole head coach Barry Greener was blunt about his team's performance. He said, "They beat us every which way to Sunday. They just took it to us; we just had no answers."

Greener added, "We looked good in practice all week. They didn't run anything that we didn't work on; we're just not very tough on defense. If our offense isn't rolling, we have serious issues."

Blasť finished off a strong day with a 31-yard touchdown run in the fourth quarter. Cuqua broke one long run for Walpole on its final possession to pass 100 yards for the night (14 carries, 106 yards). The drive was finished by backup quarterback Brendan Chaisson to avoid the shutout.

Johnson noted that the game plan for the Rocketeers to was to try and make Walpole quarterback Will Bolster beat them in the passing game. Bolster finished 5-10 for just 38 yards.

"We felt like we had to stop the run first and put them in a position where they had to throw the ball," said Johnson. "I think we did a fairly decent job of controlling their run game."

Rodriguez added, "In the film, they were running all over teams; we knew they had a good offense. We knew that we had to have out best defensive game of the year and we did today."

The Rocketeers advance to play fellow Hockomock League team Oliver Ames in the second round.
October, 26, 2013
10/26/13
2:07
AM ET
By
Brendan Hall
| ESPNBoston.com


WALPOLE, Mass. -- Years from now, when Troy Flutie finally hangs up the cleats for good, they'll look back to nights like tonight when talking about that special blend of moxie that seems to run through family bloodlines, passed down through generations like an heirloom.

And in this thrilling 56-55 overtime win over archrival Walpole, a Bay State Herget-clinching victory that the Boston College commit called "the greatest game in my life", they'll start with a play they'll likely refer to simply as "Fourth and 22".

Down 49-42 with under three minutes to go, facing fourth and 22 from midfield after a sack and incompletion, the Redhawks (7-0) came out in an empty formation, with trips to the right. Flutie (12 carries, 191 yards, 3 TD; 18-of-31, 370 yards, 4 TD, 2 INT), facing pressure, danced around the pocket before scrambling to his left, as receiver Scott Warnock crossed the field from the right.

Warnock actually ran the wrong route, flattening his depth too much. But with Walpole deploying a zone defense to the trips side, and man-to-man to the other side -- but taken far off the line of scrimmage by those two receivers running deep downfield -- Warnock had plenty of real estate in front of him, with a Rebels (4-3) linebacker chasing from behind. Flutie dumped off a soft touch pass to Warnock on the underneath route, and the senior wideout scampered up the left sideline for a 29-yard gain.

"We ran the wrong route, he was supposed to run the flat, but he ran an in, and Scott did the rest," Flutie said. "He must have saw an opening, and just did it."

Said Walpole coach Barry Greener, "Great call on fourth and 22. They knew we were running a hybrid coverage...They got a total mismatch on us."

The next play, Flutie found Mike Abbruzzese down the middle of the field on a skinny post for a 21-yard touchdown completion, tying the game at 49-all and sending the game into overtime.

Natick took possession first, and on the very first play of the overtime period, Flutie pulled the ball on a zone read, running to the near pylon for a 10-yard touchdown run. On the next series, sophomore Steve Cuqua (44 carries, 308 yards, 6 TD) plunged in from five yards out on second down. On the two point conversion, however, he was stuffed in the backfield, sending the Natick side into a frenzy.

"He's very special, everybody knows that," Natick head coach Mark Mortarelli said of Flutie. "He always gives us a chance to score, and to score quick with his legs or his arm, and tonight was no exception. He just kept producing."

As soon as the game went to overtime, Greener said he had already made up his mind as to whether he would go for two or not (teams are allowed to go for one on the first overtime only).

"Number one, I didn't think we could stop Flutie from the 10 yard line, I think that's a little unrealistic," he said. "Four cracks, there's no way they're not gonna score. And, we were just getting so beat up, the few people we had left, we just had to put it on the line right there. They did a great job scoring. We ran a nice counter, came back with the same play, and they defended it well."

The two teams combined for 1,063 yards of offense, with Natick holding a 588-475 advantage in yardage. For the Redhawks, it's the third time they've gone over the 500-yard mark for offense, and the highest total they've ever achieved with Flutie under center. The Redhawks' previous high under Flutie was 576 in an October 2012 win over Weymouth.

Making a statement: Natick came into tonight's contest as the undisputed favorite, but it was Walpole that came out of the gates throwing haymakers.

The Rebels came out in some spread looks, using trips and double-slot formations, stretching the Natick defense horizontally with a combination of speed and jet sweeps for sophomore Lovevindjy Salvant (seven carries, 121 yards, TD), as well as inside zone reads with the fellow sophomore Cuqua.

Walpole went up 14-0 late in the first quarter when senior safety Myles Cofield jumped a route deep downfield to pick off Flutie, setting up a seven-play, 40-yard drive that was capped with a one-yard Cuqua plunge on second and goal, his second of six scores on the evening.

In one of the prettiest plays of the night, with four minutes left in the contest, Cuqua took a toss from quarterback Will Bolster to the left sideline, slipped inside two kick-out blocks and raced 73 yards to paydirt. It was his final touchdown of regulation, giving the Rebels their final lead of the night at 49-42.

Down the road, this could turn into one of the state's most dynamic thunder-and-lightning tailback tandems, with Salvant providing a shifty change of pace to the hard-charging Cuqua, who dished out some violent pops tonight on dives up the middle. But in the near future, the Rebels could benefit greatly from this kind of production, should injured senior running back Connor Moriarty (ankle) be ready for the first round of next week's MIAA Division 3 Southwest playoffs.

"Cuqua is kind of one of what I call our real good sophomores," Greener said. "Tremendous football player, had a big game against Foxborough first game of the year, but he was sharing it with our captain Connor Moriarty. But Connor has been out for a number of weeks so Cuqua, with the help of Lovevindjy Salvant, has had to do everything himself. And I mean, he's ready for the trauma unit right now, he's really beat up."

Mortarelli, while excited with the win, expressed disappointment with what was an otherwise flat start on both sides of the ball for Natick.

"This back and forth battle, it's what you expect. They're a great team, great coaching staff, great tradition. They came out ready to play, and we didn't get off the bus. We've gotta fix that. We were asleep the first quarter, on offense and defense."

NATICK 56, WALPOLE 55 (OT)

NAT 7 14 7 21 7 --- 56
WAL 14 7 21 7 6 --- 55

First Quarter
W - Steve Cuqua 2 run (Jack Lavanchy kick) 8:04
W - Cuqua 1 run (Lavanchy kick) 3:47
N - Mike Abbruzzese 8 pass from Troy Flutie (Ben Nottonson kick) :33

Second Quarter
W - Will Bolster 1 run (Lavanchy kick) 5:06
N - Flutie 73 run (Nottonson kick) 4:14
N - Andrew Boynton 47 pass from Flutie (Nottonson kick) :35

Third Quarter
W - Lovevindjy Salvant 55 run (Lavanchy kick) 10:26
W - Cuqua 6 run (kick failed) 7:38
N - Flutie 1 run (Nottonson kick) 5:01
W - Cuqua 4 run (Bolster run) 2:06

Fourth Quarter
N - Boynton 46 pass from Flutie (Nottonson kick) 10:39
N - Alex Hilger 25 pass from Flutie (Nottonson kick) 8:29
W - Cuqua 73 run (Lavanchy kick) 4:06
N - Abbruzzese 21 pass from Flutie (Nottonson kick) 2:01

Overtime
N - Flutie 10 run (Nottonson kick)
W - Cuqua 5 run (rush failed)
October, 6, 2013
10/06/13
1:44
AM ET
By
Chris Bradley
| ESPNBoston.com


WELLESLEY, Mass. –- When Connor Moriarty went down in the second quarter, Walpole (4-1) coach Barry Greener looked two a sophomore and a junior to pick the offense up and help gain momentum back.

The duo, running backs Steve Cuqua and Jack Lavanchy, were major difference-makers in the second half, leading the Rebels to a 49-35 victory over Wellesley (1-4) after previously being down at halftime. Cuqua (2 catches, 73 yards, 7 carries, 91 yards, 2 TD) caught a 65-yard touchdown pass early in the third quarter to tie the game at 21 after the Rebels trailed 21-13 at halftime.

Cuqua, who had two touchdowns in the second half, later ran in his second score in the fourth quarter, putting Walpole up 49-28 late in the fourth quarter to all but seal the victory for the Rebels. Despite the fact that the rebels lost both Moriarty (7 carries, 72 yards, 2 TD) to a high ankle sprain and Andrew Papirio (concussion) early in the first half, Walpole's offense was running on all cylinders in the first half.

"We needed some guys to step up and that happened," Greener said. "I try to tell them that tradition here at Walpole is that when one guy goes down, another guy is ready to go—and I think that was the key today. I can't say enough about Wellesley, Wellesley played a great game."

Lavanchy, a threat both on the ground and through the air, finished with 81 total yards and a touchdown. Rebels' quarterback Will Bolster (12-18, 216 yards, 4 TD) helped lead the charge as well.

"Bolster had a great day, played really well," Greener said. "I thought both quarterbacks were outstanding, for will…it's his second year there. He played there as a junior, he's had some big games for us and he's really throwing the ball well. We even got him involved in the running game today."

Down at halftime and struggling to stop Wellesley star quarterback John Fadule (18-36, 212 yards, 20 carries, 134 yards. 3 pass TD, 2 rush TD). Fadule, a major running threat with the arm strength to burn Walpole's defenders with throws downfield, may very well have been the best player on the field in a losing effort. His favorite target was junior receiver Jack Dolan, who caught two touchdowns and a slew of beautiful diving catches.

"[Dolan] really impressed me today, good job on offense, a great receiver, and he did a great job on defense as well," Greener said. "Their offensive line was outstanding, but the secret to our game was our offensive line. The offensive line was the key to that score out there, and our guys really had it at the end."

Wellesley coach Jesse Davis was more to the point with his wording, but like Greener, he was impressed by Fadule's play on Saturday.

"John's a good quarterback, we're gonna watch the film and get better," Davis said.

Struggling with depth in the secondary, the Rebels had to go to a "quarters" set in the second half—hoping to keep the ball in front of them and avoid giving up the big pass or long run. The defensive adjustment worked out, as Wellesley scored just one touchdown in the second half.

"We're so beat up in the secondary that we've played a lot of 'quarters', and I hate 'quarters'," Greener said. "But we were trying to keep the ball in front of us. That last touchdown, [Myles Cole] beat us in quarters coverage, the coverage wasn't there, and the kid made a nice play on the ball. We're just hoping to get some of our guys back as we get into the next two or three weeks. I said just what I said before, the Walpole way."


September, 7, 2013
9/07/13
4:18
AM ET


FOXBOROUGH, Mass. – It was an unfortunate set of circumstances for Foxborough on opening night. Practically from the get-go, it just didn't seem like the Warriors' night.

And, of course, with No. 14 Walpole visiting, the margin for error was thin. The Warriors first play from scrimmage was a botched snap that quarterback Nolan Rogers was forced to boot through the back of the end zone for a safety. On the Rebels first touch of the game, senior running back Conor Moriarty broke off a 49-yard touchdown run – his first of four.

It didn't get much easier from there for Foxborough as the Rebels run away with a 37-15 win.

"I thought it would be a barn-burner, right down to the last minute of the game," said a surprised Walpole head coach Barry Greener.

Moriarty paced the Rebels (1-0) with four rushing touchdowns, while running for 72 yards on 10 carries, coming primarily in the first half. Walpole built a 30-8 lead by the half.

While Moriarty was tough to stop in the red zone, Walpole senior quarterback Will Bolster was responsible for setting up several first-half scores. Bolster completed 9 of 15 pass attempts for 147 yards.

He showed a good rapport with rangy sophomore wide receiver Amire Loftis, who hauled in receptions of 21 and 49 yards – both of which directly preceded Moriarty touchdown runs.

Difference-makers: Greener gushed throughout the preseason about the deep and talented group of sophomores he has. They were on display during the season opener.

In addition to Loftis, running back Steve Cuqua showed great speed to the outside on jet sweeps and counters, running for a team-high 97 yards and a touchdown. Greener also praised the efforts of tight end/ linebacker Nate Porack, who was making his first career start.

The youngsters, along with some of the Rebels' other first-year starters, such as 7-technique defensive end Munachiso Egbuchulam (1 sack), it was evident Walpole makes up for talent in what it might have lacked in game experience.

An evolution: Bolster reflected on the changes the Rebels offense has undergone during his high school career. It's been a steady progression for the third-year starter under coordinator Bill O'Connell and new offensive assistant Todd Collins.

"When I was a sophomore, I did a lot of pro-style, under-the-center stuff," Bolster said. "It was a lot of simple two-receiver, tight end and two running backs. Then, we've moved to more a spread style."

With Collins – in his day, a Super Bowl winning quarterback at Walpole and veteran of 16 NFL season – assuming a role on Greener's coaching staff, Bolster hinted at greater variations to come.

Even still, the Rebels attacked Foxborough with a wide variation of formations, which at times included bunch trips looks.

"When they're playing Cover 1, Cover 3 like that, we can run all day against that," Bolster said.

Next up: The main question surrounding Foxborough entering this season is how the Warriors could replace graduated running back Kiivone Howard.

Enter junior Keeyon Neal. The 6-foot, 175-pound back led all rushers with 121 yards on 16 carries.

And, while Neal's performance was a bright spot on an otherwise tough evening for the Foxborough faithful, there's other reason for optimism with the Warriors as they look ahead to Davenport division play. Rogers, a junior and first-time starter, completed 13 of 25 pass attempts for 106 yards and touchdown.

A new beginning: Greener remarked to the bus driver on the way to the Ahern Middle School that it would be his team's shortest trip of the season – save that to archrival Norwood. But it's surprising that the Rebels and Warriors had never met till Friday night – mostly due to the fact that Walpole, only under the provisions of the MIAA's new playoff scheduling plan, is able to schedule outside of the Bay State League.
August, 26, 2013
8/26/13
11:39
PM ET
By
Brendan Hall
| ESPNBoston.com
When it comes to postseason the last few years, it seems, Walpole just can't seem to catch a break.
Two years ago, the Rebels beat rival Natick
on a last-second field goal
to clinch the Bay State Herget and a postseason berth in Division 2A,
only to get throttled by Dennis-Yarmouth in the playoffs
. Last year, the Rebels finished 10-1 with a share of the Herget, only to sit at home with no playoffs after Thanksgiving by virtue of a dramatic loss to co-champ Natick.
Looking at the alignments for the new MIAA State Championship, the Rebels might have gotten a good break. They sit in a Division 3 Southwest that is without question weaker than D2 South, which includes Bay State rivals Natick, Needham, Wellesley and Braintree. A total of six D2 South squads are ranked in ESPN Boston's statewide Preseason Top 25 poll -- more than any other bracket in the state -- while just one other D3 Southwest contender, No. 24 Bishop Feehan, is represented.
Perhaps the Rebels have finally gotten a much-needed break after alternating the Bay State Herget's lone playoff berth with Natick for each of the last 10 seasons. But Rebels head coach Barry Greener has a decidedly large amount of experience to replace, and there are more immediate tasks at hand.
"I do think D2 is a meat grinder. As I look at the list, D2 is very talented, but D3 is extremely competitive," Greener said. "I think the biggest thing with a young team ... last year's team was totally different. This team, they have to take it one day at a time, they've gotta get better every day, that's all we're focusing on."
The Rebels are looking to replace 17 starters from last season's 10-1 squad, including 10 on the defensive side of the ball. But this is typically a program that excels at developing sub-varsity players to make immediate impacts with the big boys, and Greener is confident in the fresh faces abound.
"I think we have, in spots, in a lot of areas we have pretty decent team speed," Greener said. "There's certainly a willingness to get better. We have a lot of kids that watched a great group of seniors that played for us last year. They had talent, they were just playing behind these kids [last year's seniors] and they were good ones. But now they know it's their turn, and they're doing a pretty good job trying to take advantage of that."
For the few returning starters, expect even bigger campaigns. Connor Moriarty was one of the brightest second-half stars across Eastern Mass., assuming a majority of the offensive workload as injuries piled up. As the best overall player on both sides of the ball, and as a safety the program's only returning defensive starter, he'll be called upon for an even bigger load this season.
Offensively, Walpole will stick with its spread look from a year ago, with quarterback Will Bolster working with a deep stable of five to six receivers. With three returning starters in the trenches, expect great emphasis once again on the running game, with Moriarty as the feature back. His repertoire fits well with Walpole's running scheme, a mixture of inside and outside zones along with counters. Two sophomores, Steve Cuqua and Lovenchi Salvant, will provide depth in the backfield.
"He's very quick strong explodes when hits hole, and so do the other two guys [Cuqua and Salvant]," Greener said. "Overall, Connor arguably could be our main gun. He's great north to south, great subtle moves, but he's an attack-type runner. He runs quick and hard, not real big but he's really well put together."
Defensively, the Rebels have been in an odd front the last few seasons, mostly going with a 3-4 look but sometimes applying a 3-3 stack against the increasing amount of spread teams they face in the Bay State. There's enough spread looks in the conference now that the Rebels are switching to a 4-2-5 to combat the look, but also optimize the talents at defensive line.
Aidan Moore gives the Rebels a home run threat on the interior, with his combination of size and lacrosse-bred athleticism, while Nick Cordopatri and Chris Bender are threats off the edge. One of the more intriguing prospects is Noah Kung, a 6-foot, 215-pound nose guard with a sharp wrestling background who excels at hand-to-hand combat. Kung is potentially looking at The Citadel for college.
"He's very hard to block, uses his hand well, sheds, swipes," Greener said. "We've used some hand-to-hand combat, martial arts stuff that the colleges have been using, and he's good at that. He reads pressure well, so he fights combo blocks well. In our scheme if we get combo blocked, we try to tie up both blockers without giving up ground, which frees up the linebackers, prevent their blockers from getting to [the second level] and he's great at that. He's a great pressure guy, he gets the high-hat, kick=step, and gets off into his moves. He's very quick."
WALPOLE AT A GLANCE
Coach:
Barry Greener (5th year, 39-7 overall)
Last season:
10-1
Returning starters:
Five (four offense, one defense)
Key returnees:
Connor Moriarty, Sr. RB/S; Will Bolster, Sr. QB; Noah Kung, Sr. C/NG; Matt Ordway, Jr. OG; Nick Cordopatri, Sr. OT/DL
Strengths:
Offensive and defensive lines
Weaknesses:
Inexperience
Outlook:
The Rebels must replace a loaded senior class from last fall's 10-1 campaign, but Greener appears pretty confident in the fresh faces coming up in the program. It may take some time to get up to speed, but this is one of the deeper programs south of Boston when it comes to developing varsity-ready underclassmen. The biggest change will be the on the defensive side of the ball, where the Rebels are switching from a 3-4 to a 4-2-5 look similar to one popularized by Gary Patterson at TCU. The switch was made to better fit the looks they'll see in the increasingly spread-oriented Bay State Conference, as well as optimize the depth of their talented defensive line, led by Kung and Cordopatri. Moriarty is the Rebels' best overall player on both sides of the ball; and with the spread-oriented Rebels returning three starters on the offensive line, they will continue to pound the ball. Moriarty is a terrific fit for Greener's zone scheme, a one-cut, north-south runner who accelerates quickly through holes. Keep an eye on two sophomores, Steve Cuqua and Lovenchi Salvant, to boost the running game as well.
November, 22, 2012
11/22/12
4:00
PM ET
By
Corey J. Allen
| ESPNBoston.com


WEYMOUTH, Mass. -- Coach Barry Greener and the Walpole Rebels will not be going to the playoffs this year, but the Weymouth Wildcats will.

On Thursday, it didn't matter much as the Rebels laid a licking on Weymouth, scoring 35 unanswered points in the fourth quarter to cap off their 48-21 shellacking.

"I think our senior and junior class have a strong will to win, but we practice hard and we practice long," Greener said regarding his team's ability to turn up the tempo and keep the energy burning until the clock wound down it's final second.

Mike Rando scored his third touchdown, a 34-yard run, with 46 seconds left in the game.

"We are in phenomenal shape endurance-wise," added Greener.

The teams were tied 7-7 coming out of the locker room. Walpole failed to convert a first down on the opening possession of the second half, but on the third play of the following Weymouth drive, sophomore Andrew Papirio intercepted the ball and brought it across the 50 to the Weymouth 40. Rando scored his first on the day with a pass from Will Bolster on the next play putting Walpole up 13-7. A failed kick left Walpole up by only 6.

Weymouth would take the next 4:21 to score and put up an extra point to regain the lead at 14-13. The Wildcats scored again on a Dave Harrison run nearly four minutes later at 9:02, but this would be the last score for the Wildcats, making it a 21-13 game.

P.J. Hales took the following kickoff 88 yards up the right sideline in 15 for a score, and the ensuing EP made the the tally 21-19, Weymouth. Walpole, however, recovered a fumble on the first play from scrimmage on the ensuing Weymouth drive. Four plays later Hanley ran in for his second touchdown of the day while Rando added the extra point rush to begin the blowout that was to come with a 27-21 lead that grew exponentially.

"We just meshed together well as a team," said Rando of the stark contrast in offensive production from 7 points in the first half and 41 points in the second. "At halftime, we made a few adjustments and came out flying."

THE GRASS IS ALWAYS GREENER WHERE YOU WATER IT
Although coach Barry Greener will not be going to the playoffs this year, he was happier than a hog in a pigpen after the game, as the match he had looked forward to all year was now under his belt.

"It's not the playoffs; it's not a chance to go to Gillette. The Weymouth game, to me, is the biggest game of the year. That's the way it is," said the 1967 Weymouth graduate.

Although Greener played offensive guard and nose guard in the 1960s for Weymouth, there is no second guessing that he is a Rebel. "I came here in 1972 and I haven't been anywhere else. And I won't be going anywhere. The guy I worked with for my first 20 years in Walpole, the legendary John Lee, he was a Newton North graduate, class of '52, and the Newton North game meant so much to him."

WHEN THE GAME IS OVER ...
Rando and Hanley relayed after the game that they had been playing football together since they were waist high to their present selves and that being tied at halftime was not a good feeling for the team, especially the seniors, some of whom would be playing in their last football game ever.

"We put everything we had on the field," Hanley said.. "We knew it was our last time."

... BUT THE REBEL LIVES ON
Although Rando and Hanley will not play for the Rebels as footballers any longer, they and the other captains handed the invisible torch to the underclassmen in the postgame huddle. This is not the first, nor the last time this act of brotherly love and pride has been acted out as the trees lose their leaves and the last insects look for sustenance to survive the recurring, wicked New England winter.

"It's been passed down for forty-plus years. It's a great tradition, great records, starting with coach Lee back in the late sixties and it's our pleasure… and our honor to be a part of this program and our duty to pass it down to the younger kids," dictated Rando.

Wal (10-1) – 0 7 6 35 -- 48
Wey ( 8-3) – 7 0 7 7 -- 21

Wey – Dave Harrison 72 run (Ozzy Colarusso kick)
Wal – Cam Hanley 1 run (Colton Mitchell kick)
Wal – Mike Rando 40 pass from Will Bolster (Kick failed)
Wey – Harrison 1 run (Colarusso kick)
Wey – Harrison 17 run (Colarusso kick) 21-13
Wal – P.J. Hayes 88 kickoff ret. (Rush failed) 21-19
Wal – Hanley 1 run (Rando rush) 27-21
Wal – Rando 52 run (Mitchell kick) 34-21
Wal – Steve Thulin 32 run (Mitchell kick) 41-21
Wal – Rando 34 run (Mitchell kick) 48-21
October, 20, 2012
10/20/12
12:10
AM ET
By
Tom Layman
| ESPNBoston.com
WALPOLE, Mass. -— There's probably no way Barry Greener is just going to use this play every time his offense gets inside the 30-yard line.
But outside observers might not blame him if he does.
Chris Collins and his big frame splits out wide against a defensive back and the tight end uses his body to outmuscle, out-jump and out just about everything against a smaller defender in a jump ball scenario in the end zone.
[+] Enlarge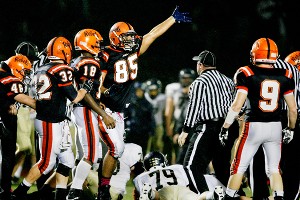 Jon Mahoney for ESPNBoston.comTight end Chris Collins was at his most dangerous tonight on the perimeter, where he hauled in two touchdown passes off of 'Go' routes.
Walpole used that play -- let's call it "Go, Collins" -- twice to perfection last night in a 31-0 trumping of Needham at Turco Memorial Field. The rest of the Bay State Conference, and Eastern Mass., might want to take notice when big No. 85 jogs towards the linesman and sets up as a wide receiver. Because more likely than not, quarterback Will Bolster is going to find his target.
"That's a little mismatch," said Greener. "We have it and we use it. You don't have something like that every year, so when you have it you might as well use it."
Collins has the build of a power forward and is very much in the mold of Antonio Gates, in terms of how the Rebels are deploying him. Collins finished with three catches for 55 yards and two scores against the Rockets (5-2).
"I used to play basketball, so I'm used to posting people up," said Collins. "Bolster is a great quarterback. Credit to him and the offensive line for blocking."
The play will give the Rebels options when defenses try to gameplan on how to stop the tight end from getting a seemlesly easy touchdown. Just let Barry Greener tell you in the only way coach Greener knows how.
"He's improved a lot," said Greener. "Chris, in my opinion, is still a better defensiver player and he is a offensive player. Now he's starting to get a clue on offense. Defense is more instinctive. A lot of times we are slanting or angling. It's more instinctive. With offense you have to have a grasp and a knowledge of the game. What are we trying to do on offense? What is your role? Why are you out there? He blocks very well. He's a great stock blocker.
"He's there to block and try to create a mismatch with a smaller cornerback. If they are out there to double him then we try to overload the other side. It's pretty hard to double Collins if you've got three receivers to cover on the other side. It's tough to cover unless you bring in a dime coverage with six defensive backs. Then we are going to run the ball at you."
[+] Enlarge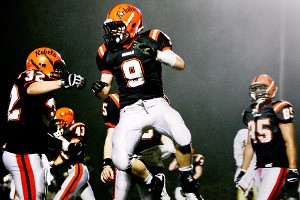 Jon Mahoney for ESPNBoston.comRunning back Connor Moriarty filled in admirably for the injured Mike Rando, rushing for 122 yards and a touchdown.
FILLING IN FOR RANDO
Mike Rando is still in a walking boot, but Greener said his running back/defensive back will be out of the boot on Saturday and will most likely be ready for the heavyweight matchup against Natick.
The Rebels had plenty of options to counter the loss.
Connor Moriarty rushed 16 times for 122 yards and a score, Cam Hanley added a score, and Steve Thulin gained tough yards through the middle of the field to keep the offensive churning in tough weather conditions.
"Our running backs coach said this isn't Team Rando, it's the Walpole Rebels," said Moriarty. "We really stuck to that tonight and it paid off."
That being said, Rando's health will be key for the Rebels as they look towards the playoffs.
"He's a great defensive player," said Greener. "He plays safety, corner plays in the slot, he plays tailback. He does everything. He can cook hot dogs at halftime."
CHARTER DOWN
Ryan Charter didn't play the second half for the Rockets after taking a big hit on the sideline late in the first half. The junior quarterback sustained an injury to his throwing hand and had it taped after the game was over.
"We don't know," said Needham coach Dave Duffy. "We are going to get it X-rayed and we will see what his family says. Hopefully he will be back. He's a big part of our offense."
August, 28, 2012
8/28/12
4:03
PM ET
By
Brendan Hall
| ESPNBoston.com
Barry Greener had just coached his Walpole Rebels to a last-second, playoff-clinching win over rival Natick in early November 2011, for the Bay State Herget title, and was asked bout simulating the Red Hawks' hyperactive tempo. Never one to mince his words, Greener adorningly illuminated his own hectic practice tempo, saying, "It is absolutely massive friggin' chaos out there."
"They don't have time to get down in their stances, we're running plays at them so fast," he
told reporters that night
.
Scouts from their would-be opponents, undersized but frenetic Dennis-Yarmouth, were in the bleachers that night. They served up chaos of their own two weeks later, in a Tuesday night Division 2A playoff, attacking them at a pace unseen even in that Natick win, for a 46-20 whooping that wasn't as close as even that lopsided score would indicate.
Reflecting on that outcome nearly nine months later, Greener recalled a conversation at a gas station last month with former Red Sox manager Joe Morgan (himself a lifelong Walpole resident) going back to that night – "I've known Joe for a long time, Greener recalled. "He said, 'I was up in the stands with a friend, I turned to him and said this game is over before it starts'."
Greener continued, "It was a mismatch. They were so much more athletic, they should have been No. 1 in the state [in ESPNBoston.com's poll]. I've been to every Walpole game since 1972, and that's the best team we've played in 25 years. They were unbelievable."
OK, now to the present day. Four of the Rebels' best players were out of the lineup that fateful Tuesday night, and three of them – running backs Mike Rando and Cam Hanley, and wideout P.J. Hayes – are back, with weighty expectations.
The 5-foot-10, 180-pound Rando suffered a season-ending ACL tear in the second week of the season, but appears to have come back stronger than ever. Greener raves about Rando, with his blend of 4.5 speed and exceptional vision, evoking shades of one of the greatest ever to come through Walpole, 2010 graduate Ryan Izzo.
"I call them 'Izzo Eyes', he sees daylight where nobody else sees daylight," Greener said. "Rando's got great vision – are they Izzo's vision? Probably not, but Rando's is pretty good. Rando is the complete package, the perfect player, great teammate, great leader, great worker, just does everything right on and off the field. If you had all Rando's, you'd feel guilty even signing your paycheck. It'd be too easy.
"If an Izzo comes around once every 25 years, Rando comes around every 10, and I'll be retired before the next one. He's just a pleasure to coach, and he doesn't need a lot of coaching. You tell him once and he gets it."
Hayes also suffered a season-ending ACL tear in week three of last season, but came back with a strong indoor and outdoor track campaign, with impressive personal bests in the 55 (6.45), 100 (10.73), 200 (20.04), and long jump (20-foot-1). However, he has been battling back issues this training camp, and will be out until week three of the season.
Still, with Hanley in the mix, and a solid returning nucleus in the trenches, the Rebels ought to be flexible. They found success with double-tight packages last season, and will utilize them again this season. Though with the number of athletes on the perimeter, Greener will quickly spread them out the gameplan stalls.
Defensively, the Rebels will be just as flexible out of a 3-4 front. One of the most impressive displays of this flexibility last year may have come in that very same Natick game, when they kept just five defenders in the box but for the most part didn't allow for many leaks.
The 6-foot-4, 260-pound Collins should be a disruptive force yet again. A preseason ESPN Boston All-State selection at tight end, Collins is a Division 1-caliber talent who in all likelihood projects on the defensive side of the ball. Last season, he ranked third on the team in tackles. As instinctive and physical as he is, Greener suggests his best playing days "may come after he leaves Walpole."
To this point, Collins has received interest from UMass, New Hampshire and Rhode Island, but to this point it is just due diligence. Prep school is also potentially an option for him.
"He does have unbelievable upside," Greener said. "He's strong, fast, and boy does he get to the ball. The thing he's gotta understand if signs a D1 deal, they're all gonna be like him, theyre all like you , so it boils down to technique and who plays the best, to get the most playing time."
WALPOLE AT A GLANCE
2011:
9-3, lost in Division 2A Playoffs
Coach:
Barry Greener (4th year, 29-6 overall)
Key Returnees:
Chris Collins, Sr. TE/DE, 6-4, 260 lbs.; Mike Rando, Sr. RB/DB, 5-10, 180 lbs.; P.J. Hayes, Sr. ATH, 5-10, 170 lbs.; Cam Hanley, Sr. RB/LB, 5-10, 210 lbs.; Steve Thulin, Sr. RB/ILB/P, 5-9, 190 lbs.; Ricky Ordway, Sr. OT/NG, 6-0, 260 lbs.; Ryan Finn, Sr. OLB, 5-11, 180 lbs.; Dave Driscoll, Sr. OL/LB, 6-0, 190 lbs.
Strengths:
Returning seniors, leadership.
Weaknesses:
Experience at offensive/defensive lines, secondary.
Outlook:
The Rebels return six starters on both sides of the ball, and Greener will be counting on that veteran leadership to carry them to third straight Bay State Herget title and playoff berth. Rando and track star Hayes went down with season-ending knee injuries in consecutive weeks last September, and while Hayes is on the mend again with back issues, Rando has looked "phenomenal" in the preseason according to Greener. Flexibility appears to be the operative theme so far in Walpole. Offensively, the Rebels will utilize double-tight packages out of the I formation, but can spread it out if the gameplan calls so. Defensively, Greener will once again utilize a 3-4 base, with Division 1 prospect Collins setting the edge. At times the front was unwavering, as evidenced in last year's win over Natick, when they left five in the box and were able to contain one of the state's most efficient spread schemes. That battle with the Red Hawks decided the Herget, and barring a surprise run from Norwood or Wellesley, it will once again determine the Rebels' Post-Thanksgiving fate.
November, 12, 2011
11/12/11
1:51
AM ET
By
Brendan Hall
| ESPNBoston.com



WALPOLE, Mass. -- Colton Mitchell is prone to nail a 40-yard field goal, sometimes 45, usually down the middle, in a practice at Walpole High. This, however, was anything but.

"I was very nervous," the No. 23 Rebels' sophomore placekicker admitted of the moments before he was set to attempt a game-winning field goal over Natick. "Everyone kept coming up to me on the sidelines, and I just had the thought of it coming through. All of them helped me get it through."

The sophomore took three steps back and to his left, then exhaled, as he lined up for a 25-yard chip shot with six seconds left in regulation. Then he grimaced as he watched it come off his right foot like a line drive, a frozen rope that sailed just six inches above the crossbar.

Mitchell is breathing easy tonight, the hero in a 16-13 last-second win over the No. 21 Red & Blue (8-2), which clinched a second straight Bay State Herget title and playoff berth for the Rebels (9-1). But boy, was fate playing with Mitchell's emotions for a few moments there.

"Very nervous," Mitchell said again, smiling, when asked about his emotions watching the kick. "I was like, 'Please, please get over'. Thankfully, it did."

Head coach Barry Greener, ever the gift for gab, offered empathy for Mitchell.

"None of us woulda wanted to have been out there trying," Greener laughed to reporters. "He's a great kid. You'll also see Mitchell as a punt returner and a wide receiver. He's a terrific player. He's been banged up -- broke his hand on a punt return in the Norwood game (in September), and we had trouble just to get him cleared to kick. Doctor didn't know you didn't need a hand for that."

So how did the game's outcome fall into the hands of a nervous 16-year-old kid? Enter Craig Hanley, a senior captain who finished the night with 107 yards and two scores on 15 carries, but saved most of his work for the second half. On the game's final drive, he had five touches for 47 yards, including a 23-yard dive up the middle in which he broke free of a shoestring tackle near the line of scrimmage to reel off another 15 yards down the left hash marks.

But on third and goal from the Natick 8 with 15 seconds to go, Hanley took a big hit at the line of scrimmage from linebacker Brian Tingley and came off the turf limping. Hanley said "it was just a dead leg" and that he'll be fine.

As for Mitchell's kick, Hanley said, "I was a little bit [nervous]. We were all holding hands on the sideline, 'Please kick it', and he got it in. We didn't know, because I saw it, and was like 'Is that wide left?'"

Winning the trenches: Behind a sound line of Gary DeVincintis, Dan Woods, Charlie Love, Rick Ordway and Dan King, the Rebels cranked out 312 yards on the ground, paving wide lanes at times for Hanley, Shane Blass and Steve Thulin with a series of dives, counters and sweeps from two-back formations.

On the other side, thanks in large part to its aggressive three-man front, which had totaled five sacks on Natick sophomore quarterback Troy Flutie, Walpole had yielded just 17 yards of Natick offense in the first half. And while the Red & Blue offense came alive in the second half, the tone had been set, with Woods at the nose and King bringing heat off the edge.

Against Natick's spread, which often deploys three and four-receiver sets, the Rebels left five in the box, but were clearly confident in their three-man front.

"We had a three-stack in [linebacker set] ready to go, which would give us a six-man box and blitz, but we never went to it," Greener said. "We worked on it a lot, but we stayed with the five-man box, we felt we could stop the run in a five-man box. Our front three are very, very good, and we go five deep. Gary DeVincintis had a heck of a game."

Tempo recognize tempo: Natick has been going no-huddle this season, with Flutie calling the plays out from the line of scrimmage, and as the game wore on they tried to speed the game up to an Oregon-like pace, sometimes getting the snap off in 15 or 20 seconds.

Asked about preparing for Natick's tempo, Walpole players and coaches merely shrugged -- and smiled.

"We've been working on that all week, we were ready for that all week," Hanley said. "We had great coaching."

What kind of coaching? Greener got colorful in describing his practice atmosphere.

"When we go to Team D after indie [individual] and group, we have two offenses running at our defense -- no rest," Greener said. "It is absolutely massive friggin' chaos out there. They don't have time to get down in their stances, we're running plays at them so fast.

"That's the way we try to practice -- uptempo, go, go, go. I honestly feel if you've got to run sprints after practice to stay in shape, you didn't practice fast enough. Basically, this was a slower pace than practice for us."

Glimpse of the future: If there's one thing we took away from Natick's performance, it's that they're going nowhere but up from here. It shouldn't surprise that inexperience shone through tonight, but that youthfulness has to have Red & Blue fans excited for the next few years.

It's hard to believe leading receiver Brian Dunlap, who caught his Bay State-best 13th touchdown pass tonight, is just a freshman. When Greener says things in the post-game like, "I told the kids it's not just Dunlap", it makes one take a step back and remember this is a kid who caught over 200 yards in his first varsity game as a 14-year-old.

Then there's Flutie, son of former Boston College and CFL star Darren, who reeled off a 53-yard touchdown run up the sidelines to knot the game at 6-6 early in the third. On an option keeper, Flutie juked a defender with a basketball-esque ball fake, slipped inside of a crackback block from Dimitri Kourtis, and outran the secondary to paydirt.

Later in the third quarter, Flutie knotted the game at 13-all with a 12-yard strike to Dunlap on a skinny post to the back of the end zone. Looks like they just might have practiced that one a few times.

"We think our pass game is pretty advanced," head coach Mark Mortarelli said. "Tonight it wasn't, but usually it is."

Said Greener of Flutie, "The thing that amazes me with him is that he calls everything from the line of scrimmage. I guess he's been doing it since he was 10."

WALPOLE 16, NATICK 13
NAT (8-2) 0 - 0 - 13 - 0 --- 13
WAL (9-1) 6 - 0 - 7 - 3 --- 16

First Quarter
W - Craig Hanley 5 run (kick failed) :07

Third Quarter
N - Troy Flutie 53 run (kick failed) 9:03
W - Hanley 4 run (Colton Mitchell kick) 5:52
N - Brian Dunlap 12 pass from Flutie (Sam Lenson kick) :27

Fourth Quarter
W - Mitchell 25 field goal :06
October, 21, 2011
10/21/11
11:41
PM ET
By
Adam Kurkjian
| ESPNBoston.com


NEEDHAM, Mass. -- The Needham football team proved Friday night that the loss of one player is not going to derail its chances at a Bay State Conference Carey Division title and more.

With starting quarterback Drew Burnett out for the rest of the season with an ankle injury, sophomore Ryan Charter found himself at the helm against Walpole and proceeded to burn the visiting Rebels with one big play after another in a 31-22 Rockets' win.

"Honestly, I found out (that I would start about) 20 minutes before the game," said Charter, who completed 5-of-10 passes for 222 yards and two touchdowns. "A couple kids were telling me, 'You're going to get in the game.' I was, like, 'Alright, that's all I need.' But I didn't know until today."

The heavy-hearted coach of the No. 16 Rockets, David Duffy, had to compose himself when he remarked how his players "wanted to do it for Drew."

They did it alright, as they took down Walpole for the first time since 2006 and looked good doing so. Despite Walpole having what Rebels coach Barry Greener said was his team's best offensive game of the season, Needham (6-1, 6-0 in the BSC) never wavered, landing haymaker after haymaker.

Ian Riley (115 yards rushing) set up Needham's first touchdown with a 64-yard run that was soon followed by a jet sweep to senior Dan Pierce, who pulled up and hit Nico Panepinto for a 31-yard touchdown.

Walpole (6-1 overall and in BSC) answered with a Steve Thulin 4-yard score but the PAT was wide right to keep it at 7-6. One play later, Charter hit Mark Riley for a 67-yard touchdown pass as the Rockets took a 14-6 lead into halftime.

They built on it on the first series of the third quarter when Charter found Mark Riley again, this time for a 74-yard score that pushed the advantage to 21-6. Walpole immediately answered on a Shane Blass (152 yards rushing) 66-yard scoring run that helped make it 21-14 after a P.J. Hayes two-point rush.

Needham again had a response, though, as Charter hit Mike Vespa on a 49-yard screen that led to a 19-yard Andrew Murowchick field goal.

The Rockets defense then held for a turnover on downs and the offense chewed up 6:48 in a drive that culminated in a 6-yard Ian Riley run to make it 31-14 midway through the fourth.

Walpole added the final points when Hayes scored from six yards out and Blass added the two points out of the Wildcat, but Needham ran out the clock effectively on the final drive to secure the victory.

A BALANCED EFFORT
Walpole coach Barry Greener praised Needham after the game for always having great balance on offense, and his team paid dearly for it on Friday night. The Rockets can hurt defenses in a variety of ways, and the Rebels simply had a hard time getting Needham's offense off the field. Charter was efficient on his throws, did not turn the ball over and made the Rebels pay for cheating up on play-action. The running back duo of Ian Riley at tailback and Vespa at fullback provided the sleeper hold on Walpole's defense when it needed to kill the clock in the final quarter. Mark Riley again proved to be a speedy option in the passing game, and Pierce also made two big receptions in the fourth to help the Rockets extend their final touchdown drive, including a 24-yarder on third-and-13 from the Needham 18. The Rockets simply put on a clinic against one of the better defenses in the area.

SPEED MERCHANTS
There was a lot of speed on the field, but Hayes, a junior cornerback and wide receiver, may have been the fastest player out there. Although he bit on the trick play that resulted in Needham's first score, he prevented one earlier in the drive when he chased down Ian Riley from a bad angle on the 64-yard run. Hayes also broke up several passes with good technique on some long throws to his side. And if Hayes wasn't the fastest player on the Rebel sideline, it was Blass, who can really scoot once he gets in the open field. The Rebels have struggled at times on offense this year, but those two only need a little space to change those fortunes on any given play.

NEEDHAM 31, WALPOLE 22
Walpole (6-1, 6-1 BSC) 0 6 8 8 - 22
Needham (6-1, 6-0 BSC) 7 7 10 7 - 31

1st quarter
N - Nico Panepinto 31 pass from Dan Pierce (Andrew Murowchick kick)

2nd quarter
W - Steve Thulin 4 run (kick failed)
N - Mark Riley 67 pass from Ryan Charter (Murowchick kick)

3rd quarter
N - M. Riley 74 pass from Charter (Murowchick kick)
W - Shane Blass 66 run (P.J. Hayes rush)
N - Murowchick 19 FG

4th quarter
N - Ian Riley 6 run (Murowchick kick)
W - Hayes 6 run (Blass rush)
October, 30, 2010
10/30/10
12:34
AM ET
By
Neil Carroll
| ESPNBoston.com
NATICK, Mass. -- Natick freshman quarterback Troy Flutie had 288 all-purpose yards for the Red and Blue, but his performance was not enough to knock off the visiting Walpole Rebels at home Friday night.
No. 24 Walpole (8-0) did not have a standout performer in the 29-20 victory. It instead used a variety of methods in order to take down Natick (4-4) -- including a return of a blocked point after touchdown attempt that gave the Rebels momentum late in the game -- and clinch a Division II playoff spot.
[+] Enlarge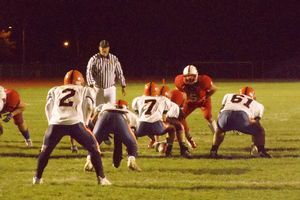 Courtesy Neil CarrollWalpole's Troy Salvatore (7) and Kenny Woods (2) helped the Rebels clinch a Division II playoff berth with a 29-20 win over Bay State rival Natick.
"It was a total team effort," Walpole head coach Barry Greener said. "We don't have that one guy -- it's really just a bunch of guys that just keep fighting and that's what happened here tonight."
Greener stressed the importance of all phases of the game, but in particular his special teams unit.
As the third quarter ended, Natick was awarded a first and goal situation with the ball on the 2-yard line and trailing 20-16. The Walpole defense stuffed the run on three consecutive plays forcing the Red and Blue to go for it on fourth down.
Flutie stood in the pocket to deliver a 5-yard touchdown pass to receiver John Bishop to tie the game at 20. But on the ensuing point after try, Walpole junior Dan King burst through the right side of the offensive line to block the kick, and Chris Norberg took the loose ball 65 yards to the end zone.
Norberg's scoop and score that Greener called "the turning point in the game" put the Rebels up, 22-20, and left Natick reeling after losing the momentum they had gained from the previous score.
Then Walpole put on a clock-management clinic, killing seven minutes in the fourth quarter on an 11-play drive, that spanned 62 yards and culminated in a 9-yard Troy Salvatore touchdown run. Salvatore was second in rushing for Walpole with 54 yards on 10 carries and two touchdowns. The senior was 9 of 13 for 129 passing yards with a touchdown pass to sophomore Mike Rando.
"It was crazy," Salvatore said of the win. "We were hard on the offensive line all week and they came out tonight and did a hell of a job blocking -- we were able to run the ball a lot -- and the defense stepped up."
Running back Kenny Woods ran the ball 15 times for 115 yards for Walpole and was second in rushing only to Natick's Flutie.
Natick's offense struggled in the first quarter, but came back strong in the second. Flutie finished the game with 14 carries for 129 yards and a rushing touchdown, but also completed 10 of 23 passes for 159 yards and a touchdown.
Although he threw an interception late in the fourth quarter, in his second career start, Flutie looked calm behind center while being indoctrinated into the Natick-Walpole rivalry and the Bay State Herget.
"We told the kids coming in that this was going to be a tough game, Walpole [versus] Natick is always a war," said Greener. "[Natick] is not a four-and-three team, they are a much better team than that."
"We always battle, that is the thing about our kids" Natick head coach Mark Mortarelli. "Down fourteen-to-nothing, nobody was panicking. We got a couple of touchdowns quickly, and going into halftime we knew we had a chance."
The win puts the Rebels in the driver seat of the conference and now has them eyeing a perfect record, but also keeping a lookout for No. 22 Weymouth in a heated Thanksgiving day clash.
"Now, we have to set a new goal," said Greener. "Our goal now is to win the whole Bay State title."
W 7 7 7 8 -- 29
N 0 14 0 6 -- 20

First quarter
W- Rando 36 catch from Salvatore (Tim Crowley kick)
Second quarter
W - Rando 9 run (Crowley kick)
N - Flutie 36 run (Sam Lenson kick)
N - Glenn Duffy 2 run (Lenson kick)

Third quarter
W - Salvatore 1 run (Kick failed)
Fourth quarter
N - Bishop 5 catch from Flutie (W - Norberg 65 fumble recovery return)
W - Salvatore 9 run (Crowley kick)