Boston High School:

Belfast
September, 4, 2013
Sep 4
5:15
PM ET
By
Matt DiFilippo
| ESPNBoston.com
The football landscape has changed with the addition of a fourth class and reorganization everywhere. Here's a look at the top contenders in each class in 2013:
Class A East

Ask anyone outside of Lawrence Bulldog territory, and that person would probably tell you the two best teams in Maine high school football last year were Thornton and Cheverus. This year, under the new alignment, they have the chance to meet in the Class A state final.
Cheverus was undefeated last fall until losing to Thornton, 20-13, in the regional final. The Stags graduated Fitzpatrick Trophy-winning running back Donald Goodrich and quarterback Liam Fitzpatrick, but should keep rolling. The top returning runner is Cody O'Brien (76 carries, 400 yards, 5 TD), and he's backed by Joe Fitzpatrick and Will Hilton, and new quarterback Ethan Jordan. Kicker Patrick Mourmouras booted 48 extra points as a sophomore a year ago.
Offense will be a key for Portland, which scored a total of 13 points in four losses last fall. The Bulldogs may be able to solve that problem themselves, as they bring back Justin Zukowski (180 carries, 991 yards, 11 TD), Jayvon Pitts-Young (79 carries, 472 yards, 3 TD) and quarterback Ryan Ruhlin. Another one to watch is Ronald Hargrove, a transfer from Concord-Carlisle Regional in Massachusetts.
Bangor will be an interesting case this season. The Rams had the burden of high expectations every year – partly because of their history, and partly because of a school size that theoretically gave Bangor a much deeper pool of players than its opponents.
Those expectations were blasted away last year by a 30-point loss to Lawrence and a 34-point loss to Cony. Football is still a big deal in Bangor – the
Bangor Daily News
wrote a preview story on the Lawrence-Bangor preseason meeting, then covered the game (a 13-6 Lawrence win) as well – but how will the Rams fare against the bigger southern Maine schools?
In an interesting subplot, Xavier Lewis is back at Bangor. Lewis played for Bangor before helping Lawrence to the state final in football and the regional final in basketball during the past academic year.
Windham and Deering look to bounce back from graduation losses, while Edward Little, Lewiston, and Oxford Hills look to improve.
Class A West
Thornton went with a 1-2 punch last fall of Andrew Libby (151 carries, 1,008 yards) and Nick Kenney (164 carries, 940 yards). With Kenney graduated, Libby could easily get in the neighborhood of 25-30 carries per game, and none of Thornton's opponents are excited about that. On the down side, quarterback Eric Christense (973 yards passing, 402 rushing) has graduated, and the Golden Trojans didn't have shutdown defense even last year, when all but two of their opponents scored at least two touchdowns. Still, Libby and Cody Lynn are stalwarts on defense, and if Thornton averages 38.7 points per game again, a couple touchdowns the other way won't matter.
Scarborough didn't play Cheverus last year, but looked pretty good against every other team on its schedule save Thornton. The Red Storm lost 35-7 to Thornton in the regular season and 49-14 in the playoffs. Scarborough brings back Dan LeClair (69 carries, 353 yards, 5 TD) and running/receiving threat Charlie Raybine.
Bonny Eagle could make a leap from last year's 2-6 record. The Scots opponents had a combined record of 43-21, but they still never lost a game by more than 17 points. Now they've added running back Jon Woods as a transfer from Gorham, along with some experienced talent like Zach Dubiel and Joe Bissonette. You can make an argument that Bonny Eagle's season might have turned out much differently if the Scots hadn't been plagued by bad snaps and turnovers in an early-season loss to Thornton last year. This season might show what Bonny Eagle is capable of.
Sanford had one of the best backs in the state last season in Alex Shain (201 carries, 1,426 yards, 27 TD), but the Redskins still scored a total of 32 points in their four losses, including a 42-16 first-round playoff setback to Scarborough. If Josh Schroder (86 carries, 457 yards, 6 TD) and new quarterback Chase Eldredge can't find a way to score against the top teams, a defense led by linebacker Colby Perigo may spend too much time on the field.
May, 22, 2013
May 22
11:36
AM ET
By
Matt DiFilippo
| ESPNBoston.com
Penobscot Valley High School softball coach Thom Coyle already knew how good Kayla Dube is. But when umpires starting raving to him about the movement on Dube's pitches, Coyle decided to check it out from their perspective.

"I've stood back there behind the umpire," Coyle said. "I've never seen a ball actually spin upwards. A lot of girls, they can start it low and it goes up, but hers actually has movement on it."
Dube is from Enfield, a town of about 1,600 people around Cold Stream Pond, and Penobscot Valley, a Class D school, has only about 175 students. Dube's high school accomplishments belie her small-town roots. She has over 600 strikeouts in her career, and led the Howlers (PVHS is located in Howland) to the Class D state title last year. In the state championship game, facing a Richmond team that was averaging 11.7 runs per game, Dube threw a four-hitter with 14 strikeouts in a 4-2 victory.
This season, the Howlers are undefeated, and Dube has already thrown six no-hitters. She's also batting around .300 with one home run, doing so despite a bad leg.
"I strained a muscle behind my knee," Dube said. "It's my landing foot, so it really has a bad effect on my knee."
Dube said the strain could become a tear, and it is painful not only when she pitches, but sometimes when she's just sitting down. Still, it's her senior year, and there's a state title to defend.
"They'd have to pull me off the field," she said.
Dube has shown that kind of dedication for a long time. Every school year, from September to June, she travels to Bucksport every Sunday to work with pitching coach Bob Mercer. The ride is about three hours round-trip for a two-hour session with Mercer.
"She's one of the hardest workers you'll ever see," Coyle said. "Whenever she does anything, she puts her head right into it, and goes all the way. She rises to the next level when she gets into trouble. She's really one of a kind."
With any Class D athlete in any sport in Maine, people always wonder how a star would do playing against teams from larger schools. In softball, Class D schools are all under 200 students. PVHS, which also faces some Class C schools, outscored its opponents 208-23 last season and 187-10 through its first 13 games this spring, making it clear the Howlers are too strong for most of their competition.
But Dube has faced teams from Class B in preseason. This spring, she faced Maine Central Institute, which won seven of its first 12 regular season games in Class B this year. Although it was her first time pitching outside this season, Dube struck out 21 batters in nine innings, and she said she's always motivated when facing a bigger school.
"I want to prove that [even though] we're in Class D, we can beat any team," Dube said. "I think our team is good enough to compete with just about anybody."
There's also the question of how Dube will fare in college. Coyle says she's been clocked at consistently between 55 and 61 miles per hour, and he thinks that can go up when she gets to college and starts lifting weights regularly.
"She's definitely Division I or II," Coyle said. "She can handle it. If she wanted to go to the University of Maine, there would be no problem there, because she's already better the pitcher the University of Maine has."
Dube is looking at Husson University, a Division III school, but says she has offers from other schools as well and has not made a final decision.
"I really want to play softball," she said. "So a school with a good softball team that wants me would be great, but it also has to be a nursing school, because I'm going to be a nurse."
CONY HIRES NEW BASKETBALL COACHES
Cony High School lost both of its basketball coaches within a few weeks of the end of the season. Tim Bonsant resigned from the boys' job, while Karen Magnusson stepped down after leading the Cony girls to the Eastern A title game.
Cony recently hired its two replacements. Coincidentally, they're both resigning from head coaching positions at Thomas College in Waterville to take the Cony jobs.
The new boys coach is T.J. Maines, a teacher in the Augusta school system who coached the Thomas men for the last seven seasons, compiling a record of 89-88. Maines led the Terriers to a winning record in each of the last five seasons.
Ted Rioux, the former Thomas women's coach, takes over for Magnusson on the girls' side. Rioux coached five years at Belfast Area High School, then won three consecutive Class B state championships at Waterville. His last two teams at Waterville went 11-8 and 4-14, and did not win a tournament game. He then took over the Thomas program and was in the process of building that team. Rioux's record at Thomas was 12-38 over two seasons.
Oddly enough, the new girls coach at Skowhegan Area High School (another Eastern A school) was also a head coach at the college level last season. Bob Witts comes to Skowhegan after spending one season coaching the Unity College women. Witts led the NAIA in scoring with Hawthorne College in New Hampshire when he averaged 35.4 points per game during the 1980-81 season.
MESSALONSKEE'S VEILLEUX ON MEND
Courtney Veilleux's coaches were hoping she'd be back by May. After all, Veilleux had surgery in February to remove one of her kidneys.
"I had an appointment in Lewiston with an urologist," Veilleux told the
Morning Sentinel
. "He told me that when my mom was pregnant with me, my kidney didn't fully develop, and it just filled up with fluid. So it was just a really thin layer of kidney material and the rest was all fluid that was just sitting there, getting bigger and bigger."
While the average kidney is about the size of a fist, one of Veilleux's kidneys was approximately the size of a football. After being unable to take mour than four or five swings in batting practice during the early days of preseason, Veilleux has played every game in center field for the Eagles, and is hitting over .400. She plans to play at Thomas College next spring.
October, 31, 2012
10/31/12
7:22
PM ET
By
Matt DiFilippo
| ESPNBoston.com
In a lot of sports in Maine, numbers can be a problem. Coaches often lament how there are fewer kids playing sports these days, fewer kids willing to put in the time to get better, fewer kids learning the lessons that sports can teach you.

Traip Academy's football program has felt this numbers crunch. The Rangers have 18 players. Not 18 subs, or 18 guys who just play offense, but 18 total.
The interest is low, but the wins-to-players ratio is off the charts. Traip is 8-1 heading into Saturday's Western C semifinal playoff game with Winslow. The Rangers have lost only one game, a 12-6 setback to Dirigo.
The Rangers have been dealing with this for a while. Last season, when they came within one win of playing for a state championship, they had 24 players on their roster.
"When you go to a Western Maine Conference championship like we did, we expected more kids," Traip coach Ron Ross said. "We figured 30 would be nice, and 35 would be outstanding. We had 16 show up for the first day of two-a-days.
"It's something we're used to. We have a strong soccer program. It's two good programs fighting for kids."
Basic math tells you Traip can't even run 11-on-11 plays in practice. But Ross insists the numbers aren't a problem when preparing for a game. Adults step in, always in non-contact roles.
"We throw coaches in there when needed," Ross said. "It's helped us a lot. Some of the coaches are actually better than some of the players that we're going to key on."
Naturally, conditioning is a key, since every team Traip goes up against is going to have the advantage in depth. When senior Devon Draker, who starts at fullback and middle linebacker, went down in midseason, Ross said it was the team's only major injury in the last three years.
"I don't think there's anybody who works harder than we do," Ross said.
With Draker back and healthy, along with Corey Aldecoa, Nate Henderson, and Anthony Sowell, Traip has four solid running backs. Usually, that's been more than enough with their defense. The Rangers have allowed 32 points (3.6 per game) and have recorded five shutouts.
"The kids want to play defense more than they want to play offense," Ross said. "We like to call ourselves blue-collar. With 18 people, what else can you be?"
Ross and the players also see themselves as underdogs, and in a way, it's an upset that Traip still has a football program. Ross became head coach in 2002, when the Traip program was known for two things: Going through coaches quickly, and being an easy win for opponents.
Ross was there through a string of winless seasons. He was there in 2002, when he devised a trick play for a 67-yard touchdown on the opening play of the game, and Traip still trailed 34-6 at the end of the first quarter.
Traip went nearly six years between wins, losing 51 games in a row. The Rangers won their first game under Ross in 2006.
"It has been a long road, but I wouldn't take anything back," Ross said. "The lessons I've learned, I wouldn't trade for anything. I know what not to do now, to make sure we don't get back to that point."
Besides, the way Ross looks at it, his team is still in the same situation in at least one respect.
"When we were 0-and-whatever, teams didn't want to lose to us," he said. "(Now), nobody wants to lose to 18 kids."
Ross isn't one of those who is concerned about the future of the program, even though 10 of this year's 18 players are seniors. He points out that the local team that draws from fourth, fifth, and sixth-graders has 40 players.
"Next year is a great freshman class," Ross said. "We might go a couple years where we win three games, four games. But once they figure it out, we'll be back where we are now."
A NIGHT OF UPSETS IN CLASS B
Heading into the Eastern B football playoffs, it was clear the top three teams were Mt. Blue, Leavitt, and Hampden. Mt. Blue was undefeated, Leavitt had lost only to Mt. Blue, and Hampden had lost only to Leavitt.
That all changed on Friday night, as Belfast shocked Leavitt — the three-time defending conference champions — on Carl Dodge's 2-yard touchdown run as time expired, giving the Lions a 20-17 victory. The Hornets had defeated Belfast, 36-0, earlier this fall.
Meanwhile, Waterville was 4-4 and hadn't beaten a team with a winning record all season, but came away with a 25-17 victory over Hampden. Racean Wood had touchdown runs of 20 and 15 yards and added an interception.
Mt. Desert Island, a team that was 4-4 during the regular season and had lost 47-15 to Mt. Blue a little over a month earlier, nearly made it a trifecta. After Mt. Blue built a 14-0 lead in the fourth quarter, MDI fought back and was within 14-13 after Sandy Henggeler scored from three yards out with 3:41 to play. Bradley Jackson knocked down MDI's pass on the two-point conversion, and Mt. Blue ran out the clock.
SKOWHEGAN EASILY WINS ANOTHER STATE FIELD HOCKEY TITLE
It had all the trademarks of a great game: Skowhegan had scored 144 goals, a state record, and Scarborough was attempting to become only the second team in United States high school field hockey history to go through an entire season without allowing a goal. Skowhegan had won 53 straight games, with the last loss coming to (of course) Scarborough.
Instead, it was a mismatch of Super Bowl proportions, as Skowhegan dominated from the start. The Indians couldn't score in the first half, but put in three goals in a span of 2 minutes, 31 seconds early in the second half to take a 3-0 victory. Sarah Finnemore scored twice and Makaela Michonski knocked home the third goal. Skowhegan finished with 25 shots, while Scarborough had none.
Leavitt (Class B) and Lisbon (Class C) also won state field hockey championships.
BANGOR CHRISTIAN'S OPPONENTS KEEP SHOOTING BLANKS
Bangor Christian has won the last three Class D boys' soccer state titles. This season started out uneventfully for the Patriots, as they posted wins scores of 3-2, 10-1, and 4-1.
Since that 4-1 victory over Searsport on Sept. 14, Bangor Christian has not allowed a goal. The Patriots ended the regular season with 11 consecutive shutouts, and followed that up by blanking Easton, 5-0, and Machias, 2-0, to advance to the Eastern D title game.
Bangor Christian will face Ashland on Wednesday in the regional final. Ashland has allowed as many goals in two playoff games (four) as Bangor Christian has given up all season.
SCHENCK BOYS' BASKETBALL COACH RESIGNS
In the big scheme of things, $1,500 probably isn't a big deal when it comes to a stipend for a boys' basketball coach, especially at a Class D school with about 200 students. Of course, that's easier to say when it's not your money.
According to the
Bangor Daily News
, Schenck boys' basketball coach Steve LeVasseur resigned after being informed his stipend for coaching the Wolverines would be cut from $5,019 last season to $3,510 this winter.
The BDN reported that the school system recently established a policy that coaches who teach in the system get a higher stipend than those who aren't teachers in the system.
LeVasseur is a Schenck graduate, and coached the Wolverines for 22 seasons, winning five state titles and more than 300 games.
"After 22 years of service to this school, I feel it's a slap in the face," LeVasseur told the BDN.
September, 12, 2012
9/12/12
1:43
PM ET
By
Matt DiFilippo
| ESPNBoston.com
The high school football season in Maine started Aug. 31. Here's a look at how each class shapes up this fall:

Class A
In the East, Lawrence won the Pine Tree Conference Class A last season and has posted two convincing victories this fall, including a 42-12 win over a Bangor team that is usually one of the best in the PTC A. While the Bulldogs probably won't have a 1,000-yard rusher, they have six good backs, led by Anthony Sementelli and Josh Doolan. Bangor transfer Xavier Lewis adds more depth to the offense. Against his old teammates, Lewis had three touches and scored two touchdowns.
In contrast, Brunswick will rely almost completely on running back Jared Jensen. After rushing for 129 yards all of last season, Jensen ran for 428 yards on opening night and 283 the next week, giving him 711 yards in two games.
Messalonskee will look to its lines to challenge for the top spot in the PTC A. The Eagles run the double-wing on offense, with back Corey McKenzie getting most of the carries, and have one of the best rushing defenses in the conference.
Cheverus and Thornton are the two best teams in what should be a deep Western A. Cheverus has won 26 straight games and two consecutive state titles. The Stags returned 10 starters this year, including fullback Donald Goodrich, who scored five touchdowns in last year's state championship game.
"I think we're as good as we were last year," Goodrich told the
Portland Press Herald
. "We did lose some big players but the other guys have done a nice job replacing them."
Thornton plays Cheverus on Oct. 13, and that's already shaping up as the game of the year. The Golden Trojans return the entire backfield from a team that won nine games last year. Foremost among those backs is junior Andrew Libby, who scored 16 touchdowns last season and is a threat to go the distance anytime he returns a punt. Quarterback Eric Christensen is another key player in an offense that has big-play potential. If the offense can't get the job done, kicker Brandon Briggs (14 touchbacks last fall) has a strong leg.
Windham could be a dark horse candidate. The Eagles are led by twins Joe and Shawn Francoeur on the lines, and quarterback Damien Shepard is a threat running or passing. Unlike many teams in the West, Windham wants to beat you with strength instead of speed.
Class B
Leavitt defeated Mt. Blue 22-21 in double overtime in last year's PTC B final, and these could be the two best teams in the league again this fall. Leavitt has a pair of 300-pound tackles, and an offense led by Brian Bedard and Josh Faunce. The Hornets have won 35 consecutive games in the regular season.
Mt. Blue lost most of its starters at skill positions but brings back quarterback Jordan Whitney, who threw 25 touchdown passes last fall. This season, Whitney has completed 22 of 29 passes for 416 yards.
Hampden will look to challenge those teams behind running back Logan Steward and quarterback Matt Martin. Gardiner has a do-everything quarterback/kicker in Dennis Meehan, but line play will be the true test for the Tigers. Waterville began the season with two strong victories, but the Purple Panthers will have to prove that they can beat the top teams before they can be seen as a contender. They'll get that chance this week against Gardiner and Sept. 29 against Leavitt.
The West looks to be up for grabs. Westbrook was 5-5 last fall, but began this year by drilling perennial power Mountain Valley, 30-0, then knocking off defending state champion Wells, 28-20. Senior running backs Ben Grant and Cale Bollig do most of the work on the ground, and Collin Joyce is a factor running or receiving. Wells graduated all but three starters, but Dante Fanning and Drew Shelley are the big backs in a powerful offense.
Greely opened the season with two lopsided victories. The Rangers run the triple option on offense, and quarterback Drew Hodge is also a dangerous passer. Marshwood, coming off a 2-6 season, has already matched that win total and could be a sleeper team. Mountain Valley, despite starting the season 0-2, could pose problems by the end of the season.
Class C
The Little Ten Conference is not the place to go if you want to see close games. Five teams started off the season 2-0, and all 10 of those wins were by at least 20 points.
The four big contenders are Bucksport, Foxcroft, John Bapst, and Orono. Bucksport has a powerful offense, with quarterback Matt Stewart and running back Nic Bishop the top weapons. Foxcroft returns running back Don Boyer and Ryan Rebar (8 TDs receiving and 8 INTs as a cornerback last fall).
John Bapst has impressive speed at the skill positions, but must replace the graduation of quarterback Deven Romain and his top two receivers. Orono has a great backfield tandem of Christian Mowrer (15.9 yards per carry this season) and Norton Revell (15.5 yards per catch).
The big story in the West was Oak Hill's 33-7 victory over Yarmouth, which had won 24 consecutive games. That win cemented the Raiders, who were 3-6 in 2011, as a true contender in the Campbell Conference. Oak Hill has good size in the line for top running backs Alex Mace and Kyle Flaherty, both of whom are sophomores.
Yarmouth will still contend behind quarterback Brady Neujahr and a running game paced by Matt Klepinger and Thomas Lord. So will Maranacook, with quarterback Caleb Castonguay, a running and passing threat. Traip has only about 20 players on its roster, but two of them are stud running backs in Corey Aldecoa and Devon Draker. Dirigo and Winslow could also make a run.
Maine Statewide Top 10
1. Cheverus - Stags have outscored opponents 85-6 in two games.
2. Thornton - Golden Trojans coming off 67-7 pasting of Gorham, face No. 9 Bonny Eagle next.
3. Windham - QB Damien Shepard has four touchdowns running, two more passing.
4. Lawrence - Bulldogs have outscored opposition 65-0 in first halves of games this fall.
5. Scarborough - Red Storm, 3-6 last fall, stunned Bonny Eagle 35-18 last week.
6. Portland - Bulldogs didn't get inside Cheverus 30 in 42-0 loss, but looked great against Massabesic.
7. Mt. Blue - Cougars beat Madison/Carrabec 41-28, but led 41-0 at half before pulling starters.
8. Leavitt - Hornets keep rolling with 36-0 blanking of Belfast.
9. Bonny Eagle - QB Tyson Goodale has ran or thrown for all nine of team's touchdowns this fall.
10. Westbrook - Blue Blazes overpowered Mtn. Valley, then beat defending state champ Wells, 28-20.
November, 10, 2011
11/10/11
5:40
PM ET
By
Gary Hawkins
| ESPNBoston.com
Madison Memorial High School senior Matt McClintock recently won his third Class C cross country title while posting the fastest time in the state in any class. McClintock also won the mid-season Festival of Champions which featured over 600 runners from 60 schools in and out of state. Last spring, he won the 1,600 and 3,200 meter runs at the state track and field meet. He's competing this weekend in the New England meet in North Scituate, R.I. He recently answered questions about his season and running career.
Q: How did you get started running?

A: "I started running in 5th grade on the Madison Junior High XC team. I went to Athens Elementary so what would happen is Athens would practice on it's own and then we would just join the Madison team at meets. Fifth grade was the first year that I could compete in any "real" school sports, and I don't really know what drew me to it, but I decided to try it, and I guess my first race went well. I finished 13th. All my coaches were really happy with it and I guess I've been running ever since."
Q: Who have been your greatest influences?
A: "First and foremost would definitely be my coaches. Mrs. Moulton and Mr. Harper in junior high and Bob and Brandon Hagopian in high school. The person that really inspired me and drove me to get better was definitely coach Bob Hagopian. He's been with me since freshman year, through my wins and losses, and has always found a way to make me better."
Q: At what point did you feel you made a breakthrough in your high school career?
[+] Enlarge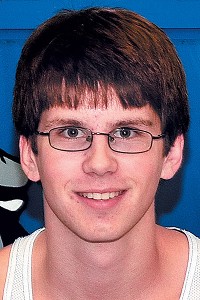 Gary Matt McClintock
A: "Without a doubt it was after I lost the conference championship last year. I got to cocky and that race showed me that I wasn't invincible, that I wasn't going to win just because my name was Matt McClintock, but because I wanted it more than the guy in front, beside, or behind me. That race made me
love
running, because I then had something to prove and something to work for. It re-instilled that love for competition in me. I will remember that race for the rest of my life, and I'm definitely a better runner because of it."
Q: What do you consider your greatest achievements in track and cross country?
A: "Wow, I guess in cross country it would be my three state championships. Since fifth grade my dream was to win a state championship in high school. To have three cross country titles and two titles on the track is just unbelievable to me. In track, my greatest achievement was definitely breaking the Madison High School records for 1,600 and 3,200 meters, probably more so the 3,200 because I was the first Madison kid in history to go under 10 minutes in that event."
Q: Which sport do you prefer?
A: "It really depends on the season. During cross country my favorite sport is cross country. During track it's track. I just love to run and race whether it's on the road, a track, or a trail."
Q: What goals did you set this season and did you reach them?
A: "My first goal for the season was to go undefeated in Maine and three-peat the Class C State Championship. I'm proud to say I met this goal. My next goal was to go under 15 minutes for the 5k I haven't met this goal yet as we've never really had a good day for a championship race, but Saturday at the New England Championships looks to be a good day, and it's a very fast course so we'll see what I can do there.
Q: What is your goal for this week's New England meet?
A: "My goal here is to win the title, and to go under 15 minutes for the 5K. As I said, before, it's a fast course, and there will be some incredibly strong competition to push me there."
Q: You won several races handily this season. Is it tough competing when you're not pushed?
A: "I guess that would depend on your definition of competing. A lot of people look at competing as winning. I prefer to look at it in the manner of Steve Prefontaine. If I'm going to win, I want to know that I've done my best. So yes, it's difficult to push myself to fast times, but I always just try to stay focused and not worry about the pain or where my competition is and just get to the finish line as fast as possible."
Q: What do you enjoy most about running?
A: "I love the people that we meet. The type of people you meet at cross country or track events is totally different then you will see in any other sport. At the state meet, I was getting encouraged to reach my sub 16 goal by the coaches and family and teammates of people that I was directly competing against. I'm confident to say that you will not find nicer and more supportive fans at any other high school sports competition."
Q: Do you have any running role models?
A: "I have several running idols, the most prominent would be Steve Prefontaine. I try to live up to the guts and determination that he always showed as a runner. His quote "To give anything less than your best is to sacrifice the gift" are the words I live by. Another two are Haile Gebrselassie, and Kenenisa Bekele. Both are Ethiopian runners. Gebrselassie is a two-time gold medalist and world record holder. Bekele is the two-time defending Olympic 10,000 meter champion and holds World Records now."
Q: Where will you attend college and why did you choose that particular school?
A: "I will be running for Lock Haven University of Pennsylvania next year. I felt very comfortable around the campus and really connected well with Coach Aaron Russell and the entire team at Lock Haven."
Q: What other sports or activities do you enjoy
?
A: "I enjoy all sports, but running is my one and only true passion."
Q: What is your training regimen in and out of the season?
A: "Sorry, but I don't like to discuss what my training is, at least not until after the outdoor track season."
Q: Where do you need to improve?
A: "I definitely need to improve on my kicking speed. In order to really be competitive in college I need to be able to win a race in the last 200 Meters if necessary. I feel that as my speed continues to develop in conjunction with my continued endurance training all of my events will improve drastically."
October, 26, 2011
10/26/11
4:04
PM ET
By
Gary Hawkins
| ESPNBoston.com
Madison Memorial High School senior Seth Sweet has established himself as the top high school golfer in the state.

Sweet recently won his second straight Class C state individudal title, shooting a 2-under par 70, the lowest in any class. Last summer he was one of two Maine golfers to qualify for the U.S. Junior Amateur. He also finished fourth in the Maine Amateur last year and, when he was 12, he was the youngest qualifier ever for that tournament. He recently answered questions about himself and the game he loves.
Q: How did you get started in golf?
A: "My dad introduced me into the game when I was 2 years old. He brought me out to a little par three course with a plastic set of Little Tikes golf clubs. I didn't play that often but he brought me to the golf course just enough so I could really get a liking for this game. After a while I knew there was something about this game that was special and I knew it would be able to take me places."
Q: When did you first get hooked on the game?

SWEET
A: "I first became serious around the age of 10. I played my first tournament when I was 7 but did not realize what it took to really become an elite golfer. I started playing several tournaments when I turned 10, and began to practice a lot harder. I tried to take my game to the next level and set different levels of goals that I needed to achieve."
Q: Who have been your greatest influences in the game?
A: "My dad has definitely been the biggest influence in my game. He taught me everything I needed to know to become who I am today. He made it so I could play in every tournament I wanted to play in, and would do everything for me. My mother has also been there supporting me and always telling me that if I want it I can get it. She is always there to watch me play tournaments, and I couldn't do it without them. My brother Zack also has been there to push me as he is a good golfer and always taught me how to act, as well as made me the best I could ever be. My swing coach has also been able to bring me to the tip top in my game and has taught me how to play this game like the pros.
Q: What do you consider your greatest accomplishment to date?
A: "I believe my greatest accomplishment has been making the U.S. Junior Amateur in Bremerton, Washington where I played two great days to make a playoff to make the cut for match play. Unfortunately, I missed the playoff, but was the proudest to place 55th best junior in the nation. I may not have met my goal, but was very pleased with how I played."
Q: How often do you play and practice?
A: "I play every day and practice every day. In order to be the best you have to have the club in your hand acting like it is your lifeline."
Q: What do you work on?
A: "Lately I work on the short game because I am able to hit the ball on the green, but where I am going to save strokes is making the putts for birdies. I will also work on hitting the ball in different shapes, I usually hit a draw but I understand that I need to be able to hit the cut to be one of the best as well. I believe that short game is where the pros make it look easy and win the tournaments."
Q: Where will you attend school next year?
A: "I have recently just verbally committed to Old Dominion University in Norfolk, Virginia."
Q: How did this come about?
A: "I had a friend from Rhode Island who is a freshman there and had told the coach about me. He must have put in a good word for me because the next week I got a call from the coach and it eventually led to an official visit offer. I visited the campus and fell in love with it and
fell in love with the golf facilities this school has to offer."
Q: What are your short and long-term goals in the game?
A: "My short term goal for golf is to really become a better player and win my state amateur, and qualify for the U.S. Junior Amateur again. My long term goals are to become a golf professional and play on the PGA tour, I do realize this will be a tough task but I am ready to make a run for it. I also want to be in a scoring spot all four years in college and be a key asset in our successful team.
Q: What are your strengths and weaknesses?
A: "My strengths are definitely being able to drive the ball, chip the ball and putt the ball. I hit the ball about 290 yards down the middle and my short game has grown incredibly and improved greatly. I also am able to keep a great state of mind while playing golf which is to my advantage. I believe my weakness is paying too much attention to other people, I shouldn't watch my competitors, but I do and get caught up in their game a little too much."
Q: Who is your favorite pro golfer and why?
A: "My favorite player used to be Tiger Woods because I idolized his work ethic, he won his tournaments by out-working his competitors and there was no question that he did every week. I also loved watching how he worked on the golf course he made himself expect the best of the competitors so he would not be surprised when they hit a good shot. My new favorite player is Bubba Watson, I enjoy how he hits the ball so long and is changing the game with his stride in great length. I also like how he has fun while he is playing and is very personable while he is playing. It is truly an awesome thing for him to be able to enjoy the game the way he does."
Q: What other activities or sports do you enjoy?

A: "I enjoy playing basketball with a passion; it is a very fun game for me and keeps me in shape during my long winter up in Maine. I enjoy running, and weight lifting as it keeps me in shape and I enjoy doing that every day."
Q: What are your plans for the summer before college?
A: "I plan on playing in 5-10 golf tournaments and practice my short game and the little details golf demands you to do. I am going to play in the big tournaments in the state and going to qualify for some USGA events. I just want to keep my competitive edge and make my game in fine tune for the fall college season."
January, 14, 2011
1/14/11
2:28
PM ET
By
Gary Hawkins
| ESPNBoston.com
Peter Webb of Stetson has been the State Basketball Commissioner in Maine for the past 21 years. The commission oversees the five officiating boards in the state and is responsible for assigning officials for tournament play. Webb, who officiating high school and college games for 30 years, took time out recently for a few questions.

Q: How has officiating changed since you began?
A: "To a great extent it hasn't changed. Statewide. The big change is an increase in ongoing communication throughout the state, on the administrative and training side. Results statewide are a more consistent application of the rules. Years ago, the biggest difference is the offense was favored, which is not the case today. Today every situation matters the same to both teams."
Q: Assess the state of high school officiating today.
A: "We believe high school officiating in Maine is in very good order. Schoolboy and schoolgirl basketball remains a major focal point from November to early March way beyond many other states. With the scrutiny there is out there, it speaks well of the time and effort that is put into basketball officiating in Maine."
Q: Are there enough officials?
A: "Yes, not an overabundance but an ample supply. Annually each of the five boards of officials sponsor an extensive course each fall for prospective officials. It's followed up by a written exam and a floor test."
Q: How is the training?
A: "Maine has a near 70 year relationship with IAABO, the International Association of Approved Basketball Officials. Videotapes and DVDs are used in addition to observations. Maine has always paid attention to training."
Q: Three man vs. two man — how much better with three?
A: "There's no question it's better with three. I observe about 150 or 160 games a year. And I do observe beyond Maine in another role I'm in. Eighty percent of the games I see need the service of a crew of three. The game changed from an officiating point of view drastically with the three-point arc. It requires a substantially different responsibility for the trail official. The other thing is there was a day when most of the defensive pressure didn't come about until two or three minutes left in the game. Today, typically with boys and girls there's pressure all game long. We've had crews of three completely in our tournaments for at least a dozen years. About 30 percent of the regular season games are crews of three. It isn't a great difference in cost."
Q: Are there any points of emphasis this year?
A: "There are five points of emphasis this year, arrived at by the national federation for state high schools. The points of emphasis for this year, both for the NCAA level and high school, include rules enforcement. Really it means don't bring your personal version of the rules to the game. The second point of emphasis is on sportsmanlike behavior of players and coaches. The third point is pretty much contact, especially on the perimeter. Officials have been encouraged to give that a lot of attention. The fourth point is closely guarded situations. The rule is six feet between the offensive and defensive player. The fifth one is referred to as the principle of verticality. Just because the defender is airborne, it doesn't make him wrong or the offensive player wrong. But they must be vertical. It also applies in rebound play, too."
Q: What's most difficult call or rule to enforce?
A: "The most difficult rule to enforce is traveling, no question. You have to watch the defender and a third person coming to set a screen while also watching the person with the ball. That's what makes traveling difficult. A block-charge is probably the easiest rule for a well trained official."
Q: Have fans or coaches changed in their approach to officials?
A: "Overall I don't think it's changed. I think schools have changed their approach to how they regulate them."
Q: How are officials chosen for the tournament?
A: "There's a long-time system in place. They have to have officiated a minimum of 50 regular-season Heal point games overall and 15 in that season to be eligible to be considered. They must also be fit and injury free. The commissioner has to have seen them officiate. Forms are sent to schools and coaches say who they would recommend. We usually have just about 100 for the three tournament sites. Coach recommendations and regional board recommendations are given consideration. I finalize it.
Q: What makes a good official?
A: "The quality official is someone who probably has a basketball background. From that point on, you truly have to have a passion for officiating. It's obvious you have to have a mastery for the rules and the mechanics. You also have to be high on the composure side. It's a rare official who gets to the varsity level in Maine prior to
five years. Without the commitment and passion you're not going to make it. Basketball is played in a big living room compared to other sports and the emotions are high. The people around the court, it's kind of like Sunday school, you have to forgive them when they complain. The good official gets every bit as much of an adrenaline flow as a ballplayer when he's doing things well."

BOYS BASKETBALL TOP 10
1. Cheverus (7-0) The defending Class A state champions continued to roll through Western Maine with a 51-35 win against a good Thornton club in Saco.

2. Camden Hills (9-0) Keegan Pieri, a 6-foot-6 guard, returned after a month-long suspension to help the Wndjammers win 74-48 at previously unbeaten Winslow.

3. Bangor (8-1) After an opening loss, the Rams have reeled off eight straight, including Tuesday's 49-35 win at Mt. Blue.

4. Hamden (7-2) The Broncos lost a 57-55 squeaker at Mt. Blue then bounced back with a 66-45 win against Messalonskee.

5. Edward Little (8-1) The two-time defending Eastern Maine champs downed Mt. Ararat 63-42 then nipped Brunswick 64-63.

6. Mt. Blue (7-2) The Cougars knocked off Hampden at home 57-55 but faltered a couple of nights later in losing to Bangor, 49-35.

7. Mountain Valley (9-0) The Falcons are going for their second straight unbeaten regular season. They recently faced their toughest test to date in a 52-45 win over Dirigo.

8. Thornton (5-2) After a 5-0 start the Trojans lost 50-48 to Deering then were beaten at home by Cheverus, 51-35.

9. Cape Elizabeth (6-1) After a loss to Yarmouth, the Capers bounced back with wins against Greely and Gray-New Gloucester.

10. Ellsworth (8-0) The Eagles remained unbeaten but face their toughest test of the season this week against unbeaten Mount Desert Island.

MILESTONES

Junior point guard D.J. Johnson of Islesboro scored his 1,000th point recently against Calvary Chapel.

Senior forward Maggie Sabine of Oak Hill topped the 1,000-career point mark with a 21-point performance against Rockland.

GIRLS' BASKETBALL TOP 10
1. McAuley (7-0) The Lions, who routed Scarborough and topped Bonny Eagle, 48-33, await a couple of late-season tests against in-town rival Deering.

2. Cheverus (7-1) The Stags' only blemish is a three-point loss to McAuley. They're coming off a 34-point win against Thornton.

3. Deering (7-0) The Rams had surprisingly close wins against Biddeford (48-37) and Thornton (53-46).

4. Morse (10-0) The Shipbuilders remained unbeaten with a big 59-47 victory against previously unbeaten Edward Little.

5. York (10-0) The defending Class B champions downed Greely 48-22 and have yet to be challenged.

6. Leavitt (10-0) The Hornets kept pace with York in Class B West with a 66-61 statement win against Nokomis.

7. Gorham (6-1) The Rams, whose only loss is to unbeaten Deering, cruised to a big victory against Kennebunk this week.

8. Windham (7-2) The Eagles' only losses tis seaosn are to McAuley and Cheverus. Next up is a key test against Gorham.

9. Edward Little (8-1) After losing to Morse in a battle of unbeatens, the Red Eddies bounced back with wins against Brunswick and Mt. Ararat.

10. Hampden (8-1) After losing a showdown against Edward Little, the Broncos rebounded with wins over Mt. Blue and Messalonskee.

BOYS' HOCKEY TOP 10
1. Lewiston
2. St. Dominic
3. Biddeford
4. Brewer
5. Falmouth
6. Houlton/Hodgdon
7. Waterville
8. Greely
9. Edward Little
10. Cheverus

WRESTLING TOP 10
1. Noble
2. Camden Hills
3. Massabesic
4. Belfast
5. Mountain Valley
6. Lisbon
7. Marshwood
8. Mt. Blue
9. Fryeburg
10. Dirigo
November, 4, 2010
11/04/10
1:11
PM ET
By
Gary Hawkins
| ESPNBoston.com
One upset and another near-upset marked the opening round of the Class A football playoffs last week.

In the Southern Maine Activities Association (SMAA) quarterfinals, top-seeded Cheverus needed to rally for a pair of second-half touchdowns to defeat defending state champion Windham 34-27. The Stags trailed 27-14 before putting three touchdowns on the board, the first a 21 yard pass from Peter Gwilym to Louie DiStasio.
Evan Jendrasko evened the score with a 1-yard run and Gwilym completed the comeback with a scoring pass to Jack Bushey. Gwilym completed a 11 of 18 passes for 176 yards and four touchdowns.
In other SMAA quarterfinal games, fifth-seeded Scarborough knocked off No. 4 Biddeford 48-14 and third-seeded Deering downed No. 5 Thornton Academy 56-18.
In the Pine Tree Conference quarterfinals, No. 8 Brunswick upset No. 1 Lawrence for the second year in a row, beating the Bulldogs 14-13 on their home field. The visiting Dragons trailed 13-0 before rallying for a pair of scores, the second a 34-yard option pass from Keith Kitchens to Donald Benbow.
In other PTC games, second-seeded Bangor shut out No. 7 Edward Little 16-0, fourth-seeded Lewiston topped No. 5 Messalonskee 42-13 and No. 3 Mt. Blue edged No. 6 Cony 20-12. Cony quarterback Luke Duncklee rushed for two touchdowns, giving him 18 for the season. The senior rushed for 1,201 yards this season and also passed for 1,512 yards and eight touchdowns. Over the past two seasons, Duncklee has accounted for 50 touchdowns, rushing and passing, and 4,805 total yards.
September, 22, 2010
9/22/10
9:37
PM ET
By
Gary Hawkins
| ESPNBoston.com
Performances by a number of running backs highlighted Week 3 of the Maine high school football season.

The fledging co-operative program between Calais and Woodland high schools took its lumps last season in the Class C Little Ten Conference, but is off to a 3-0 start this season, thanks in large part to running back Spencer McCormick who rushed for 292 yards on 20 carries and scored five touchdowns in a 54-7 win against Orono.
Gardiner's Alonzo Connor also turned in a five-touchdown performance as the Tigers downed Class B Pine Tree Conference rival Waterville 32-20. Connor, a junior, rushed for 172 yards on 26 carries.
Jack Powers of Camden Hills scored three touchdowns while rushing for 291 yards on 23 carries as the Windjammers nipped Morse 34-28 in a PTC Class B game. In another PTC Class B contest, Hampden Academy's Nick Stevens rushed for 227 yards and four touchdowns to lead the Broncos to a 35-28 victory against Winslow.
Portland's quarterback experiment with Imahdi Zagon is apparently over. Coach Mike Bailey put his talented running back in a number of different sets against Westbrook but not under center. Junior Matt McInnis is now the full-time quarterback with Zagon in the backfield. He responded by rushing for 258 yards on 37 carries to lead the Bulldogs to their first win of the season, a 27-15 over the Blue Blazes.
In other standout performances, Biddeford remained unbeaten in Class A Western Maine with a 47-21 win over Kennebunk behind Nick Gagne who rushed for four touchdowns and 145 yards.
Oak Hill's Josh Allen put the Raiders in the win column against Jay by rushing for 227 yards and four scores.