Boston High School:

Ben Bavly
May, 2, 2012
5/02/12
11:03
PM ET
By
Tom Layman
| ESPNBoston.com
SUDBURY, Mass. — Sometimes a win or a loss simply comes down to which team makes the plays and which team doesn't. No numbers or statistics are needed to quantify it.

It's just as simple as that old adage.

Lincoln-Sudbury's 6-1 victory over Newton South, in a battle of Dual County League contenders on Wednesday afternoon at Feeley Field, was a perfect example of that.

The Warriors played a steady, efficient brand of baseball, while the Lions ran into a crucial out at third base in the middle of a rally and let their opponents capitalize with two runs off a throwing error in the infield.

Being able to wait around until their opponent makes an unforced error in the field or on the base paths and then capitalizing on that has been a staple of several wins for Kirk Fredericks' group this season.

"All year long we haven't lost any games. Other teams have lost them," Fredericks said of the poise of his 8-1 team. "We hang around with each other at 0-0 and then (the opponent) makes a couple of mistakes and we don't. Then we take advantage of them. I'm proud of the way that our guys played, because that's our strength."

Added Newton South head coach Ron Jordan: "If you want to beat them then you have to play perfect baseball and obviously we didn't today...They made the plays and we didn't. That's what happens."

Warriors Capitalize With Defense: The Warriors pitching staff was able to keep the Lions' offense at bay, but there were two defensive stands that really helped solidify that.

Mike Kinch's leadoff single in the top of the fourth inning snapped a streak of seven straight outs by Warriors starting pitcher David McCullough. Kinch stole second base and McCullough lost Justin May to set up the Lions first threat since the first inning.

McCullough got John Jennings to fly out to second and Sam Miller came up with a big defensive play on a liner to left off the bat of Jesse Feldstein. Miller raced hard to his left and made an acrobatic diving catch to record the out, and he quickly got to his feet and doubled up Kinch at second base to get out of the inning.

"He's been doing some good things for us," Fredericks said of Miller, who plays all over the diamond for the Warriors. "I told him that I think it was the key play of the game. It gave us the momentum back."

McCullough hit a bit of a snag in the bottom of the fifth inning as he was taken out after loading the bases with one out. Sid Warrenbrand came in and surrendered a run after Ben Bavly was forced out after dribbling one down to second. But on the play, instead of having men at second and third with two outs after the putout, Patrick Mildner was caught off the bag at third to erase another potential rally.

"You take the mistakes you made today, you go to practice and you try to work on them," said Jordan.
April, 30, 2012
4/30/12
10:26
PM ET
By
Brendan Hall
| ESPNBoston.com
NEWTON, Mass. -- More than the moonshots from the plate and nasty breaking stuff from the mound, this is what they love about Newton South's John Jennings: with three outs needed to lock up a very nice 4-0 win over Boston Latin, his 3-2 fastball to Michael McKie came screaming back to the mound. Jennings blocked his face with his glove and fell backwards.
He then quickly scrambled to his feet and tossed it to first base the out, drawing pop from the crowd gathered. The next at bat, after giving Kevin Chen a 2-0 count, Lions head coach Ron Jordan came to the mound and asked if he can get these final two outs, but more importantly, "How's your face?" Jennings flashed a grin, and the two exchanged a chuckle.
[+] Enlarge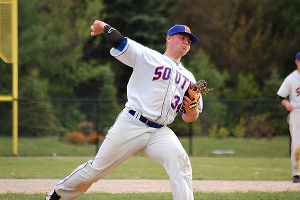 Brendan Hall/ESPNBoston.comUMass commit John Jennings threw seven strong innings for Newton South, striking out two and allowing one hit on 93 pitches to improve to 4-0.
Jennings then took a deep breath, and worked the final two Latin batters to 6-3 and 4-3 putouts to wrap up an overall solid day for the UMass-bound senior, and keep the Lions at the top of the competitive Dual County League Large race. At the plate, he was 2 for 4 with an RBI single, adding to his explosive start to the season (.727, 22 RBI, 4 HR). On the mound, he went the distance with two strikeouts and a walk, with just one hit allowed, on 93 pitches, to improve to 4-0 on the season for the Lions (9-0, 2-0).
"Like I've said to people before, you look at him and you don't think he's an athlete, but he's a tremendous athlete," Jordan said. "He's made some great plays all year. Today was obviously his best performance of the year. We're slowly taking our time in moving him up with pitch counts, but he just pounds the strike zone. He's having a great year."
Attacking the low part of the plate with basically two pitches, Jennings allowed just two balls from the Wolfpack (5-3, 1-1) to leave the infield, for one hit.
"I mixed my curveball in pretty well, and I had good command of it," Jennings said. "I was keeping my fastball low most of the time."
Jennings brought home the first run in the bottom of the second, first getting on base pulling a frozen rope down the third base line into shallow left. He then came home three at-bats later on a Pat Mildner line drive to left-center.
In the bottom of the third, Jennings made it 2-0 when he blooped one high to right, scoring leadoff hitter Ben Bavly after the outfielder dropped what should have been a routine fly.
The Lions tacked on two more runs in the fourth and sixth innings, on an RBI single from Mike Kinch and RBI triple from Justin Moy, respectively.
For Latin, senior righthander Brad Petitpas went the distance and picked up the loss in spite of a solid effort. He fanned seven batters while walking two, threw 81 strikes on 117 pitches, and allowed two earned runs on nine hits.
On the Down Low:
It was an overall efficient day on the mound for Jennings, who stayed ahead in counts early, and threw 61 of his 93 pitches for strikes. Despite ringing up just two K's, the 5-foot-10, 190-pounder kept a potent Latin hitting lineup settling for infield grounders most of the day.
Jennings is typically a strikeout pitcher -- coming into today, he had 21 strikeouts in 14.2 innings -- but by keeping his fastball low in the zone, and mixing in a breaking ball equal parts slider and curve, he was an effective groundball pitcher today.
"This is a heck of a team, and they're not afraid to swing early in the count," Jordan said of the Latin hitters. "If he's pounding the strike zone, they're going to make contact. But you know, he got a ton of ground balls because he keeps the ball down, he really gets his spots.
"We only went with two pitches today, because his fastball was so good and he was spotting it so well, we went with fastball-curve, didn't even bother with the changeup. He kept pounding that outside corner and getting ground balls."
Promising Frosh:
Jordan is an East Boston native, and can't help grin when he uses the term "City Guy" to describe his leadoff hitter and second baseman, freshman Ben Bavly. He was 1-for-4 from the plate, with two runs and two stolen bases.
Bavly was "a pleasant surprise" to Jordan in March tryouts, running a 6.9-second 60-yard dash against the wind, prompting him to remark, "Who is this kid?"
"He's very patient at the plate, he's beyond his years," Jordan said. "He definitely does not play like a freshman, he plays more like a junior or a senior. He's a big reason why we're doing so well. I mean, he gets on the base, and even getting that ground ball, he made the second baseman hesitate. You don't pay attention with him, he's going to beat it out.
"He's a little pesky for us. He's a little something different for us here...I like him, he's more of a city style (player), what I'm used to. But he's out here, and he's working hard here every day."