Boston High School:

Ben Gibson
June, 14, 2014
Jun 14
10:46
PM ET
By
Chris Bradley
| ESPNBoston.com
WORCESTER, Mass. –- Pope John Paul II coach Mark Santos can still remember the moment when he heard the terrible news.
Driving back to his home last November, Santos got a call from the principal and athletic director at PJP, telling him that junior left fielder Christian Hegarty had been diagnosed with bone cancer. The tears uncontainable, he had to pull over to the side of the road to continue the conversation.
[+] Enlarge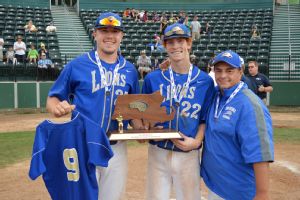 Brendan Hall/ESPNBoston.comPope John Paul II carried the No. 9 jersey of teammate Christian Hegarty, who was diagnosed with bone cancer last November, all the way to the school's first state title.
"I was a puddle," he recalled.
The first time the team was all together following the diagnosis, the decided unanimously to dedicate the 2014 season to Christian. The Lions have taken Hegarty's blue No. 9 jersey with them to every game this year, making sure to hold up his jersey during every single team picture taken following their Division 4 state championship victory on Saturday.
"He's just the greatest kid and he's a great player. It got taken away from him, and our guys way back in November committed to us playing for him," Santos said. "That jersey has come with us all year long, he's made a few games for us, and the ones he did we won them all."
Winning came with regularity for the Lions this year, finish the year at 26-1 after their 3-0 state title win over Western Mass. champion Hopkins Academy. Hegarty wasn't able to make Saturday's game because he was in the hospital receiving chemotherapy treatment, but immediately following the game Santos had one big message for his team in their huddle in right field.
"This one's for Hegs!" Santos exclaimed.
Hegarty made sure to get in contact with the team before they departed for Worcester on Saturday, with one message to give to his proud teammates.
"He texts us all the time saying 'go out there and win it for me. Take it home.' That was the text we got before this. He said 'no matter where I am, if I'm at the hospital or anything, I know that I can't be there but bring home that state championship," senior Ben Gibson said. "It's always great to hear from him cause I don't get to see him a lot, he's in the hospital a lot due to chemo. Hearing from him, seeing him..it's great."
Added Santos, "He couldn't be here today because he had chemo treatment. But I talked to him this morning and he said coach, go bring it home and get me a ring when you get it done."
A lot of the talk after the game was of the next time the Lions get to visit with Hegarty, a meeting that is sure to include a full mix of laughter and tears.
"When we first got the news it was very emotional. But we know Christian, he's a very tough, strong kid and we knew that he was going to fight through this battle with cancer until he was victorious," Gibson said. "It is going to be amazing, we'll all give him a hug and probably some tears because he couldn't be there."
June, 14, 2014
Jun 14
10:41
PM ET
By
Chris Bradley
| ESPNBoston.com
WORCESTER, Mass. -– For the first time in the infantile history of their program, the Pope John Paul II Lions are state champions.
One year after a heartbreaking loss to Lowell Catholic in the MIAA Division 4 State Championship game, the Lions came back to complete an incredible 26-1 season, knocking off Western Mass. champion Hopkins Academy 3-0 on Saturday at Fitton Field in Worcester.
The Lions were led on the mound by senior righthander Austin Houlihan, who gave up just a lone hit while pitching a complete game shutout. He struggled with his control early on, surrendering three walks in the in the top of the first inning, but quickly found his comfort zone after PJP jumped out to an early lead.
[+] Enlarge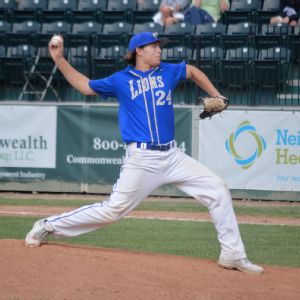 Brendan Hall/ESPNBoston.com Austin Houlihan pitched a shutout for Pope John Paul II, which won a state title in just its fourth season of varsity.
"I didn't really happen to have my best stuff today, but I just knew that if I threw strikes that the defense would make all the plays," Houlihan said. "I definitely give all the credit to the defense today, they did it all. This is the greatest feeling that an 18 year-old kid can have...It's just the best feeling that I've ever had."
PJP got a quick lead in the top of the first, Matt Santos smashed a double deep to left field and Colin Russell drove him in two batters later on an RBI single.
"The double down the line was big and then Colin Russell had a big two-out hit. I think once we got that and Houlihan started pitching with a lead that that made all the difference in the world," Pope John Paul coach Mark Santos said, "We were so close a couple times, it wasn't our cleanest game offensively, but I don't think were ever really in doubt -– I thought the game was in control most of the way."
The Lions added to the lead in the third inning, when Santos came in for his second run of the game. Senior Ben Gibson started off the fifth inning with a base hit and came around to score on an RBI single by Mike Young, which proved to be all the insurance that Pope John Paul would need.
"I felt pretty comfortable, my first couple at bats they were trying to pitch to me away -– nothing I could hit," Gibson said. "Then I had two strikes on me in that third at bat, I fought one off at two strikes and luckily it found its way through on the ground."
The Lions slammed the door shut from there, as Houlihan and the defense were untouchable the rest of the way– retiring the side in each inning after the third.
"Once you get a lead it's so much easier to pitch with a lead so I give the credit to our lineup, and of course our fielding," Houlihan said. "Our fielding is up there with the best in the state. We knew we had the caliber to compete in any division, and personally I think we could compete in any division state championship that was going on."
A historic season:
The Lions finish their season at 26-1, bringing home a state championship trophy in just the fourth year of the program. Pope John Paul was considered a serious contender to qualify for the inaugural Division 1A "Super 8" tournament, until a 5-2 loss to Barnstable in mid-May took them down a peg. Still, the Lions managed to get one vote in the first round of nominations at selection time, which has to be a considered a victory considering the school's status.
Despite the disappointment of not getting into the tournament, Santos reiterated to his team to control what they can control.
"They were disappointed, I told them 'listen, to even be nominated is such an honor.' We've got 135 boys in our school," Santos said. "They just looked at it like you know what? Now we have a chance to go out and win a state championship so let's go do it. They worked so hard, they took it to another level when we got to the tournament -– their focus was just incredible. It was great to see, this is a great group of guys."
"I would credit this to our hard work and our work ethic," Gibson said, "We work the hardest that I've ever seen, everyone's doing what they have to do to be a better player – everyone has that ethic all the time."
June, 10, 2013
6/10/13
3:26
AM ET
By
Brendan Hall
| ESPNBoston.com
BRAINTREE, Mass. -- Pope John Paul II head coach Mark Santos was asked about sharing this MIAA Division 4 South championship with his son, second baseman Matt, and there were some waterworks. He bowed his head and choked up, a dramatic gesture succeeding what was an otherwise routine-looking 8-1 defeat of Millis.

The most dramatic move, though, might be how much of a leap the Lions have made in such a short time. The Hyannis-based school was founded in 2007, and fielded its first varsity baseball squad four years later. In just three short seasons, the Lions have gone from nonexistent to hanging hardware -- literally.

Not to mention, this year's quest has been pretty dominant. Heading into the postseason, the Lions had outscored the opposition 240-35 against a schedule that was perceived to be weak -- even by Division 4 standards -- but also included a season split with Division 1 power Barnstable just a few miles down the road.

The Lions' win over Millis also put a finishing touch on an impressive four-game run, outscoring opponents a cumulative 32-3 for the tournament. They can complete this untracked of seasons in Tuesday night's state final, where they'll face D4 North champion Lowell Catholic.

"I really can't put it into words," said Mark Santos of capturing hardware so quickly. "I see what the kids do every day, with the time they put into the offseason. They deserve this. I know everyone out there says that they're a team and everybody works hard, but these truly are a team in every phase of the word. They work their tails off, they deserve everything they get.

"I know there's been a lot of people who have doubted our schedule and everything else, [but] we can't pick our league. We play whoever is in front of us, and that's what we did. We don't worry about anyone else, we just say let's play our game. Let the script play out and see what happens."

Ben Gibson was once again the catalyst for the winning effort, doing damage on the mound (CG, 7 K's, 6 hits) and at the plate (2-for-3, HR, 4 RBI).

Holding a 1-0 lead in the top of the third, Gibson took a 1-1 curveball and blasted a two-run shot to right field, scoring Matt Santos. Then in the bottom of the sixth, he finished off a five-run inning with another mammoth shot, this one a two-run double that made it 8-1.

"He was throwing me a lot of curveballs -- and since I'm a bigger player, that's what I was expecting," Gibson said. "So I was sitting on the curveball, sat back and just put a good swing on it...It felt unbelievable. It was a perfect swing."

Grand Theft Lions: PJP was unafraid to test the arm of Millis' catcher early and often. Through the first four innings, they swiped six bags on the Mohawks, adding to an already stressful day for the Millis defense.

"I knew he was a freshman, but really we go off of pitcher's movement," Mark Santos said. "We're a very athletic team, and we just said 'You know what, we're going to run'. We're going to press the issue, and make them play our game. If they stop us, they stop us.

"But I think once we get pressure on the base paths, it kind of gets the pitcher a little worried, then maybe he hangs a couple of pitches. I think that's what happened today."