Boston High School:

Ben Judson
December, 19, 2013
12/19/13
12:38
AM ET
By
Chris Bradley
| ESPNBoston.com
DANVERS, Mass. –- St. John's Prep answered plenty of question on Wednesday, a much needed accomplishment following an offseason that saw plenty of shuffling around in the program.

How would the Eagles (1-0) respond in John Dullea's first year at the helm? Could Ben Judson be the team leader after being a role player last year? Can Lowell transfer Kareem Davis make a quick and painless transition at his new school?

Consider those questions answered, as Judson (25 points), Davis (19 points), and sixth-man Mike Bisson (13 points, 11 rebounds) combined for 57 of the Eagles' 67 points on their way to a 67-60 victory over Lynn Classical (0-1).

And as for Dullea, Prep's newly-hired head coach managed to brush off some of the opening game jitters:

"I was definitely nervous. I've been here, but it's a different level from when you're an assistant coach to a head coach," Dullea said. "The anxiety, the nerves leading up to the game, you have to be ready to make a call, make a play in the spur of the moment."

Judson got off to quick-start in the first half, helping the Eagles jump out to a 24-8 lead in the second quarter. A lights-out shooter who has now shown that he can also score off the dribble, Judson is taking on the role of emotional leader this year for the Prep, a role previously occupied by last year's senior captain Drex Costello.

"I'm just trying to be a leader for everyone else and help out the younger guys; adding to my game too -- mid-range, post game, driving to the hoop more and not just catching and shooting," Judson said. "I'm looking to do a little of everything this year offensively and defensively too."

Despite being down by 16 at one point early on, Classical was able to climb back into the game on the shoulders of senior guard Phil Rogers (17 points). Thanks to their ability to move the ball and pull down offensive rebounds, the Rams pulled within nine points at halftime and at one point brought the lead down to 55-53 following a 7-0 run anchored by Jordan Brown and Ronnie Williams (12 points).

"They're a very physical team, a very athletic team," Dullea said. "They weren't running too many sets, they were just beating us one-on-one. They made some tough shots. I give them credit, they made a ton of tough shots. We pride ourselves on defense, I admit it wasn't our best effort tonight, we'll get better at it.

"We had a couple lapses: guys didn't know who they were covering, [Classical] had 20 offensive rebounds, which we cannot have, we won't win if we do that."

The Eagles, in search of a spark, found it in Davis and Bisson. The sixth-man who was a rarely-used reserve on last year's roster, Bisson finished with a double-double and hit some tough shots for the Eagles from all over the floor.

"He's long, he's going to usually have a bigger guy covering him," Dullea said. "He's very versatile; we talked to him at the beginning of the year about his role as the sixth man. He's a very athletic player, a very versatile player, he's very hard to cover. We're looking for big things from Mike, he had a good game tonight."

Finishing 10-of-11 from the free throw line and taking on the responsibilities of the primary ball handler in the Prep offense, Davis proved to be the most experienced player on the floor. Despite struggling to hit from three, Davis still managed to dribble in the paint nearly at will; his slick crossover dribble often drew "ooh's" and "aah's" from the home crowd.

Davis penetrated the Classical defense with 58 seconds to go in the game and finished an acrobatic lay-in off the glass to put the Prep lead at 62-55, all but sealing the victory for the Eagles.

"He was tremendous. He's going to have the ball in his hands most of the time at the end of the game, he's going to get to the foul line, and he's going to have to step up and make them," Dullea said. "Every time we tried to run a set, he was the floor leader for us. A couple turnovers at the beginning; I think he was probably just a little nervous playing his first game here. But he was terrific, he really was."

There are many improvements to be made, a point Dullea hit on after the game, but the Eagles certainly have reason to be optimistic after answering the call on a night where nervousness ran rampant before the game. Behind their first-year head coach, talented transfer point guard, energized sixth-man with infrequent experience, and role player turned budding star, the Eagles look like a team built to be one of the best in Division 1.

"Mike stepped up tonight, a lot. Last year he didn't play a whole lot but this year he knows he has a big role. Kareem, he was attacking off the dribble and that just opens everything up on the court," Judson said. "Us three attacking the basket, they couldn't really stop that. I don't know many teams who will be able to, but we need to just keep doing that."
July, 23, 2013
7/23/13
2:42
PM ET
By
Josh Perry
| ESPNBoston.com
WEST ROXBURY, Mass. -– Mike Slonina has always found solace and strength on the court. In 2010, when he learned that his mother had been diagnosed with brain cancer, the Watertown resident went straight to the Waltham YMCA and shot jumpers for four hours, while trying to process the news. Gratefully, the initial diagnosis turned out to be incorrect and he became determined to try and prevent others from suffering from the hopelessness that he felt that afternoon.
It turned out that basketball would provide more than just a coping mechanism, it also became the method by which Slonina, then a senior at Catholic Memorial High School, would try and fight back.
"I'm one of those people that, when something goes wrong, I feel like I have to do something," he recently reflected. "The thing with cancer is that it makes you feel helpless and that's what makes me so mad. I just wanted to give that hope back and show people that you can make a difference."
He formed a non-profit foundation, trained for several months, and, on April 9, 2011, took to the Ronald S. Perry gymnasium court and
shot jumpers for 24 hours straight
. That day, A Shot For Life Foundation (ASFL) raised more than just awareness about brain cancer; it also raised nearly $30,000 for Mass General Hospital and Boston Children's Hospital.
Two years later, as a rising junior at Quinnipiac University, Slonina has organized another competitive event to further his organization's mission of funding cancer research.
On Saturday, August 3, at the University Sports Complex in Hanover, 11 of the best shooters in Massachusetts high school basketball -- including Rockland's Tyler Gibson, the state's Gatorade Player of the Year -- will fire jumps shots for two straight hours. The winner of the "A Shot For Life Challenge" (to be determined by field goal percentage) will not only be crowned the "Best Shooter in Massachusetts," but will also have his number retired for all future ASFL events.
"I think it's great because you hear so many terrible things happening in youth sports today and here are 11 really tremendous basketball players unselfishly using their talents for a good cause," said Slonina last week during a break in a youth camp that he is helping to run at his alma mater. "It was so great seeing that many young kids embracing it and realizing the good that they can do with basketball."
His own basketball career was cut short in seventh grade by a nerve problem in his ankle, which it was later determined was caused by a bone being in the wrong place, but the game remained a huge part of his life. Slonina was the team manager for the CM team that won the 2008 MIAA Division 2 state championship and, when he needed an outlet for his desire to give back, basketball (and his great jump shot) was a natural fit.
He showed up at CM every morning at 6:30 a.m. to shoot, would lift during lunch periods, and then shoot for hours again after school. He demonstrated the same determination off the court, going door-to-door to raise funds for the event. While Slonina admits that ASFL is not yet raising the type of money that will make a huge difference, he firmly believes that every penny counts. He also believes that this is just the beginning for his foundation.
He explained, "That's what everyone needs to grasp. On a bigger scale, that's what I was trying to do with the 24-hour thing. People kept saying, 'But, you're only one person.' It only takes one person."
Following his feat, Slonina's life changed and the profile of A Shot For Life was at its highest point. He hopes that the foundation, which he loves, can reach that potential again through the August competition and that the players will feel honored to be taking part in the event. There is no question that Slonina is already eyeing the future and placing high expectations on himself and the foundation.
"I want to be the Nike of non-profits," he said with total sincerity and a contagious enthusiasm for what the future holds for ASFL. The inaugural "A Shot For Life Challenge" is still more than two weeks away, but Slonina is already thinking of ways to make it bigger and better in 2014. He exclaimed, "I can tell you right now that next year is going to have a dunk contest!"
Since his record-breaking effort, Slonina and A Shot For Life have inspired countless people and he can recount numerous examples of people that have shared stories that, he says, nearly bring him to tears. An example was a comment from one of his former teammates from the 2008 state title-winning team, who came back to rebound for him that day.
"[One of the players], who was a senior when I was a freshman, told me, 'You don't know how many people you just inspired.' I look up to him, so him saying that...It just means so much to me," marveled Slonina. "I don't want to say a cliché, but it means the world to me."
After several other tries to put into words just what it meant to read the letters and emails that he received after the 2011 event or to have people tell him how about how he affected their lives, Slonina simply shook his head and laughed, "This is the first time I've been speechless in an interview. I don't know how to word it. It's awesome."
The "A Shot For Life Challenge" will take place on Saturday, August 3 at the University Sports Complex in Hanover beginning at 1 p.m. The 11 shooters are: Ben Judson, St. John's Prep; Sam Bohmiller, Franklin; Tommy Mobley, Newton North; Nick McKenna, Danvers; Jake Foote, Duxbury; Ryan Roach, Cardinal Spellman; Vinny Clifford, Danvers; Scott Arsenault, Walpole; Mike Nelson, Bishop Feehan; Shiraz Mumtaz, Brookline; and Tyler Gibson, Rockland.
To donate to the A Shot For Life Challenge,
CLICK HERE
.
July, 2, 2013
7/02/13
4:00
PM ET
By
Chris Bradley
| ESPNBoston.com
New England Recruiting Report founder and editor Adam Finkelstein hosted the 8th annual New England Elite 75 showcase on Monday at Worcester Polytechnic Institute. The showcase, featuring New England's top high school stars, schooled players on individual offensive drills and skill development and gave them an insight on what college coaches look for in a player.

The biggest stock-riser of the event may have been former Plymouth North forward Jesse Bunting, who will attend Tabor Academy and reclassify to the 2015 class this fall. Bunting, a heady big man who outplayed almost every other forward at the camp, has been playing AAU this summer with Expressions Elite. He received his first Division 1 offer this weekend from Holy Cross following the Crusaders' elite camp.

"Yeah, that was pretty exciting hearing that all my work's been paying off," Bunting said.

Several of his Expressions teammates, including top 100 recruits Abdul-Malik Abu (Kimball Union Academy) and Jared Terrell (Brewster Academy) also made late appearances. Abu, a physically-imposing 6-foot-8 forward, put down several skying dunks and dominated on the glass. Both are expected to cut down their lengthy college lists following the July live period.

Bunting said going up against the highly-touted Abu in practice has significantly helped his own development.

"Yeah, it definitely gets you prepared," Bunting said with a laugh. "In my workouts I've been trying to emphasize my shot and my dribbling, too. I need to work on my left-handed dribble."

Ainge carving his path

With his father, Boston Celtics' President Danny Ainge, looking on, Crew Ainge stood out as one of the best point guards in the gym. Coming off a recovery from a wrist injury that resulted in the Kimball Union (N.H.) 2015 point guard becoming "out of shape" by his own admission, Ainge has begun to increase his physical training level.

Ainge works out regularly with trainers at the Celtics' facility, with an emphasis on building his strength and improving his offensive skills. As a result, a slew of local Division 1 schools have expressed interest in Ainge this summer while playing for the New England Playaz AAU program. Originally thinking that as an incoming junior he would be playing for the Playaz' 16U squad, expect Ainge to play a significant amount of minutes this July for the Playaz 17's squad.

"There's a little better competition. I was playing more than enough on the 17's so I decided to stay there," he said.

His brother Cooper, who went to Brigham Young University as a recruited walk-on, is currently on his two-year Mormon mission in Chile. Crew says it is "most likely a big possibility" that he will also go on his Mormon mission before he begins his college hoops career.

Going forward with his recruitment, which is sure to expand during the July live period, Ainge says that his dad, for the most part, lets him handle his own recruiting.

"He actually kind of lets me handle most of it," Crew said. "He just tells me not to brag or boast about it—just to let it happen. Not to seek after coaches, just to let them come, if I keep working and getting better they'll come, and not to even worry about it."

MIAA stars gearing up

Central Catholic Class of 2014 stars Tyler Nelson and Nick Cambio were both very impressive at Elite 75. Nelson was lights-out from beyond the three-point arc, while Cambio showed to be one of the best rebounders and interior defenders at the entire event.
Nelson -- who has picked up Division 1 offers this summer from Dartmouth, Jacksonville, Fairfield, George Washington, and Vermont -- will travel with Cambio and the rest of their BABC squad down to the Nike Peach Jam on July 11, where they'll try to win an 18th national championship for the revered club.

***Tyonne Malone, a 6-foot-3 forward who will be attending defending state champion Springfield Putnam this season, was also very impressive. A creative lefty who can score in a variety of ways and overpower perimeter defenders, Malone will be in instant-impact type of player as the Beavers will be playing for their second consecutive state championship.

***Makai Ashton-Langford, a rising sophomore at St. Peter-Marian who has been playing AAU this summer with Mass Rivals, showed well after picking up his first Division 1 offer this past weekend from the University of Rhode Island. Still only 14 years old, he has an understanding of the game that is far beyond his years. Expect him to play a significant amount of minutes for St. Peter-Marian this coming year.

***Ben Judson will be looked at to be "the guy" for St. John's Prep this coming year, and the rising junior guard has shown that he should be up to the task. A lights-out left-handed shooter, Judson has significantly improved his scoring off the dribble and has added a lot of upper body strength, as the Prep looks forward to their first year under new head coach John Dullea.

March, 26, 2013
3/26/13
5:52
PM ET
By
Chris Bradley
| ESPNBoston.com
In the biggest game of the year in MIAA hoops, the Division 1 state title game, it seemed as if the sophomores were hitting all the big shots. With hundreds of Mansfield fans directly behind the basket screaming and waving, Putnam sophomore Ty Nichols nailed two free throws with eight seconds left in overtime to seal the Beavers' first state title in school history.

But let's not forget how the game got to that point. Rewind to the end of regulation.

Mansfield sophomore Ryan Boulter put on one of the gutsiest performances that we saw all season. After he was fouled on a three-point attempt with five seconds to go in the fourth quarter, Boulter went to the line with an opportunity to tie the game and send it into overtime. Miss one, and his team, in all likelihood, would lose the game.

Not only did Boulter hit all three free throws, he did so without ever taking his eyes off the rim -— not even to catch the bounce passes that came from the referee following each of the first two free throws. He sent the game into overtime, then hit a three-pointer from the wing to give Mansfield the lead.

Following a four point swing by Putnam, Boulter put the team on his back one last time -— draining a three-pointer to tie the game with just seconds to go in overtime. Enter Nichols, and game over.

While Putnam's entire team circled around their trophy in the pressroom after the game, a few of Mansfield's players sat across the room waiting to be interviewed. Boulter fought back tears. Brendan Hill -- a sophomore who was Hockomock League MVP and considered to be a Division 1 prospect in both football and basketball -- stared at the floor, head in hands.

While listening for Putnam senior KayJuan Bynum talk about the pride that Springfield has in basketball, I couldn't help but glance over at Hill and Boulter across the room. Both fierce competitors with unbelievable poise, they sat in the shadows of the pressroom while Putnam's players hugged each other in celebration.

That was the ringing overtone talked about for days following the state title game: Mansfield will be back.

It was the same reaction seen on the floor of the Tsongas Center only a week earlier. After a crushing defeat to a more experienced Central Catholic team, Lynn English sophomore guard Stevie Collins pulled his jersey over his face as the final buzzer sounded, hiding tears from watching Central Catholic celebrate the Division 1 North championship.

The playoff run was an unexpected one for the Bulldogs, and English can be expected to be back next year. With Collins' classmates Johnny Hilaire (6-foot-6 forward) and Erick Rosario (6-foot guard) both returning, as well as juniors Freddy Hogan and Danny Lukanda, expect a big run from English once again. The Bulldogs' run to the North final almost wasn't possible, mainly because of 20 points from Everett sophomore Gary Clark in the quarterfinal match -- a high-scoring, back-and-forth match that left English the 94-87 victors.

English, Putnam, and Mansfield, and Everett are not alone in boasting talented young players, though. Statewide, the MIAA's depth in the 2015 and 2016 classes is one of the best we have seen in recent memory.

***

DAVIS, COLLINS LEAD LONG LIST OF POINT GUARDS

Collins leads a long list of talented floor generals in the 2015 and 2016 classes. Those included (and very close behind him) are Lowell sophomore Kareem Davis, who ignited one of the state's most exciting offenses this year; New Mission's Randy Glenn, a left-handed playmaker who was pivotal in helping the short-handed Titans make a run to the Boston City League championship; St. Peter-Marian freshman Makai Ashton, a fearless point guard who is considered to be the best long-term guard prospect in the Worcester area; and Melrose frosh Sherron Harris, whose "on-court killer" style of play is scarily similar to his cousin, Cushing Academy star Jalen Adams.

-- St. John's (Shrewsbury) sophomore Davon Jones has more big-game experience than any of the point guards listed above, as he has helped lead Bob Foley's Pioneer squad to WPI each of the last two years. As mentioned with Hill, Jones is considered to be a Division 1 football prospect.

-- Boston English freshman Ernie Chatman will win a lot of games for Boston English over the next three years, Chatman is a great ballhandler who is also lightning quick and a great floor leader.

-- Along with Glenn and Chatman, Brighton freshman Javaughn Edmonds will make a major impact in the Boston City League in the coming years. Edmonds will be looked to to step in and help fill in some of the production missing from departing ESPN Boston Mr. Basketball Malik James.

***

MIAA'S TOP PROSPECT HEADS FORWARDS

There is no question who has the highest ceiling of any player in the MIAA. It is Springfield Central's 6-foot-8 sophomore Chris Baldwin. A sureshot Division 1 prospect who can block shots, rebound at a high rate, and score in a variety of ways, Baldwin will make sure Central remains one of the state's best hoops programs after making the Western Mass. Division 1 championship game once again this year.

St. Peter-Marian freshman Greg Kuakumensah will have big shoes to fill next year for the Guardians, especially as they soon graduate forward Tim Berry, the heart and soul of their offense. Kuakumensah, the younger brother of Brown University forward Cedric Kuakumensah, will join Ashton in what should be a very bright future for St. Peter-Marian. At 6-foot-4, he is a great shot blocker like his older brother, but is also tremendous athlete and competitor.

-- SPM isn't the only squad returning a talented young duo though. Brighton, the Division 2 state champion, will, alongside Edmonds, return 6-foot-5 sophomore forward Jason Jones, who played a lead role in helping the Bengals to their first Boston City League championship.

-- Andover's 6-foot-5 sophomore forward Connor Merinder was limited in minutes this year as he recovered from a severe wrist injury. However, he was able to recover by playoff time and led the Warriors to the Division 1 North semifinals, knocking off Medford and St. John's Prep in order to do so.

-- For all the attention to the prospects at larger Division 1 and 2 schools, keep an eye on 6-foot-5 sophomore forward Jake Wisniewski out of Quaboag. After averaging over 20 points per game for Quaboag this past year, the already-experienced post scorer is one of the state's top prospects in Division 3. A talented forward at Division 3 New Leadership, 6-foot-6 freshman Davidson Pacheco, will take his talents elsewhere after averaging 10 points per game this year, what with the expected closing of the Springfield-based charter school.

***

MOBLEY, JUDSON CAN MAKE IT RAIN

Newton North sophomore Tommy Mobley was one of the state's most feared scorers this year, leading the Tigers to a 20-4 record and picking up Bay State Carey MVP. Mobley and St. John's Prep sophomore guard Ben Judson showed that they can be two of the MIAA's best scorers again next year. Like Mobley, Judson's three-point range extends all the way out to 25 feet—as both were known to drop a barrage of three-pointers on opponents this year, heavily guarded or not.

New Mission's Juwan Gooding, New Bedford's Tyree Weston, and Catholic Memorial's Guilien Smith, were all early exits from the state tournament this year. But as three of the MIAA's most talented pure scorers in the 2015 class, they'll be back for big runs next year. Smith and Gooding are finesse guys who use their quick first step to get to the rim, while Weston uses his sculpted frame to overpower opponents and score inside-out.

-- One other Springfield product to keep an eye on is Cathedral sophomore Darrick Boyd. The young, talented sharpshooter scored 19 points per game this year, leading Cathedral to a 13-9 record. Danvers sophomore Vinny Clifford, also a dead-eye shooter, will be looked at to be a leader for the two-time defending Division 3 state champion. Clifford, the younger brother of Merrimack College forward Mike Clifford, was an integral piece this year for a team led by Eric Martin, Nick Bates, and Nick McKenna.

-- Yet another two-sport star, Wakefield sophomore Bruce Brown, helped the Warriors make a deep run in the Division 2 North tournament this year, eventually falling to a deeper, more experienced North Andover team. Brown is an elite athlete who, at his best, is nearly unstoppable because of his upper body strength. On the football field, Brown caught seven touchdown passes as a wide receiver last fall.

-- Two 14-seed over 3-seed upsets in the first round of the Division 1 North tournament should be remembered going forward. Freshman Saul Phiri's heroics in a first-round upset win helped lead Haverhill past Westford Academy, while frosh Keyshaad Dixon's three-pointers sparked perhaps the most surprising win of the first round, as Braintree knocked off heavily-favored BC High.

-- St. John's (Shrewsbury) freshman Adham Floyd, was a very important piece for the Pioneers' run to the Central Mass. Division 1 title game, starting several games during the season. Bishop Feehan freshman Mike Nelson, a teammate of Floyd's with the Shooting Stars AAU program, showed great poise in leading his team to an impressive run in the Division 3 South tournament, falling narrowly in the quarterfinals to eventual D3 South champion Martha's Vineyard.

***

Picking the Super Team for this year's ESPN Boston MIAA All-State Team sparked as much debate as any Super Team selection in recent years. The statewide parity, talented young players bolting to prep school, and lack of scholarship-level talent in the upper classes forced careful consideration and a never-ending debate about picking out the MIAA's elite upperclassmen.

However, with the amount of freshmen and sophomores who made a name for themselves on a big stage this year -- the instant-classic Division 1 state final between Mansfield and Putnam being the prime example -- it's likely we won't spend too much time worrying about the pipelines of scholarship-level talent coming up the ranks in MIAA basketball.
February, 3, 2013
2/03/13
11:22
PM ET
By
Ryan Hannable
| ESPNBoston.com
DANVERS, Mass. -– With it being Super Bowl Sunday, Massachusetts high school basketball had its own Super Bowl of sorts with No. 7 St. John's Prep hosting No. 1 Central Catholic in a non-conference battle.

The Prep (15-1) was able to withstand a furious fourth quarter comeback from Central Catholic (13-3) and hang on to win 55-52 in front of a standing room only crowd at the Memorial Gym on the Danvers campus.

"Nothing can be easy when you play Central," said Prep coach Sean Connolly, whose team led by as many as 14 points late in the third quarter. "You can never get a lead on them because they are always so tough fighting to come back. We knew we had our work out for us. We knew when we were up 12 and 14 points that team never goes away."

Trailing 53-42 midway through the fourth quarter, Central went on a 10-0 run to cut the deficit to just one with under a minute remaining in regulation, aided by two critical misses on the front ends of one-and-ones by the Prep.

Taking the ball out of bounds at half court and leading by one with 26.1 seconds left, Connolly appeared to call a time out for the Prep, but the referee called a five-second violation, giving the ball to the Raiders with a chance to take the lead and potentially the win.

Central ended up by getting the ball underneath the basket with 13.4 seconds remaining, still trailing by one, but threw the ball away, allowing for Prep senior Drex Costello to scoop up the lose ball and get fouled with 11 seconds left in the game.

Costello made one of two free throws, putting the Prep up 54-52 and one last chance for Central. A desperation runner in the lane rolled off the rim, with Prep sophomore Ben Judson grabbing the rebound and getting fouled with two seconds remaining on the clock.

His free throw iced the game and gave the Prep a three-point victory.

"We didn't execute as well down the stretch as we would have liked, but overall I am definitely happy with the performance," Connolly said.

The Prep led entire game, jumping off to a 7-0 run to open the game and a 16-10 lead after the opening eight minutes. The Eagles extended their lead to eight at the half, 32-24, and had the same eight-point advantage, 46-38 going into the fourth.

"They are a solid team," said Central Catholic coach Rick Nault. "They really don't have a weakness, one through five. They have five guys who can do a lot of things. Ben Judson, 6-foot-4, and as a three-man is pretty effective and then two guards who I've said is the best backcourt I've seen all year. They really hurt us tonight. They were aggressive with the ball and played with a ton of confidence."

It was a balanced scoring attack from the Prep, which guided them to victory as three players reached double-figures in points.

"I think everyone who got in gave us good minutes, I think it was more of a team effort," Connolly said. "It wasn't one guy who stood out more than the others."

Costello led the Eagles with 13 points, followed by senior Tyler Dooley who finished with 11. Junior Max Butterbrodt added 11, nine coming in a two-minute stretch in the second quarter.

Central's scoring came only from their starting five, led by senior Joel Berroa who had a game-high 18 points. Juniors Nick Cambio and Tyler Nelson finished with 14 and 10 respectively.

The Raiders have now lost two of their last three games, following a loss to North Andover last Tuesday night. This is unfamiliar territory for Nault and his team, who were without senior captain Doug Gemmell

"I'm not used to being in this position," he said. "Three losses at this point in the season is something new for us and we have to figure out a way. We have a tough stretch coming up with teams that we are playing and we have to figure out a way to win."

The Eagles return to the court Tuesday night at Xaverian in a Catholic Conference matchup, while the Raiders will host Lawrence, also on Tuesday night.

This won't be the only meeting of the year between the two powerhouses, as they will meet again in two weeks, Sunday, Feb. 17 at Central Catholic in the IAABO Tournament, which figures to be another classic.

DOOLEY RUNS THE SHOW
Although he might not always lead the team in points or be the player opponents focus on, Prep point guard Tyler Dooley is what makes his team go. The senior's court awareness and composure has been instrumental in the Eagles' success this year. He has now even begun to be an offensive scoring threat, something he shied away from earlier in the year.

"He did a very job for us, especially the last few weeks," Connolly said. "He has really taken his game to a new level being more of a threat for us, which is what we need obviously."

As the teams' only real true point guard, Dooley is one of the Prep's biggest keys in their season thus far and down the stretch going into tournament time.

STEPPING UP ON DEFENSE
Senior Drex Costello led the Prep with 13 points, but the job he did on the defensive end may have been even more impressive. Costello was on Central's star guard Tyler Nelson the entire game.

Costello held Nelson to a quiet 10 points, eight of which came from the foul line as a result of fast breaks. The Prep star did a very nice job of making things uncomfortable for Nelson in the half court, taking him off his game.

"Costello is our best defender on the opponents guards. I think he did a pretty good job," said Connolly. "His main thing was to just concentrate and try not to let him get off. He's a very good player so it is hard, but I thought he did a good job."
January, 25, 2013
1/25/13
3:46
PM ET
At the midpoint of the MIAA basketball season, we've asked our panel of experts to submit their picks for ESPN Boston All-State, as well as Mr. and Miss Basketball along with a number of superlatives:
***
Brendan Hall
ESPN Boston High Schools Editor
All-State Super Team
G – Tyler Nelson, Jr., Central Catholic
G – Darien Fernandez, Sr., Wareham
G – Jameilen Jones, Sr., BC High
G/F – Kamari Robinson, Sr., Springfield Central
F/C – Tyler Gibson, Sr., Rockland
Second Team
G – Jaylen Blakely, Sr., Brockton
G – Nick McKenna, Sr., Danvers
F – Nick Cambio, Jr., Central Catholic
F – Brendan Hill, Soph., Mansfield
F – Isaiah Nelsen, Sr., North Andover
Third Team
G – Riyadh Asad, Sr., West Springfield
G – Juwan Gooding, Soph., New Mission
F - Sam Dowden, Sr., Andover
C - Dakari Wornum, Sr., Dorchester
C – Chris Baldwin, Soph., Springfield Central
Girls Super Team
G - Infiniti Thomas-Waheed, Jr., Newton North
G - Donnaizha Fountain, Sr., Cambridge
F - Olivia Healy, Sr., Reading
F - Caitlyn Abela, Sr., Oliver Ames
C - Molly Reagan, Soph., Braintree
Mr. Basketball Finalists
Tyler Nelson, Jr., Central Catholic – WINNER
Darien Fernandez, Sr., Wareham
Jameilen Jones, Sr., BC High
Tyler Gibson, Sr., Rockland
Kamari Robinson, Sr., Springfield Central
Defensive Player of the Year
– Drew Healy, Lowell
Coach of the Year
– John Walsh, Danvers
Best Shooter
– Tyler Nelson, Central Catholic
Biggest surprise (player)
– Dakari Wornum, Dorchester
Biggest surprise (team)
– St. Peter-Marian
Most underrated (player)
– David Stewart, Madison Park
Most underrated (team)
– Melrose
All-Defensive
G – Tyree Weston, Soph., New Bedford
G – Marcus Middleton, Sr., Stoughton
F – Isshiah Coleman, Sr., New Mission
F – Prince Unaegbu, Sr., Brighton
C – Drew Healy, Sr., Lowell
All-Shooters
Tyler Nelson, Jr., Central Catholic
Tommy Mobley, Soph., Newton North
Daivon Edwards, Sr., Brighton
Giulien Smith, Soph., Catholic Memorial
Ben Judson, Soph., St. John's Prep
Second half sleepers to watch
Dorchester
The Bears are a streaky team, but also a gritty one, as shown in their 58-57 loss to East Boston on Wednesday. Dakari Wornum has been one of the breakout stars of the first half of the season, but a number of athletic shooters -- including Jeduan Langston, Khalil Newson, Ceejae Agnew-Carter and Dean Lee -- can make this team explode at any moment. The expected return of 6-foot-7 junior D'Bryant Coraprez should bolser the frontcourt too.
Sharon
We knew junior point guard Brian Mukasa (18.8 points per game) was good, and we though he had potential to be this good, but we had questions about the Eagles' supporting cast. Jimmy Fritzon (14.2 points per game) has some answers.
Waltham
Hawks are my favorite to win the Dual County League's Large division, in a year of parity across the board. Keep an eye on Mike Gelineau, one of the area's more underrated shooters.
Case
Most expected Wareham to run away with the South Coast Conference (again), but guess who's sitting at 11-2 and 8-1 in the league? The Cardinals are allowing a league-best 46 points per game, and face Wareham on Wednesday for a first-place battle in the SCC. Keep an eye on 6-foot-8 senior center Matt Plante.
***
Chris Bradley
ESPN Boston correspondent
All-State Super Team
G - Darien Fernandez, Sr., Wareham
G - Tyler Nelson, Jr., Central Catholic
F - Jameilen Jones, Sr., BC High
F - Kamari Robinson, Sr., Springfield Central
C - Tyler Gibson, Sr., Rockland
Second Team
G - Jaylen Blakely, Sr., Brockton
G - Riyadh Asad, Sr., West Springfield
F - Nick Simpson, Sr., Brighton
F - Nick Cambio, Sr., Central Catholic
F - Brendan Hill, Soph., Mansfield
Third Team
G - Nick McKenna, Sr., Danvers
G - Rod Milton, Sr., Worcester South
F - Sam Dowden, Sr., Andover
F - Isaiah Nelsen, Sr., North Andover
C - Chris Baldwin, Soph., Springfield Central
Girls Super Team
G - Kayla Burton, Sr., Newton South
G/F - Donnaizha Fountain, Sr., Cambridge
G/F - Olivia Healy, Sr., Reading
F - Morgan Lumb, Sr., North Andover
C - Molly Reagan, Soph., Braintree
Mr. Basketball Finalists
Tyler Nelson, Central Catholic - WINNER
Darien Fernandez, Wareham
Jameilen Jones, BC High
Tyler Gibson, Rockland
Kamari Robinson, Springfield Central
Defensive Player of the Year
- Isshiah Coleman, New Mission
Coach of the Year
- Sean Connolly, St. John's Prep
Best Shooter
- Tyler Nelson, Central Catholic
Biggest Surprise (Team)
– Wachusett
Biggest Surprise (Player)
– KayJuan Bynum, Springfield Putnam
Most Underrated (Player)
– Sam Dowden, Andover
Most Underrated (Team)
– Dorchester
All-Defensive
G - Marcus Middleton, Sr., Stoughton
G/F - Nate Anderson, Sr., New Mission
F - Isshiah Coleman, Sr., New Mission
C - Alex Cooper, Sr., Wachusett
C - Drew Healy, Sr., Lowell
All-Shooters
Tyler Nelson, Jr., Central Catholic
Tim Dufficy, Sr., Whitinsville Christian
Tommy Mobley, Soph., Newton North
Zack Berman, Sr., Wachusett
Jaylen Blakely, Sr., Brockton
Second-half sleepers:
Andover
If Connor Merinder is back in time for the tournament, then consider Andover a favorite in Division 1 North. Central Catholic has clearly separated themselves from BC High, St. John's Prep, Lowell, and Andover so far, but if Andover gets a healthy, productive Merinder back, they will make a run to the Division 1 North final. The Golden Warriors have gone 10-2 thus far without the 6-foot-5 forward, who is considered one of the MIAA's best in a loaded 2015 class. Sam Dowden has done a great job of leading Andover so far, but getting a healthy Merinder makes them a legitimate contender to be at the DCU Center come March.
Worcester South
South became the first team to finally knock off previously undefeated Wachusett in Central Mass. The Cononels, who with the win moved to 8-2, did so without junior point guard Kasheen Cunningham, one of the area's best outside shooters. South has the best scorer in Central Mass. in Rod Milton, a strong young big man in Khalil Bryan-Robinson, and a constant threat from outside in Cunningham—with Central Mass. Division 1 as up in the air as it has been in years, look for South to make a run to the Division 1 finals at WPI.
***
Ryan Kilian
Founder and Editor-in-Chief, Mass. Prep Stars (www.massprepstars.com)
Boys Super Team
G - Tyler Nelson, Jr., Central Catholic
G - Jameilen Jones, Sr., BC High
G - Malik James, Jr., Brighton
F - Brendan Hill, Soph., Mansfield
C - Chris Baldwin, Soph., Springfield Central
Girls Super Team
G - Morgan Lumb, Sr., North Andover
G/F - Alana Gilmer, Soph., Archbishop Williams
G/F - Donnaizha Fountain, Sr., Cambridge
F - Olivia Healy, Sr., Reading
C - Molly Reagan, Soph., Braintree
Mr. Basketball
Tyler Nelson, Jr., Central Catholic
Miss Basketball
Olivia Healy, Sr., Reading
Defensive Player of the Year
Boys: Kendall Hamilton, Sr., Wakefield
Girls: Infiniti Thomas-Waheed, Jr., Newton North
Coach of the Year
Boys: Mike Kasprzak, Melrose
Girls: John McNamara, Pentucket
Best Shooter
Boys: Tyler Nelson, Jr., Central Catholic
Girls: Morgan Lumb, Sr., North Andover
Biggest Surprise
Boys: Frantzdy Pierrot, Jr., Melrose
Girls: Molly Bent, Soph., Barnstable
Most Underrated Player
Boys: Doug Gemmell, Sr., Central Catholic
Girls: Tess Noguiera, Sr., Pentucket
Most Underrated Team
Boys: Melrose
Girls: Ipswich
Second Half Sleepers
Boys: Wakefield
– They have been hanging in the wings with a few losses and have battled some injuries but with a healthy Bruce Brown and continued improved play of Kendall Hamilton, Mikol Blake-Green and others they should be back in the title hunt by the end of the regular season.
Girls: Westford Academy
– Westford Academy has played a very difficult schedule, losing to Bishop Feehan, Wachusett and Billerica by a combined five points. They have wins over Lincoln-Sudbury and Arlington Catholic as resume boosters and can play with any team in the state. Juniors Sam Hyslip and Hannah Hackley lead the Grey Ghosts in most statistical categories.
***
Rob Sarmiento
Founder and Editor, Beantown Hoops (www.beantownhoops.com)
First Team
G - Jameilen Jones, Sr., BC High
G - Darien Fernandez, Sr., Wareham
F - Sam Dowden, Sr., Andover
F - Tyler Gibson, Sr., Rockland
F - Doug Gemmell, Sr., Central Catholic
Second Team
G - Jaleel Bell, Sr., Wayland
G - Jaylen Blakely, Sr., Brockton
G - Malik James, Jr., Brighton
G - Tyler Nelson, Jr., Central Catholic
F - Isaiah Nelsen, Sr., North Andover
Third Team
G - Giulien Smith, Soph., Catholic Memorial
G - Juwan Gooding, Soph., New Mission
G/F - Bruce Brown, Soph., Wakefield
F - Brendan Hill, Soph., Mansfield
F - Nate Anderson, Sr., New Mission
Girls Super Team
G/F - Donnaizha Fountain, Sr., Cambridge
G/F - Olivia Healy, Sr., Reading
G/F - Molly Bent, Soph., Barnstable
G/F - Morgan Lumb, Sr., North Andover
F - Sarah Hope, Sr., Medway
Mr. Basketball
- Jameilen Jones, BC High
Miss Basketball
- Olivia Healy, Reading
Coach of the Year
- Mark Antonelli, Somerville
Best Shooter
- Tyler Nelson, Central Catholic
Biggest Surprise (player)
- Molly Bent, Barnstable (Girls)
Biggest Surprise (team)
- North Reading
Most Underrated (player)
- Jaleel Bell, Wayland
Most Underrated (team)
- Melrose
All-Shooters
Tyler Nelson, Jr., Central Catholic
Sam Dowden, Sr., Andover
Sam Bohmiller, Sr., Franklin
Tommy Mobely, Soph., Newton North
Mike Gelineau, Sr., Waltham
Second Half Sleepers
Boys: Franklin
- Well-coached and playing in a tough conference will make them battle ready come playoff time. Plus, they have a player who can make threes in bunches with Bohmiller.
Girls: Arlington Catholic
- Seem to always make a run and their style of play is tough to prepare for. They are young in some key positions, but first half of the season experience will show during the playoffs.
January, 22, 2013
1/22/13
11:23
PM ET
By
Ryan Hannable
| ESPNBoston.com
BOSTON -– The saying is defense wins championships and St. John's Prep is well on their way to a Catholic Conference title because of their defense, especially in Tuesday night's road win at BC High.
No. 5 St. John's Prep (12-0) limited No. 8 BC High (8-3) to just 19 second half points in their 57-43 romp, moving them to 12-0 overall, and in complete control of the Catholic Conference.
"We did a good job pressuring the ball and had good help side rotation," said Prep coach Sean Connolly. "Guys are stepping up and stopping penetration, and we held them to one shot for the most part. We work on defense probably 75 percent of our practice so tonight it definitely showed. Some nights it doesn't show, but they did a good job defensively tonight."
The game was knotted up at 24 at the half, but because of tenacious defense and poor shooting from BC High, the Prep was able to pull away and run away with the win in the second half.
St. John's went on a 13-0 run to begin the fourth quarter, but their run started midway thru the third quarter on sophomore Ben Judson's back-to-back three-pointers.
His sharp shooting began a 23-6 run which spanned until their were just under four minutes left in the game when BC High scored their first points of the fourth quarter. They finished the quarter with just two made field goals.
"We were a little more aggressive in attacking their zone in the second half," Connolly said. "We also did a good job defensively, especially in the third quarter along in the fourth where we got a lot of good stops defensively and hit some shots down the other end."
[+] Enlarge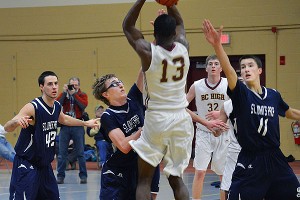 Brendan Hall/ESPNBoston.comSt. John's Prep turned up the defensive intensity in the second half, holding BC High to just 19 points over the final 16 minutes.
BC High used their patented aggressive zone defense, which did work at times, forcing 21 Prep turnovers, but St. John's learned to stay patient and were able to attack when given the opportunity.
It was a back and forth first half with BC High leading by two at the end of one, and then scoring the final five points of the half to tie it up at 24 going into the break. From there on in it was all St. John's, as they outscored BC High 33-19 in the second half.
Leading the way for the Prep was senior forward Josh Syska who had a team-high 15 points. Judson was the next leading scorer, finishing with 14, 12 of which came from behind the three-point line. He now has 23 three point field goals this year.
"He's up and down because he is young, but when he is shooting well he is very tough to stop," Connolly said. "He has a very smooth shot and is going to be a very good player. He is still coming into his own body and has gotten better everyday."
Max Butterbrodt, a junior, had a solid all around game, finishing with 11 points and made his presence felt in the paint all game long.
Senior Drex Costello came into the game as the Prep's leading scorer, but was limited to just seven points, all of them coming in the second half. This didn't come back to hurt the team, as other players stepped up, something which has a lot to do with the Prep's unbeaten record.
"That's why we're having such a good year -- everyone is stepping up," said Connolly. "We have eight or nine guys that are stepping up and giving us good minutes night in and night out so there isn't one guy you can focus on with us as we spread it out which is important."
BC High was led by its senior backcourt of Jameilen Jones and Charles Collins who finished with 18 and 12 points respectively, but needed other players to step up and contribute as the rest of the team only managed 13 points.
The win completes a season sweep for the Prep over BC High as just over two weeks ago St. John's edged BC High 67-58 back at their place.
Although the Prep is 12-0, and very close to wrapping up a Catholic Conference title, they are still taking it one game at a time and not looking too far ahead.
"The coaches have done a good job of keeping us focused and working at the task at hand," commented senior captain Tyler Dooley, who finished with seven points. "We're trying to win the Catholic Conference title right now -- that's our first step. Then, we're on to the state tournament where we want to win a state title. We have two more tough games in this conference.
"We need to beat Catholic Memorial, who is really tough at their place and then we have to beat Malden Catholic as well. So yes, it is nice to be 12-0, but the coaches are doing a good job of keeping us focused and we're looking forward to finishing up this conference and moving onto the tournament."
FREE THROWS MAKE A DIFFERENCE
Free throws were a major story in the game as St. John's was able to get to the line a lot more than BC High, and when they got there they shot the ball at a much better clip.
"We wanted to attack their zone," said Connolly. "We were trying to rotate into the gaps to try and get their zone moving and then attack it. I think we did a pretty good job of doing that and then we got to the line which is what we wanted to do."
The Prep got to the free throw line 28 times, going 22-28, for a 79 percent clip. On the other hand, BC High only got to the line 19 times, and made just 12, which equates to shooting 63 percent.
St. John's made their final nine free throws of the game, not giving BC High any chance of mounting a come back.
January, 10, 2013
1/10/13
12:46
PM ET
By
Chris Bradley
| ESPNBoston.com
A sculpted 6-foot-4 senior guard with skill and gifted athleticism, Jameilen Jones has emerged as one of the MIAA's best players after he was selected to ESPNBoston.com's preseason Super Team, after making its second annual All-State Team last March. His BC High squad took a quick exit from last year's Division 1 South tournament, falling to Franklin in the opening round, but the Eagles have come back with one of their strongest teams in recent memory.
A Dorchester native, Jones has led BC High back to statewide prominence -- just as they were two years ago when they were led by his friend Bryan Hurley, now a point guard at Bowdoin College. The Eagles sit at 5-2 overall and No. 9 in our top 25 poll, with their only losses coming to No. 7 St. John's Prep and No. 5 Mansfield. As one of the state's best pure scorers, it will be up to Jones to bring a Division 1 South title back to BC High, and so far, he's looked up to the task.
We sat down with him to talk about what he learned as a sophomore playing with Hurley, his off-season workout, his gameday superstitions, and plans for next year.
[+] Enlarge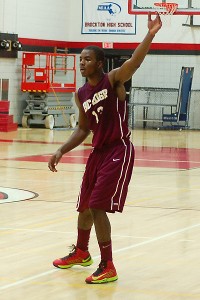 Brendan Hall/ESPNBoston.comBC High's Jameilen Jones, a preseason Super Team selection, has the Eagles looking sharp in the first half of the season.
Q: After you guys lost to St. John's Prep, what did you take away from it?
A:
"After that game we had to adjust a little because they figured us out. They basically spread the floor on us and had shooters all over the floor. So what we're going to do to counter that is to mix in some man instead of playing zone the whole game. But they just shot the lights out on us, honestly.
"We went more man-to-man against West Roxbury (the game following St. John's Prep). Lately teams have been picking me up at halfcourt and pressuring me with the ball, so what coach did is now we're going to run a few different plays, I'm going to go in the post and get the ball in the post a little more, we'll mix in man-to-man a little more too, so that other teams don't get comfortable with the defense we're in. Last year we were a little big longer and taller, so this year we have to do things a little differently."
Q: You often physically overpower opponents with your strength, what kind of workouts do you do in the summer time?
A:
"I didn't really touch weights this summer, I tried to do more calisthenic stuff like push-ups, things with body weight. With my AAU team, Metro Boston, we do a lot of up-fake, rip through, pull up, and mid-range shooting drills. I like to get my shot around the mid-range area, and we do a lot of drills like that. When we do our drills, they're very physical, we have people grabbing, hacking, all that stuff. For my high school team...Coach will give us medicine balls, and we have to try to touch the backboard with the medicine balls 10 times...stuff like that."
Q: What aspects of your game did you focus on this past offseason?
A:
"There were two things. My left hand had to get a lot better, in terms of full court. My left is pretty good in the half court when things aren't full speed, but I really had to work on my left the full length of the court. Because I have to help Charles [Collins, point guard] bring the ball up when teams press us. The other thing was that I wanted to get my shots more consistent, I felt like last year one game I'd be shooting well, then the next game nothing would drop. I had to get more shots up, take different kinds of shots besides just a set shot, and add some lift to it too."
Q: You mention Charles, your backcourt mate. How does your close relationship with him help you guys on the court?
A:
"It helps us communicate a lot better than if we weren't so close. We know where the other one wants the ball, we know when we should take initiative, things like that. He knows when I'm out he has to step up, and when I'm out he has to step up. In a way we kind of rely on each other differently from how we rely on the other players on our team because of the close relationship we have."
Q: You've already played against many of the state's best. Who would you say are some of the toughest players you've seen this year?
A:
"For Charlestown, I thought Allijah [Robinson] was very good. Brockton's guard, Jaylen Blakely was really tough. St. John's [Prep] had that lefty who shot the ball really well, Ben Judson. Honestly though, the toughest player that we played against, that we had to help off a little more and focus on a little more was Markus Neale from West Roxbury."
Q: What did you guys talk about at the beginning of the year, in terms of having goals and winning games? How do you as a leader keep your team motivated?
A:
"Our coach, he gameplans for every game the same...At the end of the day, it's all about getting a W. It's not so much me encouraging our team, I'll tell them we have to get our hands up or we need to play better defensively, but coach is really focused on winning every game. He believes we can win every game we play as well."
Q: What kind of habits or routines do you have for gameday?
A:
"The day before a game, I always try to have a lot of fluids and eat a lot of good food. The day of the game, I stretch a little extra. I also like to think I'm going to do good things, and hope it transpires on the court. I like to think positive. The mental aspect makes a big difference, when you believe and you envision it, I think I have a little bit of a superstition that it helps out."
Q: What have you been able to learn from your teammates, and who, whether it be family or coaches, has really helped you get to where you are now?
A:
"The first person I think of who helped me a lot is Bryan Hurley, who I played with two years ago. Brian is the best point guard I've played with. His leadership is really, really good. He always encouraged his teammates, and kept us in good spirits. As far as other people, my family always encourages me and tries to go to as many of my games as they can, they always want to know when I'm playing. The people around Dorchester always want to know too, so they can come see me play a game. So in terms of players, Brian Hurley really helped prepare me for where I am now, and my family and friends have helped me out a lot."
Q: Your high school coach, Bill Loughnane, has been around a long time. What kinds of things have you learned from him?
A:
"Definitely discipline. There has never been a player who has lashed out at him, or has done anything that was bad. He keeps us very disciplined, he listens to us, but nobody on this team acts out of line. We try to reflect what we want to produce as a school: good character, being a man for others, and things like that."
Q: Division 2 schools have shown interest in you, but you have yet to get a scholarship offer. What are you thinking in terms of plans for next year?
A:
"About a month ago, [Worcester Academy guard] Rene Castro told Coach [Jamie] Sullivan at Worcester Academy about me. I spoke to Coach Sullivan, and actually this Friday I'm going to finish the application to hopefully go there. Rene gave me a schedule so I can get to a game, and Coach Sullivan told me to finish the application and what not. I would really like to play at Worcester...It would be really fun. I believe I'm a scholarship player, but I know I have a lot to work on. If I was more consistent, I would have the scholarships right now. I just need to keep working, and it all will work out."
January, 6, 2013
1/06/13
11:04
PM ET
By
Chris Bradley
| ESPNBoston.com
With the majority of teams about a third of the way through their regular season schedule, we reflect on individuals who have stepped up for their team when the lights are bright, underclassmen who have exceeded expectations, and breakout players to keep an eye on for the rest of the season. Included also are comments from opposing MIAA coaches, on the condition of confidentiality.

***

REASSERTING THEIR TALENT

Nate Anderson, 6-7 Sr. F, New Mission
Anderson's improvement has been well documented this year, especially in his rebounding and effort on the defensive end of the floor. New Mission lacked floor leadership last year, as seen with their early bounce from the Division 2 North tournament, but Anderson has stepped up in a big way this year for the Titans, who have perhaps the toughest schedule in all of MIAA hoops. How far supremely-talented New Mission goes in this tournament this year will ride largely on the shoulders of their senior forward.
Opposing coach's take: "I always thought Nate was talented and wondered why he never played more. He's about 6-6, 6-7, which is a center at this level, but he handles the ball and is mobile like a guard. Now that he is a senior and he has become older, more experienced, and is coming out of his shell, I think he has the potential to be dominant."

Sam Dowden, 6-5 Sr. F, Andover
Expectations were high for Andover coming into this season, with several veteran guards back and one of the area's more formidable frontcourt duos in Dowden and sophomore Connor Merinder. Merinder has been out of action since mid-December with a wrist injury, and since then Dowden has stepped up in a big way for the Golden Warriors. Andover sits at 5-2, with their only losses coming by a point to top-ranked Central Catholic and by ten to second-ranked Lowell. Dowden has led them in scoring and rebounding thus far, but he and the Warriors have their toughest challenges ahead of them with four MVC teams ranked in the top 15.
Opposing coach's take: "A matchup nightmare because he can post up against smaller players and is extremely skilled on the perimeter when you try to match up with a bigger player on him. Sam never seems to get rattled or take bad shots during a game. Plays the game the right way and is always a class act on and off the court."

Tyler Nelson, 6-2 Jr. G, Central Catholic
Nelson is the most dangerous shooter in the state, undoubted and no questions asked, but what has made him stand out so far this year is how versatile he has become. Playing AAU this summer with BABC, Nelson had a significant opportunity to improve his ball handling, his ability to run an offense, and his defensive reliability. At the end of last season Nelson's name was always came accompanied by remarks about his shooting ability, but he has become one of the better all-around scorers in the area and a reliable floor leader for Coach Rick Nault.
Opposing coach's take: "I think he's very crafty. I think that he has high IQ. You cannot relax at any time, because he'll knock down three's. If you over-close on him, he's crafty enough to take that extra dribble and get by you and make a play for somebody else or use his pull-up. So that's what I'd say, very crafty, intelligent, high IQ, smart basketball player."

Derek Collins, 6-1 Sr. G, North Andover
Yes, another sniper from the Merrimack Valley. Collins came back and is having a solid year for the Scarlet Knights after missing the majority of last season with a back injury. North Andover is one of the best teams in Division 2 this year, currently sitting at No. 14 in ESPNBoston.com's poll, and while their strongpoint is in their frontcourt with Isaiah Nelsen and Chris Bardwell, Collins prevents other teams to be able to double down on Nelsen and Bardwell very often because that would leave the sharpshooting Collins open in his favorite part of the floor.
Opposing coach's take: "Extremely confident player who can take over the game at any point. Derek has learned how to move without the ball which makes him a much more dangerous offensive player. As a 6-2 guard Derek is much bigger and stronger than most guards he matches up with so he is able to to use his size and strength to score in the paint."

Riyadh Asad, 6-1 Sr. G, West Springfield
Springfield Central got a lot of the pre-season hype following their 24-1 state championship season, starting this season at No. 1 in our preseason poll. However, West Side has emerged in the opening weeks of the season as the potential favorite in Western Mass. Division 1, and Asad is a big reason why. He's averaging just over 21 points per game and has shown to be one of the best guards in Western Mass. With Central looking particularly unreliable early on, we could be in for an adventure in Western Mass the rest of the way, and if Asad can keep up with his high-scoring efficiency, West Springfield is a team to keep an eye on from here on out.
Opposing coach's take: "Asad is one of the more talented players in western Mass. His ability to create and make shots is what stood out to me. He's also been working on his off ball movement ( using screens, cutting hard. etc) which will carry over well for him at the next level. Preparing for him you have to tell your team to be prepared at all times because he loves to shoot!"

Brendan Hill, 6-5 Soph. F, Mansfield
Mansfield is one of the favorites to take Division 1 South, and Hill is a big reason why. Also a football star, Hill's strong hands, crafty footwork, and innate competitiveness have translated to the basketball court this winter season, as perhaps the most reliable player on one of the best teams in the state. Hill got minutes last year as a freshman, but really broke out this summer playing for BABC, where he was able to work on his post moves and improve his outside shot.
Opposing coach's take: "Brendan Hill is the most unselfish player in the MIAA. I don't know what kid comes off a summer playing with BABC and doesn't demand the ball every possession. He's a raw Pat Connaughton without the athleticism. He can stretch you, suck the help in and make the right kick out almost all the time. He can dominate offensively but has to get stronger to absorb the banging he will have to take in the Hock league."

***

FRESH ON THE SCENE

Kareem Davis, 5-8 Soph. G, Lowell
Like any sophomore, he needs to continue to hit the weights so that he doesn't get pushed around by stronger guards, but Davis has proven to be one of the state's best young point guards. Lowell sits as the second-ranked team in the state right now, with a showdown on Jan. 18 with top-ranked Central Catholic coming up quickly. Going up against one of the state's best guards in that game in Tyler Nelson, we'll soon see how for real Davis is.
Opposing coach's take: "Kareem is an excellent ballhandler who sees the floor well. He has complete confidence in his abilities and isn't afraid of anything. What makes him hard to cover is that not only does he push the ball up the floor so quickly, but he can also shoot."

Adham Floyd, 6-1 Fr. G, St. John's (Shrewsbury)
In going through the top 25 poll, there are few freshmen, if any, who are bringing more to their team right now than Floyd; through six games, he is the Pioneers' second-leading scorer with 9 points per game. With senior captain Ken Harrington out injured for the near future, St. John's will somehow need to make up for that productivity in the backcourt – the crafty freshman will take his lumps, but he'll be better for it in the Division 1 tournament, where the Pioneers are infamous for out-executing their opponents.
Opposing coach's take: "Adham is a very talented young man who works hard on his game. He has a very good skill set. He can handle the ball with both hands, he rebounds well and is not afraid to take the big shot. He also plays with poise beyond his years...He is going to be a handful for years to come."

Ben Judson, 6-4 Soph. F, St. John's Prep
Judson's coming-out party was Friday night against BC High, where the sharpshooting sophomore led the Prep with 20 points on their way to their most important win of the season -– he had five threes. This St. John's Prep team has bought into Coach Sean Connolly's system and has no problem scrapping on defense; if Judson can continue his standout scoring performances, this team is a legitimate contender to knock off Central Catholic in Division 1 North.
Opposing coaches' take: "He really didn't get a lot of time last year, they had a lot of older guys and he had to wait his turn. But already this year he has been one of the best shooters in the area. He's big and long for a guard. If he gets bigger and improves off the dribble, we're talking about a scholarship-level player."

Giulien Smith, 6-1 Soph. G, Catholic Memorial
Smith has been the scorer that Catholic Memorial needed this season, especially after the Knights graduated two thousand-point scorers in Dan Powers and Matt Droney. The crafty left-hander has been one of the state's biggest breakout stars thus far, scoring 21 against Lincoln-Sudbury, 16 against Rhode Island power St. Raphael's, and exploding for 28 points in a win over Bay State Conference favorite Newton North. The Knights have emerged as a legitimate top 10 team behind Smith, and have the potential to stay in the top 10 from here on out if their high-scoring sophomore can keep up his effort.
Opposing coach's take: "He's a terrific player, and is really, really smooth. He shoots it, handles it, gets to the basket, has great poise and a pretty good tempo to he's game. I think he's got a big upside."

***

PLEASANT SURPRISES

Allijah Robinson, 6-7 Jr. F, Charlestown
He's bounced around high schools, but it appears that Robinson has found his niche and is becoming quite the on-court leader at Charlestown. With forward Freddy Oliviera playing the post, Robinson has had the opportunity to play his more natural position on the wing -– where he can create his own shot and beat defenders to the rim off the dribble.
Opposing coach's take: "At 6-foot-7, Alijah Robinson is clearly a matchup problem for any opponent in the state. I was impressed by his nice shooting stroke. Once he beefs up a little more and bangs inside more, he will be even more of a force than he already is."

Charles Collins, 6-0 Sr. G, BC High
On most other teams in the state, Collins would be a star. The Eagles have their scorer in Jameilen Jones, but so far Collins has been the perfect complement to his good friend and backcourt mate. His outside jumper needs improving, but Collins has been a floor general for BC High at point guard, often showing to be an extension of Coach Bill Loughnane on the floor. Because of his high basketball IQ, matched with his gifted athleticism, he is one of the more college-ready prospects in the state.
Opposing coach's take: "Charles Collins is a consistent jump shot away from being the MIAA's most versatile player. He can beat you many ways off the drive as well. He is a coaches' point guard because he can not only put offensive pressure on another team, defensively he can take an opposing teams' point guard completely out of his game."

Drew Healy, 6-7 Sr. C, Lowell
Healy can block shots, hit the mid-range jumper, he rebounds at a high rate, and he runs the floor like a deer. Lowell has one of the most talented assortment of guards in the state, and Healy's low post skills make it difficult for opposing defenses to focus on one or two players. Veteran guards always win ballgames in the MIAA, but when thrown together with a 6-foot-7 big man with standout upper body strength, this Lowell team has state title potential written all over it.
Opposing coach's take: "Drew is interesting because he is nowhere near Lowell's top option. He played limited minutes in the Greater Lowell Holiday Tournament, but is very effective when he is on the court. He rebounds well and blocks shots well. He would score much more if Lowell focused on him in the paint and got him the ball. I understand why -- Jonathan Perez and the other Kareem Davis are the focus of the team."

Alex Cooper, 6-6 Sr. C, Wachusett
If you're Central Mass. team trying to earn respect, the one and only way to do that is to beat St. John's, and behind Cooper, the Mountaineers did just that, knocking off the Pioneers last week at the Laska Invitational. Cooper's game isn't always pretty, but he seems to have a knack for getting it done when Wachusett needs him the most, getting double digits in both points and rebounds in wins over St. John's and Doherty. Wachusett shot up the polls to No. 8 after beating the Pioneers, but they have plenty of challenges ahead, with Algonquin, Worcester South, Brockton, St. John's, BC High, and Cambridge still on their regular season schedule.
Opposing coach's take: "He doesn't get outworked. For what he lacks in skill, he makes up for in hustle, and he leads by example."

Dakari Hannahwornum, 6-7 Sr. F, Dorchester
26 points and 28 rebounds. Yes, you read that correctly, Dorchester's standout big man put up 26 and 28 when they beat previously-ranked Madison Park on Dec. 21. Hannahwornum can be an X-factor for the Bears in their run to a Division 2 South title, especially with his ability to take over games from the low block and overpower teams on the glass. Dorchester has been the breakout team in the Boston City League this year, and behind their skilled big man, they have the talent to be in a game with any given team in the state on any given night.
Opposing coach's take: "He's raw but has good potential, he needs to go to a juco or a D2 [college] where they can work with him year round. He erases a lot of defensive mistakes by tossing shots away from the rim."
January, 4, 2013
1/04/13
11:10
PM ET
By
Ryan Hannable
| ESPNBoston.com
DANVERS, Mass. -– Tied at 16 after the opening quarter and struggling offensively against No. 6 BC High's aggressive zone defense, No. 17 St. John's Prep needed a spark and someone to take over the game.

Sophomore guard Ben Judson stepped up and provided the lift they needed, scoring eight of his game-high 20 points in the second quarter, leading the Prep (8-0) to a 67-58 triumph over BC High (4-2) in both teams' Catholic Conference opener.

"I went into the gym earlier and just shot," Judson said. "Once in the game I just shot when I was open, I didn't force anything. I was trying to get my teammates shots too and look for them, not just myself."

Of Judson's 20 points, 13 came from behind the arc, including a four-point play late in the first quarter. The 6-foot-4 guard hasn't taken many shots this season, but once he gets going he can get hot in a hurry with a beautiful left-handed stroke.

"I haven't really shot as much, but once I get my shot going I can be a streaky shooter," the humble Judson said.

The first quarter was sloppy for both teams as they struggled offensively, but after the opening eight minutes Prep pulled away, outscoring BC High 20-6 in the second quarter. They used aggressive defense to get steals and then attacked the zone offensively to take a commanding 36-22 lead into the locker room.

"I think we were real tentative in the beginning throwing the ball all over the place," Prep coach Sean Connolly said. "I think we started the game with three straight turnovers."

Prep knew BC High would be attacking them with zone defenses -– it was just a matter of breaking them.

"We were coming into the game trying to break their zones, since they have a few different ones," Judson said. "On the offensive end we just tried to find the gaps as much as we could. We needed to stay strong the entire game and not fall for their pressure and that's what we did, staying patient and finding the open man."

The action picked up in the second half with both teams raising their intensity levels, but the Prep continued to maintain their lead, leading 53-36 after three.

BC High was able to mount a come back in the fourth quarter, cutting the deficit to as little as eight with less than two minutes to go, but the Prep made six-of-nine free throws in the quarter to hold on for the win.

Senior Charles Collins led BC High with 16 points, which had two other players reaching double figures as Jameilen Jones added 14 and Steve Young finished with 13.

Although St. John's Prep senior point guard Tyler Dooley finished with just six points, he had a very solid game running the show for the Eagles as he was able to find the open man all night long.

"He is the guy that makes us go, he is a very good point guard," Connolly said. "Without him we really don't have a point guard who can bring the ball up, so he is a big key to our success."

Senior Drex Costello, who came into the game leading the Prep in scoring, finished with 15 points.

This was the opening game for both teams in the Catholic Conference where teams know it is going to be a battle game in and game out. Despite jumping out to an 8-0 start, Connolly wants his Eagles to just take it one game at a time.

"It's just one game at a time for us, these guys have been working hard all year for us," said Connolly, the former Providence and Ohio State standout. "They are a great team to coach, they come to work everyday and keep getting better. I am very pleased with the way they are playing so far."

OFFSETTING BC HIGH'S SIZE
Coming into the game St. John's Prep knew it would be a battle going up against the height of BC High as they start two players at 6-foot-5 and another at 6-foot-4. The Eagles needed a way to make up for their lack of size compared to BC High.

"We used our quickness and wanted to move the ball on offense making it tough for them to cover," Connolly said.

The Prep's guards ability to penetrate to the basket, drawing BC High defenders, allowed for big men junior Max Butterbrodt and sophomore Jake Burt to get easy layups, finishing with five and four points respectively.

Prep also did an outstanding job of boxing out, as they were able to control the glass the majority of the game.
December, 23, 2012
12/23/12
12:55
AM ET
By
Chris Bradley
| ESPNBoston.com
CHARLESTOWN, Mass. -– If there was any doubt going into the weekend on whether or not St. John's Prep had the experience to win this year, consider those doubts halted.

Behind 18 points from senior captain Tyler Dooley, Prep knocked off a streaking Charlestown squad on the road on Saturday, 64-50, to move to 5-0 on the season.

Charlestown (2-3) looked as if it had overcome their offensive woes of their first two games of the season, especially after picking up two wins earlier this week over Brighton and East Boston. However, Prep was able to shut down star Townie guard Taris Wilson (five points) and forward Alijah Robinson (10), and forced Charlestown to make rushed decisions and take quick shots.

"We were just going to try to keep them in the halfcourt," said head coach Sean Connolly. "We didn't want to let them get too many transition buckets because they're so athletic and they're so talented."

The Eagles led Charlestown 33-26 going into the half, thanks to the impressive first half performance from Dooley and the Eagles' defensive effort.

The Townies made quite a run early in the third quarter, forward Freddy Oliviera scored six straight points to bring Charlestown within a point, at 38-37. At a pivotal point for Prep, their slew of guards came up big in the dribble-drive offense, slamming the door shut down the stretch.

Eagles reload: It was unclear how good the Eagles would be after losing several talented players from last year's team. Marcos Echevarria was supposed to be the Prep's starting point guard before transferring to St. Mark's, and 6-foot-5 forward Isaiah Robinson also left for prep school -– making his move to Salisbury School, in Connecticut. Prep also graduated several lead contributors off of last year's team, including thousand-point scorer Steve Haladyna, sharpshooter Mike Carbone, and 6-foot-4 swingman Freddy Shove.

Six-foot-4 guard Ben Judson, just a sophomore, is one of the MIAA's most promising talents. A lefty with deep range on his jumpshot and an ability to take most any defender to the rim off the dribble, he scored seven points down the stretch to help the Eagles seal the game. Max Burt (13 points) and Drex Costello (12 points) both hit big shots to lengthen Prep's lead in the fourth quarter. After the game, Connolly praised his captains -- Costello, Dooley, and Josh Syska -- for their leadership.

"With Tyler, Drex, Josh, we've got some great leaders this year," he said, "They play hard and set the tempo for us every day."

Dooley comes up big: Tyler Dooley was Prep's best player on Saturday, playing with an incredible amount of toughness and tenacity, a style of play that was clearly contagious to his teammates. Dooley attempted 13 free throws, converting 10 of them, and took some of the Townies hardest fouls -– getting up each time and continuing his playmaking ways. Showing a versatile game and an ability to run Connolly's offense well, he also finished the game with 6 assists.

"He controlled the tempo for us, he does such a good job running the offense and obviously he's our best ballhandler, he's the guy that makes us go," Connelly said.

Slowing it down: Prep was 4-0 coming into the day, but had yet to face a team as talented as Charlestown. Connolly spent plenty of time game planning for the talented, athletic Townies, making an emphasis to his team to slow the game down, set up their offense, and maximize possessions.

"We were just trying to get some movement, cutting through the zone to try and spread them out. We've got some pretty good guards, so were kind of trying to spread them out, get guys getting into the gaps and kicking and getting open shots," he said of their four-out offense that they put in to get open shots for their shooters.

Defensively, the Eagles got up in the face of Charlestown's guards and forced them to make a play one-on-one, and the plan was successful, as the Townies generally struggled in the halfcourt.

"It's a very good win, this is our toughest test by far so far this year," Connoly said, "This is a very good win for us, beating a very talented Charlestown team. I'm very proud of the way the kids played."