Boston High School:

Ben Melaugh
June, 25, 2012
6/25/12
11:02
PM ET
FIRST TEAM
G - Doug Gouchoe, Sr., Concord-Carlisle
The Air Force-bound goalie backstopped the Patriots to their fourth state title and an undefeated season. The Eastern Mass. All-American recorded a .682 save percentage this season.
D - Max Randall, Sr., Duxbury
A true shut-down defender, the 5-foot-10 pole always drew the matchup of the opposing team's top offensive threat. Randall, who will continue his lacrosse career at Dartmouth College next season, was named an Eastern Mass. All-American and also earned ESPN Boston All-State football consideration as a linebacker on the Dragons' repeat Super Bowl title squad.
LSM - James Burke, Sr., Duxbury
One of the most dynamic talents in the state, the Penn State-bound long-stick did a little bit of everything for the Dragons, from winning ground balls off the wing on faceoffs to providing hounding defense. An Eastern Mass. All-American, Burke was also an ESPN Boston All-State football defensive team selection on.
LSM - Ryan Cassidy, Sr., Wellesley
Leading one of the state's top defensive units, Cassidy led the Raiders to the Division 2 EMass finals at Harvard Stadium. On the season, the Amherst College-bound long-stick collected 175 ground balls.
LSM - Reilly Naton, Sr., Duxbury
Paired on the wing with Burke on Duxbury's face-off set, the Yale commit was one of the state's best players during the last couple of years. In addition to winning three state titles with the Dragons, Naton was also a starting safety on two Duxbury Super Bowl title-winning football teams.
M - Kurt Hunziker, Sr., Masconomet
One of the most physically intimidating forces in the state, the 6-foot-3 linebacker/tight end/midfielder extraordinaire was a force. Hunziker, a UMass-Amherst signee, earned back-to-back Eastern Mass. All-American nods in his junior and senior seasons.
M - Billy Polk, Sr., Dover-Sherborn
Among the top faceoff men in the state, the two-time All-American was also a scoring threat for the first-time Division 3 state champions. Also a multi-sport athlete, Polk plans to play both football and lacrosse at Colby College.
M - Kyle Soroka, Sr., Acton-Boxborough
A key element to the Colonials rise to prominence in the Dual County League this season. The Middlebury-bound middie was named an All-American after scoring 30 goals with 39 assists.
A - Kevin Blair, Sr., Hingham
A two-time Eastern Mass. All-American, Blair has been one of the most feared scorers in the state and was an ESPN Boston All-State second-teamer last season. Blair, who finished with over 100 points on the season, will attend Providence College next year.
A - Paul Hellar, Sr., Duxbury
While Duxbury's defense got most of the headlines, Hellar proved the Dragons could score in bunches as well. The All-American was the fulcrum of the Duxbury attack and has signed a Letter of Intent to play at Fairfield University.
A - Nico Panepinto, Jr., Needham
The Fairfield commit showed why he was one of the most dynamic attacks in the state during the Rockets' state final tilt with Duxbury. The All-American tallied 54 goals with 30 assists on the season.
Faceoff specialist – Henry Narlee, Jr., Duxbury
Ask any member of Duxbury's coaching staff or its players and they'll tell you their ninth state title in the last decade started at the faceoff X with Narlee. The midfielder won a high percentage of his draws and was more than capable of finishing on the rush as well.
Second Team
G - Connor Darcey, Sr., Wellesley
G - Jared Fong, Sr., Weston
G - Greg Stamatov, Sr., Foxborough
D - Matt O'Keefe, Sr., Duxbury
LSM - John Sexton, Soph., Lincoln-Sudbury
M - Henry Guild, Jr., Lincoln-Sudbury
M - Mark Riley, Sr., Needham
M - Chris Williams, Sr., Duxbury
A - Tucker Ciessau, Jr., Scituate
A - Jay Drapeau, Soph., Wesford Academy
A - Ben Melaugh, Sr., Billerica
Faceoff specialist – Clay Richard, Sr., Medfield
Best of the Rest - Honorable Mention
Henry Bumpus, Sr. D, Concord-Carlisle
Henry Buonagurio, Sr. G, Duxbury
Cody Carbone, Sr. A, North Reading
Matt Comerford, Jr. G, Reading
Jeff Desko, Sr. A, St. John's (Shrewsbury)
Jackson Finigan, Sr. M, Concord-Carlisle
Conor Healy, Sr. A, Algonquin
Stephen Iodice, Sr. D, Weston
Cam Joyce, Sr. A, Archbishop Williams
Matt McIver, Sr. A, Andover
Tyler McKelvie, Sr. A, Acton-Boxborough
Cabot Noyce, Sr. A, Norwell
Joey Pasquale, Sr. A, Weston
D.J. Smith, Jr. G, Billerica
Tom Stanton, Sr. M, Catholic Memorial
Ian Yanulis, Jr. D, BC High
Coach of the Year
Tom Dalicandro, Concord-Carlisle
May, 29, 2012
5/29/12
1:32
PM ET
The 2012 boys' lacrosse Eastern Mass. High School All-American team was released Monday morning by the Eastern Mass. Lacrosse Coaches Association.

Also included was the list of senior Acacemic All-Americans.

Here is the All-Americans list, which will be forward to U.S. Lacrosse:

Doug Gouchoe, Sr. G, Concord-Carlisle
Connor Darcey, Sr. G, Wellesley
Kurt Hunzinger, Sr. M, Masconomet
Kevin Blair, Sr. A, Hingham
Paul Hellar, Sr. A, Duxbury
James Burke, Sr. D, Duxbury
Max Randall, Sr. D, Duxbury
Matt O'Keefe, Sr. D, Duxbury
Nico Panepinto, Jr. A, Needham
Tucker Ciessau, Jr. A, Scituate
Ben MeLaugh, Sr. A, Billerica
Bill Polk, Sr. M, Dover-Sherborn
Henry Bumpus, Sr. D, Concord-Carlisle
Ryan Cassidy, Sr. LSM, Wellesley
Greg Stamatov, Sr. G, Foxborough
Kyle Soroka, Sr. M, Acton-Boxborough
Tom Stanton, Sr. M, Catholic Memorial
D.J. Smith, Jr. G, Billerica
John Sexton, So. D, Lincoln-Sudbury
Jay Drapeau, So. A, Westford Academy
Cabot Noyce, Sr. A, Norwell
Matt Comeford, Jr. G, Reading
Matt McIver, Sr. A, Andover
Alex Eaton, Sr. M, Westford Academy
Tyler McKelvie, Sr. A, Acton-Boxborough
Henry Guild, Jr. M, Lincoln-Sudbury
Mark Riley , Sr. M, Needham
Chris Williams, Sr. M , Duxbury
Ian Yanulis, Jr. D, BC High

Academic All-American Team
Benjamin Newbert, Dover-Sherborn
Mitchell Maffeo, Masconomet
Wellesley Shrewsbury, Masconomet
Jacob Sherman, Newton North
Peter Trombly, Acton-Boxborough
Jacob Saccorso, Foxborough
Stephen O'Grady, North Andover
Miles McCarthy, Catholic Memorial
Jonathan Lee, Hopkinton
Mark Palermo, Lowell
Colton Williamson, North Attleborough
Oliver Gregory, Marblehead
James Moynahan, BC High
Branden Morin, Bridgewater-Raynham

May, 22, 2012
5/22/12
11:11
AM ET
By
Bruce Lerch
| ESPNBoston.com


BILLERICA, Mass. -- Brian Vona has been around long enough to know that if his Lincoln-Sudbury lacrosse squad is going to make a deep run in this year's postseason, the Warriors defense is going to come up with big stops in key spots.

Led by sophomore Notre Dame commit John Sexton, the D did just that in the third quarter of last night's nonleague clash with fellow Div. 1 power Billerica. Goals by Peter Walters and Dan Trainor to open the third quarter helped pull the Indians to within two goals of the Warriors at 9-7. With Kevin Farrell dominating the faceoff X, it seemed as though Billerica was in the midst of what could have been a game-changing run.

The Lincoln-Sudbury (13-5) defense dug in its heels, worked hard to get ground balls and excelled in the clearing game after each of Dan Shaughnessy's 16 saves, and returned both momentum and confidence to the Warriors sideline. L-S then proceeded to score seven of the next eight goals and pulled away for a convincing 17-9 triumph.

"It was 9-7 where we were worried," Vona admitted. "They fought back hard and we knew they were going to make a run. They are very well-coached and very skilled. [Cam] Slatton, [Ben Melaugh], [Russ Tedford] and [Walters] - those are there four players who can bring it. We knew they were going to come back and they did. Our defense had to make a couple stops. We've been looking for that for a while from our defense."

He added, "Our defense really played well in the third quarter. That's when I feel like that we set the tone was set for the entire game.

Jordan Dow led the Warriors with five goals, while Colby Hall added three goals and three assists and Henry Guild chipped in with a hat trick. Slatton had three goals and two helpers to lead Billerica, with Walters and Trainor each adding a pair.

Vona also noted that, prior to the game, the Warriors dedicated their performance to program founder and now-retired former coach Andy Oleski.

FILLING IN THE MIDDLE
The wide-open style that Lincoln-Sudbury plays makes them a very fun to watch and has for years. The offensive players, both attack and middies, know how to fill lanes and zip passes back and forth until they find the right shooting opportunity. Such plays led to a 5-2 first quarter and a 6-1 fourth.

The key for the Warriors is maintaining in the middle portions of the game. While L-S outscored the Indians in all four frames, Billerica played its best during the middle quarters. One the defense got going, however, that gave the offense the spark it needed for a definitive closing stretch.

"We just need all the middle too," Vona said with a laugh. "We've been playing well the last few games. We went down to the Connecticut and played a real tough team down there, got off to a fast start and lulled in the middle as well but we came back at the end. I'm proud of the kids."

DIGGING A HOLE TOO DEEP
Although Billerica managed to close to within a pair of goals during that third quarter, having to play from behind all game created problems that, against a team of the caliber of L-S, are just too much to overcome.

The Indians found themselves trailing by as many as four goals at several points, and once the Warriors made a strong push at the end, Billerica simply couldn't hold on any longer. An early harbinger of things to come took place in the opening minutes when a clearing pass was sent back to the Indians cage only to find no goalie waiting to receive it and the ball rolled right in for the first L-S score.

Games like this in the final week of the regular serve as strong teaching tools, something Indians coach Craig Flynn undoubtedly will address with his charges before the tournament begins.

"We started off in the hole, gave them a couple of goals early that we shouldn't have, passing back to the goalie when he's not in the net trying to clear the ball," Flynn explained. "We felt like we could keep fighting back but their offense is very good. They have good attackmen and midfielders and our defense was getting lost in there. We had a lot of mental errors. They have a lot of motion in their offense and it looked like our guys were getting lost out there on defense."

"It's all learning experiences for our guys to get ready for the tournament," he continued. "We'll learn a lot from this and I think we can make a solid run at this thing once we get into it."
April, 12, 2012
4/12/12
3:23
AM ET


DUXBURY, Mass. – Any time the ball was in the vicinity of Duxbury long-stick midfielder James Burke, it either settled in his stick, or if a Billerica player happened to snatch it first, they were likely to be sent flying.

The physical matchup between the No. 1 Dragons and the No. 12 Indians came as advertised, with Burke as its prime example. But Duxbury was, at times, a bit too hasty with the physical play and were hampered by nine man-down situations throughout Wednesday's battle.

Despite surrendering two goals while down a man, the Dragons showed their teeth with a relentless defensive showing in a 5-4 win over the Indians.

"Our defense kept us in the game all night long," Duxbury head coach Chris Sweet said. "We knew coming into this season that our defense is the heart and soul of the team and that they were going to keep us in a lot of games."

The Dragons (4-1) were paced by senior captain Paul Hellar's hat trick, while Burke and senior long pole Matt O'Keefe turned in superb defensive efforts.

"It all starts with Bongo in the cage," O'Keefe said of Dragons goaltender Henry Buonagurio. "He's such an awesome asset to have back there, he's so vocal."

While the Dragons were solid from the back out, they were stunted offensively at times, with so much time concentrating on killing Billerica's man-up situations.

When Duxbury was able to possess, Hellar was most effective. Perhaps none of his three strikes was finer than his last. While looking to boil down the clock with a one-goal lead late in the fourth quarter, Hellar ripped off a shot from 15 yards out off a ground ball.

"I think it's really that we've just been there so many times," Hellar said. "We're able to keep our composure at the end of the game. We all know what we have to do, we just got out there and do our jobs."

Still, Duxbury sweated out the final seconds of the contest as Billerica senior middie Peter Walters notched a hat trick of his own while drawing the Indians within a goal with 1:26 to play.

Billerica (4-2) had one final possession with 11 seconds to play, but Ben Melaugh's desperation shot from 30 yards out went just wide of the cage.

Indians goaltender D.J. Smith was solid again in cage, making nine saves.

"Our guys are tough," Indians head coach Craig Flynn said. "They're going to fight, scratch and claw the whole game. There's no giving up in these guys."

NOT QUITE THERE YET
Duxbury faces another of its biggest challenges of the season on Saturday when they face defending New York state champion Jamesville-DeWitt. And Sweet thought his team might have been guilty of looking ahead to that meeting instead of focusing on the task at hand.

"I think we have to realize that we're not as good as we thinks we are and everybody else thinks we are," Sweet said. "We have to work hard for our wins. We're starting to realize that."

It was the second straight one-goal decision Duxbury faced in its last two games, after falling by a goal to Irondequoit last weekend. It's partially a product of the face that goals have been difficult to come by for the Dragons.

"I feel like we've stepped it up a bit, but we still have to step it up a lot," Hellar said of Duxbury's attacks.

"Now, we have Jamesville-DeWitt this weekend and we're going to have to play really strong against them."


April, 5, 2012
4/05/12
11:27
PM ET


WELLESLEY, Mass. – It was this time a year ago when Wellesley stormed into Billerica and ruined the Indians' opener with a win.

On Thursday, it was the No. 12 Indians' chance to stomp on the Raiders' opening day festivities.

Senior attacks Ben Melaugh and Cam Slatton worked their chemistry throughout and worked together to give Billerica the game-winning goal. Melaugh set up Slatton with the a tie-breaking goal with a minute left in regulation for a 6-5 win over No. 3 Wellesley.

Melaugh (2 G, 2A) and Slatton (2 G, A) combined to tally seven of the Indians' nine points on the afternoon while junior goaltender and UMass recruit D.J. Smith made it all stand up with 15 saves.

"Last year, they took away our first game, so we wanted to come back here and win it," Smith said.

The game was largely decided by a couple of ground balls in Billerica's favor in the final minutes.

Slatton's game-winner was set in motion on a ground ball pick up in the defensive half by junior midfielder Sean Farmer. After the scoop, Farmer ran the ball into the offensive half, dished to Melaugh on the wing who then found Slatton out front. Slatton's rip from 15 yards out found nothing but twine.

Another ground-ball win by Indians senior long-stick Nick DelMonaco in the final minute, along with some sloppy possession play from the Raiders' attack, helped ice the victory for the Billerica (2-1).

"I think we generated 25 shots and I don't think we generated 25 shots last year," Wellesley head coach Rocky Batty said. "But you take shots, you've got to finish."

SMITH IS SHARP


Smith's play on Thursday drew high praise from Indians head coach Craig Flynn, who called it the "game of his career." In addition, it was set against the backdrop of a matchup between two of the states top netminders, as Smith was opposed by fellow ESPN Boston All-Stater Connor Darcey.

"It was a huge matchup between basically the two top goaltenders in the state."

At no point was Smith better than the third quarter, when he kicked, swatted and gobbled up six saves. Although the Raiders (0-1) possessed for the bulk of play in the quarter, Smith and the Billerica long poles held strong.

"Tommy [McLaughlin] and Brian LeClair, they played great at X covering them and they didn't let them at the X and didn't let get past the [goal line extended]," Smith said of the defensive group in front of him. "Danny [Lynch] played on the crease, he didn't let them get any passes. They played great altogether our D-poles."

CHEMISTRY EVIDENT


Batty thought his team won a small victory in limiting the Indians' top scoring duo of Melaugh and Slatton to four goals.

It speaks volumes about the respect opposing coaches have for the pair, who both tallied 100-plus point seasons last year.

Of course, that was done in the shadow of ESPN Boston 2011 Mr. Lacrosse and current UMass attack Grant Whiteway. Now, it's time for Melaugh and Slatton to shine.

"We've been playing ever since we were, what, maybe 8 year old, I don't even know," "It's been a while though. We've known each other is and we're able to find each other."

MONKEY OFF THE BACK?
Always a colorful interview, Batty joked with reporters postgame that his team was, in fact, fallible.

Certainly, the Raiders entered the season with a boatload of attention as Division 2 favorites, grabbing the No. 3 spot in our preseason Top 25 poll along with a spot in the ESPNHS FAB 50.

While a loss isn't the way the Raiders wanted to start their campaign, their head coach also admitted it might not be the worst thing in the world.

"We'll be better for this in the long run," Batty said.


May, 27, 2011
5/27/11
6:28
PM ET
The Merrimack Valley Conference has unveiled its boys and girls lacrosse All-Conference and All-Star teams, as well as their Players and Coaches of the Year. Below are the All-Conference teams:

BOYS

ATTACK
Grant Whiteway, Billerica
Cam Slatton, Billerica
Matt McIver, Andover
Ben Melaugh, Billerica

MIDFIELD
Ross Murphy, Billerica
Nick Price, Andover
Nick Morello, Billerica
Ian Abrahamson, Billerica
Mike Conlon, Dracut
Ryan Forgione, Central Catholic
Tim Oteri, Andover

DEFENSE
Andrew Basler, Chelmsford
Mike Curley, Billerica
Ben Cook, Andover
Tom McLaughlin, Billerica

UTILITY
Nathaniel Vasquez, Haverhill

GOALIE
Crosby Nicholson, Andover
D.J. Smith, Billerica

Division 1 Player of the Year: Grant Whiteway, Billerica
Division 2 Player of the Year: Nathaniel Vasquez, Haverhill
Division 1 Coach of the Year: Craig Flynn, Billerica
Division 2 Coach of the Year: Dan O'Brien, Dracut
Assistant Coach of the Year: Sean Donahue, Lowell
Man of the Year: Grant Whiteway Jr., Billerica
Sportsmanship Award: Rory Fuller, Dracut

GIRLS

ALL-CONFERENCE
Christine Keenan, Sr., Central Catholic
Erin Masucci, Sr., Central Catholic
Mary Foggo, Jr., Central Catholic
Stefani Vadeboncouer, Sr., Haverhill
Molly Gleason, Sr., Haverhill
Nicole Devoe, Sr., Tewksbury
Casey Brown, Sr., Lowell
Grace Politis, Sr., Billerica
Kelly Pickett, Sr., Chelmsford
Johannah Cramer, Jr., Chelmsford
Meaghan Tuttle, Sr., Chelmsford
Emily Shields, Sr., Andover
Meghan Morris, Sr., Andover
Kate Farnham, Jr., Andover
Anne Farnham, Jr., Andover
Ally Fazio, Jr., Andover
Sara Miller, Sr., Andover
Kelsey Joaquin, Sr., Dracut

Division 1 Player of the Year: Jen Caro, Sr., Andover
Division 2 Player of the Year: Courtney O'Neil, Sr., Central Catholic
Coach of the Year: Phil Rowley, Central Catholic
Sportsmanship Award: Haverhill
May, 21, 2011
5/21/11
1:14
AM ET


LOWELL, Mass. -- You couldn't draw it up any better.

Teetering on the brink of history, Billerica attack Grant Whiteway entered Friday night's game with Andover just shy of 500 for his career.

After an eight-point outburst in a win against St. John's Prep on Wednesday, he stood at 499 and the only question on everybody's mind was when and how it was going to come.

It was the foremost thought of Grant's father, Grant II, who paced the sideline, as he always does, in his duty as an assistant coach of the Indians. The game was the final in a full day of Merrimack Valley Conference lacrosse in Lowell and the Indians played under the lights of Cawley Stadium. There was a sizable crowd, which included grade school-aged players from the town youth league, which Grant II created. Most of the children had "500" painted on their cheeks with green paint.

It nearly came several minutes in when Whiteway whizzed one of wide of Andover goaltender Crosby Nicholson. The set play had Whiteway, who typically fires off shots in excess of 90 miles per hour, with a clean look at the cage from 20 yards out, only to rip it wide right.

It finally came four and a half minutes in.

Of course, it was a goal.

"It was relief to get it over with," Whiteway said after Billerica's 12-2 win.

With the goal, Whiteway became the sixth high school player in the nation to have reached the 500-point plateau. He joins North Andover's Jimmy Connolly and Duxbury's Max Quinzani as the third player from Massachusetts to accomplish the feat.

They're exclusive company with whom Whiteway is familiar.

"He was a ball boy for Jimmy Connolly and Max Quinzani," the elder Whiteway said, alluding to the travel team he coached. "He always saw how hard those guys worked off the field."

Whiteway's milestone is as much a credit to his family's roots in the game. Grant II played at UMass-Lowell before he started Billerica's youth league. Grant III's oldest sister, Jamie, went on to play at UMass-Amherst (where he will go on to play next year) before finishing her career at Merrimack. His middle sister, Brittany, plays at Southern New Hampshire. His youngest sister, Lindsay, is a sophomore at Billerica and a budding star of the girls' lacrosse team.

It all traces back to the Whiteway's front yard, where you can often find the siblings throwing the ball around with dad.

"We make sure we're in the front yard, so the dogs don't bite us," Grant II said, adding the family's English bulldog has a taste for lacrosse balls.

Friday night went about as well as could be scripted.

With the convincing win, the third-ranked Indians claimed another MVC Large division title. Whiteway finished the night with four goals and an assist to raise his career total to 504. Junior attacks Ben Melaugh and Cam Slatton each had four-point games. D.J. Smith was again strong in the cage and Billerica head coach Craig Flynn noted the performances of defenders Ian Abrahamson, Mike Curley and Tommy McLaughlin.

When Whiteway tallied No. 500, the game was stopped and Whiteway was presented a commemorative plaque by Flynn and his father. His teammates flanked him for a photo as the crowd cheered.

"He was born to play Billerica lacrosse," Flynn said of Whiteway. "He's the most prolific player in the state. What he did reaching that 500-point milestone, it's not only great for him, but it's great for the whole community of Billerica, too. It's such a big thing.

"There are only three guys in the state who have reached 500 points and now he's up on the pedestal with those guys."

And the timing couldn't have been better.

"I wanted to try to do it last game [against Prep], but it didn't happen," the junior Whiteway said. "It was good to do it tonight, we had more people to see it here."


May, 18, 2011
5/18/11
11:16
PM ET


DANVERS, Mass. -- Grant Whiteway was oblivious to the fact he was closing in on yet another milestone.

While it came as a surprise to the decorated Billerica lacrosse attack — who set the Massachusetts single-season goals and points records last season — Whiteway entered Wednesday's game at No. 16 St. John's Prep nine points shy of 500 for his career.

"Did I hit it?" Whiteway shot back when asked if he knew about the impending achievement.

Not quite. But Whiteway and his mates put on quite a show in an emphatic 13-6 win over the Eagles.

The UMass commit tallied an eight-point game with four goals and four assists, meaning Whiteway will likely hit No. 500 during Friday's Merrimack Valley Conference test against No. 14 Andover.

When he hits 500, Whiteway will join an exclusive club of five previous high school players nationwide to earn the distinction. He will not be the only Massachusetts native represented. Duxbury legend Max Quinzani — whom Whiteway dethroned last year while setting the state single-season marks — is the nation's all-time leading scorer with 577 points.

"He's a special player," Indians head coach Craig Flynn said of Whiteway. "Guys like him don't come around that often. Once he gets the ball in his hands, it's exciting to watch."

Aside from history, No. 3 Billerica (15-2) set out to avenge last year's drubbing at the hands of Prep (7-7) on its march to the state Division 1 title.

Although things were all even, 3-3, after the first quarter, the Indians began to separate in the second. Then Billerica kicked off a parade of nine straight goals that stretched from the 7:12 mark of the second until the Eagles' next marker with 1:56 remaining in the game.

The ever-potent Indians offense flexed its muscle with attack Nick Morello netting four goals, while Cam Slatton (3G, 2A) and Ben Melaugh (2G, 2A) also got in on the fray.

However, the most significant change to the game's complexion started in Billerica's defensive end.

"Defensively, it's just playing solid team defense," Flynn said. "D.J. Smith came up huge in goal for us and made some big saves for us. If we get the ball on offense, we know we can find the net, it's just a matter of getting the ball down there."

Indians longstick Ian Abrahamson turned in a strong game, devouring ground balls and setting up the transition game.

"The offense was moving really good," Whiteway said. "We had a lot of transition that was good. The way we were going on offense, we felt like we could pretty much run anything."

Billerica still has other impending business to take care of against Andover on Friday. That's securing the MVC Large title.

Then, there's the matter of No. 500.

But even after his latest performance, Whiteway had just one thing on his mind — his cell phone.

He hid his mobile in his sneaker to avoid getting it wet in the rain. But, as he changed out of his game cleats, he realized water had still seeped through.

"I should've wrapped my jacket around it," Whiteway said while stuffing the phone into his sock.

Then, from out of his other sneaker, he pulled an iPod, which he then slid into his right sock.

Surprises? The kid's full of them.
May, 3, 2011
5/03/11
11:44
PM ET


BILLERICA, Mass. -- The scoreboard mimicked the style of Lexington's possession-oriented offense during the first half of Tuesday's game at No. 3 Billerica. Scoring chances were few and far between, but the Indians were still able to grab a 3-1 halftime lead.

During the second half, things opened up. And, with that, Billerica returned to its high octane offensive style while coasting to a 14-3 win over the 18th-ranked Minutemen.

Sophomore goaltender D.J. Smith (12 saves) and the Indians defense carried the first half, giving way to a splendid offensive display in the second, which was highlighted by a dazzling 7-goal performance from UMass-bound attack Grant Whiteway.

"They like to possess the ball and they were doing a good job of being patient within their offense," Billerica head coach Craig Flynn said of Lexington's play in the first half. "Our defense played solid team D and D.J. did a great job in net for us today."

So what was the change in the second half?

"We told our defense to stay patient as long as they were throwing the ball around like that," Flynn added. "We knew it was only a matter of time before we got the ball on offense and start to make things happen. In the first half, we had a few bad turnovers where we just threw the ball away and we weren't giving ourselves a chance to score."

Billerica (9-2) got five unanswered goals from Whiteway to start the third quarter. Along with Whiteway, fellow Indian attackmen Ben Melaugh (2 goals, 3 assists) and Cam Slatton (1 G, 2A) put on a clinic of ball movement with flawless execution from set up to strike.

Not to be overlooked were the efforts of Smith in the cage along with his defenders. Smith turned away several high quality Minutemen chances in the second quarter to keep the Indians in the lead.

"The defense did a really great job in the first half, only giving them outside shots and nothing really in close," Smith said. "That helped a lot."

Billerica came out of the break recharged, winning a lion's share of faceoffs in the third while flying to ground balls.

All that was left was to sit back and enjoy the show.

"Practice is really where we do all the coaching," Flynn said, "so when I comes to game day, sometimes it's fun to sit back and watch with how well they move the ball with each other between our attacks. That can be a lot of fun."
April, 15, 2011
4/15/11
12:47
AM ET
BILLERICA, Mass. -- Following a first half in which his team fell behind to Billerica, Duxbury boys' lacrosse head coach Chris Sweet thought something was lacking. He even likened the Dragons' first-half play to a certain Boston baseball team that has stumbled out of the gates.
"That first half was really frustrating," Sweet said. "There was something missing, something wasn't clicking, kind of like the Red Sox right now. You know any game at any second something could turn it around."
[+] Enlarge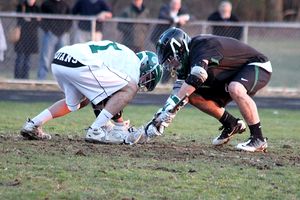 Ryan Kilian for ESPNBoston.comAfter being postponed one day due to rain, the anticipated matchup between No. 1 Duxbury and No. 5 Billerica didn't disappoint, as the Green Dragons clawed back from a fourth-quarter deficit to down the Indians 12-9 in Billierica.
That certain something came in a multitude of forms in the second half of Thursday's matchup as No. 1 Duxbury picked up the slack on the offensive end, heightened their physical play and won just about every faceoff there was to be had.
In culmination, the Dragons' improved play bore itself out on scoreboard, as they tallied the last six goals of the game to earn a 12-9 comeback win over the Indians.
"It was really about effort. I think we're a good team, but sometimes I think good teams forget what go them there and that's good old fashioned hard work. You have to work real hard against Billerica and in the second half we did a much better job of that."
Duxbury (3-1) took the victory with a balanced offense with Bryan Barry, Andrew Buron, Kane Haffey, Paul Hellar and Chris Williams netting two goals each. Will Seifert and Sam Sweet also tallied goals.
Although the Dragons took a 1-0 lead midway through the first quarter, the No. 5 Indians controlled play for the majority of rest of the first half. Billerica went into halftime leading 5-4, thanks to two goals in the final minute from Nick Morello (his second) and Peter Walters (also his second of the half).
The Dragons emerged a new team in the second half due in no small part to their faceoff success, winning 10 of 13 draws.
"We just couldn't get the ball and if you don't have an offense, you can't score," Billerica head coach Craig Flynn said. "You can only keep a team like down for so long. You have to get the ball on the offensive side of the field."
Duxbury clawed back in the third quarter with a pair of strikes from Buron, drawing the Dragons back within two.
Ben Melaugh netted his second of the game to give the Indians (2-2) a 9-6 lead with nine seconds remaining in the third quarter.
The fourth belonged to Duxbury, which tied the score at nine all on Barry's second of the match with 6:42 to play.
Williams then notched the go-ahead goal with 5:06 to play, tallying his second score of the game with a dodge before letting one rip from 10 yards out. Hellar and Haffey each added their second goals of the game to round out scoring.
"Hopefully, this is something we can build on for the season," Sweet said.
April, 6, 2011
4/06/11
11:59
PM ET
During a recent lacrosse practice behind Billerica Memorial High School, Grant Whiteway let off a shot from 15 yards out. As ball struck the iron of the goal cage, it let off a resounding "ping" that might have been heard miles away.

Typically, Whiteway's screeching 90-plus mile per hour shot finds the back of the net. In 2010, he touched the twine more than any other player in Massachusetts history, scoring 113 goals and breaking Max Quinzani's previous mark. Whiteway also broke the single-season scoring record with 169 points.

"Grant is the most prolific player in Billerica's history and the team, as a whole, feeds off of Grant and he lifts them up," Indians head coach Craig Flynn said. "He has some great kids around him that helped him set that Massachusetts scoring record last season."

More than that, the UMass-Amherst signee is the heart and soul of the Billerica squad.

"He's a great kid with great character," Flynn added. "He's always willing to help. He helps out with the youth leagues and on the field he's the quarterback of our offense.

"He's an explosive dodger, he sees the field extremely well. He's a great feeder. He's always working on the little things, too, whether it's shooting or footwork.

We caught up with the Indians star recently to ask him about the upcoming season and his teammates' burrito obsession.

Q: What was the key to your record-setting success last year?

A: "I played a ton in the offseason and practiced a lot. I had great kids around me, too, that helped out a lot. Cam [Slatton] and Ben [Melaugh], we clicked really well on offense and I played with them all year. Now, Nick [Morello] is back this year and I've been playing with him my whole life. He broke his wrist last year and his collarbone the year before that, so it will be nice to have him back."

Q: Did you have a sense of where you were in terms of setting the record, or are you the type of player who doesn't like to keep stats?

A: "I had an idea about it. I didn't know exactly how close I was, but I had an idea. The single-season I record I think I set against Needham in the playoffs. Coach Flynn told me at the end of the game that I did it. It was on the last point that I scored in the game and he pulled me off because we were up by a good amount, so it was nice to enjoy that."

Q: How do you feel last year's performance shapes your personal expectations for this year?

A: "It might a little, but just as long as this season ends up the way we want it, that's fine. I'm not going to be mad if I don't get the points, just as long as we're winning, I'll be fine."

Q: What kind of expectations does your team have heading into this season?

A: "We want to be right up there again this year. Hopefully, we'll make a run toward the end of the year."

Q: What are the areas the team needs to improve upon to make a long postseason run?

A: "I would just say finishing. We came so close last year that we just want to finish it this year."

Q: How did you arrive at your decision to commit to UMass-Amherst?

A: "My older sister [Jamie] went there for two seasons before she broke her ankle. I was always up there and I got to catch a bunch of their games, so I knew about the program. I just kind of knew right away. They're a run-and-gun type of team and I like that."

Q: What has the sport of lacrosse meant to your family?

A: "I started at about [age] 3 or 4 with a lacrosse stick in my hands, as soon as I could walk. My dad played in college at UMass-Lowell, back when they had a program. He's coached up at the high school and he helped start the youth league in town, back in the 90s, so I've been around it since the very beginning."

Q: How do you get ready for a game?

A: "I need music before every game. I listen to a lot of Lupe Fiasco, some Lil Wayne, a little Immortal Technique."

Q: What do you guys do as a team to hang out outside of school and practice?

A: "Most of our team, we play together on the Raptors. We'll play three or four tournaments around here and then we'll take a trip down to Delaware and play the hot beds down there for the past three of four years. But we're all real close, we hang out together a lot. We take a bunch of trips down to Somerville to Anna's Taqueria. We'll take team trips down there all the time, especially during the summer, we'd go there at least once a week, just to hang out and get a bite to eat."

Q: How do you take your burrito?

A: "I go with the carnitas every time."