Boston High School:

Ben White
May, 10, 2013
5/10/13
10:31
PM ET
By
John McGuirk
| ESPNBoston.com
SHREWSBURY, Mass. -- A year ago, Ben White was not considered a marquee pitcher for the St. John's Pioneers. With two outstanding pitchers in front of him, he didn't need to be.
White was slotted as the team's No. 3 pitcher, overshadowed by two senior hurlers who left an indelible mark in their careers here. Anthony Perry and Mike Badjo were the straws that stirred the drink for this club last season, helping guide the Pioneers to a 22-3 mark. With the departures of Perry and Badjo to graduation, this season White, now a senior, was catapulted to the forefront of the rotation.
[+] Enlarge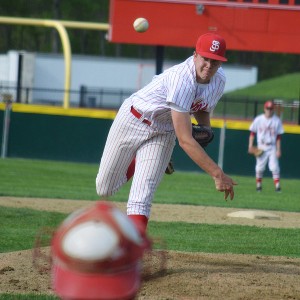 Brendan Hall/ESPNWith the 5-1 win over BC High, Holy Cross-bound right-hander Ben White improved to 5-0 with 47 strikeouts for No. 4 St. John's of Shrewsbury.
In certain cases, transcending from a middle-of-the-rotation guy to becoming the team's ace literally overnight can be a difficult undertaking. Some will grasp the roll with sheer ascendancy while others may buckle to the pressure that comes along with it.
In White's case, he chose the former and it certainly has paid dividends for both himself and the Pioneers ever since. On Friday at Pioneer Field, White took the mound in preparation for his toughest challenge of the season to date. Against an offensive-minded BC High line up, White took the mound already with a plan in place. He knew he had to get ahead of hitters in the count, make sure his body would hold up to the rigors of a very warm and humid afternoon and maintain a faith that his teammates will scratch across enough runs to pull out a victory.
As a result, all three occurrences worked in unison. The 6-foot-3 right-hander held the Eagles in check throughout, surrendering just four hits and striking out nine and his teammates provided the offense, scoring five times in a 5-1 victory, improving to 12-3 on the year.
When asked about his lights out performance, White, like any unselfish player would, quickly diverted the attention to his teammates. White comes from the belief that there is no room for individual accolades.
"The team chemistry has really picked me up," said White, who is 5-0 with 47 strikeouts. "We have pasta parties every Friday night and the team gets together, eats pasta and just hangs out and talks. This is a great group to be around. I think this year is probably the best it has ever been chemistry-wise since I've been here."
When White takes the hill, he refuses to ever allow his mind to get caught up in the allure of a certain opponent or batter. He approaches every game with the same purpose -- keep the ball down in the strike zone and stay clear of opposing hitter's strengths.
"I come into every game the same way," he said. "I just want to win games and keep teams to minimal runs. I know BC High has two guys going on to play at Division 1 programs next year. (Ryan) Tufts is going to Virginia Tech and (Jake) Marotta is going to Bryant University. But I don't think about that stuff.
"I just go out and try to keep the ball down in the zone and throw strikes. Most of the time I am very relaxed when I pitch. But whenever I do get tensed up (junior catcher) Scott Manea will come out and calm me down. Sometimes I need that a lot."
The relationship between White and Manea began two years ago. It has grown into one of the finest pitcher-catcher combos state-wide. Manea is an exceptional backstop, possessing all the necessary tools. But perhaps his biggest attribute is in his preparation and knowledge of the game and his ability to work well with all the pitchers on the Pioneer staff and keep their focus levels at a high level.
"We've been together two years now and Scott would catch my bullpen sessions during the winter and knew all of my pitches which is huge," White said. "He knows what I am dominant with and he knows the opposing hitters too. I have complete confidence in what he calls. Rarely do I ever shake him off because we are usually both thinking the same thing."
Adds Manea, "With Ben, his goal is to keep the ball down and that's what he focuses on," he said. "I keep the glove low and he hits it probably 95 percent of the time. Today his slider wasn't working that well so we basically went fastball change up most of the game. I can figure out with him during warm ups what he is throwing good and what he isn't. His change up is the best one I have ever caught. His fastball hits his spots, up and down, left and right and when his slider is on it's untouchable."
White has already made a commitment to play for Holy Cross next season. Prior to Friday's game, he spoke of his excitement regarding the fact the Crusaders are the No. 1 seed heading into this weekend's best-of-three Patriot League Tournament semifinal round versus Bucknell. White is hopeful Holy Cross' baseball success continues to flourish upon his arrival there next year.
After watching White mow down the Eagles with relative ease, St. John's coach Charlie Eppinger says it is those kinds of perfomances that he has grown accustomed to. In the back of Eppinger's mind, he knows every time White takes the ball, the odds of a Pioneer victory increases substantially.
"Today was the Ben White we are use to seeing," said Eppinger. "He had one rough outing earlier in the year against New Bedford but has been real solid ever since. Against a great line up like (BC High's) we knew we needed to have a great effort out of him to give us a chance to win and he gave that to us.
"This team has really supported him. Because we expect so much out of Ben, sometimes I think one player feels he needs to do it all. Not just with him but other players too. But that doesn't need to be the case here. We have 20 players on this roster for a reason and we trust all of them."
May, 10, 2013
5/10/13
10:23
PM ET
By
Chris Bradley
| ESPNBoston.com


SHREWSBURY, Mass. –- St. John's coach Charlie Eppinger knew the Pioneers needed a standout performance from star pitcher Ben White, and he got just that, as the Holy Cross-bound righty led St. John's (12-3) to a 5-1 victory over BC High (9-3).

White pitched all seven innings for the Pioneers, giving up just three hits and allowing one earned run. His control was pinpoint, walking no BC High hitters.

"That was the Ben White we're used to seeing," Eppinger said. "He had one rough outing against New Bedford earlier in the year, and has been real solid since. We knew we needed a good effort out of Ben."

The Pioneers drew first blood in the bottom of the second, as senior Micah Cummins singled and later came around to score to make the score 1-0.

BC High answered in the fourth inning though, as senior Ryan Tufts hit an RBI double to bring classmate Jake Marotta around to even the score. After that though, BC High's offense was literally nonexistent.

"For some reason, mentally we just weren't there," BC High coach Norm Walsh said. "We've got to change that, we've got to come out hungry every single game. We got a little complacent."

Walsh also said that his team has been struggling as of late with the approach of opposing pitchers. Generally, Eagles' hitters have been seeing fastball early in the count, and then see mostly off-speed pitches for the rest of their at bat.

"We've been getting pitched backwards, and we're not responding in terms of making our adjustment at the plate," Walsh said. "That needs to change, and that's what we're going to see—not too many teams are going to try to throw the ball by us. We've got to understand that, it's not like we aren't capable of it, because we are. It's all in the approach we have."

St. John's began to develop some momentum in the fourth inning after Walsh took starting pitcher Tommy McDonald out to keep a limit on his pitch count. Freshman Drew Rosen drove in P.J. Browne on a ball hit to right field that resulted in error. Kevin Quinlivan hit a single in the next at bat to get Rosen over to third, and then got caught in a pickle between first and second that ultimately allowed Rosen to score from third.

Eppinger was proud of how many players had a hand in the victory.

"A lot of it is a team effort, the team has really supported him," he said. "We expect so much of Ben, sometimes I think one player thinks they need to do it all. We have 20 players on the roster and we trust all of them."

The Pioneers built the lead further in the sixth inning, as cleanup hitter Jake Byrne smashed a solo home run over the center field fence. After getting hit by a pitch, Cummins came around soon after to score his second run of the game, bringing the score to 5-1.

"The insurance runs are huge, going out 5-1 instead of 3-1 against a lineup like that, you take the wind out of their sails and give yourself some confidence," Eppinger said.

After losing 7-4 to BC High on Monday, the Pioneers' coach said today's victory was just the confidence booster that his relatively young squad needed going into the final stretch of the regular season.

"It's time for us to compete at a state level," Eppinger said. "This gives us a lot of confidence that we can compete with anybody, but we've got to bring our A-game, we're not going to be able to come out and play mediocre baseball and beat a good team."


April, 15, 2013
4/15/13
7:27
PM ET
By
John McGuirk
| ESPNBoston.com
WORCESTER, Mass. -- Ben White has proven over the last couple of years that he is quite capable of pitching in any situation which presents itself. Spot the senior a six run lead and it is a near-certainty the opponent is done for.

Such was the case on Monday when St. John's of Shrewsbury jumped on rival St. Peter-Marian for six runs in the first two innings, en route to an 8-1 triumph.

While the Pioneer offense did its job, the day belong to White. The tall, lanky righthander was in control throughout during his seven innings of work on the mound, holding the Guardians to just one hit while striking out 13.

"This game is always a big rivalry game for us," said White. "It has gone back many years. That team always competes and I know all of those guys over there. My catcher Scott (Manea) called a great game and my defense was strong behind me when I needed them to be. I was throwing my slider, my change up and my two-seamer and we just continued working it in the zone and it worked today."

St. John's (3-1) took advantage of some early wildness from SPM righty Zach Zona. The UMass-bound senior, who tossed a no-hitter against Burncoat in his previous outing, got off to a rocky first inning by hitting a pair of batters sandwiched around a walk to load the bases with none out. Zona, who played for St. John's his first two years before transferring to SPM last season, then issued another walk to Jake Byrne forcing in the Pioneers' first run. Owen Shea and Joey Evangalista followed with RBI singles to make it 3-0.

Zona's woes continued the following frame. He walked Mike Sullivan and, with two out, he induced a Byrne grounder to short. What should have been the final out instead resulted in shortstop Cam Frederick misplaying the ball to keep the inning alive. Shea followed that up by launching an 0-1 pitch deep over the left field fence to put St. John's up by six.

"Zach was off with his control early on," Guardians coach Ed Riley said. "I give him credit for gutting it out there until he was relieved in the sixth. But when you fall behind after giving up three runs in the first and three more in the second against a quality pitcher like that, it is tough to comeback. Ben threw a great game for them and hats off to him."

The six runs proved to be more than enough ammunition for White, who will play at Holy Cross next season. White thoroughly mesmerized the SPM line up all afternoon. The Guardians lone hit came in the second on a Jon Roy infield single. From there, White retired the next 15 batters before a pair of errors in the seventh cost him the shutout as SPM (1-4) was able to get a run across.

"It was important for us to get going offensively," said Pioneers coach Charlie Eppinger. "We felt our pitching and defense would take care of itself but we needed to score. We know Zach well having spent his first two years here at St. John's and we know he's a very good pitcher. That's why we knew it would be important for us to get some runs off of him early.

"Ben is our ace this year. Last year he was our No. 3 and was sort of hidden behind two of our other pitchers. This year he is going to pitch in some big games for us from now to hopefully June. I thought today he worked hard and kept his composure. He was in control and Scott did a real nice job guiding him from behind the plate."

St. John's added solo runs in the fifth and seventh innings. In the fifth, Micah Cummins delivered an RBI single and in the seventh, with the bases full, Guardian reliever Danny Bushe plunked Kevin Quinlivan to drive in the eighth run.
May, 11, 2012
5/11/12
11:23
PM ET
By
John McGuirk
| ESPNBoston.com
SHREWSBURY, Mass. -- Although they never displayed it openly, you knew to a player that St. John's had Friday's return match against BC High circled several times on its calendar.

The Pioneers were beaten handedly by the Eagles in Dorchester last month and were chomping at for a redemption shot. Jumping out to a 3-0 lead after one inning, St. John's did precisely what it set out the do having turned the tables en route to a 5-2 non-league victory at Pioneer Field.

"We have taken every team we've played just as serious as this game today," said Pioneer third baseman Owen Shea, who contributed a pair of RBIs in the victory. "Yesterday after our game against Burncoat, we talked and made sure that all of us were ready for this one today. We came out hard early and managed to get the win. It's great."

With Advanced Placement testing taking place this week, BC High coach Norm Walsh did not have a full unit to begin the game. Those players who were testing arrived just before first pitch. That being the case, Walsh had to maneuver his lineup some and had to use a junior varsity pitcher (Sam Telman) on the hill.

St. John's (14-2) wasted little time getting to Telman, a righty. Tom Petry led off the Pioneer first with a double. Two outs later, Shea followed with a wind-blown double to right scoring Petry. Shea took third on the play after Eagle third baseman Justin Silvestro, taking the cutoff throw, fired home trying to nail Petry but the ball sailed on catcher Bobby Melley hitting the backstop. Moments later Scott Manea belted a double to center plating Shea with the Pioneers' second run.

Telman woes would continue. Following Manea's hit, Jake Byrne next smacked a single to left scoring Manea with St. John's third run.

"They took advantage of my JV guy," said Walsh, his club falling to 12-3. "We could have bailed him out I think with some better play in the outfield. It was tough, wind conditions today and the balls were hit pretty hard. Them scoring three in the first was certainly the difference today."

Pioneer starter Ben White, despite playing with a stomach virus, was holding the Eagles in check over the first three frames, issuing no hits. But in the fourth, BC High (which defeated the Pioneers 11-5 three weeks ago for St. John's last loss) started to make some noise against the junior righthander.

With one out, Chuckie Connors reached on a Petry error at shortstop. White then struck out Silvestro but couldn't escape the power of Brian Hocking. The senior roped an 0-1 pitch over the left field fence to bring the Eagles back to within a run. Following the blast, BC High proceeded to load the bases but White (4-0) avoided further damage by striking out Rich Roach.

Following the gutty fourth, White's day was done. Senior Anthony Perry took over and it was up to him to maintain the lead. The lefty pitched was flawless in his three innings of work, surrendering just one hit.

In between, St. John's was able to tack on a couple of more runs on Perry's behalf. In the fifth, consecutive singles by Jimmy Smith, Nick Sieber and Shea produced the Pioneers' fourth run. In the sixth they added one more on a Micah Cummins home run off of reliever Bartley Regan.

"Scoring early really helped us," St. John's coach Charlie Eppinger said. "We know BC High has an amazing lineup and I give Ben White and Anthony Perry a tremendous amount of credit. Our catcher Scott Manea called a great game and kept their hitter off-balanced throughout. Our kids really wanted this one today. It's a great win against a great, well-coached program."
April, 26, 2012
4/26/12
9:50
PM ET
By
John McGuirk
| ESPNBoston.com
SHREWSBURY, Mass. -- Following yesterday's 4-2 non-divisional loss to St. John's of Shrewsbury, Xaverian coach Gerry Lambert stood on the top step of the dugout at Pioneer Field and emphasized to his team that this is not the time to push the panic button.

At least not yet anyway.

The Hawks dropped to 5-5 and, with 10 games remaining on the schedule, need to find at least five more wins to secure a spot in next month's postseason tournament. But the road does not get any easier. Over the next two weeks, Xaverian faces St. John's Prep, Malden Catholic, Brockton, Catholic Memorial, Bishop Hendricken (R.I.) and BC High -- all of whom have winning records.

"We knew going into our season given, the competition level of our schedule, that we don't have a lot of room for error," said Lambert. "Today we played OK, but St. John's played better."

Indeed. The Pioneers (8-1) were the better team in the early going. Hawks' pitcher Mike LaVita ran into problems from the outset, unable to locate his pitches effectivley. When he did, St. John's took full-advantage.

In the Pioneer first, leadoff batter Tom Petry started things by roping a single to left. LaVita retired the next two hitters before surrending a home run to No. 4 batter Owen Shea to straightaway center field that put St. John's in front 2-0.

"One guy who has really stepped up for us this year has been Owen," said Pioneers coach Charlie Eppinger, whose team suffered its first loss 24 hours earlier against New Bedford. "That was his first home run. He's not really our clean up hitter but he just happens to hit fourth in our lineup. But he certainly looked like a clean up hitter today with that shot he hit. He was ahead 1-0 in the count and took a really good swing on that pitch. That was big because you don't want to squander an opportunity to score like that."

LaVita, a senior lefty, ran into more trouble the following frame. Anthony Perry opened with a walk and was sacrificed to second. One out later, Petry, who went 0-for-5 against New Bedford, grounded a hard single down the left field line to plate Perry. Jimmy Smith next laid down a well-placed bunt single which allowed Petry to reach third. Moments later, Smith stole second but Hawks' second baseman Chris Hoyt, fearing a double steal was in order, attempted to cut off the throw from catcher James Serra. However, Hoyt was unable to field the throw cleanly as the ball skipped off his glove and rolled to the left side of the mound which, in turn, allowed Petry to trot home with the Pioneers' fourth run.

"I tried to relax more up at the plate today," said Petry, a junior who finished 2-for-3 at the plate. "I was a little tense (on Wednesday) and today I just tried to not do to much other than put the ball in play. We've been getting ahead early in games and then we sort of become laid back a bit towards the end of games. Thankfully it didn't hurt us to much today in the end."

While St. John's was able to stake its pitcher Ben White to an early lead, the junior righty did his part by maintaining it. White, the son of former Dallas Cowboys and New England Patriots offensive lineman Bob White, was holding Xaverian in check with near pinpoint accuracy. Making only his second start, White had allowed just three hits through the first five innings.

Not to be overlooked was the work of Hawks reliever Mark Stefaniak. The senior took over for LaVita to start the third and held the Pioneers scoreless the rest of the way on only one hit.

In the sixth, the Hawks started to figure out White a bit as they were able to climb back into this tilt. After setting down the first two batters with ease, White surrendered a double by Alex Person. Senior Tim Duggan then followed by launcing an 0-2 fastball deep over the right field fence cutting the deficit to 4-2. But that would be all the offense Xaverian could muster as White finished his complete-game gem, having allowed just five hits while striking out 11.

"Their pitcher certainly deserved to get everything he got," Lambert said. "He kept us off-balance throughout the game. He wasn't overpowering us but was mixing and matching his pitches well. We really had a hard time picking up his change up out of his hand."