Boston High School:

Betsy Garnick
June, 27, 2012
6/27/12
2:07
PM ET
By
Marc Thaler
| ESPNBoston.com
Fundraising totals between the teams competing in the inaugural New Hampshire East-West High School Football All-Star Game couldn't have been much closer.

The game itself? That's a different story.
West's all-stars – widely considered underdogs for the June 23 contest at the University of New Hampshire – proved too tough. The combination of overpowering offense and dominant defense led to a 33-point halftime lead and 44-12 final score.
Thaddeus "Junior" Brown was toughest to cover. Manchester Central High's 6-foot 3-inch, 180-pound receiver made all four of his catches for 87 yards in the first half. Three receptions went for touchdowns, including a 50-yard down-the-right-seam dagger that helped Team West build a 37-6 halftime lead.
"This means a lot. I worked hard for it," Brown, the game's first Bo Dickson MVP, said of the trophy he was handed for his efforts. "The coaches helped me out a lot. I just busted my butt for 10 days. The outcome was this MVP."
Off the field, the outcome of Brown's efforts, as well as the 73 other all-stars, was even more impressive.
Teams East and West combined to raise $51,301.21 for Children's Hospital at Dartmouth-Hitchcock (CHaD) in Lebanon.
Team East was designated the home team. It earned use of UNH football's locker room for winning the head-to-head fundraising contest. Coach Bill Raycraft's players raised $25,751.21 – a mere $201.21 more than West's standouts.
In total, $301,000 was raised for CHaD.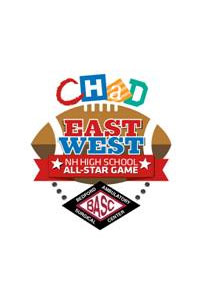 BASCTBD by editorial
"These kids came together and did a heck of a job for a great cause," said Team West coach Keith Jones, whose 6-year-old son, Harris, a CHaD patient, participated in the pre-game coin toss.
Harris was involved in a freak snowmobile accident three years ago. His father has said many times if not for CHaD, right-leg amputation would have been required.
On gameday, the soon-to-be first-grader made an appearance in Team West's locker room prior to warm-ups. It gave the players an additional boost, which carried over to kickoff.
Several playmakers fueled Team West's 37-point first half.
Brown caught a pair of 9-yard TD passes from Manchester West High's Aaron Martin, who also used his speed to sneak inside the left pylon for a 2-yard rushing score.
Merrimack High's Jackson King returned an interception 19-yards for a TD.
Nashua South's Johnny Bieren was crucial to posting a second-quarter safety. He also forced and recovered a fumble on one of his three quarterback sacks.
Central's Stephen Grzywacz – who raised a players-best $5,965 for CHaD – converted five extra points (6-for-6 overall).
East's all-stars committed five of the game's eight turnovers. The favored squad fell behind, 30-0, before Salem High's Jerickson Fedrick returned a kickoff 96 yards to paydirt.
Fedrick, and Pinkerton Academy of Derry stars Kevin Davies and Emmitt Smith, were all neutralized. Combining to rush for 4,649 yards and 57 TDs last fall, the trio managed 99 yards – 28 through two quarters.
Conor Donovan of Division VI cooperative team Inter-Lakes-Moultonborough scored East's second TD early in the third. Derek Paradis of Nashua South answered with an up-the-gut run.
"The first series, I thought we did pretty well. We stopped them (but) right away turned the ball over," Raycraft said. "That's not the way you want to start an all-star game. From there, we pressed a little bit more than we probably should have and, because of that, created more turnovers.
"But, like I told the kids, I had a blast these last (10) days," he added. "I couldn't have asked for a better group of kids. It's going to be fun watching where they go from here. The score will fade, but they set the tone for fundraising."
BASEBALL CHAMPS
Division I
: Dillon Emerson's extra-inning hit snapped two droughts, including a lengthy one for Concord High.
The senior's single down the right-field line scored Pat Cannon and gave the top-seeded Crimson Tide a 5-4 walk-off win over No. 3 seed Merrimack High in the state final June 16 at Northeast Delta Dental Stadium, home of Double-A baseball's New Hampshire Fisher Cats.
Emerson's hit snapped an 0-for-4 skid in the title game and earned Concord (18-4) its first crown since 1980. The Tide lost the state final in 2011.
"I was in the dugout upset over all the missed opportunities I had when coach [Scott Owen] came up to me and said, 'Stick with it. You'll get your at-bat and you'll come through.' He was right," Emerson told the
New Hampshire Sunday News
.
June, 8, 2012
6/08/12
1:46
PM ET
By
Marc Thaler
| ESPNBoston.com
Bishop Guertin High's wealth of talent, particularly on defense, is best illustrated by this fact related to the 2012 NHIAA Division I final:

Minus one of their best close defenders the Nashua powerhouse in boys' lacrosse still clinched a championship three-peat.
Kyle Karaska, a University of Massachusetts recruit, broke his hand in the state semifinals. But given the depth at the position, BG still broke the spirits of Hanover High's Marauders with a 10-5 title-clinching win June 6.
The final score doesn't do BG justice, either. This contest, played at Bedford High, was never in question.
"I thought we outplayed them better than 4-0. But that's been the story of our season," said BG coach Chris Cameron, referencing the halftime score and his club's ability to dominate play despite what the scoreboard suggested. "We were just so good defensively."
UMass commit Bob Fahey, the coaches' association pick as defensive player of the year, spearheaded yet another dominant defensive performance. The state's No. 1-ranked club finished 14-1 in-state, and 18-3 overall.
The out-of-state setbacks were by a combined two goals. Guertin lost to La Salle Academy (R.I.), 7-6, and nationally ranked Duxbury (Mass.) High, 6-5.
The Cards also avenged their only in-state loss. After thumping Hanover, 15-3, in the season-opener, Cameron's boys were stunned 10 days later by the same team, 14-9.
"After our (April 20) performance up in Hanover, I thought, 'Maybe they're just better than us,'" Cameron said. "But I could tell right away (in the final) that our kids were ready to play."
Fahey said he and his teammates "loved our matchups" for the title game. New Hampshire's top close defender took away attackman Christian Johansen.
Long-stick midfielder Brody Smith stayed glued to the other half of Hanover's top scoring tandem, midfielder and Michigan recruit Christian Wolter.
Johansen and Wolter, the sparks to Hanover's up-tempo game, did not score in the season-opening loss. They struck for seven goals and an assist in the win.
"We wanted to slow them in transition," said Fahey, well aware Hanover's snipers combined for one goal in the rubber match.
R.I.T.-bound Jay Krzyston and Karaska's replacement, Endicott commit Sean Fenn, completed BG's dominant defensive unit. They helped take away the middle and force shooters to fire from the perimeter.
Goaltender and Harvard recruit Colin Delea (eight saves) took a shutout deep into the third quarter, which ended with BG boasting a 10-2 lead.
That's because Blake Boudreau owned the faceoff X after halftime.
BG's junior midfielder won 8 of 9 third-quarter faceoffs. It translated to lengthy possessions and a back-breaking 6-2 frame.
The fourth quarter? It was merely a formality.
Appearing in its eighth straight Division I final, BG became the first program since Pinkerton Academy of Derry (1999-2002) to celebrate a three-peat.
The Cards clinched their fifth crown since emerging on the scene as a surprise winner in 2005.
"They like to push in transition. But, 6-on-6, that's not their game," Cameron said of the Marauders. "That took them out of their game – and (forced them) to play from behind."
June, 13, 2011
6/13/11
2:10
PM ET
By
Marc Thaler
| ESPNBoston.com
The resume: Seven consecutive appearances in the Division I boys' lacrosse final.
The crown count: Four.
The program celebrating those staggering statistics: Nashua's Bishop Guertin High.

Guertin tightened its grip on the sport June 8 with a first-time feat for the program. Coach Chris Cameron and his Cardinals clinched their second straight title with an 11-8 win.
"This one feels good," said Cameron, whose team finished 14-1 in league play. "This one feels good."
Success was indeed sweet, considering second-seeded BG beat its fiercest rival. Top-seeded Pinkerton Academy of Derry entered the tournament final undefeated (20-0 overall) and perfect in NHIAA finals since 1997 when boasting an unblemished record (3-0).
Roughly 1,500 fans filed in to Stellos Stadium for the much-anticipated matchup played in extreme humidity. The final marked the fourth time BG and Pinkerton fought to finish No. 1 since 2005.
BG now owns a 3-1 record in those colossal clashes.
What prepared BG's young and inexperienced squad for this giant win? Try six grueling out-of-state games that left the team linked to an uncharacteristic 0-6 record.
Cameron annually schedules the most unforgiving non-league schedule of any team playing NHIAA lacrosse. After his team topped No. 3 seed Hanover High in the semifinals, 15-6, the eighth-year coach said this spring's out-of-state slate was the toughest to date.
The Cards lost to Massachusetts squads Lexington (6-4), Needham (14-11), Cohasset (7-4) and Duxbury (15-3). New Jersey's St. Joseph Metuchen (11-3) and Rhode Island's La Salle Academy (6-5) also beat BG.
There was also an 8-7 loss to the Astros, which snapped BG's 48-game regular-season win streak against in-state foes. Guertin had as many losses this spring (seven) as the 2008, 2009 and 2010 seasons combined.
Shut-down junior defenseman Bob Fahey said team confidence took a hit. But the losses served a purpose.
"It got us ready for this exact game, right here," said Fahey, who has already committed to UMass. "Coach Cameron gives us that great out-of-state schedule to get ready for these games."
Cameron's club took control of the final after halftime. The teams took the field for the third quarter knotted at 6-apiece.
BG's midfield- and close-defense – operating without defensive slides – caused all kinds of problems for Pinkerton. Fahey, Kyle Karaska and Jay Krzyston forced the Astros to shoot from the perimeter. Long-stick midfielder Brody Smith locked off lanes to the cage. Colin Delea (14 saves) made the necessary stops between the pipes.
"You've got to give credit to them," said Pinkerton coach Brian O'Reilly, noting his offensive-minded club was contained to four goals in 6-on-6 play. "It's not like we were missing the cage. It's just the shots didn't seem to be there."