Boston High School:

Bill Breen
December, 8, 2011
12/08/11
11:10
AM ET
The Laxachusetts lacrosse club has announced two commitments from its ranks in the last 24 hours.

First, Bill Breen, a 2013 from BC High, commited to the University of Albany on Wednesday. On Thursday, 2014 defenseman Scott Frankenthaler from Roxbury Latin announced his verbal commiment to Johns Hopkins.

Breen, 6-foot-2, 215-pounder, is coming off an Eastern Mass. Division 1 Super Bowl championship as a starter on the Eagles' offensive line.

Frankenthaler recently was named to the all-star team at the Philly Showcase.
December, 3, 2011
12/03/11
10:36
PM ET
By
Marc Thaler
| ESPNBoston.com


FOXBOROUGH, Mass. – On the strength of Bartley Regan's right arm, BC High earned its berth in the Eastern Mass. Division 1 Super Bowl at Gillette Stadium.

But the passing game was option No. 2 in Saturday's final, thanks largely to an offensive line that fueled a first-rate running game against no-quit underdog Needham.

Deontae Ramey-Doe ran for 200 yards on 24 carries in BC High's 21-7 title-clinching win. But, just as quickly as Ramey-Doe hit the holes, he lauded the unheralded stars up front for ripping open those running lanes.

"They got real nasty," said the 6-foot 1-inch, 180-pound senior, whose three touchdown runs included a highlight-reel 91-yard breakaway to the end zone, snapping a 7-all tie in the second quarter.

Who were the guys who enabled Ramey-Doe to gash the Rockets?

Left to right, across the line: Left tackle Justin Roberts, left guard Mike Prendeville, center Jake Durkin, right guard Jack McDonald and right tackle Bill Breen. Ends Jameson McShea, a Temple recruit, and Mark McGuire added to BC High's toughness in the trenches.

Make no mistake. Running the football requires attitude. BC High (10-3) certainly had it.

The Eagles averaged a whopping 7.7 yards per carry. Ramey-Doe, Luke Catarius (10 carries for 87 yards), James Moynahan and Regan combined for 39 rushes.

BC High's quartet tallied 300 of the offense's 360 total yards.

"Our game plan coming in was to mix it up (with the run and pass)," said BC High head coach Jon Bartlett, whose team led at halftime, 14-7. "We felt in the second half, we could establish the run more, so that's what we went to."

Helping the head coach make that decision was the fact BC High lacked rhythm in the passing game.

So, Bartlett sent this message as the Eagles started the second half: Keep pounding the ball on the ground.

Those are words every offensive lineman loves to hear.

"It's the best feeling, just knowing that your running back can hit that hole and has open field in front of him," said McDonald, a towering 6-foot-4, 270-pound junior. "There's nothing better than that."

Case in point: Ramey-Doe's dagger 91-yard run.

Backed up at their 9-yard line after Andrew Murowchick's punt temporarily altered field position, the Eagles ran a shotgun draw. Ramey-Doe cut to McDonald's side of the line, where a gaping hole opened.

BC High's burner accelerated through it and raced down the right sideline. Ronnie Rosser nearly made a shoestring tackle 4 yards from the end zone. But Ramey-Doe fell forward across the goal line.

The offensive line continued to help kill clock in the third quarter. The Eagles orchestrated a 13-play drive over a span of six minutes, 40 seconds.

"We were all disappointed last year, not going to the playoffs," said Breen, a 6-foot-2, 215-pound junior. "I know our whole team spent a lot of time in the weight room."

It paid off.

Needham (9-4) routinely shifted along the defensive line. Yet, when the ball was snapped, the Eagles were routinely in position to provide a massive push.

"It's all attitude," Breen said. "You have to want it."
November, 5, 2011
11/05/11
2:02
AM ET


BOSTON – Preston Cooper might have been BC High's lightning in a bottle, but Deontae Ramey-Doe packs plenty of thunder.

Now, as the No. 5 Eagles' feature back, following Cooper's season-ending injury against Everett, Ramey-Doe has kept up his counterpart's stride. Along with a stifling defense, Ramey-Doe's 206-yard, two-touchdown effort propelled the Eagles' key 16-6 Catholic Conference victory over No. 8 Xaverian at Viola Stadium.

"Deonte runs hard," Eagles head coach Jon Bartlett said. "We told him that we're not expecting [him] to be Preston for the rest of the season, we just want him to run hard. And he did that tonight."

Ramey-Doe had BC High (6-3, 2-0) to a 13-0 halftime lead after two second-quarter rushing touchdowns of 28 and 44 yards.

Meanwhile, the Eagles' defense was downright dominant in the first 22 minutes, allowing just three yards of offense and holding the Hawks (5-4, 1-1) to a single first down.

Xaverian didn't break up the Eagles' shutout bid until the inside the two-minute warning on Austin DeCarr's 32-yard pass to Mike Warren.

HOLDING THE LINE
Bartlett considers the Hawks' linemen as the strength of the team, so he had to be pleased with the way his offensive and defensive linemen controlled the point of attack on both sides of the ball.

The Eagles offensive line of Bill Breen, Jake Durkin, Jack McDonald, Mike Prendeville and Justin Roberts along with fullback Luke Catarius and tight end Jameson McShea, gashed holes in the Hawks' line, easily allowing Ramey-Doe entry to the second level of the Xaverian D.

Meanwhile, the Eagles defensive line was equally disruptive. Defensive end Adam Richard (3 tackles for loss) set up shop in the Hawks' backfield along with McShea (sack).

Linebacker Zach West also killed a promising Hawks drive inside the red zone with an interception at the end of the third quarter.

"We used our speed to our advantage," said McShea, a Temple commit. "They had a lot of big gaps that we took advantage of with our speed … We know that our linebackers can fill the holes."

FILLING BIG SHOES
With Cooper and Ramey-Doe in the backfield, the Eagles had perhaps the most potent rushing duo in the state. And, while you might have thought BC High would lose its big-play ability with the loss of Cooper, it's just been more of the same with Ramey-Doe in his last two games making the start.

"I just have to do what I can do," the 6-foot, 180-pound senior back said.

Cooper was in attendance, watching the game from the sideline. So when Ramey-Doe scored his second touchdown of the game, he made it a point to give a high five to his injured teammate on the way back to the bench area.

But now Ramey-Doe must forge his own identity, which to no small extent will be the Eagles' offensive identity down the stretch run of the season.

So far, pretty good.

"We're different runners, me and Preston," Ramey-Doe said. "I like to run between the tackles a little bit more. But as long as the linemen keep doing their job, like they did tonight, we'll be all set."

DOING IT FOR NO. 4
Cooper remains on the forefront of the Eagles' minds.

Many of the BC High players carved out No. 4 on their eye black strips. Cooper's white jersey hung on the kicking net a few feet from where the Wareham native watched Friday's game.

In the waning seconds of the Eagles' wins, fellow captains Bartley Regan and Gordon McLeod came over to congratulate Cooper on the win. He was also a part of the celebratory postgame breakdown with his teammates forming a semicircle around his wheelchair.

"He has a lot of spirit for us and just having him around is great," said McShea, who typically carpools with Cooper to school on the way from the Cape. "I love having him back on the field with us now."

Xaverian (5-4, 1-1) 0 0 0 6 -- 6
BC High (6-3, 2-0) 0 13 0 3 -- 16

2nd quarter
BC -Deontae Ramey-Doe 28-yard run (kick blocked)
BC - Ramey-Doe 44-yard run (Jackson Bockhurst kick)

4th quarter
BC - Bockhurst 30-yard field goal
X - Mike Warren 32-yard pass from Austin DeCarr (pass failed)
September, 9, 2011
9/09/11
11:43
PM ET
By
Adam Kurkjian
| ESPNBoston.com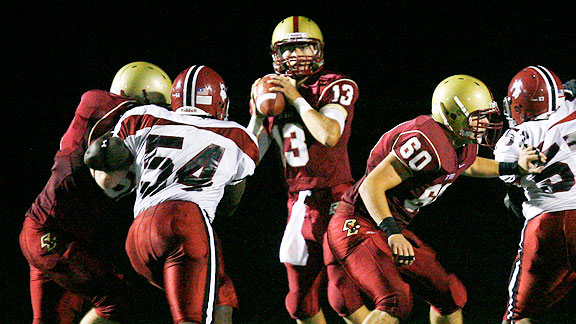 Jon Mahoney for ESPNBoston.comBC High quarterback Bartley Regan drops back to pass during the Eagles' 42-0 win over Brockton at Viola Stadium on Friday.
DORCHESTER, Mass. -- The last time BC High beat Brockton, it was at Gillette Stadium in the 2008 Division 1 Super Bowl.
After Friday night's 42-0 pummeling of the Boxers at Viola Stadium's James Cotter Field, the No. 3 Eagles have the look of a squad that can get back there.
The Eagles dominated every aspect. The offensive and defensive lines pushed the Boxers around and the skill positions were superior. BC High could not have scripted a better beginning to a 2011 season that had high expectations to begin with. Other than some dropped snaps and a bevy of penalties, there were very little blemishes.
"It was lovely," said BC High running back Preston Cooper, who finished with 98 yards and three touchdowns on 11 carries. "My sophomore year we got blown out actually (against Brockton, 27-3). I fumbled three times I think. So I mean it's all revenge actually right now. And the team, we came out, played well, so it feels good. It feels real good."
Quarterback Bartley Regan completed 5-of-10 passes for 140 yards and a 42-yard touchdown pass to Gordon McLeod to start the third quarter. McLeod caught two passes for 52 yards and a touchdown while junior Lincoln Collins made a pair of grabs for 70 yards, including a 50-yard bomb over the middle to set up Cooper's 41-yard dash in the second quarter to make it 21-0. Cooper added an 18-yard sweep around right end that made it 28-0 by the break and the rout was on.
The BC High defense forced three turnovers and allowed just 75 yards. The Brockton offense only crossed the 50-yard line once in the first three quarters, and that was as a result of a 45-yard kickoff return by Jesse Monteiro. Quarterback Paul Mroz was hassled into a 2-of-15 night for 10 yards and an interception.
It got ugly fast and stayed that way.
"We just really practiced the coverages and where they set up," said junior middle linebacker Luke Catarius, who had a whale of a game with 15 tackles, three for loss, 1.5 sacks and two quarterback hurries. "I just read my keys well and made the plays."
Everyone on BC High did and it showed.
Some more thoughts:
-- BC High is superb up front on both sides of the ball. The offensive line of senior Mike Prendeville (6-0, 210) and junior Bill Breen (6-3, 210) at guard, senior Jonathan Mantovani (6-0, 250) and junior Jack McDonald (6-4, 260) at tackle, senior center Jake Durkin (6-0, 200) and senior tight end Jameson McShea (6-4, 240-pound Temple verbal commit) physically manhandled a good Brockton defensive line. The defensive line of senior Adam Richard (6-3, 210) and junior Mark McGuire (6-2, 195) at end and McShea and junior Jaleel Johnson (6-1, 210) at tackle was equally impressive. Both units are quick and physical. There was nothing Brockton could do on the ground offensively and very little the Boxers could do in the way of slowing BC High's rushing attack. Too much muscle for the Eagles.
-- Catarius is an absolute animal. Those stats are unofficial and he may have had more tackles for loss and/or sacks. We'll have to look at the film to know for sure. But throw the numbers out of the window. This kid is worth the price of admission. He's listed at 6-1, 220. Not sure what his forty time is. But as former Northwestern University defensive coordinator Ron Vanderlinden said of then-Wildcat linebacker Pat Fitzgerald, who is now the program's head coach, "He runs a 4.5 in his brain." Out of all the plays the relentless native of Sandwich made, the best may have been when he snuffed out a screen to Josh Brewster for a 7-yard loss in the first quarter. Catarius knows where the ball is going to be before it gets there then buries the player unfortunate enough to receive it. If you want to see the middle linebacker position played the way it's supposed to be played, buy a ticket to a BC High game and enjoy the $5 clinic.
-- People may have expected BC High's lines to be better, but not their skill positions. But the Eagles were better there, too. Regan was accurate and composed. Cooper and Deontae Ramey-Doe were the two best running backs on the field. McLeod and Collins, a 6-4, 180-pounder, were the two best receivers on the field. The BC High back seven on defense was also superior to Brockton's. Now keep in mind, these Brockton skill players are very, very good, too. It's just that BC High's loaded. This was more of a case of the Eagles being that good than the Boxers being that bad.
-- For Brockton, nothing went right, but this is a team that will still win a lot of games. Let's look back to 2008. BC High pummeled Brockton after Dracut took a win on opening night at Marciano Stadium. The Boxers started 1-3 that year after a similar beatdown at Xaverian. But the Boxers rallied to win the rest of their games up until that loss at Gillette. Brockton coach Peter Colombo had no panic on his face after the game, even cracking a smile. There is still faith in Boxer-land in this group's character. That, if nothing else, is what Colombo and the rest of his coaching staff has to bank on.
Brockton (0-1) 0 0 0 0 - 0
BC High (1-0) 7 21 7 7 - 42
First Quarter
BC - Preston Cooper 4 run (Jackson Bockhurst kick)
Second Quarter
BC - Zach West 25 fumble return (Bockhurst kick)
BC - Cooper 41 run (Bockhurst kick)
BC - Cooper 18 run (Bockhurst kick)
Third Quarter
BC - Gordon McLeod 42 pass from Bartley Regan (Bockhurst kick)
Fourth Quarter
BC - Skyler Evans 14 run (Bockhurst kick)