Boston High School:

Bill Raycraft
September, 13, 2013
9/13/13
11:34
AM ET
By
Roger Brown
| ESPNBoston.com
Keene football coach John Luopa won't be walking into the unknown this weekend. He's very much aware of what his team will be up against when it faces Exeter on Saturday night (7 p.m.) in Keene.

Exeter has won New Hampshire's last two Division I championships and is considered by many to be the team to beat again this season. The Blue Hawks have a roster of more than 100 players and have won their last 17 games against Division I competition.
"It's a daunting task playing Exeter," Luopa said. "They're hands down the best team in the state – and the best program. When you've won the last two Division I championships I think it's fair to say that.
"It's the same Exeter team. They've just changed the names and numbers."
Keene is coming off a 34-0 triumph over Nashua North. Exeter received three touchdowns from fullback Jay Inzenga in Saturday's 48-6 triumph over Dover.
"I thought we tackled well and we didn't turn it over, which is always a concern when you have all new backs," Exeter coach Bill Ball said. "Getting out of the gate with a win is huge. It gives you momentum heading into the next week.
"The road gets tougher. Keene is a lot like us – physical. It'll be a physical game."
Luopa said slowing down Exeter's running game and cashing in on scoring opportunities will be the keys for his team Saturday night.
"Offensively you have to find a way to get it in the end zone," he said. "In years past we've moved the ball well from the 20 to the 20. Inside the 20 is where they really buckle down.
"I think we match up well with teams that run the spread because defensively we can run with the spread teams. The big question entering this game is how will our defense hold up against a big, powerful team that runs the ball?
"It will be interesting to see if we do have the horses to give them a game."
DIVISION II
Trinity (Manchester) and Plymouth were the best teams in Division IV last season, and they may be the two best teams in a reconfigured Division II this year.
Plymouth, which beat Trinity 7-0 to win last year's Division IV title, rolled over Kingswood, 49-28, last weekend. The Bobcats will play at Windham on Saturday. Windham, which lost to Trinity in last year's Division IV semifinals, opened its season with a 28-7 triumph over Hanover.
"I saw their film (against Kingswood) and they flow to the ball real well," Windham coach Bill Raycraft said. "(Plymouth coach Chuck Lenahan) has 11 guys who make it look like they have 13 out there. Plymouth will be one of the top teams in the division."
Perhaps no team posted a more impressive victory last weekend than Trinity, which made a statement by beating Portsmouth, 58-37, Friday night. Portsmouth has won the last two Division III championships and was a preseason favorite to win this year's Division II title.
Trinity may get a stiffer test from Milford tonight. The Spartans returned their entire offensive backfield from last year's Division III playoff team, and showed plenty of offensive punch in Saturday's 48-23 victory over Sanborn (Kingston).
"Obviously it was nice to get that win, but we have a long way to go and a lot of work to do," Trinity coach Steve Burns said.
DIVISION III
Fall Mountain (Langdon) played a junior varsity schedule last season because of low participation in the program, but will have a chance to improve its Division III record to 2-0 when it travels to Raymond tonight (7 p.m.).
Fall Mountain is coming off a 40-8 victory over Newfound, and Raymond dropped a 53-35 decision to Bishop Brady (Concord) in its opener.
Tonight's game between Newport and Pelham is this weekend's only Division III matchup between teams that each won last weekend.
September, 28, 2012
9/28/12
5:04
PM ET
By
Marc Thaler
| ESPNBoston.com
Rising star J.D. Dudek was considering verbal full-scholarship offers from Hockey East schools Maine and New Hampshire when the league-rival Eagles swooped in.

Boston College matched the offer. Dudek didn't hesitate to accept.
"The hockey is, obviously, pretty incredible there," Dudek said of BC, the defending NCAA Division I national champion and rink king in three of the past five years. "I'd love to pursue my career there."
[+] Enlarge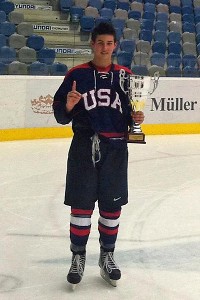 Courtesy of Dudek familyBC hockey commit J.D. Dudek
The 16-year-old resident of Auburn, N.H., verbally committed to BC on Aug. 23. It was shortly after he returned from a sensational performance at the Five Nations Tournament in Chomutov, Czech Republic.
Dudek – whose father is New Hampshire college football legend Joe Dudek – scored three goals for the United States Under-17 Select Team. The 5-foot 11-inch, 175-pound forward twice scored game-winning goals.
Team USA went 4-0 and won the tourney featuring clubs from the Czech Republic, Germany, Slovakia and Switzerland.
"The showing I had ... I'm just ecstatic with what the coaches and people think of me now," said the high school junior, who transferred to Kimball Union Academy in Meriden, N.H., after two year's at Pinkerton Academy.
The talented teen helped lead the Derry, N.H., school to its second NHIAA Division I boys' hockey title as a sophomore. He scored 20 goals and 34 assists, played the point on the power play and served as the team's top penalty-killer.
Pinkerton coach Casey Kesselring, a former hockey standout at Merrimack College (Class of 1998), said the attention his former player received was strictly from skating with the national team.
"USA hockey has a pretty good model to identify players," Kesselring said. "You try out for Team New Hampshire. They pick the team. Then you go to the New England festival. They pick Team New England. I know he was one of the highest-rated at that camp.
"When you're at a national camp," Kesselring added, "all the Division I coaches are there."
Dudek said he plans to complete his junior and senior years at KUA. He will remain in contact with BC coaches, and decide whether to join the Eagles directly out of high school or play junior hockey for a season.
Dudek's father – who became a national name at Division III Plymouth State University – said he never received Division I college interest as a high school athlete. The elder Dudek, of course, graced the Dec. 2, 1985, cover of
Sports Illustrated
as "The thinking fan's vote for the 1985 Heisman Trophy."
"It all happened so quickly," the former PSU star said of his son's recruitment. "A year ago, if you told me J.D. would have schools interested in him playing Division I hockey, I'd say you were crazy. He stepped it up at the USA camp, and it was fast forward from there."
QUEEN CITY CONTROVERSY
The fact there's only one regular-season all-Manchester matchup per year – the result of the Queen City's four high schools no longer all playing Division I football – generates considerable buzz.
But this year, talk leading up to the Week 5 Central-Memorial clash focused on possible sanctions related to a player's transfer between schools.
A sophomore living in Central's district transferred to Memorial. The boy's father, in an unpublished interview with the
New Hampshire Union Leader
, said the reason was related to playing time – specifically, receiving it.
Transferring for athletic purposes violates Section 4 of By-Law Article II in the "NHIAA Handbook."
The rule "assists in the prevention of students switching schools in conjunction with the change of athletic season for athletic purposes; (and) impairs recruitment and reduces the opportunity for undue influence to be exerted by persons seeking to benefit from a student-athlete's prowess."
The schools are under investigation by the New Hampshire Interscholastic Athletic Association (NHIAA), the state's governing body for interscholastic athletics. Officials from both schools were instructed to submit reports that NHIAA executive director Pat Corbin will review.
Corbin, who said he has received conflicting reports from several sources, is expected to make a decision on possible punishments before Week 6 games on Oct 5 and 6.
Forfeiting wins is a possible penalty, as is a three-year postseason ban for either or both schools.
The bulk of responsibility lies with the school receiving a transfer student. In this case, Memorial needed to file a waiver affidavit for NHIAA approval.
Central principal Ronald Mailhot said his school followed student-transfer procedure.
Memorial principal Arthur Adamakos, who took a sick leave last spring and did not return until the 2012-13 school year started, told the
Union Leader
"we goofed on" the paperwork process. Adamakos, a longtime Queen City principal, said he has always abruptly ended any conversation with individuals seeking a transfer for athletic purposes.
The player – whose name was withheld from publication in the statewide newspaper – was deemed ineligible to play in the Central-Memorial game.
'COMPETITION FOR A CAUSE'
Windham's Jaguars sold "Black Out Cancer" t-shirts and purchased alternative jerseys for their Sept. 24 Division IV football game against St. Thomas Aquinas.
The Jags – donning all-black uniforms with green numbers – won the Week 4 clash between last year's Division V finalists, 51-16. They also raised $3,000 for the American Cancer Society's "Coaches vs. Cancer" program.
The fundraising goal was $2,000, said Bill Raycraft, Windham's head coach and athletics director.
STA head coach Eric Cumba, whose team's many supporters wore white t-shirts in support of the fight against cancer, called the game "competition for a cause."
Windham used portable lights to play the Friday night game. Raycraft said the head count was tough to estimate.
"It was deep around the field," Raycraft said. "I know the principal said there were no parking spots left. It was a packed house."
Marc Thaler is a reporter for the New Hampshire Union Leader. He co-hosts the "N.H. High School Football Show" on WGIR-AM 610 and WQSO-FM 96.7. Read his blog at NewHampshireGameDay.com and follow him on Twitter: @marc_thaler.