Boston High School:

Bill Wallace
June, 7, 2014
6/07/14
9:01
PM ET
By
Josh Perry
| ESPNBoston.com
TAUNTON, Mass. - North Attleborough scored three runs in the bottom of the first inning and that turned out to be enough for Gatorade Massachusetts Softball Player of the Year and Hockomock League MVP Meg Colleran, who got plenty of help from her defense against free-swinging Franklin.

The Red Rocketeers (18-3) advanced to their first Division 1 South sectional final in program history with a 5-1 win over the Panthers in an all-Hockomock semifinal on Saturday afternoon at Jack Tripp Field.

"We didn't strikeout many times. She's the strikeout queen, Gatorade Player of the Year and we only struck out twice so we'll take the good points," said Franklin coach Kate Fallon. "We put the ball in play. It just stunk that we gave them three runs in the first inning."

Against a team willing to swing at the first pitch, Colleran threw her fewest pitches in a game this season (60) and had her fewest strikeouts (two). The Panthers approach did cause the UMass-bound senior to come up with a different mentality.

"We were just trying to get outs any way that we can," said Colleran. "They were swinging at the first pitch, so I think me and [catcher Mycala Moody's] strategy was just put it somewhere where we're going to get easy groundball outs, easy fly ball outs so we could get back in and hit."

The strategy was aided by the Rocketeers putting up three runs in the first inning.

Marissa Gifford led-off with a walk against Franklin senior starter Lily Criscione, which was followed by an infield single by Moody (3-for-4). Colleran lined a single to right that scored one run and she advanced into scoring position on the throw. MacKenzie Sherman and Danielle Gorman each followed with RBI-groundouts to give North a solid lead.

"All three of our tournament games, we've scored in the first inning," said North Attleborough coach Bill Wallace. "That lead is huge because late in the game, if they want to bunt or do something, we're getting outs versus trying to cut down lead runners."

Of the first inning, Fallon said, "It was a tough start; you can't spot them three and try to comeback. We weren't ready to go in the first inning and then we settled in and I thought we played great innings two through five."

She admitted that the Panthers plan at the plate was to attack early in the count. She said, "Just be aggressive -- you're the 18th seed and you 'don't belong here' and just get in there and swing."

The Panthers (14-10) were able to put the ball in play a lot against the Hockomock's leader in strikeouts. In fact, the Rocketeers had to make 19 outs in the field (with no errors) and several were of highlight reel-caliber. Julianna Johnson made a diving grab in the second to rob Olivia DiGiacomo of extra bases and third baseman Lindsey Paquin snared a grounder Sabrina LoMonaco in the seventh that seemed destined for left.

"It's a testament to our coaching staff being loyal to the kids and not panicking," said Wallace. "[The players] stepped up this year. This is the farthest this program has ever gone."

Colleran added, "They've put in the work all year long and some games they don't get as much action maybe, but today they had all but two outs and they did a really, really good job. If you don't have confidence in your defense then they're not going to have confidence in you."

Franklin got its lone run in the top of the sixth. With one out, leadoff hitter Erin Hanley was hit by a pitch then promptly stole second. She advanced to third on a deep line drive to center and was able to come home on a wild pitch to make it 3-1.

The momentum did not last long as North tacked on a pair of insurance runs in the bottom half of the inning. Gorman smacked a single to left and Rachel Murphy followed with a bunt single. After a strikeout, Emily Knobel bunted and it was thrown away to load the bases.

Gifford grounded to second but the ball was bobbled and then thrown into left and two runs came home to score. Moody got her third infield single of the game by beating out a bunt to reload the bases, but Criscione limited the damage by striking out Colleran (who was also one of the league's leading hitters).

Criscione also came up in the seventh and blasted a one-out double to straightaway center, but was doubled off on a hard liner back to Colleran by DiGiacomo to end the game.

There was some disappointment from Fallon that the Panthers could not get past the semifinal stage for the second straight year, but she recognized what a great achievement it was to make it to this stage as the No. 18 seed.

She said, "There's no quit. There's no quit. Even Lily, ended her career with a double over the centerfielder's head. I can't ask for anything more from them. I'm proud of them."

Jack Tripp Field has not been a favorite venue for the Rocketeers in recent years with several playoff runs ending in the semifinal stage, as well as a first round loss to Taunton last year. But earlier this season, North beat the Tigers and Colleran admitted that it may have given the team a little more confidence going into Saturday.

"Being able to get a win at this field probably helped us out," she said. "We've been wanting to do this for a while and it feels really good to finally be here."

North Attleborough will face top seed Bridgewater-Raynham in the sectional final on Monday at 5 p.m. in Taunton.
June, 1, 2013
6/01/13
12:25
AM ET
By
Josh Perry
| ESPNBoston.com
TAUNTON, Mass. – When two teams are evenly matched, it is one bad hop, one mistake or one bloop hit that can decide the outcome of the game.

Taunton took advantage of each of those on Friday night for a 2-0 win against North Attleborough in a Division 1 South first round game.

In a scoreless game in the bottom of the sixth inning, Kailey March's grounder took a bad hop off the chest of North second baseman Marissa Gifford and the leadoff hitter hustled for an infield single. The next batter, freshman Meg Navarro, tried to sacrifice, but third baseman Daylin Rhilinger could not field it cleanly. Navarro's sister Mackenzie followed with another sac bunt, which moved both runners into scoring position.

Rocketeers pitcher Meg Colleran induced a weak liner from freshman clean-up hitter Jordan Wade and walked the catcher Alicia Pavadore, who had a base hit off Colleran in the second inning, to load the bases. Up stepped senior Katelin Morrissey and she dropped the first pitch just in between the shortstop and the left fielder to bring home the only two runs of the game.

Taunton head coach Dave Lewry noted that in a pressure situation like that, he was grateful to see one of his more experienced players at the plate.

"She's gotten her swing back the last week or two," he explained. "She's been a three-year starter for us. You hope to see your senior up in that situation because you know that they've been there before."

Following the game, North Attleborough head coach Bill Wallace could only shake his head at the struggles that his team has had at Taunton's field in the past few years, including a loss to the Tigers (17-6) earlier this season.

"This is our house of horrors, I think we're 0-6 here in the last three years," he reflected.

Wallace continued, "In a game like this, in a game where both pitchers are dealing, it's going to take a bloop here or a lucky bounce there and she couldn't have thrown it in a better place. That was the Bermuda Triangle."

Lewry admitted that he said just that to Wallace when they shook hands at home plate following the game. He remarked, "Like I told Bill afterwards, you knew there was going to be a mistake and then there was going to be a bloop hit. Fortunately, it happened for us and we were able to pull it out."

The game finished in barely over an hour, mostly due to the strength of the two pitchers that stepped into the circle.

Jesse Aleixo did not allow a base runner for 3 1/3 innings before a swinging bunt single by Rose Mooney, who was thrown out stealing second two pitches later. Following the hit, Aleixo retired the final 10 North Attleborough batters that she faced.

"Jesse is our key obviously," Lewry said about the junior hurler. "Meg Colleran is a tremendous pitcher but Jesse can hang with her and keeps us in the game."

Aleixo was modest about her pitching performance and passed much of the credit on to her batterymate.

"Honestly, my catcher Alicia [Pavadore] calls all of the pitches and she's so good," Aleixo said. "She just called the right pitches and they worked every time."

Colleran was also solid. She gave up only five hits (only two of which were hit hard) and struck out four batters. Aleixo finished with five strikeouts but, unusually for a top-level softball game, neither pitcher recorded a strikeout after the third inning. Both defenses came up with big plays.

Gifford, in particular, came up big for North. The second baseman made a sliding stop to rob Pavadore of a hit to end the fourth and started the fifth with a leaping grab of a soft liner by Morrissey. The middle of the Rocketeers order tried to get something going in the fifth, but Meg Wynn lined out hard to center and right fielder Lauren Mitsairis made a sliding grab on a sinking liner by Jackie Del Bonis.

When the brackets were released, the groans of disappointment could be heard from both North Attleborough (14-7) and Taunton, as the two league rivals were hoping to avoid each other until later in the tournament. This was the third meeting between the Hockomock League sides this season and they have combined for 25 innings and a cumulative score of 4-2 in those three games.

Lewry commented, "We'd played 18 innings against them already this season and we each scored two runs. I don't think that you'll find two teams more evenly matched. Neither one of us were thrilled when we saw the match-up in the first round."

Wallace echoed those sentiments, "They're a very good team and I'm sure he looked at the draw and said, 'Oh no,' just like we did."

Taunton now awaits the winner of top seeded Bridgewater-Raynham and No. 16 seed Dighton-Rehoboth.

The Tigers are on a roll, having won 14 of the last 16 games that they have played (since a 3-4 start) and Aleixo believes that Taunton can compete with any team in the sectional.

"We have a lot of confidence," she said. "We still have to play really tough and stay really focused, but I think we can beat anyone that we play."
May, 11, 2013
5/11/13
1:49
AM ET
By
Josh Perry
| ESPNBoston.com


PLAINVILLE, Mass. – In a game dominated by the two opposing pitchers, it was fitting that one of them would be the player that ultimately decided the outcome.

King Philip senior Anna O'Neill crushed a 1-0 pitch from North Attleborough's Megan Colleran deep over the fence in straightaway centerfield to give the Warriors a 2-0 walk-off victory on Friday afternoon at the Plainville Athletic League Complex. The win completed a season sweep for KP over North and moves them one step closer to another league title.

"I didn't want to pitch another inning," said O'Neill about her mindset in the final at-bat. "When I hit it, I was just thinking, 'Thank you Anna for ending this game,' because I really wanted to win."

After the celebration, first-year KP head coach Norm Beauchemin tried to direct reporters to his star pitcher and, with a big smile on his face, remarked, "She came up with the big hit…the big time. She's a big-time player."

Going into the seventh, KP had managed only two hits off of Colleran, who struck out six Warriors. Senior second baseman Tori Constantin, who had hit the ball well for outs in her two previous at-bats, drew a lead-off walk (Colleran's first of the game). Renee Poirier failed on two sacrifice attempts before lining a two-strike pitch for a base-hit.

Constantin tried to stretch from first to third on the play but was gunned down on a perfect throw by North centerfielder Sam Moody. In the process, Poirier moved into scoring position with one out. Two pitches later, it did not matter, as O'Neill hit her second homerun of the season off of Colleran.

"Meg is a great pitcher. She's going to UMass [in two years] and to say that I got two good hits against her feels pretty good," said O'Neill.

O'Neill was also dominant on the mound, despite having to rush from Dean College where she and third baseman Shannon Jones were taking an Advanced Placement exam. The game time was pushed back and North coach Bill Wallace allowed extra time for O'Neill to warm-up after she arrived. It may not have been her usual pre-game routine but she showed no ill effects, striking out the first two hitters on her way to a nine strikeout, three-hit shutout.

Prior to the final inning, each team only managed to get a runner into scoring position twice. Poirier led-off the second with a base-hit and made it to second on a passed ball, but was stranded and in the sixth Jones was bunted to second but Colleran induced a comebacker and a grounder to first to end the inning.

"Megan has really hit her groove now. Those are the first runs that she has given up in regulation in three weeks," Wallace said.

Beauchemin spoke about his team's struggle at the plate. He said, "Offensively, everybody struggles against good pitching, plain and simple. Hopefully, we come around and start swinging the bats better against good pitching because we're taking way too long of a swing."

North Attleborough had its first base runner in the fourth inning on a lead-off single by Rose Mooney, who was bunted to second but stranded there. Jill Costello, who also had four assists at shortstop, led-off the sixth with a single and made it to third on a wild pitch before O'Neill struck out Marissa Gifford and Colleran to end the inning.

The Rocketeers have had a difficult week since being moved to no. 2 in the ESPN Boston statewide rankings. North lost to Taunton (the Tigers had also beaten KP previously this season), 1-0, in 11 innings on Monday before the walk-off defeat to the Warriors.

Wallace acknowledged that it was a tough loss, but argued, "We'll be better for it."

He added, "We're playing good defense; we just need to get the bats going. Hey, what are you going to do? We're seeing great pitching, you know."

Prior to the season, there was some talk that the turnover at King Philip (losing eight seniors and head coach Jim Leonard) could make this the year that North Attleborough overtook the Warriors for the league title. Instead, O'Neill's hit continued nearly 10 years without a win for the Rocketeers in the series.

"People have been talking that we're not going to be as good this year as we have in the past, but I think that tonight just proved that we all have it in us and we still have a really good team," O'Neill said.

Beauchemin said that games like this will be big for the Warriors as they prepare for another run at a state title.

"You don't have too many cakewalks [in the Hockomock], which is good because it get s you ready for the playoffs," he explained. "This team here, they're concerned about the playoffs. They want to go deep, so these games hopefully build our character."
April, 30, 2013
4/30/13
2:04
AM ET
By
Josh Perry
| ESPNBoston.com


MILFORD, Mass. – The gloves flying through the air and the mass celebration at home plate after the final out was made, confirmed what everyone outside the foul lines already knew – this was more than just a standard regular season Hockomock League game.

"That probably, in my career, is the team's best regular season win. Did that ooze tournament atmosphere or what?" asked an excited North Attleborough head coach Bill Wallace after the final pitch.

North Attleborough (7-2) pushed home one run in the top of the 10th inning, only the second run allowed by Milford (10-1) in 11 games this season, and the Rocketeers threw out runners at the plate twice in extra innings to pull off a 1-0 upset over the defending Division 1 state champions. The Rocketeers' victory ended the Scarlet Hawks win streak at 35 games going back to 2011.

"It was just a great game," said Wallace. "That kid [Shannon Smith] is a darn good pitcher over there, but luckily I have a darn good pitcher over here too."

With the game scoreless heading into extra innings, the International Tiebreak Rule was used, which begins the inning with a runner on second. It was the first time that either team had managed to get a runner past first base.

In the top of the tenth, Colleran dropped down a perfect sacrifice bunt to move Marissa Gifford to third. Senior catcher Meghan Wynn then smacked a grounder on a 1-2 pitch that third baseman Caroline Fairbanks knocked down with a diving stop, but Fairbanks was not able to get the throw home in time to prevent Gifford, who was running on contact, from scoring.

"I knew that in order to pull out the win that I had to be smart and make contact," said Wynn about the last at-bat with the go-ahead run just 60 feet from home. "I know that she's going to pitch smart and not give me anything to hit. I just have to watch the ball all the way to the bat."

Milford had the heart of the order coming up in the bottom of the tenth and Smith, Milford's University of Kentucky-bound senior, drew a walk to put the winning run on base with no outs. Fairbanks followed with a sacrifice bunt that moved both runners into scoring position. On the next pitch, Rachel Levine hit a hard grounder off Colleran's glove to shortstop Jill Costello, who bobbled the ball but was still able to throw out Sam Bonvino at the plate.

Colleran, who seemed especially fired up for this game, then struck out Taylor LeBrun to close out the victory and set off the celebrations at home plate.

"It feels great; I'm so excited right now," said Colleran, who struck out eight while allowing only two hits. "They're a really great team, so I just knew that I had to move the ball around and fool them because I know that every kid on that team can put it over the fence."

The game had a playoff atmosphere from the first pitch and the Hawks starter was her usual dominant self. Smith, who recorded her 1,000th career strikeout last week, started the game by striking out two batters in three of the first four innings. She finished with 17 for the game and allowed only one hit in the defeat.

After 35 consecutive wins, Milford head coach Brian Macchi was philosophical about the team's first loss since the 2011 state semifinal against Amherst and its first loss as a Hockomock League team.

"It was two great teams going at it and in my opinion the two best pitchers and it showed. Shannon pitched great, Meg pitched great and it was fun to be a part of," Macchi said.

He continued, "It's been a while since we've lost a game and come back to work the next day. For me as a coach, you lose to a caliber team like North, we can learn from this and come back tomorrow and go to work. It's definitely a learning experience for us and we'll turn this into a positive."

While Colleran was excellent in the circle, North also made several plays to get out of potential scoring situations. After a single by Smith in the first inning, North first baseman Jackie Del Bonis snared a line drive by Fairbanks to end the inning. In the bottom of the sixth Costello picked a hard grounder by Bonvino to prevent the heart of the order from coming up. In the bottom of the eighth, second baseman Gifford made a perfect throw home to prevent the winning run from scoring.

Following North's shocking loss to Attleboro last Thursday, Wallace was thrilled to see his team bounce back with a total team effort and to pull the biggest upset of the softball season.

"Wins and losses in April aren't as important as wins and losses in June, but from a team standpoint, I think now they believe, you know what, we're with the Milfords and the [King Philips]," said Wallace.

"We were all really bummed out," said Colleran about the team's attitude after the loss to the Bombardiers. "I think this is huge, especially a game when we think we are underdogs. It could kick start us and boost us through the rest of the season."

Macchi was thrilled about the playoff atmosphere surrounding the game and noted that Division 1 South is going to be a stacked sectional from top to bottom. He is hoping that this loss will add motivation for the Hawks to keep improving.

"Today was a great test and something that we can build on," Macchi explained. "I am looking forward to practice tomorrow with these girls and seeing how hungry they are."
April, 18, 2013
4/18/13
3:51
PM ET
By
Josh Perry
| ESPNBoston.com
NORTH ATTLEBOROUGH, Mass. – Heading into the match-up between North Attleborough and King Philip, there was some talk that this might finally be the year that the Rocketeers take the Hockomock League title from the Warriors. Following Wednesday afternoon's game, it is clear that there is still some work to be done to catch KP.

The Warriors scored four runs in the first three innings and got an impressive pitching performance from senior Anna O'Neill (nine strikeouts) to beat North 6-1 and take an early first step towards another Kelley-Rex division title.

"Obviously, that's a good team and anytime you play a good team, you want to come out on top," said King Philip's first-year head coach Norm Beauchemin. "It was an important game for us because you want to be on top of the league. You don't want to be chasing someone; you want them to be chasing you."

The Warriors took the lead on the first batter of the second inning. O'Neill, who drove in a pair of runs in addition to her dominating work in the circle, crushed a 2-2 pitch deep over the fence in straightaway center.

KP broke the game open in the very next inning.

Clean-up hitter Renee Poirier plated Breanna Shaffer with an infield single to make it 2-0. O'Neill followed that with a sacrifice fly on a hard hit line drive to right that brought home Tori Constantin. Casey Hutnyan followed with a single to right that brought home Poirier to make it 4-0.

It was a big inning for the Warriors, but the hardest hit ball off Rocketeers starter Meg Colleran was the line drive out by O'Neill. After the inning ended, North Attleborough head coach Bill Wallace brought his team together and told them that reaching the next level means making those types of plays.

Four runs was enough for O'Neill, who allowed only three base runners (two of them on walks) through the first five innings. Although North started to have better at bats in the later innings, Beauchemin was nonchalant about the effort of his senior.

He explained, "Anna was on. She threw the ball well. If they put the ball in play, hopefully we make the plays."

The Warriors added a pair of runs with two outs in the sixth inning. Shannon Jones lined a base hit to right that tipped off the webbing of North first baseman Allison Paquin's glove. That was followed by a triple down the leftfield line by pinch-hitter Christa Wagner. Wagner scored on a single by Shaffer to make it 6-0.

With six runs against North, KP has scored 30 runs in the three wins that followed its shutout loss to Milford. Beauchemin credited the Warriors' success to a more disciplined approach at the plate.

"We were undisciplined that day and the girls know it," he remarked. "These girls swing the bat well. They actually like to see pitchers like this, top pitchers; it makes for a more interesting game. Everybody's level of play goes up."

North got on the board in the bottom of the sixth. Leadoff hitter Rose Mooney beat out a grounder to third and two batters later advanced to third on a single by Colleran. She came home to score on a grounder up the middle by catcher Meghan Wynn that was bobbled by KP shortstop Ashley Hession but right to Constantin to get the force at second.

Despite the loss, Wallace was proud of how his team battled. North were without middle of the order hitter Jackie Del Bonis, who injured her ankle playing field hockey, and played freshman Mycala Moody at third base for the first time. Also, Colleran made the start despite battling illness.

"We probably had seven or eight 3-2 counts, Marissa Gifford had an 11 or 12-pitch at-bat her first time up, so I thought that was good today," Wallace remarked. "Those are two of the best pitchers in the league and I thought both teams did a good job with their plate approach."

He added, "Just a lot of stuff fell in today. Tip your hat to them and move on."

Both teams step outside the Hockomock League in their next games. King Philip will host Shrewsbury on Friday, while North Attleborough travels to Durfee on Saturday.
November, 7, 2012
11/07/12
12:41
AM ET
By
Josh Perry
| ESPNBoston.com
MEDFIELD, Mass. -- The Medfield girls' soccer team demonstrated the importance of a dominant midfield in a 2-0 dismantling of Bay State Herget division champion Dedham on Tuesday night in a Division 2 South quarterfinal match.
Medfield (17-0-3) controlled possession and consistently stepped forward to break up Dedham attacks before they could threaten the Warriors goal. Medfield was so successful in keeping the Marauders at bay that Dedham (15-2-4) managed only one shot on goal and it came off a corner in the 76th minute.
Medfield coach Michael La Francesca highlighted the play of senior Jen Narlee as a controlling influence in the heart of the midfield that allowed the speedier wide players to create chances.
[+] Enlarge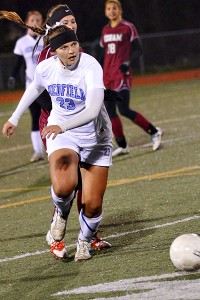 Josh Perry/ESPNBoston.comMedfield's Jen Narlee helped the Warriors win the battle of the midfield in a 2-0 blanking of Dedham in Tuesday night's Division 2 quarterfinal match.
"The goal is, if you can control the ball in the middle and keep the ball on the ground, we would have more possession," La Francesca said. "If you have more of the possession - than you have more of the play."
The Warriors took the lead in the 13th minute.
The sequence began with striker Katelyn Murray had several shots blocked on the edge of the box. The attempted clearance came right back at the Dedham defense and Murray fired in another shot that forced a good save out of Ellen Masalsky, which was turned home by senior Krista Pinciaro.
Dedham played much better in the second half and started to find openings to attack the Warriors defense. The biggest talking point of the second half came seven minutes after the break when a great through ball fed junior Libby Masalsky in behind the last defender. Medfield's Colleen Beggan shouldered the forward off the play and Dedham's bench cried out for a penalty.
The refs denied the appeal and called it a fair challenge. It would be the Marauders best chance until the final moments of the game.
Dedham head coach Don Savi was certainly not happy with many calls from the officials during the game, but afterwards admitted that Medfield's defending was a much bigger factor in the final outcome.
"They're a good defensive team. They only gave up six goals all season, we knew that. We had a couple chances, but couldn't get an open look. It wasn't the reason we lost, but it was a good game and we shouldn't have an official that can't handle it."
The Warriors wrapped up the game in the 26th minute. Freshman Krissy Rimmel reached the end line and cut the ball back to Cami McCurdy, who opened up space on her right foot and the shot found the side netting off the fingertips of Masalsky.
Despite the loss, Savi is proud of Dedham's achievements this season and the success this senior class has had over the past four years.
"I have nothing bad to say about this team, even tonight, they worked hard. Three league championships in four years that's the best we've ever done. It's been a fun year."
Medfield, the No. 3 seed, will move on to face No. 7 seed East Bridgewater in the sectional semifinals. La Francesca was looking forward to the next game after beating two very tough opponents in the opening rounds.
"I do like our chances right now. We beat two of the better teams in the bracket. I'd rather play stronger teams at this point to get us ready."
State tournament notes:
Medfield was not the only favorite in D2 South to advance on Tuesday. The Canton girls' soccer team, the No. 4 ranked team in the state, also moved into the sectional semifinals with a 1-0 win over Scituate. Canton will face Duxbury, which beat Holliston in the afternoon game. The expectation coming into the season was that Medfield and Canton would have to go through each other to win the sectional and right now that showdown still looms on the horizon.
There were shocks galore in the Central sectional as both of the top remaining seeds in the boys' soccer Division 1 bracket were knocked out on Tuesday. Worcester North, No. 10 in the state, was stunned 2-1 by Leominster (who they beat 3-0 during the regular season) and No. 20 Algonquin was beaten, 1-0, by Wachusett. The top seeds in the girls' sectional are still alive setting up the third meeting of the season between Nashoba and Algonquin (Nashoba won each of the first two games).
Several ranked teams went down in the topsy-turvy and ultracompetitive D1 North girls' sectional. Acton-Boxborough, which knocked off No. 2 Peabody on Sunday, fell to Westford Academy in penalties. Westford will face Beverly in the next round, which knocked off No. 18 Concord-Carlisle. On the other side of the bracket, No. 10 Lincoln-Sudbury beat No. 19 Newton North, 4-2, and will play No. 11 Central Catholic in the semifinals.
In the girls' D1 South sectional, No. 9 Needham came from behind in the final minutes of regulation and beat North Attleborough, 2-1, in overtime. Needham coach Carl Tarabelli and North coach Bill Wallace are good friends and shared several laughs during the game. Wallace's gameplan of limiting Needham chances and hitting on the break almost worked to perfection when senior Jamie Grinavic scored with just over 10 minutes remaining. Two headers off corners, by Katie Beval and Sammy Lerner, allowed the Rockets to avoid the upset. Needham will face No. 16 Oliver Ames after the Tigers beat No. 14 Whitman-Hanson on penalties.
The boys' side of the tournament also offered some great matchups and several surprising result. In D1 North, No. 6 St. John's Prep beat No. 4 Acton-Boxborough 1-0 and will face the No. 1 team in the state, Masconomet, in the semifinals. In the South sectional, No. 2 Needham was led by player of the year candidate Mac Steeves, who scored two goals in a 3-0 win over Marshfield. Next, the Rockets will face No. 12 Dartmouth, which dispatched No. 16 Nauset with surprising ease, 5-0. On the other side of the bracket, Weymouth and Oliver Ames will have a rematch of a regular season game that was won by Weymouth 1-0 on a scrappy goal by Mike Lynch.
June, 3, 2012
6/03/12
5:42
PM ET
By
Mike Scandura
| ESPNBoston.com
NORTH ATTLEBOROUGH, Mass. –- Look in a sports encyclopedia under the category "rubber arm" and you'll see a photo of North Attleborough pitcher Megan Colleran.

Colleran, a sophomore right-hander, was at her best Sunday as the sixth-seeded Red Rocketeers outlasted 1th-seeded New Bedford, 2-1 in 10 innings, in an MIAA Division 1-South Sectional first-round softball game.

Besides going the distance, Colleran allowed only three hits plus one walk and struck out 10. And when her final pitch total was added up it computed to 133.

Moreover Colleran got stronger as the game progressed.

After New Bedford's Alexis DeBrosse belted a lead-off homer in the fourth, Colleran retired 21 of the next 23 Whalers she faced.

North Attleboro (17-4) rewarded her efforts when catcher Megan Wynn singled home the winning run in the last of the 10th.

TIRELESS WORKER
"[Colleran] is a funny kid," North Attleborough coach Bill Wallace said. "She throws on off days to keep that strength.

"I was going to give her a break the last week of the season because we had back-to-back games. She was like 'No, coach. I want to pitch back-to-back.' And she was better in the second game than the first game."

In retrospect, the game Colleran pitched Sunday paled in comparison with the one she pitched last year.

"She threw an 18-inning game and struck out 30 when we beat Quincy last year," Wallace said. "I would say probably 22 strikeouts came after the seventh inning. She's such a competitor. She's a big, strong kid but she's also a very cerebral kid. She eats right. She works out. She loves this and wants to do this in college. She has good parents who keep her in check.

"She's only a sophomore so, hopefully, we'll get two more years of this."

What made Colleran's performance even more impressive was the fact New Bedford (15-7) came into the game with a team batting average just over .400 and a runs-per-game average of 6.9.

"That's a great hitting team," Wallace said. "Everything I heard about New Bedford was true."

As has been the case other times this season, Colleran again will be pitching on zero rest when North Attleborough plays at third-seeded Sandwich on Monday afternoon in a quarterfinal round game.

"After a game like this, you're ready to go out and play the next day," Colleran said. "We're going to be ready and do our best Monday."
North Attleborough tied the game in its half of the fourth against New Bedford ace Brittany Carvalho (who had thrown two no-hitters this season).

After Colleran reached on a fielder's choice, Wynn singled her to second and she advanced to third on a grounder by Jackie Delbonis. Colleran then raced home when Carvalho uncorked a wild pitch.

Wynn finished the game going 3-for-5 which included reaching on an error.

"She had an amazing game," Colleran said of her battery mate. "Meg did really, really well all around today."

WYNN ENDS MARATHON
Just when it appeared the game might last until sunset, Lauren Johnson grounded a leadoff single to right and Mikaela Caracciolo walked.

Wallace then gave the bunt sign and Colleran dropped one down between the first base line and the mound. When nobody on New Bedford covered first base, Colleran wound up with a hit.

Wynn then lined the first pitch to left for the game-winning hit.

"I was really surprised," Colleran said of New Bedford's snafu. "I figured there would be somebody there because generally with two runners on base and nobody out you put the bunt down.

"I was really excited."

Wallace, for his part, was both excited and extremely satisfied about his team's second victory in the tournament.

"We've been in the tournament five years in a row and it's not that we haven't gotten respect because you don't deserve it until you make big leaps," he said. "But it's like every year we'd win a round in the tournament and then we'd lose in the next round.

"Now, we're going to the quarterfinals. I think people are starting to say 'Wow, this team is pretty good.' Going into the season I think everyone thought New Bedford was the darling because it had the big tournament run last year. This is good for our program. It's good for the kids and the parents."