Boston High School:

Billy Price
March, 14, 2013
3/14/13
3:27
AM ET
By
Bruce Lerch
| ESPNBoston.com


LOWELL, Mass. -- Entering the season, everyone knew that Austin Prep a serious collection of talent. The knock against the Cougars was that they were very young, and that their defense might not be up to par with its offense.

As the winter progressed, those blueliners have vastly improved and grown into their roles, and because of how that unit performed in the postseason, the statement "AP is maybe a year or two away" no longer applies.

Led by senior Zach Fuller and junior Andrew Cross, the Cougars defense turned in perhaps its finest performance of the season and were a key factor in Austin's 2-1 victory over St. John's Prep in the second Div. 1A semifinal at Tsongas Center Tuesday night.

"Our defense the second half of the season has really turned it up,' praised AP head coach Louis Finocchiaro. "Andrew Cross has been playing phenomenally all year. Zach Fuller over the second half of the season has really come up big for us a senior defenseman. J.J. Layton, Matty Morgan, Leachy [Brendan Leach] and Kevin Kiley... they're playing well on that back end and no one gave them any credit in the beginning of the season. They said we couldn't win hockey games because we weren't good defensively but you know what? They're proving some people wrong and doing a fabulous job."

Throughout the Super 8, most of the focus in Austin's victories has been on goalie Elijah Harris, and rightly so. Harris was nothing short of spectacular in the two victories over Reading, and it was assumed that for Austin to have a chance against the top-seeded Eagles, Harris would have to steal it.

Instead, the defense made his life easier. Harris made 27 saves in the game but he didn't have to be spectacular like he was against Reading thanks to his defense. They did a terrific job of limiting the Prep from home run chances, they cleared the puck out of the zone often and kept the shooting lanes free and clear for Harris to do his job behind them.

A key cog in the maturation of the Cougars defense has been Cross. The junior spent two years at Malden Catholic, who will be AP's opponent in the championship game, before transferring over to Austin. His steady presence on the ice and guiding voice in the locker room has been invaluable to the rest of the young Cougars and that group is playing its best at the right time.

"I know we're very young," Cross admitted after Wednesday's game. "They've learned a lot from Coach [Finocchiaro] and I've taught them a couple of things myself about the high school game. Coming from playing select hockey and coming up to high school, thats a huge difference. We've grown as the year's gone on and playing against better competition makes you better every day. The forwards we have coming down at us in practice one on one, it's tough so we have very talented guys to up against."

AP OFFENSE DOES ITS PART
Speaking of those talented forwards, they had to come through as well and the Cougars top line really shined on this stage. After a scoreless first period, the two teams looked to be headed toward another goose egg n the scoreboard in the second until, with just under six minutes remaining. Eric MacAdams delivered a perfect feed to Nolan Vesey (2 goals) for an open look that AP on the board first.

St. John's Prep answered in the third as Tyler Bird stuffed home a rebound at 6:46 and finally began to show signs of reminding everyone why they were the state's top-ranked squad for most of the season. With just 2:40 remaining, MacAdams was hauled down on a breakaway that gave the Cougars a power play, and they cashed in on a flukey bounce.

Bob Carpenter fired a shot from the right wing circle that was tipped by Cam Russo and the puck went up into the air toward the far post where Vesey was camped with St. John's senior captain Brent Murray. Vesey's stick went up at the same time as Murray's glove, and the puck went off the blue-liners hands and dropped down into the net to give Austin a 2-1 lead with 2:11 remaining.

"It was a power play and I ended up on my off side," explained Vesey. "The puck went back to Bobo Carpenter and he let a rip go. My linemate, Cam Russo, tipped it, kind of went up in the air and their defenseman's glove and my stick went up and I couldn't even tell you. I closed my eyes then I saw the puck go over the line. Thats all that matters."

The Eagles pulled goalie Billy Price (18 saves) with just over a minute remaining for the extra skater, but Harris came through with a pair of big saves in the closing seconds to finish it off.

"I thought we played a pretty good game," Eagles head coach Kristian Hanson said. "Did we play a great game? No, but I thought we played well enough to win. We've had difficulty all year capitalizing and tonight it came back to bite us. You can blame it on a number of different things but bottom line is we didn't finish and they scored one more goal than we did. It doesn't matter how it goes in, they all count the same."

For Austin Prep, there is no waiting for next year. Their time has come now.

"Obviously its great experience and for them it took a while to believe in themselves and to know how to win big games," Finocchiaro said. "It was a learning process for us and halfway through the season, we were like, 'We don't know if its going to come.' We thought it might not come this year and we may have to wait until next year because we were up and down, we were like a rollercoaster. But then our last four games of the season, we've played really well right through tonight. They got some confidence going, they believe in themselves.

"St. John's Prep is a tremendous hockey team. They've been the number one hockey team all year long and for us to beat them tonight is a huge accomplishment."

LOOKING AHEAD
Sunday will hold extra special meaning to several Cougars, including Finocchiaro, who was a disciple of the late Chris Serino. Cross was a regular in the rotation during Malden Catholic's run to a second straight title a season ago. Now he stands as the top defenseman for Austin Prep and he knows a lot of eyes will be on him from now until Sunday.

"I'm looking forward to this game," Cross said with a smile. "I didn't think it was going to happen this way. It's going to be a dramatic game playing against my old teammates. I've known a bunch of them since I was probably about seven years old, I've been playing against them my whole life. We've just got to work hard at practice and go over the systems. We played them once already and we gave them a game. We didn't like the outcome (MC won, 4-3 in OT during the Chris Serino Holiday Tournament) the first time so we're going to be looking for some revenge."

And while MC has overcome its midseason struggles and once again looks like the team to beat, don;t think for a second that Austin Prep plans to lay down for them on the TD Garden ice.

"They won it the last two years," Vesey said almost defiantly. "There's not going to be a third time."


March, 4, 2013
3/04/13
12:57
AM ET
By
Bruce Lerch
| ESPNBoston.com


LOWELL, Mass. -- In the final minute of the second period, Central Catholic goalie Colin Soucy found himself staring down the barrel of future Providence Friar Brian Pinho.

With the Raiders holding a 3-1 lead, the St. John's Prep standout had just forced a turnover at the Raiders blue line and walked in all alone. Pinho aimed for the high, glove side but Soucy flashed his mitt to nullify what could have a momentum - and game - changing goal.

Soucy made eight more stops in the third period, finishing with 22 for the game, and the eighth-seeded Raiders pulled the early shocker of the Super 8 by knocking off the top-seeded Eagles, 4-1.

"I knew what his moves were," said Soucy, drawing on the experience of playing the Prep back in December. "He came in, he was eyeing the glove side, and I just kicked out and made the save. I learned a lot on how his head moves, his stick fakes and everything like that. I knew that he shot glove a lot so i just wanted to make the big saves."

Raiders (15-5-3) coach Mike Jankowski not only felt that stop kept the Prep (17-3-1) from getting any spark of life, but it was also a huge confidence booster for his junior netminder, given who the shooter was.

"It was huge, especially with who we turned it over to," Jankowski admitted."You don't want to turn it over to anybody but if you turn it over to him...that's just a testament to [Soucy] and what he's able to do. Not looking at who it is but doing what he needs to do to shut him down and move forward."

Shots were even through the first two frames but Central seemed to more jump in its step while the Prep was surprisingly flat, something they weren't able to shake for the entire contest. The Raiders also cashed in the game's first goal as Lloyd Hayes fired a shot on Prep goalie Billy Price. Price made the initial stop but the rebound accidentally caromed off one of his defensemen and went right back into the net at 5:08.

The Eagles made amends on the power play just over five minutes later as Tyler Bird screamed a shot through the Central crease that got blocked but founds its way to Jimmy Currier, who stuck in a backhander to tie the game at 1-1.

Kevin Regan put CC back on top just one minute into the second, snapping off a beauty of a one-timer off a feed from Billy Stahley. Defenseman Nick Gorski, who also played a stellar game in his own end, contributed to the offense by rifling a shot into an open net off a long rebound with Price out of position. Central tacked on one final goal in the third, courtesy of Alex Lester.



"We had a lot of momentum from the Hingham game coming into this and we all knew that no one was giving us credit for what we can do," Gorski said. "We knew we could beat them, we already beat them this year. They're a very strong program and we definitely knew we had a hard game coming. The first period really showed it. We came out flying and we just continued that for the rest of the game."

The two teams will meet again on Thursday (7:45 p.m.) for game two of the best-of-three series at Stoneham Arena.


March, 2, 2013
3/02/13
4:52
PM ET
There are less than 24 hours remaining before the puck drops on the Super 8 tournament Sunday at UMass-Lowell's Tsongas Center.

So we're taking this opportunity to break down the final eight. As the tournament takes on a best-of-three format for its first-round matchups this year, we're taking a look at the head-to-head breakdowns for each series, along with predictions:

Series: No. 1 St. John's Prep (17-2-1) vs. No. 8 Central Catholic (14-5-3)

Players to watch: Prep – F Brian Pinho, F Tyler Bird, F Andrew Brandano, F Jack McCarthy, F Cam Shaheen, D Brent Murray, G Billy Price; Central – F Lloyd Hayes, F Corey Webber; D Nick Gorski, D Alex Lester, G Colin Soucy.

Previous meeting: Central 2, Prep 1 on Dec. 26.

The skinny: Central fought its way into the eight-team field with an improbable comeback against Hingham in Monday's play-in game. But they'll have to be ready to go out of the gate against the top-seeded Eagles. Prep is deepest team in the field — from its forwards to its defensemen — and the Raiders will have to weather the Eagles' ability to wear teams down by consistently rolling four lines (Claude Julien surely would love this Prep team). The goaltenders will also be under the spotlight in this series with both Price and Soucy making their debuts in taking over for tournament stalwarts David Letarte and Kyle Williams, respectively. The play of both goaltenders has been a strength for their teams this year.

X-factor: Can the Raiders parlay some momentum gained from their dramatic play-in game overtime victory into a Game 1 win against the Eagles? Also, what kind of a factor will Central winger Mike Kelleher be?

Prediction: Prep in two.

Series: No. 2 Springfield Cathedral (16-1-4) vs. No. 7 Malden Catholic (12-6-3)

Previous meeting: MC 2, Cathedral 1 on Feb. 21.

Players to watch: Cathedral – F Peter Crinella, F Dominic Blad, F D.J. Petruzelli, F Johnny Leonard, D Matt Foley, D Jack Williams, G John Liqouri; MC – F Mike Iovanna, F Ara Nazarian, F Tyler Sifferlen, F Pat Wrenn, D Casey Fitzgerald, D Nick Rolli.

The skinny: While the Panthers enjoyed some down time this week, MC set about making a statement in its 9-1 dismantling of Archbishop Williams in Monday's play-in game. Perhaps no team in the state has been hotter than the two-time defending Super 8 champion Lancers and they'd like to prove that, once again, this is their time of the year. There will be plenty of top-tier talent on the ice when the team's top forward units face off with Cathedral's line of Crinella-Artie Potter-Blad opposed by MC's Iovanna-Nazarian-Sifferlen troika. The key to this series, however, will be which team's second and third lines come to play.

X-factor: Cathedral goaltender John Liquori. As we saw in the Panthers' game against St. John's Prep in the final week of the regular season, he's capable of stealing points and games for them. He'll need to be at his best to curb the Lancers' attack.

Prediction: Malden Catholic in three.

Series: No. 3 BC High (14-3-3) vs. No. 6 Catholic Memorial (12-6-2)

Previous meetings: BC High 5, CM 1 on Jan. 16; BC High 4, CM 3 on Feb. 2.

Players to watch: BC High – F Tom Besinger, F Pat Kramer, F Steve DeForge, F Chris LaLiberte, D Sam Topham, D Ryan Shea, G Peter Cronin; CM – F Liam Coughlin, F Jack O'Hear, F Kevin Hock, F Aaron Clancy, D Dennis Medeiros, D Sean Heelan, G Brandon Collett.

The skinny: Can't get much better than this, right? Right up there with Bruins-Canadiens. The teams will add another chapter to their storied history in the 50th-anniversary year of their hockey rivalry. While the Eagles claimed both meetings against their Catholic Conference counterparts during the regular season, the play was largely even (minus one second-period outburst in BC High's 5-1 win in January). So expect more of the same in this series.

X-factor: Liam Coughlin. The Eagles had success neutralizing the rangy center during their regular season appearance, both in the offensive zone and in the face-off circle. But we've seen Coughlin (25-16-41) take control at times this season, and he'll have to do so for the Knights to advance.

Prediction: BC High in three.

Series: No. 4 Austin Prep (13-1-6) vs. No. 5 Reading (16-1-5)

Previous meeting: N/A.

Players to watch: AP – F Nolan Vesey, F Bobby Carpenter, F Jake McKenelley, F Eric MacAdams, F George Sennott, D Andrew Cross, D J.J. Layton; Reading – F Rob Devaney, F Mike Thomson, F Jake Barbera, F Mark Dente, G Evan Morelli.

The skinny: The Battle of Reading is just one subplot to a group of first-round series rife with context. The high-flying Cougars attack will have to break through a sticky Reading forecheck that can give opponents fits. AP does enter tournament having played some of its best hockey of the year in the final week of the season, wrapping up a Cape Cod Classic championship. The Rockets, meanwhile, will gain the fan bases of the rest of the state as the lone remaining public school entrant in this year's field.

X-factor: Nolan Vesey. Has the potential to be the best player in the tournament. For a young squad such as AP, however, Vesey's leadership will be vital for their long-term Super 8 chances. He needs to set the tone.

Prediction: Austin Prep in three.
February, 16, 2013
2/16/13
6:25
PM ET
By
John McGuirk
| ESPNBoston.com
WEST SPRINGFIELD, Mass. -- The contrasting styles in demeanor following Saturday's 1-1 tie between No. 1 Springfield Cathedral and No. 2 St. John's Prep was not hard to witness.
On one side, you had the Eagles visibly dumbfounded and discouraged. On the other side, the Panthers presented a look of sheer relief.
For all but the final two-and-a-half minutes of this battle played at the Olympia Ice Center, St. John's Prep owned Cathedral. The Eagles suffocated the Panthers offense, giving them no time or space to generate the kind of offensive they are use to.
The one time the Eagles did give the Panthers a bit of room, it ended up biting them.
[+] Enlarge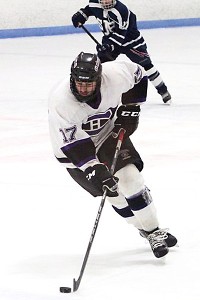 Courtesy of Alfredo DiLasciaSpringfield Cathedral escaped with a 1-1 tie against No. 2 St. John's Prep Saturday, thanks to a third-period goal from winger Dominic Blad.
At 12:33 of the third period, Cathedral senior forward Dominic Blad was left all alone inside the right circle. His hard wrist shot through traffic beat Eagles' goaltender Billy Price keeping the Panthers unbeaten as they improved to 15-0-4.
The Eagles (15-2-1) will come away from this one literally kicking themselves, knowing they let a golden opportunity at victory slip through their fingers.
St. John's Prep proved the aggressor throughout, putting up 35 shots, while its defense blanketed the Panthers, holding them to a mere five over 45 minutes.
"We had a bit of a defensive breakdown with two-and-a-half minutes to go and it was the wrong time to have that," Eagles head coach Kristian Hanson said. "Then we have Billy [Price] sitting there all day not facing many shots and he's cold and it put him in a tough situation. We play strong team defense with our forwards coming back and our defense closing gaps. I thought we did a nice job with that. We didn't want to give them room to move and fortunately for the most part we were able to do that but we just couldn't get the win."
Had it not been for the spectacular play of Cathedral goaltender John Liquori, who knows how many goals the Eagles might have scored. The junior, perhaps, played his best game as a Panther, finishing with 34 saves despite the consistent onslaught put forth by the Eagles.
"It kept me on my toes because I like a lot of shots," Liquori said. "I was able to put the team on my back and ran with it. When you are getting that amount of shots you sort of get into a rhythm. Today the puck looked like a beach ball to me."
Following a scoreless first period in which St. John's Prep put up nine shots to Cathedral's two, St. John's Prep finally solved the Liquori puzzle in the middle frame.
At 7:30, senior forward Cam Sheheen, taking a centering pass from Paul Crehan, slipped a shot past Liquori to give the Eagles the lead.
Despite the many other chances St. John's Prep had in the period, it settled for the one goal lead heading into the second intermission.
Realizing their quest to remain unbeaten was in serious trouble, the Panthers took their level of play up a few notches in the third. Even though it still had problems breaking free from the Eagles' defense, Cathedral appeared to be doing a better job moving the puck away from its own zone. As a result it would pay off thanks to Blad's goal to salvage the tie.
"St. John's played real well and from a skating standpoint I thought this was the fastest tempo game we played this year," Panthers coach Brian Foley said. "For whatever reason, we weren't up for it during the first two periods, but the kids came back Liquori kept us in it. I thought we played with little more emotion in the third period and Dom [Blad] had a nice goal for us."
January, 31, 2013
1/31/13
1:22
AM ET
By
Richard Murray
| ESPNBoston.com
WILMINGTON, Mass. -- Andrew Brandano scored twice for St. John's Prep as the Eagles shut down Liam Coughlin and Catholic Memorial's lethal offensive weapons, 4-1, Wednesday night, in a Catholic Conference clash.

St. John's Prep (12-2-0, 6-1-0 Catholic Conference) goalie Billy Price continued his stellar play turning away 18-of-19 shots. Price made several big saves, including robbing Coughlin from point blank on several scoring chances.

"A lot of his saves were quality stops," St. John's Prep coach Kristian Hanson said. "Billy has been solid for us all season, and that was no different tonight."

Although Coughlin was held off the score sheet that didn't mean he played poorly because he was still a force in the offensive zone.

"He is one of the best players in high school hockey, and I think he stood out there tonight because he did a terrific job," Catholic Memorial head coach Bill Hanson said. "It takes more than one player to win hockey games."

Catholic Memorial (8-5-2, 2-4-0) has run into a bit of a rut going 0-4-2, but there is one thing it must do differently next game:

"Score more goals," Bill Hanson said.

In the first period, both teams came out like a house of fire throwing bodies around on occasion. St. John's Prep challenged Catholic Memorial goalie, Brandon Collett early and often. Collett turned away several one-time attempts from point blank, which included a sliding pad save on Justin Longo. Collett had 26 saves on the night.

"They have a young goalie [freshman], so we knew that we needed to get a lot of shots on goal (30)," St. John's defenseman Ean Mendeszoon said.

In the second period, St. John's Prep scored two early goals inside of the first three minutes. Brian Pinho started the scoring sliding the puck through Collett's five-hole on a breakaway.

"[That goal] absolutely got us going because we had a poor first period," Kristian Hanson said. "We needed something to get us going, so what was a big goal for us."

Only 1:13 later, Cam Shaheen flung a perfect pass to Paul Crehan, who was waiting by the back post. Crehan buried the puck on a bang-bang play.

Catholic Memorial would answer on the power play though as Beau Starrett buried a rebound past Price, cutting the Eagles lead to only, 2-1.

"After they scored that power play goal it kind of put us in a little bit of a funk," Kristian Hanson said.

Catholic Memorial's Kevin Hock came right back on a breakaway following the Starrett goal. Hock fired a shot and followed his own rebound, but Price was able to turn away both shots.

In the final seconds of the third, Brandano tallied his first goal of the night on a play set up by Jimmy Currier. Brandano looked as if he was going to shoot as he charged the goal, but he went to the backhand.

"I thought about just shooting, but I went backhand because I saw the goalie sliding over," Brandano said.

Brandano put the game out of reach midway through the third period, as he followed his down rebound and beat Collett.

"It was a really nice team play," Kristian Hanson said. "We got the puck up to Currier, and he found Andrew [Brandano]. He was calm and patient with the puck because he didn't just shoot out, and he buried it on his own rebound.
January, 23, 2013
1/23/13
2:59
PM ET


MALDEN, Mass. – When hockey coaches talk about rolling four lines, there's usually an assigned order that comes with such a statement. The top six forwards are called upon to score, and the third and fourth lines are supposed to bring the grit and, at times, shoulder the responsibilities of shutting down the other team's top offensive threats.

Yet, St. John's Prep head coach Kristian Hanson views his four lines not as ranked No. 1 through No. 4. Instead, they bear colors. The Eagles' "Green Line" of Paul Crehan, Justin Longo and Cam Shaheen might not be viewed as Prep's top offensive line by opposing teams, but they were the difference in Tuesday's 5-2 win over Catholic Conference rival Malden Catholic.

"The Green Line played really well for us tonight, that's the line of [Justin] Longo, [Paul] Crehan and [Cam] Shaheen, they were possibly our best offensive line through the first couple of periods. Obviously, Paul getting that goal in the third period was really big for us."

Crehan scored what proved to the game-winning goal, igniting a three-goal outburst in the third period.

The teams skated 2-2 after two periods, but the Eagles (10-2-0, 4-1-0) ran out to an early 2-0 lead, scoring on two of their first three shots on goal.

Despite the early deficit, MC (4-5-3, 0-4-2) controlled the possession game in the first period, outshooting Prep, 12-5. Eagles goaltender Billy Price stood tall in face of the Lancers' first period onslaught, highlighted by a string of three straight point-blank chances on the power play.

Derek Osbahr had Prep to a 1-0 lead at 1:53 of the first, scoring on a partial breakaway. It was the Eagles' first shot on goal. Shaheen increased the lead to two goals at the 12-minute mark of the first, breaking in off the left wing and going stickside with the wrist shot.

The Lancers rallied to draw even, scoring their first in the final minute of the first on Ara Nazarian's power play goal and then on Matt Filipe's equalizer at 11:12 of the second.

"It's always a big game when we play MC," Shaheen said. "We've had such a big rivalry with them the last three years we've played them. We know they're a third-period team, so we said in the locker room, before we came out … We needed to be the team that stepped up and made plays in the third period. That's what we did. We made big plays and that's why we won the game."

Crehan gave Prep the lead for good, knocking in a rebound while driving the net, scoring on the backhand while going tumbling into the end wall.

Tyler Bird closed out the victory two goals later in the third, his first coming on a tip attempt on the power play.

The Lancers earned two misconduct penalties in the game's final minutes, including a game misconduct.

GOING THE DISTANCE
With Tuesday's victory, Prep tied BC High atop the Catholic Conference standings with their eighth point. BC High is in action again Wednesday night against Xaverian and Saturday's featured bout is the second round of Eagles vs. Eagles.

"Every point is important," Hanson said. "Whether it's Malden Catholic, or Xaverian, whatever team it is you have to bring your best effort."

The Eagles know what's ahead of them, and they'll need to bring their best effort to erase a 2-0 loss to BC High on Jan. 9. But Prep also has the goal of winning its first Catholic Conference title since 1994 on the horizon.

"We have a lot of seniors on this team, we all have the same goals," Shaheen said. "We want to make it far as we can in the playoffs and we're on the road right now. We just want to make it to our best potential."
January, 17, 2013
1/17/13
12:00
AM ET
By
Josh Perry
| ESPNBoston.com
FOXBOROUGH, Mass. -- With only three seconds remaining in the second period, St. John's Prep senior forward Brian Pinho pounced on a Xaverian turnover and wristed a shot under the crossbar that broke open a game that, at least on the scoreboard, was still close.

That goal gave Prep a 3-0 lead heading into the final period and clearly deflated the Hawks, which had hoped to go into the third still within a couple of goals.

"To give that one up with three seconds was a real poor mistake that we made," Xaverian head coach Dave Spinale said. "That gave them that life and it deflated us a little. That's something we have to correct down the road."

He added, "We come out and make it 2-1 and it's a whole new ballgame. We hurt ourselves tonight."

The goal was the first of two for Pinho, who had a hand in each of the Eagles' tallies in a 5-0 rout of their Catholic Conference rival on Wednesday night at the Foxborough Sports Center. Pinho finished the game with two goals and three assists.

Xaverian (4-4-2, 0-2-2 Catholic Conference) just could not contain Prep's captain.

"Brian, in my opinion, you could argue is the best player in the state," said Eagles coach Kristian Hanson. "It's not all about goal-scoring. He creates opportunities for other guys, he draws a lot of attention to himself, he can dish the puck, he can play defense…we utilize him in every aspect of the game."

No. 3 Prep (8-2-0, 3-1-0) dominated the action from the opening whistle. Junior forward Jack McCarthy scored a power play goal just 2:30 into the game to give the Eagles an early lead and Xaverian spent much of the opening 15 minutes defending deep in their own zone. The Hawks were back on their heels and made a number of blocks and deflections to protect goalie Matt Michaels (19 saves).

Hanson felt his team was fully prepared for the game and, despite a long bus ride to Foxboro, was the team with the most energy to start the game.

"We definitely looked like we were prepared to play tonight," Hanson said. "We talked about the game a lot the past couple of days. We know that Xaverian is the type of team that can beat anyone. It's always tough to get on the bus and come down to Foxborough, so we're pleased with the final result."

The second period was more even with both teams struggling to create clear-cut scoring opportunities. The best chance for Xaverian was created by junior forward Brian Cahalane. He slid the puck through the crease while falling towards the boards and it caromed off the skate of a Prep defender and agonizingly wide of the far post.

With 3:11 remaining in the second period, Pinho fired a defense splitting pass across two lines and hit Nic Gianelli in stride. The senior drove at Michaels and finished with a backhand that slipped through the 5-hole to make it 2-0.

Spinale was not impressed with his team's effort in an important conference game and was blunt about what he thought of the performance.

"I thought we were unfortunately flat all night," he remarked. "That's probably our worst effort of the year and it came at a bad time. They were better in all three zones. They were faster, more skilled, they were just better all the way around."

The Hawks had an opportunity on the power play early in the third period, which might have gotten them back in the game. Instead, Prep turned it into a goal of its own when Gianelli returned the favor with a quick outlet pass to Pinho, who held off the defender and dragged the puck across goal to score.

Gianelli and Pinho combined to set up linemate Andrew Brandano with little more than four minutes remaining in the game to complete the scoring. Prep goalie Billy Price (20 saves) kept out a late Hawks flurry for the shutout.

Prep will face No. 6 Austin Prep in Stoneham on Saturday night, while Xaverian travels to face No. 18 Chelmsford on Monday.


January, 13, 2013
1/13/13
12:19
AM ET
By
Richard Murray
| ESPNBoston.com
BOSTON — After being outplayed in the first period, St. John's Prep took control of the game and rallied its way past Catholic Memorial in a potential Super 8 match preview, 4-1, Saturday at Walter Brown Arena.

St. John's Prep (6-2-0, 2-1-0 Catholic Conference) couldn't buy a scoring chance in the first as Catholic Memorial and Liam Coughlin made easy work of the Eagles. Coughlin led the first period charge for the Knights as he gave Catholic Memorial the early, 1-0 lead. The Knights outshout St. John's Prep by an 8-1 margin during the first period.

"We only generated one shot in the first period, and [our struggles] kind of carried over from Wednesday against BC High," St. John's Prep head coach Kristian Hanson said."

Luckily for the Eagles, their goalie, Billy Price (29 saves) was doing his best impression of Tim Thomas; Price tries to model his own play after the former Vezina Trophy winner.

"Billy has been playing well all year, and he played well tonight," Hanson said. "He did a great job keeping his composure, especially late in the game because they put a ton of pressure on him."

St. John's was outshot, 30-19, but the Eagles were able to keep Catholic Memorial on the perimeter and outside on most of their shot attempts.

"Our defense this season has been great," Prep defenseman Ean Mendeszoon said. "We are always getting pucks away from net and blocking shots. We're just doing our job and that's not really too much. We also try to keep our opponents to the outside and perimeter so they can't get good quality chances down low."

In the second period, Prep came to life in all aspects of the game. Coughlin was not getting the looks he was in the first as the Eagles keyed in on the Knights' star scorer.

"Catholic Memorial is a very talented team with kids like Coughlin on it," Hanson said. "We are paying attention to whom their [top] players are, so that we can limit their opportunities."

St. John's finally broke through late in the second period as Nic Gianelli flipped a backhander by Catholic Memorial goalie, Brandon Collett (15 saves), on a breakaway.

Before the end of the period, the Eagles were able to take the lead as Justin Longo rifled a rebound shot to the back of the net with Collett down and out.

"The rebound just came right over to me, and I got a little lucky because I just was able to put it in."

In the third, it only took 13 seconds for Andrew Brandano to bang home a rebound goal, which came off of a two-on-one rush with Tyler Bird.

With 2:59 remaining in the third, Catholic Memorial (8-2-0, 2-1-0) went to the power play with Gianelli in the sin bin. Unfortunately for the Knights, Price stood tall, and the St. John's penalty kill never let the Knights get a quality opportunity.

"Our guys did an excellent job tonight by getting in the shooting lanes, forcing them to the perimeter, and preventing the back door chance," Hanson said.

Catholic Memorial was not done making a last minute push though as Collett sprinted to the bench for an extra attacker. The Knights were looking for their fourth comeback win of the season.

"We have been behind a number of games this year, and have been able to come back," CM head coach Bill Hanson said.

The Knights had some late pressure on Price, but once again the St. John's net-minder was not giving in. Price turned away several shots from in the slot and through traffic before Bird iced the game with an empty netter.
January, 10, 2013
1/10/13
1:22
AM ET
By
Bruce Lerch
| ESPNBoston.com


BOSTON -- A popular phrase around the high school hockey barns this winter has been 'compete level' and it's been applied to both teams and individuals.

Wednesday night, BC High junior captain Tom Besinger earned the tag. Despite routinely drawing the attention of opposing defensive gameplans, Besinger came up with a number of hustle plays that helped set up a 2-0 victory for the top-ranked Eagles (6-0-2) over No. 4 St. John's Prep (5-2-0) at Clark Athletic Center.

Five minutes into the second period, freshman defenseman Billy Roche chipped the puck off the side boards to Besinger, who stretched far enough to get to it before a pair of Prep skaters could beat him to it. He got just enough on it to poke it forward to teammate Patrick Kramer, who corralled the puck with one hand on his stick, split a pair of blue-liners and managed to push the puck through to the stick side of Prep goalie Billy Price.

"Tommy made a good play, he brought it over the blue line and it just bounced," Kramer said. "I kept my feet moving, it was a good bounce, goal. It was a good play by Tommy to get the puck over the line."

Then with 4:05 left in the middle frame, Roche disrupted a clearing attempt at center ice. Besinger changed direction quickly and danced around one defender to get the puck, then took a pair of short strides before slipping it through a pair of sticks to Jake Lemanski for a quick wrist shot through another defender to the short side.

"Tommy gets attacked, he gets draped on and his compete level is second to none," praised BC High head coach John Flaherty. "As I've said before and I'll say it again, he may not be the biggest kid on the ice but he competes as hard as anybody. He had a couple guys draped on him and he still kept his feet moving and made a nice pass to Jake Lemanski who didn't hesitate and just put it right back by him. That was a nice job by Tommy and a nice job by Jake to keep his stick on the ice and fire it."

For his part, Besinger intimated that he was just sticking with the team's game plan.

"We were just attacking the zone with speed," he explained. "We got a lot of pucks in deep and we were finding guys back door and we were just trying to get behind their defense and work the puck in along their goal line because we knew we could beat them back door and try to get shots from the slot."

A KNACK FOR THE NET
Besinger was marked in the preseason by most observers as the player to watch, and he has more than done his part, leading the Eagles with 2-9-11 totals. What may come as something of a surprise is the player who leads the state's number one team in goal scoring.

Just a sophomore, Kramer's second-period tally was his team-leading sixth of the season. And a lot of them are the "dirty goals" that coaches love because they come from right around the crease.

"He's putting pucks away for us, Flaherty said of Kramer. "He competes hard, he's a big body and I think all of his goals have come right from where that one was, all around the net. He has a nice knack for when he gets in that circle around the net, he puts pucks away."

YOUNG DEFENSE MAKING STRIDES
Among the six defensemen listed on the BC High roster, there are two juniors, a sophomore and three freshmen. While having an elite goaltender such as Peter Cronin (20-save shutout against the Prep) backing them certainly helps, this young blue line corps continues to make positive strides.

"We're young on the blue line and those guys are getting better every day," Flaherty said. "I think they've improved and I think today was another big step forward. [St. John's Prep's] Brian Pinho can fly. He's a legit division one college player, his future is very bright so for our defensemen to at least make his life a little difficult is a big step forward to us. He's scary when he touches the puck and he can make things happen so we did a pretty good job of at least limiting some of his chances."

STUCK IN NEUTRAL
Coming off a big victory against Malden Catholic last Saturday, you could almost excuse St. John's Prep for suffering something of a letdown last night.

The Eagles struggled to put passes together and struggled to find quality scoring chances through the first 30 minutes of play. Even in the third, when SJP finally began to control the tempo somewhat, they still seemed unable to get themselves into any kind of groove despite outshooting their counterparts.

"There was no flow. We just looked out of sorts the entire night and couldn't get anything going," Prep coach Kristian Hanson admitted. "Systematically we were off. It just seemed like we were fighting every stride that we took tonight, like we were skating in quicksand."

"Scoring opportunity-wise we had some but we didn't do anything outstanding tonight where I felt we had our chances and just couldn't put anything away," Hanson continued. "That's our fault. We just did not play well. Those things happen. We've got a good group of kids in there and we've had a pretty good year up to this point so we'll hope to turn things around on Saturday."


January, 5, 2013
1/05/13
8:25
PM ET
WILMINGTON, Mass. – Kristian Hanson had seen the scene play out before. Sure, his St. John's Prep hockey team had No. 1 Malden Catholic on the ropes in the third period, up by two goals. And, in previous experiences, Hanson had seen those leads – perceived to be "safe" – vanish into the ether.

"I don't feel comfortable until that last second ticks off," Hanson quipped about playing against the two-time defending Super 8 champions.

Hanson and Co. will sleep tight tonight, having handed the Lancers their first MIAA loss in nearly two calendar years while finishing a 3-2 victory at Ristuccia Arena on Saturday. The loss is MC's first in-state loss since Jan. 15, 2011, (a 2-1 loss to Hingham) and snaps the Lancers' 40-game MIAA winning streak.

"MC obviously has a reputation as being a third-period team," Hanson said. "They were down by two to Austin Prep and they were down 2-1 to BC High last week and those both ended in ties. We've had personal experience being up on them in the third period that we haven't been able to hold on."

The No. 9 Eagles (5-1-0, 1-0-0 Catholic Conference) trailed 1-0 at the first intermission, but strung together three straight goals, including two in the third period to hold a 3-1 lead in the final minutes of the game. MC's Pat Wrenn added a goal with less than two minutes to play, sliding one past Eagles netminder Billy Price (20 saves) on a deflection off a defenseman's skate, but Prep escaped another potential Lancer comeback bid.

Eagles senior forward Andrew Brandano figured prominently in the victory, factoring on Prep's first two goals.

Brandano broke in for an unassisted goal at 6:58 of the second period, drawing the teams even at 1-1. He then set up Prep's go-ahead tally at 11:11 of the third, throwing a puck at MC goaltender Connor Maloney (18 saves). Mark Azarian deflected the slap-pass to the right of Maloney. Brandano and captain Brian Pinho had the assists.

"We had some really good chances in the first period and we had a golden opportunity in the first period, with the puck sitting on the goal line and missed out," Hanson said. "Sometimes those chances come back to bite you later in the game.

"But we got lucky on Brandano's goal in the second period. That maybe gave us a little bit more confidence offensively and we were able to get two after that."

Prep added an insurance marker that would later prove to be the game-winner on the power play. Tyler Bird shoveled a pass back to defenseman Ean Mendeszoon and the lanky blue-liner's slapshot beat Maloney stick side.

CAUSE FOR GREATER CONCERN
Perhaps the greatest loss MC (3-1-2, 0-1-1) suffered on Saturday came in the third period when UMass-Lowell commit winger Tyler Sifferlen went down with an apparent lower body injury. Sifferlen was injured when he locked knees with a Prep defenseman on a clean hit in the neutral zone.

Lancers head coach John McLean accompanied Sifferlen to the hospital for observation and wasn't available postgame.

TURNING UP THE HEAT
While Prep might have fallen behind, the Eagles pressed the issue on the forecheck throughout the first two periods.

And while they didn't have anything to show for it, Brandano felt as thought Prep would break through if it maintained the pressure.

"We were on them from the start," Brandano said. "Even though we were down one, we just kept on it."

The Eagles used the forecheck to generate several high quality scoring chances in the first and second, only to see Maloney make opportune saves. Brandano forced a defensive zone turnover for a chance midway through the second and fellow winger Nic Gianelli also turned some dogged work in the MC zone into back-handed shot from his knees, with Maloney making a nice save, at the end of the first.

"We've had some problems scoring goals early on this season, so one way to correct that is to keep getting pucks to the net from all angles, eventually one goes in," Hanson said. "You're not to score if you don't shoot."

THE PRICE IS RIGHT
For the first time in several years, Prep is breaking in a new goaltender, after the graduation of steady starter David Letarte.

But Price has filled the bill in the early going. He was ready when called upon against MC and kept rebounds to a minimum. Everything else, his defensemen, led by senior captain Brent Murray, cleared.

"Billy's given us a chance to win every game we've been in, that's all you can ask for," Hanson said of Price. "He made big stops, he looked great today. He was composed, didn't get rattled in front of the crowd and facing MC."
December, 27, 2012
12/27/12
3:15
AM ET
By
Mike Abelson
| ESPNBoston.com
LAWRENCE, Mass. -- In every good piece of theater a story is told. The setting and story and laid out, the characters become clear, and the show builds momentum and finishes with a flourish.

Last night, Central Catholic and St. John's Prep put on a show that would have made Andrew Lloyd Webber jealous.

The No. 6 Raiders defeated the No. 4 Eagles 2-1 after a frantic third period in front of more people than the Lawrence Valley Forum was ever intended to hold.

"This win was unreal," Central senior Mike Kelleher said. "We circled SJP from day one. This was the biggest game of our season so far."

After a first period that saw a clogged neutral zone and few scoring chances, the pace picked up in the second as the hits became louder and more frequent.

The teams were deadlocked at zero before all hell broke loose in the third.

In the first minute of the third Central junior Lloyd Hayes took the puck by the end boards, spun into the circle, and fired an unremarkable shot at Prep senior goalie Billy Price that somehow found its way home and put the Raiders up 1-0.

"Lloyd just competed, grinded and threw something at the net," Central Catholic coach Mike Jankowski said. "We knew he was real good up top so he just tried to get pucks to the net. Sure enough he got one to the net and it went in."

Just over three minutes later Hayes sent a pass up the middle of the ice that found Kelleher in stride and the senior finished after a slick move got Price out of position.

"Worked hard for the goal, but give all to Lloyd Hayes though," Kelleher said. "He created the play for me and he's been working hard all game; he deserved it."

Chaos took over from there as Prep's offense finally awoke and the Eagles started to attack from every angle.

Central's Colin Soucy stood tall in net for the Raiders, but Prep finally solved the junior when senior Mark Azarian found fellow senior Brian Pinho in front who touched home the one-timer to halve the deficit with 4:13 to play. The Eagles continued attacking, but the Raiders held firm to walk out with a hard-fought win.

"We played with much more urgency once we got down two goals," St. John's Prep head coach Kristian Hanson said. "That's when we played our best hockey. We have to play with that same intensity and urgency the entire game. If we had played like that the whole time it could have been a different outcome."

SOUCY SHINES
When you're replacing the greatest goalie in program history there is almost no pressure…almost. Yet Soucy, who turned aside 18 St. John's shots, has stepped into the role of replacing Kyle Williams and shined.

"Colin was phenomenal," Jankowski said. "He came up big time and time again. He made a big save here and there and he kept us in it. One in particular, that glove save [in the third period], if that didn't get your juices going I don't know what will."

With Soucy backstopping them, the Raiders are 3-1-0 with two wins over ESPN Boston Top 25 teams (Prep and Westford) and the third coming against a tough Billerica team. The only loss came against yet another ranked team, Arlington Catholic.

Win or lose Kelleher said that Soucy is one of the most important players on the ice every night.

"Colin's playing unreal every single game right now," Kelleher said. "He's automatic right now. He's probably our key player in every single win."

Jankowski said that as good as Soucy's been on the ice he's just as good of an influence in the locker room.

"He's such a nice kid, he's bonded with all his teammates so it's really taken off," Jankowski said of Soucy. "It's almost like he's never been apart from us."

CONTROVERSY AT THE NET
A series of four calls, all in front of goal, played a key role in the outcome of the game.

The first came in the second period when a gaggle of Raiders descended on Price and stuffed the puck past him. The goal was called off because the net popped off its pegs an instant before the puck crossed the line. Central's players protested, but Jankowski said it was the right call.

"The first one was completely understandable," Jankowski said. "The second one was tough. That was real tough to swallow."

That one came a minute after Kelleher's goal. The Raiders were swarming again and the puck found its way to senior Conrad Jepson who blasted it in from the blue line and appeared to score. The goal was wiped out due to goaltender interference.

In the third, Prep was hit by a quick whistle that negated an almost-certain scoring chance, and a non-whistle in the waning seconds when the puck was stuck under a slew of bodies in front of Soucy. At least 10 seconds ticked away during that time.

"Our goal at that point is to put the puck on net and get everyone to the net and look for the garbage goal out front," Hanson said. "I think everyone on the ice was in front of the net. I don't know how that one could have gone in anyway."


December, 20, 2012
12/20/12
12:39
AM ET
By
Mike Abelson
| ESPNBoston.com
WILMINGTON, Mass. -- Generally, a good team makes a statement late in big games.

The St. John's Prep hockey team took a different tact last night against No. 3 Hingham.

The No. 4 Eagles jumped on the Harbormen from the opening puck drop and scored a pair of goals in the opening period en route to a big 4-1 win at Ristuccia Arena.

"Hingham is always good," Prep senior Brian Pinho said. "We knew it was going to be a tough game. Our game plan was to bring a lot of energy, get pucks deep, get on their D, try to get some pucks on the net and it worked out for us."

The Eagles (2-0-0) made a nest in the Hingham zone early in the first and never left. They peppered senior goalie John Grenier with 13 shots in the opening 15 minutes and sent many more just wide of goal.

Pinho struck first on a redirection with just over four minutes left in the period. Senior Justin Longo scored 99 seconds later when he deked out Grenier and put the puck in the top shelf.

"I thought the first period was our best period of the night," Prep head coach Kristian Hanson said. "We were able to score those two first-period goals and get off to a good start. We certainly knew at that point that 2 first period goals didn't mean a win."

Hingham (2-1-0) regained their composure in the second and turned the tables of Prep. The Harbormen seized control, but were unable to score. One chance early in the period left the puck sitting motionless less than a foot from the goal line before it was swatted away by the Eagle defense.

A five-on-three advantage midway through the period also bore no fruit for Hingham.

"It's frustrating," Hingham head coach Tony Messina said. "We have a lot of guys that haven't scored goals before and it takes some time to learn how to do it. We'd like to have that first period back."

After being outshot 13-3 in the first period Hingham outshot St. John's 17-8 during the final two periods. Prep senior goaltender Billy Price stepped up and, aside from a rocket from Hingham junior Matt Brazel in the third, turned aside everything that came his way.

"I thought he played very well," Hanson said of Price. "I thought he stayed composed and made some big saves. It's only his second start at varsity, so time will tell how he'll play down the line. Tonight we're pleased with his performance and just go on from here."

BRIGHTNEY AND PREP DEFENSE SHINE
When you play Hingham you expect to deal with talented players who can make big plays. However most teams don't have the defensive depth that St. John's Prep does.

The Eagles back six were able to contain the Harbormen for long stretches of the game and keep visitors at bay when the going got tough.

"We knew over the years that Hingham is a real physical team," Prep senior James Brightney said. "They're very fast so we knew coming into it that we have good speed but we've got to hit them if we want to keep them from scoring."

Brightney and the defense were able to assert their physicality in what would become a physical game. They were also able to block passing and shooting lanes which broke up the Harbormen attack and played a big role in the Eagles getting out of the second period without allowing a goal.

"We pretty much have to rely on [Price] to stop the shots, but we've got to make sure we keep guys outside and don't let them just come over the blue line," Brightney said. "We've got to stop them."

ROAD GETS (JUST AS) HARD FOR EAGLES
Hanson and the Eagles will have a few days to enjoy the win and the Christmas holiday, but the road doesn't get much easier for Prep. They're next game will be Wednesday on the road at Merrimack Valley Conference power Central Catholic.

"Hockey's a tough thing," Hanson said. "You look like world beaters one night and go out the next night and [ask] where did that team go? We've got a week to get ready for Central. It's in Lawrence; it's a tough rink to play at."

The Raiders will be smarting after dropping a 5-2 decision to Arlington Catholic last night and Hanson said he'll expect the most of his team in another tough non-conference game.

"It's against a really tough opponent in Central," Hanson said. "They're a Super 8 team year in year out. We're going to go out there and give it our best on Wednesday and try to get the W."