Boston High School:

Billy Sittig
May, 28, 2011
5/28/11
5:58
PM ET
By
Brendan Hall
| ESPNBoston.com
FOXBOROUGH, Mass. -- For Billy Sittig, this morning's slate of baseball was a trip down memory lane.
The first-year Foxborough skipper watched as another loss pile up, as his Warriors lost 11-3 to Catholic Memorial at Payson Field. But today's matchup, dubbed the first annual "Hits For Hope" charity game on the MIAA's cutoff scheduling date, was about so much more. And at that, it was all good.
"The season went below our expectations, but we wanted to finish with something positive and have a great event," Sittig said. "It turned out we had a great weather and played a great team, and we did a great job fundraising, so this was a good thing."
[+] Enlarge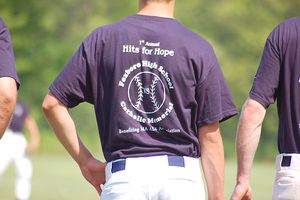 Brendan Hall Both teams warmed up for the Hits For Hope game in these commemorative T-shirts.
Sittig and his team came away from today's festivities having raised some $5,200 towards Curt Schilling's Curt's Pitch For ALS foundation, between donations, raffles, and pledges for a certain amount of money donated per hit in the game. He also found time to catch up with his old mates at CM; Sittig is a close friend of Knights coach Hal Carey, and coached the Knights' freshman basketball team for four years before taking his current job at Foxborough.
"I know a lot of these guys well," Sittig said. "Those three aces they've got, I know them very well, especially Matt Goreham. It was good and bad to see him have a good game against us... But no, it was a great experience, me and Hal are great friends, so it's a great experience to go through this fundraising with him."
Indeed, this was a monster game for the Northeastern-bound senior Goreham, who launched two 1-0 fastballs deep over centerfield for four RBI in his first two at bats, helping spot the Knights a 6-3 lead through three innings that stuck, and finishing the day 3 for 4 with three runs. Goreham also struck out four batters in the first three innings from the mound, before giving way to UMass commit John Mildner (4 IP, 7 K's, one hit allowed).
"I was just waiting for fastball, and was able to put a good swing on it," Goreham said, adding with a laugh, "Any other park that might have been out of here, but it's not bad running for a while."
As for Sittig, Goreham said, "I've known him since the eighth grade, he was always around with basketball and stuff. It's fun to see him, and I'm glad he's doing what he wants, you know, coaching."
[+] Enlarge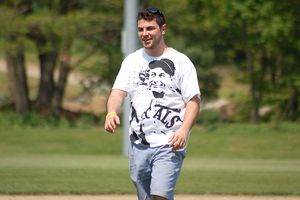 Courtesy Brendan HallMike Paladino threw out the ceremonial first pitch in the Hits For Hope game.
He added, laughing, "If you ask him, he was the best freshman coach in the state."
Foxborough centerfielder Steve Fitzmaurice was awarded the the game's Most Valuable Player in a post-game ceremony, and received an autographed Curt Schilling baseball from the 2007 Red Sox World Series championship season. He finished 2 for 3 with an RBI.
"Our guys responded well," Carey said. "I told the kids, 'I want to make a donation'. Most of the guys came through. Our players themselves came up with $200 combined, and he (Sittig) made a ton of money for the game, I'm sure.
"His guys gave a lot of money, too, and got a lot of donations. So it was great to be a part of it, and hopefully we can do it again next year."
TAKING CENTER STAGE
It's not Fenway, McCoy, or even Campanelli, but taking the hill in front of a few hundred spectators this morning still gave Mike Paladino a few jitters.
"I was so nervous," he laughed. "And I didn't even do that well, made the catcher work for it. Initially, Billy said I might be catching, but throwing out a first pitch is nerve-wracking no matter what."
Flanked by Boston Park League president Walt Bentson, who is suffering from ALS, the 2004 CM graduate and friend of Sittig threw out the ceremonial first pitch for the game. Paladino's father, Bill, was principal at Foxborough's Ahern Middle School from 1984 to 2000, before passing away from ALS in April of 2000.
"Honestly, it's been a great honor to me," said Mike Paldino. "Because my father had spent so much time in this community in Foxborough, and my history in Foxborough has been nothing but good to me and my family, since we went through the tough times with my father's sickness and all of that.
"You know, anything for this cause, I'm glad to go out there and give everything I got for it."
May, 10, 2011
5/10/11
4:43
PM ET
By
Brendan Hall
| ESPNBoston.com
Foxborough High head baseball coach Billy Sittig and the rest of his Warriors program has set up a fundraiser, "Hits For Hope", canvassing for pledges and sponsorships from friends, family and local businesses, all of it to be donated to charity. All of it will culminate on May 28, when the Warriors play host to Sittig's former team Catholic Memorial at Payson Field.
This year, Sittig has chosen Curt Schilling's "Curt's Pitch for ALS" charity, and has thus far raised $550 towards its goal of $1,000. Sittig has set up a website for donations,
which you can find here
, and he can also be reached at sittigbilly@yahoo.com with any questions.
The game should be full of reminiscing for Sittig, who previously coached basketball for four seasons at CM with close friend and current Knights skipper Hal Carey before taking the Warriors job last January. He has sent out a release explaining the event, which is copied below:

On Saturday, May 28, 2011 at 11am, the Foxboro High School Varsity Baseball team will be hosting Catholic Memorial, in Foxboro's final regular season game. This will mark the first annual "Hits for Hope" game at Foxboro High School. "Hits for Hope" will be an event in which the Foxboro Baseball team works to raise money for charity by garnering pledges and sponsorships from friends, family, and local businesses. For example, a friend of the program could pledge $5 per hit by the Foxboro Baseball team vs. Catholic Memorial. If the team has six hits on the day, that would mean $30 for charity.

This year's charity is Curt's Pitch for ALS, a charity founded by former Boston Red Sox pitcher Curt Schilling and his wife, Shonda. Together, the Schillings have raised and donated over $9 Million for ALS as part of Curt's Pitch for ALS. The Foxboro Baseball community thought this would be an excellent charity to donate all proceeds from our efforts to the Massachusetts Chapter of ALS, with the obvious ties to baseball in Massachusetts.

On the day of the game, we will be holding a raffle featuring tickets to Boston sporting events, as well as gift certificates to local businesses and restaurants with all proceeds going to the ALS Association. We hope that you will choose to participate in our fundraiser and support a worthy cause!