Boston High School:

Blaise Branch
May, 5, 2011
5/05/11
10:32
AM ET
The North-South game of the 33rd Annual Shriners Football Classic kicks off this June 17 at 7 p.m., and for the second year in a row the contest will be held at Gillette Stadium. Below are the rosters for both squads participating in the game:
NORTH
Ryan Adams, Northeast, DE
James Aloisio, Masconoment, OT
Eric Apgar, Acton-Boxborough, RB
Anthony Arcari, Tewksbury, RB
Manny Asprilla, Everett, WR
Derek Bent, Shawsheen, TE
Brian Bourque, Reading, DB
James Brao, Hamilton-Wenham, LB
Cal Carroll, Methuen, QB
Brendan Casey, Boston Latin, DT
Thomas Chub, Masconomet, OL
Mitchell Colley, Arlington, LB
Sean Connolly, Tewksbury, FS
Tyler Coppola, St. John's Prep, RB
Matt Costello, Everett, WR
Anthony Courtouis, Lowell, WR
Jeff Covitz, Reading, OL
Nate Cyr, St. John's Prep, OL
Ned Deane, Andover, LB
Ryan Delisle, St. John's Prep, TE
Jake Giovanucci, Dexter, DE
Mike Grassa, BB&N, DB
Will Guinee, Malden Catholic, OL
Mike Harper, Methuen, LB
Zach Hayes, Chelmsford, S
Justin Hood, Billerica, DE
Brian Hurley, Wilmington
Zach Ingalls, Westford, DB
George Kallas, Beverly, OT
Ben Koopman, Marblehead, C
Chris Malonis, Dracut, WR
Tyllor MacDonald, Lynn English, DB
Tom Meade, Malden Catholic, LB
Trae Musumarra, Central Catholic, LB
Zach Nardone, Bishop Fenwick, DT
Paul Nwokeji, Thayer Academy, OL
John O'Connell, Northeast, DL
Daniel Omorgie, Lynn Classical, DE
Xavier Peralta, Central Catholic, DB
Ony Ramos, Lawrence, DB
Peter Savarese, BB&N, RB
Jordan Shairs, Gloucester, RB
Matt Silva, Dracut, QB
Bradley Skeffington, Salem, DB
Zach Smerlas, Lincoln-Sudbury, DL
Brian Strachan, St. Sebastian's, WR
Dave Summiel, Shawsheen, DT
Chris Unis, Gloucester, DE
Trae Weathers, Revere, RB
Sean Whittaker, Methuen, OL
Peter Yasi, Swampscott, DE

SOUTH
Matt Allen, Pembroke, SE
Ryan Barrett, Holliston, TE
Rob Barrus, Weymouth, LB
Adam Boari, King Philip, OL
Blaise Branch, Cardinal Spellman, RB
Lance Burlingame, New Bedford, OL
Jack Carrier, Cohasset, SE
Dylan Colarusso, Weymouth, RB
Joe Colton, Xaverian, DB
Tom Condon, Whitman-Hanson, OL
David Conroy, Walpole, SE
Nate Crary, Dennis-Yarmouth, DL
Seth DeMello, Somerset, RB
Mike Devin, Bridgewater-Raynham, OL
Mike Driscoll, Rockland, FB
Connor Fraser, Abington, DL
Jake Golden, Hingham, OL
Mitchell Graziano, Silver Lake, DB
William Greene, Oliver Ames, DE
Ernest Guy, Foxborough, OL
Joseph Hak, East Bridgewater, OL
Matt Hallisey, Duxbury, SE
Brian Harrington, Rockland, DE
Jordan Henderson, Barnstable, WR
D.J. Jamieson, West Bridgewater, RB
Randall Jette, Martha's Vineyard, DB
Dan Johnson, North Attleboro, SE
Andrew Kestenbaum, Dartmouth, OL
Matt Lockwood, Seekonk, RB
Albert Louis-Jean, Brockton, SE
Denis Maguire, Duxbury, LB
Jamel Marshall, Mansfield, RB
Zach Martin, Mashpee, RB
Alec May, King Philip, TE
Sean Mayo, Holliston, QB
Paul McCarthy, North Attleboro, DB
Kyle McGuire, Mansfield, OL
Dave McSweeney, Medway, OL
Obum Obukwelu, BC High, OL
Trevon Offley, Brockton, RB
Jon Page, Bourne, RB
Tyler Park, Scituate, QB
Liam Porter, Natick, OL
Ethan Rayner, Holliston, OL
Nate Robitaille, Attleboro, DB
Andrew Siden, Natick, TE
Kevin Stanton, Cardinal Spellman, LB
Jeff Synan, Plymouth North, OL
Chris Tamasi, Xaverian, LB
Ryan Vaughn, Norwell, OL
January, 21, 2011
1/21/11
4:19
PM ET
Everett High junior quarterback Jonathan DiBiaso has been named Fox 25's "High School Friday" Player of the Year, as voted on in an online poll on myfoxboston.com.

When the polls closed last Monday, DiBiaso (12,383) was ahead of the runner-up, Cardinal Spellman's Blaise Branch, by more than 1,000 votes. DiBiaso will join Fox 25 sports anchor Ryan Asselta live in-studio tonight at 6 p.m. to receive the award.

More than 32,000 students and fans cast their votes December 17th through January 16th for the player they felt most deserved the award. The nominees included the best high school players featured on "High School Friday," a weekly FOX25 News and myfoxboston.com segment highlighting sports and student life.
December, 4, 2010
12/04/10
1:39
PM ET
By
Phil Perry
| ESPNBoston.com
FOXBOROUGH, Mass. -- Holliston finished its perfect run to the Division 3A Super Bowl championship on the back of a beast.
One year after falling in the 3A title game, Panthers running back Kevin Curry rushed 36 times for 182 yards to lead Holliston over Cardinal Spellman at Gillette Stadium, 21-7.
"He is 'the beast,' " said Panthers coach Todd Kiley. "That was our theme, 'Feed the beast.' It's not only him, it's the guys up front. We put some different backs in there and they're doing some nice things too so it was just a team effort."
[+] Enlarge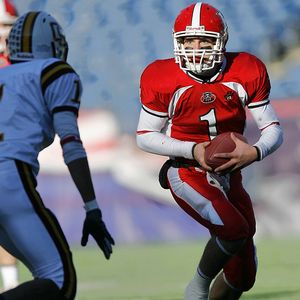 Courtesy of John MahoneyHolliston QB Sean Mayo tries to shake a Cardinal Spellman defender out of his shoes during the Panthers' 21-14 Division 3A Super Bowl win at Gillette Stadium.
Curry spearheaded a prolific rushing attack that totaled 279 total yards on the ground for a Panthers team that is usually known for its passing game. Quarterback Sean Mayo entered the game with 1723 yards passing and 21 touchdowns, but Holliston (13-0) broke a 7-7 halftime tie and pulled away in the second half, attempting just three passes in the third and fourth quarters.
"We've gotten a lot of press, a lot of ink for our pass game," said Kiley. "We knew all along we've got great guys up front, we've got a great running back, and our quarterback can run too, so we're a tough team to defend."
Mayo (7-20, 40 yards; 13 carries, 69 yards) provided some change of pace for the Panthers, converting two long third downs on quarterback draw plays, and punching in two scores when Holliston got deep in Cardinals territory.
His first score came as the last play in the third quarter and broke the 7-7 tie. From the Cardinal Spellman (11-2) one yard line, he spun, faked a hand off and dove across a pile for the score. His play was the exclamation point to a 10-play 55-yard drive where Curry carried the ball six times.
On Holliston's subsequent possession, they went 60 yards in just under five minutes. This time, Curry got to put on the finishing touch with a ten yard run where he was sprung loose with a lead block from an unlikely source: his quarterback.
"On that [touchdown to end the third quarter], he drove it down the field and I got the one yard carry in the end zone," said Mayo. "I had to repay him somehow."
That made the score 21-7 and proved to put the game out of reach.
"The whole town was here today," said Kiley, whose team fell 38-15 to Austin Prep in last year's 3A Super Bowl. "You don't know how it feels until it happens. It's the greatest feeling. It's up there with having a child. It really is. Don't tell my wife that."
Holliston opened the scoring with 5:57 remaining in the first half when Mayo plunged across the goal line from two yards out. For a team that averaged just under 40 points per game during the season, it was a light-scoring half. But with the way the Panthers defense played, the lead seemed safe.
Cardinals running back Blaise Branch (6 carries, 5 yards), who had scored 36 rushing touchdowns coming into Saturday, was held to just five yards in the first half. On the first play of the second half, he suffered a concussion and did not return.
"Their defense dominated so we couldn't do anything, when we lost our one weapon for the first half, that got our kids down a little bit," said Cardinal Spellman coach Ron St. George. "We all hate not to be success but I am proud of how hard we played."
The Cardinals scored when quarterback Zac Cooney found Joe Glynn wide open for a 25-yard touchdown strike with 23 seconds left in the first half. The play capitalized on a Patrick Hinkley interception that put Cardinal Spellman on the Holliston 45-yard line.
"We turn it over, we get right back on the ball and it's time to play," said Curry of his team's attitude going into halftime. "Going into half they got one, but we're coming back to play."
That they did.
Holliston forced its first turnover with just over a minute left in the game. Brody Ciarcello intercepted Cardinal Spellman backup quarterback Kevin Crane to effectively end the game.
"The emotion, I can't even explain right now," said Curry. "It hasn't even gone through my head yet. It's great. The season's over with a 'W.' It's perfect."
And so are the Panthers.
Holliston – 0 7 7 7 – 21
Cardinal Spellman – 0 7 0 0 – 7

First quarter
H – Mayo 2 run (Christian Baker kick)
Second quarter
CS – Cooney 25 pass to Glynn (Jordan Williams kick)
Third quarter
H – Mayo 1 run (Baker kick)
Fourth quarter
H – Cooney 10 run (Baker kick)
December, 3, 2010
12/03/10
5:51
PM ET


Yesterday, coaches and captains from each of the teams participating in the six Eastern Mass Super Bowls played at Gillette Stadium toured the field in anticipation of Saturday's games. We caught up with Bridgewater-Raynham quarterback Billy Zolga and Everett wide receiver and defensive back Matt Costello yesterday.

Both players were at Gillette last year when their respective teams lost their Super Bowl bids. Now, the seniors are looking to leave a lasting imprint in their final high school football games.

This is for all the marbles, so let's get straight into the action:

DIVISION 1
Everett (11-0) vs. St. John's Prep (8-4), 6 p.m., Gillette Stadium
Everett players to watch: ATH Manny Asprilla, WR Matt Costello, QB Jonathan DiBiaso, RB/LB Vondell Langston, LB Buck McCarthy, WR/DB Kenny Calaj, OL/DL Nick Chiarello, DL Shaquille Taylor.
St. John's Prep players to watch: RB Tyler Coppola, OL/DL Nathan Cyr, TE Ryan Delisle, TE/ROV Lucas Bavaro, OL/DL Dan Culkeen.
The skinny: In his third year under center, DiBiaso has exploded to lead one of the state's most prolific offenses (37.5 points per game), and re-write the record book (he threw his state-record 40th touchdown pass of the season in Tuesday's 21-0 win over Andover). But you best believe he is thanking his lucky stars for the exploits of Costello (20 touchdowns) and Asprilla. The Boston College-bound Asprilla, who lines up at both tailback and wide receiver, is one of the state's most dangerous threats in the short passing game, and known to rip off huge gains out of underneath routes. Prep, meanwhile, has rode a powerful ground game (what's new?) to victory, led by Coppola, who has nearly 450 yards on the ground in the last two games. The Eagles are anchored by a powerful line led by Cyr and Culkeen, while Bavaro has emerged as an intimidating presence over the middle on defense.
X-factor: The matchup of the Trinity-boud Cyr, one of the state's best o-linemen, versus Taylor, one of the state's best d-linemen, will be one of the most intriguing battles of the day. Both are built low to the ground, with an explosive first step, and you've got to wonder if one key block will spring either team to victory.

Barboza: A Prep win would be the fitting culmination to an emotional ride, but this has been the Crimson Tide's year. Everett, 27-21

Hall: This has been a remarkable run for the Prep, after all the program has been through these last two seasons, and they're winners in my book either way. I'm going with one of the unsung guys, Gilly DeSouza, to win it late with his feet for the Crimson Tide. Everett, 24-21.

DIVISION 1A
Bridgewater-Raynham (10-2) vs. Gloucester (12-0), 8 p.m. at Gillette Stadium
B-R players to watch: QB/QB Billy Zolga, RB/LB Nick Schlatz, OL/DL Mike Devin, RB/LB Mike Chicoine, RB Brandon Morin.
Gloucester players to watch: TE/DE Chris Unis; RB/LB Gilbert Brown; FB/LB Jordan Shairs; OT/DE Andrew Mizzoni; C/NT Anthony Latassa.
The skinny: Do you like running the football? This game is for you. The Trojans and Fishermen do it better than just about anybody and certainly have the book on each other after facing off in last year's Super Bowl. You'd be hard pressed to find a more consistent pair of backs than Gilbert Brown and Jordan Shairs of Gloucester. The Trojans ran behind Brandon Morin to a win over Weymouth in the semifinals after starting in place of injured tailback Nick Schlatz. It would give B-R a lift if Schlatz can recover from a shoulder injury sustained in a Thanksgiving Day win over Brockton
X-factor: Really it just comes down to which team blocks its assignments better. It's simple as that.

Barboza: This might be the most difficult game to forecast, but I'm giving the edge to Gloucester's experience. Gloucester, 16-14.

Hall: This might be the best matchup of the day. Power versus power, strength versus strength. Gloucester has more playmakers on the defensive side of the ball, but I like the way this B-R team has been running the ball this last month. Against Dan Buron's wishes, of course, I'm picking the Trojans to avenge 2009 and put an end to the Fish's 25-game win streak. B-R, 17-14.

DIVISION 2
Mansfield (11-1) vs. Reading (12-0), 3:30 p.m., Gillette Stadium
Mansfield players to watch: RB Jamel Marshall, QB George Busharis, WR Blayne Taylor, OL/DL Sean Otto, OL/DL Kyle McGuire, OL/DL Anthony Todesco, WR Jeff Hill.
Reading players to watch: QB/DB Brian Bourque, OL/DL Jeff Covitz, OL/DL Anthony Fodera, RB Larry Gilligan, RB Zack Bates, WR Sean Gildea, WR Connor Sheehan.
The skinny: The defending Division 2 Super Bowl champ Rockets come into Saturday on a 25-game win streak, albeit by a thread after some late heroics from Bourque and Covitz allowed them to escape their home turf with a 15-14 thriller over Dracut. With Bourque spearheading a shotgun-oriented rushing attack, the Rockets have amassed 42 rushing touchdowns going into Saturday. The Hornets, meanwhile, are back at Gillette for the second time in three years thanks to a stalwart defense led by McGuire at defensive tackle, and the workhorse carrying load of Marshall. This Mansfield squad, known for its Wing-T, isn't afraid to pass the ball more than in years past, with the arm of Busharis. Taylor and Hill, the latter of whom caught three touchdowns in Tuesday's 28-0 shutout of Walpole, have emerged as downfield threats the last few weeks.
X-factor: Covitz, with his above-average leg strength and low center of gravity, has been the most irreplaceable guy on the offensive line, and is generally been a nuisance for opposing offensive linemen coming off the edge. With that in mind, picking up the blitz will be crucial for the Hornets.

Barboza: When it's on the line, Marshall is just too explosive. Mansfield, 17-14.

Hall: Stan Andre, the one who kicked off this whole win streak, was in the house Tuesday night to take in the Reading game. I'm sure he said something to them in the ecstatic locker room after the game, and I'm sure it's going to count late in the fourth quarter. Reading, 28-27.

DIVISION IIA
Duxbury (12-0) vs. Concord-Carlisle (10-2), 1:30 p.m. at Gillette Stadium
Duxbury players to watch: QB Matt O'Keefe, DB/QB Kane Haffey, OL/DL Brett Harasimowicz, TE/DE Don Webber, RB/DB Reilly Naton.
Concord-Carlisle players to watch: RB George Craan; QB Peter George; RB/LB Jabrail Coy; LB Evan Boynton.
The skinny: These are two very stingy defenses with the Green Dragons allowing just 10.8 points per game and the Patriots have surrendered a shade under 13 points per game. Make no mistake, these teams can also move the ball. Duxbury thrives with its complement of Kane Haffey and Matt O'Keefe at quarterback. Concord-Carlisle can always depend on George Craan and his 1,600-plus yards out of the backfield.
X-factor: The Patriots and their fans know what to expect out of Craan, but if sophomore Tim Badgley can repeat his five-carry, 109-yard performance from their semifinal against North Andover, C-C's chances for victory would greatly improve.

Barboza: One last time, I'll pull this one out. The "Double Dragons" of O'Keefe and Haffey will lead them to victory. Duxbury, 21-20

Hall: Yes, that's right, I called Duxbury's defense "Duxbury Swag District" yesterday on our podcast. I am tragically lame, and slightly out of control. Duxbury, 24-10

DIVISION 3
Beverly (6-6) vs. Somerset (12-0), 11 a.m. at Gillette Stadium
Somerset players to watch: RB/LB Seth DeMello; RB/DB Jaron Spear; OT/DT Ian Levesque; RB/LB Alex Estrella; QB Adam Ledoux.
Beverly players to watch: RB/DB Brendan Flaherty, QB/DB Joe Wioncek, OL/DL George Kallas, RB/DB Nick Theriault, LB Mark Giles, OL/DL Andrew Cannata.
The skinny: Somerset's 28-0 win over Dighton-Rehoboth in the semifinals was a prototypical Blue Raiders game. Both Seth DeMello and Jaron Spear finished with over 100 yards rushing as Somerset bled the clock dry in the second half. Meanwhile, Beverly – the official Cinderella squad of the 2010 playoffs — showed that they truly belonged with a 41-14 thrashing of Scituate. Will the Blue Raiders prevail and finish a perfect season? Or can the Panthers keep the magic alive? It's the quintessential favorite vs. underdog.
X-factor: The teams' lines. For Division 3 schools, both of these squads have good sized linemen. Six-foot-five, 315-pound lineman Ian Levesque is a mountain on the Blue Raider line, but is agile as well. George Kallas is an immovable object on the Panther line.

Barboza: Not only is the double wing difficult for any team to run, but the Blue Raiders have all the right elements to run it to its best. Somerset, 28-14

Hall: Clock strikes midnight on Beverly, as two wings are better than one. Somerset, 21-10

DIVISION 3A
Holliston (11-1) vs. Cardinal Spellman (12-0), 9 a.m., Gillette Stadium
Holliston players to watch: RB/LB Kevin Curry, QB Sean Mayo, TE/DE Ryan Barrett, RB/DB Jake Frechette, WR/DB Christian Baker, OL/LB Ethan Rayner, OL/DL Kevin Lamarcque.
Spellman players to watch: RB/DB Blaise Branch, FB/LB Jared Lordi, RB/DB Jordan Williams, QB Zac Cooney.
The skinny: The 11-1 Panthers come into Saturday averaging just a hair under 40 points a game, with Mayo as the triggerman. Even in limited playing time -- the Panthers often pulled their starters in the third or fourth quarter -- the dual-threat quarterback put up 1,723 yards through the air, with 21 touchdown passes to only five interceptions, and also added 456 yards and nine scores on the ground. Spellman, in its third year under Ron St. George, had a remarkable turnaround, going from 2-9 to undefeated and in its first Super Bowl since 1992. At the forefront of St. George's vaunted Wing-T scheme is the senior Branch, who leads Eastern Mass with 36 rushing touchdowns. But over the last few games, defenses have had to worry more and more about Lordi and Williams.
X-factor: The Bryant-bound Barrett, at 6-foot-5 and 233 pounds, was a matchup problem all year long in the Tri-Valley League. And while he's not putting up the most gaudy numbers at tight end and was used more as a blocking back, his combination of size, speed and athleticism demands airtight coverage from the linebackers and helps open up the Panthers' offense.

Barboza: Panthers' rallying cry: 'We Don't Get Fooled Again". Holliston, 31-24

Hall: The Panthers came to Gillette last December and got manhandled. Guarantee you that's been fresh on their minds this week, and for that I think they avoid the same early mistakes that doomed them in 2009. Holliston, 25-20

DIVISION 4
Shawsheen (10-1) vs. Blue Hills (10-1), 10 a.m., Curry College
Shawsheen players to watch: OL/DL David Summiel, QB Ryan Woolaver, RB Andrew Dascoli, WR Rob Greenwood.
Blue Hills players to watch: RB Vincent Burton, RB Isaiah Teixeira, OL/DL Jamarr Goff, QB John Curran
The skinny: Shawsheen, on the heels of a 21-0 shutout of Madison Park in Tuesday night's playoffs, is on a roll defensively. The Rams haven't allowed a point in 19 quarters, dating back to a 41-6 win over Lynn Tech on October 15. Dascoli is the Rams' workhorse back, while Greeenwood is their top threat at receiver. The Warriors, rested from a bye on Tuesday night, are led by Vincent Burton and his Division 4-best 30 touchdowns.
X-factor: The 6-foot-5, 310-pound Summiel might be the biggest catalyst for this incredible Shawsheen run. Playing right offensive tackle and left defensive end, Summiel paved the way for 118 rushing yards from leading rusher Dascoli, and also preserved a fourth straight shutout.

Barboza: The week off will certainly benefit Blue Hills, but the Rams defense is stout. Shawsheen, 14-7

Hall: Logic says to go with Blue Hills, as they'll be well-rested thanks to their bye. But this Shawsheen defense is an absolute wagon by Division 4 standards, and for that I'm giving them another shutout to finish off what's been a remarkable run over the last six weeks. Shawsheen, 21-0

DIVISION 4-A
Brighton (9-2) vs. Northeast (10-2), 1 p.m. at Curry College
Brighton players to watch: RB/LB Andrew Maestre, RB Dwight Kennedy, QB Jonathan Marrero, OL/DL Patrick Jean, WR Olumide Olukoga.
Northeast players to watch: RB/DB Bobby Novello; RB/DB Mike Cross; OL/DE Ryan Adams; FB/DE Ian Bagby; TE/LB A.J. Ortiz.
The skinny: You'd be hard pressed to find a hotter defense in the state than the Golden Knights, who have now pitched six shutouts after a 42-0 blanking of Pope John Tuesday. Their next challenge lies in the Bengals. A Division 4-A Super Bowl participant last year, Brighton's offense is led by running back Andrew Maestre and quarterback Jonathan Marrerro, each of whom ran for two touchdowns in their 36-13 win over West Bridgewater on Tuesday.
X-factor: Brighton wide receiver Olumide Olukoga is the favorite target of Marrerro, but he's also dangerous in the return game. Olukoga had a 41-yard kickoff return to set up Maestre's first touchdown of the game. At this stage, with two talented teams, special teams play always comes to bear.

Barboza: Can't pick against the Northeast defense, but the Bengals will put some points on the board. Northeast, 23-17

Hall: I used to live in Brighton Centre, and my neighbors were awesome. Go grab a bite at Smoken' Joe's when you get a chance, and make sure you get the Kansas City Sticky. Brighton, 21-17.
December, 2, 2010
12/02/10
6:57
PM ET
By
Neil Carroll
| ESPNBoston.com
FOXBOROUGH, Mass. -- It is every teenager's dream to one day put on the shoulder pads and helmet and play in a Super Bowl at Gillette Stadium with everyone watching. On Saturday, that dream will be realized for players on twelve high school football teams, as the Division 1-3A MIAA Eastern Mass Super Bowls return to Foxborough.
"It is amazing,"
Concord-Carlisle
running back Jibrail Coy said, standing in the shadows of the stadium of the New England Patriots. "It feels good that we get to be on this field and we have an opportunity to play at Gillette."
The MIAA invited the Super Bowl teams' coaches and captains to Gillette Stadium for a breakfast on Thursday, and for some players it broke the ice of being on an NFL stadium's turf for the first time.
"It's breath-taking," Beverly quarterback Joe Wioncek remarked. "Being here today helps take away the feeling a little bit, but it's amazing."
The Eastern Mass Super Bowls have been played at Gillette Stadium since 2007, and every year has provided a notable experience. In 2009, a snow storm clobbered Foxborough –- creating obstacles for the players, particularly in the night cap between Gloucester and Bridgewater-Raynham –- but the weather also gave the athletes a chance to get as close as they would ever come to feeling what it is like to be Tom Brady and company in December.
"It's obviously the way you want to go out,"
Duxbury
quarterback Kane Haffey said about the opportunity. "I mean, I'm standing on the 50-yard line, where Tom Brady plays every Sunday."
While some players gawked and took pictures or videos of the surroundings, others tried to remain stone-faced and stoic in front of their peers.
"The venue doesn't matter,"
St. John's Prep
senior Ryan Delisle said about Saturday. "It's the game that counts."
That somber attitude in the face of the excitement of the Super Bowl may come from the path that each team took to get to the Super Bowl.
Some teams have taken the hard road to get to this point, while others have skated in, coasting past playoff opponents. For instance, St. John's Prep overcame an up-and-down year and snuck into the playoffs by virtue of a Thanksgiving Day win against defending Division 1 Eastern Mass Champion Xaverian. St. John's then advanced after a 35-7 win over
New Bedford
, and will face Division 1 powerhouse
Everett
on Saturday.
"We have to give the credit to our young defense," Delisle said about St. John's season. "They started off the year as rookies with no experience. As the year has progressed they've gotten so much better, it is just incredible."
On a similar note,
Beverly
lost its first five games of the season and was considered done by most teams in Division 3. Yet the Panthers rallied together, won all of their Northeastern Small Conference opponents, and dominated
Scituate
in the Division 3 semifinals to advance. Beverly's opponent on Saturday is
Somerset
, who is coming off an equally impressive win, after
shutting out Dighton-Rehoboth 28-0
.
But it seems that there is no defined path to Gillette Stadium.
It is true that each team had to earn every victory, but teams like Everett and
Gloucester
(playing in the Division 1 and 1A Super Bowls, respectively) have a long tradition of playing on Super Bowl Saturday.
Longtime Everett head coach John Dibiaso has gathered seven Super Bowl rings in his tenure at the helm of the Crimson Tide, and this year has a talented group of seniors led by wide receivers Matt Costello and Manny Asprilla. Although the Crimson Tide lost to Xaverian in the Super Bowl last year, this year's class is trying to redeem themselves against St. John's on Saturday.
In the Division 1A semifinals, undefeated Gloucester traveled to Lincoln-Sudbury and
shut out the Warriors 21-0
. On Saturday, the Fishermen will face
Bridgewater-Raynham
for the second year in a row – last year winning the matchup 33-13. Bridgewater-Raynham serves as the underdog in that game, but could play spoiler after a
34-22 win over Weymouth
on Tuesday.
And the theme of teams returning to Gillette doesn't stop in Division 1. In Division 3A,
Holliston
, led by senior quarterback Sean Mayo – advanced out of the Tri-Valley League after a
35-20 victory over Rockland
and is hoping to win its second-straight 3A Super Bowl. However standing in their way is undefeated
Cardinal-Spellman
powered by running back Blaise Branch.
In Division 2, Mansfield's offensive weapons Jamel Marshall and George Busharis look to take down Reading. Mansfield is coming off of a
28-0 win over Walpole
(http://espn.go.com/blog/boston/high-school/post/_/id/3288/mansfield-exacts-08-revenge-heads-to-gillette), while Reading boasts linemen Jeff Covitz and a stout defense. In the
Division 2 semis
, Covitz had two sacks on elusive Dracut quarterback Matt Silva to secure a Super Bowl berth.
Although these games are the climax of most of these players' athletic careers, it also makes for a bittersweet end. Yes, they will be playing in Gillette Stadium on the state's biggest high school stage, but it marks the end of their playing career.
For the seniors there will be no more Friday night lights. Instead, in their place will be the fond memories of the glory days, that pinnacled at Gillette Stadium.
"We're going to be a little bit nervous," Concord-Carlisle's Ryan Ruiz said. "But we're going to take everything under control and do what we've been doing all year."
"There will be a lot of emotions out there on the field," Beverly's Wioncek said about playing his last game. "We're going to just go out there and try to make them the most positive as possible."
December, 1, 2010
12/01/10
11:16
PM ET
A RAIDERS' PLUNDER
From the time Alex Estrella took a punt return 56 yards for a touchdown off the first series of the game, things didn't look good for Dave Driscoll's Dighton-Rehoboth team. What put the Falcons at such a disadvantage in trying to come back in their Division III semifinal was Somerset's clock-draining double wing ground game.

Both of the Blue Raiders' featured backs, Seth DeMello and Jaron Spear, were over 100 yards rushing on the night in Somerset's 28-0 win.

The Falcons could manage just 51 yards in the first half and, in the second half, the Blue Raiders engaged in a ball-control game, possessing the ball for nearly 14 minutes of the second half.

Although teams may know what's coming, the double wing is hard to defend. And it only helps that Somerset has the right players to get the job done.

"It's all about the personnel," Driscoll said of Somerset's offense. "You've got to be quick and you've got to be athletic. [Seth] DeMello is very physical and [Jaron] Spear is very fast. So they have everything, plus the quarterback [Adam Ledoux] can throw and he's athletic.

"They have all the pieces of the puzzle. You can see it on defense, too, how athletic they are and how quick to the ball they are."

SOMETHING MOORE
St. John's Prep sophomore running back Alex Moore doesn't see the ball too often, but he does have one play in the Eagles' playbook that he calls his own. It's called 800 Rocket Right, Counter Left, and it worked to perfection in the Prep's 35-7 win over New Bedford.

Moore had already made his presence felt against the Whalers, taking an interception back 61 yards for a touchdown on the fourth play from scrimmage. After the Eagles went out to a 13-0 lead on Dillon Gonzalez's punt return for a touchdown, they were on the move again and cashed in on Moore's 20-yard run in the second quarter.

"It's really designed to score a touchdown every time," Moore said Tuesday.

READING'S COVITZ IS A LOAD TO HANDLE
In the moments following Reading's thrilling 15-14 victory over Dracut last night, Jeff Covitz gushed about his former coach, late assistant Mike Boyd, and how his battle with lung cancer still emboldens the Rockets some 18 months after his death.

"He never quit," Covitz told reporters. "Up until the day he died, he never quit. I always think about Coach Boyd. Even when I'm exhausted, and just want to pass out right on the field, you never quit on this team. You never want to quit on your family. You never quit on coaches."

So with that said, if Covitz was exhausted in the four minutes following Brian Bourque's go-ahead two-point conversion run, he did a great job showing it. He sacked Dracut's Matt Silva twice in the final minutes to seal it for the Rockets, and send them back to Gillette to defend their Division 2 Super Bowl title.

LORDY, LORDI
Looking at the stat sheet, maybe you think you have Cardinal Spellman figured out -- Blaise Branch right, Blaise Branch left, rinse, repeat -- and with 36 rushing touchdowns on the season, we don't blame you. But flying under the radar, and providing some crucial punch in the fourth quarter when the Cardinals were trying to hold off Hamilton-Wenham momentum, was fullback Jared Lordi. Typically, Lordi will create holes out of the backfield for Branch, and so far the Cardinals have run head coach Ron St. George's Wing-T scheme exceptionally.

But on this particular night, he provided some spark when the Cardinals got stagnant. His 20-yard catch on fourth and 13 set up a Zac Cooney eight-yard keeper that made it 21-9 in the fourth quarter. Then, with a minute left, he closed the scoring -- and sealed the win -- with a 20-yard fade to the near left pylon, making it a 28-16 final.

"That was great to see," Branch smiled when asked about Lordi's touchdown. "Good to see that. I wish we could get our linemen to do that too."

Said H-W head coach Andrew Morency, "Tough kid. It's funny, you know, they crossed us up a little bit with that play, and in the end we felt like they had shown in films that they could have done that. You know, we got kinda caught up in the moments stopping Branch a little bit, and boom, they come back with that. He ran hard, and he got them a couple of first downs that they really needed at that time. Hats off to that fullback."
December, 1, 2010
12/01/10
3:15
AM ET
By
Brendan Hall
| ESPNBoston.com



READING, Mass. -- They say the nail that sticks up gets hammered down? Well, whatever sky-high feelings of glimmer and glee was abound in the countenance of the Cardinal Spellman players, following their 28-16 win over Hamilton-Wenham that punched their ticket to Saturday's Division 3A Super Bowl at Gillette, was shot back to Earth when it came time for head coach Ron St. George to speak.

"We played terrible and we still won," St. George grunted to his players, down on one knee. And the underlying message -- stay humble, stay hungry -- wasn't lost. Senior running back Blaise Branch finished with 176 yards and two scores, to make it 36 rushing touchdowns on the season, but was held to just 40 yards in the second half. So with that in mind, Branch deferred to his teammates.

"I don't know what happened, I'll have to watch the film, but they shut me down," Branch said when asked what adjustments he might have seen from the Generals' defense in the second half. "But luckily, we have some guys who can come up big for us."

Enter Jared Lordi. The senior fullback is used to creating holes for Branch out of the backfield. But with Branch struggling, Lordi served as the perfect antidote, taking jet sweep and veer handoffs, as well as some long strikes out of the backfield, to put the game out of reach.

With six minutes to go, the Cardinals (12-0) clinging to a 14-9 lead and facing fourth and 13 from 31 yard line of H-W (8-3), the Cardinals went for broke. Zac Cooney tossed a fade down the left sideline to Lordi, who came down with it for a 20-yard completion. Two plays later, Cooney ran it in from nine yards out for a 21-9 lead.

Dylan Keith (208 yards passing) fired back quickly with two long strikes, first a 28-yard bullet to James Love, then a 23-yard score to Trevor Lyons running a slant over the middle from the left slot. But Lordi was right back at it, moving the chains with runs of 14 and 11 before punching the ensuing seven-play scoring drive with another fade down the left sideline from Cooney, this one for 23 yards to the near pylon. That made it 28-16 and, with 1:08 left in the game, essentially put things away.

"I didn't like our kids' biorhythms in the locker room," St. George said. "They seemed content, I mean I could sense it. I've just been doing this for too long."

Taking some of the blame unto himself, he continued, "They come out and do nothing, and all of a sudden they hit that bomb, and that one's my fault," referring to the first H-W score, a 68-yard strike from Keith to Love in single-coverage -- shedding his man in single-coverage and with nobody over the top, Love raced easily to paydirt. "I went after them when we were in man, and hey, if you get beat, you get beat, there's nobody behind you."

But Lordi? Only the highest praise.

"He was huge down the stretch, kid's been unheralded all year," St. George said.

CARDINAL SPELLMAN 28, HAMILTON-WENHAM 16

CS 7 7 0 14 --- 28
HW 0 0 9 7 --- 16

First Quarter
C - Blaise Branch 1 run (Jordan Williams kick) 2:52

Second Quarter
C - Branch 7 run (Williams kick) 7:35

Third Quarter
H - James Love 68 pass from Dylan Keith (kick failed) 8:57
H - James Brao 29 field goal 2:55

Fourth Quarter
C - Zac Cooney 8 run (Williams kick) 4:01
H - Trevor Lyons 23 pass from Keith (Brao kick)
C - Jared Lordi 22 pass from Cooney (Williams kick) 1:08
September, 27, 2010
9/27/10
12:06
PM ET
Now that the dust has settled on Week 3 of the Massachusetts football schedule, here's what we learned from this weekend's action:
OK, so we were slightly wrong about Xaverian...
Turns out our friends at the Boston newspapers had it right and we had this No. 1-2 thing
in the wrong order
. Xaverian, on the heels of a 23-20 double overtime
instant classic
over Brockton, is our new No. 1.
But differences aside, we've all agreed that, man oh man, last Saturday's showdown at the Hawk Bowl was one of the best in the history of the series. And these two teams almost always seem to fight to a seven-point win or four-point defensive stalemate.
The Boxers have plenty of hype this season, and rightly so with the likes of Miami-bound Albert Louis-Jean joined by fellow seniors Ralph Cherry, Paul Mroz, William Carruthers, Trevon Offley and Jacques Janvier. But the Hawks showed plenty of toughness in the win. Junior quarterback Chris Calvanese fought through cramps to orchestrate the comeback win, delivering the game-tying pass to Mike Muir -- who, a few plays prior, separated his shoulder and popped it back in.
Hey, who said Xaverian kids aren't tough?
...But when healthy, Brockton's Trevon Offley is a bull to take down
Mahar's Isaiah Jones put it ever so simply last week in our
Q&A
: "My coach always says squatting is going to do everything for you."
It's clear after last weekend that the 5-foot-6 Offley abides by a similar mantra. And, as All-Pro running back Maurice Jones-Drew demonstrates every Sunday, leg power with a low center of gravity is a vicious combination.
From the second quarter on, Offley was just a chore to take down. Just when the Hawks had him for a 5-yard loss, he'd rip through an arm tackle, sidestep and shimmy his way back out to the line of scrimmage and then some. Other times, he'd keep his legs churning and drag the pile for an extra two or three yards. Offley, who carried the rock 19 times for 117 yards and all three of Brockton's scores in the loss, had been out with a shoulder injury since the first half of the Boxers' 16-6 season-opening win over Boston College High. But when he's healthy, he's as reliable as they come.
Methuen's offensive line kicks out and kicks off?
Methuen quarterback Cal Carroll emerged as one of the region's toughest playmakers with the Rangers'
36-26 stunner of No. 9 Billerica
, but just as impressive was his offensive line. Since losing to Plymouth North, 13-7, in Week One, the guys in the trenches have been blowing teams off the ball. A week and a half ago, they took it to Malden's massive defensive line in the second half en route to a 42-12 win. Last Friday, the guys paved the way to over 200 yards on the ground against the Indians.
Led by seniors Steve DiZazzo and Dan Cormier on the left side, the Rangers' line might not always be the biggest, but they proved that when on the same page, they can bang heads with anybody on a given night.
"Our o-line, they're tough, man," senior wide receiver Raudy Minaya said. "They hit hard, they hit every single play, and we get extra yards. That last (Carroll carry), we got the first down with ease and Cal got the touchdown, that's because of our o-line. We never give up. Up seven, doesn't matter, we need to get up the field and get the first down, and we ended up getting a touchdown with it."
Said head coach Pat Graham, "Offensive line-wise, it was essential to control the clock and to be able to run the ball, and I think our kids did a good job with that."
The 6-foot-4, 300-pound Cormier, by the way, has an impressive right leg. After Eric LaCroix kicks the extra point, the Rangers line up in a standard five-and-five kickoff formation, and some may be surprised to see Cormier raising his hand to the officials. But Cormier's got quite the boot, as he routinely blasted it to around the Billerica 5-yard line Friday night, with plenty of hang time.
Gloucester is really that good...so far, at least
Andover, coming off a 38-13 drubbing by the Fishermen, hung 39 points on MVC Small dark horse Tewksbury last Friday, which makes one wonder: just how good is Gloucester?
The Fish's defense, led by linebacker Chris Unis, was touted as a wagon before the team even started up their famous annual summer beach training regimen. The first unit hasn't allowed more than a score from opponents. Meanwhile, the Gilbert Brown-led offense has been explosive, averaging 38.3 points per game.
The rest of the Northeastern Conference, however, hasn't been sitting idly. Revere, led by bulldozing tailback
Trae Weathers
, is 3-0 for the first time in a while. Cross-town rivals Lynn Classical and Lynn English have also proven adequate to start the season, too.
We'll find out next month how capable the rest of the NEC Large contenders are of unseating the defending Division 1A Super Bowl champs, but for now we'll enjoy the ride.
Key EAC matchups could have bearing on December
Yeah, it's a little premature, but we can't help but wonder how a couple of this weekend's Eastern Athletic Conference games might impact the long-term playoff picture in Division III.
There was a battle of unbeatens on Slocum Road in Dartmouth with Somerset traveling to meet Bishop Stang. The Blue Raiders rolled to
a convincing 43-13 win over Stang
, riding running backs Jaron Spear and Seth DeMello, who combined for five rushing touchdowns.
Meanwhile, heading north along Rte. 140, Martha's Vineyard took care of business against Coyle-Cassidy. The Vineyarders escaped with a 41-32 win over the Warriors thanks to quarterback Randall Jette's 192 yards and five touchdowns on the ground.
While it appears that Somerset and the Vineyard control their own destinies in the EAC, we'll see if Bishop Feehan has anything to say in the situation. It's hard to figure what the Shamrocks have after losses to Attleboro, No. 18 North Attleborough and Abington — three quality teams. Feehan has two more games out conference, including next week's out-of-state matchup with Barrington (R.I.), before hosting C-C.
"This is a tough division," Somerset head coach Nick Freitas said Saturday after his team's win.
He continued, "Hopefully, we just remain healthy. I think that will be the key."
Blue Raiders quarterback Alex Ledoux left the game to an injury during the second quarter of Saturday's game. At the time, Freitas didn't have information on the severity of Ledoux's injury.
What was clear was the Blue Raiders' statement made on the field.
Playing with heavy hearts
Friday night's Hockomock game between Attleboro and Franklin almost was for not.
Attleboro's school community woke Friday morning to the news that senior Myles Brastow had died in a motorcycle accident. Hours before the game administrators and coached from the representative schools huddled to discuss whether it was appropriate to hold the game in light of Brastow's death.
"We talked to the administrators and the coaches to see what they wanted to do with the game," Franklin athletic director and head football coach Brad Sidwell said in a telephone interview on Sunday. "We certainly understood if they wanted to reschedule the game. But they felt that they wanted to try have a sense of normalcy and have the game like any other Friday night."
The Blue Bombardiers paid homage to their fallen classmate with a dramatic 20-13 win over the Panthers. Attleboro was led by quarterback Nate Robitaille, who was cleared for the game after suffering a concussion during the previous game against King Philip, and running back J.J. Jolaoso. Robitaille march the Blue Bombardiers down the field on the game-winning drive inside the two-minute warning and Jolaoso punched in the winning score on a 7-yard touchdown run.
"It's a tribute to the kids," Attleboro head coach Kevin Deschenes told Mark Farinella of The Sun Chronicle after the game. "They had a rough day today, and for these young adults to bounce back after a very traumatic day, losing a friend, I thought they responded very well."
The Franklin football community was also dealing with the loss of one of its own. Longtime Panthers head coach Gerry Leone Sr. passed away last week
"He was a legendary part of Franklin football," Sidwell said. "I know there are even some parents of current players who played for him and I know the lessons taught to them by coach Leone in high school are things that have stayed with them throughout their lives. That's the kind of man he was."
HEAD OF THE CLASS
VALVOLINE PEAK PERFORMER OF THE WEEK: ANTHONY KNIGHT, SR. RB, LAWRENCE ACADEMY
The North Carolina State-bound Knight kicked off the much-hyped Spartans' ISL title defense in grand fashion, carrying the ball 14 times for 308 yards and two scores in a 36-14 defeat of Milton Academy. We've seen 300-yard games before from schoolboy athletes, but on just 14 carries? That averages out to 22 yards a carry, or essentially a first down every time he touched the ball, so in that regard we've got to add a shout-out to his offensive line.
THE CLASSMATES
Blaise Branch, Sr. RB, Cardinal Spellman
– The 6-foot, 200-pound Branch had three scores on the ground and totaled 201 rushing yards on the day, ironically to give his head coach Ron St. George his 201st win, as the Cardinals rolled to a 35-8 win over Carver.
Andrew Coke, Jr. RB, Andover
– Coke accounted for all six of the Warriors' touchdowns in a 39-32 win over Tewksbury to open MVC play. He rushed 30 times for 214 yards and a school record five touchdowns; was 2 of 2 passing for 28 yards, including a 12-yard scoring strike to Brian Miller; and added 65 return yards for 311 all-purpose yards.
Dylan Colarusso, Sr. RB, Weymouth
– He carved quite a name for himself following his performance in Friday's 41-14 win over Milton, carrying 25 times for 262 yards and three scores.
Dave Dubin, Jr. DE, Holliston
– For all of the talk of the Panthers' offensive weapons, it was Dubin's work on defense that stood out in the 48-24 win over Millis/Hopedale. He had 11 tackles, including five sacks, and contributed to holding the Mohawks to minus-27 yards of offense in the first half.
Randall Jette, Sr. QB, Martha's Vineyard
- Jette captained the Vineyarders' Navy-style option offense with 17 carries for 192 yards and five touchdowns in their 41-32 win over Coyle-Cassidy.
Ben Patrick, Sr. RB, Rivers
– The Roxbury resident, who ran for over 900 yards in six games last season, continued his good ways with an impressive ISL debut. He carried 20 times for 269 yards and two scores, and also came up with two interceptions, as the Red Wings downed St. Paul's, 40-18.
Ben Shelton, Sr. QB, Wayland
– The Warriors turned a lot of heads with its stunning 36-7 win over highly-ranked Westford, and Shelton was the catalyst. He was 12 of 17 passing for 209 yards and two touchdowns, and carried the ball 11 times for 97 yards.
Jaron Spear, Sr. RB, Somerset
- The Blue Raiders asserted their will on the ground in a 43-13 victory over Bishop Stang and Spear headed the charge with 21 carries for 215 yards and four touchdowns.
September, 21, 2010
9/21/10
4:40
PM ET


Cardinal Spellman head coach Ron St. George handily won the 200th game of his high school coaching career. His Cardinals led Norwell, 42-0, through three quarters en route to a 42-22 win on Saturday.

In honor of St. George's milestone, we named him the first Peak Performer of the Week, which we will present every week in partnership with Valvoline.

Helping give him the win was senior running back Blaise Branch, who carried the ball 13 times for 124 yards and three touchdowns.

St. George, a Plymouth native, is in his third year as head coach of the Cardinals, after a three-year stint at BC High where he led the Eagles to a Division I playoff berth in 2007. Prior to BC High, St. George had a successful run at East Bridgewater.