Boston High School:

Bob Brown
April, 6, 2012
4/06/12
2:18
PM ET
By
Gary Hawkins
| ESPNBoston.com
It's only been a few days since snow left the ground in Jackman and there's no guarantee it won't return before the end of April.

Nestled in the Moose River Valley just 16 miles from the Canadian border in northwestern Maine, Jackman is a winter haven for snowmobilers. In the warmer months, it attracts hunters and fishermen or tourists passing through on their way to Quebec province. Tourism is one of the leading industries in this town of 700 while the Jackman Lumber Mill and the Border Patrol Station are the two largest employers.
Athletes at Forest Hills High School in town are spread pretty thin. With an enrollment of 54 students, teams are allowed to include eighth graders on high school teams out of necessity. Basketball is the biggest game in town and this year the Tigers achieved unprecedented success, winning the Western Maine Class D championship after rallying from a 19-point deficit in the second half against top-seeded Hyde School. And last fall, the golf team won the conference championship.
Baseball is another matter. There is no middle school team and as Coach Mike LeBlanc says the youth program is "not anything to write home about."
"When I first started they used a pitching machine to pitch to batters," LeBlanc said.
A pitcher himself, LeBlanc changed that in a hurry. He arrived in Jackman 15 years ago after applying for a teaching job.
"I looked at the map and said 'what the heck am I thinking of,' " he said.
LeBlanc grew up in Skowhegan where he still lives and makes the 75-mile commute each weekday to the school. A star at Skowhegan, he moved on to the University of Maine where he became the team's closer. He was a member of the last UMaine team to reach the College World Series in 1986.
Jackman baseball is about as far removed from that experience as LeBlanc could get. Yet he's had success despite some obvious drawbacks. Many of his players have little or no experience when they show up for tryouts.
"They're first taste of it is when they're in the eighth grade," LeBlanc said. "They have no clue whatsoever but they play hard. I've never questioned their toughness."
This year LeBlanc has three eighth graders on his team. Numbers have varied from a high of 21 players to as few as 11.
"They just play to play it," LeBlanc said. "They have fun. I'm not too strict."
Still, in 13 years as coach — LeBlanc took a two-year hiatus three years ago — his teams have qualified for the playoffs 10 times. They rarely get outside before the season begins. This year was an exceptional as temperatures wandered into the 70's in mid-March. But they've since dipped to the freezing mark and there was snow on the ground earlier this week.
The gym provides little respite since it's undersized at 47x74 feet and can accommodate a batting cage but no portable mound. Often the first outdoor action the Tigers see is when they travel down river to face rival Valley which is about an hour away. Travel is another issue for the Tigers who routinely face long bus rides. When they play at Vinalhaven, it involves a three-and-and-half hour bus ride a 45-minute ferry ride to the island. Because of all the travel, the Tigers play seven doubleheaders in their 16-game schedule.
They've had a few pitchers over the years, though. Jeff Mulhall, who plays for Thomas College in Waterville, struck out 294 batters in four years. This season, junior Evan Worster is the team's ace. The star of the basketball tournament, Worster throws fairly hard but has plenty of finesse, according to LeBlanc.
"He has a pitcher's mentality," LeBlanc said. "He throws the ball inside. A lot of pitcher's are afraid to do that."
Junior Derek Ouellette and freshman Matt Turner have also shown promise on the mound which may make the Tigers a contender in Western Maine Class D. They open their season April 24 with a doubleheader at Valley.
"It's pretty amazing what those athletes do up there," LeBlanc said.
February, 10, 2012
2/10/12
2:15
PM ET
By
Gary Hawkins
| ESPNBoston.com
That Travis and Karen Magnusson would become high school basketball coaches, given their backgrounds as point guards and students of the game, seemed inevitable. So does the success that the husband and wife coaches are having this season at their respective schools.

Travis, who coaches the Dirigo High School boys team, came within a whisker of a perfect season before falling to Spruce Mountain, 39-34 Wednesday night. Still, his Cougars finished the regular season at 17-1 and enter the upcoming Western Maine Class C tournament as the top seed. Karen, who coaches the Cony High School girls team, finished at 18-0 Thursday and her Rams will enter the Eastern Maine Class A tournament as the top-seeded team.
There wasn't much talk between Karen and Travis about going unbeaten this season — both recognize winning a state title as a larger goal — but it's still hard to avoid.
"Honestly we try not to do it," Karen said. "But it's something that comes up with other people."
The couple rarely get to see one another's teams play since they usually play on the same night. Fans at both schools, however, recognize what's going on.
[+] Enlarge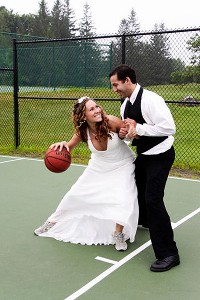 Courtesy of Karen Magnusson Travis and Karen Magnusson are having success coaching high school hoops in Maine.
"It's almost like we share our programs with each other," Karen said. "His fans ask how I'm doing and my fans ask how Trav's doing."
The Magnussons are both basketball junkies, a passion that began long before they met at the University of Maine at Farmington a few years ago. Karen Sirois starred at Cony in Augusta while Travis played for Georges Valley in Thomaston. Both played point guard at UMF and each of them totaled over 1,000 points and 500 assists in their careers.
Farmington women's coach Jamie Beaudoin and men's coach Dick Meader saw coaches in the two long before their playing careers ended.
"I knew from the first moment I watched her play that she was going to be a coach," Beaudoin said. "She was able to see things on the floor that many times an experienced coach wouldn't pick up on. She's just a student of the game."
Meader echoed those thoughts about Travis, who served as a varsity assistant at UMF the year after he graduated. Travis was hired as boys coach at Livermore Falls a year before Karen go the job at Cony so she helped him out and gave him an unbiased look at the players and the team.
"There was nobody I listened to more, especially with my team that first year," Travis said.
Travis turned the Livermore program around, reaching a tournament prelim game his first year in 2009 and the tournament itself the next two. He lost his job when Livermore and Jay high schools combined this year to form Spruce Mountain, but when the Dirigo job opened up he applied. The Cougars reached the state final last year and return many of those players.
The Magnussons talk basketball most of the time, often while breaking down film at home another or swapping drills.
"I get some of my plays and sets from him," Karen said. "I know his personnel, we definitely help each other out. Sometimes we sit up until 11:30 or 12 talking about it. We watch game film together. It's like having an assistant coach at home."
They also share a similar philosophy, borne from the way they played the game.
"We both like to run and gun, play pressure defense and give our players freedom to take shots." Travis said. "As I've gotten older I've realized the importance of quality shots."
The Magnussons are competitive by nature and haven't played a serious game of 1 on since Travis came away with a bloody nose when the got together on the court in college.
"He's competitive and I'm competitive so we never really have the fun 1-on-1," Karen said.
Well, they did have a little fun on the court on the day they were married, playing a friendly game, she in her wedding dress and he in his tuxedo.
They'll get a chance to watch the other's team play in about 10 days when their teams will be favored to win regional championships at the Augusta Civic Center.