Boston High School:

Bob Fahey
August, 13, 2012
8/13/12
1:58
PM ET
An interesting read today by Inside Lacrosse's Geoff Shannon in the magazine's recruiting issue, ranking the 100 top incoming freshmen in the nation.
The New England region is well represented in the list with 15 players, including the top-rated overall prospect, attack Case Matheis of Darien, Conn., a Duke signee. In addition, there were four MIAA-based players in the rankings, led by ESPN Boston Mr. Lacrosse Max Randall of Duxbury (No. 50 - Dartmouth).
Here's how the locals ranked:
(The entire list can be found here.)
1. Case Matheis A Darien (Conn.) Duke
12. Mikey Morris A Salisbury School (Conn.) Johns Hopkins
17. Henry West M Darien (Conn.) Cornell
22. Ian Ardrey A Deerfield (Mass.) Harvard
23. Sammy Davis M Governor's Academy (Mass.) Penn State
29. Luke Aaron G Deerfield (Mass.) Duke
37. Tony Britton D Darien (Conn.) Cornell
39. Will Ryan G Avon Old Farms (Conn.) Johns Hopkins
50. Max Randall D Duxbury (Mass.) Dartmouth
65. Bob Fahey D Bishop Guertin (N.H.) UMass
75. Tommy Labidini M Salisbury School (Conn.) Loyola
77. Reilly Naton D Duxbury (Mass.) Yale
82. Paul Hellar A Duxbury (Mass.) Fairfield
90. Sean Connors A Deerfield (Mass.) Princeton
99. Greg Stamatov G Foxborough (Mass.) Villanova
June, 27, 2012
6/27/12
2:07
PM ET
By
Marc Thaler
| ESPNBoston.com
Fundraising totals between the teams competing in the inaugural New Hampshire East-West High School Football All-Star Game couldn't have been much closer.

The game itself? That's a different story.
West's all-stars – widely considered underdogs for the June 23 contest at the University of New Hampshire – proved too tough. The combination of overpowering offense and dominant defense led to a 33-point halftime lead and 44-12 final score.
Thaddeus "Junior" Brown was toughest to cover. Manchester Central High's 6-foot 3-inch, 180-pound receiver made all four of his catches for 87 yards in the first half. Three receptions went for touchdowns, including a 50-yard down-the-right-seam dagger that helped Team West build a 37-6 halftime lead.
"This means a lot. I worked hard for it," Brown, the game's first Bo Dickson MVP, said of the trophy he was handed for his efforts. "The coaches helped me out a lot. I just busted my butt for 10 days. The outcome was this MVP."
Off the field, the outcome of Brown's efforts, as well as the 73 other all-stars, was even more impressive.
Teams East and West combined to raise $51,301.21 for Children's Hospital at Dartmouth-Hitchcock (CHaD) in Lebanon.
Team East was designated the home team. It earned use of UNH football's locker room for winning the head-to-head fundraising contest. Coach Bill Raycraft's players raised $25,751.21 – a mere $201.21 more than West's standouts.
In total, $301,000 was raised for CHaD.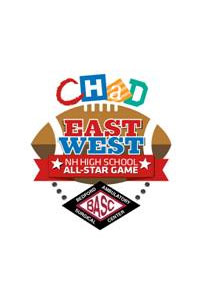 BASCTBD by editorial
"These kids came together and did a heck of a job for a great cause," said Team West coach Keith Jones, whose 6-year-old son, Harris, a CHaD patient, participated in the pre-game coin toss.
Harris was involved in a freak snowmobile accident three years ago. His father has said many times if not for CHaD, right-leg amputation would have been required.
On gameday, the soon-to-be first-grader made an appearance in Team West's locker room prior to warm-ups. It gave the players an additional boost, which carried over to kickoff.
Several playmakers fueled Team West's 37-point first half.
Brown caught a pair of 9-yard TD passes from Manchester West High's Aaron Martin, who also used his speed to sneak inside the left pylon for a 2-yard rushing score.
Merrimack High's Jackson King returned an interception 19-yards for a TD.
Nashua South's Johnny Bieren was crucial to posting a second-quarter safety. He also forced and recovered a fumble on one of his three quarterback sacks.
Central's Stephen Grzywacz – who raised a players-best $5,965 for CHaD – converted five extra points (6-for-6 overall).
East's all-stars committed five of the game's eight turnovers. The favored squad fell behind, 30-0, before Salem High's Jerickson Fedrick returned a kickoff 96 yards to paydirt.
Fedrick, and Pinkerton Academy of Derry stars Kevin Davies and Emmitt Smith, were all neutralized. Combining to rush for 4,649 yards and 57 TDs last fall, the trio managed 99 yards – 28 through two quarters.
Conor Donovan of Division VI cooperative team Inter-Lakes-Moultonborough scored East's second TD early in the third. Derek Paradis of Nashua South answered with an up-the-gut run.
"The first series, I thought we did pretty well. We stopped them (but) right away turned the ball over," Raycraft said. "That's not the way you want to start an all-star game. From there, we pressed a little bit more than we probably should have and, because of that, created more turnovers.
"But, like I told the kids, I had a blast these last (10) days," he added. "I couldn't have asked for a better group of kids. It's going to be fun watching where they go from here. The score will fade, but they set the tone for fundraising."
BASEBALL CHAMPS
Division I
: Dillon Emerson's extra-inning hit snapped two droughts, including a lengthy one for Concord High.
The senior's single down the right-field line scored Pat Cannon and gave the top-seeded Crimson Tide a 5-4 walk-off win over No. 3 seed Merrimack High in the state final June 16 at Northeast Delta Dental Stadium, home of Double-A baseball's New Hampshire Fisher Cats.
Emerson's hit snapped an 0-for-4 skid in the title game and earned Concord (18-4) its first crown since 1980. The Tide lost the state final in 2011.
"I was in the dugout upset over all the missed opportunities I had when coach [Scott Owen] came up to me and said, 'Stick with it. You'll get your at-bat and you'll come through.' He was right," Emerson told the
New Hampshire Sunday News
.
June, 8, 2012
6/08/12
1:46
PM ET
By
Marc Thaler
| ESPNBoston.com
Bishop Guertin High's wealth of talent, particularly on defense, is best illustrated by this fact related to the 2012 NHIAA Division I final:

Minus one of their best close defenders the Nashua powerhouse in boys' lacrosse still clinched a championship three-peat.
Kyle Karaska, a University of Massachusetts recruit, broke his hand in the state semifinals. But given the depth at the position, BG still broke the spirits of Hanover High's Marauders with a 10-5 title-clinching win June 6.
The final score doesn't do BG justice, either. This contest, played at Bedford High, was never in question.
"I thought we outplayed them better than 4-0. But that's been the story of our season," said BG coach Chris Cameron, referencing the halftime score and his club's ability to dominate play despite what the scoreboard suggested. "We were just so good defensively."
UMass commit Bob Fahey, the coaches' association pick as defensive player of the year, spearheaded yet another dominant defensive performance. The state's No. 1-ranked club finished 14-1 in-state, and 18-3 overall.
The out-of-state setbacks were by a combined two goals. Guertin lost to La Salle Academy (R.I.), 7-6, and nationally ranked Duxbury (Mass.) High, 6-5.
The Cards also avenged their only in-state loss. After thumping Hanover, 15-3, in the season-opener, Cameron's boys were stunned 10 days later by the same team, 14-9.
"After our (April 20) performance up in Hanover, I thought, 'Maybe they're just better than us,'" Cameron said. "But I could tell right away (in the final) that our kids were ready to play."
Fahey said he and his teammates "loved our matchups" for the title game. New Hampshire's top close defender took away attackman Christian Johansen.
Long-stick midfielder Brody Smith stayed glued to the other half of Hanover's top scoring tandem, midfielder and Michigan recruit Christian Wolter.
Johansen and Wolter, the sparks to Hanover's up-tempo game, did not score in the season-opening loss. They struck for seven goals and an assist in the win.
"We wanted to slow them in transition," said Fahey, well aware Hanover's snipers combined for one goal in the rubber match.
R.I.T.-bound Jay Krzyston and Karaska's replacement, Endicott commit Sean Fenn, completed BG's dominant defensive unit. They helped take away the middle and force shooters to fire from the perimeter.
Goaltender and Harvard recruit Colin Delea (eight saves) took a shutout deep into the third quarter, which ended with BG boasting a 10-2 lead.
That's because Blake Boudreau owned the faceoff X after halftime.
BG's junior midfielder won 8 of 9 third-quarter faceoffs. It translated to lengthy possessions and a back-breaking 6-2 frame.
The fourth quarter? It was merely a formality.
Appearing in its eighth straight Division I final, BG became the first program since Pinkerton Academy of Derry (1999-2002) to celebrate a three-peat.
The Cards clinched their fifth crown since emerging on the scene as a surprise winner in 2005.
"They like to push in transition. But, 6-on-6, that's not their game," Cameron said of the Marauders. "That took them out of their game – and (forced them) to play from behind."
May, 23, 2012
5/23/12
11:34
PM ET
By
Bruce Lerch
| ESPNBoston.com


WELLESLEY, Mass. -- Over the past six years, Duxbury has found itself a great opponent for the final game of the regular season in perennial New Hampshire power Bishop Guertin.

All but one of the six meetings have been highly competitive, and Tuesday afternoon saw the two squads put together a defensive masterpiece. All six starting long poles and three long-stick midfielder's on each side are committed to play at the Division 1 college level next spring, and they were the key factors for the majority of this interstate showdown.

Ultimately, a three-goal spurt midway through the fourth quarter decided it as top-ranked Duxbury rallied from a 5-3 deficit to take a 6-5 triumph over the Cardinals at Babson College's MacDowell Field.

"It felt like we were playing Garden City's defense there," Sweet laughed when asked about the high level of defense. "[Bishop Guertin] were tough to beat one on one, they played great team defense, they packed it in and they got key goaltending. That's a good formula for keeping the score down. It was a great high school lacrosse game and it could have gone either way. I'm glad that we had that little run and were able to get some key defensive stops at the end."

The Cardinals (15-3) tried to break open what was a 3-3 game when Tommy Vailas made a beautiful alley-dodge to free himself up for a goal late in the third, then opened the fourth with a nice rip down near the baseline by Luke Roever.

The way Guertin was playing defensively, it was going to prove difficult for the Dragons to make one of their patented runs, but sure enough, they did exactly that. In an extra-man situation, Will Siefert fed Seamus Connelly down low and the big attackman used a great stick fake to pull Cardinals goalie Colin Dulea out of position for a score.

Henry Narlee won the next faceoff and James Burke swooped in on the ground ball, as he has done all season, and fed Siefert for an easy look in transition to tie the game. Just over a minute later, Sam Sweet produced a tremendous individual effort to get free and set up Jack Sullivan for a goal that not only put Duxbury in the lead for the first time, but also held up as the game-winner.

"We were just moving around on the crease and my guy slid early and went to Sam and he just made a great look in the crease," described Sullivan. "It was kind of nerve wracking on the crease with the ball. We worked hard, we're a fourth quarter team and we gave it our all at the end. Narlee did great on the faceoffs, won those three in a row to get us those three goals."

BIG MAN GOES OFF ON THE BIG STAGE
It seemed the like the impressive size of the Guertin poles fed right into the best aspects of Seamus Connelly's game. The 6-foot-2, 200-plus pound Duke commit was able to body up against the Cardinals poles and use his exceptionally talented hands to rifle shots home to the tune of a four-goal game.

He even showed a little of his flashy side, using a nice stick fake where it looked as though he would shoot behind his head, then whipped the ball around from the front on the first score of the Dragons' game-deciding run.

"Shay [Connelly] played great today," praised Sweet. "He played with some energy, he played smart and he hit his shots. Lacrosse is funny. You can have great players out there and its really a game of matchups. They were a little bit slow to slide to him on those goals and they paid a price for it and Seamus stuck his shots. It was awesome. He played a great game."

Added Connelly, "One of our things is to keep believing. We knew we could pull it out. We've been down a lot in games and we've always come back. It's just a matter of our seniors looking each other in the eye and knowing we could do it. Our offense was really helping me get the space I needed to shoot. It was the kind of day where it was my turn to shoot. Any other day it could have been Sief or Sammy or anybody else."

DEFENSE STEALS THE SHOW
Connelly popped in the second of his four goals with 24 seconds remaining in the second quarter and the game ended up tied, 2-2, at the half. Fans who weren't at the game might look at that score and say, "Good thing I didn't go. Must have been a boring game."

Not even close. You missed brilliance on display.

The fans who did make the trek to Babson College saw two defenses playing at the highest of levels a pair of New England high school teams are capable of. We've come to expect this from the Dragons, who have been all year long by close defenders Max Randall (Dartmouth commit), Matt O'Keefe (Johns Hopkins) and Jay McDermott (Syracuse), as well as lethal LSMs Reilly Naton (Yale) and James Burke (Penn State).

For perhaps the first time all season, aside from Garden City and Irondequoit, the Dragons met their match in the defensive zone. The Cardinals are led by long poles Bob Fahey and Kyle Karaska, both of whom are UMass-commits, and LSM Jay Krzyston (R.I.T.).

That unit was able to force turnovers, bad shots, and keep Duxbury's transition opportunities to a minimum for all but that two-minute stretch in the fourth.

"I have so much confidence in those kids," praised Guertin coach Chris Cameron. "They've been with me for four years and I know what they can do. They play against top-notch caliber all summer. We try to get them as many competitive games as possible so I knew that at this level of play they could handle their attack."


April, 28, 2012
4/28/12
4:58
PM ET
By
Marc Thaler
| ESPNBoston.com
In a six-day span, the three teams perched atop the statewide rankings for NHIAA boys' lacrosse – all of them perennial powers in the Granite State – suffered setbacks.

No. 1 Bishop Guertin High of Nashua, No. 2 Pinkerton Academy of Derry, and No. 3 Exeter High actually combined to lose five contests between April 16 and 22.
Bishop Guertin lost just once. But it was the biggest stunner. BG wasn't expected to lose an in-state matchup this spring. The two-time defending Division I champion is extremely talented and very, very deep.
But BG isn't invincible. Hanover High – No. 1 as a result of its 14-9 upset win April 20 – proved it.
"They beat us in two state finals (2007, 2009). Other than Hanover, nobody has beaten us, in New Hampshire, in the playoffs since 2007," BG coach Chris Cameron said. "There was no reason for us to take them lightly because they're a quality program."
Cameron's club was without UMass recruit Bob Fahey. BG's shut-down close defender sat out the second half of Guertin's previous game, a 14-8 win at highly ranked Needham (Mass.) High, with an ankle injury.
Guertin's coach, however, didn't use Fahey's absence as an excuse. BG still boasted four other close defenders recruited to play college lacrosse.
The Marauders led at the end of every period. Attackman Alex Krass (two goals, three assists) and midfielder Christian Wolter (four goals, assist) played with purpose. Christian Johansen and Ryan Brigham (11 of 25 faceoff wins) added three goals apiece.
Goaltender James Washington settled down nicely after BG scored the game's first goal in the opening 30 seconds. The senior made 15 saves.
"They were pretty happy. But (their post-game reaction) wasn't like they won the state championship," said Hanover coach Jeff Reed, whose club from the state's Upper Valley was blasted by BG, 15-3, in the April 10 season-opener at Nashua's Stellos Stadium. "They reacted like it was a big win, but not 'the win.' They know there's a bigger goal at the end."
No. 2 Pinkerton twice lost to teams known as the Lancers.
The Astros started their three-game week with an 11-9 league loss April 16 at arch-rival Londonderry High. The tough stretch closed with a 14-9 home loss April 21 versus Longmeadow (Mass.) High.
Maintaining focus was an uncharacteristic problem for Pinkerton in both losses.
Furthermore, offensive production almost exclusively came from the attack. Josh Gallant tallied three goals and three assists at Londonderry; Dom Corsetto went for three goals and an assist against Longmeadow.
"Maybe a little of it is conditioning. We could not get our faceoffs in the second half and we could not pick up ground balls," Pinkerton coach Brian O'Reilly said after the Astros lost to Longmeadow, which erased a 4-1 first-period deficit. "It's the same thing as the Londonderry game."
Exeter's defeats, in a sense, were understandable. The Blue Hawks, in a four-day span, lost competitive contests to the teams ranked ahead of them: BG (9-6 on April 16) and Pinkerton (8-6 on April 19).
Goaltender Jake Pleadwell (18 saves) stood tall against an early Pinkerton onslaught. Close defenders Jamie Vogt, Joe Moser and Zach Adler also enabled the Seacoast squad to pull within striking distance.
"The fact that we went down to BG, 3-0, and they never quit, and then we were down, 5-1, against Pinkerton and made it a game, it shows their resilience," Holly said. "That's the one thing you can take out of it."
Here's one lesson, stressed by BG's coach, that is applicable to every power program:
"There are too many good teams out there," Cameron said. "We can't just show up and expect to win."
April, 13, 2012
4/13/12
12:35
PM ET
By
Marc Thaler
| ESPNBoston.com
Salem High's Nicole Gubellini notched eight strikeouts, but primarily pitched to contact.

The problem for Concord High hitters taking their cuts? Gubellini never allowed them to get the barrel of the bat on the ball.
The end result, aided greatly by strong infield defense, was a no-hitter for the senior hurler and 5-0 Division I softball win April 11. Two days earlier, she threw an abbreviated no-no in Salem's season-opening 14-0 mercy-rule win at Rochester's Spaulding High.
Concord's Lindsey Stevenson reached on an infield error to open the game. Then, Gubellini retired 21 outs in a row. Her complete-game masterpiece took 65 minutes to complete.
"I can feel it, when things are good," said Gubellini, a four-year pitcher for the Blue Devils and scholarship recruit of Quinnipiac University. "Some days, some pitches are better than others."
Gubellini claimed her changeup – among an array of pitches she throws with accuracy and confidence – wasn't consistently sharp against the Crimson Tide.
She could have fooled Concord coach Duke Sawyer. She did fool her share of hitters.
"She's tough. Salem's tough," said Sawyer, who took last year's Tide team to the state final. "She pitched against us last year a little bit. She did well last year, too."
In addition to fanning eight, Salem's ace induced 12 outs via grounders or weak infield pop-ups.
Everyone in the infield – from catcher Amanda Biron, third baseman Hannah Latham, shortstop Samantha Cloutier, second baseman Sarah Frahm and first baseman Emily O'Brien to Gubellini herself – played a part in recording at least one of those 12 outs.
Only one fly ball reached the outfield. Center fielder Stephanie Long tracked it down.
Strong pitching is nothing new at Salem, where Granite State legend Harold Sachs has led the Blue Devils to 14 state titles.
But last year's quarterfinal-round exit was a stunner. The Blue Devils, as the top tournament seed, were beaten by Nashua's Bishop Guertin High.
"We won the regular-season league last year. We believed we were the best team last year. That has not changed in our thinking," said Sachs, who won his 500th career game last May. "And we just think we're better this year. I don't know what that's going to mean down the road."
Should Gubellini give Salem a season worth of strong starts, it might mean trouble for the opposition.
MORE DIAMOND DOMINANCE
NHIAA baseball's April 9 Opening Day included a pair of mercy-rule-shortened no-hitters.
Jordan Bean tossed one for Division II St. Thomas Aquinas High of Dover. Nick Massa celebrated the other for Division II Kennett High of Conway.
STA beat Division I Dover High, 10-0, in five innings. Bean, a senior, tallied seven strikeouts and set down 14 batters to close the contest after issuing a one-out walk in the opening frame.
He also had the game-winning hit: a first-inning solo home run.
Kennett defeated Division III Berlin High, 10-0, in five innings. Massa, also a junior, fanned seven, walked one and contributed a run-scoring hit.
STILL GOING STRONG
Portsmouth High began taking aim at its fifth consecutive Division II baseball championship April 9. Coach Tim Hopley & Co. opened with an 11-1 win at Wolfeboro's Kingswood Regional.
The six-inning, 10-run mercy decision marked the 84th consecutive win for the Clippers.
Briefly the national record-holder late last spring, Portsmouth opened the 2012 campaign with an active win streak that ranked second to Martensdale-St. Mary's High (87) of Martensdale, Iowa.
Billy Hartmann ripped three hits, the biggest being an RBI double in the fifth. Hartmann's key hit snapped a 1-1 tie and sparked a seven-run outburst.
Rick Holt, the team's pitching ace this season, helped his cause with a two-run double. Dillon Crosby connected for a three-run, sixth-inning homer that capped the onslaught.
"I was pleased with the way we handled ourselves in the first week," said Hopley, whose club won its 85th straight game, a 12-1 decision at Northwood's Coe-Brown Academy, on April 13. "Our pitching was good, offensively we were okay. But we've got to do a better job on the defensive side of the ball. Our timing and judgment were off, and we'll have to pay more attention to that in the immediate future so that it doesn't become a problem."
'MID-SEASON FORM'
Since boys' lacrosse was first sanctioned by the NHIAA in 1994, only two programs in New Hampshire have celebrated a championship three-peat.
Bishop Guertin this spring aims to join Division I rival Pinkerton Academy of Derry (1994-97, 1999-2002) and Division II Bow High (2002-04, 2008-10) in accomplishing the feat.
Guertin's Cardinals, heavy preseason favorites to win a fifth overall title, started strong in their Division I opener April 10. The state's No. 1-ranked team in the New Hampshire GameDay top 10 ("X-factors: April 9-15, 2012") overpowered No. 3 Hanover High, 15-3.
"They're, like, in mid-season form. We're still in preseason, I think," quipped Hanover coach Jeff Reed, whose Marauders, Division I champs in 2007 and 2009 have teamed with the Cards to win all five titles from 2007-11.
Midfielder Paul Spinney powered BG's offense with a game-high four points (three goals, assist). His assist, on a dish to Hunter Allen late in the opening period, snapped a 1-1 deadlock.
It also set off a six-goal run to close the first half. Guertin's defense, when challenged, answered the call.
Close defenders Bob Fahey and Kyle Karaska, and long-stick midfielder Brody Smith, led the lock-down effort on Hanover's top threats. Attackman Christian Johansen and midfielder Christian Wolter didn't post a point.
"Our challenge to these guys is to come every day to practice, practice hard, get better by the time we leave the field," BG coach Chris Cameron said. "And show up for every game."
Marc Thaler is a reporter for the New Hampshire Union Leader & Sunday News. He co-hosts the "N.H. Sports Show" on Manchester's WGIR-AM 610 and the Seacoast's 96.7 FM every Saturday from 7-9 a.m. Read his "New Hampshire GameDay" blog and follow him on Twitter: @marc_thaler.
October, 5, 2011
10/05/11
11:19
AM ET
ESPNHS unveils its first Top 100 rankings for the Class of 2012, and the list is littered with local flavor.
One week after being named the nation's top attack by ESPNHS, Darien (Conn.) High's Case Matheis is ranked as the nation's top overall player; Salisbury (Conn.) attack Mikey Morris comes in at No. 7, while Deerfield Academy goalie Luke Aaron rounds out the top 10 at No. 10.
Three members of Duxbury's MIAA Division 1 state championship squad last spring are ranked in the top 60 -- Matt O'Keefe (32), Seamus Connelly (36) and Reilly Naton (51).
The full list
can be found here
. The locals populating the ESPNHS 100 are listed below:
1. Case Matheis, Attack, Darien (Darien, Conn.) - Duke
7. Mikey Morris, Attack, Salisbury School (Salisbury, Conn.) - Johns Hopkins
10. Luke Aaron, Goalie, Deerfield Academy (Deerfield, Mass.) - Duke
26. Tanner Scales, Defender, Salisbury School (Salisbury, Conn.) - Virginia
32. Matt O'Keefe, Defender, Duxbury (Duxbury, Mass.) - Johns Hopkins
36. Seamus Connelly, Attack, Duxbury (Duxbury, Mass.) - Duke
39. Dickson Smith, LSM, Holdnerness School (Holderness, N.H.) - Virginia
44. Joe Kruy, Midfielder, Philips Andover (Andover, Mass.) - Duke
51. Reilly Naton, LSM, Duxbury (Duxbury, Mass.) - Yale
61. Oliver Saffery, Midfielder, Wellesley (Wellesley, Mass.) - Gettysburg
64. Will Ryan, Goalie, Avon Old Farms (Avon, Conn.) - Johns Hopkins
65. Connor Darcey, Goalie, Wellesley (Wellesley, Mass.) - Penn State
71. Sean Conners, Attack, Deerfield Academy (Deerfield, Mass.) - Princeton
83. Bob Fahey, Defender, Bishop Guertin (Nashua, N.H.) - Undecided
93. Corey Wisnowski, LSM, Berkshire School (Sheffield, Mass.) - Undecided
96. Billy Heidt, Midfielder, Brunswick School (Greenwich, Conn.) - Dartmouth
100. Greg Stamatov, Goalie, Foxborough (Foxborough, Mass.) - Villanova
September, 30, 2011
9/30/11
11:17
PM ET
By
Roger Brown
| ESPNBoston.com
NASHUA, N.H. – Fifteen players on the 2011 Catholic Memorial football roster were on the team two years ago, when the Knights suffered a 39-point loss to Bishop Guertin.

If you thought those players had put that loss behind them, well … you'd be wrong.

"Revenge" is what the CM players shouted when they broke their team huddle after Friday night's 42-0 victory over BG.

"When you lose 52-13 on someone's field and you're coming back there you know you want revenge," CM quarterback A.J. Doyle said. "We had 15 guys playing as sophomores when we came up here and got destroyed, so winning 42-0 feels pretty good. This is a team that, when we're on, it's something special."

Wide receiver Armani Reeves, who was injured in the first half of that loss to BG two years ago, scored three touchdowns Friday night. He opened the scoring by grabbing an 8-yard touchdown pass from Doyle on CM's opening possession, and scored on a 41-yard run the second time CM had the ball.

Reeves, who will play defensive back at Penn State, also scored on a 69-yard run on the first play of the third quarter. Running time was used after Michael Keane made the fifth of his six PAT kicks to five CM a 35-0 lead.

"We were sophomores then and it was embarrassing," Reeves said. "We wanted to come out here and prove that we're not the team of two years ago. We're much improved. I was happy with my performance and with the team. We played hard the whole game."

CM's other touchdowns came on a 69-yard TD run from Donovan Henry, a 26-yard pass from Doyle to Penn State-bound Camren Williams, and a 5-yard run by backup quarterback Pat Shore with 23.3 second left. Henry will play college football at Boston College.

"They just dominated us [two years ago]," Williams said. "They ran up the score by passing the ball when they were up 40 whatever it was to 13. They wanted to score and keep going. They kept the starters in the whole game so it was kind of like a big revenge thing on this field."

The victory improved CM's record to 2-1. BG, which has won six of the last seven Division II championships in New Hampshire, dropped to 3-2.

The Cardinals played without starting quarterback Bob Fahey (ankle) and defensive back/split end Brody Smith (broken leg).

"I don't think we played hard," first-year BG coach Travis Cote said. "We wanted to show them that we have good teams here in New Hampshire, but after they scored the first touchdown I could see the heads down and that was it. We didn't get a good effort the rest of the night.

"I'm not so disappointed that we lost, it was the way we lost. We didn't compete as hard as we should have."

Reeves gained a game-high 110 yards on his two carries, and Doyle completed 12 of 16 passes for 139 yards and two touchdowns.

""He's a playmaker, plain and simple," Doyle said. "He can take it to the house on any play.

"I had plenty of time and the receivers were wide open. They did a great job running their routes. It was an easy night."
September, 2, 2011
9/02/11
3:58
PM ET
By
Marc Thaler
| ESPNBoston.com
A year ago, underclassmen-laden Pinkerton Academy wasn't supposed to win its 10th Division I football championship since the celebrated 1985 season. But the young Astros, facing foes with far more experience, beat those odds.

This time around, the odds of repeating are overwhelmingly in their favor.
"Our focus doesn't change at all, even when we're not the favorites," Pinkerton head coach Brian O'Reilly said. "We simply strive for championships. That's our goal, otherwise it's not a successful year."
Quite simply, there isn't a more complete team, at present, than the one residing in Derry.
The Astros return almost everyone. Twelve of the team's 20 seniors are returning starters.
Bulldozer Kevin Davies and speedy Emmitt Smith are the focal points of Pinkerton's Wing-T offense. But there's also junior quarterback Chris St. Onge and sophomore Manny Latimore that round out the returning starting backfield.
Andrew Curran, exclusively a top-line defensive back in 2010, will reprise that role this season. But he's expected to earn touches on offense, too.
On a team stacked with superb athletes, Ryan Coombs could prove most dynamic. The 5-foot 11-inch, 178-pound senior kicks, punts, catches passes and patrols the defensive secondary.
"He's a big-game player. He can be a difference-maker. He's got some outstanding athletic ability that other kids do not have," O'Reilly said of Coombs. "He just turned 17 for his senior year. He really doesn't come off the field."
Linebackers Branden Rodgers, Davies and Matt Madden, last year the team's second-leading tackler as a freshman, were huge reasons the Astros excelled in red-zone defense. The linebacking corps added depth with the return of Matt St. Onge, sidelined in '10 with an ACL injury.
Understandably, the Astros were unanimously voted No. 1 in the preseason edition of the fourth-year statewide poll, a joint effort involving the
New Hampshire Union Leader
, WGAM-Radio and WMUR-TV.
Based on history alone, Pinkerton is the preseason pick.
Since O'Reilly's fabled Ryan Mihalko- and Joe Segreti-led 1985 team surprised everyone to win it all (the program's debut season in Division I) the Astros have always won championships in chunks.
The Astros went back-to-back in 1985-86, copped four straight crowns from 1991-94, and rattled off a three-peat from 2005-07.
But don't talk championship pep rally with O'Reilly just yet. Pinkerton's 34-year head coach knows a grid king isn't crowned in the preseason.
"We might be pegged as favorites. But we weren't pegged as favorites last year – and we won," he said. "Our focus is 'Don't allow newspaper clippings to influence hard work.'"
August, 31, 2011
8/31/11
1:42
PM ET
ESPN High Schools continued its feature on the Top 25 lacrosse rising seniors at each position today with a look at the defensemen.
New England was again well represented with six players making the cut, including two Massachusetts talents with Matt O'Keefe of Duxbury and BB&N's Chris Coady.
For a look at lacrosse ranking expert Tom Peace's full list click
here
.
Here's how the locals ranked:
4.Tanner Scales, Salisbury (Salisbury, Conn.), Virginia
Scales was named First Team All-American and New England Defender of the Year. Scales is a leader on the field and is very athletic. He sticks with his attackman and is quick to scoop up the groundballs.

6. Matt O'Keefe, Duxbury (Duxbury, Mass.), Johns Hopkins
O'Keefe is a coach's dream on defense. He is a leader, he is aggressive, and he clears the ball with precision. Being the Quarterback for the Duxbury football team gives O'Keefe the intangibles to be a great defender at the next level.

12. Tony Britton, Darien (Darien, Conn.), Cornell

14. Bob Fahey, Bishop Guertin (Nashua, N.H.), undecided

17. A.J. Carfora, Salisbury School (Salisbury, Conn.), Penn State

23. Chris Coady, Buckingham Browne & Nichols School (Cambridge, Mass.), Duke
June, 13, 2011
6/13/11
2:10
PM ET
By
Marc Thaler
| ESPNBoston.com
The resume: Seven consecutive appearances in the Division I boys' lacrosse final.
The crown count: Four.
The program celebrating those staggering statistics: Nashua's Bishop Guertin High.

Guertin tightened its grip on the sport June 8 with a first-time feat for the program. Coach Chris Cameron and his Cardinals clinched their second straight title with an 11-8 win.
"This one feels good," said Cameron, whose team finished 14-1 in league play. "This one feels good."
Success was indeed sweet, considering second-seeded BG beat its fiercest rival. Top-seeded Pinkerton Academy of Derry entered the tournament final undefeated (20-0 overall) and perfect in NHIAA finals since 1997 when boasting an unblemished record (3-0).
Roughly 1,500 fans filed in to Stellos Stadium for the much-anticipated matchup played in extreme humidity. The final marked the fourth time BG and Pinkerton fought to finish No. 1 since 2005.
BG now owns a 3-1 record in those colossal clashes.
What prepared BG's young and inexperienced squad for this giant win? Try six grueling out-of-state games that left the team linked to an uncharacteristic 0-6 record.
Cameron annually schedules the most unforgiving non-league schedule of any team playing NHIAA lacrosse. After his team topped No. 3 seed Hanover High in the semifinals, 15-6, the eighth-year coach said this spring's out-of-state slate was the toughest to date.
The Cards lost to Massachusetts squads Lexington (6-4), Needham (14-11), Cohasset (7-4) and Duxbury (15-3). New Jersey's St. Joseph Metuchen (11-3) and Rhode Island's La Salle Academy (6-5) also beat BG.
There was also an 8-7 loss to the Astros, which snapped BG's 48-game regular-season win streak against in-state foes. Guertin had as many losses this spring (seven) as the 2008, 2009 and 2010 seasons combined.
Shut-down junior defenseman Bob Fahey said team confidence took a hit. But the losses served a purpose.
"It got us ready for this exact game, right here," said Fahey, who has already committed to UMass. "Coach Cameron gives us that great out-of-state schedule to get ready for these games."
Cameron's club took control of the final after halftime. The teams took the field for the third quarter knotted at 6-apiece.
BG's midfield- and close-defense – operating without defensive slides – caused all kinds of problems for Pinkerton. Fahey, Kyle Karaska and Jay Krzyston forced the Astros to shoot from the perimeter. Long-stick midfielder Brody Smith locked off lanes to the cage. Colin Delea (14 saves) made the necessary stops between the pipes.
"You've got to give credit to them," said Pinkerton coach Brian O'Reilly, noting his offensive-minded club was contained to four goals in 6-on-6 play. "It's not like we were missing the cage. It's just the shots didn't seem to be there."
April, 13, 2011
4/13/11
2:48
PM ET
By
Marc Thaler
| ESPNBoston.com
There was a time when, before the season's first face-off, predicting the champion in Granite State boys' lacrosse was a pointless exercise.

Even in the preseason, Pinkerton Academy always had the crown locked up.
The Derry program's rich lacrosse history dates back decades, well before the NHIAA sanctioned the sport in 1994.
Coach Brian O'Reilly – who began his 30th season April 12 with a 400-122 career record – led his Astros to the first four NHIAA titles from 1994-97. O'Reilly & Co. won eight of the first nine championships through the 2002 campaign.
But in the eight seasons since that time, the Astros have won just one title (2006). They last played for the Division I championship in 2008.
"We need to get back to where we were. That's been taken from us the last several years in lacrosse," O'Reilly said. "We're not the defending champions. We haven't been the defending champions in a while."
Yet the Astros are this spring's preseason favorite. They narrowly edge Nashua's Bishop Guertin High, the defending champ that's appeared in six consecutive league finals and won three titles since 2005.
It's unknown whether the Cardinals consider their preseason position a slight. But this much is clear: Depth in Division I is lacking this spring. Pinkerton and BG are the runaway favorites to clash for the championship in June.
"I doubt anybody is talking about us as a top team right now, which is fine by us. It gives us a little more incentive to work hard and be there at the end of the year," said Exeter High coach Gerry Holly, whose reigning runner-up Blue Hawks rank behind Hanover High, the third-best club exiting the preseason.
Several teams, starting with Exeter, were senior-laden a year ago. Pinkerton was an exception. They boast experience, roster depth, speed, toughness and, perhaps most important, balance.