Boston High School:

Bob Lomp
June, 10, 2012
6/10/12
8:30
PM ET
By
Shawn Myrick
| ESPNBoston.com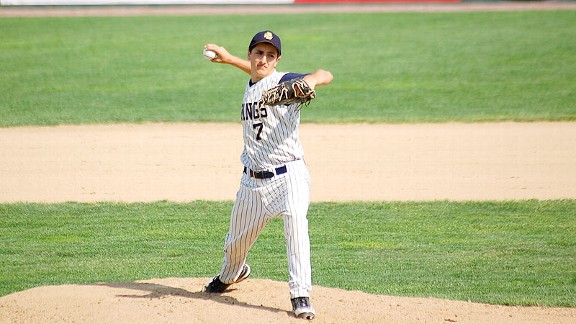 Brendan Hall/ESPNBoston.comEthan Forrest threw a complete-game shutout to clinch East Bridgewater's first Division 3 South title in nearly two decades.
BROCKTON, Mass. -- When starter Ethan Forrest woke up yesterday morning he could barely get out of bed. On Sunday he was unbreakable.
In what was East Bridgewater's fourth game in five days, the junior ace tossed four strikeouts to lead the third-seeded Vikings (18-4) to a 5-0 complete-game sweep of defending regional champs No. 8 Apponequet (14-6) in the Division 3 South finals at Campanelli Stadium in Brockton.
The victory was the first sectional title for East Bridgewater since 1993 as it returns to Brockton at 4 p.m. on Tuesday to play the North champs North Reading (20-4) in the state semifinals.
"I iced, I took it easy, and I came back today and just threw," said Forrest. "I let my arm do the healing. Coach needed someone so I raised my hand and stepped up to the occasion."
The Vikings pulled ahead 1-0 in the third off a low rip by senior Casey DeAndrade. After three straight singles loaded the bases with two outs, DeAndrade knocked the ball into the ground and up off the chest of the second baseman to force a bobble on the throw to first.
DeAndrade went 3-for-4 with two RBI's, while falling one home run short of the cycle. Teammate and freshman Jake Pierce also cracked 3-of-4 for two RBI's and a run.
"I saw our third base coach waving so I thought I had a chance," said DeAndrade. "We have been working hard in the cages so it pays off."
Senior Tim O'Brien swatted a roller up the middle then stole third on a pitch in the dirt to set up the Vikings' second run two innings later. An outfield single by Pierce brought O'Brien home.
"(O'Brien) is just a star athlete," said East Bridgewater coach Pat Cronin. "They are smart base runners. We did not get here by stopping people at third base."
Apponequet put a runner in scoring position during both the first and fifth, but was unable to score.
A double and a stolen base by Zachary Bernard placed the sophomore on third with two out in the first, but Forrest forced a ground out to the shortstop. After a double play to open the fifth, junior Joshua Cabucio knocked a frozen rope over the shortstop to push senior Timothy O'Malley to second.
Forrest again pressured a hit out to the second baseman.
"Single elimination baseball and we never came up with the timely hit," said Apponequet coach Bob Lomp. "We could not string together anything offensively."
East Bridgewater finished Apponequet in its final at-bat with three hits and three runs.
After a balk moved senior James Sullivan to third, junior Brett Palaschak hit a deep right field sacrifice fly for a 3-0 edge. Junior Andrew Benson walked with four pitches then stole second with two outs to set up the 4-0 knock.
A rocket by Pierce was bobbled by a sliding centerfielder to bring Benson home. The following pitch, DeAndrade caught a long drive along the center-field wall to bring O'Brien home, but the senior was tagged out turning third for the final out.
"It was a fastball and I was on my front foot," said DeAndrade. "I just flicked my wrist and hit it well. Coach was waving me and I saw every one up on the stands yelling so I just wanted to score."
Not So Sunny Disposition:
Apponequet starter sophomore Joshua Fickert tossed the entire game allowing 11 hits and striking out five with five earned runs. Despite the sun shining over the backfield press box the entire game, Lomp did not link any of his team's fielding mishaps to the stadium.
"I do not think we played poor defensively," said Lomp. "We have been a pitching and defensive team all year. They just hit some gap balls there."
Day In and Day Out
: The victory was the Vikings' third on the weekend. Forrest pitched six innings in a 5-4 win over No. 6 Dover-Sherborn (15-7) on Friday, while tossing 93 pitches against the Lakers.
"They said 'Coach all we want to do is win today and get to the next game'," said Cronin "(Forrest) was throwing harder in the last inning than he was in the first. When it is your turn to hit, go hit then you just come back and sit in the shade."
June, 15, 2011
6/15/11
1:38
AM ET
By
Mike Scandura
| ESPNBoston.com
QUINCY, Mass. -- Top-seeded Middleborough entered Tuesday's Division 3-South championship game against No. 6 Apponequet having scored a "grand" total of eight runs in its previous three tournament games.
That total remained at eight after Lakers lefty Dan DePippo tossed a masterpiece, blanking the Sachems, 1-0, on three hits for the first baseball sectional title in school history.
How effective was DePippo?
Check this out:
He allowed only three hits, each of which was a single.
He issued zero walks and struck out seven.
He threw 70 of 106 pitches for strikes which computed to 66 percent.
One hit was of the infield variety, by Luke Zulak.
He faced only three batters over the minimum, with one Sachem reaching on an error.
Other than that …
"His control was a big factor," Apponequet coach Bob Lomp said. "He's very economical. When you're a strikeout pitcher, you're going to throw a lot of pitches. To be economical and get a lot of strikes like he did today … well, that was a gutsy performance especially on three days' rest."
Middleboro lefty Nick Radcliffe also delivered a commendable performance. In fact, he was working on a no-hitter for 4 2/3 innings before Josh Cabucio singled in the fifth.
"Nick pitched a great ballgame," coach Bill Lawrence said. "They just put a couple of hits together and we didn't.
"If you don't score runs, you're not going to win any games."
Apponequet (16-4) finally hung a run on the Adams Field board in the sixth. But only after Middleborough (20-4) flashed some serious leather.
Shortstop Zulak ranged far to his right, speared a shot by Matt Schell and threw to first for the out.
Then, Nick Cogliano hit a sinking liner to center only to have Chris Benson make a spectacular, diving catch.
But Chris Travers and DiPippo followed with singles and Nate Michael launched a 1-and-2 pitch to center for an RBI double.
"Nate's been clutch for us all year in that five-spot," Lomp said. "Nate didn't look pretty on those two swings and misses. But that's classic Nate. He'll swing at everything and then he hammers one.
"The ball wasn't traveling today so even when it was in the air I thought their center fielder was going to have a chance. But it was deep enough to get the run in. With a pitching performance like that from both sides, one run is going to do it."
Given DePippo's performance, Lomp was right on target.
"He's a big kid and he's very strong," Lomp said. "He runs a lot between starts. We had him on pitch counts so tight early in April and May to get him to this point. We would take him out mid-inning sometimes in a game where he was ahead just because we wanted to build him up for the tournament run.
"That was the goal all year … to have Danny healthy for the tournament. He really came up big in the last two innings."
How big?
This big: DePippo struck out five Sachems overs those last two frames, which enabled him to up his season record to 8-1 and his two-year career mark to 16-2.
Despite all the Sachems accomplished this season, the loss was particularly hard for Lawrence to swallow.
"We had a good season," he said. "I'm not going to dwell on anything negative. The worst thing about this is this is probably one of my favorite teams and I don't want to let go of them. They're just good kids.
"[Apponequet] outplayed us today. That was the bottom line. It was a well-played game on both sides. This time of year you expect good teams to play well."