Boston High School:

Bob McGovern
February, 26, 2014
Feb 26
2:10
PM ET
Thayer Academy senior goaltender Bob McGovern has made a name for himself as one of the top netminders in New England the last couple seasons and, as a result, has drawn the interest of NHL scouts.
The imposing 6-foot-4, 245-pounder is an imposing figure in the crease and was ranked 25th among North American netminders in the NHL Central Scouting's Midterm report. McGovern is a self-described "battler," who plays an aggressive style, which might have stemmed from his experience as a lineman on Thayer's football team.
While he gave up the gridiron this year to focus on hockey, playing the Cape Cod Whalers' U-18 squad in the offseason, McGovern's mentality transfers to the rink, as we learned when we caught up with him after a recent game at the Canton Sportsplex.
The Tigers earned the No. 3 seed in the NEPSAC Elite 8 tournament and open with a quarter-final matchup today with No. 6 Berkshire, so we asked McGovern about the team's pulse heading into the postseason in this Q-and-A:
[+] Enlarge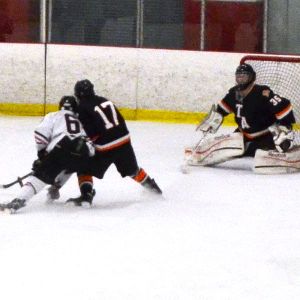 Scott Barboza/ESPNThayer Academy goaltender Bob McGovern helped the Tigers reach Salem last year, but the expectations are higher for the NHL Central Scouting Midterm prospect and the team as they begin play in the NEPSAC Elite 8 tournament today.
Q: Do you feel any pressure to perform after being ranked in the Central Scouting Midterm report?
A: "It's definitely a little bit stressful, but you go into any game looking to win, that's all you're looking to do. But I just come to the rink every day to try to prove to people that I belong on that list."
Q: What are the expectations for this team this year entering the playoffs?
A: "Last year, we had a magical run at the end. We really weren't expecting to go .500 last year and we ended up in Salem. This year, we definitely had bigger expectations and we've done pretty good so far."
Q: You also have football in your athletics background. How does that experience relate to playing goaltender?
A: "It teaches you to battle. Every shot is a one-on-one battle. In football, I was a lineman, so every snap is that one-on-one battle with the guy across from you. On the ice, every shot that comes at you is a one-on-one battle."
Q: Which NHL netminder would you most associate you style with?
A: "I've always been a fan of Marc-Andre Fleury [points to the Pittsburgh Penguins t-shirt he's wearing]. He's always been one my favorites, but recently I've really enjoyed watching Mike Smith. I like the way he battles, the way he gets into the game."
Q: What do you guys to hang out outside the rink?
A: "We don't have a rink on campus, so the car rides from school to the rink are always fun. A lot of us are in the same classes, the same free periods, so we're together a lot."
Q: What is the most important thing your team can do to be successful in the tournament?
A: "We just have to outwork people. We have a great system, as we've shown the last two years, but it all comes down to outworking the guy across from you. This year we have a good mixture of skill and work ethic, so I think we'll be ready to make the jump."
January, 24, 2014
Jan 24
11:34
PM ET
By
John McGuirk
| ESPNBoston.com


CANTON, Mass. -- Tony Amonte, the third-year boys' hockey coach at Thayer Academy, likes to offer up comparisons between the ISL's Keller Division to that of the Southeastern Conference in football. Both present major challenges and nothing ever comes easy.

Friday night, Amonte's Tigers learned that lesson all to well. After jumping out to a four-goal lead, Thayer watched in vain as divisional foe St. Sebastian's mounted a flurry to close to within a goal. But the Tigers had enough ammunition in the end to withstand the onslaught and pull out 6-3 victory in the 17th annual Arthur T. Valicenti Cup game at the Sportsplex.

"In high school hockey there are no guarantees,'' said Amonte, his team improving to 13-3-0. "There are so many swings and ups and downs in every game. St. Sebastian's always brings it and we didn't expect any less than that. In this league every game is battle. You lose one and you could be out of a championship. It's that important every game and it's the team that can maintain that level that always wins the league every year."

Fresh off a loss to St. Paul's School only 24 hours earlier, no one could blame Thayer if they began this tilt a bit flat. But it was quite the opposite. The Tigers opened strong, controlling the opening 18 minutes by working the puck inside the Arrows' zone and keeping St. Sebastian's out of theirs.

For its reward, Thayer scored three times in span of 4:32 during the opening stanza.

Defenseman Steve Cochrane got things started by ripping a shot just a few feet in front of his blue line to give the Tigers a 1-0 lead at 4:20. Less than two minutes later, Kyle Peterson, another defenseman, wristed a rebound to an open right side of the net to make it a two-goal advantage. Thayer had no intentions of slowing down. Catching St. Sebastian's back on its heels a bit, the Tigers continued to instigate their quick up-the-ice strategy. Forward Lincoln Griffin made it a 3-0 game with a re-direct in front of Arrows goaltender Teddy Loughborough (20 saves), coming at 8:52.

The momentum Thayer had enjoyed during the opening frame carried into the second period. At 8:18, Neil Conway scored on a spin-around just to the right of Loughborough, upping the lead to 4-0. With their backs pushed firmly against the wall, the Arrows had a choice to make. They could either wave the towel or come back fighting. They chose the latter and, as a result, made things quite interesting.

"We did not play a good first period," Arrows coach Sean McCann said. "They were all over us and we couldn't do the things we wanted to do. We struggled moving the puck and just couldn't connect the dots going up the ice. In the second period we started to get some momentum and were making better decisions with the puck."

St. Sebastian's caught a huge break after a pair of TIgers were sent to the penalty box, giving them a 5-on-3 power play for 54 seconds. Working the puck inside Thayer's end, the Arrows sent two hard shots towards Tigers netminder Bob McGovern. The second one deflected off of McGovern's leg pad and out to junior forward Will D'Orsi, who quickly flipped a shot just under the crossbar at 13:55, putting the Arrows on the board.

"For a team as young as we are I think this was a great thing to battle like we did and compete the way we did," added McCann, whose team falls to 6-9-1 after starting the year 5-1-1. "We are a team that has to learn a lot. We have a lot of young kids playing crucial minutes for us. It's a good learning experience but I hate to use that term because nobody wants to hear about learning experiences, these kids want to win."

With time winding down in the middle frame, St. Sebastian's capitalize on a Thayer mental breakdown. With the Tigers trying to score another goal before intermission, they forgot to play defense. That allowed senior forward Corey Ronan to break out through the neutral zone and remain a full-step ahead of the defense. Skating in alone on McGovern, who opted to stay in the crease instead of coming out to challenge the puck-handler, Ronan was able to slip a shot past the senior just before the horn sounded and send the Arrows into the second intermission down by only two.

"We had a good first period," said Amonte, who played at Thayer in the late 1980s, prior to spending 16 solid seasons in the NHL. "There was a bit of lull in the second period. There was a coaching error on their second goal. We were thinking offense in the final seconds of the period when we should've been thinking protect that three-goal lead. But you are always looking for more. The way I coach, you really don't think about defense because I played forward and you are always thinking about getting that next goal.

"They made a great play and Corey Ronan is a tremendously fast player and made a great move. We also know you can't get into the box against good teams like St. Sebastian's. You have to be discipline, especially when you are already on the penalty kill and then you take another penalty. That's what hurts you."

Realizing it was now back in the hunt, St. Sebastian's drew a bit closer only a few minutes into the third. Nick Flanagan found the back of the net to cut the deficit to 4-3 at 11:01.

Suddenly, everything Thayer had built early on was now in jeopardy. Momentum had clearly shifted over to the side of the Arrows. Following Flanagan's marker, McGovern managed to fend off a couple more on-line assaults from St. Sebastian's.

But for how long?

"Our team has a good mixture of skill and work ethic," McGovern said. "Last year I don't think we won a game by more than two goals so we were dialed in the whole 54 minutes. This year we have been able to run away with some games so it is actually good for us to be in a tight game like this right up to the very end. Games like this will only help us."

The Tigers were then skating around in desperation mode, attempting to rediscover their scoring edge.

At 14:38, sophomore Christian Simeone provided it. The forward scored off a rebound to give the Tigers a little breathing space. Then, with a little less than three minutes remaining, Griffin sealed this one up with his second goal, slipping a shot between Loughborough's leg pads just before colliding with the senior. Officials awarded the goal to Griffin, stating the puck had crossed the goal line before there was impact.

"St. Sebastian's had a lot of momentum in the third period so we knew we needed to come back strong and finish," said Griffin. "The second period was probably our worst period by far. We knew we had to stick to our game plan, work hard and finish off checks. Once we started doing that again, we knew it would work out for us."
January, 13, 2014
Jan 13
2:27
PM ET
The National Hockey League's Central Scouting bureau released its midterm rankings for the 2014 draft today.
Once again, local-based skaters littered the rankings, with St. John's Prep and Cushing Academy product Shane Eiserman leading the class. The West Newbury native was 39th among the 200-plus ranked North American skaters.
There is also a goaltender in the mix, with Thayer Academy standout Bob McGovern ranking 25th among North Americans.
Here's how the locals stacked up:
(For a look at the complete rankings, click
HERE
.)
Skaters:
39 Shane Eiserman, Dubuque - USHL (U.S. NTDP, Cushing, St. John's Prep), C/LW, 6-1.5, 200
44 Johnathan MacLeod, U.S. NTDP (Kimball Union), D, 6-1.5, 200
54 Ryan Donato, Dexter School, C, 6-0.25, 174
83 Beau Starrett, South Shore Kings - USPHL (Catholic Memorial), LW, 6-4.75, 195
85 Miles Gendron, Rivers, D, 6-1.5, 173
121 Michael Turner, Cushing Academy, LW, 6-1.5, 192
123 Tyler Bird, Kimball Union (St. John's Prep), RW, 6-1.5, 202
146 Bobo Carpenter, Austin Prep, C, 5-10, 183
157 J.D. Dudek, Kimball Union, C, 5-11.25, 178
159 Michael Lee, The Gunnery, D, 5-11.25, 165
177 Max Willman, Williston Northampton (Barnstable), LW, 6-0, 180
188 Dominic Franco, Kimball Union, RW, 6-2.75, 183
193 Billy Sweezey, Noble & Greenough, D, 6-0, 190
204 Evan Smith, Salisbury School, C, 6-0, 190
Goaltenders:
25 Bob McGovern, Thayer Academy, 6-4, 245
September, 23, 2013
9/23/13
10:45
AM ET
This morning the National Hockey League's Central Scouting Service released its preliminary "Ones to Watch" for the 2014 draft.

The New England region was well-represented with current and former high schoolers and prep schoolers making the grade.

Here's a breakdown of New England skaters:

MASSACHUSETTS HIGH SCHOOLS
B Skaters
Ryan Donato, Dexter School, C/LW, 6-0.25, 174 lbs.
Miles Gendron, Rivers, D, 6-1.5, 173 lbs.

C Skaters
John-Claude Brassard, Noble & Greenough, D, 5-10, 180 lbs.
Bobo Carpenter, Austin Prep, C, 5-10, 183 lbs.
William Feeney, Dexter School, D, 6-1.75, 202 lbs.
Michael Turner, Cushing Academy, LW, 6-1.5, 208 lbs.

C Goaltenders
Bob McGovern, Thayer Academy, G, 6-4, 245 lbs.

NEW HAMPSHIRE HIGH SCHOOLS
C Skaters
Tyler Bird, Kimball Union (St. John's Prep), RW, 6-1.5, 202 lbs.
J.D. Dudek, Kimball Union, C, 5-11.25, 178 lbs.
Dominic Franco, Kimball Union, RW, 6-2.75, 183 lbs.

CONNECTICUT HIGH SCHOOLS
C Skaters
Will Brophy, Westminster, D, 6-3.5, 193 lbs.
James Gobetz, Salisbury, D, 6-2, 188 lbs.
Mike Lee, The Gunnery, D, 5-11.25, 165 lbs.
Evan Smith, Salisbury, LW, 6-0, 190 lbs.
Mitchell Smith, Salisbury, LW, 5-11, 182 lbs.

C Goaltenders
Joseph Lissak, Taft School, G, 6-1.5, 203 lbs.
Sam Tucker, Choate-Rosemary, G, 6-1.25, 177 lbs.

UNITED STATES HOCKEY LEAGUE
B Skaters
Shane Eiserman (U.S. NTDP/ Cushing Academy/ St. John's Prep), Dubuque, LW, 6-1.5, 200 lbs.

UNITED STATES PREMIER HOCKEY LEAGUE
C Skaters
Beau Starrett (Catholic Memorial), South Shore, LW, 6-4, 190 lbs.
February, 28, 2013
2/28/13
2:31
PM ET


CANTON, Mass. -- Jonathan Sheedy swooped around the goal, arms raised in the air. A look of incredulousness was written on the senior captain's face as he looked for his nearest teammate to hug.

With the figures "5:05" emblazoned on the scoreboard, Sheedy stopped time, delivering a 4-3 overtime win for Thayer Academy Wednesday at the Canton SpotsPlex.

Reflecting on his game-winner against St. Sebastian's in the NEPSAC Martin/Earl Tournament quarterfinal tilt between ISL rivals, all Sheedy could think of is the last couple seasons and how far the Tigers have come.

"We've had two losing seasons in the last three years," Sheedy said. "The fact that we were in the tournament this year, I was wicked happy for that. Now, we get to go to Salem, play in the semifinals Saturday. It's just amazing."

Thayer held a 3-0 lead in the second, despite the Arrows carrying play in the period. But Seb's kept at it and finally solved Tigers netminder Bob McGovern (29 saves), scoring three unanswered goals, including two goals from senior forward James McLaughlin, to tie it in the third.

It was a familiar script.

"It was almost a mirror image of the other day, it was the same kind of game that we played on Saturday," Tigers head coach Tony Amonte said of his team's 3-1 win over the Arrows in last weekend's Valicenti Cup game. "They won the second period, the only difference today was that they won the third."

The Tigers jumped to a 2-0 lead at 14:19 of the second with freshman Ty Amonte tallying his second of the game on the set-up from Lincoln Griffin off a 2-on-1 break. Thayer struck again exactly one minute later on defenseman Jack Judge's blast from the point.

However, the Arrows countered with an important goal just 17 seconds later with Tommy Kelley ripping off a one-timer on Corey Ronan's feed.

"We needed to get one before the end of the period," St. Seb's head coach Sean McCann said. "We were fortunate to have a bang-bang play near the crease. It was a nice play by our guys and that helped us carry momentum into the third period."

After being held scoreless on five previous power-play opportunities, the Arrows found the back of the net for the first time with the man-advantage to start the third. McLaughlin scored his first of two goals at 6:10 of the third. He then scored the equalizer with 7:31 remaining in regulation.

KEEP IT SIMPLE
After being outplayed for the bulk of two periods, Thayer brought its skating legs to the overtime session. Spurred on a by a key save by McGovern in the opening minute of overtime, the Tigers began getting pucks to the Arrows' net with greater consistency.

It was all part of Amonte's message to his team at the break: don't make it too fancy.

"How many pretty goals do you see in an overtime?" the 16-season NHL veteran and Thayer alum said. "A la today, there's no pretty goals in overtime at any level. So I told them to relax, go out there, play their game and just get pucks to the net."

As the Tigers advance to play Avon Old Farms in Saturday's tournament semifinal at the The Icecenter in Salem, N.H. (5:30 p.m.), they feel as though they're playing with house money.

"This is all gravy," Amonte said. "For us, we didn't even expect to make the tournament, so we'll give it our best and see what happens."

AN IMPOSING FIGURE
In Thayer's net, McGovern presents a conundrum for opposing players. That is, where exactly can you shoot?

The 6-foot, 3-inch, butterfly-style netminder affords snipers little space to shoot. And, with his sound positional play in the crease, seldom will you find the Tigers' backstop out of place.

McGovern's effort in the last two games against St. Seb's even drew the praise of the opposing coach.

"He's played really well this year," McCann said. "We played them on Saturday and he was outstanding. He was so good today, so going down three-to-nothing, we were a little concerned about what we were going to be able to do."