Boston High School:

Bobby Savoia
October, 23, 2010
10/23/10
12:29
AM ET
By
Brian Fabry
| ESPNBoston.com
PLYMOUTH, Mass. -– Plymouth North head coach Dwayne Follette tried to downplay the significance and the motivation behind the win, but senior running back Matt Walsh took it personal.
Under a full moon and a chilly October night with temperatures in the 30s, the No. 22 Blue Eagles shocked No. 7 Falmouth, 28-7, in front of a standing-room only, homecoming crowd and sent the previously unbeaten Clippers' packing in a defining Atlantic Coast League battle.
Forced to play their home games at rival Plymouth South's field a few miles away due to construction, the defense didn't seem to care as they held Falmouth to 11 yards on only 13 plays from scrimmage in the first half alone.
Walsh finished with 102 of the 174 rushing yards for the Eagles on 16 carries and was referring to last season's 41-0 rout at the hands of Falmouth when he said the seniors wanted to "punch them in the mouth" with a victory. With the win, Plymouth North (5-2, 2-0) remains unbeaten in league play and with a 15-0 win last week over the defending league champion Marshfield, this victory puts the Eagles' at the head of the pack with three winnable league games left on the schedule.
"Every time I got the ball there were holes everywhere, it wasn't just one hole at a time," Walsh said. "[Assistant] Coach [Carl] Freyemuth told us this was a big game and we were hyped up beating Marshfield and we knew coming in we needed at least two turnovers and I think we got more then that."
[+] Enlarge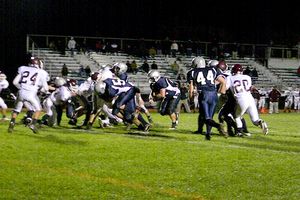 Brian Fabry for ESPNBostonMatt Walsh rumbles in for the first of his two touchdown runs in Plymouth North's 28-7 upset win over Falmouth on Friday.
The Plymouth North defense caused six turnovers overall converting the first three Clippers' miscues into touchdowns in the first two quarters of play.
Plymouth North (5-2, 2-0) was staked to a 14-0 lead in the first 8:43 of play as the Eagles cashed in two forced fumbles for touchdown on Falmouth's first two series. The two turnovers set up Plymouth North with great field position, with the first opportunity coming at the Clippers' 24-yard line after a Mike Cahill fumble recovery.
After two Walsh rushes got Plymouth North to the 11-yard line, quarterback Cody Merritt scored on an 11-yard keeper right up the middle of the Falmouth defense. Falmouth's Jonah Olsen burst off the right end untouched and blocked Vinny Tavernelli's extra point attempt to hold the score at 6-0.
But the momentum never changed as on the very next series, the Clippers' second fumble was on the ground on only the second play from scrimmage. This set up the Eagles' with even better field position inside the red zone at the Falmouth 14-yard line.
Last week's offensive star Zach Zaniboni was credited with the recovery and four plays later, Matty Walsh scored the first of his two rushing touchdowns from two yards out and then Merritt converted the two-point conversion on a swing pass to Walsh for the 14-0 lead.
"We haven't been getting many turnovers and we got a lot of turnovers tonight and we turned them into scores, so it was great we executed," Eagles head coach Dwayne Follette said. "The defense played awesome again but our offense played real well tonight, got some big plays, and turned the short fields into scores and that was the difference."
After the two teams exchanged three-and-outs, Merritt turned around to the defensive side of the ball and picked off the Clippers' Dillon Mansfield at the start of the second quarter to set up the third Eagles' score.
The Eagles methodically ate up over nine-plus minutes of the second half on a 12-play drive – not including a spinning 27-yard run from Zaniboni that was negated on a holding call - that culminated on a fourth-and-one plunge from Walsh with only 50 seconds left before the half. As the teams dispersed for halftime, Plymouth North was firmly in control, 21-0.
"We had a good week of practice and everyone was on key," Walsh added. "We played hard the whole game we didn't give up and we gave it all we could".
The nightmare continued for Falmouth (5-1, 1-1) as they coughed up the ball on their next two possessions of the second half and lost two-sport star Nelson Baptiste to an undisclosed injury before the second stanza started.
Plymouth North smelled blood in the water as Zaniboni had his second fumble recovery and the fifth Falmouth turnover turned into a picture-perfect hook and ladder between Merritt and Liam Cosgrove with the final pitch going to Bobby Savoia for the 32-yard touchdown.
Before Falmouth knew the second half whistle was fired off, the Eagles offense posted 28 unanswered points with 9:08 remaining in the third quarter.
Olsen took it upon himself to ruin a second consecutive Atlantic Coast League shutout for the Eagles with a 40-yard scamper on a sweep to the right as he outran four would be tacklers with 9:03 remaining in regulation.
Said Follette: "We have three league games left and every week you play for controlling your own destiny. We talked (last season's loss) up, but this was a big enough game that we didn't need the extra motivation, but [Falmouth head coach] Steve [Femino] is a great guy, he addressed our team [post-game], he's a class act but we won –- we played the better game".
Falmouth goes back over the Sagamore Bridge to lick their wounds in anticipation of next week's battle with Marshfield, which will essentially knock one of the two ACL powerhouses out of contention for this year's Division 2A Super Bowl playoffs. Plymouth North goes on the road to face non league foe, Barnstable, in a tune up for the remainder of the league schedule.
The rest of the schedule includes road games against Sandwich and the always dangerous Dennis-Yarmouth before the season-ending tilt with in-town rival Plymouth South at the annual Thanksgiving Day battle.
FALMOUTH (5-1) 0 0 0 7 -- 7
PLYMOUTH NORTH (5-2) 14 7 7 0 -- 28
PN – Cody Merritt 11 run (kick blocked)
PN – Matty Walsh 2 run (Walsh from Merritt)
PN – Walsh 1 run (Vinny Tavernelli kick)
PN – Bobby Savoia 32 pass from Merritt (Tavernelli kick)
FA – Jonah Olsen 40 run (Tyrone Reine kick)
October, 15, 2010
10/15/10
10:58
PM ET
By
Brian Fabry
| ESPNBoston.com


MARSHFIELD, Mass. – There is a new sheriff in the Atlantic Coast League – for now.

No. 23 Plymouth North opened up its league schedule and defeated the reigning ACL and Division 2A Super Bowl Champion Marshfield, 15-0, in front of the Rams' homecoming crowd at James G. Anderson Field. The Eagles (4-2; 1-0) huge road win sets up a barnburner between idle No. 7 Falmouth for bragging rights and the top spot between the two league unbeatens.

After the Blue Eagles were bottled up on their first two series, Zach Zaniboni broke off a 50-yard touchdown scamper from midfield to get Plymouth North on the board with the eventual game-winning touchdown.

"I just saw a huge hole off the right side and was able to take it home", said the senior tailback. "It's huge to beat them on their home field as well – big win"

Cody Merritt, last week's star in their non league win over Bridgewater-Raynham, called his own number on the next series capping off a quick five-play drive with an 11-yard keeper on a sweep to the left. Merritt faked the pitch to Bobby Savoia and followed the lead block of Matt Walsh into the end zone untouched.

While holding the snap for the extra point, Merritt pulled up and rolled left to find Liam Cosgrove right before being buried out of bounds for the two-point conversion and the 15-0 lead with 2:33 left in the second quarter.

The Eagles defense surely did their part limiting Marshfield to 23 total yards of offense in the entire first half for the first shutout of the season for Plymouth North. In fact, the win is the first in 22 seasons at Marshfield for the Plymouth North program and Dwayne Follette downplayed the win knowing the tough road in front of his team.

"It was all about our defense, we had a great game plan, the kids played really hard, and did a great job because shutting out a Marshfield team is pretty special," Follette said. "Next week we have an undefeated Falmouth team so we have to put this one to bed real quick".

Marshfield (2-4) was able to get into Eagles territory on all four second half possessions but were shut down three times on fourth-down conversions. The first series of the second half was led by the passing of Marc Pomella, who was 4-of-7 on the drive but the Rams came up short at the Eagles' 11-yard line on a fourth-and-eighth attempt that lost yardage.

Plymouth North finished with 201 yards rushing on the ground led by Zaniboni's 81 yards on only six carries and Merritt finished with 79 on 11 carries.

"Zaniboni had a great game, played well on both sides of the ball, and was easily the MVP of the game, but this is only one league game – we have four more left and that starts with Falmouth", Follette added.

PLYMOUTH NORTH 0 – 15 – 0 – 0 -- 15
MARSHFIELD 0 – 0 – 0 – 0 -- 0

2nd quarter
PN – Zach Zaniboni 50 run (Vinny Tavernelli kick)
PN – Cody Merritt 11 run (Liam Cosgrove pass from Merritt)
September, 25, 2010
9/25/10
1:53
AM ET
PLYMOUTH, Mass. – Silver Lake came rolling into Plymouth with wins against Coyle-Cassidy and New Bedford to start the season. In those wins, the Lakers had put on offensive shows, led by quarterback Mitch Graziano and his cache of weapons.
In Friday night's tilt with Plymouth North, the Lakers offense did nothing to resemble the robust machinery they displayed in the first two games.
Instead, the Eagles dominated the Lakers' attack.
[+] Enlarge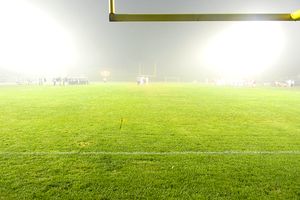 Scott Barboza/ESPNBoston.comA thick fog settled over Plymouth South High on Friday night, when Plymouth North beat Silver Lake, 23-6.
Silver Lake didn't earn a first down until six minutes remained. The Lakers' offensive numbers weren't pretty either. Through the first half, Silver Lake had more than double the penalty yardage (35 yards) as it did combined offensive yards (14).
The sum was a 23-6 Plymouth North victory in a dense fog.
"The whole defense was phenomenal," Eagles head coach Dwayne Follette said. "I thought it was a great team effort against a quality opponent."
Follette credited defensive assistants Carl Freyermuth and Joe DeSisto for drawing up an effective defensive scheme.
There were plenty of kudos to hand out across the defense. Senior linebacker Adam Cuomo drew the task of covering Lakers 6-foot-4, 215-pound tight end Gavin Doherty in man coverage, with no help over the top. Doherty, usually a frequent target of Graziano's passes, was held without a catch.
But it all started up front for the Eagles (2-1).
Defensive lineman John Dee contributed a sack of Graziano on the Lakers' first offensive drive on third down, forcing a three-and-out and setting the tone for the rest of the game. Defensive end Mike Cahill also added a sack in the second half.
"The difference was what they did up front," Lakers head coach Dana Battista said. "They dominated the offensive line and they were more physical than we were."
Plymouth North divvied up the offense in its backfield. Junior running back Bobby Savoia contributed what quarterback Cody Merritt called "a break-out game" with seven carries for 89 yards and two touchdowns.
"Bobby [Savoia] stepped up huge," Merritt said. "He just keeps getting better and better as the weeks have gone on and he really came through tonight."
Merritt led the Eagles' rushing attack with 15 carries for 98 yards. Zach Zaniboni tallied 46 yards on the ground on five carries, including a 3-yard touchdown run in the first quarter that accounted for Plymouth North's 7-0 halftime lead.
The Eagles easily could have been 3-0 now — had it not been for a fumble on a two-point conversion play during last week's 16-12 loss to Duxbury. But the effort in a rather convincing win over Silver Lake (2-1) wasn't lost on their coach — at least for a little while.
"I thought our offensive execution was good overall," Follette said, "and we really played well defensively. But we have a very tough schedule and, like last week, we'll have to put this one behind us, too. There are no let-downs."