Boston High School:

Bonzie Colson
October, 7, 2013
Oct 7
12:18
PM ET
St. Andrew's (R.I.) senior power forward
Bonzie Colson Jr.
verbally committed to Notre Dame this morning at an all-school meeting, per ESPN recruiting analyst Adam Finkelstein.
The 6-foot-5 Colson, a New Bedford resident, is a four-star recruit and the No. 25 overall power forward in the 2014 class according to ESPNU. He chose the Fighting Irish over a slew of offers, including Pitt, Miami, UConn, Florida State, Georgetown, Minnesota, Temple and Rhode Island (where his father, Bonzie Sr., starred in the late 1980's).
"It was just the right fit for me on and off the court," Colson told Finkelstein. "They have a history of having had great undersized four-men and they know how to use them throughout the game."
Finkelstein has more on Colson's commitment, and how he fits at Notre Dame, on the RecruitingNation blog
HERE (Insider only).
August, 1, 2013
Aug 1
6:29
PM ET
By
Chris Bradley
| ESPNBoston.com
The July live period has come to a close, as some of New England's top AAU programs spent the majority of the month traveling all around the country to tournaments in Florida, Las Vegas, South Carolina, Springfield, Mass., Atlantic City, and Philadelphia.

With the AAU season over and the start of players' high school seasons just a few months away, we break down New England's top stories following the July live recruiting period:

Auger back in top shape: When Mike Auger trucked through an opposing player for a loose ball in one of Mass Rivals' opening games at the Hoop Group Summer Jamfest, it was a side of his game that Rivals coach Vin Pastore hadn't seen on a consistent basis in a couple of years. He was taken aback.

"Incidental contact," Pastore laughed. "He just kept going. It was like a football play."

Auger, a 6-foot-6 bruiser of a forward who will be a senior leader for New Hampton this season, has had a tough run the past couple years after suffering from multiple shoulder injuries. He tore his labrum at the beginning of his sophomore season at Hopkinton (N.H.) High, and aggravated the injury two years later after he had gone to New Hampton and reclassified.

After multiple shoulder surgeries, hundreds of hours in the weight room or at physical therapy, Auger finally looked to be completely recovered this summer as the Rivals' most consistent offensive producer in the post.

"I don't think he was in complete confidence before, especially with how hard he plays, how physical he was, he always played 100%...that's his game," Pastore said. "In the initial part of recovery he didn't have the confidence to play the game the only way he knew how to."

Auger is back, and college coaches have taken notice this summer. He now has scholarship offers from Fairfield, Vermont, New Hampshire, Holy Cross, Dartmouth, Binghamton, Quinnipiac, Loyola, and Stony Brook. In an age where most forwards would rather step out on the perimeter than do the "dirty work" inside, true post players come at a premium. Back to his old ways, college coaches are lining up for Auger's services.

"Kids that are 6-6...Everybody wants to run to the three point line," Pastore said. "What makes him so good is that he would start inside, then move out and make some threes. Nobody wants to start in and go out."

"Every program needs a kid like Mike who rebounds, attacks, beats people up around the rim; he physically beats you up. And he likes doing that stuff. He's a reckless abandon."

St. Andrews' Colson carries BABC offense: It wasn't long ago that St. Andrew's (R.I.) senior Bonzie Colson, a 6-foot-4-1/2 forward with several scholarship offers from high-level programs, was a complete unknown on the national stage.

He certainly didn't earn his now-nationally known name overnight. An undersized power forward who lacks the elite athleticism that most coaches at major conference schools look for, it took years of efficient production for Colson to prove himself.

"So many coaches go by the criteria and a certain size," said BABC coach Leo Papile. "He doesn't fit consensus with that. But, he's shown to have repeated success statistically in terms of field goal percentage throughout a season."

Colson led St. Andrew's, the No. 8 seed of the NEPSAC AA tournament, to a surprise run all the way to the tournament finals last year, where they eventually lost a heartbreaker via a buzzer-beater by Cushing's Jalen Adams. Colson built a niche for himself as a scorer over the course of the season, and as a result, his team was playing their best basketball in the playoffs.

On the AAU circuit this summer, he flourished for BABC playing on the Nike EYBL circuit, finishing in the top 15 in the league in scoring at just over 18 points per game.

"He's always been really crafty, he has a lot of scoring value. It's a unique skillset in terms of productivity in the amount of time he touches the ball. He's one-dimensional in a good way, he's very, very crafty," Papile said.

He continued, "The past couple years he has done it on a national stage, and attracted attention from high major conference schools. He's an undersized power forward by today's standards, but he has an extraordinarily long standing reach."

Papile said that from talking to Colson and his family, the St. Andrew's star is learning towards taking official visits to Miami, Florida State, Notre Dame, and Pittsburgh -- though those aren't set in stone yet. He also has scholarship offers from Seton Hall, Iowa State, Rhode Island, and George Washington.

Expressions grooming young talent: Expressions Elite, after qualifying for the Nike Peach Jam earlier this month, continued their impressive summer with a championship at the Hoop Group Summer Jamfest, a loaded tournament that featured several of the nation's best club teams.

Jared Terrell, Aaron Falzon, Cane Broome, and Abdul-Malik Abu all had a hand in carrying the team to the championship game, but Expressions coach Ty Boswell made quite a statement by starting freshmen Jermaine Samuels and Kimani Lawrence in the finals against Montreal-based Brookwood Bounce Elite.

The freshman duo, whom Boswell purposely put in a hotel room with senior leaders Terrell and Idris Taqqee, used the experience to gain knowledge from their superiors.

"Jared and Idris really took them under their wing; breaking down plays, making sure they understood getting good shots. [Samuels and Lawrence] asked them a million questions, and every single one got answered," Boswell said.

Samuels, a fearless competitor, came into the game and immediately started attacking offensively. His mindset thoroughly impressed his coach.

"There was no fear that he didn't belong," Boswell said, "When I finally took him out, he had that look like 'why am I coming out?' He wanted to prove he belonged, and he showed that."

Lawrence, a Providence native, made his presence felt right away with his great decision making and understanding of the team's offensive game. He will enroll and join Taqqee at Cushing Academy -- the defending NEPSAC Class AA champs -- while Samuels will attend The Rivers School in Weston.

Rising sophomores Donovan Love, another Providence product who will attend New Hampton, and Ikenna Ndugba -- who is at Brooks School and attended the Nike Elite 100 earlier in the summer -- are two other young players who are a part of Expressions' supremely talented young group.

Small-town star leads the Playaz: Tyler Lydon wasn't quite sure what to expect leading up to Basketbull's Hall of Fame National Invitational. Having switched AAU teams from Albany City Rocks to the New England Playaz, he had only met his new Playaz teammates once, at a practice the day before the tournament.

"I hadn't met any of those kids. There was a lot of uncertainty, I had no idea how the guys played. I just figured I would go in there and wing it and hope for the best," Lydon said.

Lydon and his teammates hoped for the best, and that's exactly what they got—as he, alongside Jarred Reuter, Aaron Calixte, and Crew Ainge, lead the Playaz to the 17U championship in Springfield. In the set of showcase games on the opening night, the Playaz suffered a close loss to Hunting Park (Penn.), but recovered well following their initial loss.

"It was the intensity; we came out that game kind of slow. Going into the rest of the games, that was a reality check for us," he said.

The rising junior forward comes to New England from Pine Plains, N.Y., a tiny town of 2500 people that rests about an hour north of Poughkeepsie. Last season he led Pine Falls to the New York Division 3 state championship game. This fall, he'll go play for Pete Hutchins at New Hampton.

"My parents and I decided it was the best decision for me," the 6-foot-8 point forward said. "I'll be able to play against the great competition in the league…and the academics are great."

He'll be expected to step in and contribute right away for the Huskies, who will have a major hole to fill after graduating McDonald's All-American Noah Vonleh. Iowa State coach Fred Hoiberg, along with assistants from Providence, Virginia Tech, and others, all watched him in Springfield. Following his return from the Adidas Super 64, he has picked up offers from Florida, Clemson, and Virginia.

New Mission guard primed for big season: Going into July, Boston Warriors coach Cory McCarthy needed a point guard.

McCarthy, who is also the head coach at New Mission during the winter season, looked no further than Shaquan Murray, a skilled senior who plays for McCarthy at New Mission and has proven himself as one of the top scorers in the MIAA.

Murray, who at 6-foot has long arms and an arsenal of offensive moves, stepped in and became the floor leader for the Warriors.

Alongside Lawrence Academy's Kyle Howes and Kimball Union guard Duby Maduegbunam, the Warriors made it all the way to the elite eight of the AAU Super Showcase Silver, where they eventually lost to city power BABC.

The New Mission guard had a slew of 20-point games over the course of the Warriors' run, taking advantage of the opportunity given to him by his coach.

"He's learned how to score how to score in every possible way," McCarthy said. "Runner, floater, threes off the catch and off the dribble. When guards attack the rim like that against that kind of competition…they're going to attract attention."

In leading the Warriors to an 11-4 record in the July live period, Murray has drawn serious attention from several Division 2 schools—including Post University and Bridgeport University, in addition to many different local Division 3 programs.

A good student who boasts a 3.3 GPA and wants to study engineering, Murray is still in the process of formulating college plans. In the winter, he'll be the go-to scorer on a New Mission squad that will again be amongst the most talented in the state.

"He's one of the best kids I've coached in terms of character," McCarthy said. "He performed so well all summer against great competition. His confidence is at an all-time high."
July, 24, 2013
Jul 24
1:06
PM ET
The Boston Amateur Basketball Club (BABC) will be playing the Howard Pulley Panthers (Minn.) tonight on ESPNU at 7 p.m., as part of the AAU 11th Grade Gold Super Showcase in Orlando.
The Minneapolis-based Howard Pulley club holds some of the nation's top talent in the Class of 2014, including point guard Tyus Jones (No. 3 overall in ESPN 100), power forward Reid Travis (No. 40 in ESPN 100) and point guard Jarvis Johnson (No. 55 in ESPN Super 60). That should make for an interesting matchup against some of the BABC's top stars, including St. Andrew's (R.I.) forward Bonzie Colson, Central Catholic guard Tyler Nelson, and last season's ESPN Boston Mr. Basketball, Malik James.
In an entry today on RecruitingNation, senior analyst Paul Biancardi highlighted Jones, Travis, Colson and Mann as players to watch in the Super Showcase. To read the full article,
CLICK HERE (Insider only)
PF Bonzie Colson Jr. (New Bedford, Mass./St. Andrew's)
Unranked in the ESPN 100
Uncommitted
AAU team: BABC
Colson is an undersized 4-man who overcomes his height with a ridiculous 6-foot-11 wingspan. He effectively uses those long arms to do work in the paint, on the glass, blocking shots and finishing offensive put-backs. Colson is a garbage guy and glue guy and one of the most consistent players in the 2014 class when it comes to effort and rebounding. He can also guard the low post thanks to his wingspan and frame. When you combine all of those factors, it's easy to see why his stock is rising this summer.

PG Tyus Jones (Apple Valley, Minn./Apple Valley)
No. 3 in the ESPN 100
Uncommitted
AAU team: Howard Pulley
It's easy to see why Jones is the nation's No. 1 point guard, as his playmaking makes the game easy for his teammates. His vision and passing are extraordinary and his pinpoint passes usually result in an assist. He has a lot of Chris Paul in his game because he can beat you either with his scoring or with the pass. Much of Jones' scoring comes from his floater and 3-point shot, and he also executes the pick-and-roll at a high level. He understands how to attack and create separation or stop behind the arc and shoot the 3.

SG/SF Terance Mann (Lowell, Mass./Tilton School)
No. 41 in the ESPN 60
Uncommitted
AAU team: BABC
At 6-5 and 175 pounds, Mann has the ideal body to play the 3 and the size, length and athleticism to cover ground on the defensive end. As for his offensive tools, he does everything well but makes his living attacking the rim. He has a good basketball IQ for a young prospect, and playing for a battle-tested program like BABC strengthens his chances of reaching his full potential.

PF Reid Travis (Minneapolis/De La Salle)
No. 40 in the ESPN 100
Uncommitted
AU team: Howard Pulley
This power forward loves contact and thrives on playing through it. He's a dangerous offensive player for two reasons: He can score in the low post with his strength and physicality and he can make post moves to get buckets in the paint. Reid is crafty with the ball in his hands operating in the midrange area, whether it's hitting the elbow jumper or driving to the cup with bodies draped all over him. With his bruising style of play, you can expect to see him frequent the foul line and make his mark on the glass.
May, 8, 2013
May 8
5:43
PM ET
By
Chris Bradley
| ESPNBoston.com
Several local star players are making headlines on the Nike Elite Youth Basketball League circuit this spring, playing for regular power BABC or strong newcomer Expressions Elite. Of the 40 talented teams coast-to-coast who play on the highly-competitive EYBL circuit, Boston Amateur Basketball Club (BABC) and Expressions, both based out of Boston, are two of the best teams in the field—at 8-1 and 9-0, respectively.

Expressions is one of two undefeated teams left in the entire field, including a win over the defending EYBL champ Oakland Soldiers. Behind a high-octane offensive attack -- led by juniors Abdul-Malik Abu and Jared Terrell, and sophomores Aaron Falzon and Jared Wilson-Frame -- Expressions has been one of the teams taking the event by storm. They've overpowered some of the top club teams in the country, and done so with players who are hungry college prospects with something to prove.

Abu has led the attack from the beginning. A chiseled 6-foot-8 forward with warrior strength and elite bounce, he has, on more than one occasion this spring, "posterized" opposing defenders via his high-flying dunks.

Head coach Tyron Boswell admits the undefeated start didn't cross his mind at the beginning, but he isn't surprised at the outcome given the work his players have put in.

"Honestly, I did expect us to do well, not undefeated, but we were prepared for it," Boswell said. "Guys got in the gym over summer and winter break, they work out three times a week. We've prepared to be successful."

Abu and Terrell are well-known commodities on the AAU circuit, with Abu breaking out last summer as one of the best forwards in the entire 2014 class. Terrell, who fractured his foot in two places last fall and struggled with the injury at times over the course of the prep season, looks healthy and is re-emerging as one of the nation's best power guards.

Falzon and Wilson-Frame, who going into the season were lesser-known prospects, are just scratching the surface of their potential, says Boswell.

"Jared [Wilson-Frame] is a big part of what we're doing," Boswell said. "He's a great kid, he embodies what we're all about: taking kids who are unknown and showcase them, help them get what they deserve. He's brought what we need to do to win…an unselfish kid who holds our guys accountable."

For BABC head coach Leo Papile, whose program has won 17 AAU national championships, the strong run at EYBL has been all about selfless play and full-court pressure defense. Led in scoring by St. Andrew's junior forward Bonzie Colson and Central Catholic junior sharpshooter Tyler Nelson, BABC is out to an 8-1 start. Sophomore point guard Johnny Joseph, a Brockton product who preps at Tilton (N.H.), is fifth in the EYBL in assists. To his credit, Joseph was absent from BABC's only loss, a one point loss that he had to miss due to an academic obligation.

Nelson, who is an impressive 27-for-52 (51 percent) from three point range, along with Colson, Joseph and Wilbraham & Monson sophomore guard Curtis Cobb, have been the top players for BABC in terms of leadership and production. However, rising star Terrance Mann, a long 6-foot-5 wing player from Lowell, has already become one of New England's most promising prospects. The Tilton (N.H.) sophomore picked up scholarship offers recently from Florida and Iowa State.

Mann, after receiving the offer from the Gators, said in an interview with ESPNBoston.com that he learned a lot this past prep school season from AAU and prep teammate Wayne Selden -- who on many occasions carried Tilton to wins following the graduation last year of Dominique Bull, Nerlens Noel, and Georges Niang.

"I learned a lot, seeing Wayne take over as much as he did," Mann said. "He was the man who had to take over, that's a hard role to pick up. He's in the gym every day. Having a work ethic like he does, by the time next year comes around, I think I'll be ready to be a go-to [scorer]."

Teammates at Tilton, the 5-foot-8 Joseph may not have Mann's height, but Papile says he has been making up for it with his defensive tenacity and tremendous floor vision.

"Bonzie and Tyler are the veterans from last year's team, but Jon, he's the quarterback. He's going to have to erase a lot of doubts, and he's in the process of doing it," Papile said. "He's a little guy, and sometimes people have pre-conceived notions. He doesn't need to score for us to be successful."

A lot of the scoring has gone to Colson, he's one of the EYBL's top scorers at 18.3 points per game. Well-known on the New England grassroots and prep school circuit already, Colson is quickly making himself a nationally-known prospect.

Papile's teams as of late have included ESPN 100 prospects like Phil Pressey, Michael Carter-Williams, Niang, Noel, and Selden. For what this year's team lacks in nationally-known blue-chip prospects, they make up for with defense, accountability, and offensive efficiency. A team's best offense is its defense—a saying Papile has engraved into his players heads.

The defensive tenacity is something that role players like super-athletic Notre Dame Prep sophomore guard Tyree Robinson, Brighton guard Malik James, and Noble & Greenough sophomore forward Bobby Martin Jr. —- whom Papile says constantly makes "winning plays," -- have taken to heart.

"Guys are battle-tested in terms of what we expect from them…they embody our definition of character," Papile said. "They can't be a group of strangers with various missions, we try to weed all that out in ninth or tenth grade before they step up. Reaction to structure and being coached is key, it's a recipe for disaster if you don't have that structure.

"We really value having five thinkers on the floor at all times. There's a big correlation between basketball IQ and real life IQ."

Seeing his team develop as a unit is also an aspect that Boswell has enjoyed with his Expressions squad. While the majority of the players on the team had never played together before this spring, the coach says something about the personality of his team has made things click. He credits guys like Dimitri Floras and Idris Taqqee with bringing the type of scrappy play needed to compliment Expressions' many scorers.

"You would think that these guys knew each other prior to, but in all actuality every piece was hand-picked," Boswell said. "The togetherness they have...they're just so unselfish. I've never seen a basketball move so much in one possession."

BABC and Expressions Elite will travel to Dallas this weekend for the third round of Nike EYBL. The well-known Boston AAU squads will meet for the first time at session four of EYBL in Minneapolis, Minn., on May 24.
March, 21, 2013
Mar 21
1:05
PM ET
Rockland senior Tyler Gibson was named this year's Gatorade Player of the Year for the state of Massachusetts. Here are the winners from the five other New England states:

RHODE ISLAND: BONZIE COLSON, ST. ANDREW'S
The 6-foot-6, 225-pound junior forward averaged 16.8 points, 9.8 rebounds, 3.5 blocks and 1.2 assists per game this past season, leading the Saints (24-9) to the New England Prep School Athletic Council (NEPSAC) Class AA tournament championship game. A First Team All-NEPSAC Class AA selection, Colson averaged 14.7 points and 15.0 rebounds per game in the NEPSAC Class AA tournament as the eighth-seeded Saints reached the final, where they lost to Cushing Academy by one point on a 40-foot buzzer-beater.

Colson has maintained a B average in the classroom. A member of the St. Andrew's School chorus, he has volunteered locally as a youth basketball coach and referee.

"Selfless, efficient, composed, simple -— that describes Bonzie Colson," said Jesse Bopp, head coach of Vermont Academy. "He is at the core of their success. He scores around the basket, rebounds, makes free throws and guards. He is as efficient of a player as we played against all year."

Colson will begin his senior year of high school this fall.

CONNECTICUT: KURT STEIDL, RIDGEFIELD

The 6-foot-6, 185-pound senior shooting guard averaged 24.9 points, 9.5 rebounds, four assists, and four steals while shooting 82 percent from the free throw line this past season, leading the Tigers (18-6) to the Class LL quarterfinals. A 2013 Connecticut High School Coaches Association All-Star selection, Steidl scored 31 points and pulled down 16 rebounds in a 63-57 win over New Britain in the second round of the state tournament.

Steidl has maintained a 3.68 GPA in the classroom. A devoted parishioner in his church community, he has volunteered locally assisting the elderly and on behalf of the Boys and Girls Club of Ridgefield.

"Kurt Steidl was absolutely one of the best kids we faced this year," said Tom Hunt, head coach at Woodland Regional High. "He averaged a double-double per game while playing in a very tough conference. Every time I saw him, he was terrific."

Steidl has signed a National Letter of Intent to play basketball on an athletic scholarship at the University of Vermont this fall.

NEW HAMPSHIRE: ERIC GENDRON, MERRIMACK
The 6-foot-3, 170-pound junior guard averaged 19.7 points, eight rebounds, four assists, three steals and two blocks this past season, leading the Tomahawks (13-6) to the Division I state tournament. New Hampshire's Mr. Basketball in 2013, Gendron scored 14 points to help hand eventual Division I state champion Trinity High its only loss of the season in a 60-56 regular-season win.

Gendron has maintained a 3.86 GPA in the classroom. He has volunteered locally on behalf of the Leo Club and as a basketball coach with the Merrimack Youth Association.

"Eric Gendron has been such a huge part of all the success we had this season," said Merrimack High head coach Tim Goodridge. "He has become a true leader on and off the court and he also happens to be one of the nicest kids I have ever coached."

Gendron will begin his senior year of high school this fall.

MAINE: GARET BEAL, JONESPORT-BEALS
The 6-foot-5, 210-pound senior wing averaged 33.8 points, 10.9 rebounds, 5.5 assists, 2.5 steals and 1.5 blocks per game this past season, leading the Royals (18-1) to a berth in the Class D state tournament. The state's returning Gatorade Boys Basketball Player of the Year, Beal shot 60 percent from the field, 48 percent from 3-point range and 79 percent from the free throw line. Also awarded Mr. Basketball as named by the Maine Association of Basketball Coaches, he carried Jonesport-Beals to the 2012 Class D state championship as a junior, averaging 22.3 points, 8.7 rebounds, 3.8 steals, 3.6 assists and 1.6 blocks.

Beal has maintained an A-minus average in the classroom and serves as a member of his school's student council. In addition to donating his time on behalf of the National Honor Society, he has volunteered as a positive mentor to elementary school students and as part of both community fundraisers and cleanup efforts.

"As an opposing coach, our game plan always focused on how to handle Garet before and after he received the ball," said Glenn Billings, head coach of rival Deer Isle-Stonington High. "Garet has the ability to pull up and hit the open jumper if you play off him, drive by you if you play up tight and pass to a open player if you double him. He sees the floor and reads the defender as well as any one we have played against, and his willingness to use all of his teammates is what has made him so tough to defend. He is also an excellent defender, taking away the other team's best offensive threat in many games. I believe he is one of the best high school basketball players we have seen in our state."

Beal has signed a National Letter of Intent to play basketball on scholarship at the University of Maine this fall.

VERMONT: MATT ST. AMOUR, MISSIQUOI VALLEY UNION
The 6-foot-3, 180-pound senior guard averaged 30.7 points, 11.9 rebounds, 5.7 assists and 3.4 steals per game this past season, leading the Thunderbirds (13-9) to the Division I quarterfinals. The state's returning Gatorade Boys Basketball Player of the Year, St. Amour was also named the Burlington Free Press and Vermont Basketball Coaches Association Player of the Year as a junior. He finished his prep career with 2,064 points, third in state history.

St. Amour has maintained a 4.13 GPA in the classroom. Also a soccer standout, he has volunteered locally on behalf of youth sports programs, blood-donation drives and the American Cancer Society's Relay for Life.

"St. Amour plays within himself and really understands the game," said Peter Quinn, head coach at Vergennes High. "He's a tremendous shooter who knows how to put the ball in the basket."

St. Amour remains undecided upon a collegiate destination.
March, 4, 2013
Mar 4
1:14
AM ET
By
Chris Bradley
| ESPNBoston.com
BEVERLY, Mass. -— It was a day firsts, of clutch performances by star players, and of tears induced by heartbreaking losses and emotional victories. NEPSAC championship Sunday at Endicott College was everything to be expected—and much, much more.

Champions were crowned in the AAA, AA and A classes Sunday afternoon at Endicott, with no shortage of action:

Cushing wins on a buzzer-beater: St. Andrew's seemed to have completed the upset, but Jalen Adams simply couldn't let that happen.

Heaving up a jumpshot from just over halfcourt with no time left on the regulation clock, Adams banked the shot in from off the glass, giving Cushing the 61-60 victory. It was just another on the list of feats that the sophomore guard has accomplished already over the course of his young career.

"But I've never hit a buzzer-beater before," he said with an ear-to-ear grin. "When I shot it, I honestly didn't think it was going to go in."

It wouldn't be the first time Adams, who was awarded Most Valuable Player, hit a halfcourt shot, though. In practice Cushing practices a drill where they take shots from different spots on the floor—one of those spots, of course, is from the halfcourt line.

"Jalen Adams has hit more halfcourt shots just goofing around in a team game, than anyone I've ever seen," Cushing coach Barry Connors said. "Was it a wing and a prayer? No question. But hey, I'll tell you what, he made the shot."

St. Andrew's trailed 33-28 at halftime, but came out on an absolute tear in the second half—beginning the half on an 8-0 run that gave them their first lead of the game with fourteen minutes to go. Cushing's forward Andrew Chrabascz, a Butler signee, picked up his fourth foul with still ten minutes to go in the game. Connors put Chrabascz back in a few minutes later, and with his help, Cushing managed to diminish their deficit.

"I can save Andrew, or you go with what you've got, you go with who got you there," Connors said. "The interesting thing about Andrew is: yeah he had four fouls. On the fourth one, he made a bonehead play, but Andrew's very, very smart. If anybody can play with four fouls, it's Andrew Chrabascz."

Down eleven points with three minutes left in the game, the Penguins rode Adams and Chrabascz to the win. Adams hit a tough jumper to bring the game within six with under two minutes to go. Adams fed Chrabascz with six seconds left in the game, and Chrabascz finished a tough lay-up inside to bring Cushing to within 60-58. Cushing fouled immediately, and following a missed free throw by Bonzie Colson (16 points, 8 rebounds), Adams took the ball to halfcourt and won the game.

"If I was going to lose this game, I was going to lose with my five best guys on the floor," Connors said.

Historic first for Exeter: For the first time in school history, Phillips Exeter captured the Class A crown, knocking off Choate Rosemary Hall 58-47 in the opening game of the day. Exeter's remarkable 25-1 season has been a long journey, one that started last June when the players on the predominantly-postgrad squad met for the first time on the front steps of Exeter's gym. A group of players who, for the most part had never met before, quickly realized that they all had a lot in common.

"We had guys who had just met for the first time -- we talked about our individual goals, and we realized we were all at Exeter for our own personal agendas," Exeter coach Jay Tilton said. "Because why else would you come here as a postgrad if you didn't have them?"

Thanks in part to strong leadership by captains Harry Rafferty (Wesleyan College) and Chris Braley (Stony Brook), a culture of change was started at Exeter—a culture that quickly became contagious to the rest of the team. Good friends off the court, Rafferty and Braley, who along with Duncan Robinson played AAU together for Middlesex Magic, brought Exeter a mixed blend of leadership by toughness, and leadership by example.

Braley, a soft-spoken workhorse known for his incredible work ethic, set an example for the rest of the team of how to compose themselves, while Rafferty, a scrappy 'in your face' type of point guard, was the quarterback.

"Chris demands so much respect because of his work ethic and his integrity, he's not a real emotional guy or anything like that...He just does it," Tilton said. "With Harry, he's the guy who's going to run the show from day one. He's the most caring kid, and the best communicator I've ever coached.

Tilton added, with a laugh, "He's about the only one out there who's not afraid of Braley."

Six-foot-7 forward Robinson, the tournament MVP, put on what may have been the most impressive individual performance of the tournament, finishing with 24 points and 11 rebounds and playing as close to a perfect game as one possibly can -— knocking down five 3-pointers and shooting 9-for-9 from the field. Robinson's show was the cherry on top of an unprecedented season by Exeter, who earlier in the day met on the front steps of their gym to discuss their goals one last time before departing for the championship game.

"We just kind of knew we had already reached that. That's why I'm so proud of this group of kids. This group will hold a special place in Exeter history," Tilton said.

Tilton admitted it is also a team that will hold a special place in his own memory, too. The teary-eyed veteran coach embraced each one of his players after the game, including his star forward.

"He said he loved me, and I said it right back, he's done so much for all of us, myself included," Robinson said, "To do that for him -- I know he wanted it very, very badly. He's the hardest-working coach I've ever played for. He loves his players and cares about each and every one of us. It was only right that we did it for him."

Exeter's tremendous defensive effort held a very good shooting Choate team to just 4-15 from behind the three-point line. Future Wisconsin guard Jordan Hill was the catalyst; with long arms, a hard-nosed defensive mentality, and quick feet, Hill constantly harassed Choate guards Colin Richey (10 points) and Pete Weston (15 points).

"It starts with Jordan," Tilton pointed out, "every second of the game he has a high motor, he doesn't take unnecessary chances. To play that hard on the ball—he starts it, and we have great commitment off the ball helping him. It's something we've been committed to from day one."

Brewster takes AAA title in a thriller: Martez Harrison was one of the top scorers in the nation last year, averaging 35 points per game at University Academy Charter in Missouri. On Sunday in the Class AAA championship game though, he showed his complete ability to play the point guard position—leading Brewster to a thrilling 77-75 victory.

"Martez is the kid on our team who definitely has the biggest heart, he's a true leader," Brewster coach Jason Smith said. "The growth and improvement from a point guard's perspective from September until now has been phenomenal. He's not really in the limelight, but we don't win without him controlling the tempo, making good decisions, and making the right plays."

Harrison, who finished with 14 points, shared the spotlight with future West Virginia forward Elijah Macon -- who was fresh off a heroic performance against Northfield Mount Hermon on Friday night. Finishing with 15 points and 12 rebounds in the finals, Macon, Brewster's sixth-man, took home tournament MVP.

"[At the] beginning of the year...Elijah knew we were having a difficult time with whether we should play all three of the bigs together," Smith said.n "Or who was going to come off the bench. Elijah was the one who volunteered, he's very mature for an 18 year old kid."

Macon and N.C. State-bound forward Kyle Washington each picked up their fourth foul about midway through the second half, but Smith said the foul trouble did little to hinder his team in terms of gameplanning and substitutions.

"We were going to play Elijah his normal rotation of four and a half minutes," Smith said. "It just worked out well, Kyle picked up his fourth foul initially, and the substitution pattern worked out perfectly. Four fouls never really even came into play, it was just subbing in four minute intervals when needed."

Gabe Levin and Marquise Moore each had 20 points for St. Thomas More, who was the top seed in the tournament thanks to very strong guard play and great preparation from long-time coach Jere Quinn.

"Anytime that you can beat a Jere Quinn coached-teams in the finals, it's something that you have to work very hard for," Smith said. "His teams are always very well-prepared, they don't beat themselves, they don't make mistakes. We could have caved in when we were down, but we persevered, we got stops when we needed to and we found a way."
July, 20, 2012
7/20/12
3:20
PM ET
A year ago, the Boston Amateur Basketball Club (BABC) rolled into the 10th grade AAU Nationals in Orlando, Fla., as arguably one of the nation's most talented squads, led by the country's No. 1 player Nerlens Noel, rolling over some of the country's elite team with ease.
This week, the BABC came to Orlando in defense of their title with a team just as long on fun, albeit in an entirely different manner. With a roster of just eight, none of whom currently ranked by ESPN, the club clawed their way through pool play to reach the Final Four, taking out some of the tournament's heaviest hitters in the process.
[+] Enlarge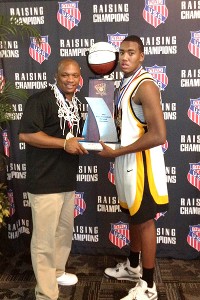 Courtesy of BABCBABC coach Eggie McRae (left) lauded the play of Bonzie Colson (right), calling him "a master" on the blocks.
In the semifinals, the BABC found themselves down eight in the fourth quarter to the Albany City Rocks (N.Y.), only to squeak out a 67-63 overtime win. In the finals, televised on ESPN3, the club carried momentum from Jonathan Joseph's game-tying shot in regulation to outlast Team Charlotte (N.C.), 61-55, for their third consecutive AAU 10th grade national championship, and the program's 17th national title overall.
"It was unreal," head coach Eggie McRae said. "These guys played unbelievable in this stretch run. We only had eight guys so we were kinda undermanned, but eveyrone played their roles to a T."
For 6-foot-6 forward Bonzie Colson, a New Bedford native and by all accounts the star of this run, that included manning the post. The semifinal was his masterstroke, coming up with 23 points and 21 rebounds, positioning himself deep in the post and working over his defender with an array of shakes, fall-aways, and step-through's.
In the finals, Colson again came through in the overtime, helping give the BABC the cushion it needed in the end.
"He's like a master down there, really honing in his skills on the block," McRae said of Colson, who will enter his junior year at St. Andrew's (R.I.) School this fall. "He's just got a great feel for the block area."
That's not all. To get to the Final Four, the BABC had to go through arguably the longest team in the field, the Orlando Venom. Against a frontcourt featuring a 6-foot-10 center and two 6-foot-8 forwards, Colson went on the offensive, utilizing pump-fakes and jumpers to keep them honest.
Colson's strategy in the finals was more of the same.
"Just be patient," he said. "As soon as I get the ball, relax a little bit, see if anybody's trying to double, do a drop-step to the basket, and if I have to tourn around, I had two great guards in Tyler Nelson or Jon joseph that I know can hit the shot."
Indeed the attention on Colson opened up the floor for players like Nelson, who hit two crucial three's down the stretch of the championship.
"Bonzie was a mismatch for both teams," Nelson said of the final two games. "In both of those overtimes, he took over."
For Colson, who was also on the BABC's ninth grade national championship team last year, this figures to be a trigger point in his recruiting. Seton Hall extended a scholarship offer to Colson following yesterday's win; Boston University and Rhode Island have also offered to this point.
And for Nelson, an ESPN Boston MIAA All-State selection this past season at Central Catholic, this is the culmination of a year-long learning experience. One of the state's premier shooters, the Haverhill resident joined the BABC last fall and feels he has improved on the defensive end.
McRae concurred.
"He's starting to buy in," McRae said. "Sometimes when you play high school ball you can get away with playing no defense. But that's what we get a lot of our points off of here -- defense, moving the feet, getting in the passing lanes. He played a lot for us, and to do that you've got to play good defense."
Also factoring into the championship run were Nick Cambio (Central Catholic), Curtis Cobb (Wilbraham & Monson), Bobby Ahearn (Marianapolis), Tyree Robinson (Notre Dame Prep) and Jerelle Washington (Providence Central).
July, 24, 2011
7/24/11
4:29
PM ET
Hampered by injuries to two key cogs, and already playing with a short bench, the Boston Amateur Basketball Club's 15-year-olds were able to persevere their way into the finals of the AAU Super Showcase, at Disney's Wide World of Sports Complex in Lake Buena Vista, Fla.
After making it to the Sweet Sixteen of the tournament, the BABC knocked off Dorian's Pride (Mich.), Florida Family and Team United (N.C.), before losing to D.C. power Team Takeover in the championship, 61-54.
Boston native Wayne Selden, the No. 7 overall Class of 2014 player, grabbed his share of attention as usual with a team-high 22 points -- "He ran it," coach Eggie McRae said -- while Bonzie Colson (12 points) and Damion Smith (11 points, nine rebounds) were solid contributors. But once again, point guard and Brockton native Jonathan Joseph (eight points, eight assists) was the unsung hero throughout the tournament.
"He ran the show," McRae said of Joseph, who is transferring from Brockton High to Putnam Science Academy (Conn.) and re-classifying to 2015. "Shoot, we had 8 games, and he might have came out a total of 10 minutes. He was like a maestro. He could do no wrong, he was maybe an 8 to 1 assist-to-turnover ratio for the week."
Early on in the tournament, the BABC lost Tyree Robinson and Joey O'Connell to injuries, forcing them to use sometimes as few as six players in games. But just like
in Little Rock earlier this month
, they were able to weather the storm.
"These players got big hearts," McRae said. "We don't get there without heart."
July, 9, 2011
7/09/11
9:20
PM ET
After
strong showing at the LeBron James Skills Academy this week
at the University of Akron, Wayne Selden found himself sitting in his hotel room Friday night wondering how he was going to get down to Little Rock, Ark. today to join his Boston Amateur Basketball Club in the AAU Ninth Grade Championship.
Not sure of what time his flight was to leave, the Roxbury resident decided to give it the ol' college try and pull an all-nighter. He left for the airport today at 3:30 a.m., flew out at 7 and caught "maybe an hour" of sleep on the plane (thanks to a connector flight in Atlanta) before touching down in Little Rock at 11 a.m. and heading straight to the gym at Phillander Smith College to join his team.
Regrettable decision? Selden said at first he "felt nothing", but about three minutes into the championship game with the Louisiana-based Ascension Jaguars, "I didn't have my legs, I was exhausted."
[+] Enlarge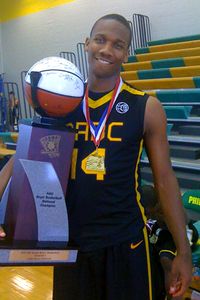 Jason Green for ESPN.comAfter pulling an all-nighter and playing with LeBron, Wayne Selden led the BABC to an AAU national championship.
Ultimately, the 6-foot-4 Selden persevered to lead the club with 20 points and chipped in five assists to lead the BABC to a 78-66 win and the national championship.
"I knew I had to be with the team," Selden said. "They worked so hard to get here, I felt I had to work hard and push through. It was all in the mind."
New Bedford native and St. Andrew's forward Bonzie Colson also had 18 points and 11 rebounds, while Fall River native and Putnam Science forward Tyree Robinson had 15 points, eight rebounds and five blocks to contribute to the win.
"It's a beautiful feeling," said coach Eggie McRae. "It's been a long year, but it was worth every minute of it after grabbing that big trophy."
BABC trailed just once through the entire tournament, today when the Jaguars scored the opening basket. And while the impact today of Selden was evident -- the Tilton (N.H.) swingman is currently the No. 2 shooting guard and No. 7 overall player in the Class of 2014 -- this tournament run was more testament to the arrival of undersized point guard Jonathan Joseph.
With a short bench and no backup point, the 5-foot-8 Brockton resident -- who earlier this year was named to
ESPNBoston's All-Freshman Team
-- excelled with clean entry passes to the bigs and scorers like Selden, Curtis Cobb and Damion Smith. McRae's troops preferred to attack from the inside out, so when Joseph was left open on the wing he made the opposition pay.
"People thought I'm too small to run a team," said Joseph, who is transferring to Putnam Science Academy (Conn.) and will re-classify to the Class of 2015. "But honestly, I don't think size has anything to do with it. It's about how big your heart is. I have the biggest heart, and nobody's taking that away."
Said McRae, "We had the best point guard in the tournament. He just ran the show. Little Johnny joseph, dictated tempo, made all the right decisions, gave everybody good looks."
Added Selden, "He knows how to set up. He may make a bad decision one in a while, but overall he's the one that got us to the national championship."
KING JAMES EDITION
Selden's getting some much-needed rest tonight, but his final day at LeBron Skills Academy will no doubt be on his mind forever.
On the final day, Selden got to run alongside his idol as LeBron James joined in on some scrimmages. On one fast break, James fed Selden a behind-the-back pass for a dunk.
"I loved it," Selden said. "He's my favorite player, and playing against the best competition, it was just a real good experience."