Boston High School:

Boston City League
January, 15, 2013
Jan 15
12:36
AM ET
We updated our statewide MIAA Top 25 boys basketball poll this afternoon. To find the complete poll,
CLICK HERE.
(EDITOR'S NOTE: Poll does not reflect Monday's results)
Some notes and observations about this week's poll:
Debuts for Westford, Algonquin:
Two teams make their debuts this week, in Westford Academy (24) and Algonquin (25). For the former it's the Grey Ghosts' first appearance of the 2012-13 season. For Algonquin, it's an historic first, the Tomahawks' first foray into the Top 25 in our poll's three-year history. Stigmatized by a perceived weak schedule, the 8-0 Tomahawks had a dominant showing on Friday against a quality Fitchburg squad, winning by 20 points. They're also speared by a breakout campaign by 6-foot-6 sophomore post player A.J. Brodeur, who is one of Central Mass.'s leading scorers with 17 points per game.
City loses another squad:
Hard to believe just a month ago, there were six Boston City League teams in the poll, following Dorchester's surprise upset of Madison Park. Both those teams quickly fell out in the ensuing weeks, and now Charlestown joins them on the list of teams dropping out. It was a less than inspiring week for the Townies, who barely skirted by Latin Academy, then finished the week out with losses to West Roxbury (56-50) and St. Peter-Marian (74-66).
New Mission (2), Brighton (12) and East Boston (15) are the three Boston City League teams representing this week.
Historic week for St. Peter-Marian:
In a week that few saw coming, St. Peter-Marian knocked off Catholic Memorial, St. John's of Shrewsbury and Charlestown in a span of six days. For that effort, the Guardians shot up the poll, from No. 25 to No. 14, this week. How long that lasts, however, remains to be seen. The Guardians took one on the chin tonight from unranked Whitinsville Christian, 64-49. The Crusaders themselves sit on the outside looking in, getting notice in the "Last 10 out" section this week.
MVC dominance:
For the first time this season, all four of the Merrimack Valley Conference teams in the poll sit in the Top 10. Central Catholic remains No. 1 for the third straight week, followed by Andover (7), North Andover (9) and Lowell (10), the latter of which dropped eight spots following an upset by North Andover on Friday.
Here's how the poll breaks down this week by league affiliation:
Merrimack Valley - 4
Boston City League - 3
Catholic Conference - 3
Central Mass. Conference - 2
Hockomock - 2
Mid-Wach A - 2
Valley Wheel - 2
Bay State - 1
Big Three - 1
Dual County - 1
Middlesex - 1
Northeastern - 1
South Coast - 1
South Shore - 1
October, 4, 2012
10/04/12
1:44
AM ET
1. WHAT IS THE BIGGEST STATEMENT YOU GOT OUT OF BARNSTABLE'S UPSET OF EVERETT?

Scott Barboza, ESPN Boston High Schools Editor: Aside from the defense, which was phenomenal by all accounts, the manner in which the Red Raiders were able to pull off the upset was impressive, meaning that the offense was firing on all cylinders for most of the game. In other words, Barnstable can win ugly. When you hear about the offense and all the things the Red Raiders can do on offense, it's sometimes easy to overlook the fundamentals. They can do all the things that constitute a potentially successful playoff team in that they can run the ball when called upon, get the back stop when required and they don't turn the ball over. When you have one of the top quarterbacks in the state like Nick Peabody, that's all you need to win. And, if Hayden Murphy runs the ball as he can and the defense, led by Andrew Ellis, is on, Barnstable is difficult to beat, no matter the conditions.

Brendan Hall, ESPN Boston High Schools Editor: For me, more than anything, it was a throwback statement. At the end of the day, it doesn't matter how much Division 1-caliber talent you've stockpiled, how heavy your line is, or how many of your skill players run a 4.5. All that matters is who puts themselves in the best position to win -- period. Barnstable demonstrated that to a T on Friday night.

Of course, this Red Raiders team isn't an underdog. They came into the game at No. 3 in our statewide poll, and I think the general consensus was that this would be a one-score type of affair. Nick Peabody is in a quarterbacking class of his own through the first month of the season, Dylan Morris is beginning to enter Matt Costello territory in terms of production, and the Raiders' linebacking corps is one of the two or three best in the state.

Barnstable coach Chris Whidden dialed up a great defensive gameplan in the pouring rain, playing outside contain on the Crimson Tide's gifted receivers, and getting great push in the trenches with a deceivingly athletic front four that fired quickly off the ball. These guys were not as big, but they certainly were fast, and above all else they hit with a level of abandon replicated by very few teams in the state.

At the end of the day, it was a pleasant reminder that things haven't gotten soft in the game of football. At the end of the day, the overarching theme remains -- if you come out complacent, someone's going to knock you around.

Adam Kurkjian, ESPN Boston correspondent: Year after year, while Everett always seems to have its share of explosive skill players, the foundation of its success is consistent and dominant line play on both sides of the ball.

The biggest statement Barnstable made Friday night was that it can go toe-to-toe with Everett's front and get the better of the exchange. That is rare, and it speaks to the level of offseason commitment the Red Raiders have made the past few seasons. While Barnstable may have the reputation as a finesse team because of the amount of times it puts the ball in the air, it looks like the Red Raiders shattered that notion last week.

Bruce Lerch, ESPN Boston correspondent: Defense, defense, defense. Staring at Everett's offensive line with 300-pounders across the board is daunting for any opposition but the Raiders didn't seem intimidated at all. In fact, they set the tone and managed to stuff the Tide twice on fourth-down tries from the one-yard line.

All 11 starters, plus the others that rotate in made plays. Jason Frieh and the defensive line held their own Everett's blockers, linebackers Brian Hardy, Andrew Ellis, Terrence Mudie and Robbie Stuart made tackles all over the field. Safeties Ryan Litchman and Kevin Hardy were tremendous in support against the run and corners Tedaro France and Derek Estes won their matchups with Everett's speed merchants at the receiver positions.

John Botelho, Editor-in-Chief, South Shore Sports Journal: Nick Peabody and the offense have been well publicized -- and deservedly so -- all season. Going into the Everett game, they had scored an astounding 145 points in three games. But the biggest statement made while snapping Everett's 28-game win streak was that the Red Raiders' defense is just as good as their powerful offense. Division 1A should be real fun to watch come December.

Everett and Barnstable Round II is already a Super Bowl many people are excitedly calling for, but neither has an easy path to get there. Everett is likely headed for a first-round playoff game with Lincoln-Sudbury, and Barnstable has to worry about beating Bridgewater-Raynham during the regular season just to reach the playoffs.

2. NAME YOUR FIVE BEST WIDE RECEIVERS IN THE STATE

Barboza:
1. Brian Dunlap, Natick – Might not be No. 1 on any other list, but come his senior season, he's going to be right there on the top of all the volume stats list.

2. Jalen Felix, Everett – Seeing, in person, the catch he made during last year's BC High game at Memorial Stadium is something I'll likely never forget. It's the same feeling I had watching Randy Moss make impossible catches.

3. Jakarrie Washington, Everett – One of the best route runners around since those Asprilla and Costello kids were the go-to targets in Everett.

4. Dylan Morris, Barnstable – Hard to argue with Morris' production thus far this season with his eight touchdown catches.

5. Will Heikkinen, Andover – Spies tell me Xaverian had Heikkinen blanketed with double coverage throughout most of last week's game. That's the ultimate compliment paid to a wideout.

Hall:
1. Dylan Morris, Barnstable - You'll be hard-pressed to duplicate his five-catch, 207-yard performance in Week 2, and right now he's on track for 20 touchdown receptions and over 1,000 yards receiving. Bar none, best wideout in the state right now. And to think, some have mused he may be a better baseball player.

2. Jakarrie Washington, Everett - You could rotate this spot with Jalen Felix, who had an explosive performance against Springfield Central, but right now you've got to with Washington based on game-breaking ability. Against Leominster and St. John's Prep, he turned the game on its heels seemingly on a dime with one back-breaking catch or run.

3. Brian Dunlap, Natick - A versatile route-runner, he's got crunch-time knack (see his game-winning catch against Norwood with 10 seconds to go) and makes the most of his touches (17.25 yards per catch, 6 TD).

4. David Harrison, Weymouth - Has seven receiving touchdowns, and in the last two games running a pistol offense at quarterback, has thrown for six. He's just plain productive.

5. Sam Blake, East Longmeadow - Doesn't get a lot of touches in the Spartans' system, but in terms of athleticism I've heard some pretty crazy stories. In his last two games, he has 232 receiving yards and four touchdowns on just seven catches.

Kurkjian:
Tough to say for me because most of the games I have been to have featured mainly run-oriented teams.

That said, looking around the state, Lincoln Collins of BC High needs to be mentioned for his size and improved speed.

Jakarrie Washington of Everett may be the fastest receiver out there right now.

Speaking of guys that can motor, Andover's Cam Farnham has been pure lightning all season as well.

As far as pure production goes, there aren't many who do more on a week-to-week basis than Natick's Brian Dunlap.

If anyone can outdo Dunlap in that department, though, how about Shawsheen receiver Devonn Pratt? One of the top wrestlers in the state, Pratt has 11 touchdown receptions already, including five in a ridiculous, 15-catch, 268-yard performance against Cambridge two weeks ago.

Lerch:
1. Dylan Morris, Barnstable - Seems to have a tremendous mind meld going on with quarterback Nick Peabody. Has eight TD receptions on the season, including two clutch catches in the 13-7, double OT win over Everett.

2. Jalen Felix/Jakarrie Washington, Everett - I'm cheating a little by putting both in, but it's hard to argue against the fact that these speedsters are two of the biggest gamebreakers in Massachusetts.

3. Bryan Vieira, Thayer Academy - Eight receptions for 200 yards and a TD in the opener (along with an interception return for a score) and six more catches for 179 yards and three TDs in week two. The top receiver in the ISL.

4. Brian Dunlap, Natick - Just a sophomore, Dunlap continues to team up with QB Troy Flutie to put up big numbers week after week. I may be underrating him because of his age, but all signs point toward Dunlap someday taking over at the top of this list. Maybe sooner rather than later.

5. David Harrison/Tyler O'Brien, Weymouth - It's a cheat day for me in the roundtable as I'm going with a duo once again. The Wildcats receivers have combined to catch 13 TD passes and O'Brien seems to be Harrison's favored target when he switches under center as Weymouth's quarterback.

Botelho:
1. Dylan Morris, Barnstable: This is sort of a chicken and egg thing. Is Nick Peabody such a good quarterback because he has Morris to throw to, or is Morris the beneficiary of a standout QB. I think the answer is Peabody is a tremendous QB and Morris an elite receiver, and the results have indicated that so far.

2. Lincoln Collins, BC High: Collins might not have the gaudy stats some his peers do (he's caught just one TD this year) but he's a D-1 scholarship athlete going to Villanova for a reason. The Eagles have been the victims of bad luck and bad timing this season, dealing with some of the toughest teams in this state - and New Jersey - while figuring out how to replace injured stars like Brendan Craven and Luke Catarius.

3. Brian Dunlap, Natick - Like Morris, Dunlap has a premier QB throwing him the ball. He's pulled in 6 TD from Troy Flutie, and is one of the biggest reasons Natick is scoring more than 30 points per game.

4. Dondre James, Whitman-Hanson - James single-handedly changes game plans of opposing teams, often drawing more than one defender on passing plays. He's spread out defenses all season, allowing QB Tom Sapienza to throw 8 TD already. James' speed and athleticism are clear with one looks at the Panthers on offense, but what he contributes away from the ball might be even more impressive. James has sprung more than one ball carrier this year with a big block.

5. Rory Donovan, Cardinal Spellman - The Cardinals aren't matching their regular season success from the last two years, but Donovan is among the toughest receivers for defenses to match-up with. At 6-5 and with an impressive vertical, not many defenders can go up and get a jump ball against him. He's averaging a touchdown a game right now and could get better as Spellman's line matures this season.

3. WHO IS THE BEST QUARTERBACK FROM A SMALL SCHOOL?

Barboza: Right now, I'm looking at Hopkinton's Hank Rudden. The Hillers have been off and running in the Tri-Valley League, averaging more than 34 points per game through four weeks. Whether the Hillers can keep it going into the meat of their TVL schedule is another thing, but the 6-foot-1 senior is a dependable pocket presence.

Hall: Hard to argue with the production of Northbridge's Matt Phelan. Head coach Ken LaChapelle (who won his 300th career game last weekend) is famously inclined towards the pass -- and a passing pioneer for this state, really -- but through the first four games of the 2012 Phelan has been arguably better on his feet (41 carries, 448 yards, 12 TD) than through the air (42 of 50, 514 yards, 2 TD). LaChapelle has joked that he would like to once coach a game where he doesn't call a running play, but he tends to yield some freelancing to his quarterbacks when he feels they're up for it. And understand, for LaChapelle to loosen the reigns, you have to be a special player.

Kurkjian: Let's go into the Boston City South Division where Latin Academy junior Kyle Dance is putting together a fantastic season through four games.

To this point, Dance has had a hand in 13 touchdowns (nine passing, four rushing). You want to know how many touchdowns the Dragons have as a team? Fourteen. In other words, Dance is doing it all for this team, and it will be exciting to see how the rest of his season and career develops.

Lerch: Since taking over in week two, Shawsheen's Mike O'Hearn has produced eye-popping numbers and ranks fourth in the state with 11 touchdown passes, including a six-TD performance against Cambridge. With the 6-foot-3, 190-pound senior at the helm, the Rams have put up 98 points in their last two games.

Botelho: Assuming "small" school means any outside of Div 1, 1A, 2 or 2A, the best small school QB might be Dan Eckler at Stoughton. They're a run-first offense with tons of weapons, but he's been the point man for all of their success this year.

Hanover's Ryan Bennett and Middleborough's Troy Rossi both have big arms and ideal QB size and have been fun to watch early on.

Abington's Brandon Cawley has all of the tools to run the offense for the Green Wave. He's tall, has a cannon of an arm and can tuck it and run if need be. Andrew Benson also comes to mind in the South Shore League. After sliding over from RB to QB when the Vikings didn't have an obvious heir apparent to Tim O'Brien, Benson has handled the transition well. He's very athletic and gives EB a similar look on offense they had a year ago.

4. WHAT'S WRONG WITH THE CATHOLIC CONFERENCE?

Barboza: (Disclaimer: None of this argument has to do with St. John's Prep right now.) Honestly, I'm not trying to make excuses here, and this has happened a couple of times during the last couple seasons, but it's not as though the teams are playing easy schedules. On the other hand though, I think the rest of the state has caught up with the parochials a little bit. Some inside the Catholic Conference used to scoff at the idea of a Hockomock team (North Attleborough anybody?) hanging with one of those teams. Use this weekend's Xaverian vs. Duxbury matchup as another proof positive. I think the Hawks will find out that last year's win by the Dragons at the Hawk Bowl was no fluke. And, while most of the state still cannot match the numbers the Catholics have on their sidelines, there's plenty of talent to be had.

Hall: With St. John's Prep, nothing. With the rest of the conference (a combined 4-12 heading into this weekend's games), where do you start?

Expectations weren't high on Malden Catholic or Catholic Memorial coming into the season, but the way BC High and Xaverian (preseason Nos. 2 and 3, respectively) have stumbled out of the gates is concerning. Then again, they've endured brutal schedules, and few teams in Massachusetts would come out of September with better than their 1-3 records. Still, the way in which they've lost is not convincing, between BC High getting dominated from scrimmage by North Attleborough and Xaverian laying eggs against Brockton and Andover. Bottom line, BC High and Xaverian so far haven't lived up to the preseason hype.

Something tells me they'll turn it around. BC High will be getting All-State linebacker Luke Catarius (ankle) back this month, and quarterback Brendan Craven (knee) sometime soon, and you can't say enough how much that could change things quickly. Xaverian finally showed signs of life in the second half of the Andover upset, and Mike Brennan has been bringing steady production to what has been an otherwise stale offense.

How quickly does Xaverian turn it around? Jury's out, because the rest of the Hawks' 2012 schedule, in order, goes like this: Duxbury, Everett, Bridgewater-Raynham, St. John's (Shrewsbury), BC High, Catholic Memorial, St. John's Prep. Talk about skating uphill.

Kurkjian: Well, there's not much wrong with St. John's Prep right now, as they've looked outstanding in their three wins and only have one loss to Everett in a game many observers thought could have gone the other way with a few breaks.

As for the rest? BC High has been decimated by injuries, but the Eagles are starting to heal up and it would not be a total shock to see them make a run at the league title once everyone is back.

Xaverian does not have nearly the amount of team speed it usually does and has not looked physical at all on the lines.

Catholic Memorial has, as expected, struggled on offense, and you simply don't improve when graduation takes away as much talent as it did for the Knights.

Malden Catholic is this year what it has been nearly every year, which is the fifth-best team in the league.

Lerch: The coaches won't make excuses but we can. Injuries have absolutely decimated BC High while graduation hit both Xaverian and Catholic Memorial pretty hard. Not to mention that these teams all play among the toughest schedules in the state. That said, St. John's Prep is still a top-three team in Massachusetts and don't think for a second that the aforementioned trio won't put it together by the time league play rolls around. Anyone who counts these teams out when we're not even halfway through the season is making a big mistake.

Botelho: BC High and Xaverian has certainly underachieved, but their schedules have been absolutely brutal. BC is also dealing with a whole mess load of injuries. That said, what looked like the best league in the state before the season needs a turnaround in the second half to avoid an overall disappointing year. If things continue like they are, St. John's Prep will coast to a league title behind Jonathan Thomas and Alex Moore. The Prep, in my mind, is probably the favorite to win the Div. 1 Super Bowl right now (I still love Brockton, but missing Austin Roberts is going to hurt them in a big way).

5. THERE HAVE BEEN A LOT OF SHOOTOUTS IN THE FIRST TWO WEEKS OF ISL PLAY. WHICH IS THE BEST OFFENSE?

Barboza: I think this was supposed to be Thayer's year to shine behind wide receiver Aaron Gilmer and the Tigers haven't disappointed, putting up 76 points in their two games. But they still have nothing to show for it, losing two close barn-burners against Governor's and Roxbury Latin. But it's hard to ignore the defending ISL champions at Governor's. We've extolled about Tate Jozokos' two-sport excellence for a couple years now, but running back Eli Morrissey has been a true revelation in the early going. Gov's should face a test this weekend against BB&N, but with 103 points scored in two games, it's hard to pick against anything short of a repeat performance of 2011.

Hall: If what Duxbury's been doing the last couple of years doesn't tell you enough about the value of lacrosse skill in football, then Governor's senior quarterback Tate Jozokos will. The UNC lacrosse commit led a renaissance last fall, leading the Governors to the ISL championship, and is off to a quality start this season. He is as a true a dual-threat quarterback as you will find in Massachusetts.

Running back Eli Morrissey has been just as productive (5 TDs), and is arguably one of the best backs in the ISL -- not the biggest, but definitely one of the most complete, and a tough runner. Overall, the Governors have averaged 51.5 points per game in their first two contest. Hard to argue with a number like that.

Kurkjian: Tough to say with such a small sample size, but it's hard to go against what Governor's Academy has accomplished in the first two weeks. With 103 points in two games, the Governors are simply running past, over, around and through everyone in their way.

We will see whether or not that continues this weekend as they travel to Cambridge to face an always-tough BB&N squad.

Lerch: When in doubt, I always say go with the team led by the lacrosse guy. Governor's is stacked with talent on offense with quarterback/dynamo/North Carolina lacrosse commit Tate Jozokos leading the charge. Along with standout running back Elijah Morrissey, the duo has combined to score nine rushing TDs in the first two games. Until some team finds a way to slow these two guys down, the Red Dogs will keep piling on the points.
October, 2, 2012
10/02/12
6:34
PM ET
By
Corey J. Allen
| ESPNBoston.com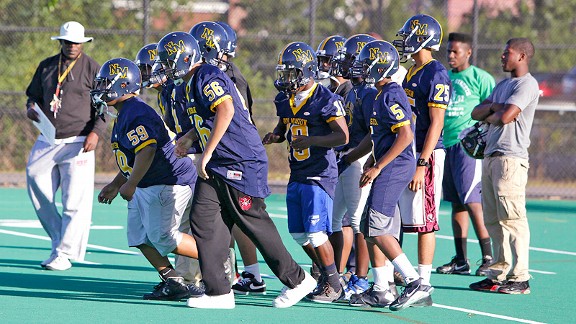 Courtesy of Donald RockheadNew Mission football kicked off its first varsity football season this year, marking the first new team to join the Boston City League since 1979.
In the middle of the Canada geese, the girls' soccer team and the afternoon walking clubs, there is football again at Ross Field in Hyde Park. The New Mission Titans, a team comprised of students from New Mission High School and Boston Collegiate Leadership Academy, coached by Michael Pittman, are practicing as the first newly formed Boston Public School football team since 1979, when the previously co-ed Boston Latin Academy fielded a squad for the gridiron.
"Generally speaking, our school has a ground-up, underdog mentality," said Cory McCarthy, athletic director at New Mission.
McCarthy, also the school's boys' basketball coach, took his team from a vision to a state championship powerhouse and Division I college talent producer. That and all other sports programs at that bear the Titans' logo have been raised from concept to reality.
New Mission has been down this road before, but this is different.
The city has not seen a new football team since 1979, a time when footballers from Madison Park, West Roxbury and Dorchester High Schools were proud to represent the city as they competed against suburban teams in size, skill and coaching. Between METCO program students who are bused to Greater Boston's suburban schools, college preparatory and private schools that recruit top-tier talent from the Pop Warner programs and the general plight that struck urban centers in the 80s and 90s, the talent being honed in the city has dwindled.
In that climate, McCarthy has seized the chance to make a statement about his school and the new city. It's part of a vision of a new generation of educational and political leaders who strive to make Boston better through extracurricular activities. In change, those like McCarthy hope the offerings will encourage families to stay and raise their families in Boston, as well as attracting others who want to live in the city but may have turned to the suburbs before.
[+] Enlarge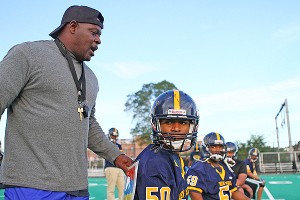 Courtesy of Donald RockheadThe learning curve has been steep for some New Mission players who hadn't previously played high school football. Michael Pittman, a former Arena League player, handles the head coaching duties.
"We don't want our kids going to college saying that they never had a football team, a part of the total high school experience," McCarthy said as the dust from practice play kicked up in the middle of the field and swept across the former cow pasture. "That's my dream, for our kids to say that they've had the total high school experience, to be able to say that they've participated in social clubs, have a debate team and sports are a part of that experience."
The journey to realizing the dream of football has not been an easy one. As a pilot school, they are considered a Boston Public School, but for purposes of fundraising and curriculum development, they have semi-autonomy. In the case of bringing about New Mission football, the independence worked against the school as they are required to raise the funds necessary to outfit and transport the upstart team. In a time where towns across the Commonwealth are charging for varsity athletics and cancelling extramural sports due to lack of funding – be it from loss of tax revenue or diversion of funds to focus on academic rigor – starting a brand new football program is uncommon.
"The real value of football in the inner city is to keep these kids straight and narrow," said Pittman, a former Arena Football league player with coaching experience at Cathedral High School, Jeremiah E. Burke and semi-pro football teams. "My goal is to show these players that football correlates to life. If something can go wrong in your life, there is a parallel issue on the football field. If you don't make a tackle or a block during a game, those may cost you a win, but the stakes are higher off the field. Missed opportunities and lack of discipline can cost you your life."
Some of the young men show they have experience, having played in various Pop Warner programs around the city or transferred from schools where they'd played football. Others, although having practiced under the tutelage of Pittman and his staff, haven't mastered the standard stances and cadences.
Still, all of the players seem to be excited, attentive and at least willing to learn what they do not already know so that they can be a contributing member to the newly minted football team.
New Mission has started its inaugural season 0-3. But Pittman still sees the program going in the right direction. He laughs at folks who are worried about the record.
The stakes are high in the city for dedicated athletes, but on-field wins and losses are not the most pressing issues they face.
Survival is.
"Sports are one of the things in the city that won't get you killed," Pittman said. "No athletes are walking the streets getting killed because people respect what these kids are out here doing."
July, 5, 2012
7/05/12
9:26
PM ET
Earlier this week, the Boston City League boys basketball coaches voted 12-3 in favor of the three-tier alignment based on competitive balance, for the upcoming 2012-13 season.
The realignment
was initially proposed last month
by Latin Academy coach Danny Bunker and Snowden coach Megan Waterbury, and forwarded to the Boston area media. At the coaches' meeting on Monday, Bunker and Waterbury led the discussion in favor of the new alignment.
Starting this upcoming season, the divisions will look like this:
Division A
East Boston
Madison Park
New Mission
Charlestown
Brighton

Division B
Boston English
Latin Academy
Dorhcester
O'Bryant
West Roxbury

Division C
South Boston
Burke
CASH
Fenway
Snowden
Berths for the City Championships will be awarded to to the first and second place teams from Division A, and the division champions from B and C. The Division A winner would face the Division C winner in the first round, while the A runner-up would face the B winner.
In addition to the eight home and away games that each team would be scheduled to play in its own division, teams from Division A would have three crossover games booked with teams from Division B, and two from Division C, for a total of 13 scheduled games.
Teams from Division B would have the three crossover games with teams from both Division A and Division C for a total of 14 scheduled games. Teams from Division C would have two crossover games with teams from Division A and three crossover games with teams from Division B for a total of 13 scheduled games.
All of these crossover games would be picked at random and would be for a two year home-and-away cycle. Each team would also be responsible to book enough extra games to meet Boston Public Schools Athletic Director Ken Still's minimum of 16 games on their schedule.
As far as the schedule dates themselves, that's in for a change too. Previously, the North teams played on Tuesdays and Thursdays, while the South played on Wednesdays and Fridays. The three tiers will be mixing it up week to week.
"It's great for the city," said New Mission head coach Cory McCarthy. "It gives teams who haven't been to City's in 10-plus years an opportunity to feel like they have a chance to compete to be in the City Tournament. It also gives teams in lower divisions the chance to go into the state tournament with better than a .500 record and not get matched up with a top seed every year, to actually get a possible home game."
Bunker and Waterbury presented recent history to the coaches, pointing out the dominance of Madison Park, East Boston and Charlestown over the last six seasons. Over that time, those three teams have a combined 139-5 record against Snowden, Latin Academy, Fenway and South Boston, with Snowden and Fenway having never beaten them.
"Someone in the room talked about how it breathes new life into the city, something to look forward to," Waterbury said. "I think it's awesome. Quite a few of those coaches were excited about it."
She added with a chuckle, "You sportswriters get to see some good games every week."
In other words, Division A figures to deliver must-see action every week. Expect the five-team division to remain in MIAA basketball dialogue in preseason, throughout the regular season and beyond.
Madison Park coach Dennis Wilson was one of the few dissenters in the room, voicing his displeasure with the premise of the five de facto "power teams" of the league beating up on one another. Teams that would be aligned in Division A for 12-13 accounted for all but two spots in the Boston City Championships the last three seasons.
"I lost nine seniors from last season [2010-11], then I bounced back this year, but it wasn't a star-studded cast -- we overachieved," Wilson said. "You could have a situation where, say, Eastie or Charlestown or Brighton has a down year, and they could stand to lose 6-8 games right out the box.
"They make a good point, though, when they say English, Latin Academy, O'Bryant playing amongst each other is gonna be more competitive than having to play Charlestown, Madison, Mission. And they're right, I cant deny that."
June, 8, 2012
6/08/12
12:55
PM ET
Per a source, in an email forwarded to ESPNBoston.com this afternoon, the Boston City League is considering changing up the structure of its current 15-team, two-division format for boys' basketball.
The current league format has teams split into North and South divisions. The new proposal on the table calls for the league to split into three divisions, based on strength of program.
Under the proposal, the new divisions would look like this:
Division A
Brighton
Charlestown
East Boston
Madison Park
New Mission

Division B
Boston English
Dorchester
O'Bryant
South Boston
West Roxbury

Division C
Burke
CASH
Fenway
Latin Academy
Snowden
Under the current format, the four City Championship berths are given to the top two teams in the North and South. This format would grant berths to the first and second place teams from Div. A and the division champions from B and C.
In addition to the eight home and away games that each team would be scheduled to play in its own division, teams from Division A would have three crossover games booked with teams from Division B, and two from Division C, for a total of 13 scheduled games.
Teams from Division B would have the three crossover games with teams from both Division A and Division C for a total of 14 scheduled games. Teams from Division C would have two crossover games with teams from Division A and three crossover games with teams from Division B for a total of 13 scheduled games.
All of these crossover games would be picked at random and would be for a two year home-and-away cycle. Each team would also be responsible to book enough extra games to meet Boston Public Schools Athletic Director Ken Still's minimum of 16 games on their schedule.
March, 31, 2011
3/31/11
1:31
PM ET
The Boston Scholar Athlete Program and the Boston Centers for Youth and Families have announced the teams and award winners for the 2011 Boston City League Basketball All-Star Classic.

The game will take place this Saturday at Northeastern University's Cabot Center, with the doors opening at 1:30 p.m., the girls' game starting at 2 p.m. and the boys' game following at 4 p.m.

Below are the rosters and award winners for the North and South divisions:

BOYS

North
Jose Alfonseca, Sr. G, Snowden
Jeff Amazon, Sr. G, East Boston
Jonathon Deane, Jr. G, Latin Academy
CJ Dowdell, Sr. F, Charlestown
Rony Fernandez, Jr. G, Charlestown
Tyrese Hoxter, Soph. F, Charlestown
Khayree Hudson, Sr. C, Madison Park
James Jones, Sr. F, Fenway
Kwamaine Lane, Sr. F, Latin Academy
Walter Lewis, Sr. G, East Boston
Akosa Maduegbunam, Jr. G, Charlestown
Paul Maurice, Jr. G, Snowden
Tyrell Pugh, Sr. F, South Boston
Johan Vizcaino, Sr. G, South Boston
Stan Winn, Sr. G, East Boston

Coach of the Year: Edson Cardoso, Charlestown
Sportsmanship Award: Troy Bowens, Snowden

South
Dominique Boyd, Sr. F, Dorchester
Jared Butler, Soph. C, O'Bryant
Jakari Christopher, Jr. G, Burke
Darius Davis, Sr. G, New Mission
Jason Hall-Sergenton, Sr. F, West Roxbury
Dwayne James, Sr. G, Burke
Samir McDaniels, Sr. G, New Mission
Jesse Noel, Sr. G, Hyde Park
Kachi Nzerem, Sr. F, New Mission
Roger Paul, Sr. G, West Roxbury
Chris Shelton, Sr. F, Burke
Bernadin St. Vil, Sr. C, Brighton
Andrew Toney, Sr. F/C, Brighton
Alex Villanueva, Sr. G, Boston English
Kevon Young, Sr. G, Brighton

Coach of the Year: Hugh Coleman, Brighton
Sportsmanship Award: Jakari Christopher, Burke

GIRLS

North
Sara Centeio, Fr. G, Charlestown
Kayla Cox, Jr. G, Fenway
Maria Delvecchio, Jr. C, East Boston
Kaila Duarte, Soph. C, Fenway
Amber Edwards, Soph. G, Madison Park
Krystal Edwards, Soph. G, Madison Park
Makeeba Farguarson, Sr. C, Charlestown
Brittani Hardy, Sr. F/C, Snowden
Davetta Kinner, Sr. G, Latin Academy
Jovanna Sandifer, Jr. G, Snowden
Maya Scott, Sr. F, Latin Academy
Cleusa Sequeria, Sr. G, Fenway
Daitannah Smith, Fr. F, South Boston
Tajanay Veiga-Lee, Soph. G, Fenway
Elaina Wright-McCarthy, Fr. G, South Boston

Coach of the Year: Carla Hands, Madison Park
Sportsmanship Award: Maya Scott, Latin Academy

South
Araion Bradshaw, 8th G, O'Bryant
Robbie Cardoso, Sr. G, New Mission
Kiana Dailey, Soph. F, O'Bryant
Pierline Durand, Sr. G, O'Bryant
Khadijah Ellison, Sr. G, Burke
Ashley Jean-Louis, Soph. G, Boston English
Tianna Johnson, Jr. G, New Mission
Raven Kelsey, Fr. F, O'Bryant
Jazala Laracuente, Fr. G, New Mission
Fredericka Lawson, Sr. F, Burke
Trayana Mair, Soph. G, Boston English
Rachelle Pierre, Jr. F, Hyde Park
Marissa Serrette, Soph. G, West Roxbury
Shantal Solomon, Sr. G, Brighton
Aaliyah Williams, Jr. F/C, Dorchester

Coach of the Year: Gertrude Fisher, O'Bryant
Sportsmanship Award: Pierline Durand, O'Bryant