Boston High School:

Boston Warriors
August, 1, 2013
Aug 1
6:29
PM ET
By
Chris Bradley
| ESPNBoston.com
The July live period has come to a close, as some of New England's top AAU programs spent the majority of the month traveling all around the country to tournaments in Florida, Las Vegas, South Carolina, Springfield, Mass., Atlantic City, and Philadelphia.

With the AAU season over and the start of players' high school seasons just a few months away, we break down New England's top stories following the July live recruiting period:

Auger back in top shape: When Mike Auger trucked through an opposing player for a loose ball in one of Mass Rivals' opening games at the Hoop Group Summer Jamfest, it was a side of his game that Rivals coach Vin Pastore hadn't seen on a consistent basis in a couple of years. He was taken aback.

"Incidental contact," Pastore laughed. "He just kept going. It was like a football play."

Auger, a 6-foot-6 bruiser of a forward who will be a senior leader for New Hampton this season, has had a tough run the past couple years after suffering from multiple shoulder injuries. He tore his labrum at the beginning of his sophomore season at Hopkinton (N.H.) High, and aggravated the injury two years later after he had gone to New Hampton and reclassified.

After multiple shoulder surgeries, hundreds of hours in the weight room or at physical therapy, Auger finally looked to be completely recovered this summer as the Rivals' most consistent offensive producer in the post.

"I don't think he was in complete confidence before, especially with how hard he plays, how physical he was, he always played 100%...that's his game," Pastore said. "In the initial part of recovery he didn't have the confidence to play the game the only way he knew how to."

Auger is back, and college coaches have taken notice this summer. He now has scholarship offers from Fairfield, Vermont, New Hampshire, Holy Cross, Dartmouth, Binghamton, Quinnipiac, Loyola, and Stony Brook. In an age where most forwards would rather step out on the perimeter than do the "dirty work" inside, true post players come at a premium. Back to his old ways, college coaches are lining up for Auger's services.

"Kids that are 6-6...Everybody wants to run to the three point line," Pastore said. "What makes him so good is that he would start inside, then move out and make some threes. Nobody wants to start in and go out."

"Every program needs a kid like Mike who rebounds, attacks, beats people up around the rim; he physically beats you up. And he likes doing that stuff. He's a reckless abandon."

St. Andrews' Colson carries BABC offense: It wasn't long ago that St. Andrew's (R.I.) senior Bonzie Colson, a 6-foot-4-1/2 forward with several scholarship offers from high-level programs, was a complete unknown on the national stage.

He certainly didn't earn his now-nationally known name overnight. An undersized power forward who lacks the elite athleticism that most coaches at major conference schools look for, it took years of efficient production for Colson to prove himself.

"So many coaches go by the criteria and a certain size," said BABC coach Leo Papile. "He doesn't fit consensus with that. But, he's shown to have repeated success statistically in terms of field goal percentage throughout a season."

Colson led St. Andrew's, the No. 8 seed of the NEPSAC AA tournament, to a surprise run all the way to the tournament finals last year, where they eventually lost a heartbreaker via a buzzer-beater by Cushing's Jalen Adams. Colson built a niche for himself as a scorer over the course of the season, and as a result, his team was playing their best basketball in the playoffs.

On the AAU circuit this summer, he flourished for BABC playing on the Nike EYBL circuit, finishing in the top 15 in the league in scoring at just over 18 points per game.

"He's always been really crafty, he has a lot of scoring value. It's a unique skillset in terms of productivity in the amount of time he touches the ball. He's one-dimensional in a good way, he's very, very crafty," Papile said.

He continued, "The past couple years he has done it on a national stage, and attracted attention from high major conference schools. He's an undersized power forward by today's standards, but he has an extraordinarily long standing reach."

Papile said that from talking to Colson and his family, the St. Andrew's star is learning towards taking official visits to Miami, Florida State, Notre Dame, and Pittsburgh -- though those aren't set in stone yet. He also has scholarship offers from Seton Hall, Iowa State, Rhode Island, and George Washington.

Expressions grooming young talent: Expressions Elite, after qualifying for the Nike Peach Jam earlier this month, continued their impressive summer with a championship at the Hoop Group Summer Jamfest, a loaded tournament that featured several of the nation's best club teams.

Jared Terrell, Aaron Falzon, Cane Broome, and Abdul-Malik Abu all had a hand in carrying the team to the championship game, but Expressions coach Ty Boswell made quite a statement by starting freshmen Jermaine Samuels and Kimani Lawrence in the finals against Montreal-based Brookwood Bounce Elite.

The freshman duo, whom Boswell purposely put in a hotel room with senior leaders Terrell and Idris Taqqee, used the experience to gain knowledge from their superiors.

"Jared and Idris really took them under their wing; breaking down plays, making sure they understood getting good shots. [Samuels and Lawrence] asked them a million questions, and every single one got answered," Boswell said.

Samuels, a fearless competitor, came into the game and immediately started attacking offensively. His mindset thoroughly impressed his coach.

"There was no fear that he didn't belong," Boswell said, "When I finally took him out, he had that look like 'why am I coming out?' He wanted to prove he belonged, and he showed that."

Lawrence, a Providence native, made his presence felt right away with his great decision making and understanding of the team's offensive game. He will enroll and join Taqqee at Cushing Academy -- the defending NEPSAC Class AA champs -- while Samuels will attend The Rivers School in Weston.

Rising sophomores Donovan Love, another Providence product who will attend New Hampton, and Ikenna Ndugba -- who is at Brooks School and attended the Nike Elite 100 earlier in the summer -- are two other young players who are a part of Expressions' supremely talented young group.

Small-town star leads the Playaz: Tyler Lydon wasn't quite sure what to expect leading up to Basketbull's Hall of Fame National Invitational. Having switched AAU teams from Albany City Rocks to the New England Playaz, he had only met his new Playaz teammates once, at a practice the day before the tournament.

"I hadn't met any of those kids. There was a lot of uncertainty, I had no idea how the guys played. I just figured I would go in there and wing it and hope for the best," Lydon said.

Lydon and his teammates hoped for the best, and that's exactly what they got—as he, alongside Jarred Reuter, Aaron Calixte, and Crew Ainge, lead the Playaz to the 17U championship in Springfield. In the set of showcase games on the opening night, the Playaz suffered a close loss to Hunting Park (Penn.), but recovered well following their initial loss.

"It was the intensity; we came out that game kind of slow. Going into the rest of the games, that was a reality check for us," he said.

The rising junior forward comes to New England from Pine Plains, N.Y., a tiny town of 2500 people that rests about an hour north of Poughkeepsie. Last season he led Pine Falls to the New York Division 3 state championship game. This fall, he'll go play for Pete Hutchins at New Hampton.

"My parents and I decided it was the best decision for me," the 6-foot-8 point forward said. "I'll be able to play against the great competition in the league…and the academics are great."

He'll be expected to step in and contribute right away for the Huskies, who will have a major hole to fill after graduating McDonald's All-American Noah Vonleh. Iowa State coach Fred Hoiberg, along with assistants from Providence, Virginia Tech, and others, all watched him in Springfield. Following his return from the Adidas Super 64, he has picked up offers from Florida, Clemson, and Virginia.

New Mission guard primed for big season: Going into July, Boston Warriors coach Cory McCarthy needed a point guard.

McCarthy, who is also the head coach at New Mission during the winter season, looked no further than Shaquan Murray, a skilled senior who plays for McCarthy at New Mission and has proven himself as one of the top scorers in the MIAA.

Murray, who at 6-foot has long arms and an arsenal of offensive moves, stepped in and became the floor leader for the Warriors.

Alongside Lawrence Academy's Kyle Howes and Kimball Union guard Duby Maduegbunam, the Warriors made it all the way to the elite eight of the AAU Super Showcase Silver, where they eventually lost to city power BABC.

The New Mission guard had a slew of 20-point games over the course of the Warriors' run, taking advantage of the opportunity given to him by his coach.

"He's learned how to score how to score in every possible way," McCarthy said. "Runner, floater, threes off the catch and off the dribble. When guards attack the rim like that against that kind of competition…they're going to attract attention."

In leading the Warriors to an 11-4 record in the July live period, Murray has drawn serious attention from several Division 2 schools—including Post University and Bridgeport University, in addition to many different local Division 3 programs.

A good student who boasts a 3.3 GPA and wants to study engineering, Murray is still in the process of formulating college plans. In the winter, he'll be the go-to scorer on a New Mission squad that will again be amongst the most talented in the state.

"He's one of the best kids I've coached in terms of character," McCarthy said. "He performed so well all summer against great competition. His confidence is at an all-time high."
October, 2, 2012
10/02/12
10:27
AM ET
By
John Botelho
| ESPNBoston.com
ROCKLAND – Rockland High stand-out basketball player Tyler Gibson might not have realized when he was on his official visit to UMass-Lowell that he would wind up committing there, but it didn't take long for him to reach the decision once he returned home.

"The night I got home from the official visit, I just remember lying in bed and thinking to myself, 'UMass-Lowell is the right fit for me,'" said Gibson. "I loved the team aspect there, everyone just seemed like one big family. Getting to see the entire campus and working out with the guys and seeing their style of play just really made me feel like this was the place for me."

The 6-foot-6 forward/center also held an offer from Merrimack, and had planned to visit Assumption in the coming weeks, originally planning to make his decision by the early signing date in November.

His trip to UMass-Lowell, though, changed his plans.

"I'm committing to UMass-Lowell," Gibson said. "I just believe it's the best fit for me. Not just basketball, but the school aspect as well. They have a new business building that will be built in the next year or two, and I want to study finance so it'll be good for me."

Gibson, who also received interest from several other Northeast-10 schools as well as NCAA Div. 1 Bryant and Hartford, went from relatively unknown to bona fide college prospect in less than a year.
After starring for the Bulldogs at Rockland High last winter (he helped them to an 18-3 mark averaging a double-double along the way), Gibson really broke out this summer while playing AAU for the Boston Warriors.

After earning All-Tournament Honorable Mention honors at the Hall of Fame National Invitational in Springfield, Gibson averaged a double-double at AAU Nationals, after which his recruiting really took off.

"Last year at this time, no colleges were looking at me," Gibson said. "It shows how far I've come and how much my hard work paid off."

Following his success on the hardwood for the Bulldogs last winter, Gibson fielded another kind of recruiting interest. Prep schools came calling, trying to sell Gibson on the idea that they could offer him a better recruiting opportunity than Rockland could.

Gibson ultimately passed, deciding to Rockland for his senior year.

"I'm 100 percent sure I made the right choice," Gibson said. "I wanted to stay and earn a scholarship playing for home town. I didn't want to be remembered as someone who left for prep school just so he could play in college. I want to be remembered as someone who stayed at Rockland, and went to play in college after contributing to the program before I left."

And being able to contribute to the Bulldogs on the court is the biggest reason Gibson didn't wait to make his decision.

"I feel like I've got a monkey off my back," Gibson said. "Now I can just focus all my efforts toward winning basketball games this season."
August, 2, 2012
8/02/12
6:01
PM ET
By
Chris Bradley
| ESPNBoston.com
For what Greg Bridges lacks in height, he made up for with outside shooting, skill, and dexterity this summer while playing for the Boston Warriors AAU squad.
A 5-foot-7 rising sophomore at New Mission, Greg took scouts, coaches, and fans by surprise this July with his display of scoring against national competition while playing at the Super Showcase and AAU Nationals; both events were held in Orlando. Bridges has carried the Warriors' load offensively all summer long, and Cory McCarthy, Bridges' coach at New Mission and for the Warriors, had his doubts.
"Going down there, I thought Greg would get pushed around. I thought the physical play would mess him up," said McCarthy, "you see plenty of kids get worn down from [the competition] of July."
[+] Enlarge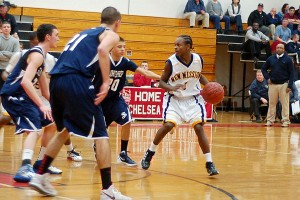 Brendan Hall/ESPNBoston.comNew Mission's Greg Bridges had an explosive enough performance at AAU Nationals that a number of Division 1 colleges have begun showing interest.
The "competition" referred to is that of the NCAA's July evaluation period. Commonly referred to as "Live Periods", college coaches are allowed for three separate stanzas in July to attend NCAA-certified events.
July tends to be a hectic time for those involved in the grassroots basketball world. It is a prime recruiting time for college coaches, which means for standout high schoolers playing for their summer AAU teams, the majority of the month is spent trying to impress coaches at camps, showcases, and at massive AAU tournaments like Super Showcase and AAU Nationals.
Through all the attention given to the predetermined stars at each event, Bridges was able to shine through by averaging 27 points per game combined between AAU's Super Showcase and Nationals. That includes a 42-point performance in a win over Altamonte (Fla.) at 11th grade Nationals -- in which he knocked down 11 three-pointers -- and in another contest 36 points on 8 three's.
Adam Finkelstein, publisher of New England Recruiting Report and ESPN's Northeast Recruiting Coordinator, was impressed with Bridges' efficiency in Florida.
"The numbers [Bridges] put up in Florida will of course grab attention," Finkelstein said. "But it wasn't even so much the volume of his scoring but the consistency of it. He scored, but more so he hit shots at a very high percentage."
McCarthy, who prides himself on being a hard-nosed, motivating disciplinarian of a coach, was impressed by Bridges' play this summer, particularly in Florida. But he also warns that unless Bridges continues to improve over the course of his high school career, the attention he is getting from scouts and college coaches who are calling about him won't be much more than headline banter and stories of what could have been.
Finkelstein agrees that gradual development will be the most important aspect for Bridges.
"Any time you have a point guard who is kind of undersized, especially one like [Bridges] who has three more years of development, he doesn't need to get caught up so much in level yet," he said.
McCarthy has heard from several Division 1 programs since Bridges' outburst down South, including Boston University and Quinnipiac; Bridges plans on taking unofficial visits to both schools later this month. Other schools who have shown interest are Hampton, Alabama A&M, and Robert Morris.
"I think he has an opportunity to be special," McCarthy said. "He has the IQ that it takes to be a college basketball player."
July, 28, 2012
7/28/12
9:47
AM ET
As another day of basketball begins at 11th Grade AAU Nationals in Orlando, Boston Warriors coach Mark Papas sends along some impressive information regarding two of his most outstanding players.

Point guard Greg Bridges, an incoming sophomore at New Mission playing with the 17-and-under squad, had an explosive effort for the Warriors' "Blue" team last night in an 86-69 win over Altamonte (Fla.) in the Division I tournament. The 5-foot-7 waterbug hit 11 three-pointers, as part of a 42-point effort. For the tournament this week, he is averaging 32 points per game.

Meanwhile Tyler Gibson, an incoming senior at Rockland High, has been putting up surreal numbers with the Warriors' "Black" club in the Division II bracket. For the week he is averaging 18 rebounds per game -- including 23 last night against Boo Williams (Va.) -- to go along with 15 points and five blocks. A handful of low-major Division 1 and Northeast-10 schools are expressing interest in the 6-foot-5 forward.

Also playing well this week for the Warriors have been Medway's Matt Ozzella (15 points per game), Danvers' Nick McKenna (15) and Staples (Conn.) guard Pete Rankowitz (13 points).
May, 27, 2012
5/27/12
11:51
AM ET
The Boston Warriors will hold its Fourth Annual "College Showcase Night" to showcase all of its juniors and sophomores, as well as some uncommitted seniors, Wednesday night at Kennedy Middle School in Waltham.
The evening is setup as a showcase style event for college coaches, as well as prep school coaches, to check out the players. The evening will begin with 45 minutes of individual skill work with the players split up between big men and guards and wing players.
Warriors Director Mark Papas forwards along some more information regarding the events, as well as players to watch:
1. Dragan Skoko, former Radford College star, will work out the big men.

2. Steve Harrington, two-time Massachusetts State Championship coach at Watertown High, will work out the guards and wing players.

The last 75 minutes, all of the players will be split up to run five-on-five games on both courts in front of the college and prep school coaches in attendance.

Here is a preliminary list of the top players who will be in attendance:

Max Risch, 6-6 Sr., Old Rochester/Williston-Northampton
Nate Anderson, 6-6 Jr., New Mission
Tyler Gibson, 6-6 Jr., Rockland
Isshiah Coleman, 6-5 Jr., New Mission
Peter Rankowitz, 6-2 Jr., Staples (Conn.)
Matt Droney, 6-4 Sr., Catholic Memorial/Taft (Conn.)
Joseph Carty, 6-6 Jr., Natick
Nick Tarantino, 6-7 Soph., BB&N
Greg Bridges, 5-9 Fr., New Mission
Nick Simpson, 6-3 Soph., Brighton
Shaquan Murray, 6-0 Soph., New Mission
Kyle Howes, 6-2 Soph., Lawrence Academy
Matt Ozzella, 6-4 Jr., Medway
Theo Oribhabor, 6-1 Jr., Brighton
Nick McKenna, 6-1 Jr., Danvers
Chris Murray, 6-1 Jr., Littleton
Joseph Lally, 6-1 Jr., Westwood
Connor McLeod, 6-2 Jr., Needham
John Mastascusa, 6-4 Jr., Malden Catholic
Matthew Prokop, 6-4 Jr., Boston Collegiate
Randy Glenn, 5-10 Fr., New Mission
William Baker, 5-10 Sr., Brockton
Daivon Edwards, 5-10 Jr., Brighton
Chad Thomas, 6-7 Jr., Watertown
Tony Alexander, 6-4 Jr., Boston Prep
Alex Sugarman, 6-7 Jr., Concord-Carlisle
Fred Rivers, 6-5 Soph., New Mission
Jaylen Blakely, 5-10 Soph., Brockton
Kordell Harris, 5-10 Soph., New Mission
Nick Lynch, 6-6 Soph., Westford
May, 30, 2011
5/30/11
5:06
PM ET
Tomorrow at 7 p.m. at Waltham High School, the Boston Warriors AAU program will hold its 3rd Annual College Showcase Night to showcase its juniors and sophomores, as well as several uncommitted seniors.

The evening will begin with 45 minutes of individual skill work, with the players split up between big men and guards. Former Providence College and Atlanta Hawks star Troy Brown will be working the big men; Watertown High coach Steve Harrington, a two-time MIAA state champion coach, will be working out the wings and guards.

The last 75 minutes all of the players will be split up to run five-on-five games on both courts, in front of the college and prep school coaches on in attendance. Below is the preliminary list of players expected to be in attendance:

Kachi Nzerem, 6-5, New Mission / Marianapolis
Nate Anderson, 6-6, New Mission
Kenny Reed, 5-10, Reading
Matt Droney, 6-4, Catholic Memorial
Max Risch, 6-6, Old Rochester
Jared Lewis, 6-3, Malden Catholic
Jordan Lewis, 6-1, Malden Catholic
Corey Gomes, 6-6, Uxbridge
Abiodun Akanni, 6-4, Fitchburg
Ryan Jann, 6-3, Westford Academy
Jerry Ellis-Williams, 6-5, Reading
Tyson Hallowell, 6-2, Middlesex
Sam Musler, 5-11, Belmont
Isshiah Coleman, 6-5, New Mission
Leroy Hamilton, 6-3, New Mission
Anthony Bell, 5-10, Boston Cathedral
Tony Alexander, 6-3, Boston Prep
Kyle Howes, 6-1, Maynard
Chris Murray, 6-1, Littleton
Joseph Connelly, 6-1, Beaver Country Day
Mark Melanson, 6-2, Burlington
Patrick McHugh, 6-4, Watertown
Isaac Carp, 5-10, Pingree
Ben Lawhorn, 6-3, Lincoln-Sudbury
Terrence Manning, 5-10, St Rafael's (R.I.)
Mario Payne, 6-0, Lincoln-Sudbury
November, 3, 2010
11/03/10
4:06
PM ET
The Boston Amateur Basketball Club will be hosting the Veteran's Day Classic this weekend at the Reggie Lewis Center at Roxbury Community College. Some of the top New England underclassmen talent, including the BABC's 16-and-under AAU National Champion squad, will be competing.

Here is the schedule:

Saturday, Nov. 6
10:00 a.m. - Boston Warriors vs. New England Eagles 8th grade
11:15 a.m. - Blackstone Valley vs. Boston Promise 10th grade
12:30 - Boston Warriors vs. BABC Academy 8th grade
1:45 - Middlesex Magic vs. Rhode Island Hawks 10th grade
1:45 - BABC Academy vs. BSS 8th grade
3 - CT Select vs. BABC 11th grade
3 - BABC Academy vs. NE Eagles 8th grade
4:15 - Blackstone Valley vs. BABC 10th grade
4:15 - Middlesex Magic vs. CT Select 10th grade
5:30 - Boston Promise vs. BABC 10th grade
5:30 - Maine BBP vs. RI Hawks 10th grade
6:45 - Rhode Island Hawks vs. Middlesex Magic 11th grade

Sunday, Nov. 7
10 a.m. - BABC Freshmen vs. Boston Promise 10th grade
10 a.m. - CT Select vs. Rhode Island Hawks 11th grade
11:15 a.m. - BABC Freshman vs. Blackstone Valley 10th grade
11:15 a.m. - Maine BBP vs. CT Select 10th grade
12:30 - Rhode Island Hawks vs. BABC 11th grade
12:30 - BSS vs. NE Eagles 8th grade
1:45 - Maine BBP vs. Middlesex Magic 10th grade
1:45 - RI Hawks vs. CT Select 10th grade
3 - CT Select vs. Middlesex Magic 11th grade
3 - BSS vs. Boston Warriors 8th grade
4:15 - 10th grade Championship
5:30 - Middlesex Magic vs. BABC 11th grade