Boston High School:

Brad Delulis
September, 27, 2011
9/27/11
10:14
AM ET
THE MYTH OF KENNY
By day, he's just an unassuming high school student. Come Friday night, he's a legend.
Beverly running back Kenny Pierce inspired some tall tales while racking up five touchdowns in the Panthers' come-from-behind 36-35 win over Lynn English. The hashtag #KennyPierce had Twitter abuzz on Friday night.
"I wanted to get it trending," tech savvy athletic director James Coffey said Monday at the high school.
While the myth of Pierce's performance, which was highlighted by an 81-yard touchdown return for a score, continues to grow, all the mild-mannered running back was concerned with was next week's game against Winthrop. For the returning Division 3 Eastern Mass. Super Bowl champions, it's just another test in getting back to where they want to be.
"We had everybody rooting against us last year," said Pierce of the Panthers who entered postseason play at 5-6 last season, "that just motivated us more. We just want to get back there."
SO FAR, SO CLOSE, SO UNDERRATED
Melquawn Pinkney's performance for Putnam Friday night is the stuff of instant legend: 17 carries, 421 yards, six touchdowns.
The undersized speedster was the catalyst Friday for a Putnam squad that is quickly erasing that "underrated" moniker, coming four yards short of the state record in his eye-popping performance (Lynn English's Brandon Guy went for 425 in a 2001 win over Swampscott).
The Beavers debut at No. 20 this week in our statewide MIAA poll, and it's a recognition well-deserved. Some wonder if these guys are on par with Longmeadow – we'll have to give it a few more weeks before we jump to that conclusion.
But back to Pinkney – just how underrated are these guys?
"Springfield as a whole is underrated. I guess they don't think our players are as good or as talented, but we've got some good players coming out of here."
He continued, "I went to a lot of showcases over the summer time, and I hung with the best of them."
SHOCKING THE HOCK
Two of the state's strongest two-tier conferences already find themselves full of twists and turns after a weekend full of surprises.
Stoughton provided the upset of the weekend when the Black Knights faced a Mansfield squad that had been averaging 33.5 points per game and promptly shut them out, 8-0. The Knights held a slim 3-0 lead headed into the fourth quarter, then tacked on a safety and last-minute field goal to preserve the shutout.
Did we see this coming? No. Were were totally shocked? As with most things, the truth lies somewhere in between. Take note of the youth on the squad, and pay attention to the secondary featuring juniors Marcus Middleton and Aaron Calixte. The latter is already known on the hardwood, ranked as one of the top junior point guards in New England; but on a whole, this is a unit that sticks out on film for its athleticism.
With King Philip off to a dominating start on defense (4.6 points per game allowed) and North Attleborough being its usual self; combined with promise from Foxborough and Oliver Ames; and the wild card that is Attleboro; this is far from the last upset. Fasten your seat belts.
NEW-LOOK TROJANS
If you weren't paying attention, you might not have recognized the Bridgewater-Raynahm offense in the Trojans' 28-15 win over Marshfield on Saturday.
[+] Enlarge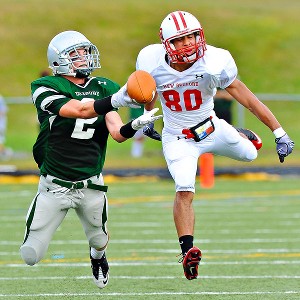 Jim Tarbox Reilly Naton leads a No. 2 Duxbury's defense, which Bridgewater-Raynham head coach Dan Buron calls the best he's ever seen.
After struggling to move the ball on the ground during their first offensive series, Trojans head coach Dan Buron made the decision to flex out hard-nosed running back Nick Schlatz out wide. Without Schlatz to key on the in backfield, B-R diversified it's approach, putting the ball in fellow running back Branden Morin's hands as well as letting quarterback Brad Deluliis make plays with his feet.
The spread look, which included four-receiver sets and some trips alignments, is a far cry from the meat and potatoes I-form rushing attack common at B-R.
"We've been doing it a little the last couple of years … with [Brad] Deluliis, Mike Connolly and even Billy Zolga last year, we spread it out and threw a little bit more," Buron said. "But now what we've done is split Nick Schlatz out there and then we have Arcel Armstead, who's a pretty good running back, too, on the other side, so people have to worry about them because they're good receivers, too."
Subtle adjustments like those have gotten the Trojan offense back on track after having a shutout thrown at them by Duxbury on opening night.
Though Buron was not without some weighty praise for the No. 2 Dragons and their swarming defense.
"That's the best defense I've ever seen," Buron said. "We were just trying to get out of there alive."
AUBURN'S O-LINE AMONG STATE'S BEST
With true Belichickian aesthetic, Auburn head coach Jeff Cormier tends to err on the side of caution when giving out praise. Compliments aren't exactly handed out like candy on Auburn Street – and honestly, when you've won a state-best 40 straight games, why change?
When pressed about making it 40 straight following Friday's 35-6 domination of St. Peter-Marian, "We're 3-0" was the repeated theme amongst coaches and players alike. But holding back on praise for the big guys in the trenches continues to be an upwardly difficult journey.
Tell you what, we're not afraid to say it anymore.
Auburn –- yes, Auburn, the birthplace of the modern rocket, tucked away neatly beneath the I-290 loop -– boasts one of the best offensive lines in the state. Doesn't matter if they're in Central Mass Division 3, or one of the power conferences in Eastern Mass. As a unit, they're already one of the biggest around, averaging 6-foot-3 and 250 pounds across. But what separates them from some of the state's other beefy lines is their surgery.
There's a significant difference between outweighing your opponent at the point of attack and overpowering them, and the Rockets certainly fall into the latter. Line coach Dana Giampa deploys an aggressive zone-blocking scheme (think Shanahan-era Broncos) that his players ran to near perfection on Friday night. Star SPM defensive end Jordan Knowles found himself out of the play most of the night, after factoring significantly in the Guardians' first two wins over Shepherd Hill and Fitchburg.
The unit of tackles Steve Domenick and Will Greelish; guards Matt Ramirez and Aaron Dyke; and center Jordan Giampa, paved the way for 462 rushing yards by the varsity, including 191 from Dan Flink.
"I think our offensive line is starting to come along, and I give a lot of credit to Dana Giampa for that, really working with those kids." Cormier conceded after the game. "They trust in what he's teaching."
Said running back Fred Taylor, "Our line stepped up big. Everybody basically had their A-game."
Time to start taking these guys seriously.
And by the way, what's scarier, the rushing totals reminiscent of 90's Nebraska, or the fact that the line is entirely comprised of juniors and sophomores?
September, 10, 2011
9/10/11
1:08
AM ET


DUXBURY, Mass. -- It's been a slow start for the much ballyhooed offense of No. 2 Duxbury.

The high powered spread attack was stunted at times during the preseason -- most notably in the Dragons' scrimmage against Catholic Memorial. Likewise, Duxbury took nearly two quarters to get going on offense in the season-opener against No. 8 Bridgewater-Raynham on Friday.

But after a convincing 26-0 win over the Trojans, it looked like the Dragons rediscovered the form that lifted them to a Division 2A Super Bowl title last year.

"We've been working hard all summer," Duxbury quarterback Matt O'Keefe said, "with the guys running routes at 6 a.m. with Don [Webber], [Joe] Guilfoile, [Andrew] Buron, [Reilly] Naton, even [James Burke], who's known more as a defensive player. We've spent a lot of time trying to perfect it."

While the Dragons (1-0) were able to shake off signs of the early rust, Duxbury found its consistency in the red zone, punching in touchdowns on three of four trips inside the Trojans' 20, following O'Keefe's touchdown pass to Guilfoile with 6:46 remaining in the first half.

"Our offense really hasn't clicked," Dragons head coach Dave Maimaron said, "but today was the first day that they played up to their ability, I think."

In addition to Duxbury's regained offensive polish, the Dragons were effective in shutting down B-R's running game, holding Trojans running back Nick Schlatz under 50 yards on the ground. Duxbury won the battle of the trenches with its swarming defense, flying to ball carriers in addition to sacks from defensive linemen Seamus Connelly, Mike Klein and Mark Trudeau.

"We knew they were going to try to run the ball and control the clock against us and try to keep it away from our offense," Maimaron said. "We just had to stop them on third downs and get off the field and get the ball back to the [offense]."

O'Keefe and the offense took care of matters from there. The senior quarterback completed 71 percent of his passes (15 of 21) while throwing for two touchdowns and 110 yards.

Junior running back Jon Hurvitz had the Dragons to a 12-0 lead before the half with a 2-yard touchdown run with 2:23 to play in the second.

After the defenses traded interceptions -- with B-R's Schlatz nabbing an O'Keefe pass and Duxbury linebacker Max Randall returning the favor with a theft of Brad Delulis -- O'Keefe threw for his second score of the game, finding Andrew Buron in the end zone from eight yards out.

Dragons sophomore running back Khai Perry showed a glimpse of his potential with a 20-yard scoring run in the fourth quarter.

"[O'Keefe] has so much confidence in his arm strength now that he only needs a small window and he can fit the ball in there," Maimaron said. "We had some good route running down there as well. The slant was a great catch by Andrew Buron, the throw was a little bit behind him and he made a great catch."

Proof that there's still room for improvement in an otherwise stellar start to the season.

"We're not there yet," O'Keefe said of the offense. "We're still working on it. There's a long way to go. We're onto Plymouth North week now."

B-R (0-1) 0 0 0 0 -- 0
Duxbury (1-0) 0 12 7 7 -- 26

2nd quarter
Duxbury - Joe Guilfoile 6-yard pass from Matt O'Keefe (kick failed)
Duxbury - Jon Hurvitz 3-yard run (pass intercepted)

3rd quarter
Duxbury - Andrew Buron 8-yard pass from Matt O'Keefe (Tucker Hannon kick)

4th quarter
Duxbury - Khai Perry 20-yard run (Tucker Hannon kick)
September, 1, 2011
9/01/11
11:25
PM ET
BRIDGEWATER, Mass. -- Eighth-ranked Bridgewater-Raynham has become a fixture in the Division 1A Super Bowl at Gillette Stadium.

In each of the last two seasons, the Trojans advanced out of the Old Colony League and won a playoff game -- only to face Gloucester in the championship game. Both tilts against the Fishermen weren't so kind to B-R. However, the Trojans' recent track record has meant high expectations with anything short of a Super season is a bit of a let-down.

"They're not cocky or anything, but they expect a certain standard," head coach Dan Buron said of his seniors. "Their expectations are set really high now. Nick [Schlatz] and a lot of the seniors played as sophomores in the Super Bowl two years ago. And I think the big thing they'll take from the last couple of years is the senior leadership that those groups had before them. I think that's what they hope to provide for this team this season."

That leadership will be taken up by the Trojans' group of senior captains with quarterback Brad Delulis, running back/linebacker Branden Morin, lineman Eric DeMoura and Schlatz.

Schlatz and Morin will comprise a talented backfield that is dangerous as it is experienced.

"We have some big shoes to fill though," said Schlatz, a 6-foot-2, 185-pound two-way player. "It's important for us to take it week by week and win by win. As we get into the league play, we need to step it up and be ready to go."

The running back and outside linebacker committed the offseason to getting bigger, faster and stronger to aid his performance on both sides of the field. Schlatz's greatest asset on the field might be inside his helmet, however

"He's like having another coach out there," Buron said. "He's a great player, but he's such a smart player."

Schlatz has garnered interest as a defensive player from Assumption, Brown and UMass-Amherst.

His sights are set firmly on the immediate future though, citing the most important challenge facing his team was B-R's scrimmage against Brockton on Friday. Then, once that's through, it'll be on to the season opener at Duxbury next Friday.

"We're not looking forward too much, we're just focused on [Duxbury]," Schlatz said. "They came on our field last year and they embarrassed us pretty good, so we'd like to get them back this year."

While the Trojans would like nothing better than to take care of business, avenging last year's opening loss to the Dragons, you can be assured B-R will once again have its sights set on December.

Eventually.

BRIDGEWATER-RAYNHAM AT A GLANCE
2010: 8-3 (Lost in Division IA Super Bowl to Gloucester)
Coach: Dan Buron (19th year, 140-52-2)
Players to watch: Nick Schlatz, Sr., RB/LB, 6-2, 185 lbs.; Branden Morin, Sr. RB/DB, 5-10, 180; Brad Delulis, Sr. QB/DB, 5-9, 160; Eric DeMoura, Sr. OL/DL, 5-10, 180; Steve Wentworth, Sr. RB/LB, 5-11, 180; Dan Noviello, Jr. DL, 6-1, 200; Kevin Johnston, Jr. DL,, 5-11, 200; Matt Wabrek, Jr. E/DB, 5-9, 170.
Strengths: Experience at running back, linebacker and defensive back
Weaknesses: Lack of game experience on the line.
Outlook: The Trojans run-heavy offense is in good hands with Schlatz and Morin in the backfield. However, there is changeover on the offensive line and this will be Delulis' first season under center. "He's small, so people might not think he looks like a prototypical quarterback," Buron said, "but Brad's athleticism is going to allow us to some different things with the offense." Buron's also looking for Cain Vanderbrink, Mark Guarino and DeMoura to lead the young line. On the flip side of the ball, the Trojans have a wealth of experience on the linebacking corps and in the secondary with Schlatz playing alongside Wentworth. Also, look out for a pair of juniors in Johnston and Noviello to take a step forward on the defensive line.