Boston High School:

Brad Picard
October, 5, 2012
10/05/12
4:24
AM ET
FRIDAY
ATTLEBORO (4-0) AT MANSFIELD (2-2)
The Skinny: The Blue Bombardiers have opened up the season undefeated and opened Hockomock League play with a win over Canton last week. Meanwhile, Mansfield is coming off a loss to Stoughton (the second in as many years). Attleboro's 6-foot, 185-pound running back Malique Clark has tallied eight touchdowns in the early going while Robbie Rapoza is looking for a repeat performance of his four-touchdown game against Dracut two weeks ago.

Scott Barboza: Upset, blue light special. Blue Bombardiers pull out a stunner. Attleboro, 14-8.

Brendan Hall: Hornets will find a way to rebound on Friday night in front of their home crowd. How often does Mansfield lose two straight in league play? Mansfield, 20-10.

SHEPHERD HILL (4-0) AT NO. 19 AUBURN (4-0)
The Skinny: Auburn saw its state-best win streak snapped at 41 games last fall to these very Rams, before rolling to its fourth consecutive Super Bowl title. This year, we're not sure who has the advantage. Both teams excel at moving the ball on the ground, with Shepherd Hill's Brad Picard (6.7 yards per carry) moving behind a swarming double wing, and Tyler Desjardins (10.8) getting help from a Rockets line that is among the state's biggest.

Barboza: For the Rockets to be knocked off for a second straight year, that would be the greatest upset of all. Auburn, 20-13.

Hall: Set the over-under on total rushing yards in this game at 400. Auburn, 28-21.

BURLINGTON (4-0) AT NO. 6 READING (4-0)
The Skinny: A must-see matchup between the Middlesex League's two most talented teams, which includes some of the state's top players at their respective positions. Speedster Marcus Odiah leads a powerful rushing attack from Burlington, but the Red Devils will have their hands full trying to neutralize the Rockets on either side of the ball. Offensively, the Rockets are led by one of the state's finest quarterbacks in Drew Belcher, while defensively the Rockets have allowed just two points through four games this season.

Barboza: The scoreless quarter streak will end, the Rockets keep the win streak going. Reading, 28-14.

Hall: If you score on the Rockets, keep the ball. Reading, 17-3.

FOXBOROUGH (3-1) AT NO. 24 STOUGHTON (4-0)
The Skinny: A game that could go a long way to deciding the Hockomock League Davenport division crown will be played under a different light Friday, after the Black Knights attend the funeral of fallen tammate David Wade that day. Stoughton will have plenty at stake emotionally, playing for Wade's memory and coming off another "upset" of Mansfield. Foxborough knocked the Hock on its heels as well last week, upsetting North Attleborough and shutting out the Red Rocketeers.

Barboza: Just too may athletes at too many positions for the Black Knights. Do it for David. Stoughton, 21-17.

Hall: Tough times make tough people. Stoughton, 13-10.

SATURDAY
XAVERIAN (1-3) AT NO. 4 DUXBURY (4-0)
The Skinny: The Hawks assuredly will enter our Mass. Army National Guard Game of the Week with a chip on their shoulder and desperate to turn around a losing record. The Dragons look to make it two in a row over Xaverian, after sealing a victory at the Hawk Bowl last year. Duxbury's defense paid dividends in that game, and while some of the talent has graduated, they have three-year starting inside linebacker Marshall McCarthy to quarterback the defense. The matchup to watch here will be the interior line play with C.J. LoConte (Army lacrosse commit) going head-to-head with Michigan football commit Mo Hurst.

Barboza: Look for Dave Maimaron to work in some wrinkles this week to keep the Hawks' defensive line in check. Duxbury, 31-21.

Hall: Hawks will find their groove in this game, but the Dragons will escape for their state-best 31st straight win. Duxbury, 24-17.

CHELMSFORD (4-0) AT HAVERHILL (3-1)
The Skinny: A battle between two Merrimack Valley Conference teams off to quality starts in 2012, two of the league's most productive running backs square off in this early-season battle. Chelmsford's Jeff D'Auria (10 TDs) has been a workhorse out of the backfield, while the Hillies' Chance Brady (724 rushing yards, 12 TD) might be the most complete back in the league.

Barboza: The Lions skated on thin ice last week and I think it catches up with them facing the Hillies' pistol offense with Tommy Morgan at quarterback. Haverhill, 30-28.

Hall: Considering how much talent moved on from a year ago, have to appreciate what Chelmsford is doing right now. Chelmsford, 21-6.

NO. 3 ST. JOHN'S PREP (3-1) AT NO. 12 BRIDGEWATER-RAYNHAM (3-1)
The Skinny: This game screams ball control. Both teams come with highly-touted backfields. The Eagles' duo of Jonathan Thomas and Alex Moore is the most dynamic in the state. But with Arcel Armstead back and Brandon Gallagher running strong early in the season, the Trojans can match metal with metal. Expect a lot of work out of the I-formation and two-tight end sets as these teams counter strength against strength. The number of completed passes in this one could figure to be counted on one hand, but you can't argue with what head coaches Jim O'Leary and Dan Buron have done with their respective systems in their careers.

Barboza: I think this one's going to be very close, but I can't settle on a score. So I'm going to set a line for the project number of TOTAL possessions in this game. But I'm picking Prep to win. Possessions: 8.5 (that's being generous perhaps).

Hall: In my book, the waggle trumps the counter. B-R, 7-6.

DARTMOUTH (1-3) AT NO. 25 SOMERSET-BERKLEY (4-0)
The Skinny: An underrated non-league matchup between old EAC rivals on the South Coast, both teams figured to have their hands full in this one. For Dartmouth, they must figured out how to slow down the Blue Raiders' vaunted double wing attack, led by senior Garrett Carlos, who has over 350 yards rushing the last two weeks on just 19 carries. For Somerset, the key is slowing Mitch Loranger and Nick Simonetti, two of the more talented players in the Old Colony League.

Barboza: Can the Raiders ride Carlos and Mikey Garrant to a Super Bowl appearance this year as they did with Seth DeMello and Jaron Spear two years ago? Just might. Somerset-Berkley, 34-28.

Hall: Indians were a trendy sleeper pick for 2012, but I think they'll have some trouble against this double wing attack of the Blue Raiders. Somerset-Berkley, 24-14.
October, 10, 2011
10/10/11
10:52
PM ET
LONG LIVE THE ROCKETS…?
Call it a fluke, a trap game, or just plain bad night for special teams coverage. However you choose to draw it up, the nation's third-longest active win streak was snapped last Friday night at 41 games.
Unranked Shepherd Hill played foil to SWCL rival No. 5 Auburn, upsetting them 32-22, thanks to a series of long runs. Kenny Mardirosian returned a kickoff 85 yards to the house in the third quarter, and then Brad Picard broke through for a 60-yard touchdown scamper to start the fourth quarter with a 26-7 lead. When the Rockets responded with a 35-yard touchdown pass from Drew Goodrich to Connor Fuller, the Rams immediately fired back with a 51-yard run by Anthony Wilga, for a 32-13 lead and essentially the game.
Aberration? Of course. This is a stout Rockets defense that is sturdy in the trenches and, quite frankly, doesn't give up many long gains.
Shocker? You bet. The Rams are always a tough out, with their vaunted Double-Wing scheme, but few predicted this (including us).
It's a period, not a comma, in the Rockets' storied history under coach Jeff Cormier; but it's hardly the end. The Rockets face Leicester and Tantasqua the next two weeks, followed by a tough three-game road swing against Northbridge, Grafton then Westborough, before the Thanksgiving matchup with Oxford/Sutton.
LIKE FATHER, LIKE SON
[+] Enlarge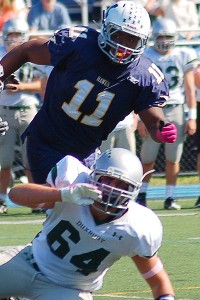 Brendan Hall for ESPN.comXaverian's Maurice Hurst Jr. is establishing himself as one of the state's premier interior defensive linemen.
The picture on the front page of the
Boston Globe's high school section
says it all: yes, that's Maurice Hurst Jr. –- all 6-foot-2, 275 pounds of him –- chasing down Duxbury wide receiver Reilly Naton all the way downfield after a big gain.
Few defensive linemen in Eastern Mass. have asserted themselves the way this junior three-technique has. In Saturday's showdown with No. 2 Duxbury, Hurst fought through double-teams all game to make quarterback Matt O'Keefe's life tough in the pocket, sacking him twice.
"He played a hell of a game," Naton noted. "He was in our face all day, getting double-teamed and making plays."
For those familiar with the Parcells-era Patriots, Hurst's father, Maurice Sr., manned the right cornerback spot for New England for seven seasons, making 102 starts and 27 interceptions; he was named to the team's All-1990s squad for his efforts.
A quick glance at
these highlights from 2011 (so far)
indicate the speed is in the blood. His backside pursuit is exemplary, with a strong bull rush to boot. In other words, keep this kid on your radar.
UNDERRATED? DIAL 4-1-3
Three weeks ago, in an interview with ESPN Boston, Putnam's Melquawn Pinkney declared the Springfield area
"very underrated"
for football, saying "I guess they don't think our players are as good or as talented, but we've got some good players coming out of here, and they'll soon see…I went to a lot of showcases over the summertime, and I'll hang with the best of them."
The reason for us coming out to Springfield, of course, was to honor the 5-foot-9 senior with our Player of the Week honors after rushing for a Western Mass record 421 yards and six scores on just 17 carries, in a 66-0 win over Agawam (four yards off the state record, too). No matter how you cut, 421 yards is pretty darn impressive.
Last season, Pinkney spelled his cousin Lavaughnte Lowe in a terrific season for the Beavers. Both went for over 1,000 yards, as Putnam accumulated over 2,600 on the ground and lost to South Hadley in the Division 2 Western Mass Super Bowl. This season, Pinkney has exploded as the Beavers' feature back, leading all rushers statewide with 1,229 yards and 19 touchdowns. In the last three games
alone
, he's racked up 1,035 yards.
Combined with Longmeadow's T.J. Norris (101 yards last week) and Springfield Central's Sacoy Malone (141), that's a trio that would make the short list on any All-Star team in Central or Eastern Mass.
Give these guys some credit –- it's long overdue.
DRAGONS DOMINEERING UP FRONT
A look down the Duxbury roster shows senior left tackle Gordon Acha at 6-foot-4, 255 pounds; and junior left guard Rob Kosharek, at 6-foot-6, 250 pounds.
A quick glance across the line tells us two things about them: 1. Those listed heights and weights are no stretch, and 2. These two kids are pretty athletic.
[+] Enlarge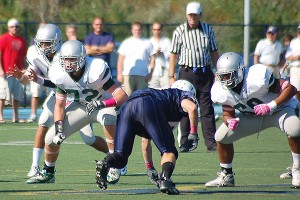 Brendan Hall for ESPN.comDuxbury's Rob Kosharerk (72) and Gordon Acha (69) are both potential Division 1 line prospects.
"They're beasts," senior wide receiver Reilly Naton said following the team's win over Xaverian. "That was a huge game for Gordon, he wants to go play college football, and he proved he can play against the great players like that.
"Kosharek, the kid's amazing. He's gonna be the heart and soul of the team next year on the line, and that's just a great way for them to go out in this game –- on top."
At the end of the day, this might be one of the state's best guard-tackle combinations; the two demonstrated fluid footwork in the passing game, and sturdy leg power in run-blocking. The two matched up with Maurice Hurst Jr. at different times, sometimes combining for double-teams, traps and chips.
Aaron Kramer, a redshirt-freshman left tackle for Boston College, is the measuring stick by which linemen inevitably get judged by in Duxbury. The 6-foot-7, 296-pounder transferred back home from BC High before his junior year, and immediately made his impact felt, helping lead the Dragons to a rout of Gloucester in the 2008 Division 2A Super Bowl and bulling them back to the playoffs a season later.
Asked if he sees shades of Kramer in Kosharek, Naton quickly concurred.
"For sure, he's definitely proven to be one of the best linemen to come through this program in a long time," Naton said. "I mean, the kid's still growing. He's huge. Kid gets bigger every day."
Head coach Dave Maimaron sees the comparison as well.
"Junior year, comparing him to Aaron, I mean yeah, there's definitely some crossover there in their skill level," Maimaron said. "They're both very athletic for their size. Aaron kept getting better, and as long as Rob keeps improving, yeah he could be a D1 kid."
The same could be said for Acha, who like Kramer, plays center for the school's basketball team. Like Kosharek -– and like Kramer before them –- Acha wears a long, lean frame with high athleticism and projectability. BC and Maryland are among the Division 1 feelers who have expressed interest in his services.
"Gordon also has great size and he's really progressing," Maimaron said. "He's real athletic. He has great feet, very similar to Aaron Kramer's, and he has the size."
THROWN FOR A LOSS
You knew something was off. As D.J. Crook, Barnstable quarterback, split out wide in a formation, you expected some kind of trick play, maybe some sort of double pass.
However, that was the last time Crook was on the field during the Red Raiders' game at New Bedford. What at first head coach Chris Whidden thought was an elbow problem, later thought to be a thumb dislocation, turned out to be a fracture of the thumb on his throwing hand.
While Crook's prospect of return is questionable (his father said he hopes to return to game form in 3 to 4 weeks) the injury seemingly will affect his assault at the state's career touchdown pass record; Crook is five off from Tommy Colombo's record of 79 touchdown passes. But more than that, Crook could be absent for the Red Raiders' Old Colony League schedule, which starts this Friday against Dartmouth.
While some on the Cape might be fearful that a promising season might have been lost on a twist of fate, fear not. We're here to provide Red Raider nation with three reasons why 2-3 Barnstable could still pull out an OCL championship sans-Crook.
Barnstable is more than a passing attack: A quick observation of the Red Raiders' opening drive against Whalers shows that the Red Raiders' attack is built on more than just their talented signal-caller. Running back Theo France nearly single-handedly cut through the Whalers' defense, capped off by a 44-yard touchdown run to give Barnstable a 7-0 lead.

An extension of pont No. 1 ... This defense is pretty darned good: Not every Barnstable win needs to be a track meet anymore. Ask any coach who's played against the Red Raiders about junior linebacker Andrew Ellis and they'll throw praise at the 5-11, 215-pounder and free safety Kevin Hardy is perhaps the grittiest player we've seen all year.

There are solutions at QB: Junior Nick Peabody filled in for Crook (promising sophomore Hayden Murphy also took a couple snaps) down the stretch. While the final score didn't exemplify a close game that was in doubt until its final moments, Peabody led the Red Raiders downfield on a couple of promising drives that were cut short by blocking penalties (including a potential game-tying score erased). While Peabody, Barnstable's top receiver, will subtract by being pulled to another position, the Red Raiders still have a deep receiving corps with Dylan Morris and Tedaro France.
October, 8, 2011
10/08/11
1:31
AM ET
By
Brendan Hall
| ESPNBoston.com
Big upset in Dudley tonight, as the Shepherd Hill Rams played foil to their long-time Southern Worcester County League rivals by downing No. 5 Auburn, 32-22, to snap the nation's third-longest active win streak at 41 games.

This marks the Rockets' first loss since dropping a 24-17 decision at Winthrop in the second week of the 2008 season. The Rockets have since gone on to win three straight Central Mass Super Bowl titles.

The Rams (3-2) went up 26-6 early in the fourth quarter on a 60-yard Brad Picard touchdown scamper to put this one out of reach. Picard and fellow running back Anthony Wilga combined for four scores on the night (two apiece).

The 32 points are the most Auburn has allowed since dropping a 42-7 decision to Northbridge in October 2007.