Boston High School:

Branden Morin
May, 29, 2012
5/29/12
1:32
PM ET
The 2012 boys' lacrosse Eastern Mass. High School All-American team was released Monday morning by the Eastern Mass. Lacrosse Coaches Association.

Also included was the list of senior Acacemic All-Americans.

Here is the All-Americans list, which will be forward to U.S. Lacrosse:

Doug Gouchoe, Sr. G, Concord-Carlisle
Connor Darcey, Sr. G, Wellesley
Kurt Hunzinger, Sr. M, Masconomet
Kevin Blair, Sr. A, Hingham
Paul Hellar, Sr. A, Duxbury
James Burke, Sr. D, Duxbury
Max Randall, Sr. D, Duxbury
Matt O'Keefe, Sr. D, Duxbury
Nico Panepinto, Jr. A, Needham
Tucker Ciessau, Jr. A, Scituate
Ben MeLaugh, Sr. A, Billerica
Bill Polk, Sr. M, Dover-Sherborn
Henry Bumpus, Sr. D, Concord-Carlisle
Ryan Cassidy, Sr. LSM, Wellesley
Greg Stamatov, Sr. G, Foxborough
Kyle Soroka, Sr. M, Acton-Boxborough
Tom Stanton, Sr. M, Catholic Memorial
D.J. Smith, Jr. G, Billerica
John Sexton, So. D, Lincoln-Sudbury
Jay Drapeau, So. A, Westford Academy
Cabot Noyce, Sr. A, Norwell
Matt Comeford, Jr. G, Reading
Matt McIver, Sr. A, Andover
Alex Eaton, Sr. M, Westford Academy
Tyler McKelvie, Sr. A, Acton-Boxborough
Henry Guild, Jr. M, Lincoln-Sudbury
Mark Riley , Sr. M, Needham
Chris Williams, Sr. M , Duxbury
Ian Yanulis, Jr. D, BC High

Academic All-American Team
Benjamin Newbert, Dover-Sherborn
Mitchell Maffeo, Masconomet
Wellesley Shrewsbury, Masconomet
Jacob Sherman, Newton North
Peter Trombly, Acton-Boxborough
Jacob Saccorso, Foxborough
Stephen O'Grady, North Andover
Miles McCarthy, Catholic Memorial
Jonathan Lee, Hopkinton
Mark Palermo, Lowell
Colton Williamson, North Attleborough
Oliver Gregory, Marblehead
James Moynahan, BC High
Branden Morin, Bridgewater-Raynham

November, 24, 2011
11/24/11
6:37
PM ET
By
Adam Kurkjian
| ESPNBoston.com
BRIDGEWATER, Mass. -- The Bridgewater-Raynham seniors came into their Thanksgiving Day showdown with Brockton knowing it would be the last high school game of their careers.

They then proceeded to help make sure it became that way for their counterparts, as well.

After dominating the first half then holding off a spirited Boxer rally in the second half, the Trojans won the second annual Cape Cod Cafe Bowl, 14-8.

Combined with New Bedford's win over Durfee, B-R's defeat of Brockton (5-6) denied the visitors a chance at playing in an Eastern Mass. Division 1 semifinal despite winning the Big Three Conference outright. Due to a league rule that prohibits a team from making the postseason with a sub-.500 overall record, it will be New Bedford that goes to the playoffs for the second year in a row.

"We knew they weren't going to lie down, that's for sure," said B-R coach Dan Buron of Brockton. "We treated it like a playoff atmosphere for us."

Leading the way for B-R (8-2) were senior running backs Nick Schlatz (26 carries, 136 yards, 2 TD) and Branden Morin (12 carries, 79 yards), who combined for 178 yards in the first half as the Trojans built up a 14-0 lead.

Perhaps just as importantly, those two touchdown drives ate up nearly 15 minutes on the clock, effectively keeping Brockton's offense off the field.

Brockton finally got on the board in the fourth quarter when Moise Edouard recovered a fumble near midfield to help set up a 22-yard touchdown pass from Austin Roberts (81 yards rushing, 89 yards passing) to Lucas Depina. After a poor snap on the PAT, Roberts alertly picked the ball up and found Jerrod Shelby for the two-point conversion to pull his team within 14-8.

Although Brockton was able to force a B-R punt, the Boxers could not earn a first down on their final possession as the Trojans ran out the clock.

All it takes is one: You know what you're going to get with B-R. The Trojans are going to run the ball, then they're going to run it again and after that, they will run it some more. It seems pretty simple but it's a lot harder to stop than it sounds. However, while Brockton couldn't slow down the ground assault in the first half, the Boxers made stops in the second half.

As B-R proved, though, all that running only sets up a great look out of play action. With B-R ahead 14-8 and just 4:14 remaining, the Trojans faced a third-and-6 from their own 31.

Quarterback Brad Delullis -- who had attempted and misfired on one pass all morning -- faked a handoff, rolled to his right and hit Eric Wabrek (fumble recovery, interception) for the 6-yard gain and first down. The play allowed the Trojans to run off an extra minute and was another example of why opponents hate to line up against this team. B-R lulls you to sleep sometimes but it can be a winning formula.

An irreplaceable pair: Buron spoke highly of his seniors after the game, and two in particular stood out on Thursday in Schlatz and Morin. Asked after the game by one reporter how he is going to replace them, he simply said, "You can't." Schlatz, at 6-foot-2, 200 pounds, is simply a battering ram with enough speed to get to the outside on several toss plays, especially in the first half. Morin found his space in the middle of the Brockton defense, knifing ahead on traps and dives in the teeth of the Boxer front. Each player found himself in the middle of the action on defense, with Schlatz playing an active role at safety. Buron said the two made as good of a backfield pairing as he's had, which is high praise given the players who have passed through his system.

Mistakes doom Boxers: When the Boxers look back on this game, they will no doubt lament how several errors kept them from pulling off the comeback win. On the opening drive of the second half, the Boxers drove right down the field and seemed poised to score. Roberts then made a run down to the goal line that was called back due to a holding call that was vehemently protested by the Brockton sideline. After the Boxers then moved inside the 5, they fumbled soon after and Wabrek recovered to end the threat. On the Trojans' ensuing possession, Brockton had B-R stopped near the 20 but a late hit extended the drive another five minutes. Combine those mistakes with the fact that Brockton had its first drive stall in the B-R red zone, and there will be plenty of talk in Boxer-land about how this was a winnable game that got away.

BRIDGEWATER-RAYNHAM 14, BROCKTON 8

Brockton (5-6) 0 0 0 8 – 8
Bridgewater-Raynham (8-2) 7 7 0 0 – 14

FIRST QUARTER
BR – Nick Schlatz 2 run (Kevin Wadsworth kick)

SECOND QUARTER
BR – Schlatz 6 run (Wadsworth kick)

FOURTH QUARTER
B – Lucas Depina 22 pass from Austin Roberts (Jerrod Shelby pass from Roberts)
November, 5, 2011
11/05/11
1:19
AM ET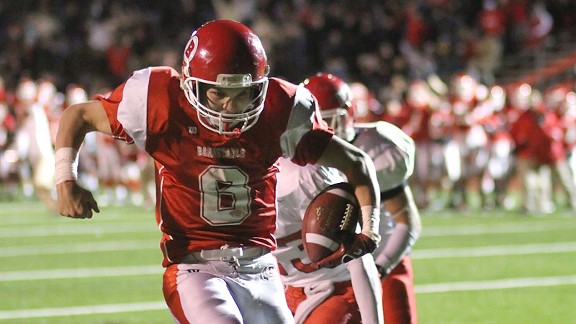 Eric Adler for ESPNBoston.comHayden Murphy's 5-yard touchdown in OT clinched Barnstable's first playoff berth since 2002, and sent the home crowd into euphoria.
HYANNIS, Mass. -- All 16 years and childish looks about him, Hayden Murphy could only offer sheepish grins to the cameras and tape recorders suddenly crowding the two feet in front of his face.
"This is my first interview, I can't talk, I'm sorry," he shrugged. "So much adrenaline."
How else should the floppy-haired slash-back have reacted after etching his name into Barnstable High's history books? The sophomore took a direct snap and darted across the goal line from five yards out, to deliver the host Red Raiders a thrilling 26-20 overtime shocker over No. 3 Bridgewater-Raynham. With the plunge, Murphy handed Barnstable its first outright Old Colony League title -- and postseason berth -- since 2002, and assured the Trojans no post-Thanksgiving football for the first time since 2008.
The call on Murphy's plunge was one that had worked for most of the second half for the Raiders (5-4, 3-0). With the Trojans (6-2, 1-1) respecting the passing attack of head coach Chris Whidden's spread scheme, that often left five or six players in the box. But rather than feed running back Theo France (17 carries, 159 yards, TD) the draw in conventional manners, Whidden called up a "Wildcat" package over a half-dozen times, with junior quarterback Nick Peabody split wide and Murphy -- a wideout, but also the team's third option under center -- taking the direct snap alongside France.
On this play, a designed quarterback counter, Murphy pushed the ball into France's belly as he pushed forward, but tucked it in himself and hauled it up the middle. The bench immediately emptied, and Murphy was mobbed.
"The linemen made me a huge hole, and I just ran right through it," Murphy smiled.
Said head coach Chris Whidden of the Wildcat strategy, "We've been repping it a lot in practice with Hayden, and as effective as it was, we kept going with it. Nick [Peabody] is one of our best blockers on the outside as a receiver, so it gets one of our best ballcarriers the ball, and one of our best blockers on the perimeter. Because either way, they're both going to be on the field, so you don't know what look we're going to give you."
But terrific as it was, the Trojans nearly pulled this one out after Branden Morin punched it in from five yards out with 2:09 left, to knot the game at 20. The Raiders fumbled the handoff at the Trojans' 14, but were able to force a three-and-out and take over at their own 37 with 52 seconds left.
Peabody marched the Raiders into B-R territory with two completions to James Burke, and with six seconds left Tom Mullen came in to attempt a 51-yard field goal. The sophomore's kick had the distance, but came up wide left.
B-R took the ball first in overtime, and on fourth down missed a short field goal attempt to give way to Murphy's heroics.
Concussion for Schlatz:
B-R head coach Dan Buron confirmed that senior captain and running back/linebacker Nick Schlatz went down with a concussion early in the second quarter.
An ESPNBoston preseason and midseason All-State selection, Schlatz scored on the very first play of the game, taking a sweep around the right 73 yards for the Trojans' initial 7-0 lead. He suffered the injury in the Trojans' first offensive series of the second quarter, getting stopped by Barnstable junior linebacker Andrew Ellis trying to convert a third and goal. The very next play, quarterback Brad Delulis rolled to his left and hit Eric Warbek for a two-yard touchdown pass an 13-6 lead, their final lead of the game.
Up to that point, Schlatz had 122 yards on 14 carries. He also picked off Barnstable's Nick Peabody on the Raiders' opening drive.
Fight the power:
Bridgewater kids come out of the womb rolling right, and while Buron sprinkled in some twins and trips looks out of one-back sets, the gameplan didn't deviate from those waggle and power principles that have made B-R one of the most consistent programs over the last two decades.
As usual, the Trojans looked to the stretch the field horizontally, with a convoy of blockers making room downfield. But the Raiders' linebacking corps was on its A-game tonight, between Ellis, Bryan Hardy and Ryan Litchman. After Schlatz's 73-yard scamper to start things off, the Raiders didn't allow another Trojans gain over 20 yards.
"Against Mansfield [last week, a 34-33 overtime loss], we struggled on anything C-gap and out," Whidden said. "So I put a little twist to our three-man front defensively, where Litchman's able to flow free, and I think that makes your blocking schemes a little bit more difficult. Now it's Andrew, Bryan or Ryan, one of the three of them is going to a little more space to roam."
Frenetic France:
One of the criticisms of Barnstable early in the season was that it was a team perceived to abandon the run too quickly when playing from behind.
And while Peabody deserves plenty of praise for the job he's done since taking over for the injured D.J. Crook under center, equal amounts need to be heaped the way of France's, for the balance he's given the Raiders this year out of the backfield. No longer a pass-happy bunch, the Raiders have often gone to France for draws and counters, to keep the defense honest when they leave too many players out of the box.
Witness France's 50-yard touchdown run late in the second quarter, a simple draw play in which he put on the burners once he got to the second level and blew by the safeties.
Raiders' playoff opponent set:
Lincoln-Sudbury beat its archrival Acton-Boxborough tonight, 21-14, to clinch their second straight Division 1A Playoff berth. They will face the Red Raiders, who will be looking for their first Super Bowl championship since beating BC High for the Division 1 title in 1999.
BARNSTABLE 26, BRIDGEWATER-RAYNHAM 20
BR (6-2, 1-1) 7 - 6 - 0 - 7 - 0 --- 20
BA (5-4, 3-0) 6 - 7 - 7 - 0 - 6 --- 26
First Quarter
BR - Nick Schlatz 73 run (Kevin Wadsworth kick) 10:42
Barn - Theo France 4 run (kick failed) 2:57
Second Quarter
BR - Eric Wabrek 2 pass from Brad Delullis (pass failed) 4:51
Barn - Theo France 50 run (Tom Mullen kick) 3:54
Third Quarter
Barn - Tedaro France 9 pass from Nick Peabody (Mullen kick) 6:17
Fourth Quarter
BR - Branden Morin 5 run (Wadsworth kick) 2:09
Overtime
Barn - Hayden Murphy 5 run
November, 3, 2011
11/03/11
10:05
PM ET
BRIDGEWATER, Mass. --Simply stated, No. 3 Bridgewater-Raynham is viewing Friday night's Old Colony League clash with Barnstable as a one-game playoff.

After beating the Red Raiders at home last year, the Trojans will travel to the Cape with Barnstable looking to repay the favor.

We caught up with the Trojans' captains after Thursday's practice:

OL/DL Eric DeMoura



QB Brad DeIuliis



RB/LB Branden Morin



RB/LB Nick Schlatz


October, 22, 2011
10/22/11
10:54
PM ET
By
Bruce Lerch
| ESPNBoston.com
WESTWOOD, Mass. -- After the game that Bridgewater-Raynham's Branden Morin had Saturday afternoon, it wouldn't surprise me at all to learn that he drove the Trojans bus home from Westwood, too.

The 5-10, 190-pound senior captain picked off two passes, one which he returned 45 yards for a touchdown, the other basically ensuring his team would get a shot at overtime. He also added 49 yards on seven carries and scored what would end up as the game-winning touchdown as No. 5 B-R survived yet another epic battle against No. 6 Xaverian with a 28-22 victory in double overtime.

This was the third straight meeting between the two powerhouse programs to require more than just 44 minutes to determine a winner. Two years ago, Xaverian won in the triple overtime; last year, B-R took it in the first OT.

Maybe next year they'll shoot for four.

"It's ridiculous," Morin said afterward with a smile. "We're always going to OT with them. It never gets easier."

Defenses controlled the first quarter, and it was Xaverian (4-3) who broke through first when Austin DeCarr connected with Mike Warren (4 receptions, 84 yards) for a 58-yard touchdown strike less than three minutes into the second.

The Trojans (5-1) came storming back, pounding the ball with 6-2, 200-pound wrecking ball Nick Schlatz (33 carries, 158 yards, two TDs) powering his way behind a determined offensive line. Schlatz carried nine times on a 14-play drive and finished it off with a four-yard TD with 2:18 left in the half.

Then Morin came through with the first of several clutch plays, stepping in front of a DeCarr pass and racing 45 yards to the end zone to put B-R ahead, 14-7.

Morin related how he saw the play develop, "The QB was dropping back, I saw him looking at the receiver and I just read it the whole way and took it to the house."

Undeterred, the Hawks put together a terrific drive, showing tremendous balance between the pass and the run on a 17-play possession that ended with a six-yard touchdown run on an option keeper by Chris Calvanese. Jules Murphy's extra point tied the game at 14-14.

Both Kevin Wadsworth and Morin each had crucial, fourth-quarter interceptions with the Hawks broaching B-R territory, while Xaverian's defense held firm as the Trojans gambled a couple of times simply to keep the Hawks explosive offense on the sidelines.

In the first overtime, Calvanese picked up nine yards on first down and Taute Hunter bulled his way in from the 1 for the Hawks. DeCarr hit Warren on the conversion pass and Xaverian held a 22-14 advantage.

B-R needed just one play to respond as Schlatz took a pitch and cut back through the middle for a 10-yard score, and Morin threw an option pass to Joe Noviello to send it to a second OT.

The Trojans went first, and two Schlatz runs set up a three-yard TD by Morin, but Xaverian's Aiden Desrosiers stuffed Schlatz in front of the goal line on a shovel pass for a failed conversion.

Those missed points ended up not not mattering, as Eric Wabrek picked off DeCarr on 3rd-and-goal from the 16 to lock up the win.

BLUE COLLAR WORKERS
Schlatz is the type of back you can picture grabbing his lunch pail and putting on his hard hat before each game. His longest carry went for 27 yards, but it was the steady dose of positive yardage he made that kept the Hawks on the defensive.

Facing Xaverian's big defensive line and linebackers, the Trojans offensive line of Joe MacInnis, Pat Whooley, Eric DeMoura, Brian Pope and Nick Falconeiri, along with tight end Ryan Murphy, showed they are group with heart and toughness in paving the way to a 254-yard ground attack. In addition to Schlatz and Morin, Wabrek also chipped in with 35 tough yards and good blocking.

"We worked all week long and said, we have to come off flat backs, low and hard technique will win the game," B-R coach Dan Buron explained. "They're big but we thought if we stayed lower than them, it would neutralize their size. We went with a little bit of an unbalanced and tried to pick places to run and were able to get some double teams. That number 11 (Maurice Hurst Jr.) in particular is a pretty good player. We tried to run away from him but sometimes that's worse because he's so quick."

ONE MAN DOWN, ANOTHER STEPS UP
Trojans quarterback Brad Deluliis left the game with a bad ankle after being tackled on a running play in the first quarter. What could have become a disastrous situation was tempered by the poise of backup quaterback David Miller, who stepped right in without allowing the offense to miss a beat.

"He threw a couple good passes," praised Buron. "He was a little nervous and the timing was off a little bit but I thought he did a great job leading the offense and he was very poised."

SEARCHING FOR AN IDENTITY
While B-R makes no bones about who it is and what it does, Xaverian appears to be still trying to find ways to fit the right pieces into the right spots, Chris Calvanese among others.

The senior had a terrific all-around performance, seeing time at quarterback, running back, receiver and also on defense. Calvanese completed 5-of-7 passes for 37 yards, caught two more for 43 yards, added 79 yards and a TD on six carries. Defensively, he was in on four tackles and had an interception.

"I think that we're still trying to get ourselves to be more consistent on both sides of the football," said Hawks coach Charlie Stevenson. "Clearly today was not a good game defensively for us against the run. We didn't sustain our offense the way we should have either."

He continued, "I think Chris Cal had a great game on both sides of the ball. In my opinion, he was the best athlete on the field on both sides of the ball. I wish we had more guys to go around him right now. We're looking for them and hopefully we will get more guys to put around him so that we can really highlight his athletic ability as we go down the stretch."

BRIDGEWATER-RAYNHAM 28, XAVERIAN 22 (2 OT)
BR (5-1) 0 14 0 0 8 6 - 28
Xaverian (4-3) 0 7 7 0 8 0 - 22

X - Mike Warren 58 pass from Austin DeCarr (Jules Murphy kick)
BR - Nick Schlatz 4 run (Kevin Wadsworth kick)
BR - Branden Morin 45 interception return (Wadsworth kick)
X - Chris Calvanese 6 run (Murphy kick)
X - Taute Hunter 1 run (Warren pass from DeCarr)
BR - Schlatz 10 run (Dan Noviello pass from Morin)
BR - Morin 3 run (rush failed)
October, 15, 2011
10/15/11
7:44
PM ET


BRIDGEWATER, Mass. – No. 7 Bridgewater-Raynham has a lot to worry about in the coming weeks, with a Top 10 matchup against Xaverian next week and Old Colony League play set to start. So Trojans head coach Dan Buron was concerned that his team was looking past top-ranked Rhode Island squad La Salle Academy on Saturday afternoon.

The Trojans shook off their slow start, however, storming back with three scores in the second quarter while handing the Rams their first loss of the season, 27-16.

"I think that's a good quality win for us because that's a good, tough football team," Buron said.

B-R (5-1) spotted La Salle (5-1) a 3-0 lead largely on field position in the first quarter with Peter Picerelli drilling a 41-yard field goal.

The Trojans began to assert their will in the ground game on the ensuing drive, capping off an 11-play 80-yard drive on quarterback Brad Deluliis' 3-yard touchdown run with 6:15 remaining in the half.

The Rams took the lead back promptly with fullback Martin Bannerman rumbling 49-yards up the middle of the field on a gut trap for a touchdown.

Just 18 seconds later, the Trojans broke off a big play of their own with Nick Schlatz hitting the corner and striding 64 yards to the end zone.

"We played good in spurts, but you can't do that against these guys," La Salle head coach Geoff Marcone said. "If you play good in spurts, you're going to lose the game. That's what happened. They're a good football team and we just didn't give a good effort today."

B-R struck again before the half was out. As time expired, kicker Kevin Wadsworth rolled left on bootleg off a fake field goal. The Rams had the trick play almost perfectly defended, but Wadsworth found Brendan Page with a 4-yard pass on the flick of a wrist for a 21-10 Trojan lead.

"We called that and then I was going to call a timeout if it wasn't there, and I just said the heck with it," Buron said. "The kid that caught the ball [Page] was supposed to be blocking, but thank god he did. He made a nice catch.

"He was like the third option on that play, not even, he wasn't really an option, but it worked out."

After a scoreless third quarter, La Salle made it a one-possession game on Josh Morris' 5-yard touchdown run on an option left. After the two-point conversion failed, the B-R lead was down to five.

Then, the Trojans running game took over once again.

Branden Morin had five straight carries to finish off a 9-play drive that bled nearly four minutes off the clock and exhausted all of the Rams' timeouts.

B-R junior Matt Petty astutely recovered the ensuing kickoff on a squib kick, putting the game out of reach.

POUND, POUND, POUND
The Trojans receiver another solid performance from senior captain Nick Schlatz who racked up 135 yards on 23 carries.

But even when Schlatz wasn't able to go on the Trojans' final drive, Morin proved a more than adequate replacement. Morin chipped in 11 carries for 75 yards and a touchdown, spelling Schlatz and creating a viable 1-2 punch.

"Nick Schlatz was a little dinged up [on the last drive] and Branden Morin stepped up," Buron said. "[Fullback] Stevie Wentworth blocked well and Eric Wabrek does a great job of blocking, too."

It was an encouraging sign ahead of the Trojans' date with No. 5 Xaverian next week, which will pit B-R strength against a large, physical Hawks defensive line.

HOWDY NEIGHBOR
La Salle entered the game as our top-ranked Ocean State team at No. 7 in the ESPN Boston New England football poll.

At times, the Rams delivered on their top-billing, with Morris (16 car., 84 yards) showing flashes of the brilliance he's shown against in-state opponents this year.

"He's a big-play player," Marcone said of Morris. He can grind it out, but he make big plays happen for you, too. I'm a little biased in this opinion, but he's one of the best backs in our state. Hopefully, by the end of the year, he'll be the best."

For the most part, the Rams were effective in their ability to shoot the gaps against the Trojans' traps and counter runs. Senior middle linebacker and de facto captain of the defense Marcanthony Reynoso also put on a tackling clinic.

But, in the end, it came down to consistency.

"Every time we seemed to get momentum, there was a penalty, or we fumbled the ball, or there was a bad snap," Marcone said.

B-R (5-1) 0 21 0 6 -- 27
La Salle (5-1) 3 7 0 6 -- 16

1st quarter
LS – Peter Picerelli 41-yard field goal

2nd quarter
B-R – Brad Deluliis 3-yard run (Kevin Wadsworth kick)
LS – Martin Bannerman 49-yard run (Picerelli kick)
B-R – Nick Schlatz 64-yard run (Wadsworth kick)
B-R – Wadsworth 4-yard pass to Brendan Page (Wadsworth kick)

4th quarter
LS – Josh Morris 5-yard touchdown run (Pass failed)
B-R – Branden Morin 4-yard run (Kick blocked)
September, 24, 2011
9/24/11
8:16
PM ET
BRIDGEWATER, Mass. – If what usually works isn't working, try something different.

It's not as though Dan Buron all of sudden will transform Bridgewater-Raynham's offense into a high-flying spread attack. However, the Trojans' 28-15 win over Marshfield on Saturday afternoon was proof positive that B-R can mix things up. Instead of the Trojans' meat and potatoes rushing attack running up the gut, Buron spread the Rams thin, rolling out a series of three and four wide-out formations.

After a shaky start, No. 13 B-R (2-1) turned in perhaps its best overall performance of the young season.

"After the first series, I think we settled down," Buron said. "I think we played better on both sides of the ball. The kids settled down."

The Rams (1-2) embarked on a 14-play drive off of the opening kickoff and scored 7:45 later on Mark Pomella's 31-yard pass to Bryan Mey. The 6-0 advantage was the last lead Marshfield held, as the Trojans would go on to score on three straight possessions from the first into the second quarter.

"That's how we play football," Trojans running back and linebacker Nick Schlatz said. "B-R football's all about the driving the ball down the field, finishing drives and then getting the ball back and doing the same exact thing over again."

Eric Wabrek put B-R ahead with two touchdown carries on back-to-back drives with runs of three and six yards.

Branden Morin added a 2-yard touchdown run for a 21-6 lead before Marshfield's Brendan Doherty hit a 38-yard field goal to make it 21-9 at the half.

Schlatz again made it a three-possession game with a 2-yard run with 32 seconds remaining in the third quarter.

However, it was the senior captain's contributions as a decoy that proved key to B-R success. After the Trojans had trouble establishing the running game on their first possession of the game, Buron started flexing Schlatz out to wide receiver, drawing the attention of the Rams' defense. Oftentimes with a double-team devoted to Schlatz on the wing, B-R found greater success on the ground with Morin and quarterback Brad Deluliis running the ball.

"We've been doing it a little the last couple of years … with [Brad] Deluliis, Mike Connolly and even Billy Zolga last year, we spread it out and threw a little bit more," Buron said. "But now what we've done is split Nick Schlatz out there and then we have Arcel Armstead, who's a pretty good running back, too, on the other side, so people have to worry about them because they're good receivers, too."

Not exactly by the book in B-R's terms, but it certainly was effective.

BETTER EACH WEEK
Not only did Buron mix things up, he also felt his team has improved with each passing week, commenting that last week was the Trojans' best week of practice. That was evident in the play of B-R's young offensive line, which took its lumps in a Week 1 loss to No. 2 Duxbury, but was a strength on the whole on Saturday.

"Each week, we're getting a little bit better," Buron said, "with a young offensive line, I think we got shell-shocked [in the Duxbury game]."

About Saturday's performance, Buron added, "That group hung in there, we were lucky to survive that first game, but they've gotten better."

ON THE MOVE
After moving Schlatz out of the backfield, Marshfield wasn't able to key on the bruising back running up the middle. It also freed quarterback Deluliis to air out the ball some, while also allowing him to find some running room.

"They were loading up," Buron said. "They took away what we do best, or what we think we can do best."

It also enable Deluliis to show off his athleticism. Not to mention, it got him into the flow of the game.

"He seems to play better when he's more involved in the offense, instead of just handing off," Buron said of his senior signal-caller. "Now, he's more involved and working up a sweat, if you will, he just seems to respond to that."

IMPACT PLAYER
Buron praised the work of Wabrek, the senior running back and inside linebacker.

Not only did Wabrek score B-R's first two touchdowns with some hard-nosed, goal-line running, he set up the Trojans' first scoring drive with a heady interception, slipping underneath an out pattern.

"He was injured some of last season and he's not one of our captains, but Eric's a smart player and brings us some leadership," Buron said. "He was one of our game captains for today and he showed the type of player that he is."


September, 1, 2011
9/01/11
11:25
PM ET
BRIDGEWATER, Mass. -- Eighth-ranked Bridgewater-Raynham has become a fixture in the Division 1A Super Bowl at Gillette Stadium.

In each of the last two seasons, the Trojans advanced out of the Old Colony League and won a playoff game -- only to face Gloucester in the championship game. Both tilts against the Fishermen weren't so kind to B-R. However, the Trojans' recent track record has meant high expectations with anything short of a Super season is a bit of a let-down.

"They're not cocky or anything, but they expect a certain standard," head coach Dan Buron said of his seniors. "Their expectations are set really high now. Nick [Schlatz] and a lot of the seniors played as sophomores in the Super Bowl two years ago. And I think the big thing they'll take from the last couple of years is the senior leadership that those groups had before them. I think that's what they hope to provide for this team this season."

That leadership will be taken up by the Trojans' group of senior captains with quarterback Brad Delulis, running back/linebacker Branden Morin, lineman Eric DeMoura and Schlatz.

Schlatz and Morin will comprise a talented backfield that is dangerous as it is experienced.

"We have some big shoes to fill though," said Schlatz, a 6-foot-2, 185-pound two-way player. "It's important for us to take it week by week and win by win. As we get into the league play, we need to step it up and be ready to go."

The running back and outside linebacker committed the offseason to getting bigger, faster and stronger to aid his performance on both sides of the field. Schlatz's greatest asset on the field might be inside his helmet, however

"He's like having another coach out there," Buron said. "He's a great player, but he's such a smart player."

Schlatz has garnered interest as a defensive player from Assumption, Brown and UMass-Amherst.

His sights are set firmly on the immediate future though, citing the most important challenge facing his team was B-R's scrimmage against Brockton on Friday. Then, once that's through, it'll be on to the season opener at Duxbury next Friday.

"We're not looking forward too much, we're just focused on [Duxbury]," Schlatz said. "They came on our field last year and they embarrassed us pretty good, so we'd like to get them back this year."

While the Trojans would like nothing better than to take care of business, avenging last year's opening loss to the Dragons, you can be assured B-R will once again have its sights set on December.

Eventually.

BRIDGEWATER-RAYNHAM AT A GLANCE
2010: 8-3 (Lost in Division IA Super Bowl to Gloucester)
Coach: Dan Buron (19th year, 140-52-2)
Players to watch: Nick Schlatz, Sr., RB/LB, 6-2, 185 lbs.; Branden Morin, Sr. RB/DB, 5-10, 180; Brad Delulis, Sr. QB/DB, 5-9, 160; Eric DeMoura, Sr. OL/DL, 5-10, 180; Steve Wentworth, Sr. RB/LB, 5-11, 180; Dan Noviello, Jr. DL, 6-1, 200; Kevin Johnston, Jr. DL,, 5-11, 200; Matt Wabrek, Jr. E/DB, 5-9, 170.
Strengths: Experience at running back, linebacker and defensive back
Weaknesses: Lack of game experience on the line.
Outlook: The Trojans run-heavy offense is in good hands with Schlatz and Morin in the backfield. However, there is changeover on the offensive line and this will be Delulis' first season under center. "He's small, so people might not think he looks like a prototypical quarterback," Buron said, "but Brad's athleticism is going to allow us to some different things with the offense." Buron's also looking for Cain Vanderbrink, Mark Guarino and DeMoura to lead the young line. On the flip side of the ball, the Trojans have a wealth of experience on the linebacking corps and in the secondary with Schlatz playing alongside Wentworth. Also, look out for a pair of juniors in Johnston and Noviello to take a step forward on the defensive line.
December, 1, 2010
12/01/10
2:02
AM ET
By
Brian Fabry
| ESPNBoston.com


BRIDGEWATER, Mass. -– It was a tale of two halves for Billy Zolga but all that matters is a win in the end.

The senior quarterback Zolga was an efficient 7-of-10 under center for 148 yards with three of his seven completions going for touchdowns but Bridgewater-Raynham dominated previous undefeated Weymouth in the second half with their ground game in a 34-22 victory in front of the their home crowd to advance to the Division 1A Super Bowl this Saturday at Gillette Stadium.

While Zolga did throw one interception that resulted in a Wildcats' touchdown, most of the senior signal caller's damage came in the first half with 134 yards on 5-of-7 passing before turning the game over to his backfield - junior tailback Branden Morin and senior captain Mike Chicoine.

Morin was the workhorse with 28 carries for 165 yards and two touchdowns and was the major cog in the Trojans' ability to control the clock in the second half. Morin replaced starting tailback Nick Schlatz due to Schlatz's shoulder injury in the third quarter of Bridgewater-Raynham's big win over Brockton on Thanksgiving.

Chicoine had 59 yards on eight carries before also leaving with an lower leg injury with less then five minutes to play in regulation.

"Brandon Morin stepped up huge, we needed a lot of guys to step up for Nick Schlatz, and they did it. It was a great team effort, a great team win," Trojans head coach Dan Buron said. "We knew they were going to stop the run and figured we would get a little play action pass going but we changed in the second half cause I like the clock to run."

Weymouth drew first blood on their first series with a 73-yard, nine-play drive finished by quarterback Mitch Temple with a 17-yard floater to junior receiver Khary Bailey-Smith.

But Bridgewater-Raynham (10-2) answered back quickly scoring on only their second play from scrimmage as Zolga found Sean O'Donnell wide open for a 47-yard touchdown and the game was knotted at seven with 5:13 to go in the first quarter.

Not only that, but the Trojans would hit pay dirt on their first three possessions to take a commanding 22-7 lead as Morin scored the first of his two rushing scores and Zolga found fellow senior Sean McCall for the first of McCall's two end zone grabs, this one going for 52 yards.

But Weymouth (11-1) didn't go away quietly as senior tailback Dylan Colarusso punished the Trojans' defensive front for 78 first-half yards on the ground and scored from four-yards out to cut the deficit to eight, 22-14. Colarusso scored again from three-yards out after Shawn Whouley tipped a Zolga pass in the middle of the field to defensive back Ozzy Colarusso for the interception to set up the Wildcats at the Trojans' 34-yard line. Dylan Colarusso's second score came with only 33 seconds left in the second quarter and he capped off the comeback with a two-point conversion to tie it all up, 22-22, at the break.

"When it was tied I said 'What do you expect' – (Weymouth) is undefeated, they are not going to die, but we handled their surge and let's go out and take the opening drive," said Buron.

A seven-play drive ending in Morin's second end zone dance, a six-yard sweep to the left, ate up 4:32 of the third quarter and gave Bridgewater the slim 28-22 lead.

Bridgewater-Raynham's defense finally came alive and forced the Wildcats into a quick three-and-out and the Trojans' running game took over the rest of the way.

A clock-killing 17-play drive ensued with Buron methodically drawing out plays to the final seconds of each possession to keep Weymouth's defense on the field. The drive covered the remainder of the third quarter and then after 15 of the first 16 plays of the drive were running plays – Zolga drove the stake into Weymouth's perfect season with an eight-yard corner route touchdown to McCall for the 34-22 lead with only 3:50 remaining.

All in all, the Wildcats only touched the ball eight times in total on offense in the second half which resulted in a net 11 yards of offense from scrimmage. Dylan Colarusso was bottled up the rest of the way as he finished with only 80 yards on 14 carries.

The win sets up a rematch of last season's D1A Super Bowl between the Trojans' and Gloucester -- 21-0 winners over Lincoln-Sudbury -- in a game in which the Fishermen's running game prevailed in a 33-13 victory.

WEYMOUTH (11-1) 7 15 0 0 -- 22
BRIDGEWATER-RAYNHAM (10-2) 15 7 6 6 -- 34

WE – Khary Bailey-Smith 17 pass from Mitch Temple (Ozzy Colarusso kick)
BR – Sean O'Donnell 47 pass from Billy Zolga (Mike Chicoine kick)
BR – Branden Morin 5 run (Morin run)
BR – Sean McCall 52 pass from Zolga (Chicoine kick)
WE – Dylan Colarusso 4 run (O. Colarusso kick)
WE – D. Colarusso 3 run (D. Colarusso run)
BR – Morin 6 run (kick failed)
BR – McCall 8 pass from Zolga (run failed)
November, 8, 2010
11/08/10
1:54
PM ET
WARRIORS CAME OUT TO PLAY
Lincoln-Sudbury's success might have come a year earlier than expected.
Pitted against Dual Country League (Large) rival Acton-Boxborough and the Colonials' stout defense, a young Warrior team claimed their own destiny with a 10-7 win on Senior Night in Sudbury.
L-S has only two seniors starting on either side of the ball (Benjamin Forman, Zach Smerlas, Lawrence Stevenson and Ryan Swoyer) and relies heavily on its strong junior class. The Warriors also received key contributions from a couple of sophomores in the victory over A-B. Running back Christopher Georgio punched in the Warriors' lone touchdown of the game. In addition, fellow second-year player Brian Carroll pocketed a key fourth-quarter interception along with a strong contribution in the running game with nine carries for 72 yards.
Clearly, L-S has come a long way in a short period of time.
"I never thought we'd be at this point," Warriors head coach Tom Lopez told Scott Barboza after the game, "especially after that loss to Tewksbury at home."
From that point on, L-S strung together three straight wins before hitting a couple bumps in the road with losses coming at Concord-Carlisle and at home to Reading. The Warriors righted their ship with league wins over Waltham and Westford to put themselves in position for the big matchup with A-B.
L-S still needs to win one game over Boston Latin or on Thanksgiving against Newton South to sew up the DCL crown.
"We just need to keep things rolling," senior running back Marc Pace said. "All we need to do is win."
THANKSGIVING CORNUCOPIA
It's not that far away (heck, you can ever hear Christmas music round some parts) to start thinking about Thanksgiving. And, if all holds true to form, here's a smattering of holiday traditions around Eastern Mass. that could have a greater significance this year:
Walpole at Weymouth: It has no bearing on either team's postseason destiny, but both sides would like nothing better than to disrupt the other side's potential run at a perfect regular-season slate.
St. John's Prep at Xaverian: Provided neither team is upset this weekend, Turkey Day is shaping up to be a winner-takes-all contest for the Catholic Conference.
Dracut at Methuen: This one should be entertaining nonetheless and expect there to be plenty of points on the board when all is said and done. In addition, it could decide which team moves on from the Merricmack Valley Small.
Lowell Catholic at Pope John: The winner of the Catholic Central Small clash could be headed to the Division IV-A playoffs.
Abington at Whitman-Hanson: Worth noting that it is the 100th anniversary of the rivalry.
FOR ALL THE MARBLES … ONCE AGAIN
OK, so we thought the battle of Somerset and Martha's Vineyard was the Eastern Athletic Championship game, but who saw Bishop Feehan getting into the fray this late into the season? Although the Shamrocks are 4-5 overall, they are 3-0 in the EAC, thus staging the league's second in-season Super Bowl Friday in Somerset.
HOLLISTON CAN'T WAIT FOR ITS REMATCH WITH MEDWAY; DITTO MEDWAY, VICE-VERSA
The Medway Mustangs couldn't help but feel overjoyed when the final seconds ticked off on their 28-18 victory over Norton, to send them to Saturday night's Tri-Valley League championship game. So, too, was Holliston, no doubt licking its chops since the Mustangs shocked the region with a 28-16 upset back in early October.
"This is the matchup they've been waiting for since October 1," Holliston coach Todd Kiley told ESPNBoston's Brendan Hall. "We haven't overlooked anybody by any stretch, but you know it's in the back of their minds, they're kids of course. So we're fired up for that. I think they were secretly rooting for Medway today."
BRIDGEWATER-RAYNHAM IS STILL THE CLASS OF THE OLD COLONY
The Trojans' gameplan last Friday night against Barnstable was classic Dan Buron. The B-R coach is known for always having great run blocking out of power formations, and in this particular matchup he used it to set up play action waggles that kept the young Red Raiders defenders on their feet. Quarterback Billy Zolga completed his first seven passes, as the Trojans burst out to a 35-6 halftime lead.
"I thought it was very important (to keep them honest with the pass), because they were creeping up on us," Buron said. "I thought there were two passes in particular -- one to Delullis and one to (Branden) Morin where they had it covered and those kids slid, and Billy was poised and threw a nice ball...I thought Billy showed alot of poise tonight."
Zolga, also starting in the secondary that night to combat the Raiders' talented receiving corps, essentially sealed it in the fourth quarter with a pick-six of a D.J. Crook pass over the middle, essentially wrapping up the Old Colony League title for the second straight year. Even if the Trojans were to lose this week to Taunton, they're in based on head-to-head with Barnstable.
In other words, the road to Gillette still goes through Bridgewater.
HEAD OF THE CLASS
VALVOLINE PEAK PERFORMER OF THE WEEK: ANDREW COKE, ANDOVER
The junior running back was at it once again for the Golden Warriors, carrying the ball 30 times for a season-high 290 yards and all five touchdowns in a 36-20 win over Billerica to improve to 6-3. That gives Coke four 200-yard games on the season, and 1,447 yards in nine games this year, averaging 6.5 yards a carry. In all but two games this season, Coke has run for at least 130 yards.
THE CLASSMATES
Ray Holloway, Sr. RB, East Longmeadow - He was a dominant force for the Spartans in their 27-3 win over Springfield Putnam, rushing for 225 yards and three scores to keep EL undefeated.
Isaiah Jones, Sr. RB, Mahar: Needed only six carries to rack up 200 yards and four touchdowns against Turners Falls.
Mike Mercadante, Sr. RB, Minnechaug - Western Mass.'s leading rusher went off for 232 yards and two scores as the Falcons toppled Agawam, 41-20.
T.J. Norris, Jr. RB, Longmeadow: Led the Lancers to a 39-24 win over Westfield with 16 carries for 235 yards and three touchdowns.
Jaron Spear, Sr. TB, Somerset: Not be outdone by Jones, Spear's line from Friday night: Four touches, 172 yards, four touchdowns.
Mitch Temple, Sr. QB, Weymouth - Threw for 260 yards and three touchdowns in the Wildcats' 42-0 shutout of Wellesley, which clinched them a berth in the Division 1A playoffs.
November, 6, 2010
11/06/10
2:08
AM ET



BRIDGEWATER, Mass. -- Billy Zolga exhaled deep when asked to describe his emotions in the wake of a dominant performance by him and his fellow Bridgewater-Raynham teammates. The senior quarterback rattled off some pedestrian phrases with junior tailback Nick Schlatz -- "pretty excited", "relieved", "can't describe it". And then Schlatz dropped a trigger word: "we wanted to make a statement."

Just what kind of statement?

"I think people should be nervous to play us, that's all I have to say," Zolga quickly shot back with a smile.

Added Schlatz, "Show everybody we're for real."

Hard to argue with that, based on the evening's results. The Trojans have been bouncing with swagger since their double-overtime upset of then-No. 3 Xaverian last month, and it all came to a head in last night's 50-22 dominance of Barnstable that assured them at least a share of the Old Colony League title for the second year in a row. B-R (6-2, 2-0) can claim the league outright with a win over Taunton next week.

Clearly, the Trojans are clicking at just the right time.

"We had a great week of practice," head coach Dan Buron said. "Probably the best overall week of practice we've had all season long. I credit the scout team for giving us a great look...practice was like, on Tuesday it felt like a Thursday."

Part of that scouting this week, Buron said, was having assistant coach Mark Hartsell play the part of Barnstable's vaunted quarterback D.J. Crook. Doesn't hurt that Hartsell quarterbacked some nationally-ranked squad at Brockton High before enduring careers at Boston College and the NFL -- "he's the closest thing to the arm strength of Crook, our sophomores can't throw like that," Buron said.

As for the play on the field, the Trojans pounced on the Red Raiders early, capitalizing on turnovers to build a 23-0 lead through the first quarter and 35-6 halftime lead. Barnstable (5-4, 2-1) opened the game with an onside kick that a Trojan player fell on at the Raiders' 41 yard line. The Trojans marched steadily down the field in seven plays, with inside runs by Schlatz (31 carries, 123 yards, three touchdowns) setting up a 23-yard strike from Zolga (107 passing yards, three touchdowns) to Sean McCall, rolling right and threading him a tight ball in double-coverage. Schlatz punched it in four plays after the strike, from five yards out, and Brad Delullis ran in the point-after try on a muddle play to take an 8-0 lead.

Things went bad for the Raiders when, on their ensuing three-and-out, a bad snap on their fourth down punt attempt forced Crook to fall on the ball at his own seven. Schlatz plunged in on the very next play, and fullback Mike Chicoine took a direct lateral from the snapper on another muddle try, to make it 16-0.

With the Raiders creeping up into the box to combat Buron's many different looks out of the Power-I, Zolga kept the defense honest with the waggle. He was a perfect 7 of 7 for 107 yards to start the game, before having to spike the ball with 13 seconds to go in the first half. That, of course, merely set up another touchdown run, this a sneak, to make it 35-6 headed into the break.

"I thought it was very important (to keep them honest with the pass), because they were creeping up on us," Buron said. "I thought there were two passes in particular -- one to Delullis and one to (Branden) Morin where they had it covered and those kids slid, and Billy was poised and threw a nice ball...I thought Billy showed alot of poise tonight."

Said Zolga, "They were sending everybody. Just completing those passes to keep the drives going, it helped us score some more points. It was big."

The Red Raiders can score quickly, and in bunches, and came out firing in the second half, putting together an 11-play, 67-yard scoring drive punched in with a five-yard Dennis Reddy off-tackle. They failed to seize any momentum from B-R, though, as Zolga put the finishing touches with a 45-yard interception return to seal it in the fourth quarter. Zolga, inserted into the secondary this week to combat Barnstable's deep and speedy stable of wideouts, jumped a route over the middle and leaped forward to make the pick for the 48-14 lead with nine minutes to go in the game.

"We were just dropping back into a deep zone," Zolga said. "I read his eyes, just saw the ball coming at me, just attacked it, just ran. Ran like Hell. I wanted to score."

Chicoine made it 50-14 with the same two-point try that he succeeded with in the first quarter, a direct lateral from the long snapper that he pushed past the goal line with an added spin.

"Every time we run that set, we read what they're doing. It's just an automatic read," Buron said of going for two at that moment. "That gets us up 28 points, and that's a team that can score at will. I mean, they came roaring back against Dennis-Yarmouth (a 41-38 loss in week two). No lead is safe against these guys."

BRIDGEWATER-RAYNHAM 50, BARNSTABLE 22

Barn 0 6 8 8 --- 22
B-R 23 12 0 15 --- 50

First Quarter
BR - Nick Schlatz 5 run (Brad Delullis kick) 7:20
BR - Schlatz 7 run (Mike Chicoine kick) 5:58
BR - Chicoine 1 run (Chicoine kick) 0:08

Second Quarter
BR - Sean O'Donnell 7 pass from Billy Zolga (kick failed) 4:38
Barn - Dennis Reddy 15 pass from D.J. Crook (pass failed) 3:09
BR - Zolga 1 run (kick blocked) 0:08

Third Quarter
Barn - Reddy 5 run (Matt Delaney pass from Crook) 7:51

Fourth Quarter
BR - Schlatz 3 run (Chicoine kick) 10:26
BR - Zolga 45 interception return (Chicoine run) 9:36
Barn - Crook 2 run (Jordan Henderson pass from Crook) 8:23
September, 1, 2010
9/01/10
11:56
PM ET
BRIDGEWATER, Mass. – Class is in session in room 120.
Bridgewater-Raynham head coach Dan Buron is at the front of the classroom, pointing at the projector screen. The film shown is from the Trojans' first scrimmage of the season, which was Saturday at Xaverian. He draws circles with his index finger around a couple of players in the defensive backfield who weren't showing proper technique.
"There's one, two … three guys who don't look like they're ready to play."
[+] Enlarge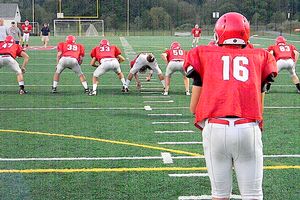 Scott BarbozaNo. 20 Bridgewater-Raynham went through special teams paces during Wednesday night practice in Bridgewater.
The next sequence of plays rolls across the screen.
"Look how he sheds that block here," Buron says with enthusiasm. "Nice job."
During the next offensive series.
"You linemen can't be spectators on this play. You can't be standing around."
There's plenty of bad things and plenty of good things that came up during the film breakdown session.
It's early still, but Buron and his players know which elements need to improve in order for the No. 20 Trojans to repeat as Old Colony League champions.
"At this point, we can get better at everything," senior co-captain Mike Chicoine said. "There's a long way to go. There are a lot of things we can improve on. We can play better on offense. We can play better on defense."
Buron is the type of coach who wouldn't even hint at it, even if he knew for certain he had a Super Bowl-caliber squad on his hands. He'd be more likely to ramble off areas for improvement by case and point. His quest is to get the most out of his players and see them achieve their truest potential.
"We rely on our seniors every year and a lot of this year's seniors don't have a lot of experience out there," Buron said after Wednesday's film session. "Last year's seniors were talented, but they also worked very, very hard. They did all of the little things right, which I know these guys can do as well. It just comes down to the willingness to work hard and not taking anything for granted."
Having a short memory comes with the territory, so last year's visit to the Eastern Mass. Division IA Super Bowl is past.
Senior co-captain Mike Devin knows that every year a team takes on a complexion of its own. This year, Devin returns as the most experienced Trojan lineman, so he's taken upon the task of bringing along his younger teammates.
"We have a young team of linemen, so you have to teach them all the small things before you can get going," Devin said.
"Really, it comes down to hard work. We're at point where we're looking at the little things, like positioning and flying to the football as a team. Really, it all comes down to effort. I know we can, but we just have to prove we can do those things."
Inside the cramped classroom, it was getting warmer. Buron finished going over his notes from the previous scrimmage before moving onto instructions for B-R's next test. He ran over last-minute details and diagrammed a new play the Trojans would incorporate at practice. He left them with a series of questions to which the players replied in unison: "Yes, sir." They filed out of the room to get ready for practice.
This year's success will be measured on how well the B-R players heed the lessons given to them on this late-summer day.
"I want to win the OCL," Chicoine said. "Flat out.
"We've got some work to do."
BRIDGEWATER-RAYNHAM AT A GLANCE
2009:
10-3 (3-1 Old Colony), lost in Division IA Super Bowl
Coach:
Dan Buron (18th year, 132-49-2)
Players to watch:
Mike Chicoine, Sr., FB/LB, 6-1, 185 lbs.; Mike Devin, Sr., OL/DL, 6-3, 250 lbs.; Cody Wood, Sr., RB/LB, 5-11, 170 lbs.; Billy Zolga, Sr., QB/DB, 6-3, 185 lbs.; Nick Schlatz, Jr., RB/LB, 6-1, 180 lbs.; Tyler Martin, Sr., OL/DL, 5-10, 200 lbs.
Strengths: Depth at running back.
Weaknesses:
Lack of experience in secondary, offensive and defensive lines.
Outlook:
The Trojans will win by the running game and opening up opportunities to pass off of play-action. With senior Cody Wood and juniors Nick Schlatz, Branden Morin and Eric Wabrek to carry the ball the Trojans have plenty of options. It looks like Billy Zolga could have the inside track at quarterback, but Buron would like to find ways to get athletic backup Brad Deiulis on the field. The questions are on the defensive side of the ball, particularly in the secondary where only Zolga and Brett Stewart of this year's bunch saw playing time in 2009. "We had four terrific guys in the secondary last year, who were kind of the unsung heroes of our team," Buron said. "They played smart, didn't give up any big plays. That's the big mystery right now, how we're going to replace them." Devin will anchor the D-line, where junior Mike Gillis and senior Marc McDonald could be poised for breakout seasons.