Boston High School:

Brandon Miskin
November, 20, 2012
11/20/12
1:20
PM ET
For the first time in site history, we're pleased to announce that ESPN Boston will honor the top boys' and girls' MIAA soccer player with its first-ever Mr. and Miss Soccer Awards this year.
The winners will be announced on Monday, Dec. 3, but we've whittled down our lists to a final five candidates today.
Without further ado:
MR. SOCCER FINALISTS:
Felix DeBona, Sr. F, Somerville
- The D1 North champions were led by DeBona's 29 goals, including the lone goal against St. John's Prep that clinched the sectional title. DeBona's scoring propelled the Highlanders to 15th in the NSCAA national rankings, a Greater Boston League title, and an undefeated regular season.
Dave MacKinnon, Sr. GK, Oliver Ames
- MacKinnon was named an All-American for his commanding play in net for the Davenport division champions. He gave up only four goals during the regular season with 13 shutouts and was named the Hockomock League MVP. In the playoffs, MacKinnon's save during the shootout helped the Tigers beat league rival Franklin in the opening round.
Nate Pomeroy, Sr. F, Groton-Dunstable
- Pomeroy, who is bound for Brown University next season, notched two goals in the D2 state finals to clinch back-to-back titles for the Crusaders. Pomeroy was named to the All-New England team and named Mid-Wach B MVP this season. He had eight goals in the 2012 postseason run.
Cody Savonen, Sr. F, Nauset
- Savonen led Nauset to the D1 South sectional quarterfinals and eclipsed the 20-goal mark for the season. He had a hat trick in a 3-0 win over Plymouth South that wrapped up the third Atlantic Coast League title of his career and scored the winner in the opening playoff game against Wellesley.
[+] Enlarge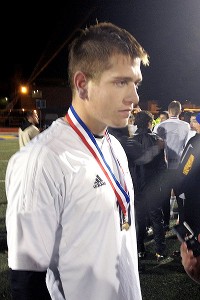 Courtesy of Josh PerryNeedham senior captain Mac Steeve led the Rockets to a Division I state title and is a finalist for our inaugural Mr. Soccer Award.
Mac Steeves, Sr. F, Needham
- The Rockets all-time leading scorer was named an All-American this season and led Needham to the Division 1 state title. Steeves also showed his ability to step up in big games. He scored both goals (and drew the penalty for the second) against Somerville in the state semifinals and scored the winning goal in the state finals against Amherst.
Honorable Mentions:
Osla DeBrito (New Bedford), Mike Lynch (Weymouth), Thayrone Miranda (Somerville), Brandon Miskin (Needham), Ryan Rose (Acton-Boxborough), Justin Rothemich (Sutton), Zach Scafati (Franklin), Stowe Simonton (Concord-Carlisle), Dave Stapleton (Oliver Ames), Brandon Vazquez (Amherst).
MISS SOCCER FINALISTS:
Lauren Berman, Sr. F, Canton
- With over 40 goals this season, Berman was the standout player for the Davenport division champions and a Hockomock League All-Star. Berman's accomplishments earned her All-American status and she will be playing in the ACC for the University of Maryland next season. She finished her career with over 130 goals.
Kristi Kirshe Sr. F, Franklin
- Kirshe eclipsed the 100-goal plateau for her career during the D1 playoffs. She scored in the state semifinal and scored both goals to lead the Panthers to the program's first-ever state title.She is an All-American as well as the state MVP. Compiling more than 30 goals this season, Kirshe helped a young Franklin team to an undefeated season.
Jen Narlee, Sr. M, Medfield
- Narlee is the leader of a very strong defensive unit for the D2 state champions. A physical presence in the center of the field, Narlee does many of the little things that do not get on the scoresheet. Many of the Warriors' opponents saw their attacks snuffed out by Narlee's positional play. That strong defense has helped Medfield win two of the past three state titles.
Andrea O'Brien, Sr. F, Concord-Carlisle
- O'Brien finished her career with over 100 goals and will take her talents to Boston College next year. An All-New England selection and submitted for All-American consideration, O'Brien helped lead the Patriots to a Dual County League title and to the second round of the tournament.
Kimberly Slade, Sr. F, Nashoba
- Slade is one of the brightest stars in the Central region. The senior forward was an All-New England selection and her playmaking ability helped lead the Chieftains to a sectional title and trip to the state championship game, where she scored the team's only goal.
Honorable Mentions:
Kendall Andrew (Oliver Ames), Mimi Borkan (Medfield), Jillian Cavanaugh (Belchertown), Taylor Cogliano (Franklin), Laura Courtney (Nashoba), Hayley Dowd (Peabody), Caitlin Harty (Beverly), Maddie Jolin (Bishop Feehan), Alexa Poulin (Central Catholic), Kayla Steeves (Needham).
November, 16, 2012
11/16/12
11:07
PM ET
By
Josh Perry
| ESPNBoston.com
WORCESTER, Mass. -- The Steeves family has a history with Worcester State University's Coughlin Field.

While he was a player for Needham, Jay Steeves, who currently serves as an assistant coach with the Rockets, lost a state final in the dying seconds on that very pitch.

On Friday night, his son Mac wrote a new history for himself and the Rockets.

Mac Steeves scored a stunning late goal to lift the Rockets (21-1-3) to a 1-0 victory over Amherst (12-3-5) and clinched the program's fourth state title in its seventh championship game appearance.

In the process, Steeves cemented his legacy as the best soccer player in the long and proud history of Needham High.

Head coach Don Brock -- who is not only the soccer program's only coach, but also its founder -- knew that Steeves would be able to come through for the team in the big game.

"To get the winning goal is pretty special," Brock said. "He's been playing hurt. We got so beat up from the South (sectional) I'm surprised he played as well as he did, but he came through. He's done it all year long."

Following the game, a bruised and battered Steeves reflected on an amazing four year run at Needham High.

"It means a whole lot," he said. "I'm at a loss for words...I'm so excited right now. It's a dream come true really. It's amazing."

The goal came with only 11 minutes remaining. Senior captain Will Corkery played a long ball over the top and Steeves raced alongside the last defender. With goalkeeper Curtis Barnes bearing down on him, Steeves lifted a high chip into the box that bounced once before ending up in the back of the net.

It was an instinctive play all-around. Steeves, who was injured in the collision with Barnes but returned to the game, could not describe the play in detail, but Corkery explained that it developed from years of playing togther.

"We've played with each other since fourth grade so we have great chemistry and that obviously showed there," Corkery said. "I didn't even hear him yell, I just knew he'd be there."

Despite Needham taking a late lead, Amherst continued to battle and with mere seconds remaining had another chance for Cody Baglow to get in another long flip-throw. The ball bounced of Rockets, Hurricanes, the referee, and then sat in the Needham penalty area for what felt like minutes before finally being cleared away.

As soon as the ball was rifled down field, the ref blew three short bursts and one long, shrill whistle sending the Needham bench and the huge contingent of Rockets fans storming onto the field.

Although the game ended in defeat, there was a lot of positives for head coach Mike Rudd and the rest of the Hurricanes to take from the game.

"I was very proud of the boys tonight," Rudd said. "We played a great Needham team, certainly the best team we've seen this season. We stuck around, we played hard, tried to play with purpose, tried to possess, but we played a very good opponent."

The game was played at a high pace, but both teams struggled to create chances. In fact, both keepers finished with one save apiece.

Amherst had chances at the midway point of the second half to break the deadlock. First, on a curling shot from Eric Gooden and then just minutes later on a through ball that squirted away from Needham keeper Kevin MacMillan before being covered up.

Steeves had several chances for Needham before finally putting away the goal. In the final 20 minutes, he eluded two defenders and sent a cross straight through the box that no one could get on the end of and in the 28th minute received a pass from Brandon Miskin but flashed his shot wide of the far post.

Rudd, in his first year as Amherst head coach, led the Hurricanes to their first-ever West sectional title and upended perennial power Ludlow in the process. He hopes this will be a building block for the program.

"I did expect to be right here," he said. "Now that we have climbed that mountain of Ludlow, maybe we will be back here more often in the future."

For Mac Steeves, and the rest of the nine seniors on the roster, this is the perfect ending to a remarkable four-year career. According to Brock, "It's been a long stretch between...been 10 or so years since the last time we've been here. It's just such a great group of kids. They work so hard."
November, 15, 2012
11/15/12
12:23
AM ET
By
Josh Perry
| ESPNBoston.com
(Highlights courtesy of The Needham Channel)
LYNN, Mass. -- Mac Steeves scored two first-half goals, including one from the penalty spot, to bring Needham back from a goal down in a 2-1 victory over previously unbeaten Somerville on Wednesday night at Manning Field.
The Rockets' 6-foot-4 forward was a menace throughout. In addition to scoring goals, Steeves was a towering presence in the midfield and defense as Needham dropped back midway into the second half.
Needham head coach Don Brock, who will be looking for the third state championship of his illustrious career, spoke after the game about the team's many uses for Steeves in late-game situations.
"We've been doing it for several years with Mac," he said. "He can play anywhere on the field. He's one of the taller players and he's got a tremendous boot."
Somerville started the game brighter, with its own star Felix De Bona forcing Needham goalie Kevin MacMillan into two early saves. The Highlanders jumped out to a 1-0 lead in the 13th minute when Francisco Neto's cross from the left caromed into the net off the knee of Rockets defender Jack Nardi.
Gradually, Needham started to get more control of the ball in the midfield through senior captains Brandon Miskin and William Corkery.
The game changed in the 25th minute when Steeves, who had already had an early chance well-saved by Luis Guerra, was played in by an incisive through ball from Miskin. The team's leading scorer made no mistake with a cool finish into the bottom corner.
Just before the break, Steeves went down in the box as he battled with Somerville defender Andre Rolim (who also received a yellow card). A penalty was given and Steeves sent Guerra the wrong way to give Needham its first lead of the night.
The call was hotly disputed by Somerville head coach George Scarpelli.
"It's disheartening," he said. "You play that long and that hard, you know...It was tough when you lose on something like that. You're talking about two kids that battled all night long. This is why you preach- finish your chances and we would have been there."
The second half saw little in the way of goalmouth action as the Rockets dropped back into a defensive shell. Both goalies were only forced into one save apiece following the halftime interval.
Scarpelli saw the strategy being implemented and knew that it would be problematic for his team given the size and strength of the Rockets.
"They dropped off," he said. "They put six guys in the back and left one kid up top and it worked. I give a lot of credit to Needham. Coach Brock is a legend, he knows how to play these games and he did it."
For Steeves, and the rest of the Needham seniors, it was a job well done and sets up a chance to win the program's first state title since the turn of the millennium.
"Our team, collectively, just played a great game," Brock said. "Our defense has improved so much all season. I think we just put together a good game there and knocked off a very, very good team."
Needham will advance to the state championship game to be played Friday night at 7:30 p.m. against Amherst, at Worcester State University.
Tournament Notes:
After Needham's win, Don Brock commented that he wished that the Rockets would be taking on Ludlow in the state finals so to "get even with them." Brock, who has more than 600 wins in his career, will have the chance to add his fourth state title on Friday Night.
Brock will not get Ludlow, but he will be facing a West region team. Amherst held off Leominster 1-0 in the semifinal game played at Nashoba Regional to advance to Worcester. This was not the expected semifinal matchup as most predicted a rematch of last year's battle (in the metaphorical and literal sense) between top seeds Worcester North and Ludlow. It was fitting that the two teams that knocked off the top seeds would get to play each other. Amherst have now won three in a row by 1-0 scorelines (the game against Ludlow was scoreless into penalties but goes down officially as a 1-0 win), but it will be a tough task to keep the Rockets off the board.
Franklin will face Nashoba in the D1 girls final after the Panthers beat Beverly 2-0 in the early game at Manning Field. Kristi Kirshe, who is on the list of submitted names for All-American status, ended a two-game scoreless streak and notched her 100th goal of her career on an early free kick. Kirshe was dropped into a midfield role against Beverly as they looked to disrupt its attack. The star of the game was Julia Bireley, who was given the man-marking job on Beverly junior striker Caitlin Harty. Harty has scored an incredible 50 goals this season, but barely got a whiff of the goal thanks to the attentions of the junior defender. Friday's early game should be a classic between two teams that have been ranked all season. Nashoba knocked off Minnechaug, who beat the favorites East Longmeadow in the sectional.
Groton-Dunstable will attempt to defend its D2 boys' state title after handing Belchertown its first loss of the season. The opponent will be the mustangs of Medway who have advanced to the state finals despite losing their best player, Matt Coakley. Sutton will also look to defend its title (Division 3) when it takes on Watertown in the finals. The D3 North sectional champs advanced with a win over Dover-Sherborn in penalties.
It will be a battle of unbeaten in the D2 girls' championship game as Medfield (the 2010 state champs) will face West sectional champions Belchertown. This is the final season for the Orioles at this level and they will have a tough task against the Warriors, who received national top 25 votes in the latest NSCAA poll released yesterday.
November, 12, 2012
11/12/12
5:56
PM ET
BRAINTREE, Mass. -- The Needham Channel's Michael Dermody passes along highlights from last night's Division 1 South boys soccer final between Needham and Weymouth. Needham took down the Wildcats, 2-0, on goals from Nolan Brady and Brandon Miskin, and will face Somerville in Wednesday night's D1 Eastern Mass. Final, at Manning Field in Lynn.

(Video courtesy of The Needham Channel)


November, 11, 2012
11/11/12
11:37
PM ET
By
Josh Perry
| ESPNBoston.com
LYNN, Mass. -- The incredible tournament run of the Beverly Panthers continued on Sunday afternoon at Manning Field in Lynn.

The No. 4 seed Panthers took home the girls' Division 1 North sectional title, 2-1 (4-1 in penalties), over No. 3 seed Central Catholic. All four Beverly penalty-takers made their shots, while Central missed its first two shots.

Captain Diandra Crowley calmly slotted home the final penalty setting off rapturous celebrations from her teammates and the large Beverly contingent in the stands.

The Panthers (17-3-1) reached the shootout thanks largely to a superb performance from goalkeeper Casey Cook. The junior netminder made a series of important saves including two in overtime robbing Alli Wiggins and Kylie Regan of game winners.

Beverly head coach Kristin Simpson was in awe of Cook's play.

"She was by far the MVP of this game. We would not be where we are without her. She made some amazing saves towards the end and kept us in the game."

The Panthers needed Cook to play well as Central Catholic (15-0-5) dominated large portions of the game, particularly in the first half. Wiggins, Regan, and midfielder Alexa Poulin pulled the strings in the center of the park and kept possession almost entirely in the Beverly half of the field.

It took half an hour, but Central Catholic was able to make the pressure pay with a goal from Alex Nagri off a great pass by Courtney Walsh. Raiders head coach Casey Grange was disappointed that her team was unable to find a second score.

"I thought we were going to get it eventually," Grange said. "This team has been patient all season in terms of scoring. We've always found a way to find the back of the net, but unfortunately the soccer gods weren't on our side today."

Beverly equalized immediately after halftime through record-setting junior striker Caitlin Harty. The forward was raced on to a long pass and was able to chip the ball over the onrushing keeper despite being surrounded by two defenders.

Unbelievably, it was Harty's 50th goal of the season, which is by a large margin a school record.

Simpson credited an improved effort by her team for changing the tone of the match after halftime.

"The biggest thing was the effort," she said. "We were losing the 50-50 balls and they were outworking us. We started yelling at them a little bit and they started winning some of the 50-50 balls and I think that made the difference."

Central Catholic had a great chance to win the game in regulation, when Wiggins sprung free on a break following a Beverly corner, but her shot came back off the crossbar.

The Raiders will not advance in the tournament but will finish the season unbeaten (penalty shootouts do not count as losses but as draws). Amidst tears on the sideline, Grange spoke about the impressive season that her team had in 2012.

"Technically we tied and we haven't lost all season so it's a tough way to go out," she said. "Our defense was rock-solid, we have the top three scorers in the MVC, but unfortunately we didn't get one when we needed it."

It will be an all-Panthers match on Wednesday evening at Manning Field when Beverly takes on Franklin in the state semifinals. The game is scheduled to start at 5:30 p.m.

DIVISION 1 NORTH FINAL: SOMERVILLE 1, ST. JOHN'S PREP 0

In the boys' D1 North sectional final, the Somerville Highlanders beat St. John's Prep 1-0 through a goal by star forward Felix De Bona two minutes into the second half.

The final score was not a true reflection of how dominant Somerville was on Sunday afternoon. The Highlanders created numerous chances, particularly the potent DeBona, but were repelled by Prep goalie Ben Alpern.

On the other end, Somerville's defending was solid and Prep struggled to create any clear cut chances.

It has been nearly 20 years since Somerville had reached this stage of the tournament. Highlanders head coach George Scarpelli explained that he focused on keeping Prep off the board in the first half and then using the wind after the break.

"If we could get the zero in the second half then something's going to happen and it worked out. We should've put some more chances away and that's something we need to grow on for the next game because I'll have a heart attack if we do that again."

St. John's Prep head coach David Crowell raved about the performance of Alpern, who took over the starting role when captain Brian Keogh was injured prior to the season.

"He kept us in the game and gave us the chance to get the tie and send it to overtime," Crowell said. "But we didn't really produce any chances in the second half. He was awesome today."

In reaching the finals, Prep defeated two of the top five teams in the state (No. 4 Acton-Boxborough and No. 1 Masconomet) and Crowell was surprised at his team's nervousness in the finals.

"I don't know why we were so tight," he said. "We've already come in and beaten so many good teams. I think they felt some pressure today. Somerville deserved it today."

The Somerville players were spurred on by a huge traveling contingent of fans, which created a great atmosphere for the game. At the final whistle, the players recognized the contribution of the fans by racing over to celebrate right in front of the stands. Scarpelli believes that this result is important not only for the soccer program, but for the city as a whole.

"I don't think people realize how much this means for the city of Somerville.," he said. "For these kids to realize that if you do the right thing, everything falls into place. Winning comes along with doing everything right and going to school on time and being a good citizen. It's an unbelievable feeling."

Somerville will play in the state semifinals on Wednesday night at 7:30, at Manning Field.

State Tournament Notes:

" There will be a new boys' state champion in Division 1 this year. Two-time defending champ Ludlow Lions, perennially one of the best teams in the state, were beaten in the West sectional finals by Amherst 1-0 (7-6 in penalties). The Lions had a chance to win it in the end, only to see the shot saved. Amherst will move on to play Leominster, the surprise champions of the Central sectional, in the state semifinals on Wednesday night.

" The Franklin Panthers have continued their amazing unbeaten season and took home the South sectional with a 3-2 win over fellow Hockomock team, Oliver Ames. Franklin built a 3-0 lead early in the first half, but were forced to hold on late when the Tigers scored twice within 90 seconds late in the second half. Panthers top scorer Kristi Kirshe did not get a goal in the win and is still stuck on 99 goals in her career.

" Somerville will face the top seed in Division 1 South, the Needham Rockets, in the state semifinals. Needham earned a hard-fought 2-0 victory over conference rivals Weymouth. Senior captains Nolan Brady and Brandon Miskin getting the goals for Needham. The Rockets are a talented group front to back and, with the losses by Masconomet and Ludlow, can make a strong claim to be the best team in the state. Having one of the state's best players, forward Mac Steeves, certainly helps their cause. Wednesday night will be exciting to watch Steeves and De Bona go head-to-head.

" As colleague Bruce Lerch tweeted earlier today, what a great year it has been for Dave Wainwright. He led the Dover-Sherborn girls' soccer team to a state title last season, brought them back to the sectional finals this year, and also led the Needham boys' lacrosse team to Harvard Stadium in June. While the Lady Raiders may have been beaten today, the boys' team clinched the sectional title with a 3-0 win over top seed Nantucket.

October, 16, 2012
10/16/12
11:24
PM ET
By
Josh Perry
| ESPNBoston.com
(Video highlights courtesy of the Needham Channel)

NEEDHAM, Mass, -- The Needham Rockets caused what should be another shake-up at the top of the ESPN Boston boys' soccer poll and a certain shift in the Bay State Conference standings with a 1-0 win over No. 1 Weymouth on Tuesday night at Memorial Park.

Mac Steeves scored the game's lone goal for the No. 6 Rockets on a well-struck shot into the bottom corner that took a slight deflection to sneak under the body of Weymouth keeper Lucas Rezende-Verge. Senior Jack Nardi got the assist on the goal.

Steeves created several other chances for himself in the first half, but struggled to keep the ball on frame as Rezende-Vega would only be called into action twice in the game. In the second half, Needham (11-1-3) pushed numbers behind the ball and soaked up Weymouth pressure. Steeves was called into action on the defensive side and won a number of headers in his own box against Wildcats star forward Mike Lynch.

Needham coach Don Brock, who saw his team give up a 1-0 lead in the teams' first meeting, was happy to see the Rockets hold on defensively.

"We knew it was going to be a good ballgame. Wish we could have put a couple more in, but we kept them off the board. The defense has been playing well the last six or seven games."

Needham's goalscorer was glad to get a win over Weymouth, but just as happy to see his three fellow captains (Sam Tillotson, Brandon Miskin, and William Corkery) on the field together. Steeves pointed out, "This is our first game that we've actually had everyone healthy on the team. As a group collectively, I think we played great. It's the first time this season we've gotten to play together."

The Wildcats (12-1-3) showed tenacity and urgency down the stretch as they tried to find an equalizer, but the Needham defense limited Weymouth, almost exclusively, to shots from long distance. The best chances for Weymouth came in the final minutes of each half.

Senior forward Akere Tambi turned his defender inside the box, but skied his shot over the bar with nearly the last kick of the first half. In the dying moments of the game, midfielder Joshua Berg had a shot on the half-volley, but was not able to put the shot on target.

It was a frustrating game for head coach Bill McEachern but one that is typical of the rivalry and the level of respect each program has for its counterpart.

"When you get a big match like this it's who works to get the bounces. Mac [Steeves] worked for it, under high pressure and he's that kind of player that he can put it away."

McEachern added with a wry smile, "There is a lot of respect, but it was a big challenge for us and a tough situation but…we'll see them again."

During the postgame handshake, most of the players shared the same sentiments.

Needham goalie Kevin Macmillan kept his shutout streak alive with five saves, the best of which may have been his quick reactions to a Lynch free kick just 10 minutes into the game.

Weymouth is now a point behind Needham in the BSC standings with three league matches remaining. Next up for the Wildcats is a game Thursday against Brookline.

Needham will host Braintree on Senior Day, Thursday, at DeFazio Field.
October, 27, 2011
10/27/11
1:32
PM ET
We have a new number one team in our
MIAA boys' soccer Top 20 poll
this week.
The Lincoln-Sudbury Warriors take the top spot after previous number one Ludlow lost for just the second time this season. The Algonquin Tomahawks remain in at No. 2, while Needham and Weymouth flip flop spots after the Rockets defeated the Wildcats, 1-0, last week. The Bay State Conference is now Needham's to win after dropped another game 1-0 to Brookline.
Here's a breakdown of the week that was and the week to come from resident soccer guru James Walsh:
ON THE BUBBLE
Lowell (11-2-4)
- Scored three second half goals to defeat Central Catholic 3-2.
Wellesley (11-5-0)
- You don't want to play this team in the tournament.
Newton South (8-6-3)
- The Lions have won six in a row, and only concede two goals over that stretch. Coach John Conte has his team play well at the most important time of the year.
BC High (8-6-3)
- An away loss to Xaverian and a well-earned tie with No. 15 Hingham.
Westford Academy (8-5-2)
- A tough 3-1 loss to Lincoln-Sudbury and will be without starting keeper Joe Brunelle after he was shown a straight red during the match.
Brighton (13-0-1)
- The Benglas are leading the Boston City League.
Chelsea (8-1-0)
- Defeated North Shore 6-0 in their only match last week.
Somerville (11-1-4)
- Haven't loss since opening day.
TOP OF THE TABLE
Lincoln-Sudbury's win over Westford Academy on Wednesday sealed the Dual County League championship for the Warriors. Westford proved a tough test for L-S, but a Chris Kafina goal from an Andres Driscoll headed cross gave the visitors a 2-1 advantage, and Peter Jandl's goal in the 69th minute sealed the deal.
"That's one of our goals that goes down first on the sheet every time is win the DCL" Lincoln-Sudbury head coach David Hosford said, "We've done that, and did it with a game left, which is hard to do."
Experience is also a key for the Warriors, who have all the players to make a deep run in the division one north bracket.
"I've got 15 seniors on the team, and a lot of them have been in these types of battles before," Hosford said. "There is a lot of leadership out there and it's not just from the captains."
RECAPPING LAST WEEK'S BIG GAMES
(Last week's rankings)
No. 14 Winchester 2, No. 19 Lexington 1
Sophomore Russell Kunes scored to break a 1-1 deadlock and give the Sachems a 2-1 win and the Middlesex title.
No. 7 Needham vs. No. 4 Weymouth
Needham senior Max Swartz got just enough on his shot to force a rebound out of Weymouth keeper Scott Greenwood, and Needham striker Mac Steeves finished the second chance for the games only score.
"[Brandon] Miskin got the ball pretty quick, played a good ball to me, and I was lucky enough to get just enough on it for Mac to come make that play" said Swartz of the game's lone goal.
He also had some praise for his opponents. "They're a good team, and they're always physical, the most physical team we play. We just had to do our best against them"
GAME OF THE WEEK
No. 19 Lexington at Newton North
Pending Thursday's results, the Tigers may need this game to qualify for the post season. But they went through this last season and things turned out pretty good for Roy Dow's team.