Boston High School:

Brendan Craven
October, 19, 2012
10/19/12
1:28
AM ET
FRIDAY
NO. 23 NEEDHAM (5-1) AT NO. 6 WALPOLE (6-0)
The Skinny: The Rockets received some help in the Bay State Carey race from Natick last week when the Red Hawks came away with a win at Weymouth. However, Needham will need to capitalize on that break with a win over the Herget's other undefeated entrant. Rockets running back Mike Panepinto continues to be one of the great breakout stories on the year while the Rebels will need to shuffle the deck a little with the loss of Mike Rando, who'll be out several weeks with an ankle injury. Of course, the Rebels counter with one of the more consistent and underrated linebacker units in the state, led by Cam Hanley and Steve Thulin.

Scott Barboza: Even sans Rando, the Rebels still have enough horses in the barn. Walpole, 26-21.

Hall: Losing Mike Rando, for however long a period of time, hurts. But this Rebels defense is still talented enough to get the job done and slow down Team Panepinto. Walpole, 20-7.

NO. 11 KING PHILIP (6-0) AT MANSFIELD (4-2)
The Skinny: This much anticipated Kelley-Rex matchup features one of the state's premier defenses against a recharged Hornets offense. Brett McEvoy anchors the Warriors defense, which has surrendered just six points a game through the first six weeks, along with Joe Johnston. Kyle Wisnieski has held down the quarterback position admirably in his first year as starter, but hasn't stared into a defense quite like that of the Warriors. If he has time to throw, Mike Hershman and Brendan Hill provide big-time targets. Let's not forget that last year's installment of this battle was the coming out party of KP quarterback John Dillon, who nearly lifted the Warriors to victory in a second-half comeback bid.

Barboza: Defense wins in big games, right? It's been a while that the Warriors last had Mansfield's number, but this is the year. KP, 20-14.

Hall: Can't have any pudding if you don't eat your meat. Mansfield, 24-21.

Wakefield (6-0) at Burlington (5-1)
The Skinny: Depending on how Stoneham does this weekend, this one's for at least a share, possibly sole possession of the Middlesex League's Freedom Division (can we just call it Small to alleviate any confusion?). Burlington has had some injuries, but still boast the league's top rushing attack led by Marcus Odiah and Anthony Cruz. They'll meet a Wakefield defense that features a number of playmakers and hasn't allowed a point in 11 quarters. With Dan Cardillo (ankle) gone, there's no real superstar for Wakefield -- but sophomore receiver Bruce Brown will be one to watch, coming off a 124-yard performance last week in a shutout of Wilmington.

Barboza: I'm calling this a split decision. My fan section vote goes to the Red Sea. But the action on the field is dictated differently. Burlington, 8-6.

Hall: This one will be close, and the Warriors might not solve Burlington's rushing attack, but they'll make a big stop late. Wakefield, 17-10.

Mashpee (4-2) at No. 25 Abington (6-0)
The Skinny: This is a battle for sole possession of first place in the South Shore League, with both teams sitting tied atop the league standings at 3-0. The undefeated Green Wave have been getting some terrific defense all season, and feature one of the more unheralded versatile athletes in senior Babila Fonkem. Mashpee stumbled out of the gates, with losses to Nauset and Austin Prep in the first month, but has rebounded with a three-game win streak. Leading the attack have been running backs Malik Lee and Jared Taylor, as well as emerging quarterback Cody Bingham-Hendricks.

Barboza: Fonkem provides the highlight reel plays running and on special teams, but Brian Kilmain and Jack Malafronte give the Green Wave balance. They're the difference. Abington, 28-20.

Hall: For the first time in three years, I managed to get through our picks on video and our podcast without mentioning my parents are Abington High Class of '79 (self high-five, folks). Don't get it twisted, though, that has nothing to do with why I've soured on Mashpee since the preseason. Abington, 28-17.

NO. 2 EVERETT (5-1) AT BC HIGH (2-3)
The Skinny: The Eagles are finally starting to heal, with starting quarterback Brendan Craven seeing action last week against Marlborough and running back Brandon Owens getting back into the mix. While they're still missing a couple key cogs on defense, Owens will help bolster BC High's run defense against Everett's double-wing-based ground attack. The Crimson Tide also have been nursing some injuries in recent weeks, but Jalen Felix returned for last week's game at Xaverian and Jakarrie Washington ran for three scores. Gilly De Souza, the glue that holds Everett's secondary together, continues playing with an ankle injury and didn't see the offensive side of the ball last week, but he's remained rock steady (as he has since freshman year) in the kicking game.

Barboza: BC High is pumped and ready for this one, but De Souza provides the game-winning boot late. Everett, 17-14.

Hall: Won't be fooled again. Everett, 24-10.

SATURDAY
XAVERIAN (1-5) AT NO. 21 BRIDGEWATER-RAYNHAM (3-3)
The Skinny: This one has the potential to please fans of power football. The Hawks could go heavy in the backfield with Hunter Taute with Mike Brennan doubtful for this weekend's game after a late injury in last week's loss to Everett. Or, the Hawks could air it out behind Austin DeCarr whose hit on touchdown passes of 30-plus yards in each of the last two weeks. The Trojans will look to pound the ball behind breakout sophomore running back Brandon Gallagher and a physical offensive line anchored by Joe MacInnis. Senior quarterback Jordan Cohen also gives B-R the opportunity to strike downfield while rolling out of the pocket.

Barboza: I went with the Hawks last week and promptly was served some humble pie by Everett's offensive line postgame. I'm sticking with my gut this week. Trojans have controlled this matchup in the last two seasons. B-R, 21-17.

Hall: Historically when the game slows to a ground-and-pound stalemate, the odds favor the Trojans. B-R, 20-10.

No. 18 Leominster (4-2) at No. 20 St. John's of Shrewsbury (4-2)
The Skinny: Back at the start of the season, we pegged this as must-see action to circle on one's calendar. It's still one of the games of the year in Central Mass., and we could even see a rematch come playoff time, but let the facts stand. Leominster and St. John's quickly fell from the Top 10 in the last several weeks; Leominster looked shaky in an upset loss to Wachusett and win over Algonquin, while St. John's has surrendered 100 points total in the last two games.

Barboza: That Pioneers defense tightens some, but just not quite enough to stop the Blue Devils. Leominster, 34-28.

Hall: If there's anything we've learned in the last two weeks, it's that if you can run on St. John's, you can go all Barry Switzer and "hang half a hundred on 'em". Leominster, 40-35.
October, 18, 2012
10/18/12
4:41
PM ET
DORCHESTER, Mass. -- ESPN Boston High Schools editors Scott Barboza and Brendan Hall stopped by practice at Boston College High, site of this week's National Guard Game of the Week, to discuss the Eagles' matchup with visiting No. 2 Everett on Saturday at 1:30 p.m. ET. (Note: This game was originally scheduled for 7 p.m. Friday, but was moved to Saturday.)

We caught up with the Eagles' Brendan Craven, Jack McDonald and Brandon Owens, along with head coach Joe Gaff to get the take from Morrissey Blvd.

Be sure to stop by our ESPN Boston tent at Viola Stadium, as well as that of the National Guard, for giveaways and prizes, and stick around after as we award our Player of the Game.

(Video shot and edited by Greg Story)


October, 4, 2012
10/04/12
1:44
AM ET
1. WHAT IS THE BIGGEST STATEMENT YOU GOT OUT OF BARNSTABLE'S UPSET OF EVERETT?

Scott Barboza, ESPN Boston High Schools Editor: Aside from the defense, which was phenomenal by all accounts, the manner in which the Red Raiders were able to pull off the upset was impressive, meaning that the offense was firing on all cylinders for most of the game. In other words, Barnstable can win ugly. When you hear about the offense and all the things the Red Raiders can do on offense, it's sometimes easy to overlook the fundamentals. They can do all the things that constitute a potentially successful playoff team in that they can run the ball when called upon, get the back stop when required and they don't turn the ball over. When you have one of the top quarterbacks in the state like Nick Peabody, that's all you need to win. And, if Hayden Murphy runs the ball as he can and the defense, led by Andrew Ellis, is on, Barnstable is difficult to beat, no matter the conditions.

Brendan Hall, ESPN Boston High Schools Editor: For me, more than anything, it was a throwback statement. At the end of the day, it doesn't matter how much Division 1-caliber talent you've stockpiled, how heavy your line is, or how many of your skill players run a 4.5. All that matters is who puts themselves in the best position to win -- period. Barnstable demonstrated that to a T on Friday night.

Of course, this Red Raiders team isn't an underdog. They came into the game at No. 3 in our statewide poll, and I think the general consensus was that this would be a one-score type of affair. Nick Peabody is in a quarterbacking class of his own through the first month of the season, Dylan Morris is beginning to enter Matt Costello territory in terms of production, and the Raiders' linebacking corps is one of the two or three best in the state.

Barnstable coach Chris Whidden dialed up a great defensive gameplan in the pouring rain, playing outside contain on the Crimson Tide's gifted receivers, and getting great push in the trenches with a deceivingly athletic front four that fired quickly off the ball. These guys were not as big, but they certainly were fast, and above all else they hit with a level of abandon replicated by very few teams in the state.

At the end of the day, it was a pleasant reminder that things haven't gotten soft in the game of football. At the end of the day, the overarching theme remains -- if you come out complacent, someone's going to knock you around.

Adam Kurkjian, ESPN Boston correspondent: Year after year, while Everett always seems to have its share of explosive skill players, the foundation of its success is consistent and dominant line play on both sides of the ball.

The biggest statement Barnstable made Friday night was that it can go toe-to-toe with Everett's front and get the better of the exchange. That is rare, and it speaks to the level of offseason commitment the Red Raiders have made the past few seasons. While Barnstable may have the reputation as a finesse team because of the amount of times it puts the ball in the air, it looks like the Red Raiders shattered that notion last week.

Bruce Lerch, ESPN Boston correspondent: Defense, defense, defense. Staring at Everett's offensive line with 300-pounders across the board is daunting for any opposition but the Raiders didn't seem intimidated at all. In fact, they set the tone and managed to stuff the Tide twice on fourth-down tries from the one-yard line.

All 11 starters, plus the others that rotate in made plays. Jason Frieh and the defensive line held their own Everett's blockers, linebackers Brian Hardy, Andrew Ellis, Terrence Mudie and Robbie Stuart made tackles all over the field. Safeties Ryan Litchman and Kevin Hardy were tremendous in support against the run and corners Tedaro France and Derek Estes won their matchups with Everett's speed merchants at the receiver positions.

John Botelho, Editor-in-Chief, South Shore Sports Journal: Nick Peabody and the offense have been well publicized -- and deservedly so -- all season. Going into the Everett game, they had scored an astounding 145 points in three games. But the biggest statement made while snapping Everett's 28-game win streak was that the Red Raiders' defense is just as good as their powerful offense. Division 1A should be real fun to watch come December.

Everett and Barnstable Round II is already a Super Bowl many people are excitedly calling for, but neither has an easy path to get there. Everett is likely headed for a first-round playoff game with Lincoln-Sudbury, and Barnstable has to worry about beating Bridgewater-Raynham during the regular season just to reach the playoffs.

2. NAME YOUR FIVE BEST WIDE RECEIVERS IN THE STATE

Barboza:
1. Brian Dunlap, Natick – Might not be No. 1 on any other list, but come his senior season, he's going to be right there on the top of all the volume stats list.

2. Jalen Felix, Everett – Seeing, in person, the catch he made during last year's BC High game at Memorial Stadium is something I'll likely never forget. It's the same feeling I had watching Randy Moss make impossible catches.

3. Jakarrie Washington, Everett – One of the best route runners around since those Asprilla and Costello kids were the go-to targets in Everett.

4. Dylan Morris, Barnstable – Hard to argue with Morris' production thus far this season with his eight touchdown catches.

5. Will Heikkinen, Andover – Spies tell me Xaverian had Heikkinen blanketed with double coverage throughout most of last week's game. That's the ultimate compliment paid to a wideout.

Hall:
1. Dylan Morris, Barnstable - You'll be hard-pressed to duplicate his five-catch, 207-yard performance in Week 2, and right now he's on track for 20 touchdown receptions and over 1,000 yards receiving. Bar none, best wideout in the state right now. And to think, some have mused he may be a better baseball player.

2. Jakarrie Washington, Everett - You could rotate this spot with Jalen Felix, who had an explosive performance against Springfield Central, but right now you've got to with Washington based on game-breaking ability. Against Leominster and St. John's Prep, he turned the game on its heels seemingly on a dime with one back-breaking catch or run.

3. Brian Dunlap, Natick - A versatile route-runner, he's got crunch-time knack (see his game-winning catch against Norwood with 10 seconds to go) and makes the most of his touches (17.25 yards per catch, 6 TD).

4. David Harrison, Weymouth - Has seven receiving touchdowns, and in the last two games running a pistol offense at quarterback, has thrown for six. He's just plain productive.

5. Sam Blake, East Longmeadow - Doesn't get a lot of touches in the Spartans' system, but in terms of athleticism I've heard some pretty crazy stories. In his last two games, he has 232 receiving yards and four touchdowns on just seven catches.

Kurkjian:
Tough to say for me because most of the games I have been to have featured mainly run-oriented teams.

That said, looking around the state, Lincoln Collins of BC High needs to be mentioned for his size and improved speed.

Jakarrie Washington of Everett may be the fastest receiver out there right now.

Speaking of guys that can motor, Andover's Cam Farnham has been pure lightning all season as well.

As far as pure production goes, there aren't many who do more on a week-to-week basis than Natick's Brian Dunlap.

If anyone can outdo Dunlap in that department, though, how about Shawsheen receiver Devonn Pratt? One of the top wrestlers in the state, Pratt has 11 touchdown receptions already, including five in a ridiculous, 15-catch, 268-yard performance against Cambridge two weeks ago.

Lerch:
1. Dylan Morris, Barnstable - Seems to have a tremendous mind meld going on with quarterback Nick Peabody. Has eight TD receptions on the season, including two clutch catches in the 13-7, double OT win over Everett.

2. Jalen Felix/Jakarrie Washington, Everett - I'm cheating a little by putting both in, but it's hard to argue against the fact that these speedsters are two of the biggest gamebreakers in Massachusetts.

3. Bryan Vieira, Thayer Academy - Eight receptions for 200 yards and a TD in the opener (along with an interception return for a score) and six more catches for 179 yards and three TDs in week two. The top receiver in the ISL.

4. Brian Dunlap, Natick - Just a sophomore, Dunlap continues to team up with QB Troy Flutie to put up big numbers week after week. I may be underrating him because of his age, but all signs point toward Dunlap someday taking over at the top of this list. Maybe sooner rather than later.

5. David Harrison/Tyler O'Brien, Weymouth - It's a cheat day for me in the roundtable as I'm going with a duo once again. The Wildcats receivers have combined to catch 13 TD passes and O'Brien seems to be Harrison's favored target when he switches under center as Weymouth's quarterback.

Botelho:
1. Dylan Morris, Barnstable: This is sort of a chicken and egg thing. Is Nick Peabody such a good quarterback because he has Morris to throw to, or is Morris the beneficiary of a standout QB. I think the answer is Peabody is a tremendous QB and Morris an elite receiver, and the results have indicated that so far.

2. Lincoln Collins, BC High: Collins might not have the gaudy stats some his peers do (he's caught just one TD this year) but he's a D-1 scholarship athlete going to Villanova for a reason. The Eagles have been the victims of bad luck and bad timing this season, dealing with some of the toughest teams in this state - and New Jersey - while figuring out how to replace injured stars like Brendan Craven and Luke Catarius.

3. Brian Dunlap, Natick - Like Morris, Dunlap has a premier QB throwing him the ball. He's pulled in 6 TD from Troy Flutie, and is one of the biggest reasons Natick is scoring more than 30 points per game.

4. Dondre James, Whitman-Hanson - James single-handedly changes game plans of opposing teams, often drawing more than one defender on passing plays. He's spread out defenses all season, allowing QB Tom Sapienza to throw 8 TD already. James' speed and athleticism are clear with one looks at the Panthers on offense, but what he contributes away from the ball might be even more impressive. James has sprung more than one ball carrier this year with a big block.

5. Rory Donovan, Cardinal Spellman - The Cardinals aren't matching their regular season success from the last two years, but Donovan is among the toughest receivers for defenses to match-up with. At 6-5 and with an impressive vertical, not many defenders can go up and get a jump ball against him. He's averaging a touchdown a game right now and could get better as Spellman's line matures this season.

3. WHO IS THE BEST QUARTERBACK FROM A SMALL SCHOOL?

Barboza: Right now, I'm looking at Hopkinton's Hank Rudden. The Hillers have been off and running in the Tri-Valley League, averaging more than 34 points per game through four weeks. Whether the Hillers can keep it going into the meat of their TVL schedule is another thing, but the 6-foot-1 senior is a dependable pocket presence.

Hall: Hard to argue with the production of Northbridge's Matt Phelan. Head coach Ken LaChapelle (who won his 300th career game last weekend) is famously inclined towards the pass -- and a passing pioneer for this state, really -- but through the first four games of the 2012 Phelan has been arguably better on his feet (41 carries, 448 yards, 12 TD) than through the air (42 of 50, 514 yards, 2 TD). LaChapelle has joked that he would like to once coach a game where he doesn't call a running play, but he tends to yield some freelancing to his quarterbacks when he feels they're up for it. And understand, for LaChapelle to loosen the reigns, you have to be a special player.

Kurkjian: Let's go into the Boston City South Division where Latin Academy junior Kyle Dance is putting together a fantastic season through four games.

To this point, Dance has had a hand in 13 touchdowns (nine passing, four rushing). You want to know how many touchdowns the Dragons have as a team? Fourteen. In other words, Dance is doing it all for this team, and it will be exciting to see how the rest of his season and career develops.

Lerch: Since taking over in week two, Shawsheen's Mike O'Hearn has produced eye-popping numbers and ranks fourth in the state with 11 touchdown passes, including a six-TD performance against Cambridge. With the 6-foot-3, 190-pound senior at the helm, the Rams have put up 98 points in their last two games.

Botelho: Assuming "small" school means any outside of Div 1, 1A, 2 or 2A, the best small school QB might be Dan Eckler at Stoughton. They're a run-first offense with tons of weapons, but he's been the point man for all of their success this year.

Hanover's Ryan Bennett and Middleborough's Troy Rossi both have big arms and ideal QB size and have been fun to watch early on.

Abington's Brandon Cawley has all of the tools to run the offense for the Green Wave. He's tall, has a cannon of an arm and can tuck it and run if need be. Andrew Benson also comes to mind in the South Shore League. After sliding over from RB to QB when the Vikings didn't have an obvious heir apparent to Tim O'Brien, Benson has handled the transition well. He's very athletic and gives EB a similar look on offense they had a year ago.

4. WHAT'S WRONG WITH THE CATHOLIC CONFERENCE?

Barboza: (Disclaimer: None of this argument has to do with St. John's Prep right now.) Honestly, I'm not trying to make excuses here, and this has happened a couple of times during the last couple seasons, but it's not as though the teams are playing easy schedules. On the other hand though, I think the rest of the state has caught up with the parochials a little bit. Some inside the Catholic Conference used to scoff at the idea of a Hockomock team (North Attleborough anybody?) hanging with one of those teams. Use this weekend's Xaverian vs. Duxbury matchup as another proof positive. I think the Hawks will find out that last year's win by the Dragons at the Hawk Bowl was no fluke. And, while most of the state still cannot match the numbers the Catholics have on their sidelines, there's plenty of talent to be had.

Hall: With St. John's Prep, nothing. With the rest of the conference (a combined 4-12 heading into this weekend's games), where do you start?

Expectations weren't high on Malden Catholic or Catholic Memorial coming into the season, but the way BC High and Xaverian (preseason Nos. 2 and 3, respectively) have stumbled out of the gates is concerning. Then again, they've endured brutal schedules, and few teams in Massachusetts would come out of September with better than their 1-3 records. Still, the way in which they've lost is not convincing, between BC High getting dominated from scrimmage by North Attleborough and Xaverian laying eggs against Brockton and Andover. Bottom line, BC High and Xaverian so far haven't lived up to the preseason hype.

Something tells me they'll turn it around. BC High will be getting All-State linebacker Luke Catarius (ankle) back this month, and quarterback Brendan Craven (knee) sometime soon, and you can't say enough how much that could change things quickly. Xaverian finally showed signs of life in the second half of the Andover upset, and Mike Brennan has been bringing steady production to what has been an otherwise stale offense.

How quickly does Xaverian turn it around? Jury's out, because the rest of the Hawks' 2012 schedule, in order, goes like this: Duxbury, Everett, Bridgewater-Raynham, St. John's (Shrewsbury), BC High, Catholic Memorial, St. John's Prep. Talk about skating uphill.

Kurkjian: Well, there's not much wrong with St. John's Prep right now, as they've looked outstanding in their three wins and only have one loss to Everett in a game many observers thought could have gone the other way with a few breaks.

As for the rest? BC High has been decimated by injuries, but the Eagles are starting to heal up and it would not be a total shock to see them make a run at the league title once everyone is back.

Xaverian does not have nearly the amount of team speed it usually does and has not looked physical at all on the lines.

Catholic Memorial has, as expected, struggled on offense, and you simply don't improve when graduation takes away as much talent as it did for the Knights.

Malden Catholic is this year what it has been nearly every year, which is the fifth-best team in the league.

Lerch: The coaches won't make excuses but we can. Injuries have absolutely decimated BC High while graduation hit both Xaverian and Catholic Memorial pretty hard. Not to mention that these teams all play among the toughest schedules in the state. That said, St. John's Prep is still a top-three team in Massachusetts and don't think for a second that the aforementioned trio won't put it together by the time league play rolls around. Anyone who counts these teams out when we're not even halfway through the season is making a big mistake.

Botelho: BC High and Xaverian has certainly underachieved, but their schedules have been absolutely brutal. BC is also dealing with a whole mess load of injuries. That said, what looked like the best league in the state before the season needs a turnaround in the second half to avoid an overall disappointing year. If things continue like they are, St. John's Prep will coast to a league title behind Jonathan Thomas and Alex Moore. The Prep, in my mind, is probably the favorite to win the Div. 1 Super Bowl right now (I still love Brockton, but missing Austin Roberts is going to hurt them in a big way).

5. THERE HAVE BEEN A LOT OF SHOOTOUTS IN THE FIRST TWO WEEKS OF ISL PLAY. WHICH IS THE BEST OFFENSE?

Barboza: I think this was supposed to be Thayer's year to shine behind wide receiver Aaron Gilmer and the Tigers haven't disappointed, putting up 76 points in their two games. But they still have nothing to show for it, losing two close barn-burners against Governor's and Roxbury Latin. But it's hard to ignore the defending ISL champions at Governor's. We've extolled about Tate Jozokos' two-sport excellence for a couple years now, but running back Eli Morrissey has been a true revelation in the early going. Gov's should face a test this weekend against BB&N, but with 103 points scored in two games, it's hard to pick against anything short of a repeat performance of 2011.

Hall: If what Duxbury's been doing the last couple of years doesn't tell you enough about the value of lacrosse skill in football, then Governor's senior quarterback Tate Jozokos will. The UNC lacrosse commit led a renaissance last fall, leading the Governors to the ISL championship, and is off to a quality start this season. He is as a true a dual-threat quarterback as you will find in Massachusetts.

Running back Eli Morrissey has been just as productive (5 TDs), and is arguably one of the best backs in the ISL -- not the biggest, but definitely one of the most complete, and a tough runner. Overall, the Governors have averaged 51.5 points per game in their first two contest. Hard to argue with a number like that.

Kurkjian: Tough to say with such a small sample size, but it's hard to go against what Governor's Academy has accomplished in the first two weeks. With 103 points in two games, the Governors are simply running past, over, around and through everyone in their way.

We will see whether or not that continues this weekend as they travel to Cambridge to face an always-tough BB&N squad.

Lerch: When in doubt, I always say go with the team led by the lacrosse guy. Governor's is stacked with talent on offense with quarterback/dynamo/North Carolina lacrosse commit Tate Jozokos leading the charge. Along with standout running back Elijah Morrissey, the duo has combined to score nine rushing TDs in the first two games. Until some team finds a way to slow these two guys down, the Red Dogs will keep piling on the points.
September, 25, 2012
9/25/12
3:36
AM ET
RIGHT NOW, QURON WRIGHT IS WITHOUT PEER
At least, statistically speaking. In a blowout of Arlington Catholic last weekend, the Holy Name senior tailback needed just five carries to rack up 216 yards and three touchdowns. Two weekends ago in another blowout win, this one over Westborough, Wright carried six times for 160 yards and three scores. So after garnering a Yeoman's workload in a Week 1 shootout loss to parochial rival St. John's of Shrewsbury (28 carries, 282 yards, 4 TD), Wright's stat line looks like this: 39 carries, 658 yards, 10 touchdowns, for a ridiculous average of 16.5 yards a carry.

Forget the opponents. That, folks, is just insane. Especially considering the Lilliputian scatback's generously-listed size of 5-foot-7 and 165 pounds, and the Naps' brutal double wing scheme that predicates itself on an intense measure of physicality at the point of attack.

But sometimes, it's the little guys that are the most durable -- just ask Ray Rice or Darren Sproles. And perhaps even moreso, Wright has the benefit of a particularly huge offensive line. Basit Dennis (6-foot-2, 290 pounds) gets the most attention on account of being the lone senior, but from tackle to tackle this is a unit that moves people off the ball, aided by junior Joe Fitton (6-foot, 245 pounds), freshman Liam Perry (5-8, 235) and sophomores Antonio Paulino (6-0, 255) and Nick Geneva (6-4, 310). Throw in the one-inch splits and convoy-style sweeps, and you have a recipe for disaster.

Last year, we were spoiled with unheard-of performances by running backs, between Melquawn Pinkney's 2,900 rushing yards for Putnam, Jared Taylor's 308 yards at Gillette Stadium for Mashpee, and Armani Reeves averaging a touchdown almost every three touches for Catholic Memorial. It's still a bit premature to stack Wright up against any of these guys just yet, but none of them have averaged 16.5 yards a carry over a full season.

As it stands, Wright is on pace to break his school's record for career rushing yards, held by current Philadelphia Eagles fullback Emil Igwenagu. If Wright keeps it up at this clip, though, he could be in for a lot more accolades.

CAN ANYONE SCORE ON READING?
Through the first three weeks of the season, No. 6 Reading has kept its opponents' offenses pin-drop quiet. But allow Jaddiel Polanco to break the silence with some self-awareness.

"Hey @BHallESPN just want to say I think I'm the only person to score on Reading #4 #LawrenceHigh #JustSaying", the Lawrence High senior cornerback wrote to ESPN Boston High Schools Editor Brendan Hall in a tweet early Monday evening.

There has been some stout defense demonstrated by some of the state's top teams in the first month of the season. Nashoba, Beverly, and Everett come to mind so far, either locking up in crucial moments or -- in the case of the former two -- never letting the opponent get out of first gear. But nothing compares to what Reading is doing right now. Since Polanco's safety in the third quarter of Reading's 46-2 blowout of the aforementioned Lancers, the Rockets have pitched nine straight quarters of shutout football, outscoring the opposition 80-2 so far in 2012. That includes a very nice 12-0 shutout of Brockton on the Rockets' home turf.

We can credit a lot of things for the stifling start to Reading's season, as it looks to win a sixth straight outright Middlesex League title. But most importantly, it starts at the line of scrimmage, and few players in the state have been as dominant in the interior as senior Matt Comerford. The 6-foot-4, 290-pounder has surprising agility for a player his size (blame his skills in net as a lacrosse goalie, if you must), and that trait has been contagious.

Where does it go from here? The Rockets figure to have an interesting time slowing Burlington running back Marcus Odiah when they meet the Red Devils on October 5. Last year's 32-27 Reading win will surely be on Burlington's minds, as Odiah quietly crossed the 100-yard plateau but was held in check for good stretches of the game.

TAKING OFF, OR GROUNDED AGAIN?
The injury woes that have beset BC High in the early season are on par with a Greek tragedy, or at least a comedy of errors on par with NFL replacement referees. A seemingly impossible string of seven starters missed BC High's Week 2 loss to North Attleborough.

While the Eagles were fortunate to get a few bodies back for Friday night's non-league matchup with Dartmouth, including run-stuffing defensive tackle Jaleel Johnson, they suffered yet another potential big blow. In the midst of running away with a 31-0 win over the Indians, BC High saw starting running back Brandon Owens go down with a high ankle injury. While the Eagles got into the win column on the season, the road doesn't get easier with a trip to New Jersey and St. Peter's Prep.

But, as Eagles head coach Joe Gaff sees it, things are only getting better.

Gaff cited last year's game against St. Peter's as a formative experience in the Eagles eventual run to a Division 1 Eastern Mass. Super Bowl title. After Friday's win, Gaff had positive memory of last year's encounter, despite a loss. Having to play against the speed of the New Jersey powerhouse (ask Xaverian about competition in the Garden State), Gaff said the Eagles were better prepared to take on their Catholic Conference and playoff schedule.

Plus, there's another pot of gold coming in Week 5 for BC High – a bye.

"That will be an important week for us," Gaff said, "it'll give us a chance to get some bodies back hopefully and let us regroup a little bit."

The Eagles have done their best plugging holes in the interim. Dan Collins has effectively taken the reins of the offense from Brendan Craven in his absence and Skyler Evans showed good instincts running the ball during the second half at Dartmouth, filling in for Owens.

For the Eagles now, it's just a matter of time.
September, 21, 2012
9/21/12
3:25
AM ET
NO. 3 XAVERIAN (1-1) AT NO. 15 BROCKTON (1-1)
The Skinny: Both teams are going to be seeing red after their respective performances last week with the Hawks taking an ole fashioned whooping at St. Joseph's Regional in New Jersey and the Boxers being shut out by the likes of Reading. This matchup will see some of the state's premiere lineman matching up with Michigan-bound Mo Hurst lining up across from preseason All-State Watch Lister Joe Previte of Brockton.

Barboza: The question might be is if the Boxers get back on the board again this week. I think they do, but it's still no enough. Xaverian, 27-14.

Hall: I want to know what St. Joseph's Regional alum Devin McCourty thinks of the New Jersey school's 62-0 beatdown of Xaverian last weekend. Xaverian, 24-17.

NO. 22 BC HIGH (0-2) AT DARTMOUTH (1-1)
The Skinny: The beleaguered Eagles might enjoy of bit of a reprieve if rumors are true that quarterback Brendan Craven will return for the tilt against the Indians. These will be two hungry squads as BC High looks for its first win on the season and Dartmouth hopes to bounce back from a disappointing loss to Attleboro last week. This could be a coming-out party for Dartmouth RB/LB Mitch Loranger, one of the more underrated talents in the state, while Tim Smith provides a nice change of pace running.

Barboza: Coach Rick White puts these games on the schedule when he feels like he has something in the bag, so you can't look past that. I think the Eagles escape the South Coast with their first win of the season, however. BC High, 16-14.

Hall: I'm in need of a bailout from North Attleborough Credit Union after picking the Eagles last week. Sorry, in this dire times of financial brevity, I can't take on too much more water. Dartmouth, 17-10.

WHITMAN-HANSON (2-0) AT FOXBOROUGH (2-0)
The Skinny: These are two traditional powers who have had some leaner years in recent memory, but seem again to be headed back in the right direction. The Panthers opened up their season with wins over ACL powers Plymouth North and Marshfield, with QB Tom Sapienza tallying over 400 yards on the air and ground in the victory over the Rams. The Warriors steamrolled their first two opponents (East Longmeadow and East Providnce, R.I.) by a combined 74-16 with running back Kiivone Howard putting his name into early Hockomock Player of the Year talk.

Barboza: The offensive weapons are there, but I wouldn't be surprised with a defensive struggle here. Foxborough makes the stops when it needs to behind linebacker Luc Valenza. Foxborough, 21-14.

Hall: Kiivone Howard has been one of the nicest surprises of the early season. Of course, folks in Foxborough will tell you that's no surprise. Foxborough, 30-25.

NO. 5 DUXBURY (2-0) AT NEW BEDFORD (2-0)
The Skinny: The Dragons put their state-best winning streak on the line against the Whalers after rolling through Plymouth North last week. Marshall McCarthy has been as good as he's ever been for Duxbury's defense, registering 26 tackles through two games. New Bedford will look for a big game from quarterback Mike Rapoza, who's a multi-dimensional threat having played running back and wide receiver as well.

Barboza: Jon Hurvitz and the Duxbury line could be primed for a big day. Duxbury, 28-10.

Hall: I fully expect the Dragons to head into October 5's showdown with Xaverian on a 30-game win streak. Duxbury, 21-0.

NO. 2 ST. JOHN'S PREP (2-0) AT NO. 1 EVERETT (2-0)
The Skinny: For the first time since 2010, we have the top two teams in ESPNBoston.com's statewide poll squaring off. Everett is 7-0 against the Catholic Conference since the 2009 MIAA Division 1 Super Bowl loss to Xaverian; that streak features three wins over the visiting Eagles, including the 2010 D1 Super Bowl. To snap the streak, Prep will have to play lockdown defense and get big production from its star running back Jonathan Thomas. For Everett, it's anyone's guess who will be lining up at quarterback this week, but Gilly De Souza has been very serviceable.

Barboza: I think both offenses are going to get theirs, but it's going to be decided by the defenses and who's able to force a fumble, come up with a pick, something to steal the game. Everett, 30-23.

Hall: No truth to the rumor Everett Superintendent of Schools Fred Foresteire was taking snaps under center this week. Everett, 23-21.

NO. 9 ST. JOHN'S OF SHREWSBURY (2-0) AT CATHOLIC MEMORIAL (1-1)
The Skinny: St. John's can lay claim to one of the state's most prolific offenses after an impressive showing the first two weeks, outlasting No. 24 Holy Name (47-40) and cruising past No. 16 Longmeadow (35-14). However, neither team has an individual as talented on the defensive side of the ball as CM's UMass-bound linebacker/defensive end Peter Ngobidi, one of the state's best off the edge. Conversely, the Knights struggled against Westford last weekend, and may have their hands full against a Pioneers squad with similar spread principles but at a breakneck tempo.

Barboza: I like the Knights' defense with Ngobidi and Kevin Bletzer, but too many options for them to stop. St. John's, 31-17.

Hall: Going forward, I'm suddenly very intrigued at how St. John's will be calling in its plays. St. John's, 30-14.

BB&N AT BELMONT HILL
The Skinny: Belmont Hill is entering its first season in decades without Kevin Fleming on the sidelines, and it comes out of the gate going right into the fire. BB&N took a 17-14 humbling at the Hillers' hands in the opening week of ISL play last year, and they have one of the best individual athletes this season in Wake Forest-bound tight end Brendan O'Neil.

Barboza: I'm still syphoning water from my boots after last year's "Car Wash" game. The memory will be fresh in the minds of the Knights as well. BB&N, 20-14.

Hall: Plain and simple, John Papas gets his revenge here. BB&N, 21-7.

THAYER ACADEMY AT GOVERNOR'S ACADEMY
The Skinny: ISL season opens up with plenty of hype behind Thayer and its numerous athletes, including Bryan Vieira, Aaron Gilmer and Ikenna Nwokeji. The Governors had runaway success last season under first-year head coach Jim O'Leary, and return arguably the most valuable player in the league in quarterback Tate Jozokos, a UNC lacrosse commit who was a dual-threat nightmare for many opponents.

Barboza: Simply stated, Gov's are running the table again this year. Governor's, 23-17.

Hall: Tate Jozokos can play on my Tuesday night Charlestown flag football team any day. Governor's, 28-13.
September, 15, 2012
9/15/12
12:18
AM ET
By
Andy Smith
| ESPNBoston.com
(Highlights by correspondent Patrick Welter.)
BOSTON- North Attleborough did Friday what some teams spend a whole season hoping to do: walk into a hostile playing environment against a team hoping to prove a point, dominate at the point of attack for four quarters, win, and make a statement along the way.
The No. 17 Rocketeers went into No. 13 BC High and walked out with a 27-7 victory and the attention of the entire Hockomock League.
"I'm about to tear up right now, it's one of the greatest feelings," said North Attleborough's Dwayne Hunter, Jr., who had 11 carries for 130 yards behind its offensive line. "Our goal is to try to get to the Super Bowl, we're trying to do what we gotta do, take it one game at a time. We didn't come out thinking we were gonna smash this team, but as you can see, we did."
After being shut out 21-0 last Friday against Brockton, BC High was out to prove that result was more fluke than anything else. However, it struggled to get anything going offensively.
North Attleborough (2-0) out-gained the Eagles 445 yards to 96 in the game.
The defense was able to keep the team in the game early by intercepting Ryan Perron (6-of-13 for 81 yards) twice in the first quarter, one Tim Johnson took back 40 yards for a touchdown.
[+] Enlarge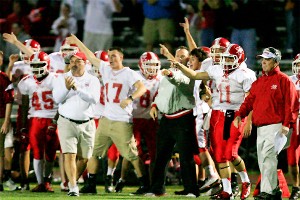 Jon Mahoney for ESPNBoston.comEmotions are running high in North Attleborough after the Red Rocketeers dominated BC High in an upset, outgaining the Eagles 445-96 from scrimmage.
Things got worse from there for the Eagles (0-2). After North Attleborough drove 80 yards on its ensuing possession to make it a one-point game, it was the benefit of its own mistake. Hunter, also the team's kicker, lined up to kick off, but failed to get his foot properly under the ball, which sent a line drive into a BC High blocker. The football bounced back in North's direction and Hunter fell on it to keep possession.
The play went in North's favor so well that some wondered if it was actually a planned, unorthodox onside kick.
"No, that was purely accidental," Red Rocketeers head coach Don Johnson said. "He was instructed to kick it deep and down and hard. The same thing happened at our game last week, and he recovered the kick, so that was just luck."
Three minutes later, Alex Jette took a handoff five yards for a touchdown, and the Rocketeers never looked back.
JETTE'S ON AFTERBURNERS
Just one week after accounting for 345 all-purpose yards against Rhode Island power La Salle Academy, Jette was back at it again for North Attleborough. While his point totals were not nearly as abundant as they were last Friday (just 128 yards and a touchdown on the ground, and 53 yards receiving), he still made an impact on the game.
That kind of productivity, as a team, not just from Jette, will be extremely important for NA as it gets into its Hockomock League schedule if the team's passing game is not clicking as much as it would like.
"We don't have a weak spot," said Jette when talking about his team's run game. "We thought we were going to have a problem running up the middle against them today. They have huge linebackers and a huge defensive line, but we were able to run successful counters and then get the ball to the other side and catch them off guard.
Jette also made an impact on defense with an interception of Collins. He faced a tall order all night, literally, because he was matched up against the 6-foot-4 Lincoln Collins. While he was giving up three inches to the wideout, Jette held Collins to only two catches for 16 yards.
"Obviously he's a great wide receiver," Jette said. "He has a few inches on me, but our defense ran a lot of blitzes tonight, and I think that helped. We got pressure to the quarterback and he wasn't able to get it to Lincoln Collins, so that helped me overall cover him better."
OFFENSIVE WOES
BC High has yet to score an offensive touchdown through the first eight quarters of its season. Its lone touchdown came on Tim Johnson's pick-six of Perron in the first quarter.
The Eagles have struggled to mount consistent offense yet this season, partly due to its well-documented injuries, most notably on offense to quarterback Brandon Craven. Danny Collins, his replacement, was 3-of-9 for 30 yards and an interception Friday.
It appeared the tide could have been turning in the third quarter, when the defense recovered a Hunter fumble at its own 10-yard line. After going three-and-out, the Eagles punted, but North Attleborough's Tyler Sellner muffed the punt and BC High fell on the loose ball.
Unfortunately for them, NA brought a heavy rush on second and third down, getting to Collins each time, forcing a punt again.
--- With a 2-0 record and the way it dominated its opponents the past two weeks, the rest of the Hockomock League has to have its eyes on North Attleborough. As the season rolls on to its third week, the Rocketeers have become one of, if not the team to beat in the division. There will be no sneaking up on anyone.
"We came into these games knowing that they're non-league games, but we could only come out here with a positive game," Jette said. "Especially beating a great team like [BC High], that's just a huge motivation factor, and now we just have to focus on winning our league games and making it into the playoffs."
NO. 17 NORTH ATTLEBOROUGH 27, NO. 13 BC HIGH 7
NA --- 6 6 0 15 --- 27
BC --- 7 0 0 0 --- 7
1st Quarter
BC - Tim Johnson 40-yard interception return (Jackson Bockhorst kick good)
NA - Ryan Perron 3-yard run (Dwayne Hunter, Jr. kick no good)
2nd Quarter
NA - Alex Jette 5-yard run (Two-point conversion no good)
4th Quarter
NA - Perron 2-yard run (Perron 2-point conversion run good)
NA - Jack Blase 13-yard run (Hunter, Jr. kick good)
September, 14, 2012
9/14/12
2:41
AM ET
NO. 19 AUBURN (1-0) AT HOLLISTON (0-1)
The Skinny: Retribution is on Holliston's mind after last year's tough 14-13 loss in Auburn, and they'll face an uphill battle in trying to return the favor on their own turf. The Panthers fell to a talented Stoughton squad last week, while Auburn looked sharp in an easy victory over Shrewsbury. Holliston's Max Athy is a playmaker on defense, but the Panthers will have their hands full against an Auburn offensive line that averages nearly 280 pounds across and has been playing together for the last two seasons.

Co-editor Scott Barboza: The Panthers have some nice athletes on defense, the Rockets line simply takes over. Auburn, 28-14.

Co-editor Brendan Hall: Rockets will win again, and this time there will be no dispute about it. Auburn, 21-6.

DENNIS-YARMOUTH (0-0) AT NO. 4 BARNSTABLE (1-0)
The Skinny: The last three results of this early-season rivalry have been decided by a total of five points, with D-Y holding a two-game win streak in the series, making this the fiercest non-Thanksgiving rivalry on Cape Cod. Barnstable figures to have the advantage offensively, with Nick Peabody leading a potent and speedy attack that is coming off a 55-3 blowout of Durfee, but the Dolphins have always devised a great defensive game plan to slow things down. The key matchup might be in the trenches, where Barnstable center Tom Grimmer is expected to square off with D-Y tackle Joe Tyo.

Barboza: I think the rivalry factor keeps this game closer than it might look otherwise. Barnstable, 25-21.

Hall: On paper, the Red Raiders have an advantage in many facets of this game. But they don't call it a "Backyard Brawl" for the seafood chowder. I'm hoping to get out of Hyannis in one piece after this one.

Barnstable, 21-20. NO. 6 LONGMEADOW (1-0) AT NO. 18 ST. JOHN'S OF SHREWSBURY (1-0)
The Skinny: St. John's may have answered any offensive questions with its 47-point outburst over Holy Name last week, but may have raised defensive ones by allowing 40 points and over 460 yards rushing. The road doesn't get any easier this week, with some calling this Longmeadow's best shot at getting an elusive win over the Pioneers. As usual, they'll do it behind a surgical Wing-T scheme, with an all-senior line led by Rob McClure and Lou Calabrese. Pioneers quarterback Andrew Smiley looked impressive in his varsity debut, and he'll be hoping for another big day from Shadrach Abrokwah to open up the middle of the field again.

Barboza: I think Longmeadow is able to play ball control and keep St. John's offense off the field. And it doesn't matter where Frankie Elder is lined up, he makes it happen. Longmeadow, 20-13.

Hall: Much like Holy Name last week, this is the year Longmeadow has to beat St. John's. But if this turns into a track meet again, I don't like the Lancers' chances. St. John's, 30-20.

NO. 1 EVERETT (1-0) AT NO. 15 SPRINGFIELD CENTRAL (1-0)
The Skinny: A season ago, Central rolled into Everett Memorial Stadium and was swiftly handed a 42-13 loss. The Golden Eagles have grown up a lot since that fateful night in Everett, reeling off 10 straight wins en route to the 2011 D1 West Super Bowl, and return many key components, including quarterback Cody Williams and defensive tackle Shawn Lockett. Everett remains unsettled, with running back Kenny Calaj's status up in the air and the quarterback situation a mystery. Last week, the Tide resorted to Gilly De Souza under center, even though he'd never played the position before, but he got the job done in a 29-7 win over Leominster. The biggest question might be whether the Eagles' secondary can contain Everett's talented perimeter players, specifically Jakarrie Washington and Jalen Felix.

Barboza: Similar to Everett's matchup with Leominster last week, Central is a strong team in its own right, but just not enough to dethrone King Crimson. Everett, 34-21.

Hall: Central might have its own "Honey Badger" (the good kind, of course), but the Tide have "Felix The Cat". Everett, 35-14.

No. 21 NEEDHAM (1-0) at No. 20 MANSFIELD (1-0)
The Skinny: Both teams rolled in the season openers last week, but this one could go down to the final seconds. The Rockets had a tremendous performance last week from Mike Panepinto (8 carries, 181 yards) running behind a line anchored by tackle Mitch Hildreth. Meanwhile, Mansfield claimed a 49-15 romp over Westfield. Alex Ruddy led the Hornets on defense, racking up 10 tackles (8 solo) in last week's win and will be a key to slowing down the Rockets' rushing attack.

Barboza: The scoreboard at Mansfield might malfunction trying to keep up with the scoring in this one. Needham, 35-34.

Hall: We could honestly see 800 yards of offense in this one. Mansfield, 38-34.

No. 9 BROCKTON (1-0) at No. 22 READING (1-0)
The Skinny: The question is what the Boxers will do with the momentum they gained while shutting out BC High last week. Will they ride the wave and roll over the Rockets? Or does this game have let down written all over it? The matchup to watch will be watching Rocket-armed Reading quarterback Drew Belcher operating against the Brockton secondary led by Micah Morel. Boxers QB Auggie Roberts had a huge week against BC High, running to the tune of 139 yards and two touchdowns, so the Rockets will need to slow down the triple-option threat if they're to defend their home turf.

Barboza: Made this pick in the preseason when we projected out Brockton's record through the first month of the season. Boxers are moving to 2-0. Brockton, 25-21.

Hall: Since Reading head coach John Fiore is a big pro wrestling fan (just like Scott and I), my gut tells me the Rockets will deliver a Stone Cold Stunner under the bright lights. Reading, 21-20.

NO. 17 NORTH ATTLEBOROUGH (1-0) at NO. 13 BC HIGH (0-1)
The Skinny: BC High will assuredly enter this one ticked off as a bull after failing to get on the board against Brockton in Week 1. But what the Eagles will look like on offense is a whole other deal. Brendan Craven joined BC High's growing MASH unit against Brockton and should be out a month. On the other hand, North enters with a modicum of momentum after dispatching Rhode Island's No. 1 squad, La Salle Academy. Alex Jette went off for 346 all-purpose yards while scoring three touchdowns as our Player of the Week for Week 1.

Barboza: I think the X-factor is the Red Rocketeers' offensive line, which is athletics as ever, but also one of the biggest lines Don Johnson's ever seen in his tenure. North, 14-13.

Hall: I'm getting antsy here. If BC High can't pull this one out, I'm 0-2 with the Eagles and I might have to default on my mortgage. I'm still in debt to Galvo for my anti-Brockton picks. BC High, 13-6.

CENTRAL CATHOLIC (1-0) at NO. 3 ST. JOHN'S PREP (1-0)
The Skinny: The question of this matchup might be how many passes are attempted. These teams love them some ground game and, why not? With running backs like Central's Santino Brancato and Prep's Alex Moore and Jonathan Thomas, there's not a lot of incentive for airing out the ball. This one is going to be settled with three yards and a cloud of dust.

Barboza: Even though these teams could end up in a ball-control kind of game, I think there will be a couple of big running plays to be had for either side. Prep, 31-20.

Hall: As they have done in recent years, the Raiders will find a way to make this game interesting. But if they don't, then you know Prep is for real. Prep, 24-10.
September, 8, 2012
9/08/12
12:16
AM ET
By
Adam Kurkjian
| ESPNBoston.com
BROCKTON -- There have not been a lot of recent instances where Brockton was beaten as soundly as it was by BC High in last year's season opener.
The Eagles' 42-0 win was complete in every phase on their way to a Division 1 Super Bowl title. The loss sent Brockton into a tailspin that resulted in a 5-6 season, the program's first losing mark since 2001.
Well, last night at Marciano Stadium, the Boxers delivered a rousing counterpunch with a 21-0 shutout that felt even more decisive than the final score indicated.
"Last year, we couldn't match them, physically," said Brockton coach Peter Colombo. "This year, we obviously did."
And then some. Both lines dominated for the host Boxers, as they rushed for 310 yards and held BC High to 143 total and just 62 in the second half.
[+] Enlarge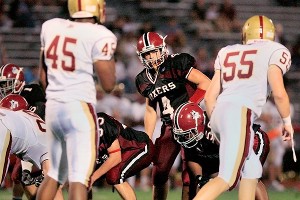 Jon Mahoney for ESPNBoston.comBrockton QB Austin Roberts orchestrated the offense in a vengeful shutout of rival BC High.
Senior quarterback Austin Roberts led the way for Brockton with 139 yards and two touchdowns on 23 carries, while junior tailback Aaron LeClair added 83 yards and a TD on seven attempts and fullback Ricardo Calixte contributed 61 yards on 10 rushes. Brockton only threw two passes (one interception, one incompletion), but didn't need to the way their front was blowing BC High off the ball. The Boxers completely eschewed the passing game in the second half with zero attempts but didn't punt, either. Their four second-half possessions read: touchdown, touchdown, lost fumble, touchdown.
The defense was physical and had its way between the hashes just as much as the offense did. Nowhere was that more apparent than at the end of the first half with the game still scoreless, when BC High marched inside the Brockton 10. On third down, quarterback Dan Collins took off and made a leaping attempt to the goal line but was leveled a yard short by a host of Brockton tacklers. After a timeout, BC High decided to go for it but Collins' sneak was stuffed by backup middle linebacker John Flaherty. The momentum lifted Brockton into the second half and the Boxers never looked back.
"I can't describe it. I'm still speechless, actually," said Brockton defensive back Micah Morel, who made an interception in the second half and played tight man coverage in the first half on Villanova-bound receiver Lincoln Collins. "I mean, I know it was only 21-0, but whenever you pitch a shutout against the No. 2 team in the state, that's saying something. That's saying a lot."
STRENGTH IN SENIORS
Usually, when BC High and Brockton meet up, no matter what the final score says, the ledger of the line play favors BC High. That was not the case Friday night. Not even close. Despite boasting Virginia-bound lineman Jack McDonald, BC High was pushed backwards on both sides of the ball by Brockton's line. The difference? For the first time in at least seven years (maybe longer), Brockton started five seniors on the offensive line. The defensive line is also a veteran unit. Four-year starters Joe Previte and Anthony Davis led the way, as Previte showed off the strength he displayed this offseason in throwing up a 410-pound bench press. On defense, players like Malik Cooley-Walker, Jeff Celestin and Max Castor were in the backfield all night.
LEADING ROLE
Like many teams, the Boxers have taken on the personality of their quarterback and it looks like it will pay big dividends this fall. Roberts is a tough runner who creates extra yards after contact and is simply a natural leader on the field. Many of his runs were just pure sneaks that he turned into 5-yard gains as the line pushed the pile forward. Coach Peter Colombo had the difficult task of retooling an offense that was shut out four times last season and built one around the strengths of his returning talent. The option scheme used most prominently in the college game by the likes of Navy and Georgia Tech can only work with a smart, tough quarterback and Roberts has both of those traits in abundance. He is also bigger, stronger and faster than he was last year, as he simply refused to go down on the first hit.
ROUGHED UP
BC High came into the game missing fullback/linebacker Luke Catarius to injury. The Eagles were also out three other starters on both lines, which needs to be factored in to an extent when taking into account how much Brockton controlled things physically. But at the end of the game, BC High suffered yet another brutal setback when quarterback Brendan Craven was carted off after getting hit low as he released a pass on the final possession of the game. In a scene eerily similar to Preston Cooper's season-ending ankle injury against Everett, Craven's injury looked very serious and left a pall over an already shaken squad.
BROCKTON 21, BC HIGH 0
BC High (0-1) 0 0 0 0 – 0
Brockton (1-0) 0 0 7 14 – 21
Third Quarter
Austin Roberts 1 run (Levon Merian kick)
Fourth Quarter
Aaron LeClair 10 run (Merian kick)
Roberts 23 run (Merian kick)
September, 6, 2012
9/06/12
11:06
PM ET
FRIDAY
NO. 1 EVERETT AT NO. 7 LEOMINSTER
The Skinny: Leominster has never beaten the Crimson Tide since this series began in 2002, but the Blue Devils have usually been a tough out. In 2009, the teams played to a 14-6 Tide win. The last two meetings, the Blue Devils got under the Tide's skin early before Everett's talent took over. But Leominster is brimming with excitement, its proud football culture awakened again following their first Super Bowl championship in a decade last fall. Everett, meanwhile, seems to be settled at every position but quarterback – and with a line averaging over 315 pounds, that will suffice. If Leominster is to pull off the upset, they'll have to a find a way to contain electric wideouts Jakarrie Washington and Jalen Felix.

Scott Barboza: Leominster turns it into a game, but still too many horses in the stable for Everett despite the questions. Everett, 27-20.

Brendan Hall: It's going to be a majestic crowd at Doyle, and some readers will undoubtedly conclude I'm biased towards Leominster because their defensive coordinator coached me 10 years ago at Oakmont. But I'm not. Even I'm not foolish enough to pick against the Tide in this one. Everett, 24-13.

NO. 2 BC HIGH AT NO. 22 BROCKTON
The Skinny: Injuries were an overarching theme of the preseason and both of these teams were affected. Bad news for BC High is Luke Catarius is out with a hairline ankle fracture, but Brockton should have Micah Morel in the lineup for their Week 1 challenge. We'll get a look at the reigning Div. 1 Super Bowl champions new-look offense with Brendan Craven under center and Brandon Owens in the backfield while the Boxers will be sporting a Georgia Tech-inspired scheme with Auggie Roberts back at quarterback.

Barboza: A Jackson Bockhurst field goal will be the difference. BC High, 17-14.

Hall: Things unraveled for Brockton pretty quickly in last year's meeting in Dorchester. The Boxers are fighting an uphill battle again this year, but at least it will be respectable. BC High, 28-14.

NO. 23 SPRINGFIELD PUTNAM AT NO. 14 SPRINGFIELD CENTRAL
The Skinny: With the schools sitting less than a mile from each other along Roosevelt Ave., the season-opening battle between these rival schools has become must-see as of late. Putnam won this contest last season, kick-starting an historic 2011 season that ended with their fifth Super Bowl title in eight seasons. Central will be looking for revenge, but it's not easy replacing 2,000-yard rusher in Sacoy Malone. Putnam, meanwhile, turns to a plethora of new faces to replace record-setting running back Melquawn Pinkney, including quarterback Kayjuan Bynum and running back Wayne Lowery.

Barboza: I came away very impressed from talking to Central QB Cody Williams last year at Gillette. He blossoms into the real deal this year. Central, 21-16.

Hall: I like the direction Central is headed in over the long run, but Putnam is still Roosevelt Ave (See what I did there?). Putnam, 7-6.

LA SALLE ACADEMY (R.I.) AT NO. 16 NORTH ATTLEBOROUGH
The Skinny: Big Red will have its hands full opening night with their challenger from just across the state line. The Rams feature a high-octane attack led by reigning Gatorade Player of the Year running back Josh Morris and senior quarterback Anthony Francis. The key to this one will be in the trenches where North's offensive line led by Eric Beckwith and Sean Peters could have the advantage.

Barboza: This Rams team is very talented, but North holds on – just barely. North, 28-26.

Hall: Josh Morris and Co. have been dying for that elusive win over a Massachusetts squad, and I think they finally get it here. La Salle, 17-13.

NO. 12 KING PHILIP AT DOVER (N.H.)
The Skinny: Self-admittedly, we don't know as much about Dover as we do KP, but we can be some what certain what the Warriors will be showing them on defense. And, of course, that's a variety of different looks and blitz and coverage schemes. Dover, which sits just outside of ESPN Boston correspondent Marc Thaler's Granite State Top 10 poll, will also have to contend with KP quarterback John Dillon, who will enjoy a greater role directing the offense in his second year as starter.

Barboza: KP's "Psycho" package gives Hockomock League teams fits, nevermind an offense that hasn't seen it. KP, 28-8.

Hall: Knowing little about Dover outside of what our loyal New Hampshire correspondents tell us, I'm going to trust their convictions on this one and say it will be close. But I'm still going with the team closer to Boston. KP, 20-10.

NO. 4 ST. JOHN'S PREP AT DRACUT
The Skinny: The Middies have been a bit of a bugaboo for St. John's Prep in recent years and some around Danvers feel Dracut has simply posed a matchup problem for the Eagles with its spread attack. Good news for Prep is that their secondary, with Lucas Bavaro, Gerry Kahari, Alex Moore and Johnny Thomas, has matured into a strength of the team. Dracut senior linebacker Zach Bassett could be the key to the game, trying to slow down Prep's running attack.

Barboza: Looking for a defensive struggle here. Prep, 14-7.

Hall: Classic trap game for The Prep, against a classic trap opponent that's had their number in recent years. Dracut, 10-6.

NORTH ANDOVER AT ANDOVER
The Skinny: North Andover's season starts with a Walsh at quarterback, but of another name. Brendan Walsh's younger brother Casey takes the helm of the Scarlet Knights' offense. It also marks North Andover's first Merrimack Valley Conference game. The Golden Warriors will counter with a high-flying attack that impressed during this summer's Northeast 7v7 passing tournament. Quarterback C.J. Scarpa has plenty of targets including Cam Farnham and Will Heikkinen.

Hall: I know it's a familiar rival that's been on the schedule for years, but North Andover is still in for a whole new ball game. And since it's now officially an MVC game, there will be no less than 172 points scored and 1,000 yards of offense. Andover, 35-30.

Barboza: Ditto. Andover, 31-20.

MARSHFIELD AT CATHOLIC MEMORIAL
The Skinny: Last year at this time, Catholic Memorial entered Marshfield's stadium with plenty of hype, behind three Division 1 FBS commits and a No. 4 preseason ranking in ESPNBoston.com's poll. They promptly got shut out by the Rams, 24-0, fueling their ensuing seven-game win streak. The Knights will no doubt be looking to exact revenge, and they'll look to Preseason All-State defensive end Peter Ngobidi to stifle the Rams' vaunted run game.

Barboza: Ngobidi is a dominant force and asserts his will here. CM, 7-0.

Hall: The Knights got embarrassed last year in Marsh Vegas, and I expect them to exact revenge here. CM, 16-13.

SATURDAY
NO. 24 HOLY NAME AT NO. 17 ST. JOHN'S (SHREWSBURY)
The Skinny: For all of Holy Name's success under Mike Pucko, the Naps have never beaten St. John's during his tenure. Could that change on Saturday? Holy Name turns to one of the state's most elusive scatbacks in Quron Wright, and will hope for a big day. St. John's has already hit the injury bug, with incumbent QB Connor Kurtz (knee) out for the season, but RB Shadrach Abrokwah is a nice fit for their hurry-up scheme, and is poised for a breakout senior season.

Hall: If the Naps are ever to beat St. John's, this has to be the year. Holy Name, 9-8.

Barboza: Hate to do this to the Naps, sorry. St. John's, 22-21.

NO. 9 DUXBURY AT NO. 8 BRIDGEWATER-RAYNHAM
The Skinny: B-R is itching to get over the hump after dropping its season-opener to the Dragons the past two seasons. The Trojans have some terrific talent between the tackles, led by Joey MacInnis, to pave for a big afternoon for junior tailback Arcel Armstead. Duxbury graduated one of its most talented classes ever from the 2011 Super Bowl champion squad, but still has plenty of talent left over to keep the state's longest active win streak (26) going. Look for guard Rob Kosharek, linebacker Marshall McCarthy and running back Jon Hurvitz to have big days.

Barboza: Now that Dan Buron's nephew Andrew (former Duxbury standout) has graduated, expect the Trojans to get back to their winning ways. B-R, 14-10.

Hall: After graduating one of the program's most talented classes ever, Marshall the Missile gets the full spotlight. And he usually gives the fans their money's worth. Duxbury, 14-10.

CONCORD-CARLISLE AT BEVERLY
The Skinny: C-C heads into its non-league tilt with the heavy NEC/CAL Tier 2 favorite already limping, losing its star running back Tim Badgley (ACL tear) for the season. If the Patriots are to repeat last year's Super Bowl championship success, sophomore quarterback Will Blumenberg will have to grow up quickly. Meanwhile, Beverly features one of the North Shore's most feared rushing attacks with the three-pronged approach of Kenny Pierce, Brendan Flaherty and Dom Abate.

Barboza: ETA on when the Kenny Pierce hashtag gets rolling again? We're looking at you James Coffey. Beverly, 27-14.

Hall: I'm excited to see what Will Blumenberg can do for the Patriots, but the Panthers just have too much in the tank to be stopped in this one. Beverly, 28-7.
September, 2, 2012
9/02/12
10:41
PM ET
By
Bruce Lerch
| ESPNBoston.com
With a new head coach patrolling the sidelines, some preseason injury concerns and a cast of new faces stepping into crucial roles on the field, an element of change has certainly been in the air around the BC High football program.

Joe Gaff, a 26-year veteran of the Everett police department, was tabbed to replace Jon Bartlett this summer. Gaff served as the Eagles defensive coordinator the last four years and has previous head coaching experience with Chelsea, Matignon, and Malden Catholic.

The Eagles quest to defend the Division 1 Super Bowl title has gotten off to something of an auspicious beginning, most notably because of the loss of All-State linebacker Luke Catarius. Catarius suffered a slight fracture to his right ankle earlier this week in a scrimmage with Mansfield, and will miss five to six weeks according to Gaff.

Standouts Jack McDonald, Billy Breen and Jaleel Johnson all sat out Friday's scrimmage against Lawrence with what Gaff called "nagging injuries", but all three are expected to be ready to go for Friday's season opener in Brockton.

On the field, the Eagles strength looks like it will be on defense, even with Catarius sidelined. Mark McGuire and Johnson are the anchors at defensive tackle while Tim Johnson and Mike McAuley (who had two interceptions in the Lawrence scrimmage) are standout cornerbacks.

At the linebacker spots, replacing Catarius will be difficult but the Eagles will lean on returnees Danny Collins and Brandon Owens. Brian Robinson has had a terrific preseason, Brian Landry is back after taking two years off from football, and Steve Dicienzo will also contribute.

When asked who would be looked to step up to fill the void left by Catarius, Gaff pointed at the group and talked about some changes the defense will have to make.

"I don't think I can pinpoint one guy. It's more of a unit," Gaff explained. "We've been playing a lot of base defense and letting Luke just read and go so we're going to have move our defense a lot more. We're going to have to be a bit more aggressive and make things happen instead of letting Luke clean things up. We have to set the tempo now and move our guys around a lot more than we have in the past."

The kicking game will also be stellar. BC High boasts one of the state's elite kickers in Jackson Bockhorst, who can hit from 50 yards out, and a strong punter in Pat Ahearn.

Offensively, the Eagles are extremely talented but very inexperienced. Virginia commit McDonald (6-5, 270 lbs.) and Breen (6-4, 240 lbs) will anchor the line from the tackle spots, although the versatile McDonald can play all five positions if needed. BC High adds three new starters to the unit, but the expectation is that they will be able to continue a fine tradition of line play at the school.

"We'll be a pretty quick offensive line this year," said Gaff. "We don't have the huge size all the way across but we'll be very athletic up front. We're looking to keep the tradition of solid offensive line play, keep the running game going, and they know that's what we want."

Senior Brendan Craven steps in at quarterback after spending the last couple of years watching former starter Bartley Regan, although Gaff hinted that Danny Collins may be used in spots as a change of pace, running QB in certain situations. Craven's main target should be 6-foot-4 Lincoln Collins, who committed to Villanova over the summer. Tim Johnson and Mike McAuley step into the lineup alongside him.

Brandon Owens will be the main tailback, joined by Skyler Evans. Catarius also served a crucial role as the team's fullback, so look for DiCienzo and Mitch LaFerriere to pick up the slack.

"I think we need some experience in the passing game," Gaff admitted. "We have talent but its been a lack of playing time for those guys. (Craven) is a first year quarterback and we have inexperience at WR. Even with Lincoln as great as he is, our two and three guys haven't got too much experience as receivers. And we have a new running back too, and losing Luke from that means we will have to do some different things."

BC HIGH AT A GLANCE
2011: 10-3, Division 1 Super Bowl champion
Coach: Joe Gaff (1st season)
Key Returnees: Billy Breen, Sr., OT/DL, 6-4, 240 lbs; Jack McDonald, Sr., OT/DT, 6-5, 275 lbs; Jaleel Johnson, Sr., DT, 6-2, 240 lbs, Mark McGuire, Sr. DL, 6-2, 200 lbs.; Tim Johnson, Sr. DB/WR, 5-10, 175 lbs.; Danny Collins, Sr. MLB/QB, 6-2, 185 lbs.; Lincoln Collins, Sr., WR, 6-4, 180 lbs; Brandon Owens, Sr. LB/RB, 6-0, 200 lbs.; Mike McAuley, Sr. DB/WR, 5-11, 170 lbs.; Brendan Craven, Sr. QB, 6-3, 180 lbs.; Skyler Evans, Sr. RB, 5-9, 180 lbs.
Strengths: Defense, kicking game, senior leadership.
Weaknesses: Inexperience on offense, key injuries.
Outlook: The defending Super Bowl champions have a different look and feel from the team that won the title, not just because those seniors are gone but also because those seniors were able to get playing time as juniors and sophomores, something much of this year's senior class hasn't had. "I think this is a different group," Gaff said. "That senior class last year was so good that we have a lot of guys that are seniors now and are stepping on the field for the first time. Last year we had a lot of guys that had played as juniors and I think that's the big difference. This years group is good, just not game experienced." Gaff and his charges will be put to the test early as the Eagles open with games against Brockton, North Attleboro, Dartmouth, St. Peters Prep (N.J.), Marlboro and Everett before finishing with its Catholic Conference slate. A strong defense should give the inexperienced offense time to get its feet wet and allow its talent to shine through. Bockhurst is a weapon that few other teams with his ability to boom field goals from as deep as 50 yards, something that may come into play early and often.
August, 28, 2012
8/28/12
11:23
PM ET
By
Brendan Hall
| ESPNBoston.com
DORCHESTER, Mass. -– Thoughts and observations from tonight's scrimmage between No. 2 BC High and No. 19 Mansfield, in which Mansfield's varsity score three times to just one from the Eagles:
Matinee screening:
Mansfield struggled on its opening drive, thanks to pressure applied in interior defensive line from an assorted combination of Jack McDonald, Jaleel Johnson, Mark McGuire and Billy Breen. That prompted the Hornets to go to their screen game in their next three varsity offensive series, yielding favorable results.
[+] Enlarge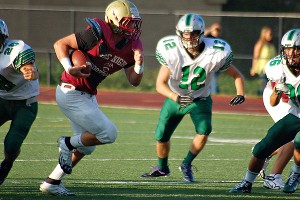 Brendan Hall/ESPNBoston.comBrandon Owens is expected to take over at tailback at BC High, and he showed some positive signs in Tuesday's scrimmage with Mansfield.
When the scrimmage went to "situational" play in the third and fourth varsity series (i.e., chain markers were brought in), seniors Roger Rapoza and Kevin Makie had big gains out of the backfield off screen passes to the flats from Kyle Wisniewski.
Makie was particularly efficient. In the third series, he took a screen in the left flat, shot up a seam and went untouched 32 yards down the sideline for a score. Makie also had a nice 45-yard reception in stride off a play-action pass, running a wheel through zone coverage up the right sideline to set up a touchdown plunge from three yards out.
"They came at us hard, and we had a little trouble protecting," Mansfield head coach Mike Redding said. "They did a good job pounding us. But what I like is how we got some spunk and got things going when the chains got up and we got to some down and distance. We at least walked out of here with some confidence."
BC High head coach Joe Gaff's explanation for how the defense got exploited on those screens was simple – poor execution.
"No idea, that's all we talk about around here is screens," he said. "We just didn't do a good job on screens. It was just clear as that. We didn't read where they were coming from, our D-linemen went upfield too much, and we just didn't hug the backs like we're supposed to."
Key injuries:
Another Preseason ESPN Boston All-Stater took to the trainer's table this evening, when BC High senior middle linebacker Luke Catarius left the field in the first defensive series with an injury to his right ankle, and did not return. Catarius, a Sandwich resident, made ESPN Boston's All-State Team a year ago and is a likely candidate for both our Mr. Football and Defensive Player of the Year awards.
It's worth wondering if Catarius' absence helped contribute to the Eagles' breakdown in pass defense, as the 6-foot, 215-pounder is the face (and quarterback) of the defense.
An early prognosis was not available.
"I think it's just a little sprain, that's all I'm hoping for," Gaff said. "He's a beast."
Owens poised for breakout?
Last weekend, we wrote about Xaverian junior defensive end Elijah Jolly
as a potential breakout player in the Catholic Conference this fall
. BC High's Brandon Owens is my pick for the conference's breakout player, and I would have said that two weeks ago. But the way he ran tonight made me feel safe about my conviction.
Though Owens only platooned part-time at linebacker last season, he still garnered enough attention from Division 1 FCS schools to make a verbal commitment to Bryant University last month, as a safety. This season, the 6-foot, 190-pounder figures to be the feature back in Gaff's pro-style offense, and looks capable of taking 20 to 25 carries a game.
On BC High's first offensive play of the night, Owens followed Catarius up the gut into the second level, bursting off for a 35-yard gain. Several times he took toss sweeps out of one and two-back formations, and turned the corner for gains of 8 to 12 yards. He can also bring some pop – on his final carry of the night, a dive, he lowered his shoulders and easily trucked a 250-pound Mansfield lineman and fell forward.
Owens also had the Eagles' lone varsity score, a short plunge in the second series.
There is little twist in Owens' arsenal. He is a one-cut, north-south runner with good first-step explosion that allows him to burst through the line of scrimmage at full speed. As an outside linebacker, he demonstrated good hands, shedding would-be blockers in run support.
"He runs hard," Gaff said. "He'll lose a few more pounds and get in better game shape. It's hard to knock him down for a loss, he goes forward. I thought he did a real nice job tonight."
Craven proving sufficient:
Brendan Craven enters his senior year at BC High having never started a varsity game at quarterback, yet he holds various Division 1 interest and even a scholarship offer, from FCS school Valparaiso University. How did this happen?
For starters, Craven was a fixture at camps, keeping his name afloat on the recruiting radar as he waited patiently the last two seasons behind current Stonehill College freshman Bartley Regan. The 6-foot-2 Craven has proven himself as a good rhythm passer over the summer, to go with sharp footwork and scrambling ability.
Physically, he's done all he can. The mental part will have to wait until the Eagles strap it up for real at Brockton on September 7, so for now we're left with glimpses of what could become.
And there were some good glimpses. Craven and Villanova-bound wideout Lincoln Collins, a preseason ESPN Boston All-State selection, looked like they were on the same page for most of the night. In the second series, Craven hit the 6-foot-4 Collins on a bubble screen for 15 yards, then three plays later connected for a 30-yard strike after faking a counter handoff up the middle.
There's still work to be done. Craven threw a pick-six in the third series saw repeated pressure from Hornets senior linemen Ollie Erickson, Jon Lawlor, Jamie Comer and Antonio Medeiros as the game wore on. But as he was repeatedly flushed out of the pocket by pressure in those third and fourth series, he demonstrated his pocket presence, to buy himself an extra second in the pocket with his footwork or breaking off for a run.
"He's done everything except game time, which is why situations like this are good," Gaff said. "It's good to have situations like this, with getting pressure, getting pressure. We'll clean this offensive line up, there's no question about it. That's our priority tomorrow, cleaning it up."
January, 19, 2012
1/19/12
11:55
AM ET
A trio of BC High football players were among seven Massachusetts participants recently to attend the upcoming Semper Fidelis All-American Bowl "Proving Ground" combine.

Eagles linebacker/fullback Luke Catarius, quarterback Brendan Craven and wide receiver Lincoln Collins were among the 300 elite juniors competing in the individual skills competitions in Phoenix, Ariz. on Jan. 2.

Other Bay Staters who participated in the combine were Brockton's Ryan Kelley, Nashoba's Zack Hume, Catholic Memorial wide receivers David Berment Jr. and Deijon Evans, and Portsmouth Abbey (R.I.) quarterback Gabe Carter.

On another note, Craven was one of two Massachusetts-based players to attend the U.S. Army National Combine in San Antonio, Texas on Jan. 5-7.
August, 30, 2011
8/30/11
10:41
PM ET
By
Adam Kurkjian
| ESPNBoston.com
MANSFIELD, Mass. -- Last year, Mansfield rag-dolled BC High in a scrimmage in Dorchester, as Jamel Marshall, George Busharis and Jeff Hill put on an offensive clinic against the Eagles at Viola Stadium.

On Tuesday, the Eagles returned the favor, but it was not as one-sided. Still, BC High looked pretty impressive, as starting running back Preston Cooper and both starting junior tackles -- returning starter Jack McDonald and Pat Connolly -- were in attendance but not suited up, nursing minor injuries.

It was fairly obvious, though, that BC High didn't have any depth issues.

"They are big, strong, physical," said Mansfield coach Mike Redding of the Eagles. "I think the difference is this year, they're big and physical and they just seem better at all the skill positions. Their quarterback's a little better; Cooper's a little better; their wideouts are taller, a little faster..."

He was then interrupted and told that the player who housed a 55-yard toss to the left sideline was actually backup Deontae Ramey-Doe.

"Oh, (Cooper) didn't play?" he said. "I thought it was him. OK. They just got nice skill kids everywhere. The height that we kind of wish we had -- they all seem like they're 6-1, 6-2, they can run and they've got the big horses up front. They'll be tough to defend the way pound you and then play-action. The quarterback's very poised. They're getting a lot of hype, and rightfully so. They've got a nice package.

"But I think we held our own against a good football team. We're making strides. It's just building that depth a little bit. Unfortunately we can't make the kids bigger when we go to practices. We just make them tougher, make them smarter and do the best we can with what we got."

Cooper was a de facto coach on the field for the Eagles, and spoke about the importance of developing the depth that BC High is going to need for the schedule it plays.

"I mean, everyone gave it their all," Cooper said. "Of course we have backups come in and do the job. So even if I'm hurt or I'm out or whatever like that, no one should worry. Everyone should play 100 percent and everyone did that."

Some other thoughts...

-- Usually, BC High looks big up front, but not athletic. That is not the case this year. The linemen are leaner and quicker. It looks as if the Eagles spent as much time running in the off-season as they did lifting - which is not always how it's been at that program.

"Offseason conditioning was a huge thing for us -- weight room, speed development, particularly for our linemen," said BC High coach Jon Bartlett. "We need quicker, faster, stronger linemen. Hopefully that will continue as the season goes along."

One player in particular who has slimmed down and increased his speed is senior tight end and Temple commit Jameson McShea. Although the coaches have slid him down to defensive tackle, he's lighter on his feet and more nimble. The defensive line as a whole is still a strength despite the graduation of ESPNBoston All-State Obum Obukwelu (Harvard).

-- Speaking of the former Eagle defensive tackle, don't be surprised to see senior Oderah Obukwelu sneak into the lineup at some point in the season. A basketball player who didn't come out for football until this year, the 6-foot-3, 215-pounder made a number of plays in the backfield at defensive end. The BC High staff wishes it could have had him sooner. But there's another one in the pipeline. Eighth-grader "Mookie" Obukwelu is built more in the mold of Nnamdi, also at Harvard and the oldest of the brothers, who led the 2008 team to a Division 1 Super Bowl.

-- Redding wasn't kidding about the speed and size at the skill positions for BC High. Seniors Gordon McLeod, Tom Lomenzo, junior Lincoln Collins are all tall, fast players with good hands that make nice plays after the catch. The Eagles are three-deep at quarterback with returning starter Bartley Regan, junior Brendan Craven and running threat Richard Roach.

-- As for Mansfield, the Hornets are trying to build some depth as well. They just don't have as much of it as BC High.

"We've got three or four guys going both ways and what we're trying to do is get answers for getting everybody going one way," Redding said. "We'd like to get to the (Carrier) Dome (in the opener against Syracuse's Christian Brothers Academy) with 22 starters because it's 12-minute quarters up there. And they're going to do some no-huddle, we're going to do some no-huddle. The more one-way we go, the better. So we're trying to build some depth here in the preseason."

-- Still, Mansfield has some nice pieces to work with offensively. Quarterback George Busharis has another year of experience under his belt and tossed a nice middle screen over the trees to senior Blayne Taylor, who motored downfield for a long touchdown on the first series.

"I think the idea with Greg (Donahue) and Blayne is to get the ball in the open field," Redding said. "We're not going to line up and run iso and pound people but I think our fullbacks can keep people honest inside. And I think with Blayne, it's whether it's toss or screen or passes, he's going to make something happen like Greg. We just want to get the ball to those guys in space."

-- Mansfield didn't give up too much in between the tackles. Defensive ends Nick Chiocco and Brent Doherty and junior defensive tackles James Comer and Ryan Galanti combined with linebackers Dylan Finerty, Derrion Walker, Nick Leonard and Zack Schafer to form a stout group in the 4-4 scheme.