Boston High School:

Brendan McDonough
March, 28, 2013
Mar 28
9:11
PM ET
FIRST LINE
F - Liam Coughlin, Sr., Catholic Memorial
Finished third among all Division 1 players in scoring, while leading the Knights back to the Super 8 for the first time since 2009-10. The South Boston native put up 28-20-48 totals, tied for first among Catholic Conference scorers this season.
F - Ara Nazarian, Soph., Malden Catholic
ESPN Boston's Mr. Hockey award winner this season, Nazarian had 26-22-48 totals for the regular season, along with nine goals and five assists during the Super 8 tournament for the three-time defending champions. The Boxford resident and center is the first underclassman to win the Mr. Hockey award.
F – Brian Pinho, Sr., St. John's Prep
The Providence College commit led the Eagles to a No. 1 seed in this year's Super 8 tournament. The North Andover resident compiled 12-24-36 totals this season and, in January, was ranked No. 117 among North American skaters in the NHL Central Scouting's Midterm Rankings.
D – Casey Fitzgerald, Soph., Malden Catholic
The North Reading resident earned his second Super 8 title with the Lancers, playing on all defensive units and is one of two players making a second-straight appearance on our All-State team. The Boston College commit had 5-17-22 totals on the season and recently was accepted in the United States National Team Development Program's U-17 team.
D – Matt Foley, Sr., Springfield Cathedral
The two-way blue-liner finished third on the Panthers in scoring with 10-16-26 totals this year while leading them to another Super 8 apperance. A Longmeadow resident, the captain is deciding among prep schools for next year, as well as offers to play in college.
G – Peter Cronin, Sr., BC High
The only repeating First-Team All-Stater this year, Cronin finished in the top five among Division 1 netminders in both goals against average (1.40) and save percentage (94.6) while starting all 23 of the Eagles' games. He is currently considering colleges among playing opportunities at the prep school and junior levels.
SECOND LINE
F – Tom Besinger, Jr., BC High
The Eagles' top center and captain was force to reckon with in the circle, in addition to leading the Eagles with 35 points (10 goals and a team-best 25 assists).
F – Cam Owens, Sr., Wilmington
Finished his high school career with back-to-back Division 2 state championships. Owens racked up 30 points, playing alongside All-State honorable mention Brendan McDonough. Owens is currently weighing prep and junior options for next year.
F – Nolan Vesey, Sr., Austin Prep
The senior captain led the Cougars back to the Super 8 for the first time since the 2009-10 season and all the way to a finals appearance at the Garden. Vesey led AP in goals (18) and points (31) while kicking in 13 assists.
D – Nick Gorski, Sr., Central Catholic
A player who head coach Mike Jankowski repeatedly called his "most improved player" since freshman year, the Raiders captain played on all units, leading Central to another Super 8 appearance.
D – Jack Williams, Sr. Springfield Cathedral
A major component to perhaps the state's best blue-line core, Williams did a little bit of everything for the Panthers, including playing forward on power-play units. The Suffield, Conn. resident tallied four goals and 19 assists for 23 points. He is currently weighing his playing options for next season.
G – Colin Soucy, Jr., Central Catholic
The break-out star of this year's Super 8 tournament, Soucy nearly delivered the Raiders to a quarterfinal-round upset of No. 1 seed St. John's Prep in his first year as Central's starting netminder.
Best of the Rest – Honorable Mention
Forwards
Tyler Bird, Jr., St. John's Prep
Tommy Bishop, Sr., Chelmsford
Matt Brazel, Jr., Hingham
Brian Brooks, Jr., Canton
Mike Carbone, Sr., Marshfield
Bobo Carpenter, Soph., Austin Prep
A.J. Couto, Sr., Danvers
Ben Cox, Sr., Medfield
Peter Crinella, Soph., Springfield Cathedral
Cam Curley, Sr., Franklin
Sam D'Antuono, Jr., Hingham
Jordan Dow, Sr., Lincoln-Sudbury
Josh Edwards, Sr., Blue Hills
Brendan Greene, Jr., Winchester
C.J. Grinnell, Sr., Burlington
Marc Happy, Jr., Wachusett
Lloyd Hayes, Jr., Central Catholic
Kevin Hock, Frosh., Catholic Memorial
Mike Iovanna, Sr., Malden Catholic
Andrew Irving, Sr., Beverly
Connor Irving, Jr., Beverly
Ryan Jones, Sr., Coyle-Cassidy
Jack Kilty, Sr., Medway
Pat Kramer, Soph., BC High
Tom Koopman, Jr., Marblehead
Matt Kustra, Sr., Natick
Brendan McDounough, Jr., Wilmington
Anthony Lespasio, Sr., Bedford
Jack O'Hear, Sr., Catholic Memorial
Derek Petti, Sr., Tewksbury
Eddie Pratt, Sr., Xaverian
Nolan Redler, Jr., Winchester
Tyler Sifferlen, Jr., Malden Catholic
Mike Sorenti, Jr., Archbishop Williams
Sean Spohr, Sr., Westfield
Max Turcotte, Sr., Holliston
Max Willman, Sr., Barnstable
Defense
Matt Burchill, Sr., Marshfield
Derek Butler, Jr., Natick
John Carlson, Jr., Hingham
Adam Crowley, Jr., Burlington
Nick Edwards, Jr., Blue Hills
Sean Heelan, Sr., Catholic Memorial
Kurt Leavitt, Sr., Canton
Bryan Nelson, Soph., St. John's (Shrewsbury)
Nick Rolli, Jr., Malden Catholic
Ryan Shea, Frosh, BC High
Sam Topham, Sr., BC High
Goaltenders
Tim Birarelli, Soph., Beverly
Alex Buckley, Sr., Newburyport
Brandon Collett, Frosh., Catholic Memorial
Jordan Davis, Sr., Norwood
Derek DeCastro, Sr., Burlington
Drew Foley, Jr., Wilmington
Nolan Greene, Jr., North Quincy
Elijah Harris, Soph., Austin Prep
John Liquori, Jr., Springfield Cathedral
Al Lynch, Jr., Framingham
Evan Morelli, Sr., Reading
James Offner, Soph., Winchester
Nick Russo, Sr., Waltham
Jimmy Tierney, Soph., Oliver Ames
March, 16, 2013
Mar 16
9:55
PM ET
GIRLS' DIVISION 2
No. 1 Duxbury (21-1-2) vs. No. 2 Falmouth (19-1-2), 11 a.m., TD Garden

Players to watch: Duxbury – F Hannah Murphy, F Marissa Fichter, F Jane Dudley, F Meredith Wright, F Julia Nolan, D Ally Hammel, D Payton Donato, G Rachel Myette; Falmouth – F Alexa Scribner, F Rachel Moore, F Madison Haberl, F Kelly Ferreira, D Hannah Ghelfi, D Alexx Good, G Madison Scavotto.

Breakdown: It is perhaps the most predictable of all of Sunday's matchups and the most anticipated. The Dragons and Clippers renew a burgeoning rivalry, intensified by last year's duel at the Garden and invigorated by the fact that either team's lone loss of the season was handed to them by the other. Duxbury has been playing lockdown defense throughout the playoffs and haven't allowed a goal in more than six games, including the regular season. The Clippers' young corps will look to get over the hump, building on a bittersweet experience on the Bruins' home ice sheet one year ago.

X-factor: Scavotto. As dominant as Duxbury's defense has been in front of and including Myette, the Clippers are capable of the same. And their sophomore netminder is a big reason why. She could steal one.

Pick: Duxbury, 1-0.

GIRLS' DIVISION 1
No. 4 St. Mary's of Lynn (18-3-4) vs. No. 7 Arlington Catholic (17-4-2), 9 a.m., TD Garden

Players to watch: St. Mary's – F Alison Butler, F Kaleigh Finigan, F Gabby Crugnale, F Madison Molea, D Tatiana Doucette, D Amanda Donahoe, G Lauren Skinnion; AC – F Adrieanna Rossini, F Jess Piracini, F Duggan Delano, F Hayle Rudin, D Melissa Richard, G Megan Messuri.

Breakdown: The Catholic Central rivals meet for the second straight year on championship Sunday and, like their Div. 2 counterparts, also split their season series at a game apiece. Behind the benches, both the Spatans' Frank Pagliuca and the Cougars' Maggie Taverna have done work worthy of Coach of the Year honors. St. Mary's has the feel of a team of destiny, neither a short bench nor nagging injuries all season long have kept the Spartans from returning to the biggest stage, all while dispatching No. 1 Woburn in the process.

X-factor: Rossini. You'd be hard pressed to find a young player in recent memory who has scored more clutch playoff goals than the AC sophomore.

Pick: St. Mary's, 3-2.

BOYS' DIVISION 3
Swampscott (19-5-0) vs. Westfield (18-3-2), 3:30 p.m., TD Garden

Players to watch: Swampscott – F Corey Carmody, F Noah Maercklein, F Nunzio Morretti, D Chris Carman, D Trevor Massey; Westfield – F Sean Spohr, F Mike Santinello, F Anthony Cagliostro, F Adam Collier, F Neil Parrow, D Nate Barnes.

Breakdown: The Big Blue took down defending D3 finalist and South sectional champion Medway (thanks to an OT goal from Maercklein) to advance to the program's first title game appearance. Westfield returns to the Garden ice after a one-year hiatus after taking a scorched-earth policy to Western Mass. competition, while averaging more than 5.5 goals per game.

X-factor: Swampscott freshman goaltender Tristan Bradley. The first-year backstop has been a key element to the Big Blue's success, maintaining a 91.5 save percentage through the season.

Pick: Swampscott, 5-4.

BOYS' DIVISION 2
Wilmington (20-3-2) vs. Franklin (17-7-2), 1:30 p.m., TD Garden

Players to watch: Wilmington – F Cam Owens, F Brendan McDonough, F Jake Rogers, F Dylan DiNatale, D Brian Pickett, D Cam Collins, G Drew Foley; Franklin – F Cam Curley, F Dennis Pisani, F Aidan Isberg, F Troy Donahue, D Kyle Powers, D Kyle Filbert, G Devon Maloof.

Breakdown: The third of six rematches on the day, after the Wildcats claimed a 3-2 victory over Franklin a year ago on championship Sunday, propelled by a hat trick from Owens. The Panthers will be looking to avoid their third straight fruitless trip to the Garden, having dropped title tilts with Wilmington and Tewksbury. The Wildcats, who had Super 8 aspirations until late in the season, are eying their second straight title.

X-factor: McDonough. He's been the break-out performer of the tournament and provides a great complement to Owens on Wilmington's top line.

Pick: Wilmington, 3-2.

BOYS' DIVISION 1
Burlington (13-6-5) vs. Marshfield (20-6-0), 8:15 p.m., TD Garden

Players to watch: Burlington – F C.J. Grinnell, F Joe Berardi, F Joey Scali, D Adam Crowley, D Sean Costa, G Derek DeCastro; Marshfield – F Mike Carbone, F Pat Burchill, F Joe Admirand, F Pat Shea, D Matt Burchill, D Trevor Salmon.

Breakdown: While this isn't another rematch, these teams are no strangers to this stage, with the Red Devils and Rams representing as the last two Div. 1 state champions. Both teams were near .500 squads through the first month of the season, and closed their regular-season slates with momentum they've carried over into the playoffs. Both these teams can skate with the best of them, but they also pay attention to the little things in the defensive zone as well.

X-factor: Crowley. I'd expect a defensive struggle in this one and so I'm going with the Red Devils' blue-liner who always makes his presence felt.

Pick: Burlington, 3-1.

BOYS' DIVISION 1A – SUPER 8
No. 4 Austin Prep (16-1-6) vs. No. 7 Malden Catholic (15-6-3), 6 p.m., TD Garden

Players to watch: AP – F Nolan Vesey, F Bobby Carpenter, F Frankie Candelino, F George Sennott, F Eric MacAdams, D Andrew Cross, D J.J. Layton, G Elijah Harris; MC – F Ara Nazarian, F Mike Iovanna, F Tyler Sifferlen, F Pat Wrenn, F Austin Goldstein, D Casey Fitzgerald, D Nick Rolli, G Connor Maloney.

Breakdown: AP, while short on years, is not short on talent. I think we all knew coming into this season that they were capable of reaching this stage, but it might have been a question of when. The Cougars earned their way to Sunday after dispatching town rival Reading and then No. 1 seed St. John's Prep in Wednesday's semifinal. It seems like years ago since there was a time when the Lancers were in jeopardy of missing the tournament all together, but they've played the best hockey in the state during the last month.

X-factor: Nazarian. It's his tournament, the rest of us are just living in it.

Pick: Malden Catholic, 4-2.
March, 11, 2013
Mar 11
9:07
PM ET
By
Roger Brown
| ESPNBoston.com
LOWELL, Mass. – There may have been some in attendance at the Tsongas Center who hadn't heard of Brendan McDonough when Monday night's high school hockey game between Wilmington and Danvers began, but everyone was familiar with McDonough by the time the contest was over.
McDonough, a junior center, scored three goals and assisted an another to propel third-seeded Wilmington to a 7-2 victory over eighth-seeded Danvers in the Division 2 North championship game.
[+] Enlarge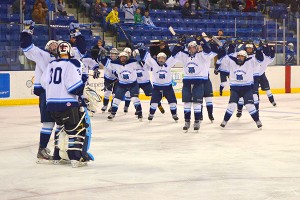 Scott Barboza/ESPNBoston.com Wilmington pulled out a NHL 94-inspired celebration after claiming their second straight Division 2 North title Monday at the Tsongas Center.
Cam Owens, Wilmington's all-time leading scorer, collected four assists in the victory, which raised Wilmington's record to 20-3-2. Luke Foley, Steven DeFuria, Dylan DiNatale and Jake Rogers scored Wilmington's other goals.
"McDonough's a sniper," Wilmington head coach Steve Scanlon said. "We've been getting after him to shoot a little bit more. McDonough and Owens – they really stress a defense out. Cam's a big-game player, but tonight was Brendan's turn."
The Wildcats, who are 11-0-0 against Division II competition this season, will play the Division 2 South champion for the Division 2 state title on March 17 at TD Garden. No. 4 Oliver Ames (17-4-2) and No. 7 Franklin (16-6-2) will meet for the Division 2 South title Tuesday night.
Wilmington beat Franklin in last year's Division 2 championship game.
"We're not concerned with who the opponent is," Scanlon said. "We worry about ourselves and getting ready for the game. We're looking forward to defending our title."
A.J. Couto scored twice for Danvers, which completed its season with a 13-7-4 record. Couto scored 10 goals in the four tournament games and finished his senior season with 38 points (28 goals).
"He stepped up and certainly did his job," Danvers coach Kevin Brown said. ""Speed is tough to scout sometimes, and they took advantage of the big ice surface. They have a good feeling for where their linemates are and they were making some area passes that were a little too much for us."
Wilmington goaltender Drew Foley, a junior, made 14 saves. Danvers sophomore Alex Taylor stopped 24 shots.
The Falcons led 2-0 after one period on goals by Luke Foley and Brendan McDonough. Foley opened the scoring when he swept a rebound past Taylor at 1:23, and McDonough doubled the lead on a high shot from the left faceoff circle at 11:27. Foley's goal marked the first time Danvers had trailed in the tournament.
Danvers cut into its deficit when Couto collected his 27th goal of the season at 3:09 of the second, but Wilmington regained a two-goal lead on McDonough's second goal of the game 50 seconds later.
McDonough's third goal came while the Wildcats were short-handed, and made it 4-1 at 7:02 of the second.
"I knew that if we played our game we were going to be fine," McDonough said. "I was just focused. First shift I felt good out there ... playing the body, skating well. Coming in tonight I thought I was going to have a big one."
After DeFuria and DiNatale added third-period goals to make it a 6-1 game, Couto scored his 28th goal while the Falcons were short-handed. Rogers capped the scoring with a power-play goal at 11:27.
"Getting a couple early helped out," Scanlon said. "The guys got some confidence and then started pouring it on. When we push pace we're in good shape.
"I thought overall depth and speed we had too much for them. Thrilled to be going back to the Garden."
February, 16, 2013
Feb 16
9:02
PM ET
By
Bruce Lerch
| ESPNBoston.com


WILMINGTON, Mass. -- Three weeks ago, Reading head coach Mark Doherty made some changes to his offense, moving senior captain Rob Devaney onto a line with Jake Barbera and Mike Thomson in hopes of sparking something within the Rockets system.

In Saturday's Middlesex League crossover matchup against Wilmington, that unit came through in the clutch as Barbera had a goal and an assist while Devaney popped the eventual game-winning goal with 3:07 left to play as the fourth-ranked Rockets bested the 12th-ranked Wildcats, 3-1, at Ristuccia Arena.

"Midway through the season, we weren't getting much offense so we just tried to shake up the lines," Devaney explained. "Obviously, we've all played with each other since we we've been about five years old so it wasn't too much, just to get something new in the system. We tried changing the system a little bit and I think it paid off. We're coming our harder, getting more opportunities, getting more shots and that's the kind of team we are. Get shots and go to the net hard."

"We always know where each other are," he added. "We always keep that third guy high. We cycle the puck real well. I'm one of the smaller guys but Jake Barbera is a big kid and he creates room for me and Mike and we're able to just pass it back and forth and get good shots for rebounds."

With the game tied, 1-1, heading into the third period, Reading (15-1-5) caught Wilmington (14-3-1) in a line change and defenseman Andrew Lawrence intercepted a clearing attempt and chipped the puck forward to start a three-on-two break. Barbera collected the carom and slid a quick pass back to Devaney, who fired a shot inside the far post.

"I think we caught them in a line change," Devaney explained. "We came down on a three-on-two rush. I got a drop pass with a kid stepping up on me. I tried to shoot it to get it on net, didn't want it to get blocked and it ended up going in. Obviously a huge goal with about three minutes left in the game."

The Rockets first goal came just 38 seconds into the second period, when Barbera got position in front of the Wilmington goal and tipped home a shot from the point by sophomore defenseman Mike Seibold to tie the game.

"They are one of the best teams I've seen this year, including all the parochial schools, et cetera," Doherty said in praise of Wilmington. "I think they've got as good a forward [in Cam Owens] as there is in the state, bar none. He's right there with the best of them. We knew coming in, with the event that was planned here, it was going to be an interesting environment. Thank goodness it went our way. It could have gone either way truthfully. Both goalies are very good. I'm grateful it broke our way in the long run."

A LOT ON THE LINE
With both teams on the Super 8 watch list, it added a heightened level of excitement to the proceedings. For Reading, their status was likely secure beforehand and certainly must be cemented now. The goal for the Rockets will be to finish strong in the season finale against Arlington, and look to improve where they will end up seeded in the tournament field.

"We always look forward to playing in it," Doherty said. "I would like to think we'll be nominated. I try to stay as humble as I can about things but my goodness, I think we've shown this year that we're one of the better teams in the state."

Added Devaney, "I think we've proved it so far. Every team goes through a couple slumps here and there but then again, our last loss was December 29th at BC High and it was only a 2-0 game that could have gone either way. I think we're up there with every other team that's ranked high so I think we deserve it."

Wilmington's dream of joining the field as a Division 2 squad most likely came to an end with the loss. The reigning Div. 2 state champions figure they needed to win out to even have a chance of being considered for a nomination, much less inclusion in the field.

"Obviously it's an honor to be mentioned with them and all that but we really would have to win out," admitted Wildcats coach Steve Scanlon. "We would have had to beat these guys to even be really considered and for a division two team, it's a lot. It's a testament to our guys, they've played really good over the last couple of years so to even get mentioned with them is pretty good."

PLAYING FOR A CAUSE
Wilmington dedicated the game to longtime team bus driver, Judy Tipton Lee, who was diagnosed with amyotrophic lateral sclerosis (ALS), otherwise known as Lou Gehrig's Diease, in Oct. 2011. The teams wore special jerseys with a ribbon and the words 'Judy's Wildcats' emblazoned on the front, and every player wore Lee's name on their backs, while fans wore similar tshirts.

The Wildcats got off to a good start as Brendan McDonough took a backhanded pass from Cam Owens and buried his shot from the lower, left wing circle at 4:45 of the first period.

Goalie Drew Foley was also stellar, turning aside 27 shots and keeping his team in the game.

"Especially early, he was unbelievable," said Scanlon in praise of Foley. "He held us in it. He's been pretty much our MVP. He holds you in the games, the kids are comfortable playing in front of him and they play with a lot of confidence. He's quite a goalie."

A bounce or two the other way and this game could have played out differently. Midway through the third period with the game still tied, a backhander by Steve DeFuria went between the pads of Reading goalie Evan Morelli (20 saves) and trickled through to the goal line. Morelli dove on it quickly, but it was hard to tell whether or not the puck had crossed the line first. The official was stationed right along the red line and immediately waved it off.

Then, with 31 seconds left in the game, Wilmington drew a crucial icing call that gave them a faceoff to Morelli's right with an extra skater as Foley headed to the bench. Reading's Ryan Thomson won the draw and defenseman Matt McLelland quickly skated off the right wing and sent a shot the length of the ice for an empty-netter.

"When do you see the draw go right to the guy and he sends it up the river?" Scanlon mused afterward with a smile. "We would have liked to get something going there with the extra guy. It is a game of inches, right? Some days they go with you, some days they don't. It was a good game, good experience for my kids."
January, 27, 2013
Jan 27
12:23
AM ET
By
Josh Perry
| ESPNBoston.com


WOBURN, Mass. -- There is a new name tied atop the record books at Wilmington High. Actually, it is the same name, just with a different first initial.

Wildcats senior captain Cam Owens scored his 135th career goal to equal the school record that his brother Andy set just two seasons ago. Cam would be expected to take hold of the record on his own by the end of the season with still eight more games to play in the regular season.

Owens goal was also the lone score in Wilmington's 1-0 win over Middlesex League rival Winchester on Saturday afternoon at O'Brien Rink. The win qualifies the Wildcats, the defending Division 2 state champions, for the postseason.

The game's only goal came with just 8:02 remaining in the third period. Junior forward Brendan McDonough fired a long pass down the middle of the ice to find Owens streaking into the Winchester zone. Owens pushed towards goal and, forced onto his backhand, fired a pass across the crease toward freshman Billy Falter but the puck deflected off the skate of a defenseman into the net.

Wilmington head coach Steve Scanlon was pleased to come away with the win, but pointed to a number of chances that his team failed to take that would have killed off the game.

"We missed some good chances there late in the game, some open nets, but they're a good team and a stubborn team," Scanlon said. "We were fortunate to get the goal. We just preached to put the puck on net in the third and they did a good job."

The Wildcats (11-2-0, 9-1-0) did not get off to a great start to the game and chances were at a premium for both teams throughout. Wilmington had the best chances in the first period when McDonough hit the post twice and Dylan DiNatale failed to tip in the puck on an empty net.

Scanlon blamed his team's week layoff for the rough start to the game.

He added, "I thought the week off at this point in the season would help us. I think we were a little sluggish."

The Sachems (9-2-2, 7-2-2) managed only two shots on goal in the first period and struggled to create clear-cut scoring chances. Referencing the goal that Wilmington scored, Winchester head coach Matt Spang explained that his team needed to make a more concerted effort to produce offense.

"You're going to have to score ugly goals and we're going to have to get to the net a little better," he remarked. "We have 22 guys on the bench and I need all of them to contribute, not just defensively, but offensively, too. You can't just wait for one or two guys to get it done."

Despite being outshot, 27-17, for the game, Winchester hung around and had a chance to tie the game late in the third period. With 2:31 left, the Sachems earned a power play, but were unable to create a great chance. Junior Nolan Redler had one good shot snapped out of the air by Wildcats goaltender Drew Foley, which kept it 1-0 in the final seconds.

Scanlon was full of praise for his junior goalie, who he described as "among the best goaltenders we've ever had."

He added, "Drew gives you a chance to win every night of the week. He's a tough goaltender. He controls rebounds and you need to pour a lot of shots on him to beat him and we don't give up a lot of shots."

Regardless of the scrappy nature of the game and the game-winning goal, Scanlon was proud to see his team step up and get the result that qualifies them for the postseason.

"We wanted to get a seat in the tournament so getting the result was what we were after," he said.

Winchester will play No. 6 Reading on Wednesday, while Wilmington will travel to Stoneham.
January, 13, 2013
Jan 13
12:00
AM ET
By
Shawn Myrick
| ESPNBoston.com


WILMINGTON, Mass. -- Wilmington boys' hockey coach Steve Scanlon has seen his team on the watch list for the Super 8 the last few years.

The coach has gained an appreciation of what it takes and has scheduled accordingly. If the Wildcats are to keep their tournament hopes alive its starts not just against out of conference squads, but with their battle for top position in the Middlesex Freedom division.

Host Wilmington proved an early season point as it bested Burlington, 3-1, in a clash of reigning Eastern Mass champs at Ristuccia Arena yesterday afternoon.

"We knew we had a good crew coming back so we wanted to challenge ourselves," Scanlon said. "You have to play those teams to get in. We know (Burlington) is well coach, they work hard and they have some skilled players."

Junior Austin O'Neal scored the game-winner for the Wildcats (8-1, 5-0) on a behind-the-net pass with 1:02 left in the second period. Looking to hit teammate freshman William Falter along the boards, O'Neal ricocheted the puck off a defender's skate and past the keeper for the 2-1 advantage.

"I was coming around the net and I went to throw it out to Billy and it went off the defensemen's skate (and) short side on the goalie," O'Neal said. "The goalie had no idea. You work hard and throw it to the front of the net anything can happen."

FAST STARTERS
Wilmington's starting line of left wing Cam Owens, right wing Jacob Rogers (both seniors), and junior center Brendan McDonough were a constant threat on the counter attack.

Owens and Rogers each assisted each other on a goal with both scores coming on a breakaway.

Rogers caught a 3-on-1 with McDonough and Owens at 4:06 remaining in the first period for the opening tally. The right winger worked the puck through their triangle formation toward McDonough and onto Owens, who slipped it in along the left post.

"Quick hand skills and all three are good skaters," Scanlon said. "When they grab a puck they just accelerate out of their zone (and) we do a lot of full ice stuff to work on that. Good things happen when you put the puck on net."

A near one-timer from Red Devils winger J.P. Scola to Liam Cronin (both seniors) opened a two-on-one open net opportunity for Owens and Rogers in the final seconds. Owens slipped the rubber in front of a Burlington defender and too Rogers who finished the 3-1 score with 41 seconds left.

GET HUNGRY RED DEVILS
Burlington scored its only tally on a deflected shot at the side face off circle from senior Sean Costa that went off teammate Sean Murphy to equalize at 1-1 with 2:46 left in the first period.

"We have got to do a better job getting into the 'hungry areas'," Burlington head coach Bob Conceison said, "getting those type of shots. We work on it all the time."

The Red Devils gained momentum earlier in the second period as they won the shots on target battle 10 to one. A slap shot by senior Shane Morgan slipped past the keeper and into crease for an open score by Scola at 4:53 into the period, but officials whistled the puck as frozen.

"We got our forecheck going," Conceison said. "We are a good skating team, but we have to find a way to get goals. We are a very young [and] inexperienced team so hopefully we are going to get better."

TOUGH BETWEEN THE POSTS
Wildcats' keeper Drew Foley has averaged one goal allowed per game this season. The junior goalie kept his pattern alive by knocking 29 shots away and allowing only one to slip in. Red Devils' senior goaltender Derek DeCastro also made 28 saves.

Wilmington will face defending Super 8 champ No. 5 Malden Catholic (3-2-3) on Monday night.
March, 13, 2012
3/13/12
12:29
AM ET
By
Mark Goodman
| ESPNBoston.com


LOWELL, Mass. – Four years later, they're getting another chance.

The Wilmington High boys hockey team – state finalists in 2008 – are going back to the TD Garden Sunday after defeating Winthrop, 4-2, in Monday night's MIAA Division 2 North final at the Tsongas Arena.

Wildcat senior Dalton Rolli broke a 2-2 tie with 2:08 to play, breaking in on goal after a terrific pass from junior line-mate Cam Owens from the red line. Rolli sped past Winthrop's last defenseman and went backhand past Viking senior goalie Steven Waites.

The Vikings (15-7-2) pulled Waites with 1:20 to play after senior Chris Leblanc got a couple good shots on Wilmington sophomore goaltender Drew Foley. But Wildcat sophomore Brendan McDonough had the last laugh, scoring on the empty net with 1:08 to play, also assisted by Owens.

Wilmington head coach Steve Scanlon said getting Owens – the team's leading scorer I the regular season – room to operate and create plays was imperative to his team's third period play.

"I thought they did a good job on him early, banging him around every time he touched the puck," Scanlon said. "We just tried to get him to focus more on shooting the puck and moving the puck."

For Rolli, it was the biggest moment in a long career for the high-scoring duo.

"I moved here in the fourth grade, and me and Cam have been playing together since we were in the sixth grade," Rolli said. "Every time I play with him, it's electric."

Wilmington (15-4-5) took its first lead of the final period with 9:05 to play, as junior defenseman Brian Pickett found junior Jake Rogers streaking down the left wing. Rogers cut in and put a backhand behind Waites for the 2-1 lead.

Winthrop came right back, however, as senior Bobby Clewer scored just 28 seconds later. Senior Mitch Paulson ringed the far post with a wrist shot from the left face-off circle, but Clewer was right there to finish off the rebound.

"I thought the character of our team came out – we answered the bell right away," Viking head coach Dale Dunbar said.

Winthrop had its best chance to go ahead with 2:45 to play, as Clewer set up senior Drayton Chasteen for a 10-foot shot to Foley's left. Foley made the stop, and 37 seconds later, the Wildcats were ahead for good.

Despite being out-shot 10-6 in the first period, Winthrop went into the locker room with a 1-0 lead at the first intermission thanks to a goal by Leblanc. Sophomore Dan Eruzione kept an attempted clearance in the attacking zone and got the puck to Leblanc, who beat a Wildcat defenseman and lifted a backhander past Foley for the 1-0 lead.

The finish, and his performance throughout the night, showed why Leblanc will be missed by Winthrop next season.

"Chris Leblanc's a real special player," Dunbar said. "He's a great leader. He's a great kid, very well respected. His skill set is very high, and if he continues to commit himself on and off the ice, he can have a nice career in front of him."

The Wildcats finally broke through at 10:16 of the second. Senior Frank Cerbone's shot from the point was blocked, but sophomore Luke Foley was in the right spot at the edge of the right circle to shovel the loose puck past Waites.

Wilmington kept up the pressure for the rest of the period, but a couple fine defensive plays by Viking senior Adam Lundberg kept the Wildcats at bay.

Scanlon admitted that Winthrop's trap gave his team some trouble in the early going.

"It took us a while to unlock it, but once we did, I thought we played pretty good. We got some good chances," Scanlon said. "Our goal was to get pucks to the net. They hadn't been scored on the whole tournament."

Indeed, Waites had gone 160 minutes in the postseason without allowing a goal before Luke Foley struck.

"You don't get here without goaltending," Dunbar said. "That's the position you have to have on the back end, and Waitesy was there for us. He shut the door an awful lot during this (tournament); he hadn't even given up a goal until this game."



But it is Wilmington that is moving on to try and get the trophy that eluded its grasp four years ago (the Wildcats lost to Sandwich, 1-0). To do so, they will have to beat a Franklin (19-2-3) team that looked impressive in Sunday's 5-2 defeat of Mansfield in the Division 2 South championship.

The Panthers played in the Division 2 state championship game last year as well, losing to Wilmington's arch rival Tewksbury, 2-1.

"I'm sure it left a bad taste in their mouth, and to come back again is quite an accomplishment," Scanlon said.


January, 21, 2012
1/21/12
9:16
PM ET
By
Bruce Lerch
| ESPNBoston.com


WILMINGTON, Mass. -- At the conclusion of Saturday's matinee showdown between Burlington and Wilmington, Red Devils junior forward Joe Berardi returned from the locker room to search the empty net for a puck.

Berardi came away empty in his postgame quest, but he certainly won't need a keepsake to remember his performance on the afternoon of the region's first major snowfall.

The junior either found himself in the right place at the right time, hustled himself into position, or even relied on a little luck to finish with four goals to lead No. 11 Burlington to a 5-2 victory over Wilmington at Ristuccia Arena.

Berardi's linemate Brian Hood dished out assists on all five goals while junior netminder Derek DeCastro sparkled at times during a 27-save performance. In the process, the Red Devils (7-1-2, 3-1-1) moved into a first-place tie with the Wildcats (5-3-3, 3-1-1) atop the Middlesex League's small schools division.

"Joe has been playing really, really well the whole time but he was really good tonight," praised Burlington coach Bob Conceison. "Wilmington is a good team, they are a good addition to our league and I thought they played really, really well. We got kind of lucky with some of our goals at the beginning of the game."

In the final minutes of a first period primarily dominated by Wilmington, it was a hustle play by Berardi that opened the scoring. Trevor Cimino fired a shot toward Wildcats goalie Drew Foley that Berardi got a piece of. Foley made the initial stop, but the rebound came right back to Berardi off the far post and he buried it with 2:27 left in the frame.

"I saw Trevor Cimino came down the boards and I saw it was like a three-on-two developing so I crashed the net because I was the second forward and when he shot it, I kind of got a stick on it and tipped it towards the goalie," Berardi described. "The goalie made the initial save but I kept fighting through the defensemen toward the net and the puck just happened to drop right down in front of me and I just put it in."

The Red Devils seemed to have a renewed energy for the start of the second and Berardi scored on what he called a "flukey goal" in a shorthanded situation. Burlington broke up the Wildcat power play and Berardi fired in on Foley from outside the blue line. Foley dropped in time but the puck managed to sneak past his right pad at 6:24.

Just over three minutes later, Berardi scored an almost identical goal, this time getting his shot from inside the blue line. Foley flashed his glove and got a piece of it, but the puck landed behind him and over the goal line to give Burlington a 3-0 lead.

"I just took two shots form the blue line thinking, this goalie's really good," said Berardi, who admitted he was hoping to create rebound chances for his teammates. "You never think they would just go in that way but..."

On the Red Devils next trip into the Wilmington zone, both Hood and Dan McMahon set up senior captain Brett Romkey for Burlington's fourth tally.

Wilmington actually regained momentum after that courtesy of a wicked slap shot from the right faceoff circle by sophomore Cody McGowan that can be best described by taking a mental picture of former Red Sox slugger Rob Deer almost screwing himself into the batter's box dirt while chasing a fastball down the heart of the plate and sending it screaming over the Green Monster.

Luke Foley got back a second goal for the Wildcats, pouncing on the rebound of another hard shot by McGowan that cut the deficit to 4-2 with 2:06 to go in the second.

"They don't give up which is the good thing about them," said Wilmington coach Steve Scanlon of his team. "They keep going right to the end. That was a big spark, getting those two back."

A stellar effort by DeCastro would be needed to douse that spark, and the junior came through when his team needed him in both the first and the third periods.

The Wildcats had multiple opportunities from point-blank range in the first, all of which DeCastro was able to stifle among his 10 saves.

In the third, the junior came up big again with 12 stops, stoning Wilmington's Brendan McDonough three times on prime scoring chances, and thwarting a one-timer bid by Trevor Foley among the highlights.

"He's very focused," Conceison said of DeCastro. "They got the two goals that shifted the momentum a little bit. We got a little bit of momentum on the lucky goals, it got us going, it motivated us. And they got some momentum after the second goal, they were back in the game but Derek has been very focused and very consistent all year. I thought he had a great game today."


February, 24, 2011
2/24/11
2:53
PM ET
By
Dan Guttenplan
| ESPNBoston.com
It seems that nothing ever changes for the Wilmington hockey program.

The Wildcats recently clinched their fourth consecutive Cape Ann League title and 10th in 16 years. With two games remaining on the regular-season schedule, they are on pace to earn the top seed in the EMass. Division 2 North tournament for the second year in a row. Since the start of the 2007-2008 season, Wilmington has posted a combined record of 69-10-10.

Wilmington's rivals have grown accustomed to falling short of the perennial North Shore powerhouse. However, the Wildcats are quick to point out that there is nothing routine about this year's title run.

For one, the Wildcats graduated 16 seniors last spring, including goalie and reigning CAL Player of the Year Zach Rosa. For another, the Wildcats will switch leagues — from the CAL to the Middlesex League — next season. This season figured to provide CAL foes one final chance to settle scores with a weakened Wilmington squad after years of taking part in lopsided rivalries.

The revenge tour against Wilmington hasn't transpired. It's been business as usual for the Wildcats (15-2-2 overall, 13-1-1 CAL), who ran their CAL unbeaten streak to 29 games before falling to Newburyport on Feb. 12.

"We're always looking to send a message," says senior defenseman John Malone. "No one expected us to do this at all. We wanted to make a statement that we can play with anybody even though we lost so many people."

One area in which the Wildcats didn't figure to struggle was scoring. The team returned sophomore Cam Owens, who burst onto the CAL scene as a freshman call-up from the junior varsity, netting 14 goals in 15. Owens has continued with his near goal-a-game average this season, netting 17 goals and 17 assists in 18 games.

Playing alongside his brother, senior Andy Owens (7 goals, 26 assists), and junior Dalton Rolli (12 goals, 4 assists), Owens possesses the ability to make an end-to-end rush through multiple defenseman at any time. Rolli has found that playing alongside Owens provides its own challenges, namely finding a few leftover goals for himself.

"It's something special," Rolli says. "The stick-handling ... what he can do with the puck is amazing. I've seen him go up and down the ice so many times. I skate behind him and see if I can get a rebound. It doesn't really happen; he always puts it away."

While Wilmington's forwards dictate a frenetic pace, the team's defensemen force opposing forwards to exercise caution in their attempts to match speed with speed. Playing alongside Malone, Brian Hurley, a 6-foot-4, 240-pound football standout, is the catalyst for the team's physical style of play.

"I hit hard out there, and it makes the rest of the team want to do the same thing," Hurley says. "I like to start us off."

Hurley plans to resume his football career at the collegiate level as a defensive end and tight end. Scanlon believes Hurley also has the skills to be an enforcer on a college hockey team.

"He's very intimidating," Scanlon says. "He has crushed some kids over the years — even our own kids. He ended one kid's season in a practice this year. They're all clean hits, but he's bringing a lot of power with him."

Senior goalie Joe Aucoin, a career backup before this season, has filled the sizable shoes of Rosa, posting a 13-2-2 record and 1.75 goals-against average. Scanlon says his goalie has assuaged any concerns he regarding the position prior to the season.

"The net was a question mark at the beginning of the year," Scanlon says. "I think he's been the key to us doing as well as we have. He makes game-turning saves."

As he prepares to make his first state-tournament start, Aucoin says he is no longer concerned with being the next Zach Rosa.

"I definitely felt the pressure early because he was so good," Aucoin says. "Following his footsteps was tough, but I always knew I could play."

Scanlon and his players point to the Wilmington Youth Hockey League as another reason for the prolonged success of the program. As an indication of the preparedness of players who join the high school team, Wilmington's second forward line is comprised entirely of freshmen. The freshmen trio, Brendan McDonough (11 goals), Cody McGowan (6 goals) and Luke Foley (3 goals), have accounted for 20 goals.

"Wilmington hockey is a tradition," Malone says. "As a young kid, we all wanted to play high school hockey and be the best we could be. It's a winning tradition."