Boston High School:

Brendan O'Neil
October, 26, 2012
10/26/12
1:04
AM ET
NO. 23 CENTRAL CATHOLIC (6-1) AT LOWELL (6-1)
The Skinny: Both teams enter with a 1-0 MVC record, coming off their first league games last week. Lowell rolled over Billerica 56-34 while Central Catholic slipped past Chelmsford 28-21. Cam Latta has picked up where R.J. Noel left off at quarterback this year for Lowell at quarterback, throwing for 12 touchdowns and running for seven more. Central Catholic running back Santino Brancato leads the Raiders with eight touchdowns on the season, none bigger than his final score last week with 41 seconds remaining which was the game-winner over Chelmsford.

Scott Barboza: This will be high-scoring, but relatively tame by MVC standards. Central, 34-28.

Brendan Hall: Because Lowell can score in bunches, and because it's the MVC, take the over. Central Catholic, 38-31.

NO. 13 ANDOVER (7-0) AT CHELMSFORD (4-3)
The Skinny: After a hot start, Chelmsford is trying to snap a three-game losing streak and risk falling behind in the competitive Merrimack Valley Conference's large division. They'll have their hands full against one of the state's most prolific offenses, averaging nearly 400 yards and 39 points per game, between quarterback C.J. Scarpa and receivers Andrew Deloury, Will Heikkinen and Cam Farnham.

Barboza: I think the Lions will try to play ball control for a while, but that can only last so long against the high-octane Andover offense. Andover, 42-31.

Hall: Do you see a recurring theme with our MVC picks? Offense, offense, offense. Andover, 40-35.

LINCOLN-SUDBURY (6-1) AT WESTFORD (6-1)
The Skinny: Like several other key league matchups this weekend, this matchup can potentially put one team in the driver's seat for the Dual County Large title. It's no secret what L-S brings to the table, but workhorse Chris Giorgio is among the league's toughest running backs. Westford counters with jack-of-all-trades athlete Justin Mount, who fills multiple roles on both sides of the ball.

Barboza: Picked the Warriors to win the DCL Large in the preseason and I'm not about to step back now. But the Warriors get it done by a chin. L-S, 14-13.

Hall: Flip a coin in this one. I landed on the Ghosts. Westford, 24-17.

NO. 9 BROCKTON (4-3) AT NO. 14 LEOMINSTER (5-2)
The Skinny: Each of these teams received a boost in different ways last week. The Boxers saw the return of their starting quarterback and emotional leader Auggie Roberts in a drubbing of Big Three rival Durfee. Meanwhile, a Blue Devils offense that has had its troubles in recent weeks, shook off the rust to muster a gut-check, two-minute drive to pull out a last-second victory at Central Mass. rival St. John's of Shrewsbury, led by quarterback Garrett DelleChiaie. Now, both teams meet in a non-league, late-season measuring stick game to see just how far these offenses have come. Not to mention, both teams can really lay the lumber on defense.

Barboza: Blue Devils ride the wave of momentum. Leominster, 28-20.

Hall: It won't be a shutout, but it won't be as shocking an upset when the Blue Devils take two straight for the first time in...help, anyone? Leominster, 21-14.

HINGHAM (6-1) AT NO. 6 DUXBURY (7-0)
The Skinny: An eagerly awaited battle for the inside edge at the Patriot League Keenan division title, the competition should be as fierce at the tailgate as it will be on the field when the Dragons put their Eastern Mass. best 33-game winning streak on the line. A stout Duxbury defense, led by Mr. Football Award challenger Marshall McCarthy will have its hands full with the Harbormen's wing-T and backfield led by Ricky Sullivan.

Barboza: The Dragons run their streak to 34 games, but it won't be without difficulty. Duxbury, 13-7.

Hall: As usual, the Dragons will pull something together in the second half and do just enough to win. Duxbury, 20-17.

NEEDHAM (5-2) AT NO. 10 NATICK (7-0)
The Skinny: After a solid start to the season, Needham is now looking to avoid a two-game losing skid and dropping three of its last five. What better an opponent to try to snap the skid than against one of the state's prolific offenses, led by quarterback Troy Flutie (1,477 passing yards, 19 TD, 4 INT; 555 rushing yards, 7 TD) and receiver Brian Dunlap (41 catches, 784 yards, 11 TD). Needham is also coming off a 31-0 shutout loss to a Walpole squad that was missing its top running back to injury.

Barboza: No chance the Red Hawks aren't undefeated setting up a winner-take-all against Walpole. Can't wait. Natick, 31-17.

Hall: Every time we predict a high-scoring affair involving a Bay State team, it never goes as planned. So I'm going with something fairly pedestrian. Natick, 21-12.

NO. 19 MANSFIELD (5-2) AT NORTH ATTLEBOROUGH (4-3)
The Skinny: The Red Rocketeers will need a win to keep pace with Mansfield (2-0) in the Kelley-Rex division race. The X-factor will be the availability of senior running back and defensive back Alex Jette. While it's expected Jette will play, the extent to which he'll be able to contribute is very much up in the air. Still, North is readily able to move the ball on the ground thanks to a physical offensive line anchored by left tackle Eric Beckwith. Mansfield got off to a great start in last week's blowout of King Philip and the Red Rocketeers' secondary will have its hands full with playmakers Brendan Hill and Mike Hershman. The Hornets have seen junior linebacker Alexander Ruddy (team-leading 55 tackles, 8 TFL) embrace a larger role this year.

Barboza: In each of the team's last four meetings, the AWAY team has collected the victory. Not about to buck the recent trend. Mansfield, 26-21.

Hall: Per tradition, the away team wins this one with an epic possession in the final five minutes. Mansfield, 20-13.

NO. 22 KING PHILIP (6-1) AT ATTLEBORO (4-3)
The Skinny: King Philip was soundly delivered a rude awakening a week ago at Mansfield, in a 46-33 loss, and now looks to avoid falling behind in the Hockomock's Kelly-Rex division by extending Attleboro's losing streak. The skid currently stands at three games for the Bombardiers after a 4-0 start, and can't seem to get over the hump -- take, for instance, Malique Clark's nearly 300-yard rushing performance in a 44-41 loss to Franklin last week. An Attleboro win would surely create even more confusion at the top of the division.

Barboza: Warriors defense gets back on track, but it won't be easy against Clark. KP, 21-14.

Hall: I'm all for chaos when it comes to Hockomock bracketology. Get out your TI-83's, folks. Attleboro, 30-20.

WAKEFIELD (6-1) AT STONEHAM (7-0)
The Skinny: It's been a long time since Stoneham has had this good of a start, but the Spartans still face questions about a perceived weak schedule. This is their chance to prove doubters wrong, with defensively-sound Wakefield coming off a 33-0 shutout loss to Burlington.

Barboza: In a word, "SPARRRTAAAHHHHHH!" Stoneham, 20-16.

Hall: Because what the heck, I love rolling the dice, and I want to keep my boss and resident Stoneham-ite Dave Lefort happy. Stoneham, 17-13.

MILTON ACADEMY (3-2) AT BELMONT HILL (3-2)
The Skinny: The Mustangs and Hillies are looking to break free from a logjam of 3-2 teams in the middle of the ISL standings. Milton Academy is led by junior Drew Jacobs, who already has four multi-touchdown games this season. The Mustangs also have one of the biggest offensive weapons in the ISL on the foot of place kicker Justin Yoon.

Barboza: Yoon's foot provides the difference. Milton Academy, 13-10.

Hall: Let me preface this by saying Justin Yoon can kick for anyone any day of the week. Belmont Hill, 14-10.

ROXBURY LATIN (4-1) AT BB&N (3-2)
The Skinny: Its hopes of an undefeated season no more, Roxbury Latin looks to get back on the saddle and stay in contention for the ISL championship and a NEPSAC Bowl berth. A win here over the Knights, with its solid line and elite target in Wake Forest-bound tight end Brendan O'Neil, would bolster those odds. And the Foxes have the horses to do it, led by Boston College-bound quarterback MacKay Lowrie.

Barboza: Knights can take advantage of the matchup along the line of scrimmage. They'll win the point of attack battle. BB&N, 28-27.

Hall: I'll never count out a John Papas-coached team as long as the guy is in the business, but Latin can win track meets. Roxbury Latin, 35-30.
October, 6, 2012
10/06/12
10:50
PM ET
By
Shawn Myrick
| ESPNBoston.com
CAMBRIDGE, Mass. -- Jesse Gwozdz new perfectly when to hit the hole and when to wait in what was a multi-layered performance against host BB&N this afternoon.

Shadowing his trap blocker up the field, the junior opened his day by turning a simple dive play into an 80-yard touchdown scramble late in the first half. A drive later, Gwozdz was masterfully bobbing and weaving behind his punt blockers for a 66 yard score and a defining 29-12 halftime lead for the defending ISL champs

Doubling as both a big play producer and the defensive back tasked with covering 6-foot-5 Wake Forest-bound tight end Brendan O'Neil, Gwozdz totaled 173 yards and two touchdowns to drive Governor's (3-0) to the program's 12th consecutive victory with a 36-12 defeat of the Knights (1-2) at Nichols Field this afternoon.

"I stepped up the field real quick and no one was back there so I kept running," said Gwozdz.

"Might be one of the best high school games I have seen one kid play on both sides of the ball," added Governor's coach Jim O'Leary.

The Governors were aided by another strong performance from senior Elijah Morrissey who ran 21 times for 127 yards and a touchdown. The senior rushed for the Red Dogs' first score then broke a nine yard dive to set up the winning touchdown.

Down 12-7, Governor's senior quarterback Tate Jozokos found the outside edge on a bootleg sweep and scrambled nine yards for the
winner a 15-12 lead at 4:56 in the first.

"The defense has to take away certain things we do and as soon as they do that we go to the next option," said O'Leary. "We keep setting each other up."

Governor's scored 22 points in the final five minutes of the first half.

Early Prowess, Late Trouble: The Knight's looked to be in control early after forcing a pair of first-half turnover's to set up the first score then adding a touchdown to maintain there lead. However, 29 unanswered points and four second half turnovers stunted BB&N.

The Knights opened the scoring by turning a fumbled redzone pitch into a six-yard delayed pass through triple coverage from sophomore Cole O'Connor to O'Neil for a 6-0 advantage at 2:46 in the first quarter.

After allowing an 11-yard trap-play for six points by Morrissey, O'Connor worked a pair of quick passes to O'Neil and senior Willie Peoples, for seven and ten yards respectively, to set up another score.

A two-yard dive by O'Connor put the Knights ahead 12-6 early in the second half.

"We tried to find a couple weaknesses in their defense," said BB&N coach John Papas. "(Quick passes) are part of our game plan. We just fell apart the last four minutes of the first half.

BB&N failed on an onside kick attempt following the score.

Quest to Repeat: A one yard pass from Jozokos to sophomore Colin Smith with six minutes remaining added the final points in what was another undefeated run to start the season for second year coach O'Leary. The Governor's head man lead his program to a 9-0 record last year, grabbing both the ISL title and a NEPSAC Bowl championship.

"It is just repetition," said O'Leary. "You just have to keep going and get better and better at everything. We knew we were in for a fight and we came to play."

GOVERNOR'S 36, BB&N 12
GOV (3-0) 7- 22 - 0 - 7 --- 36
BBN (1-2) 6 - 6 - 0 - 0 --- 12

B – Brendan O'Neil 6 pass from Cole O'Connor (kick failed)
G – Eli Morrissey 11 run (Colin Smith kick)
B – O'Connor 2 run (pass failed)
G – Tate Jozokos 9 run (Jozokos run)
G – Jesse Gwozdz 80 run (Smith kick)
G – Jesse Gwozdz 66 punt return (Smith kick)
G – Smith 1 pass from Jozokos (Smith kick)
September, 21, 2012
9/21/12
3:25
AM ET
NO. 3 XAVERIAN (1-1) AT NO. 15 BROCKTON (1-1)
The Skinny: Both teams are going to be seeing red after their respective performances last week with the Hawks taking an ole fashioned whooping at St. Joseph's Regional in New Jersey and the Boxers being shut out by the likes of Reading. This matchup will see some of the state's premiere lineman matching up with Michigan-bound Mo Hurst lining up across from preseason All-State Watch Lister Joe Previte of Brockton.

Barboza: The question might be is if the Boxers get back on the board again this week. I think they do, but it's still no enough. Xaverian, 27-14.

Hall: I want to know what St. Joseph's Regional alum Devin McCourty thinks of the New Jersey school's 62-0 beatdown of Xaverian last weekend. Xaverian, 24-17.

NO. 22 BC HIGH (0-2) AT DARTMOUTH (1-1)
The Skinny: The beleaguered Eagles might enjoy of bit of a reprieve if rumors are true that quarterback Brendan Craven will return for the tilt against the Indians. These will be two hungry squads as BC High looks for its first win on the season and Dartmouth hopes to bounce back from a disappointing loss to Attleboro last week. This could be a coming-out party for Dartmouth RB/LB Mitch Loranger, one of the more underrated talents in the state, while Tim Smith provides a nice change of pace running.

Barboza: Coach Rick White puts these games on the schedule when he feels like he has something in the bag, so you can't look past that. I think the Eagles escape the South Coast with their first win of the season, however. BC High, 16-14.

Hall: I'm in need of a bailout from North Attleborough Credit Union after picking the Eagles last week. Sorry, in this dire times of financial brevity, I can't take on too much more water. Dartmouth, 17-10.

WHITMAN-HANSON (2-0) AT FOXBOROUGH (2-0)
The Skinny: These are two traditional powers who have had some leaner years in recent memory, but seem again to be headed back in the right direction. The Panthers opened up their season with wins over ACL powers Plymouth North and Marshfield, with QB Tom Sapienza tallying over 400 yards on the air and ground in the victory over the Rams. The Warriors steamrolled their first two opponents (East Longmeadow and East Providnce, R.I.) by a combined 74-16 with running back Kiivone Howard putting his name into early Hockomock Player of the Year talk.

Barboza: The offensive weapons are there, but I wouldn't be surprised with a defensive struggle here. Foxborough makes the stops when it needs to behind linebacker Luc Valenza. Foxborough, 21-14.

Hall: Kiivone Howard has been one of the nicest surprises of the early season. Of course, folks in Foxborough will tell you that's no surprise. Foxborough, 30-25.

NO. 5 DUXBURY (2-0) AT NEW BEDFORD (2-0)
The Skinny: The Dragons put their state-best winning streak on the line against the Whalers after rolling through Plymouth North last week. Marshall McCarthy has been as good as he's ever been for Duxbury's defense, registering 26 tackles through two games. New Bedford will look for a big game from quarterback Mike Rapoza, who's a multi-dimensional threat having played running back and wide receiver as well.

Barboza: Jon Hurvitz and the Duxbury line could be primed for a big day. Duxbury, 28-10.

Hall: I fully expect the Dragons to head into October 5's showdown with Xaverian on a 30-game win streak. Duxbury, 21-0.

NO. 2 ST. JOHN'S PREP (2-0) AT NO. 1 EVERETT (2-0)
The Skinny: For the first time since 2010, we have the top two teams in ESPNBoston.com's statewide poll squaring off. Everett is 7-0 against the Catholic Conference since the 2009 MIAA Division 1 Super Bowl loss to Xaverian; that streak features three wins over the visiting Eagles, including the 2010 D1 Super Bowl. To snap the streak, Prep will have to play lockdown defense and get big production from its star running back Jonathan Thomas. For Everett, it's anyone's guess who will be lining up at quarterback this week, but Gilly De Souza has been very serviceable.

Barboza: I think both offenses are going to get theirs, but it's going to be decided by the defenses and who's able to force a fumble, come up with a pick, something to steal the game. Everett, 30-23.

Hall: No truth to the rumor Everett Superintendent of Schools Fred Foresteire was taking snaps under center this week. Everett, 23-21.

NO. 9 ST. JOHN'S OF SHREWSBURY (2-0) AT CATHOLIC MEMORIAL (1-1)
The Skinny: St. John's can lay claim to one of the state's most prolific offenses after an impressive showing the first two weeks, outlasting No. 24 Holy Name (47-40) and cruising past No. 16 Longmeadow (35-14). However, neither team has an individual as talented on the defensive side of the ball as CM's UMass-bound linebacker/defensive end Peter Ngobidi, one of the state's best off the edge. Conversely, the Knights struggled against Westford last weekend, and may have their hands full against a Pioneers squad with similar spread principles but at a breakneck tempo.

Barboza: I like the Knights' defense with Ngobidi and Kevin Bletzer, but too many options for them to stop. St. John's, 31-17.

Hall: Going forward, I'm suddenly very intrigued at how St. John's will be calling in its plays. St. John's, 30-14.

BB&N AT BELMONT HILL
The Skinny: Belmont Hill is entering its first season in decades without Kevin Fleming on the sidelines, and it comes out of the gate going right into the fire. BB&N took a 17-14 humbling at the Hillers' hands in the opening week of ISL play last year, and they have one of the best individual athletes this season in Wake Forest-bound tight end Brendan O'Neil.

Barboza: I'm still syphoning water from my boots after last year's "Car Wash" game. The memory will be fresh in the minds of the Knights as well. BB&N, 20-14.

Hall: Plain and simple, John Papas gets his revenge here. BB&N, 21-7.

THAYER ACADEMY AT GOVERNOR'S ACADEMY
The Skinny: ISL season opens up with plenty of hype behind Thayer and its numerous athletes, including Bryan Vieira, Aaron Gilmer and Ikenna Nwokeji. The Governors had runaway success last season under first-year head coach Jim O'Leary, and return arguably the most valuable player in the league in quarterback Tate Jozokos, a UNC lacrosse commit who was a dual-threat nightmare for many opponents.

Barboza: Simply stated, Gov's are running the table again this year. Governor's, 23-17.

Hall: Tate Jozokos can play on my Tuesday night Charlestown flag football team any day. Governor's, 28-13.
June, 30, 2012
6/30/12
11:36
PM ET
By
Roger Brown
| ESPNBoston.com
EXETER, N.H. – No team showed better timing at Saturday's Northeast 7-on-7 Tournament than Methuen High School.

The Raiders were 28 yards from the end zone with eight seconds to play in the championship game, but scored as time expired to pull out a 26-25 victory over the Pingree School to win the tournament's North Regional at Exeter High School.

Methuen finished the tournament with a 6-1 record. The only loss came against Winthrop.

"This was a great experience," Methuen coach Tom Tone said. "At some point during the season you're probably going see something that makes you say, 'Remember that 7 on 7? This team is running the same thing.' We played seven games and we saw seven different things.

"If you're not doing this stuff I think you're at a disadvantage, just because of how much you throw the ball in high school football these days. Especially in our league [Merrimack Valley]. You'd be a step behind."

Saturday's event featured 32 teams from four New England states. There were 17 teams from Massachusetts, 10 from New Hampshire, four from Maine and one from Vermont. Salem and Essex, Vt., were the other semifinalists.

Pingree played with seven players, one of whom is an incoming freshman. At one point in the championship game Pingree was down to six players because one player was battling a cramp.

Exeter is one of three sites for the Northeast 7-on-7 Tournament. The tournament's East Regional will be held July 21 at Bishop Fenwick High School, and the South Regional will be played July 22 at Franklin High School.

By reaching the championship game, Methuen and Pingree each earned a trip to Gillette Stadium to compete for the New England championship on July 27.

Methuen's victory came one week after it lost to Central Catholic in the championship game at the Saint Anselm Shootout in Manchester, N.H.

"To be honest with you I was hoping to go to Gillette sometime in December, but I'll take another trip now," Tone said.

FEELING DUCKY: It was a busy football weekend for Dover (N.H.) coach Ken Osbon, who was among the New Hampshire high school coaches who participated in Oregon coach Chip Kelly's golf tournament on Friday and then coached in Saturday's 7-on-7 event.

Kelly, who was born in Dover, attended high school at Manchester (N.H.) Central and was an assistant coach at the University of New Hampshire, spent the last few days in Portsmouth (N.H.) to visit friends and family. Osbon said he's happy to see the growth of 7-on-7 football in New England.

"Kids don't always throw the ball on their own, and this is an opportunity for them to throw the ball with their teammates," Osbon said. "It gives the kids a chance to get our offense under their belt a little bit. When a kid makes a mistake you also get a chance to correct it immediately on the field, which is something you can't do in game situations. When we come to camp a lot of this stuff will carry over.

"These events are becoming more and more popular up here, but they've been popular down South for a long time. If other teams are going to do it you have to match up and compete or you're going to be left behind."

END OF THE LINE: Buckingham Browne & Nichols tight end Brendan O'Neil was with his team in Exeter on Saturday, but didn't participate in the 7 on 7 because of a hamstring injury. O'Neil committed to Wake Forest in mid-June.

"We go to a lot of 7 on 7s and some we like more than others," O'Neil said. "A big tournament like this is awesome, because you get to test yourself against good competition.

"Our offense is a mix of 7-on-7 plays and our regular plays we'll run this season. We have a sophomore quarterback and he has to get his timing down. We're putting in a whole new defense. We've already had a couple of meltdowns. It's better to have those meltdowns -- those breakdowns in coverage -- here, than during the season."

GEARED UP: Players and coaches from each of the 32 teams received merchandise from Under Armour, the event's primary sponsor.

"I think the major draw for the tournament is the gear for the kids, as well as the competition," tournament director Steve Dembowsksi said. "Exeter High School was an outstanding venue for this event and there were teams from four different states, so that will help this grow in New England. If Under Armour continues to support us we'll be back here next year, and this tournament is going to get bigger and better."
June, 19, 2012
6/19/12
12:33
PM ET
By
Roger Brown
| ESPNBoston.com
Buckingham Browne & Nichols tight end Brendan O'Neil said there was no timetable for selecting the school where he would play college football, but the process was accelerated following his second visit to Wake Forest.
That's when O'Neil learned that in many cases scholarships are handed out on a first-come, first-served basis.
[+] Enlarge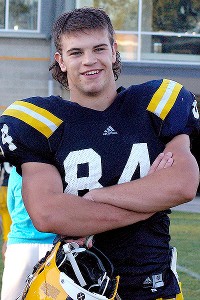 Courtesy of Kathy O'NeilBB&N tight end Brendan O'Neil committed to Wake Forest late last week over offers from Temple, UMass and UConn.
"They didn't put any pressure on me or anything like that," O'Neil explained. "It wasn't like they were trying to rush me. They just told me that one tight end/receiver had already committed and there was room for one more, but they had offers out to a couple other guys who had the opportunity to play there. I didn't want to miss out on a great opportunity at Wake Forest."
O'Neil, who recently completed his junior year at BB&N, committed to Wake Forest last Thursday. He is rated as a two-star prospect and the No. 6 recruit from Massachusetts in the Class of 2013. O'Neil, who lives in Burlington, also had scholarship offers from Connecticut, Massachusetts and Temple. Wake Forest offered him a scholarship in April.
"I visited Wake Forest over spring break, and gave them my highlight tape then," he said. "I was looking for a school with great football and great academics."
O'Neil took unofficial visits to Connecticut, Massachusetts and Wake Forest, and had narrowed his choice to Connecticut or Wake Forest before he visited Wake Forest a second time earlier this month.
"I went to Wake Forest a second time to make sure I was comfortable," O'Neil said. "It was beneficial. I got a better feel for it. I didn't get to meet all of the coaches during my first trip.
"I was going back and forth between UConn and Wake. UConn has great facilities, I liked that it was close to home and the coaches seemed like good guys, but I liked Wake a lot."
O'Neil, who is 6-foot-5 and weighs 230 pounds, said the Wake Forest coaches told him they wanted to bring in a tight end who was a good receiver, but also a good blocker.
"They told me they see me as someone who can do both," O'Neil said.
"They have a pretty balanced offense as far as the tight end is concerned. The coaches told me they liked the fact that I didn't get caught from behind on any of my plays [on his highlight tape] so I have the speed to stretch the field. They also said they liked some of my defensive plays [at defensive end]. They like to see some chippiness."
Boston College High offensive tackle Jack McDonald and Tabor Academy offensive tackle Tevin Montgomery are the top-rated uncommitted recruits from Massachusetts in the Class of 2013. Both are three-star recruits.
"Wake Forest has a philosophy that whoever the best player is will play," O'Neil said. "If I can beat out some guys I'll play. If not, I'll likely redshirt."
June, 15, 2012
6/15/12
3:08
PM ET
Buckingham, Browne & Nichols tight end Brendan O'Neil told correspondent Roger Brown last night that he committed to Wake Forest for the 2013 season, earlier in the day.
O'Neil, a Burlington resident, is a two-star tight end who also held offers from UConn, UMass and Temple at the time of his commitment.
"Brendan had some great options with Wake, UConn and UMass," BB&N head coach John Papas wrote in a statement to ESPNBoston.com. "In the end, he felt like the combination of football and academics at Wake were the best fit. He was very thorough and visited twice. The visit last week sealed the deal. What Wake is getting is a 6-foot-5, 230-pound athlete who can block at the line of scrimmage but can also stretch the field. More than anything, he's a relentless competitor."
Scouts Inc. offers a favorable evaluation of O'Neil, the full breakdown of which you can find
HERE
.
With O'Neil you seem to get a kid who plays hard and gets the job done. He has solid overall size, but doesn't look quite as big as his listed measureables, but he does look to have a frame that can support additional good mass with time in a college weight program. He is a pretty solid receiver who displays the ability to consistently catch the ball away from his body. He demonstrates some body control to be able to adjust to passes thrown a little off target. After the catch displays marginal ability to elude defenders, but is a tough kid who will fight for yards and quickly get up-field and get what he can. As a blocker he does a good job of getting hands on. He displays solid playing strength and the ability to generate leg drive and create some push.
March, 16, 2012
3/16/12
2:57
PM ET
By
Roger Brown
| ESPNBoston.com
Shortly after University of Massachusetts football coach Charley Molnar secured his first recruiting class in February, he talked about how he wanted New England players to form the foundation of his program. Apparently that was more than just talk.

UMass has clearly made New England –- and Massachusetts in particular –- the focus of much of its recruiting efforts.

BC High offensive lineman Jack McDonald, Everett offensive lineman John Montelus, Xaverian defensive lineman Maurice Hurst Jr., Tabor Academy defensive lineman Tevin Montgomery, BB&N tight end Brendan O'Neil and Catholic Memorial defensive end Peter Ngobidi have each received a scholarship offer from UMass, which held two junior days last month.

In addition, Todd Stafford, a 6-foot-5, 240-pound quarterback from the Brunswick School in Greenwich, Conn., committed to UMass on Thursday. He became UMass' first commitment from the class of 2013.

"I went to the first junior day and [Molnar] said with the move to the MAC they want to start with the local kids," McDonald said. "He talked about how good the talent is around here, and they want to bring in as many local kids as they can."

UMass has been competing at the FCS level in the Colonial Athletic Association, but will move up to the FBS level when it begins play in the MAC next season. The Minutemen won't play on campus, but will use Gillette Stadium as their home field.

"It's a little bit of a drive from the campus, but I got to play at Gillette in last year's Super Bowl and it's a once-in-a-lifetime experience," McDonald said. "They'll have their own locker room there. I think the positives will outweigh the negatives."

McDonald also has offers from Boston College and Maryland, and has received significant interest from Duke and Temple.

"Right now I'm considering everything," he said.

Montelus and Hurst each have at least 10 Division 1 scholarship offers. Hurst received his offer from UMass while at one of the junior days last month.

"I'll definitely consider UMass," Hurst said. "I really like the coaching staff and a lot of Mass. kids seem to be going there."

There were six players from New England in Molnar's first recruiting class: wide receiver Khary Bailey Smith (Weymouth), tight end Nevin Cyr (Pelham, N.H.), quarterback A.J. Doyle (Lakeville), linebacker Vondell Langston (Everett), linebacker John Robinson (Springfield) and linebacker Jovan Santos-Knox (Middletown, Conn.).

Wide receiver Derek Beck, a New Jersey native who played at Bridgton Academy in North Bridgton, Maine, signed with UMass as well.

Jake Kennedy, who is perhaps the best offensive lineman from New Hampshire in the Class of 2013, also has a UMass offer. Kennedy plays for Souhegan High School in Amherst.

Kennedy received his offer from UMass defensive line coach Dave Sollazzo earlier this week. He's also receiving interest from Boston College, Connecticut, New Hampshire, Brown and Harvard.

Kennedy said UMass is a school he'll strongly consider.

"Most definitely," he said. "I could see myself there."
February, 15, 2012
2/15/12
5:15
PM ET
ESPN's Roger Brown
checks in today on the East Recruiting Blog
with BB&N tight end Brendan O'Neil and Avon Old Farms (Conn.) wideout/defensive back John Van Allen, who both received offers over the weekend from UMass.
The offers were made following the program's Junior Day on campus, and are also the first scholarship offer for both players.
Brown writes:
"It was definitely a good feeling to get that first offer in the books," Van Allen said. "They didn't tell me specifically what position, but I got a strong feeling it was as a safety.

"UMass is an up-and-coming school at the Division I level. They're joining the MAC and it looks like they have a bright future. I can definitely see them as one of my options. They showed interest in me and I appreciate that."

Van Allen said he plans to take an unofficial visit to Connecticut on Feb. 25 and an unofficial visit to Duke on March 31.

O'Neil said UMass coach Charley Molnar told him the school is committed to landing the best players from Massachusetts.

"He told me they believe the core part of their team can be the top players in Massachusetts," O'Neil said. "He said he believes there's a great base of talent here in the state."

Molnar first heard about O'Neil from Shane Waldron, a former assistant coach at BB&N who is now on the UMass staff.

O'Neil said he plans to attend a junior day at Duke next month. He has attended a junior day and a game at Boston College, and a game at Notre Dame.

"The tour of the [UMass] campus was good and the offer was exciting, but it's too early to speculate where I might end up right now," O'Neil said.
Brown also reports that the Minutemen have also extended an offer to BC High offensive lineman Jack McDonald, while Rutgers becomes the ninth school to extend an offer to Everett offensive tackle John Montelus. In the last week, Montelus has seen offers pour in from Florida, West Virginia and Michigan, in addition to the Scarlet Knights.
December, 12, 2011
12/12/11
6:26
PM ET
Last week we unveiled our second annual
MIAA All-State Team
. Today, we're unveiled our second annual Prep All-State Team, limited to schools competing under the NEPSAC umbrella.
OFFENSE
QB - Tate Jozokos, Jr., Governor's Academy
RB - Chris Coady, Sr., BB&N
RB - Abner Logan Jr., Sr., Dexter
OL - Eric Olson, Sr., BB&N
OL - Robert Perdoni, Sr., Belmont Hill
OL - Shane Donovan, Sr., Thayer Academy
OL - Costa Toubekis, Jr., Dexter
OL - Billy Oldach, Sr., Rivers
TE - Brendan O'Neil, Jr., BB&N
WR - Bryan Viera, Jr., Thayer Academy
WR - Bryson Gilbert-Bono, Sr., Middlesex
DEFENSE
DL - Dan Connaughton, Sr., BB&N
DL - Tucker Oniskey, Sr., Governor's Academy
DL - Sam Caldwell, Jr., Groton
LB - Kirk Ryder, Sr., Governor's Academy
LB - Jack Connolly, Sr., St Sebastian's
LB - Nick DiChiara, Sr., BB&N
LB - Nick Antonucci, Jr., Pingree
DB - Kenny Abragye-Adinka, Sr., Pingree
DB - Sam Davis, Sr., Governor's Academy
DB - Kendall Dardy-Jones, Jr., St Sebastian's
DB - Richard Bradley, Jr., St Paul's
October, 18, 2011
10/18/11
10:00
PM ET
CAMBRIDGE, Mass. -- Its 2-2 start this season notwithstanding, few ISL teams can lay claim to the kind of run that Buckingham, Browne & Nichols has been on the last few years, with three NEPSAC Bowl championships in the last five seasons headed into 2011.

With two Division 1 linemen in Eric Olson (Northwestern) and Dan Connaughton (undecided), a Duke lacrosse-bound quarterback in Chris Coady, and a junior tight end on the rise in Brendan O'Neil, the Knights are sure to be a tough out the rest of the way through the prep school slate.

Head coach John Papas let us into his office on the Cambridge campus following practice Tuesday night, where he showed us some of his power principles, and the keys to his passing attack.

Part 1:




Part 2:



September, 22, 2011
9/22/11
11:29
AM ET
By
Andy Smith
| ESPNBoston.com
CAMBRIDGE, Mass. -- All eyes will be on the Buckingham, Browne & Nichols football team when it opens its season Friday against Belmont Hill. At its afternoon practice Tuesday, even the hawk perched atop the Nicholas Athletic Center swooped down to get a closer look.

Such is the case when you've won three of the last five NEPSAC Super Bowls like the Knights have.

"Our success is great for our program, but our kids know everyone circles us on their schedule and everyone wants a piece of us, but that comes with success," said head coach John Papas.

A potential pitfall of success is not only sustaining it, but a team allowing the success to go to its head and lose the desire to keep working towards a repeat. Papas was quick to jump on his team in the preseason to make sure that didn't happen.

"They needed a little bit of a tongue lashing at the beginning of the year," he said. "We have a lot of kids that have got a lot of press. They had to be talked about that press clippings don't win championships. But they've responded. Since that first week, we really have progressed every day."

One of those players is 6-6, 270-pound offensive tackle Eric Olson, who fielded multiple Division 1 scholarship offers before verbally committing to Northwestern over the summer. Another is Dan Connaugton, Olson's 6-3, 275-pound linemate, who is mulling over some Division 1 college football options.

Those two are part of a returning offensive line unit that will be in charge of protecting Chris Coady, who is making the transition from running back to quarterback. The senior played quarterback for two years at St. John's Prep, after which he transferred to BB&N and switched to running back a season ago. He went on to break the single-season school rushing record, when he notched over 1,800 yards on the ground.

He will replace Eric Bertino, who graduated last year. Bertino lead the ISL with 24 touchdown passes in 2009. Papas said switching Coady back to quarterback was an easy decision.

"It was a no-brainer," Papas said. "He's an outstanding athlete at 6-3, 225 pounds. He's a 365-pound bench press kid, plus he's tough, smart, and he can throw and run. The decision (to put him there) was purely because he's so athletic and bright."

Coady wasn't initially excited about the position switch, but has changed his mind over time.

"I just grew to love running back so much," he said. "I had a blast playing running back last year, so I didn't really want to leave that, but I'm happy I did now. It's getting easier and easier every time we scrimmage and practice, with making the reads and throwing the ball."

It was an adjustment for Coady to get his timing and throwing mechanics back, but he feels he worked enough in the offseason to make sure he didn't come into practices behind the 8-ball.

"I threw a lot with two of my buddies from Winchester over the summer," he said. "We went down to a field in Winchester and I was throwing at least three times a week with them, just going through routes and trying to get my motion back, and trying to shorten my motion."

The hardest parts of handling the position change for Coady have been learning how to read defenses again and knowing where everyone in the offense needs to be, not just himself. When he played running back, he felt he only had to know his responsibility on a particular play, whether it was running a route or finding a running lane. Now, he has to be aware of what everyone is doing on a particular play.

With Coady under center, who will step up to replace his 1,800 rushing yards? It won't be one particular person.

"We're really strong at running back," said Papas. "Nick DiChiara, Willie Peoples, and A.J. Grassa will be a running back by committee. We've lost no one on the offensive line so that will help. Hopefully, with Chris being the quarterback, it will add another dimension."

Because Coady is such a gifted runner, the BB&N offense will feature more option-type plays, allowing him to get out of the pocket and keep the defense guessing. However, its offensive principles will stay the same.

"We'll run multiple formations," said Papas. "We'll run and pass. We've always used multiple formations and been multi-dimensional. Our style of football is, we're going to try to run the ball until they put guys in the box to stop it, and then when they do that we'll throw it."

Even though it has not lost as many players to graduation as it has in the past, BB&N is still unsure of how the changes they've made will play out for them. One thing is certain: everyone in the ISL will be watching them like hawks.


BB&N AT A GLANCE
Coach: John Papas (55-14)
Last Year: 8-1, won NEPSAC Bowl
Key Returnees: Chris Coady, Sr. QB, 6-3, 220 lbs; Junior Arroyo, Sr. WR/DB, 5-11, 173 lbs; Adam Bakopolus, Sr. WR/DB, 5-11, 171 lbs; Dan Connaugton, Sr. OL/DT, 6-3, 265 lbs; Julian Correa, Sr. OL/DT, 5-9, 185 lbs; Nick DiChiara, Sr. WR/FB/LB, 6-1, 203 lbs; Liam Flahive, Sr. RB/DB, RB/DB, 5-8, 171 lbs; Mike Henske, Sr. OL/DE, 6-5, 223 lbs; Cal Halloway, Sr. WR/TE/LB, 6-2, 187 lbs; Ben Kimball, Sr. RB/LB, 5-10, 170 lbs; Chad Kohler, Sr. WR/LB, 6-2, 171 lbs; Chris Mackey, Sr. OL/DT, 6-4, 222 lbs; Ralph Malin, Sr. PK/DT, 5-9, 230 lbs; Eric Olson, Sr. OL/DE, 6-6, 270 lbs; Rhett Wiseman, Sr. WR/DB, 6-1, 180 lbs; Danny Zhang, Sr. WR/DB, 5-8, 134 lbs; Brendan O'Neil, Jr. TE/DE, 6-5, 212 lbs; Willie Peoples, Jr. WR/DB, 6-0, 178 lbs; A.J. Grassa, Jr. RB/DB, 5-10, 176 lbs; Connor Coady, So. OL/DT, 6-0, 215 lbs; Mike McCaffrey, So. WR/DB, 5-7, 148 lbs
Strengths: Experience, Offensive and Defensive Line, Running Game
Weaknesses: How will Coady adjust to playing QB in the ISL after switching to running back for a year? How do they replace his 1,800 rushing yards?
Outlook: This team is coming off its third NEPSAC Bowl victory in the past five years, so success is expected. With that comes the metaphorical bullseye on its back because every team will be trying its hardest to knock off the defending league champion. The biggest question going into the season is how Chris Coady will make the adjustment from running back to quarterback at the ISL level. However, he played the position his first two years at St. John's Prep, so it will only be a matter of time before he gets readjusted to the intricacies of the position. It also doesn't hurt that all five members of the offensive line that helped him achieve 1,800 yards on the ground are returning. The talent is certainly there, so if BB&N can survive teams' best games each week, they could be adding another trophy at the end of the season.

September, 25, 2010
9/25/10
10:59
PM ET
By
Joe Vieira
| ESPNBoston.com
BELMONT, Mass. -- Buckingham Browne & Nichols forced five turnovers in its ISL opener against Belmont Hill on Saturday afternoon, but it wasn't until the fourth quarter that one of the takeaways finally turned into points.

Sophomore defensive end Brendan O'Neil made a leaping interception along the left hash marks with 9:48 to go in a 3-0 game and ran it back 45 yards to pay dirt, sparking a 20-point outburst by the Knights in the final minutes of a 23-7 victory at Belmont Hill.

"What we needed was some excitement, some energy, and that play really was a boost of energy to get the team going," said the 6-foot-5 O'Neil. "It was what we needed so we could get our offense going. Everyone got pumped up from there."

The offense certainly needed something, as it had struggled to gain just over 160 yards on its first seven possessions of the game, scoring its only points on a 23-yard field goal by Ralph Malin in the first quarter.

After the pick and a three-and-out by the Hillies, however, BB&N moved the ball 112 yards on 10 plays over a pair of late scoring drives to extend the lead.

"I don't think we were frustrated" before the first scoring drive, said BB&N running back Chris Coady. "We knew we were a better team than them. Going into the locker room (at halftime) we all knew we could do it. It was just a matter of when."

Bertino (10-of-18 passing for 159 yards, interception) started the scoring spree by going 3-of-4 on the first drive after the pick. He hit Nick DiChiara for 40 yards on third-and-17 from his own 35 to keep the possession alive, and then found Coady four plays later from 11 yards out to push the lead to 17-0.

Belmont Hill (0-1) got on the scoreboard on a 12-yard touchdown reception for Zach Williams (13 rushes for 161 yards; six receptions for 50 yards) with 1:25 remaining.

But O'Neil, who also had a third-quarter fumble recovery, fell on the ensuing onside kick, and Coady (20 rushes for 118 yards; fumble recovery) broke a 57-yard run up the middle three plays later to seal the win.

"Belmont Hill is a heck of a football team, let's not forget that," said BB&N coach John Papas. "They're tough inside. I have to give it to our guys. We just had great resolve all day."

The first four turnovers may not have led to any points for BB&N, but they did keep the Hillies off the scoreboard when they appeared to be poised to punch it in. Three consecutive turnovers to end the first-half came inside of BB&N territory, with the last two (a fumbled hand-off and an end zone interception to end the second quarter) occurring inside the 10.

"Those were huge turnovers," said O'Neil. "They could have taken the lead or tied it up (going into the half). Our defense played tough and we came through with the big plays when it counted."

Belmont Hill's defense continued to look strong when it opened the third quarter by forcing a three-and-out. However, the Hillies responded by committing their fourth consecutive turnover at midfield, when quarterback Conor Murphy fumbled after taking a hard hit on a sack, and O'Neil recovered the loose ball.

"Our offense just played very immature, made too many mistakes," said Belmont Hill coach Kevin Fleming. "Our defense played very well, and we just didn't put away our chances, and we lost the game because of it. Just poor execution on offense."

BB&N 23, Belmont Hill 7

BBN (1-0) 3 0 0 20 --- 23
BH (0-1) 0 0 0 7 --- 7

BN – Ralph Malin 23 field goal
BN – Brendan O'Neil 45 interception return (Malin kick)
BN – Chris Coady 11 pass from Eric Bertino (Malin kick)
BH – Zach Williams 12 pass from Conor Murphy (Theodore Mitropoulos kick)
BN – Coady 57 run (kick failed)