Boston High School:

Breno Giacomini
September, 18, 2014
Sep 18
11:59
AM ET
Malden High School announces its class for this year's Athletics Hall of Fame, which includes current New York Jets tackle and Super Bowl chanmpion Breno Giacomini.
Courtesy of Steve Freker, here is the press release:
The Golden Tornado Club Hall of Fame Committee has announced that four former Malden High School exemplary athletes, including 2014 Super Bowl champ Breno Giacomini (Class of 2004), now with the New York Jets; one former Tornado team and a longtime Malden High coach have been selected for induction into the Golden Tornado Hall of Fame Class of 2014.

The inductees are as follows:

John DeBenedictis, Class of 1985, Hockey, Baseball

Olivia Choate, Class of 2001, Field Hockey, Softball

Michael Hudd, Class of 2002, Hockey, Baseball

Breno Giacomini, Class of 2004, Football, Basketball

The 1962 Boys Basketball Team, Tech Tourney finalist

Coach Steve Rubin, Soccer, Indoor Track, Outdoor Track

The 2014 Induction Ceremony and Banquet will be held on Saturday, November 15, 2014, at the Loyal Order of Moose Hall, Malden. Tickets are now on sale. The price is $40 per ticket and tables of 10 are available. To purchase/reserve tickets or for more event information, email GTC Hall of Fame Committee at editor@maldennews or call the Malden High School Athletic Dept. office at 781-397-6000. Make checks payable to: Golden Tornado Club.
July, 24, 2011
7/24/11
3:56
PM ET
By
Brendan Hall
| ESPNBoston.com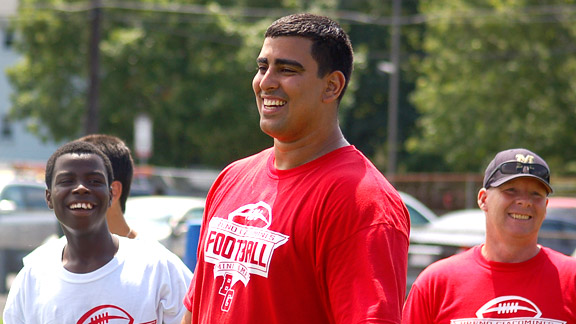 Brendan Hall/ESPNBoston.comSeahawks lineman Breno Giacomini was more than happy to return to his Malden roots this weekend.
MALDEN, Mass. -- Seattle Seahawks offensive lineman and Malden High graduate Breno Giacomini was back in town this weekend running his annual three-day youth football minicamp, at MacDonald Memorial Stadium, and as usual the big guy couldn't stop smiling.
The former high school basketball center's journey to the NFL, from Malden to Louisville to Green Bay and now Seattle,
is quite a unique story
. Giacomini was intent on heading to prep school for basketball when one day, in mid-January, he got a call from Bobby Petrino, who was sent game film of his Thanksgiving performance against Medford. Six days later, with no other Division 1 scholarship offers in either sport, he committed to the Cardinals, eventually getting on to the field first as a blocking tight end, and finally a tackle as a senior.
So of course, the jolly Giacomini hasn't forgotten his roots, and cherishes these moments. At one point, the 6-foot-7, 325-pounder entered the one-on-one circle and dusted it up with a few of the Golden Tornadoes' top linemen (without pads, obviously). Take a wild guess what the outcome was.
"This is awesome. This is great," he said. "It was what, a hundred something [degrees] on Friday, and these kids are out here, it's unbelievable. I'm gonna try to keep this going as long as possible. This is something I love to do. All these kids seem to love it, the parents, I've always got good comments, so I'm just going to...hopefully this will keep growing and growing.
"It's something for the kids, man. It's free, you get your t-shirt, got some NFL guys here, what else could you want in July, know what I mean?"
Perhaps part of the excitement and energy stems from the anxious wait to get back on the field, as an end to the four-month lockout is reportedly imminent.
"I want this thing to end yesterday, so I can go back," Giacomini laughed. "Yeah, I'm excited, I've been working out here last few months. I'm excited, I want this thing to end fast. That's what I've been hearing, but you know, we've all been hearing the same thing."
Giacomini has been working out five days a week this month -- three days in the weight room, two conditioning at MacDonald Stadium -- and joined by a handful of players from the high school team each day. He's heading down to Louisville tomorrow for a few days, before reporting to Seattle (he hopes).
[+] Enlarge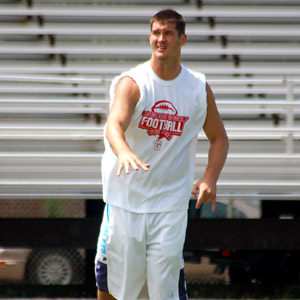 Brendan Hall/ESPNBoston.comPanthers tight end Gary Barnidge, who joined Breno Giacomini at MacDonald Stadium, is eager to get back on the field for real.
He's also brought his good buddy from college, Carolina Panthers tight end Gary Barnidge, who expressed similar sentiments as far as getting back on the field.
"You realize it really is a business, so you just stay patient, but it's good to be back," Barnidge said. "And once we all get situated and saddled up, we're ready to go. I think everybody's ready to go. I think everybody's itching to get back in, because I think we're usually in camp and ready to go right now."
Certainly it's been a trying offseason for Giacomini, who was signed by Seattle off the Packers' practice squad last September. Giacomini misses the camaraderie that comes with organized team workouts in most offseasons.
"The best thing I think for any student-athlete, or even professional, is that regimen," Giacomini said. "You know, where you gotta be, what time you gotta be where, and getting into that groove. It's been tough, man, not having an offseason, you know what I mean? You don't always have the guys around, that's one of the worst things is the locker room presence isn't there. It's gonna be an interesting season. It's definitely tough, though."
Barnidge participated in players-only workouts at a high school in Charlotte, N.C. earlier this offseason, and stressed the importance of getting that timing down and becoming familiar with the new system under new head coach Ron Rivera. Barnidge also spent a lot of time at his alma mater Middleburg (Fla.) High, where he had a key to the gym.
"Schedule-wise, I don't think it's that hard," Barnidge said. "Everybody knows you've got to stay in shape, keep working out and do everything right or you're not going to be playing very long."
CONTINENTAL VENTURES
Inspired by childhood ambitions and some mutual friends in college, Barnidge and Giacomini are teaming up to take football to one of the world's oldest civilizations next March.
Officially called the American Football Without Barriers camp, the two were given the idea by an Egyptian native and friend from their Louisville days, Ahmed Awadalah, and have begun to assemble a group of NFL players and coaches to come with them to Cairo, with hopes of success similar to what former Louisville teammate Amobi Okoye has had with his camp in Nigeria. Plans beyond 2012 could see them creating a camp in Brazil, where Giacomini's parents immigrated from.
A website and logo are currently in the works,
but a Facebook page has been launched
. Currently, the camp is scheduled to run from March 9 through March 17.
"It's all about giving back," he said. "We're trying to build the sport. Even over there, they don't know the sport. So we're trying to teach the kids, everybody, the sport over there. And we like doing it here. It's a lot of fun. It's all about giving back, because you never know, you can change someone's life just by saying 'Hey' to somebody. I love doing this."
So why Egypt? The country and its origins have been a lifelong fascination of Barnidge's since his days as a youth in Middleburg, Fla.; his father, who was in the Air Force, once came back from a trip to Egypt with some goodies for Gary, and the rest is history.
"I wanted to do archeology as my major in college, but I couldn't because it was only offered in the afternoon and that's when football practice is," Barnidge said. "So, it's kinda hard. But I want to go back and get some kind of work field in archeology, I don't know, something. Just something about Egyptian history is amazing to me. All the historical pieces, the Pyramids, the Nile...just everything.
"Everything's awesome over there, I'm going to love it. It'll be a great trip and a dream come true. And I get to teach these kids the sport I love to play."
Registration for camp starts on September 1 and will end January 1, 2012. For more information, contact GridironEgypt@gmail.com or Ahmadelrefaey@gmail.com.
July, 19, 2011
7/19/11
11:18
AM ET
Malden High football coach Joe Pappagallo passes along information regarding Breno Giacomini's second annual football mini camp:
Former Malden High Golden Tornado, Breno Giacomini of the Seattle Seahawks, announces information about the 3rd annual "Breno Giacomini Football Mini Camp" . Camp is this weekend, the 22nd, 23rd and 24th of July. Sign ups begin this Friday night at 5 PM at MacDonald Stadium, 1 Pearl Street, Malden Ma. 02148.

Breno, along with former college teamates from the University of Louisville, George Bussey (Patriots) and Gary Barnadge (Panthers) were on hand last year to share their knowledge with over a 125 area youths. The mini camp is sponsored by the NFL's youth football development partners, USA Football to obtain a grant. All participants receive a free t-shirt and get to compete for prizes on day three.

For more information go to www.Maldengoldentornadofootball.com

July, 24, 2010
7/24/10
4:16
PM ET
By
Brendan Hall
| ESPNBoston.com
Editor's note: This is the first in a recurring series of Q&A's featuring local athletes who have gone on to national prominence, talking about their days growing up.
The story of Breno Giacomini, the Malden-raised son of Brazilian immigrants, is truly unique. After starting off as a quarterback his freshman year at Malden High, Giacomini left football to focus on his basketball career, only to return his senior season in the fall of 2003 and earn league all-star nods, but not much else.
But in early January of 2004, Giacomini's fortunes changed when then-Louisville head coach Bobby Petrino received his game film and offered him a scholarship six days later. Giacomini had no other Division 1 offers in any sport.
After finally cracking the starting lineup for good in his senior season, Giacomini was selected by the Green Bay Packers in the fifth round (150th overall) of the 2008 NFL Draft. Two months after the draft, he signed a four-year rookie contract good through 2011.
The 6-foot-7, 325-pound Giacomini was in Malden this weekend, running his own football camp for area youths at MacDonald Stadium. Two former Louisville teammates, Carolina tight end Gary Barnidge and the Patriots' own George Bussey, were also in town to help teach the 300 or so kids in attendance. Giacomini sat down with ESPNBoston for a few minutes Friday night to chat about life in Malden, legendary high school coach Rich Cullen, the road to the NFL, and the best roast beef chain on the North Shore (plenty to choose from, of course).
[+] Enlarge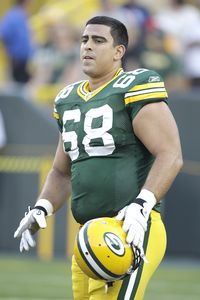 AP Photo/Mike RoemerGreen Bay Packers offensive tackle Breno Giacomini played quarterback his freshman year at Malden High School.
Q: When did you first start playing organized football?
A:
"I started in Somerville Pop Warner. I can't remember how old I was, but I only played for two years because then I was over the weight. I'd say I was probably 11 years old (when I first started playing). I started back up as a freshman in high school."
Q: Was it tough transitioning back after being away for a few years?
A:
"Yeah, but we had a great squad here coming in as a freshman. We had real big guys, and we knew we could do something. I started off as a quarterback for our freshman team, and we did really good."
Q: Really, you started off as a quarterback?
A:
"My freshman and sophomore years. My junior year, I didn't play because I thought I was going to pursue a basketball career, so I wanted to focus on that. I played AAU ball with Boston Metro, we went down to Florida (for AAU Nationals) and did all that. My senior year, coach (Rich Cullen) asked me to come back, and most of my friends were like 'you've got to come back, it's our last go-around', so I agreed to play with them. I played outside linebacker and tight end my senior year."
Q: Looking at the whole body of work, from freshman year at Malden to now, what was the transition like?
A:
"When I got to college, coach Petrino was there, and he recruited me as a defensive guy. He brought me into his office and told me 'You're going to eventually be an offensive lineman, but for the next few years we want to use your athletic skills and put you at tight end, but with the two's or three's you'll be playing tackle'. So really, I've been playing tackle for a little bit, but mainly tight end, so the transition wasn't really that big because I kept going back and forth, back and forth, in practice. But in the game, I'd play tight end. And I was mainly a blocking tight end anyways, know what I'm saying? (laughs)"
Q: You were a one-time Greater Boston League All-Star at outside linebacker, and that was it for accolades. When you arrived at Louisville, they were a Top 25 program. How'd you get exposed?
A:
"Yeah, I got there right on time, dude (laughs). Actually, coach (Ray) Boghos was our defensive coordinator here at the time, and he knew coach Petrino from his Montana days, or something like that. Called him, 'Hey coach, I got a player here you need to see', coach says 'OK, send the tape'. Sent down the tape, let's say on a Monday (in early January), I was there Friday night in Louisville getting recruited by them, and they offered me on Sunday morning for a scholarship. So that's how it happened, coach knowing him and me being…we sent the Medford tape (from Thanksgiving day), a whole bunch of highlights, and that's how it happened, man. Just luck I guess."
Q: Where were the other offers?
A:
"Football, a whole bunch of D2, D3, that's it. I wanted to try and play basketball, I was going to go to prep school for another year, because you know, that was my best option for basketball. They (Louisville) offered me a scholarship and I couldn't say no, come back and say 'Mom, I didn't take the scholarship', know what I'm saying? (laughs) I said 'Alright, I'm coming', and it's worked out. I'm glad I did it for sure.(laughs)"
Q: Who did you take after growing up?
A:
"You know what, growing up, I got into sports fairly early, but I really liked Jordan. I wanted to be a basketball guy, so I watched as many games of Jordan as I could. He was one of my biggest role models. But another guy that really stands out is Drew Bledsoe. I was 6-4, and here's a quarterback that I don't know how tall he is (Bledsoe is 6-foot-5), but whenever he came to the Patriots, that's when I really fell in love with football is when he was there. He was a guy I looked up to all the time.
Funny story, the Patriots were having a team dinner at the Marriott in Boston, Copley Place, and my father's a maintenance guy there. He brought me up there, and I went up to Drew Bledsoe and got his autograph. Ever since then, man, football's been right up there. It was a team dinner, they sell the tables to whoever, and my dad snuck me up there and I just asked him to sign my jacket. It's kinda weird giving a guy a jacket to sign at a team dinner, but I didn't care. I wanted his autograph (laughs). Just meet him, know what I mean?"
Q: What lessons did you learn from Rich Cullen that you still hold with you now?
A:
"Coach Cullen's a great coach, man. Basically…everything. We weren't really that good (the Tornadoes went 5-6 his senior season), so really preparing for the next game, forgetting about the last game, just moving on. We weren't fortunate enough to win that many games, but he just kept pushing us, and that's the one big thing that I think contributed to me, the hard work that we had to put in, even though we had nothing to look forward to besides the Medford game, because we weren't going to make playoffs. So, dealing with adversity, that's probably the biggest thing I took from coach Cullen."
Q: What's your favorite moment from your high school playing days?
A:
"No question about it, the Medford game. It's my last game of my senior season, going into the game I didn't even think that I was going to (go on to play in college). Louisville hadn't even contacted me, basketball was going to be it, prep school. I told this story to someone earlier, I was in the weight room…the night before, you know it's a big deal, the team has a traditional team dinner, somebody goes out and T.P.'s a cheerleader's house and all that (laughs), but you know I couldn't sleep at all the whole night. I'm just thinking, you know, this is my last game, what am I going to do, I've got to do really good.
"It mighta been the fourth quarter of the game, and I had been getting after their quarterback the whole game man, I'm telling you. Then this one play, they couldn't stop me, I'm coming around the corner and it's a roll-out to the right on their sideline, I come and I sack the quarterback. This sounds bad, but he didn't get up. He was knocked out for a little bit. That's my biggest memory, my best memory, my favorite I guess, when I knocked him out, because I'm a defensive player and went after the quarterback, (him) being from Medford, that's definitely the biggest. It's on Thanksgiving, you know there's a few thousand people there. It wasn't that cold, it was actually a sunny day, no snow, maybe 20-25 degrees. I was so nervous going into the game.
"Another one was when I was a freshman, and coach Cullen threw me in there, it was versus Peabody in the fourth quarter. It was a 55-yard touchdown pass, and it was just a bomb. The kid caught it on the five yard line, and just walked right in. Those are my two biggest memories as a high school football player.
Q: What did you find to be your toughest obstacle on your path to the NFL?
A:
"So far man, getting to the NFL, huh. Wow. Moving away was tough. I'd say just going to college, not having to deal with anybody telling you what to do. We had a lot of support, but we didn't have any family support down there. I could give a phone call or something, but none of my buddies were down there. So I think the first year of transition from high school to college, that was the toughest thing. But you know, I tried to work as hard as I could, so that really paid off. I'm telling you, if you asked one of my coaches down there today, they'd tell you I was one of the hardest workers, and I kinda just ran with that, know what I mean? I didn't start until my senior year as a tackle. I mean I started a few games as a tight end, you rotate in and out, but dealing with not playing a lot…I played in every game, but I wanted to be that starter, and I finally got my chance senior year. So that might have been the biggest thing, moving away from home really."
Q: How important is footwork as an offensive lineman?
A:
"Oh yeah. 'You win with your feet' is what they tell me every day. Coach (James) Campen is our o-line coach in Green Bay, and he tells us that every day. In college, if you do lose but you're a little bit stronger than the other guy, maybe quicker, you can win. But in the NFL, no way, you need to win with your feet, so footwork is the most important thing, and then comes your punch and your second reaction after that. I wanted to pursue basketball, so that's where I got my footwork. I'm glad I did that, because I think I have really good footwork for being a 325-pound guy, know what I mean?"
Q: You a Kelly's guy or a Mike's guy?
A:
"Kelly's. Just because we went over to Revere a lot. That's just where we went growing up, know what I mean?"