Boston High School:

Brian Bourque
May, 5, 2011
5/05/11
10:32
AM ET
The North-South game of the 33rd Annual Shriners Football Classic kicks off this June 17 at 7 p.m., and for the second year in a row the contest will be held at Gillette Stadium. Below are the rosters for both squads participating in the game:
NORTH
Ryan Adams, Northeast, DE
James Aloisio, Masconoment, OT
Eric Apgar, Acton-Boxborough, RB
Anthony Arcari, Tewksbury, RB
Manny Asprilla, Everett, WR
Derek Bent, Shawsheen, TE
Brian Bourque, Reading, DB
James Brao, Hamilton-Wenham, LB
Cal Carroll, Methuen, QB
Brendan Casey, Boston Latin, DT
Thomas Chub, Masconomet, OL
Mitchell Colley, Arlington, LB
Sean Connolly, Tewksbury, FS
Tyler Coppola, St. John's Prep, RB
Matt Costello, Everett, WR
Anthony Courtouis, Lowell, WR
Jeff Covitz, Reading, OL
Nate Cyr, St. John's Prep, OL
Ned Deane, Andover, LB
Ryan Delisle, St. John's Prep, TE
Jake Giovanucci, Dexter, DE
Mike Grassa, BB&N, DB
Will Guinee, Malden Catholic, OL
Mike Harper, Methuen, LB
Zach Hayes, Chelmsford, S
Justin Hood, Billerica, DE
Brian Hurley, Wilmington
Zach Ingalls, Westford, DB
George Kallas, Beverly, OT
Ben Koopman, Marblehead, C
Chris Malonis, Dracut, WR
Tyllor MacDonald, Lynn English, DB
Tom Meade, Malden Catholic, LB
Trae Musumarra, Central Catholic, LB
Zach Nardone, Bishop Fenwick, DT
Paul Nwokeji, Thayer Academy, OL
John O'Connell, Northeast, DL
Daniel Omorgie, Lynn Classical, DE
Xavier Peralta, Central Catholic, DB
Ony Ramos, Lawrence, DB
Peter Savarese, BB&N, RB
Jordan Shairs, Gloucester, RB
Matt Silva, Dracut, QB
Bradley Skeffington, Salem, DB
Zach Smerlas, Lincoln-Sudbury, DL
Brian Strachan, St. Sebastian's, WR
Dave Summiel, Shawsheen, DT
Chris Unis, Gloucester, DE
Trae Weathers, Revere, RB
Sean Whittaker, Methuen, OL
Peter Yasi, Swampscott, DE

SOUTH
Matt Allen, Pembroke, SE
Ryan Barrett, Holliston, TE
Rob Barrus, Weymouth, LB
Adam Boari, King Philip, OL
Blaise Branch, Cardinal Spellman, RB
Lance Burlingame, New Bedford, OL
Jack Carrier, Cohasset, SE
Dylan Colarusso, Weymouth, RB
Joe Colton, Xaverian, DB
Tom Condon, Whitman-Hanson, OL
David Conroy, Walpole, SE
Nate Crary, Dennis-Yarmouth, DL
Seth DeMello, Somerset, RB
Mike Devin, Bridgewater-Raynham, OL
Mike Driscoll, Rockland, FB
Connor Fraser, Abington, DL
Jake Golden, Hingham, OL
Mitchell Graziano, Silver Lake, DB
William Greene, Oliver Ames, DE
Ernest Guy, Foxborough, OL
Joseph Hak, East Bridgewater, OL
Matt Hallisey, Duxbury, SE
Brian Harrington, Rockland, DE
Jordan Henderson, Barnstable, WR
D.J. Jamieson, West Bridgewater, RB
Randall Jette, Martha's Vineyard, DB
Dan Johnson, North Attleboro, SE
Andrew Kestenbaum, Dartmouth, OL
Matt Lockwood, Seekonk, RB
Albert Louis-Jean, Brockton, SE
Denis Maguire, Duxbury, LB
Jamel Marshall, Mansfield, RB
Zach Martin, Mashpee, RB
Alec May, King Philip, TE
Sean Mayo, Holliston, QB
Paul McCarthy, North Attleboro, DB
Kyle McGuire, Mansfield, OL
Dave McSweeney, Medway, OL
Obum Obukwelu, BC High, OL
Trevon Offley, Brockton, RB
Jon Page, Bourne, RB
Tyler Park, Scituate, QB
Liam Porter, Natick, OL
Ethan Rayner, Holliston, OL
Nate Robitaille, Attleboro, DB
Andrew Siden, Natick, TE
Kevin Stanton, Cardinal Spellman, LB
Jeff Synan, Plymouth North, OL
Chris Tamasi, Xaverian, LB
Ryan Vaughn, Norwell, OL
April, 29, 2011
4/29/11
10:31
PM ET


READING, Mass. -– Reading boys' lacrosse head coach Charlie Hardy nearly fainted, but then he could've floated above the ground as his Rockets held on to escape with an 8-7 win over Middlesex League rival Lexington on Friday.

No. 12 Reading sweated out a tense final minute with the Minutemen holding possession in their end to hand No. 18 Lexington its third one-goal loss in four games.

"They're a heck of a program and beat some pretty good teams this year," Hardy said. "This is exactly what I thought would happen. I think we grew up a lot today. We have a lot of young kids still. We've had some kids that were hurt and haven't played and this was a good test for them, but we need to smooth ourselves out.

"We should gain some confidence from this though. We've played some good teams, but no team as good as this one."

Reading (8-1) took a 6-4 lead into halftime and the Minutemen (7-3) showed they were not going to go away in the second half, twice pulling themselves within a goal.

However, Lexington was never able to find the equalizer as Rockets goaltender Matt Comerford (11 saves) and the Reading defense led by Larry Gilligan stood their ground.

Conor Henrie tallied his second goal of the game for Lexington with 7:21 remaining to pull the Minutemen within one once again.

"Our defense did a good job overall, keeping them to seven goals," Hardy said. "You should win games like that. I thought Matt Comerford, our goaltender, was great as well."

Nick Guenard led the offensive attack for Reading, notching a hat trick and two assists. Ross Anderson, Brian Bourque, Greg Connery, Matt Dente and Connor Sheehan all added goals. Dente finished with a three-point game while adding two assists.

However, perhaps the Reading offense's great contribution came in killing off the clock during the waning moments of the victory.

The Rockets possessed the ball with poise, picked up loose balls and did whatever it took to ensure the win.

"We work on that a lot in practice," Guenard said. "We just try to keep the ball moving. If someone gets doubled, we try to get open. Everyone's moving, everyone's running, we're trying the best we can to move the ball."
December, 4, 2010
12/04/10
9:48
PM ET
By
Corey J. Allen
| ESPNBoston.com


FOXBOROUGH, Mass. -- Jamel Marshall threw one and ran for two touchdowns, the last with 1:07 left in the game, after their third attempt in five minutes, leading Mansfield to a second half, 22-point come from behind win, 29- 26, to seize the Division 2 Super Bowl Saturday at Gillette Stadium.

"Maybe somebody someone's looking down on us," Mansfield head coach Mike Redding said. "Or we're doing the right things, but we got a third chance, and finally, we were able to get it in."

With 1:32 left in the game, Reading's (12-1) Sean Gildea picked off Mansfield quarterback George Busharis at the Reading 1. Leading 26-20, Reading had the opportunity to run out the clock. Seems simple enough, but Reading coach John Fiore is not a fearful man. He gambles.

He felt fine having quarterback Brian Bourque throw up a shot on second and 10, but junior defensive back Dan Gilmore was buzzing and snagged the bullet at the 22, then shot the sideline back to the Reading two, giving Mansfield (13-0) an unprecedented third shot at the end zone in the last five minutes with 1:10 left in the game.

"That was an amazing catch," Busharis said. "Amazing grab. Probably the play of the game."

"We were probably a little too aggressive on our own goal line," Fiore said. "We were thinking about putting the game away late."

After the helter skelter pace, Marshall law was ordered. He dove into the end zone behind the left side of his line for the go ahead score with 1:07 left on the clock.

"I knew we were down," Marshall said. "And I knew we had to score."

For the extra point, Marshall (18 carries, 91 yards) continued his sworn duty to Mansfield, taking the pitch left, and decided that he'd bring a few Reading players in the end zone with him for the point after, making the game 28-26.

""I am always going to give the extra effort," added Marshall. "That's just what I do. I don't really want to go down after the first person hits me. That's probably why [coach] gave it to me."

The onside kick by Dave Eberhart (3 PATs) was kicked directly at a first line Reading player, but it hit him and bounced back towards the Hornets. Mansfield's Ken Barsomian recovered the ball at the Reading 43, but unable to complete the first down, Mansfield gave up the ball with three seconds to go. Reading tried a last minute reverse pass, but the ball fell dead, sealing the honey-flavored win for the Hornets.

"It's a dream come true," Eberhart said. "We've been waiting ever since Pop Warner; sixth grade, eighth grade, working hard in the off season…the running…all of it makes it worthwhile now."

For those of you who left at halftime…
If all you saw was the first half of the game, you may think that the final score was a product of the "Eternal Sunshine of the Spotless Mind", but this was the manifestation of a 13-0 team that has the resolve to win. No matter what.

Down 26-7 at the half, with Reading getting the ball back to begin the second, Mansfield was facing a double uphill battle, having no momentum after giving up two touchdowns in the last 1:01 of the second quarter. According to Redding, the seniors set the tone for the second half.

"'Hey, we got twenty minutes,'" Redding said of his seniors' halftime speech. "'We're at Gillette, we're a good football team, we've just got to get stops.' They did more of the talking than we did."

Beginning the second half from their 25, Reading ran four straight plays for positive yardage and the first down from the 35. Then something happened. Senior Joseph Oram sounded the horn and the Hornets swarmed.

"We've been there before," said Oram, referring to his freshman year when the team was losing to North Attleborough in the first half, since this today's game was the only time this year Mansfield fought from behind. "That's all I could think about."

Oram (five tackles) smacked Reading quarterback Brian Bourque for a 3-yard loss on first down. Then Bourque passed to Gildea for no yardage. On third and 11, Mansfield defensive lineman Mike Mallon Jr. (three tackles, sack) rocked Bourque for a three-yard loss, bringing up fourth and 15 from the 30. Brian Bourque's 48-yard punt was downed at the Mansfield 32.

Then, the Hornets went to the air.

Hill (5 receptions, 191 yards) pulled in the 68-yard play action pass from George Busharis (8-14, 231 yards, TD) to put Mansfield on the board with 5:49 left in the third quarter and Dave Eberhart's extra point made the game 26-14.

"Hill didn't practice well," Redding said. "[He] was the key when we got the first stop."

"Jamel's one of the best backs in the state," Hill said of Reading biting the fake that left him open. "If they see him get the ball, they're coming up for the run."

On the following drive, Reading made one play for positive yardage, an Anthony DeSimone (10-58) 12 yard run on third and 18.The stop on DeSimone by Oram left Reading with their first three and out series on the day, as the last two Reading four down series had led to six points.

Hill, who also caught a 47-yard touchdown pass in the first half, reeled in another long ball for 54 yards, setting up on the Reading five yard line. Then the Marshall laid down the law, running left and meeting two defenders at the three, but muscled his arm and the ball past the plane to put Mansfield within five, and Eberhart's steady boot put the game within 5 at 26-21.

On the ensuing kickoff, a Mansfield off sides penalty put the ball on the Reading 46, and DeSimone, always looking for a seam to rip, found one and rumbled into Mansfield territory.

After another first down and two runs by DeSimone, Reading faced third and nine from the 15, but Eberhart was on the hunt and got a pick at the 17.

"He lobbed it," said Eberhart, "and I snagged it."

Mansfield marched down to the Reading 9, but faced fourth and goal from the two; Busharis had time in the pocket but could not find an open receiver, turning over the ball with 5:08 left in the game.

Reading was then charged with holding onto the ball and maintaining the lead, but a third down right screen pass from Bourque to Zack Bates was deflected by Mansfield's Zack Schafer (four tackles), forcing a punt. Mansfield again put together a drive, this a five play, thirty yarder, but Busharis threw another pick, this one intercepted by Reading's Gildea, to no avail for the Rockets.

"We knew we had it the whole way," said senior Kyle McGuire, donning a bloody nose bridge. "It's all about being a team. You can't give up, that's what this shows you."

R 6 20 0 0 -- 26
M 7 0 14 8 -- 29

1st Qtr
R - Nick Scali 11 run (kick failed)
M -Jeff Hill 47 pass from Jamel Marshall (Dave Eberhart kick)

2nd Qtr
R - Brian Bourque 2 run (pass failed)
R - Scali 32 pass from Bourque (Scali pass from Bourque)
R - Bourque 18 run (PAT failed)

3rd Qtr
M - Hill 68 pass from Busharis (Eberhart kick)
M - Marshall 5 run (Eberhart kick)

4th Qtr
M - Marshal 2 run (Marshall rush)
December, 4, 2010
12/04/10
8:39
PM ET
By
Neil Carroll
| ESPNBoston.com



FOXBOROUGH, Mass. -- Mansfield High School's three turnovers in the first half resulted in three Reading High School scores, and Reading led 26-7 at halftime. It looked as though all hope was lost for the Mansfield Hornets.

Yet Mansfield coach Michael Redding came in at halftime and delivered an emotional speech, urging the Hornets to believe -- and they did. Redding's Hollywood-style motivational speech inspired Mansfield to a captivating 29-26 comeback in the fourth quarter.

Redding told his team to "never give up, and never surrender", creating a storybook ending in the Division 2 Super Bowl at Gillette Stadium.

Early in the second half the Hornets' defense stepped up first. Defensive linemen Kyle McGuire and Mike Mallon Jr. forced consistent pressure on Reading's Brian Bourque -- something that was missing in the first half.

Reading went three and out on the second drive of the second half, and punted away to the Hornets. Then it was the offense's turn to take the reigns.

Mansfield's offensive unit took the momentum and struck on a 68-yard touchdown pass from quarterback George Busharis to Jeff Hill, and made the score 26-14.

"Once we got to 14, we all said 'hey we have a ball game'," Redding said about the score. "The kids started believing and we just started playing great defense."

In the second half alone, Mansfield had 241 yards to Reading's 54. While running back Jamel Marshall was a key to the comeback, Busharis put up bigger numbers. In the game Busharis completed 8 of 14 passes for 231 yards (205 in the second half alone) with one touchdown and one interception.

"The first half we just had to forget about -- that wasn't Mansfield football," Busharis said about the first half.

Although clichés usually are looked at as -- well, cliché -- apparently in this comeback they worked.

"We just kept saying it was 20 minutes for the rest of our lives," Mansfield co-captain Sean Otto said, breaking through tears after the win. "I couldn't think of a better way to end my senior year."

And to think it almost didn't happen.

Reading stopped Mansfield on a goal line-stand with 5 minutes, 5 seconds to go in the game. Then the Hornets got the ball back with 3:06 left in the game, and it looked as though it would be their last chance to score. However Busharis through an interception while trying to create the winning score.

Reading was then pinned at the 1-yard line, and couldn't get out of its own end zone. On third down, it looked as thought they would run to get a yard or two and try and run down the clock before a punt. Instead, Bourque was intercepted by Mansfield's Dan Gilmore, and Gilmore took the ball down close to the end zone.

"In practice that play actually beat me," Gilmore said about the interception. "But, I knew I wasn't going to get beat in the game."

Marshal then had a 2-yard touchdown, capping off the exciting comeback.

The 19-point deficit was erased, as Mansfield took a 3-point victory and the Division 2 Championship.

"Just never give up, and never surrender," Gilmore said about the theme of the comeback.
December, 1, 2010
12/01/10
2:04
AM ET
By
Brendan Hall
| ESPNBoston.com



READING, Mass. -- Almost as soon as the Dracut defense was called for an offsides on the would-be game-tying point after, it seemed, did Reading head coach John Fiore want a timeout. Four minutes left, down by one but now with the ball at the one, Rockets offensive coordinator Duane Sigsbury drew up a Tebow-like play that had everyone on the sideline feeling fired up.

"Let's go for it, can't second-guess it," said their 6-foot-4 senior quarterback Brian Bourque (he is a converted wideout, after all).

"Let's get these six inches and take it to Gillette," said senior right tackle Jeff Covitz.

Sigsbury called for a quarterback dive out of a goal-line shotgun formation with jumbo personnel, but rather than crouch low and try to fall forward, Bourque leaped high into the air and flopped into the end zone, sending the home-field crowd into a frenzy.

That still left Dracut with two more scoring chances, but in those final four minutes Covitz was relentless coming off the edge of the right-handed Matt Silva's front side. He recorded two sacks, including one on fourth down, to seal the 15-14 win, make it 25 straight victories for the Rockets, and send them back to Gillette Stadium to defend their Division 2 Super Bowl title against Hockomock League juggernaut Mansfield.

Fiore spoke only briefly to the media following the game, but with good intents. Draping his outstretched arms on the shoulders of his three captains -- Bourque, Covitz and Anthony Fodera -- he deferred all the credit to them and gave them the utmost praise.

"All summer long, these three guys leading everybody in the weight room, you know, doing their plyos, flipping the tires, working the 7-on-7's, playing sports together...this is just an awesome effort," Fiore beamed. "I'm so proud of them, so I'm going to let them talk, because this is their night."

And with the spotlight, Covitz deferred to late assistant coach Mike Boyd, who passed away at 29 in July of 2009 to lung cancer, and nearly a year and half later is still fresh on the team's mind. A plaque of Boyd, who won two Super Bowls during his time at Reading, still hangs in the team's locker room.

"He never quit," Covitz said, still catching his breath. "Up until the day he died, he never quit. I always think about Coach Boyd. Even when I'm exhausted, and just want to pass out right on the field, you never quit on this team. You never want to quit on your family. You never quit on coaches."

And to say the least, Covitz's shoulder was to the wheel those last four minutes, as the Middies (8-4) had two more chances to score and were stopped on both. Keith Hamel took a zone read handoff 55 yards down the right sideline on the first play of the drive following Bourque's leap, giving the Middies first and 10 at the Reading 25 with over three and a half minutes to play. But Silva was stuffed up the middle by Covitz, and watched as a perfect pass over the middle was bobbled incomplete to set up fourth and 15. Coming off the edge of Silva's front side, Covitz ripped the outside arm of his blocker and planted Silva in the turf with a textbook form tackle.

A three-and-out by Reading (12-0) gave Dracut the ball again with a minute to go and a starting drive at its own 41. After two incompletions, Silva was planted squarely in the turf again from Covitz in the same fashion. Silva then threw an incompletion on fourth.

"I've got to tip my hat to Silva," Covitz said. "Silva's an amazing player, quick in the pocket, we tried to contain him all night. I just made my way outside, and just found my way to the quarterback."

Silva, who came into the game as one of the leading scorers in Eastern Mass with 12 rushing touchdowns and 26 touchdown passes (22 to his favorite target Chris Malonis), showed throughout the game why he is one of region's the toughest quarterbacks to bring down. While on other nights it was throwing his 170-pound frame around like it was 250, on this night it was his scrambling ability when flushed out of the pocker that made him such a threat. He ended up with 82 yards passing and 92 rushing, with two touchdown passes -- both to Malonis.

The master stroke came with 4:03 left in the ballgame, when he slipped to his left and threw an off-balanced floater off his back foot as he was backpedaling away from the blitzing Troy Jones. Malonis came back to the near left pylon and, with his arms calmly oustretched by his waist, hauled in the underthrown ball and just managed to get both feet inbounds.

Bourque (129 yards passing, 67 rushing) came roaring back with a gutsy game-winning drive that was, quite frankly, all in his hands. His first four plays were all short strikes to Sean Gildea and Connor Sheehan, before calling his number three straight times. On third and one from the Dracut 29, Bourque tossed another short sideline strike to Gildea. Three plays later, Bourque capped the 11-play drive with an eight-yard scamper up the middle, setting up the heroics on the point-after.


READING 15, DRACUT 14

DRA 0 7 0 7 --- 14
REA 7 0 0 8 --- 15

First Quarter
R - Larry Gilligan 37 run (Nick Scali kick) 7:19

Second Quarter
D - Chris Malonis 8 pass from Matt Silva (Silva kick) 5:50

Fourth Quarter
D - Malonis 17 pass from Silva (Silva kick) 8:40
R - Brian Bourque 7 run (Bourque kick) 4:03
October, 16, 2010
10/16/10
1:06
AM ET
By
Neil Carroll
| ESPNBoston.com
SUDBURY, Mass. -- On a wet and windy night at Lincoln-Sudbury Regional High School, the Reading Rockets improved to 6-0 on the season using the same methods they have all year: solid defense and a three-headed running attack.

Reading shut out Lincoln-Sudbury (3-3), 21-0, notching the team its third consecutive shut out.

"I thought that this was a trap game if there ever was one," said Reading head coach John Fiore after the win. "We played a pretty tough game coming into this game and we certainly got to them first but we were on the road with bad weather and stuff -- we're happy to get out of here tonight."

The Rockets spread the ball around on offense in the first half. Running back Larry Gilligan (11 carries, 66 yards, one touchdown) was the first to hammer away on the opening offensive possession but the drive finished off with a 21-yard touchdown run by Zack Bates (10 carries, 64 yards, one touchdown).

The next time the Rockets had the ball, they went right back at it.

This time, Bates and quarterback Brian Bourque carried the load, and the eight-play drive was capped off with a touchdown run by Gilligan from 14 yards out. On the night, only one other player besides Gilligan, Bates or Bourque touched the ball on offense for the Rockets.

After going up 14-0 in the first quarter, Reading's offense sputtered through the middle periods of the game, but Bourque eventually got things going again in the second half. He put the finishing touches on the game by running in a 60-yard quarterback draw in the fourth quarter.

"I think the kids had some tough floods in there and offensively we had some rough moments but we got it going late," said Fiore. "We got some people blocked in the fourth quarter and finished it off."

Bourque rushed the ball 18 times for 158 yards and one touchdown.

The L-S defense was plagued by injuries coming into the game, and moved around defensive lineman Zach Smerlas in an attempt to counter the right side of the Reading offensive line. Smerlas lined up on right tackle Jeff Covitz, but Reading ran wherever it pleased on the Warriors' defense.

L-S, however, did do a good job defending Reading's passing attack. Bourque was troubled by the defensive line and managed to complete two of 11 passes for six yards on the night.

The Warriors tried to mount a fourth-quarter comeback, as the rains calmed temporarily, but quarterback Matthew Cahill had some strange miscommunication with his wide receivers.

On a drive that he completed four of seven passes for 42 yards and seemed to be in rhythm, things suddenly went wrong for Cahill. With the ball on the 16-yard line, the quarterback was intercepted by Reading sophomore Greg Connery -- putting the comeback chances on hold.

However, L-S got another shot to score after its defense forced Reading to go three and out -- only to have Cahill intercepted again on the first play by safety Connor Sheehan. That turnover led to another Reading touchdown and ultimately sealed the Warriors' fate.

"The defensive line stops the runs and gets the pass rushed," said Bourque of Reading's defense. "They make the decisions that we have to react to so it starts up there for us on defense.

Reading now has put together an impressive 19-game win streak, dating back to its loss to Walpole in the Division 2 playoffs back in 2008.

"Is it that many?" questioned Reading head coach John Fiore when posed with the statistic. "I like to believe that they are only thinking about Belmont tomorrow morning but I am sure that there are times when the players think about being part of a pretty good three-year run. But it really doesn't matter, it's about next week now."

Bourque echoed coach Fiore's statement.

"We just take this season one game at a time," said the quarterback.

READING 21, LINCOLN-SUDBURY 0

Rea 14 0 0 7 --- 21
L-S 0 0 0 0 --- 0

First Quarter
R - Zack Bates 21 run (Nick Scali kick)
R - Larry Gilligan 14 run (Scali kick)

Fourth Quarter
R - Brian Bourque 60 run (Scali kick)
October, 11, 2010
10/11/10
2:14
PM ET
Another Monday, another wrap up of another stellar week of football. Here's a look back at the weekend that was, and what we've learned...
METHUEN'S OFFENSIVE LINE IS GOOD. LIKE, '97 BRONCOS GOOD.
"Best offensive line in the state," repeated Ryan Savastano to reporters, after marching his Methuen Rangers teammates to a 31-21 win over Chelmsford, to the tune of 223 yards on 32 carries.
Sometimes the o-line shoutouts can be a forced axiom grilled into a kid's head from the coaching staff --
mention the line, mention the line!
-- but in Methuen's case, these are far from canned quotes.
With quarterback Cal Carroll treading carefully with a hairline fracture on his left (non-throwing) thumb, the Rangers dialed up inside zone runs almost exclusively against their Merrimack Valley Large counterparts. The gameplan was methodical and pretty simplistic -- Savastano zone left, Savastano zone right, Carroll keeper, vertical pass, rinse and repeat -- and yet Chelmsford's vaunted defense, hailed by some as one of the state's best, struggled all night to put a helmet on the ball carrier on running plays.
Led by Steve DiZazzo and Dan Cormier on the left, and Sean Whittaker on the right, the senior-laden line has excelled in a zone-blocking scheme. With a linebacking corps as active at Chelmsford's, led by Zach Hayes and monster middleman Tim Joy, the Rangers often chipped off double-team blocks and accelerated downhill to drive the outside shoulder of a linebacker or defensive back away from the play. Sometimes, though, they simply pushed back the defensive linemen right into linebackers.
"I thought the o-line got some great push," Methuen head coach Pat Graham said. "It was probably tough for Tim (Joy), with the d-linemen getting knocked back into him a little bit, I'm sure it was tough for him to try and find the running back. Ryan's just a little guy, he's behind all those big guys, it's just tough to find him sometimes. But the big thing is our o-line got a great push up front."
Graham, one of the area's best coaching minds, has kept his quotes pretty vanilla and straightforward so far this season, to keep his players grounded and focused. But after a win as impressive as last Friday's, even Graham has to let out a sigh and a smile.
"Chelmsford's one of the best teams, year in and year out, in the state," he beamed. "It's a great feeling."
...ALL OF WHICH MAKES PLYMOUTH NORTH'S WEEK ONE WIN OVER THE RANGERS THAT MUCH MORE IMPRESSIVE
The Eagles, led by ice-in-his-veins running back Matt Walsh, are essentially a muffed two-point conversion attempt from being 4-1 and an ESPNBoston Top 25 team. In Week One, North held the Rangers to just one touchdown, and escaped with a 13-7 win thanks to a 70-yard Walsh touchdown run with four minutes and change to go.
Last Friday, it was Cody Merritt providing the spark, scoring three times (two rushing, one receiving) to lead the Eagles to an impressive 20-7 win over Bridgewater-Raynham.
Week by week, as the Rangers continue to pound away at the MVC's best and brightest, that is looking more and more intriguing.
JUST HOW GOOD IS ST. JOHN'S OF SHREWSBURY?
The No. 3 Pioneers lambasted cross-town rival Shrewsbury High, 52-7, their second straight week hanging half-a-hundred on the opposition. That brings their scoring margin through five games to 221-34, with a state-best average of 44.2 points per game.
A quick look inside the numbers:
Yards per game: 372.6
Yards allowed per game: 243
Points allowed per game: 6.8
Dan Light, Sr. QB: 48 carries, 426 yards, 8 TD; 44 of 77 passing, 935 yards, 15 TD, 3 INT
Richard Rodgers, Sr. WR/DE: 18 catches, 372 yards, 7 TD; 5 sacks
In Week Two, the Pioneers pasted Longmeadow, 37-8; the Lancers visited Catholic Memorial last Friday and beat them on a last-second field goal, 27-26. Two weeks ago, St. John's clobbered Fitchburg, 56-12, in the rain; last Friday, the Red Raiders almost beat Brockton, faltering in the fourth quarter.
We'll see just how good the Pioneers are this Saturday, when they travel to St. John's Prep to take on the No. 16 Eagles, and on October 30, when they host No. 1 Xaverian.
R-E-S-P-E-C-T
Akin to Aretha Franklin, or that old Adam Sandler album skit, Norton is just asking for a little of it these days.
"We didn't get shown much respect in our league and everyone thought Westwood was going to beat us," Lancers junior running back Zach Schweiger told correspondent Phil Perry on Friday. "Everyone thought their big running back [Sean Amaru] was going to do a whole bunch against us but we shut him down and executed on offense."
With a convincing 28-6 win over Westwood, the Lancers have certainly earned it, sitting at 5-0 and the prohibitive favorites to win the Tri-Valley League.
Norton stands a game ahead of Holliston, Medway and Westwood (all 4-1). Perhaps, more importantly, the Lancers now have recorded wins over Medway and Westwood with only an Oct. 22 date with the Panthers remaining on their slate.
ROUGH AND TUMBLE SOUTH SHORE
Speaking of potential Division IIIA playoff scenarios, it's anybody's guess which team will survive what has shaped up to be a very tough South Shore League.
Cohasset (5-0) remained unbeaten against another formerly unbeaten squad in an upstart East Bridgewater team Friday night behind Thomas Flibotte's 101 yards on 18 carries. Meanwhile, Rockland (28-0 win over Hull) and Abington (34-0 whitewashing of Carver) also improved to 5-0.
However, things at the top could sort themselves out pretty quickly as the Skippers host Rockland this weekend (Friday, 6 p.m.) and the Green Wave travels for a tough road game at Masphee (4-1, 1-1) Friday at 7 p.m.
All will be appointment viewing.
DOUBLE DRAGONS
The play of Duxbury quarterbacks Matt O'Keefe and Kane Haffey puts head coach Dave Maimaron in an enviable position every weekend.
Typically, O'Keefe and Haffey split time under center. They have combined for a .567 completion percentage and have both had success moving the ball down the field. On the season, O'Keefe has completed 31 of 48 pass attempts for 449 yards, seven touchdowns and one interception. Haffey has gone 37-of-72 for 490 yards, five touchdowns and one pick.
But Maimaron's depth at quarterback only helps when the injury bug comes calling.
When it became apparent Haffey wasn't going to be able to go in Friday's game at Quincy, there was no sweat calling upon O'Keefe to carry the load. The junior responded with a 242-passing yard performance and accounting for all of the Dragons' five touchdowns (four passing, one rushing).
HEAD OF THE CLASS
VALVOLINE PEAK PERFORMER OF THE WEEK: TYLER COPPOLA, SR. RB/DB, ST. JOHN'S PREP
What else is there to say after a performance as dynamic as Coppola's? Last Saturday against visiting Mount St. Joseph of Baltimore, the senior carried 19 times for 338 yards and five touchdowns, with all five of his scores coming on runs of 42 yards or more. Adding in return yardage, he finished the day with 473 all-purpose yards and a long ride home for the visiting Gaels. Yep, not a whole lot of hyperbole needed after this one, but with a day like that, credit is due to the Eagles' offensive line led by Nathan Cyr.
THE CLASSMATES
Brian Bourque, Sr. QB, Reading
- He totaled 183 yards of offense (135 passing) and four touchdowns as the Rockets cruised to a 42-0 beatdown of Wakefield.
Jonathan DiBiaso, Jr. QB, Everett
- The coach's son threw for six touchdown passes in the first half of a 42-7 win over Taunton, breaking two school records in the process -- passing touchdowns in a game and one half (himself, two weeks ago against Barnstable), and career touchdown passes (now at 34, breaking Matt Nuzzo's mark of 31 set earlier this millennium).
Chris Coady, Jr. RB/LB, BB&N
- Coady was omnipresent in the Knights' 33-28 win over Governor's Academy. He carried the ball 18 times for 86 yards and a score; caught three passes for 63 yards and a second score; made seven tackles on defense; and returned an interception to the house for a third and final score.
Dylan Colarusso, Sr. RB, Weymouth
- The hard-nosed Colarusso bulldozed his way to 220 rushing yards and two touchdowns as the Wildcats rolled to a 43-0 shutout of Dedham.
Alex Furtado, Sr. RB, Archbishop Williams
- Furtado led the Bishops with 236 yards and three touchdowns on 27 carries in a 32-22 win over Whittier Tech.
Matt O'Keefe, Jr. QB, Duxbury
- With injured quarterback Kane Haffey on the mend, O'Keefe stepped up and threw for 237 yards and five scores (four passing, one rushing) in the Green Dragons' 35-7 win over Quincy.
Trevon Offley, Sr. RB, Brockton
- The hard-running Offley ran for 217 yards and two scores in the Boxers' 27-20 win over regional rival Fitchburg.
Nate Robitaille, Sr. QB, Attleboro
- Another week, more heroics. This time, he carried the ball seven times for 132 yards and a score; and completed 10 of 26 passes for 178 yards and two scores, including the game-winner with time expired, as the Blue Bombardiers downed Foxborough, 26-24.
Ryan Savastano, Jr. RB, Methuen
- The diminutive Savastano carried the ball 32 times for 223 yards and two touchdowns in the Rangers' 31-21 win over Chelmsford.
Matt Silva, Sr. QB, Dracut
- In yet another shootout, this time a 45-35 win over Lowell and old coach Jeff Moore, Silva threw for 171 yards and two scores, and ran for 213 more and a third score.
Kenny Woods and Troy Salvatore, Sr. RB's, Walpole
- The two combined for 325 yards rushing and five touchdowns in the Rebels' 34-21 win over Braintree.
September, 2, 2010
9/02/10
7:12
PM ET
By
Brendan Hall
| ESPNBoston.com
READING, Mass. -- Suffice it to say it might take a few years for Reading High to replicate its magnificent run through 2009. The Rockets put on quite the display on both sides of the ball, outscoring the opposition 441-101 in their 13-0 Super Bowl championship run, with talent like Stan Andre, Tino Perrina and James Collins leading the charges.
So how do you follow that up? Don't think about it -- "We only have to worry about Cambridge (in week one) right now," head coach John Fiore said -- but follow their lead.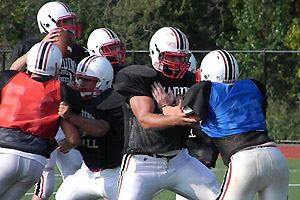 Courtesy of Brendan Hall Senior tackle Jeff Covitz, a returning league all-star, will shore up an offensive line with some new faces.
And this year's bunch was certainly taking notes in the summer of 2009, when players routinely worked out twice a day and always stayed on the field as long as they can, getting their route running and timing down as much as they could before the sun set. Senior quarterback Brian Bourque, for one, isn't resting on his laurels.
"You could always find someone to throw with on the field (last season)," Bourque said. "So this past season, we tried to do the same thing. We had a great turnout in the weight room, but we just need to keep it going, see where the season lies."
Says senior right tackle Jeff Covitz, a returning Middlesex All-Star, "Nothing's handed to us around here. We've got to earn it. You've got to work hard to get there."
If the Rockets sound a little bit cliche these days, don't take it personally. That's just the M.O. around Reading these days -- one day at a time, one game at a time, with every day another chance to improve -- and they're determined to prove to the rest of the Middlesex League that there won't be any dramatic drop-off from the glory of '09.
"I think there's a tremendous amount of pride," Fiore said. "I guess here's the distinction...the kids have alot of pride, and they want to retain the championship level. But, we also have to do that by having a realistic set of goals we've got to meet along the way, and then if we take care of that business early and at each stage, and build each stage, we should end up successful in some measurement."
In Bourque, the Rockets stand a good chance of replicating some of that success. The senior is in his first season under center, running the spread, after all these years backing up the bulldozing Andre (now a freshman linebacker at UMass). The rangy, 6-foot-4 Bourque played a key role in last year's offense as a wide receiver and defensive back, and he's still got the zip around the corner to complement a surprisingly fluid and tight throwing ability. Not only can he find his spots, he can turn a loss into a first down with his speed around the edges.
"He'll run between the tackles, but we'll put him out on the edge, too," Fiore said.
READING AT A GLANCE
2009:
13-0 (9-0 Middlesex), won Division 2 Super Bowl
Coach:
John Fiore (seventh year, 43-24 overall)
Players to watch:
Jeff Covitz, Sr., OL/DL, 6-2, 253 lbs; Brian Bourque, Sr., QB/CB, 6-4, 177 lbs; Sean Gildea, Sr., WR/SS, 6-1, 195 lbs; Nick Scali, Sr., WR/S, 5-9, 164 lbs; Anthony Fodera, Sr., OL/DL, 5-10, 224 lbs; Zack Bates, Jr., RB/LB, 5-6, 183 lbs; Brian Kelly, Sr., TE/DL, 5-11, 192 lbs.
Strengths:
Skill position players, team speed.
Weaknesses:
Inexperience at offensive and defensive lines.
Outlook:
The Rockets figure to slow down a bit after graduating one its most prolific offenses in years, but the philosophy remains the same. Whereas the bullish Stan Andre could get you five or six yards up the middle, newly-converted quarterback Brian Bourque is more of a classic dual-threat, able to put a soft touch on throws underneath and scramble around the corner when pressured. There's new faces in the trenches, but Fodera and Middlesex all-star Covitz are still anchoring the right side of the line and should be efficient once again. Defensively, the Rockets will remain an even front, but once again with all the new faces they will look to dictate with speed.