Boston High School:

Brian Carroll
May, 3, 2013
5/03/13
9:29
PM ET
By
John McGuirk
| ESPNBoston.com
NORTHBRIDGE, Mass. -- The way this contest was being played out, you had to figure a dramatic finish was waiting in the wings.

In a game filled with timely hitting on both sides, Northbridge junior Mike Ferraro delivered the biggest one of all at a most opportune time Friday afternoon.

In a tie game, with one out and Austin Young representing the winning run at second base in the bottom of the seventh inning, Ferraro drove an 0-2 pitch to right field for a single that plated Young and give the Rams an 8-7 triumph over SWCL rival Auburn.

"I was actually looking curve ball because (Rockets pitcher Tyler Lamonda) had thrown me one on the previous pitch," Ferraro said. "The next one he threw me was an outside fastball so I just tried to put it in play and was able to get enough of it for a single. This game just kept going back-and-forth. It was very intense but certainly a lot of fun."

The win improves Northbridge to 11-1, as it completes a series sweep over the Rockets (10-3), whom it defeated last month in the final of the Rocket Classic. Earlier in the week the Rams qualified for the post season for a 21st consecutive time.

"We fought our way through this thing," Rams coach John Demagian said. "We got some big hits today. These kids work their butts off so I'm really happy for them."

As expected between these two state juggernauts, this was a see-saw affair from the get-go.

Auburn jumped out to a 2-0 first inning lead on Zack Tower's two out, two-run double. But the Rams answered in the bottom of the frame. With two runners on, Tower, playing third base, fielded a ground ball but threw wildly to second in his attempts for the force out. The ball sailed into right field easily scoring Tyler Galimi, who singled. Moments later senior Matt Niejadlik scored from third as part of a double steal.

Northbridge (13 hits) went up 4-2 the following inning. Lamonda opened things by plunking Rob Fraser. Two outs later, Galimi, a junior, poked a single to left field. Fraser scored from second after left fielder Jason Vrusho's throw took a funny hop off the infield grass that rolled to the back stop. Taking second on the play, Galimi scored moments later on Niejadlik's line single to right. Once again, it appeared as though there would be a close play at the plate, but Drew Goodrich's throw hit the lip of the grass just in front of catcher Zach Clifford and changed direction prior to Galimi sliding across.

"We had a couple of things happen to us that were out of our control," said Rockets coach Eric Swedberg. "I felt we had two guys dead at home that inning but the ball hits the lip of the infield both times and bounces to the back stop."

Auburn got a run back in the third. Tyler Desjardins doubled deep to center off of Rams starting pitcher Brian Carroll and later scored on a fly out. Northbridge was able to re-gained its two-run cushion in the fourth with two out. Niejadlik walked and took second on a pass ball. One out later, the senior trotted home on Jake Ryan's single off of reliever Mike Vaitkunas.

Against a quality opponent like Auburn, no lead can be considered safe. Like Northbridge, the Rockets have solid hitters up and down its lineup. It showed in the fifth after scoring a pair to even things at 5-5. With two runners in scoring position, both crossed the plate following DJ Scavone's ground single to left.

But in the bottom half of the inning it was the Rams' turn at the plate. With a pair of base runners on, Galimi belted a two-run single to right allowing Northbridge to move ahead 7-5.

"We always know facing Auburn it's going to be a tough game," said Galimi, who finished 3-for-4 with 3 RBI. "It's always good to come out with a win. It gives us a lot of confidence to beat this team every year."

The lead would prove to be short short-lived however. In the top of the sixth, Auburn put two runners on with two out. Senior Joe Fahey followed by stroking a single to right off of Young, who replaced Carroll, scoring both and knotting things up at 7 apiece.

"Our guys were locked in and hit the ball on the nose today," said Swedberg, his team banging out 13 hits. "Today we focused on doing our present job and the task at hand. We weren't focusing so much on the score. That was our philosophy coming in."

The Rockets saw a golden opportunity to jump ahead in the top of the seventh fall by the wayside. After retiring the first two batters, Young ran into problems after issuing a pair of singles followed by a four pitch walk. But the sophomore righty tight-roped his way out of danger by inducing Vrusho to pop out on the first pitch he saw to squander the threat.

In the bottom of the frame however, the Rams managed to capitalized on their opportunity. Young led things off with a single and advanced to second on a sacrifice bunt. Ferraro next delivered his game-winning hit to set off a wild celebration once Young touched home.

"Auburn is a good team and I'm sure we will face them again (in the postseason)," said Demagian. "We can hit the ball. We certainly practice it enough. These kids have a lot of confidence in themselves right now. There is a lot of energy coming from that dug out."
November, 3, 2012
11/03/12
1:39
AM ET
By
Shawn Myrick
| ESPNBoston.com


SUDBURY, Mass. -- Three-year starter Christopher Giorgio has seen this Lincoln-Sudbury senior class grow from a few starters to what became a crucial part of a third-straight Dual County League (Large) division championship team last night.

In what has been a close rivalry the past five years, the No. 23 Warriors bested division rival Acton-Boxboro for the fourth straight time and cruised to a postseason berth with a commanding 21-3 victory at Myers Field.

"Starting off we did not have many (sophomore) starters," said Giorgio of his sophomore year. "A lot of [our success] had to doing with starting at a young age and having older kids that taught us leadership skills. We were ready to [defend] it again this year."

All three L-S (8-1, 3-0) touchdowns were scored by senior backs with the first two coming off a pair of two yard rushes by Giorgio at 7:02 and 1:47 respectively in the second quarter.

Junior backup quarterback Ben Colello caught a pitch from senior quarterback Henry Guild, faked the run, and hit a 10-yard pass to teammate senior Marquis Simmons to place the Warriors on the 26-yard line four minutes into the second quarter.

An eight-yard trap rush by senior Malik Layne on the next play put L-S in position for its first score.

"We stay low and keep the legs moving," Giorgio said. "Repetition [and] knowing what the defense's formats and strengths are."

After a 15-yard facemask penalty benefited L-S on its next possession, Guild broke a pair of sweep plays for 13 and 18 yards to set up Giorgio's second touchdown for a 14-0 lead.

A-B took four minutes and 11 plays to move 56 yards and put the ball on the Warriors' 14-yard line during its opening play of the second half. However a total of zero yards on its next three plays, forced the Colonials to let senior Jack Perry kick a 31-yard field goal.

Layne caught the edge on the final play of the third quarter and swept eight yards to bury the Colonials (6-3, 0-2) , with 21-3 touchdown.

"Henry [Guild] did a great job of orchestrating the offense," Warriors head coach Tom Lopez said. "We had pretty good balance on offense [and] we did it against a very good team."

Killer Turnovers
Turnovers and conversion failures stunted the Colonials' offense and set up two Warriors' scores.

Senior linebacker Dario Morando flew by the offensive line and grabbed senior Billy Jackman in the backfield to force a failed fourth and 1 attempt on A-B's 36-yard line at eight minutes in the second quarter to setup the first score.

Warriors senior Nick Deandrade grabbed a fumble off a botched sweep play the Colonials' 47-yard line at 4:03 to prompt the final scoring
drive.

"We moved the ball and then we would make a mistake and go the wrong way," A-B head coach Bill Maver said. "Execution and mistakes. I think that is what hurt us more than anything."

CARROLL'less, but Senior Laden
Malik Layne and Giorgio have stepped up the pass two weeks to fill the role of missing leading rusher and senior Brian Carroll, who is sidelined with a knee injury.

Layne rumbled for 87 yards and a touchdown on 14 carries to lead the Warriors in rushing, while his fellow senior, Giorgio, took 15 carries for 59 yards and two touchdowns.

"I keep telling people, 'We are doing this without Brian Carroll and it is unbelievable,'" said Lopez. "They have great balance and they are physically and mentally tough."

"We dedicate this season to [Carroll]," added Giorgio.

Not So Close This Time Around
The double-digit win last night by L-S is an oddity in a rivalry that has been predominantly a one-score game during the last five years. With A-B grabbing a 15-6 win in 2008, L-S has won four of the last five -- all by one score.

"The last two weeks have been tough," Lopez said. "We have not lost a DCL game in a long time. If we stay healthy, we are looking forward to another shot in the playoffs."

LINCOLN-SUDBURY 21, ACTON-BOXBOROUGH 3
A-B (6-3) 0 – 0 – 3 – 0 – 3
L-S (8-1) 0 – 14 – 0 - 7 – 21

LS – Chris Giorgio 2 run (Chris Roder kick)
LS – Giorgio 2 run (Roder kick)
AB – Jack Perry 31 field goal
LS – Malik Layne 8 run (Roder kick)
November, 29, 2011
11/29/11
11:19
PM ET
By
Mike Scandura
| ESPNBoston.com
TAUNTON, Mass. -- Any resemblance between the Lincoln-Sudbury team in the second half of Tuesday's Eastern Mass. Division IA semifinal game versus Barnstable and the Lincoln-Sudbury team in the first half was pure coincidence.
The Warriors were dead in the water in the first half as the Red Raiders built a 13-0 lead. But Lincoln-Sudbury rallied behind quarterback Matt Cahill and edged Barnstable, 14-13 – with all of the Warriors' points coming in the fourth quarter.
[+] Enlarge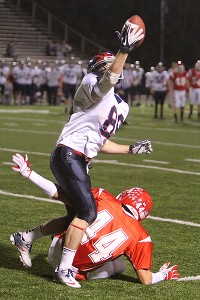 Eric Adler for ESPN.comJack Harris sparked the L-S comeback with several big grabs, including this one-hander.
Barnstable (7-5) was clinging to a 13-7 lead late in the fourth when it went for a first down on fourth-and-two from the Warriors' 6. But the Warriors slammed Hayden Murphy for a three-yard loss.
What transpired next was the stuff of legends as Cahill guided a 71-yard drive which culminated when he threw a 13-yard touchdown pass to Jack Harris with 2:19 remaining.
Will Twyman then kicked the second of his two PATs for what proved to be the winning point.
"Matt Cahill rebounded from a never-mind-the-first half and played a great second half," Warriors coach Tom Lopez said. "He's a great leader."
All Cahill did in the second half was complete 9-of-11 passes for 114 yards and two touchdowns.
Barnstable bolted to a 13-0 lead at halftime thanks to a 28-yard run by quarterback D.J. Crook late in the first quarter and a 30-yard touchdown pass by Crook to James Burke on the first play of the second.
"We thought we were making mistakes and that's why they were successful," Lopez said. "We thought we'd cut down on our mistakes. Having said that, we didn't play very well in the first half."
Lopez felt what was a momentum-shifter occurred in the third quarter.
"I think the key was when they stuffed us on fourth-and-two," Lopez said. "They went three-and-out and that gave us some confidence. All of a sudden the momentum changed."
Good point.
After Barnstable punted, the Warriors (11-1) reeled off a 93-yard drive that ended with Cahill's 11-yard touchdown pass to Harris.
What made the Warriors victory even more impressive was the fact the played all but a few minutes without one of their top players, Brian Carroll.
"We lost Brian Carroll on the second series (with a shoulder injury)," Lopez said. "He's basically been our whole offense. He had eight interceptions on defense and 800 yards rushing on offense.
"He's not in and Dan Cellucci, Greg Roder and Henry Guild all did a great job filling in. I couldn't be more proud of our kids."
LINCOLN-SUDBURY 14, BARNSTABLE 13
L-S (11-1) 0-0-0-14 - 14
Barnstable (7-5) 6-7-0-0 – 13
First quarter
B – D.J. Crook 28 run (kick failed)
Second quarter
B – James Burke 30 pass from Crook (Tom Mullen kick)
Fourth quarter
LS – Jack Harris 11 pass from Matt Cahill (Will Twyman kick)
LS - Harris 13 pass from Cahill (Twyman kick)
November, 5, 2011
11/05/11
1:34
AM ET
By
Corey J. Allen
| ESPNBoston.com



ACTON, Mass. -– Chris Giorgio led Lincoln-Sudbury to a close 21-14 win over league rival Acton-Boxborough last night with 10 carries for 40 yards and two touchdowns. The win keeps the Warriors on the undefeated (thus far) wall and pole position in the Dual County Small race.

"O-line played great today," said Giorgio after the game.

Giorgio scored his first touchdown with a leaping dive late in the first quarter over the bodies of offensive and defensive lineman on the grass as snow still piled up on the sidelines. The second, early in the second quarter, came after a three and out for A-B on the ensuing drive. Although Giorgio put the most points on the board, he still gave props to his teammates for producing their complimentary offense that allowed him to get space for his scores.

"Brian Carroll, Dan Cellucci ran the ball amazing, Henry Guild ran the ball, Jack Harris [caught] the ball well, Matt Cahill threw the ball well. I just ran it in easy," added Giorgio.

Cold as Ice: After last week's storm, the cold stayed in the area and as the game went along, so did the hard hits slow down. For the second week in a row, senior captain Kyle Ashley proved an alarming opponent with seven tackles, protecting the L-S end zone with as much fervor as he and the brethren could muster in near freezing temperatures.

"We knew that this was the game that… had the possibility to take us to the Super Bowl and we got it done and we're going to the playoffs," said Ashley.

Border Line Antagonist: Not only do the regional high schools of Acton-Boxborough and Lincoln-Sudbury exist within the same league but the towns of Acton and Boxborough sit above the towns of Lincoln and Sudbury geographically, so the need to show whose on top is there. According to Colonials coach Bill Maver, and exhibited by players in a close game picking each other up off the ground, the healthy rivalry is fierce during play, but dissipates once the whistle blows the ball dead.

"Tom [Lopez] is a great friend of mine. I want to beat him bad and I am sure he wants to beat me bad too," said Maver laughing. "After the game, we shake hands and we're friends. I think that's what's great about the rivalry."

Thin Edge: Late in the fourth quarter, Acton-Boxboro put together a sustained drive led by Kyle Sweeney with 46 yards on the series (112 on the day), but once they got down to the 20, on third and one, Chris Giorgio and William Twyman stuffed him for a two yard loss, and an incomplete pass to open space on fourth down killed the chance for the Colonials to take a game and slay the dragon. While it will go down in the history books as a win, it was not decisive in the eyes of L-S quarterback Matt Cahill; it was a game down to the last whistle.

"Acton came out and played and unbelievable game, they're an unbelievable team, a real class act," said senior quarterback Matt Cahill. "But at the end of the day, we were the ones on the right side of the score board, and that's a great feeling."

LINCOLN-SUDBURY 21, ACTON-BOXBOROUGH 14
LS (9-0, 3-0) 7 - 7 - 7 - 0 --– 21
AB (5-4, 1-1) 0 - 7 - 7 - 0 –-- 14

First Quarter
L – Chris Giorgio 6 run (William Twyman kick)

Second Quarter
L – Giorgio 3 run (Twyman kick)
A – Kyle Sweeney 6 pass from Ethan Dukes (Jack Perry kick)

Third Quarter
L – Dan Cellucci 33 pass from Matt Cahill (Twyman kick)
A – Billy Jackman 14 run (Perry kick)
October, 29, 2011
10/29/11
1:02
AM ET
By
Corey J. Allen
| ESPNBoston.com


SUDBURY, Mass. -- No. 13 Lincoln-Sudbury shut out Westford Academy in the second half of their 38-14 win.

The Warriors maintained their perfect season thus far (8-0, 2-0 2-0 DCL) as junior running back Christopher Giorgio ran for three touchdowns on the evening.

"First of all I give big credit to the O-linemen today, they made the holes really big and it was easy to run the ball," Giorgio said.

Giorgio and the rest of the offense amassed 280 yards on the ground last night.

Down 14-10 at the half after Westford's Justin Mount scored an 18-yard touchdown run up the gut of the Lincoln-Sudbury defense, Warriors head coach Tom Lopez did not panic because he saw a legitimate reason that his team was down and it was an easy fix – hold onto the ball.

"We gave them a short field two times," Lopez said. "We have to make them march. That was the key as we saw it. I don't think we punted during the day, so our offense was fine, but we can't give them the ball on our side of the field and expect the defense to hold them."

LOPEZ'S KEY DRIVE
Just before the half, the Westford Grey Ghosts (4-4) marched 48 yards to go ahead 14-10 after Brian Carroll fumbled the ball on the L-S 48. Carroll returned the kickoff nearly 60 yards, and despite a block in the back call on the play, the Warriors started on the Westford 47. Lincoln-Sudbury ate nearly five minutes off the clock and used seven of their most effective players on the drive, holding onto the ball and executing the way Lopez had expected them to.

"It changed the momentum of the game. The momentum of the game was definitely with them at 14-10… If they hold us, force us to punt, they control the ball while they have the lead it's a whole different game."

'DOUBLE COVERAGE' HARRIS



On three of L-S four scoring drives of the second half, John Harris caught passes of 18, 45 and 38 yards respectively, to bring his team within striking distance. Although he did not make it into the box score, Harris' catches surely made a world of difference in sealing the win for the Warriors. His teammates call him "Double Coverage" for his ability to snag balls at will and the need for defenses to put more than one player on him to stop his terror in the secondary.

"We're a run-first team… but when we got into spots, third and short, third and long, we have to go to the air, [quarterback] Matt [Cahill]'s able to make reads on the coverage… makes a good call and we can beet them deep."

A LITTLE OLDER, HEALING WOUNDS



The first two games of the season saw senior captain Kyle Ashley on the sidelines due to an elbow injury. As a three-year starter, Lopez noted that the team would miss Ashley. But with the team rolling as they are, Ashley's offseason workout that kept him in shape allowed him to play out the whole game on this cold New England night without any serious issues. With 27 seniors, compared to Westford's 11, the core of the Warriors team, led by Ashley, know how to tough out a cold game and bring home the W.

"We all knew to lead by example and just leave everything on the field because it's our last season and we don't want to lose it."

Westford Academy (4-4) - 7 7 0 0 -- 14
Lincoln-Sudbury (8-0) - 0 10 14 14 -- 38



1st Quarter
W – Alex Eaton 1 run (Alex Locker kick)

2nd Quarter
L – Daniel Cellucci 24 pass from Matthew Cahill (William Twyman kick)
L – Twyman 28 yard field goal
W – Justin Mount 18 run (Locker kick)

3rd Quarter
L – Christopher Giorgio 1 run (Twyman kick)
L – Brian Carroll 9 run (Twyman kick)

4th Quarter
L – Giorgio 6 run (Twyman kick)
L – Giorgio 30 run (Twyman kick)
August, 24, 2011
8/24/11
11:45
PM ET
By
Corey J. Allen
| ESPNBoston.com
Losing is never an easy thing and losing a playoff game is tough. Getting shut out at home in the playoffs could be potentially grueling.

But Lincoln-Sudbury football head coach Tom Lopez, he's a different kind of guy.

"Hopefully we can pick up on some of the positive enthusiasm we ended with last year," said Lopez of his team's 21-0 loss at the hands of the Super Bowl champions Gloucester. "That was to be expected. They were 11-0 coming into the game, we were coming off of a 5-6 season and realistically, they were better than us. I told the guys, if we had played them 10 times we probably would have lost ten times. Usually, I'd say if we play somebody 10 times, we could lose nine and win one, with Gloucester I don't know if we would."

When asked why his team would not have won one of the contests, Lopez did not hesitate - his team was simply outmuscled.

"Basically, the difference between us and Gloucester, was from tight end, to the other tackle," Lopez said. "We weren't tough, and Gloucester was just moving us off the ball. We'd move the ball a little bit, get a five-yard penalty or a holding call and we couldn't make up the penalty. Gloucester would have a 10-yard holding penalty and they'd still make the first down."

The feeling wasn't so settling for returning senior captain Kyle Ashley.

"I had that bitter taste in my mouth from losing to Gloucester, having them doing their fight song on our field after not scoring a point was really disappointing."

Ashley, the team's starting center, will miss the first few weeks of game play because of an elbow injury, but Lopez has a number of players that he is confident can get the ball back to senior quarterback Matthew Cahill.

While the Warriors have a senior-heavy team (30), they also have 22 juniors, but two standout for coach Lopez: Brian Carroll and Chris Giorgio.

"They were sophomores and the only kids that went both ways last year," said Lopez. "This, with a junior class last year of 8 kids who had started as sophomores. Giorgio and Carroll, week in and week out, every down, went both ways."

Lopez said that while the senior class is very talented, Carroll and Giorgio are still exceptional, and they haven't limited their skills to just football.

During the offseason, Giorgio played on the L-S lacrosse team that surprised everyone by making it into the playoffs. While the boys' lacrosse team bowed out to St. John's Prep in the quarterfinals of the D1 tournament, like the football team, the lacrosse squad's run was an improbable one.

Carroll, on the other hand, played for the state championship baseball team. Lopez attributed the winning that swept across the school as a "good cycle", but Carroll sees it as more of a byproduct of the school's coaching staffs and players working together.

"We have a number of athletes that go out for several sports and our athletic department is good about staying on guys, keeping us in shape to make sure that we can be competitive in all sports," Carroll said.

Lopez said that he will still run the Wing-T offense this year, but with his dynamic backers a constant threat out of the backfield and talented skill players lined up outside of the tackles, he will look to open up the field and bet on the house.

"With guys like Carroll, Giorgio, [running back Dan] Cellucci, [receiver John] Harris and Cahill, that a can make people miss in the open field, we are going to make teams play in spaces," added Lopez, who admitted that the Wing-T has been his meat and potatoes for years.

But with the personnel that he's got, it might be time to open up the Warriors offense more regularly. Last year, the Warriors were not expected to win the Dual County Large, so now that they are the team favored to take it, Lopez wants to makes sure that teams do not get comfortable with his sets and that he gives his players the best possible chance to win games with their play .

"If they are going to try and cover the other guys with a linebacker and a strong safety, that's going to be to our advantage. I like the advantage of our kids one on one."
June, 18, 2011
6/18/11
11:57
PM ET
By
Corey J. Allen
| ESPNBoston.com




LYNN, Mass. -- Keith Anderson is a big boy at 6-foot-3 and 200 pounds, but today he was Orca big for his team.

He opened up the offense for the Lincoln-Sudbury Warriors with a drop-in to center field to spark a seven-run second inning. On the flip side, he made a potentially game-altering snag with the bases loaded to end the fourth inning, leading L-S (24-4) to its third state championship in seven years with a 10-2 win over Minnechaug.

"I was just trying to the offense going," Anderson said of his shallow center chip that turned into more than he had imagined. "I was just thinking that it was going to drop in front of him, but as I got to first, I saw that it was past him so I just took second base."

Anderson did not consider the ball being caught, although he admitted that upon reflection had the ball been dove for, the game could have had a different outcome, but the ball fell in, he took and extra base and the rest is history.

"No one has hit the ball better than Keith in this tournament," said Lincoln-Sudbury head coach Kirk Fredericks. "Earlier in the tournament, he scooped a ball that saved us a couple of runs. He has turned himself into a really good player."

Juniors Ricky Antonellis and Ryan Bassinger smacked grounders into left field, respectively, after Anderson got the team going, the second knocking in Anderson. The next batter, junior Matt Cahill, executed a bunt down the third baseline that kept the inning going for the Warriors, a part of their game that was not so heralded early in the year, but something that Fredericks has had the team work on during the season just for situations like this.

"Kids don't practice bunting in the offseason, so we worked on it during the season," said Fredericks. "Knowing that the last two years when we lost in the north semifinals, we lost because we couldn't hit, so if you can't hit you've got to get on base somehow and bunting is one of the options."

With the bases now loaded, sophomore Brian Carroll smacked a shot to the third baseman, who dove to make the catch, but unfortunately made one of the Falcons' three errors in the second inning, overthrowing the second baseman after, and allowing L-S to tally another five runs.

SOLID SECOND OPTION

Scoreless in the second, the Falcons (15-11) capitalized on opportunities given them as L-S senior righthander Adam Ravenelle walked four straight batters. He gathered himself and struck out clean-up hitter Matthew Warren, then gave up a right field pop fly to Kevin Sugermeyer that yielded the second and last run of the game for the Falcons.

Kevin Baker fanned for the second time to end the inning, but after Kevin White drove one into dead center in the top of the fourth, Fredericks pulled the plug on Ravenelle on brought in Matt McGavick who allowed two hits during his four innings on the mound.

"I knew I had my team behind me and they have been all year," said Ravenelle. "I have the utmost faith that they'll pick it up when I'm not at my best."

Like Ravanelle, McGavick walked the bases loaded, and was unsure how things would turn out, as he usually comes into the game during either the seventh or eighth inning, but the fielding of Keith Anderson was all that he needed, as he snatched a line drive that would have rolled into shallow right, potentially scoring two runs. A five-run lead is much easier to pitch with than a three-run lead and McGavick was appreciative of the defensive support he received from Anderson and the rest of the Warriors.

"That catch by Keith Anderson the first inning I was in really got me going and gave me confidence to keep throwing the ball in there, pitching strikes knowing that my defense would be there to back me up," said McGavick.

THIS IS NOT HOW WE GOT HERE…

Although it was a long ride from Main Street in Wilbraham, Minnechaug coach Erik Mandell did not recognize the play that he saw in the field from his team and did not yank his pitcher, or scream at his players, but let them know that he expected to see them making the little plays that made the big differences in the game, such as the one Anderson made two innings later to potentially save the game.

"Baseball is a game of inches," said Mandell. "And to get here, we've had to make a number of plays like that one on first base just to get here. A few inches to the left, a few inches to the right, it may be a different ball game… but I told my guys they needed to make those plays."

Despite giving up 10 runs, Mandell stuck through the eighth inning with his starting pitcher, Gregory Heineman, because he felt he was pitching a good game.

"We needed to be better on defense, we had one particularly bad inning, and overall we weren't as sharp as we needed to be, but I don't think that Greg pitched poorly. On top of that, they're a good ball club."
June, 16, 2011
6/16/11
1:49
AM ET
By
Brendan Hall
| ESPNBoston.com



LOWELL, Mass. -- The clock has finally struck midnight on Franklin's magical, even Cinderella-ish run through the Division 1 tournament.

Lincoln-Sudbury's bats struck often and early, to the tune of 20 total hits, as they cruised to a 16-2 win over the Panthers (16-9) at Alumni Field to make their third state final appearance in seven seasons.

The Warriors (23-4) will face Western Mass champion Minnechaug -- themselves a surprise contender, entering the postseason a No. 10 seed at 10-10 but winning five straight -- Saturday at Lynn's Fraser Field for the state title.

"We hit the ball very well," L-S head coach Kirk Fredericks said. "We took advantage of and used a lot of the things we practice all the time, to get up on them and work some things in, which is great."

L-S wasted little time getting on the scoreboard in the top of the first inning, with senior catcher Mike Barry (2 for 4, four RBI) driving in Carl Anderson with a sacrifice fly to left field out of the cleanup spot. Keith Anderson (3 for 4, three RBI) and Ricky Antonellis (2 for 4) each drove in a run in the next two at bats to make it 3-0.

Then in the fourth, already ahead 5-0, the Warriors exploded for five more to blow this thing wide open, with Keith Anderson, Ryan Bassinger and Barry all driving in runs. Barry then made it 12-0 in the fifth, blasting an 0-2 curveball over left.

"I thought they were going to throw me a curveball, and I guess I got a good piece of it," Barry said.

Said Fredericks of Barry, "Michael's been struggling a little bit when we've been taking batting practice, I was concerned that his technique was a little off. But in games, he brings it right home." Asked to elaborate on what techniques, Fredericks simply said, "That's between Michael and myself."

The Warriors beat Worcester Tech for the Division 2 title in 2005, and Algonquin two seasons later for the D1 crown. Based on a snapshot of tonight, one has to like their chances for a third title.

Like the Panthers one day earlier in their walkoff win over Xaverian for the South crown, L-S demonstrated mature plate instincts, balance patience and aggression at the right times. Adam Ravenelle, Dan Cellucci and Brian Carroll (two RBI) also drove in runs to help the effort.

All of it made the job for its starter, Bryant-bound senior lefty Carl Anderson, that much more comfortable. In five innings of work, he Anderson struck out four batters, allowed four hits and gave up one earned run. Five pitchers combined for the final four innings of relief.

"I don't think Carl will tell you, but I'm sure he's sore," Fredericks said. "He had to pitch on three days' rest during the tournament, through five innings...And I'd betcha if we're in the state championship and we need another inning or two, he'd come on too. So, Carl has been an awesome player at Lincoln-Sudbury, and he'll continue to be until the end."

After such a dramatic win less than 24 hours earlier, Franklin head coach Dave Niro's fears of a day-after letdown came true.

"It's tough to get up two days in a row," Niro said. "We're coming off a big emotional win yesterday. I could tell on the bus ride up that we're gonna come out flat. The guys usually have a lot of energy coming to games, they're usually pretty loose. But today [it] was real quiet on the bus ride up, and I kinda thought we didn't have much energy left."

Surely, the Panthers were without key arms used in yesterday's win, leaving junior lefty Tyler Buck with the start after throwing 166 pitches in his start in last week's D1 South quarterfinals against BC High, a 17-6 win. Buck was knocked out of the game with one out in the third, with the score already well in hand at 8-0.

"I don't know if they [the team] knew that, but I knew that," Fredericks said when asked about Buck's 166-pitch start. "And as the rain kept coming and moving games back, it worked to our disadvantage, because it gives him more rest.

"But I talked to BC High, who played them, and got a pretty good scouting report on what he had, and what to do against him. Our kids executed, and did a great job."



June, 13, 2011
6/13/11
10:17
PM ET
By
Andy Smith
| ESPNBoston.com


LOWELL, Mass. -- Shutouts are far from rare in high school baseball. To shutout a team twice in one season? Possible.

But to shutout a team three times in one season? Especially when that team beat Lowell, previously-undefeated Lexington, and Lawrence to get to the sectional final? That is very difficult.

Lincoln-Sudbury did it Monday, however, with a 7-0 victory over Dual County League foe Acton-Boxborough at Alumni Field. L-S outscored A-B 30-0 over the three games they have played this season.

Of course, it is easier when you have Adam Ravenelle, the hard-throwing New York Yankee draftee, on the mound. The right-hander, who pitched in the previous two shut-outs for L-S, pitched six innings of one-hit baseball, striking out eight and surrendering three walks.

"I felt good today, it's been a while since I've felt good with both my fastball and my curveball," Ravenelle said. "It's definitely a good time for that to come out."

"Usually my strikeout pitch is my curveball, but today it was the fastball. I set it up with the curveball, and I guess they were still looking for it and I just kind of froze them with the fastball."

With the win, L-S (22-2) moves on to play the winner of the D1 South Final, either Xaverian or Franklin, on Wednesday for the right to play for the Division 1 State Championship.

L-S knows that game will be a challenge, regardless of who they play.

"We have two teams left that we've played," L-S coach Kirk Fredericks said. "Xaverian we played and lost 4-0. They're a good, scrappy team, very well-coached. Franklin we played in the MetroWest Classic Championship game. They hit the ball well and have five or six pitchers that throw the ball as good as any of our guys. We fully expect it to be a war on Wednesday."



Even though he didn't let a runner past second base in his six innings of work, it was predetermined that Ravenelle would exit the game when he did. An A-B (18-6) runner did not make it past second base the entire game.

"We decided that we'd probably throw him about five innings today, regardless of the score," said Fredericks. "He said he wanted to go one more, so we left him out there for one more."

A-B's Tyler Dickinson was moving along smoothly on the mound until the third inning when he surrendered back-to-back singles to Matt Cahill and Brian Carroll. Then he walked Dan Cellucci to load the bases. He struck out Carl Anderson for the second out of the inning, but gave up back-to-back singles to Ravenelle and Michael Berry that scored all three runners.

L-S struck again in the fifth with four runs on three hits in a walk, which included a two-run triple by Anderson that was made possible when the A-B leftfielder dove to try to catch the ball, but he missed, which allowed it to roll all the way to the wall.

"That's baseball," said A-B coach Patrick Grucela. "That was two phenomenal teams playing a game. We've talked all season that big innings are the curse and they got one three-run inning and one four-run inning when things didn't quite go our way and that was the difference in the game."

L-S got great production from Cahill and Carroll, their No. 8 and 9 hitters, who each went 3-for-4 in the game. It will need that if it hopes to advance to the State Championship game.

"Everyone takes their turn, and when we can put it together we're a tough team," Fredericks said.


November, 8, 2010
11/08/10
1:54
PM ET
WARRIORS CAME OUT TO PLAY
Lincoln-Sudbury's success might have come a year earlier than expected.
Pitted against Dual Country League (Large) rival Acton-Boxborough and the Colonials' stout defense, a young Warrior team claimed their own destiny with a 10-7 win on Senior Night in Sudbury.
L-S has only two seniors starting on either side of the ball (Benjamin Forman, Zach Smerlas, Lawrence Stevenson and Ryan Swoyer) and relies heavily on its strong junior class. The Warriors also received key contributions from a couple of sophomores in the victory over A-B. Running back Christopher Georgio punched in the Warriors' lone touchdown of the game. In addition, fellow second-year player Brian Carroll pocketed a key fourth-quarter interception along with a strong contribution in the running game with nine carries for 72 yards.
Clearly, L-S has come a long way in a short period of time.
"I never thought we'd be at this point," Warriors head coach Tom Lopez told Scott Barboza after the game, "especially after that loss to Tewksbury at home."
From that point on, L-S strung together three straight wins before hitting a couple bumps in the road with losses coming at Concord-Carlisle and at home to Reading. The Warriors righted their ship with league wins over Waltham and Westford to put themselves in position for the big matchup with A-B.
L-S still needs to win one game over Boston Latin or on Thanksgiving against Newton South to sew up the DCL crown.
"We just need to keep things rolling," senior running back Marc Pace said. "All we need to do is win."
THANKSGIVING CORNUCOPIA
It's not that far away (heck, you can ever hear Christmas music round some parts) to start thinking about Thanksgiving. And, if all holds true to form, here's a smattering of holiday traditions around Eastern Mass. that could have a greater significance this year:
Walpole at Weymouth: It has no bearing on either team's postseason destiny, but both sides would like nothing better than to disrupt the other side's potential run at a perfect regular-season slate.
St. John's Prep at Xaverian: Provided neither team is upset this weekend, Turkey Day is shaping up to be a winner-takes-all contest for the Catholic Conference.
Dracut at Methuen: This one should be entertaining nonetheless and expect there to be plenty of points on the board when all is said and done. In addition, it could decide which team moves on from the Merricmack Valley Small.
Lowell Catholic at Pope John: The winner of the Catholic Central Small clash could be headed to the Division IV-A playoffs.
Abington at Whitman-Hanson: Worth noting that it is the 100th anniversary of the rivalry.
FOR ALL THE MARBLES … ONCE AGAIN
OK, so we thought the battle of Somerset and Martha's Vineyard was the Eastern Athletic Championship game, but who saw Bishop Feehan getting into the fray this late into the season? Although the Shamrocks are 4-5 overall, they are 3-0 in the EAC, thus staging the league's second in-season Super Bowl Friday in Somerset.
HOLLISTON CAN'T WAIT FOR ITS REMATCH WITH MEDWAY; DITTO MEDWAY, VICE-VERSA
The Medway Mustangs couldn't help but feel overjoyed when the final seconds ticked off on their 28-18 victory over Norton, to send them to Saturday night's Tri-Valley League championship game. So, too, was Holliston, no doubt licking its chops since the Mustangs shocked the region with a 28-16 upset back in early October.
"This is the matchup they've been waiting for since October 1," Holliston coach Todd Kiley told ESPNBoston's Brendan Hall. "We haven't overlooked anybody by any stretch, but you know it's in the back of their minds, they're kids of course. So we're fired up for that. I think they were secretly rooting for Medway today."
BRIDGEWATER-RAYNHAM IS STILL THE CLASS OF THE OLD COLONY
The Trojans' gameplan last Friday night against Barnstable was classic Dan Buron. The B-R coach is known for always having great run blocking out of power formations, and in this particular matchup he used it to set up play action waggles that kept the young Red Raiders defenders on their feet. Quarterback Billy Zolga completed his first seven passes, as the Trojans burst out to a 35-6 halftime lead.
"I thought it was very important (to keep them honest with the pass), because they were creeping up on us," Buron said. "I thought there were two passes in particular -- one to Delullis and one to (Branden) Morin where they had it covered and those kids slid, and Billy was poised and threw a nice ball...I thought Billy showed alot of poise tonight."
Zolga, also starting in the secondary that night to combat the Raiders' talented receiving corps, essentially sealed it in the fourth quarter with a pick-six of a D.J. Crook pass over the middle, essentially wrapping up the Old Colony League title for the second straight year. Even if the Trojans were to lose this week to Taunton, they're in based on head-to-head with Barnstable.
In other words, the road to Gillette still goes through Bridgewater.
HEAD OF THE CLASS
VALVOLINE PEAK PERFORMER OF THE WEEK: ANDREW COKE, ANDOVER
The junior running back was at it once again for the Golden Warriors, carrying the ball 30 times for a season-high 290 yards and all five touchdowns in a 36-20 win over Billerica to improve to 6-3. That gives Coke four 200-yard games on the season, and 1,447 yards in nine games this year, averaging 6.5 yards a carry. In all but two games this season, Coke has run for at least 130 yards.
THE CLASSMATES
Ray Holloway, Sr. RB, East Longmeadow - He was a dominant force for the Spartans in their 27-3 win over Springfield Putnam, rushing for 225 yards and three scores to keep EL undefeated.
Isaiah Jones, Sr. RB, Mahar: Needed only six carries to rack up 200 yards and four touchdowns against Turners Falls.
Mike Mercadante, Sr. RB, Minnechaug - Western Mass.'s leading rusher went off for 232 yards and two scores as the Falcons toppled Agawam, 41-20.
T.J. Norris, Jr. RB, Longmeadow: Led the Lancers to a 39-24 win over Westfield with 16 carries for 235 yards and three touchdowns.
Jaron Spear, Sr. TB, Somerset: Not be outdone by Jones, Spear's line from Friday night: Four touches, 172 yards, four touchdowns.
Mitch Temple, Sr. QB, Weymouth - Threw for 260 yards and three touchdowns in the Wildcats' 42-0 shutout of Wellesley, which clinched them a berth in the Division 1A playoffs.
November, 6, 2010
11/06/10
1:43
AM ET


SUDBURY, Mass. -– There traditionally hasn't been much margin for error in the classics between Dual County League rivals Acton-Boxborough and Lincoln-Sudbury. But it was one of the youngest additions to the age old rivalry that helped the Warriors preserve a 10-7 win over the 24th-ranked Colonials Friday night in Sudbury.

L-S sophomore Brian Carroll pocketed a clutch fourth-quarter interception, along with some key rushes in his nine-carry, 72-yard performance. Coupled with quarterback Matt Cahill's (8 of 11, 128 yards) efficient contributions in the passing game, a rushing touchdown from Chrstopher Giorgio and a fourth-quarter field goal from William Twyman, the young Warriors have shown they've done a lot of growing up in a hurry.

"It shows how far we've come and we're playing real well right now," Carroll said.

And L-S (6-3, 3-0 DCL Large) has just so happened to play themselves into playoff contention in the process.

With the win over A-B (7-2, 2-1), the Warriors control their destiny in the DCL Large with a game in hand over the Colonials and Westford, which each have losses to L-S on their records. In its wins over the Grey Ghosts and A-B in back-to-back weeks, L-S hasn't had a whole lot of wiggle room, winning both games by three-point margins.

The Warriors need only to win one of their remaining games with Boston Latin and Newton South to become DCL Large champions.

With just two seniors starting on either side of the ball, it has made the ride all that much more improbable.

"I couldn't be happier," L-S head coach Tom Lopez said. "I never thought we'd be at this point right now, especially after that first loss to Tewksbury."

The Colonials entered the game have allowed opponents under six point per game on average, led by senior linebacker Eric Apgar (two sacks), but the Warriors were on the board first with Giorgio's 12-yard touchdown with 1:45 to play in the first quarter. The rushing score capped off an impressive four-play drive which started on the L-S 40-yard line. Three big plays of 20-plus yards (a Carroll run, a Cahill pass to John Harris and a Cahill keeper) set up the game's first score.

The Warriors chipped away at the A-B defense, but was unable to knock one into the end zone on a goal-to-go situation midway through the fourth quarter. L-S settled for a field goal try, which Twyman drove through the uprights from 18 yards out.

It would prove to be the game-winner.

The Colonials had moved into Warrior territory on the ensuing drive before Carroll picked off a Mike Morris pass at the L-S 7-yard line.

"I was in deep coverage, but I was just reading the quarterback's eyes," Carroll said. "I made a jump on it and I got there in time."

A-B forced the Warriors three and out and translated the late stop into its lone score. Morris hit Billy Jackman on a 9-yard touchdown pass with 2:05 remaining in the game.

After L-S recovered the Colonials' onside kick attempt, a 33-yard run by Carroll is all the Warriors would need to ice the win.

"We've got to get him the ball more," a smiling Lopez said of Carroll.

Acton-Boxborough 0 0 0 7 -- 7
Lincoln-Sudbury 7 0 0 3 -- 10

First quarter
L-S Christopher Giorgio 12-yard run (Will Twyman kick)

Fourth quarter
L-S Will Twyman 18-yard field goal
A-B Billy Jackman 10-yard pass from Mike Morris (Jack Perry kick)