Boston High School:

Brian McGoff
December, 19, 2010
12/19/10
2:16
PM ET
ARLINGTON, Mass. -- For a while, it looked as though No. 10 Archbishop Williams would have the last laugh over No. 4 Arlington Catholic, holding the Cougars scoreless over two-plus periods. Before Saturday night's game at Veterans Memorial Skating Rink, Arlington Catholic hoisted to the rafters a banner commemorating last year's Division 1 state title win, which also came over the Bishops.
So was a little revenge in the cards? Not so.
The Cougars had to battle back from two one-goal deficits and didn't hold the lead until the final two minutes of play, with Dan Graham's marker making the difference in a 3-2 win over their Catholic Central rival.
The Bishops (0-1-0, 0-1-0) took an early lead on Ryan Dunn's power-play goal assisted by Mike Thiesing in the first period. Sophomore Brian Nazzaro made Dunn's goal stand up, keeping the Cougars (1-0-0, 1-0-0) off the board through the first 30 minutes of play.
Arlington Catholic finally got on the board 2:38 into the third on Christopher Sadler's strike set up by Brendon O'Connell and William Cooke. The Bishops quickly regained the lead on Mike Sorenti's tally with their second goal of the evening on the power play.
However, some undisciplined play would have the Bishops shorthanded less than a minute later and the Cougars broke through on the man-advantage. Jon Byrne redirected Brian McCoff's blast from the point to tie the score, 2-2. Cooke also added his second assist on the play.
Arlington Catholic seized the momentum, with Graham tallying the game-winner on a pretty set up from Shaun Teeven. Graham buried the one-timer top shelf on the play that was set in motion by a good outlet pass by defenseman Matthew Dee.
Here's a couple of passing thoughts from the rematch between old rivals:
It's no secret that the team Arlington Catholic returns this season is much different from last year's squad. But Cougars head coach Dan Shine was encouraged by his young team's resiliency exhibited during their season opener. Although they might not have played their best game, it's very early in the season and the Cougars showed mettle when it mattered most. "Replacing 17 players is an enormous task," Shine said. "In a game like this, coming back to from a goal down, coming back and scoring late goals in the game to win is a huge confidence booster. And that's what we were hoping to get out of tonight."
The area where Arlington Catholic's roster has seen the greatest turnover is on the blue line. All six of the Cougars' D-men graduated last year. That has provided an opportunity for Cooke and McGoff, two transfer students, to seize the job comprising the Cougars' top pairing. Through the first game, both showed good discipline on the power play, maintaining space and creating shooting lanes. That paid off handsomely with Byrne's power-play goal that tied the game, 2-2. "I think our defense played well," Shine said. "They played a lot in the end, they were real steady. And again, they're learning every day."
Archies finds itself in much the same situation as Arlington Catholic this season. Bishops head coach Derackk Curtis estimated that 90 percent of his roster was playing in their first varsity game Saturday. "Overall, I'm pretty happy with the way we played," Curtis said. "We didn't finish, we have to finish. I thought overall our compete level was there."
December, 15, 2010
12/15/10
2:52
PM ET
ARLINGTON, Mass. – Come Saturday, another banner will hang in the corner of Arlington's Veterans Memorial Skating Rink. The banner will forever honor Arlington Catholic's victory over Archbishop Williams for the Division 1 state hockey championship last year.
While Saturday will prove to be a memorable day for the returning members of last year's Cougars squad – it's also fitting their opponent for the season opener is none other than Archies – as soon as the ceremony's over and the puck drops, No. 4 AC will be off to a new year.
[+] Enlarge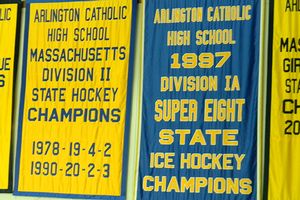 Scott Barboza/ESPN Boston.comArlington Catholic will hang another state championship banner on Saturday when it opens against Catholic Central rival Archbishop Williams.
"There's only four of us left from last year's team, so we're really turning over a new page," senior goaltender John Busa said. "But everybody's really positive this year. We know if we stick to the system and play the way we need to play, we'll be fine."
The Cougars are without 17 players off last year's roster, between graduation and prep and junior defections after their 14-7-4 campaign.
However, there's a positive vibe in camp.
"The most encouraging thing is that we've had a really terrific two and a half weeks of practice now," AC head coach Dan Shine said. "We've got a lot of young kids, but they're very excited about being part of this team. They want to carry on the AC tradition.
"But the most important thing I've seen is their work ethic, it's really been outstanding."
The Cougars return a couple of key contributors up front in senior captains Dan Graham and Shaun Teeven. Shine is also looking for junior right winger Jon Byrne to step up to the top line.
Jamey Conley will anchor the blue-liners, but will miss the first couple weeks of the season because of a broken pinkie finger sustained during the Cougars' Thanksgiving Day football game. William Cooke and Brian McGoff will also log plenty of minutes on D.
On paper, AC's biggest change will come in net after the graduation of Cam Kelley, who spear-headed the Cougars' charge with sublime play in March. However, Busa saw action in 11 of 25 games last year and is more than capable of seizing the reins as the workhorse.
"As great as Cam [Kelley] was in the tournament, it took him a little while to get going during the season," Shine said. "Thank God we had John Busa last year. He was very reliable for us."
While the Cougars might not have the flash they had last year, they buy into Shine's philosophy and are making all the little things — like sound team defense — a priority.
"It's simple," Graham said, "we just need to work hard. We might not have the overall talent level that we had last year, but this team has a great work ethic. We'll put in some serious hours on the ice and hopefully we'll improve as the year goes on."
Last year marked Shine's third state title in his 32-year tenure. It was the Cougars' first at the Division 1 level (they won the D-2 title in 1990 and the Super 8 in 1997).
AC isn't selling itself short either. A common theme through the ranks was not settling for Division 1 glory, their eyes are fixed higher this year.
"We'd like to go to the Super 8, not the state title" Busa said.
Teeven added, "We've already got a ring, so we want a little bit more this time."
ARLINGTON CATHOLIC AT A GLANCE
2009-10:
14-7-4 (Division 1 state champions)
Head Coach:
Dan Shine, 32nd season
Players to watch:
F Shaun Teeven, F Dan Graham, G John Busa
The skinny:
This Courgars team might have the flare of last year's squad, but they're committed to Shine's system. "Last year, we played at a fast pace and really got after it," Teeven said. "This year, I think we're going to have to slow it down a little and grind out everything we get. It's not going to come easily. But Coach has really drilled system into our heads, so everybody knows what they're doing." AC is a little green on the blue line in terms of game experience, up front as well. However, Shine is optimistic players like sophomore forward Brendan O'Connell. "He's a crafty forward who just plays with a huge heart." That can make all the difference in the world.