Boston High School:

Brian McLaughlin
April, 27, 2014
Apr 27
3:47
AM ET
By
Ryan Kilian
| ESPNBoston.com
NORTH ANDOVER, Mass. – The fifth annual Coaches Challenge Cup concluded on Saturday at North Andover High School. After a full week of action-packed lacrosse, pitting eight of the state's top lacrosse programs against each other, it would be Wellesley and Dover-Sherborn who would take the field in the Championship game.

In a classic duel of conflicting lacrosse styles it would be Dover-Sherborn who would claim the Championship as they defeated Wellesley, 8-7.

D-S, which defeated North Andover, 15-4, in Thursday's semifinal, likes to play at a faster pace than the calculated and defensive oriented Wellesley team, who defeated Concord-Carlisle, 8-5, in Thursday's other semifinal game.

With the game tied at 6-6 at the half, Dover-Sherborn would hold Wellesley to just one second half goal. The D-S defense buckled down behind the stellar play of goalie Jack Fontaine and the stingy defensive team led by the close defensive group of Rogers Boylan. Chase Hyde and Mark Czeisler.

"Coach [Gene] Zanella is the defensive mastermind for us", D-S head coach Brian McLaughlin said after the game. "He is the one who tells them where to go. I think we may have been out-thinking ourselves at the beginning and then we went back to our base defense, started sliding regular and did a better job in the second half."

In a true back and forth first half that saw 12 tie or lead changes, both teams had their shining moments offensively.

Wellesley received big first halves from John Caraviello and Kerry Lyne as the duo hooked up on two separate occasions with Caraviello scoring on two pretty goals, both assisted by Lyne. Lyne also added his own score to help spark the Wellesley offense early.

D-S was led offensively by middie Chris Williams and attack Grant Gregory, who each netted a pair of first half goals and continued their explosive weeks for D-S.

"Early in the season the offense was still looking for our identity," Gregory said. "I think after that game we regrouped, found ourselves and we are really starting to click right now."

Gregory (4G, 1A) would score both D-S goals in the second, with the first one coming early in the third quarter on a pass from Will Spangenberg (1G, 1 A) to tie the game at 7-7. Gregory would also add the eventual game-winner late in the third quarter.

The Boston University commit has taken his game to another level this season after returning recently from an early season injury.

"It is nice to have him back, that is for sure," McLaughlin said of his star attackman. "He was dialed in out there for us today."

Gregory concluded his three game Coaches Cup week with 11 goals and three assists. Williams, freshman attack Bailey Laidman, and Spangenberg also had high output weeks for D-S.

Wellesley received strong efforts on the day from middie Matt Dziama (2 G), LSM Sean Mathews, and defenseman T.J. Noonan.

In earlier Coaches Cup action, North Andover defeated Concord-Carlisle, 8-7, in the third place game. Attack Matthew Moody paced the North Andover offense with four goals and Pat O'Connor had a strong game in the cage for the Scarlet Knights.

Lincoln-Sudbury defeated Hingham, 9-3, in the fifth-place game and Andover squeaked out a 7-6 win in the seventh place match-up.
April, 25, 2014
Apr 25
1:35
AM ET
WINCHESTER, Mass. – The boys' lacrosse teams of Concord-Carlisle and Wellesley have customarily met, as if a rite of spring, in the Division 2 Eastern Mass. tournament each year. Those encounters are always close, evidenced by the Raiders' 4-3 win in the teams' first-round playoff matchup last spring.

But, with redistricting taking place this year, Wellesley moved up to Division 1 – meaning there will be no more such postseason classics. That didn't mean the teams wouldn't have a chance to renew their rivalry, however, as they met in Thursday's Coaches Challenge Cup Tournament semifinal.

The Raiders used two early goals from senior midfielder Matt Dziama to build a lead they wouldn't relinquish as they advanced to Saturday's championship with an 8-5 win.

"They're smart, they're tough, they make it hard on you," Wellesley head coach Rocky Batty said of the Patriots.

Dziama finished with three goals and an assist to lead all scorers, while fellow midfielder David Jennings also chipped in a pair of goals.

While the Raiders (8-2) never trailed, C-C (4-4) did come back to tie the score at the 7:56 mark of the second quarter on a goal by Will Blumenberg. But Dziama would put the Raiders back in the lead heading into the half, tallying his third goal with 17 remaining.

"John got off to a quick start and we need that because we didn't do anything after that," Batty said. "It was kind of walking through mud for a long time."

Steven Armanetti led the Patriots with a pair of goals, while goaltender Aidan Long made 13 saves.

Wellesley advances to face Dover-Sherborn in Saturday's championship game (4 p.m. at North Andover H.S.). And, while the Raiders look for another resume-builder, following last weekend's win over nationally-ranked Cold Spring Harbor of New York, Dziama saw Thursday's victory as another building block in settling into the offense.

"We're possessing the ball longer than we had been earlier in the season," Dziama said. "It's a great tournament to work on everything. Offensively, we could have done more today, but we possessed the ball and that helped us."

Semifinal: Dover-Sherborn 15, North Andover 4
After North Andover dealt Lincoln-Sudbury perhaps the biggest upset in state on the early season during its first-round matchup on Tuesday, the Scarlet Knights were hit with a chink in their armor against the Division 3 power.

The Raiders (6-2) turned in a dominant performance, amassing a 7-2 halftime lead with freshman Bailey Laidman ripping off three first-half goals.

"We're starting to move the ball better," D-S head coach Brian McLaughlin said. We're been working at it in practice and trying to get better at it. We started off the season just dodging and trying to shoot and score.

"We're being more patient, I'd like to see more patience, but we're getting better at that."

As a result, the Raiders turned in their highest offensive yield of the season, including four goals from senior attack Grant Gregory as part of a six-point game. It's an encouraging sign from the all-league player who played his third game back following a broken finger.

"He did a lot of lifting this summer, put on a lot of weight and now he's trying to catch his wind back because he hasn't been playing as much," McLaughlin said. "He's definitely a threat for us."

Chris Williams and Will Spangenberg also netted hat tricks for D-S, while John Enright led North Andover (7-4) with two goals.

The Scarlet Knights will play C-C in a consolation game on Saturday (2 p.m.).

Hingham 9, Andover 6
The Coaches Cup presents an early season litmus test to all of its participants and, after dropping its first matchup of the week to Wellesley (9-8), Hingham rebounded with a win that still left head coach John Todd looking for more from his squad.

"They're quality enough to pressure us and put us in bad situations," Todd said. "And then we made poor decisions. Some of it was on them, some of it was on us. We did enough to win and we took advantage of some chances, but we're still making early season mistakes."

The Harbormen (8-3) struggled on offense at times, but put forward a balanced attack with nine players hitting the score sheet, led by a pair of two-goal games from Caleb Brodie (2 G, 2A) and Matt Giarusso.

In the other half of the field, however, Hingham played the brand of defense Todd has become accustomed to. Goaltender Jack Santilli made 16 saves while All-American long-stick midfielder Jack Ullrich led all players with five ground balls.

"Our defense is extremely strong and our goaltender is phenomenal," Todd said. "So that kind of works into our strength – not that we're not worried about teams – but as long as we play the way we're capable of playing, we should be able to limit other teams."

Lincoln-Sudbury 17, Winchester 1
In an effort to move past Tuesday's upset to North Andover (9-8), L-S flexed its offensive muscle, owning play from the onset of its second-round matchup against host Winchester.

The Warriors (7-2) held the Sachems (6-3) scoreless until the 7:19 mark of the third quarter.

Meanwhile, the offense came in bowlfuls for L-S, which had eight different point scorers. Mike O'Connell and Greg Roder (6 points) had four goals apiece, while Eric Holden had three.

Nick Brindisi (2 G) and Harlan Smart each distributed three assists.
April, 17, 2014
Apr 17
12:58
AM ET
By
Josh Perry
| ESPNBoston.com
DOVER, Mass. - Medfield coach John Isaf would not reveal exactly what he said to the Warriors at halftime, but whatever it was lit a fire under his players.

After a sluggish opening 24 minutes that saw the Warriors trail for the first time this season, Medfield outscored Tri-Valley League rival Dover-Sherborn 5-2 in the second half to come away with a 9-7 victory on Wednesday night at Searle Field that gives them the upper hand in the league title race.

"It was more about playing the way that we're supposed to play and playing Medfield lacrosse," said Isaf about his second half changes. "I think our guys played a little bit looser and a little bit tougher for us then we did in the first."

Medfield (6-0) shifted its offensive sets and it paid early dividends in the second half when sophomore Nigel Reiff collected a loose ball behind the net and came around to score and tie the game at 5-5. Three minutes later, senior pole Jimmy Ganem raced forward out of defense and caught D-S in transition. He picked out sophomore Matt Treiber who finished and gave Medfield its first lead of the game.

With 1:10 left in the third, another sophomore, BU-commit John MacLean, stepped with his second goal of the game to make it 7-5. D-S (4-2) would cut the lead to one goal early in the fourth on a laser from freshman Bailey Laidman, but on the ensuing face-off an unlikely hero emerged for the Warriors.

Jack-Henry Vara, who had just been pulled up from the J.V. after the top two face-off men went down with injuries, won the faceoff (he won 14 of 18 in the game) and took the ball the length of the field before bouncing one past the stick of D-S goalie Jack Fontaine.

"Any time that you can make a play like that, especially when they're not expecting it -- that's a great play," Isaf said. "Jack-Henry has been patient; he's been working down at the JV level…we gave him the opportunity and he did a great job. We're fortunate to have that kind of depth."

D-S was not without its opportunities in the second half, but Medfield goalie Robert Treiber made several huge stops to keep out the Raiders.

"I think he's one of the best goalies in the state," said Isaf. "When he's one and making stops…that might be the difference in a one- or two-goal game."

Another change that worked well for Medfield was the move of long-stick midfielder Blake Frasca back into close defense to work against D-S senior attack Grant Gregory, who was making his first appearance after being out with an injury. Gregory scored two and caused havoc in the first half, but was limited to just two shots in the second and did not get his hat trick until the final 10 seconds of the game.

"I didn't think we shot particularly well in the second half," said D-S coach Brian McLaughlin about the turnaround in play after the break.

He added, "I thought the defense still played strong, but I thought they made the shots that they had to and I thought that we missed on a few that we could've had shots on. Their goalie made some great saves…but I thought, you know, we could have shot and finished a little better."

The combination of Gregory (three goals), who has committed to play at BU, and Laidman (two goals), who has already committed to play at the University of North Carolina, was a positive that McLaughlin thinks the Raiders can build on.

"It's the first time that [Grant] and Bailey have stepped on the field together, so we have a lot of growing to do as a team," McLaughlin said. "We really haven't had everybody together, so in that sense it's a positive. We played a lot better than we did on Friday and a lot better than we have in the past couple of weeks."

After having a relatively comfortable start to the season with several routine TVL wins, Isaf was happy to see that his team could step up when it was challenged.

He said, "What I think it said about us is, I think, we're tough. Things weren't going our way in the first half, it was the first time that we've been down in a game, and the kids responded. That's what you hope to see from a team."

Medfield has a quick turnaround to host Cold Spring Harbor (N.Y.) on Thursday night. D-S will be back in action next week in the annual Coaches Challenge Cup.
May, 21, 2013
5/21/13
2:57
AM ET
DOVER, Mass. – As spring turns to summer and as the MIAA lacrosse tournament nears, it's also around this time of year that Tri-Valley League rivals Dover-Sherborn and Medfield wrap up their season series – usually, with a conference title on the line.

Monday night's tilt between the old adversaries was no different, with the Raiders looking to win the TVL outright, having beaten Medfield in the teams' first meeting. Looking to earn a share of the league crown, the Warriors took the task to heart, taking a two-goal halftime lead. D-S pulled even in the second half, however, and the game looked destined for overtime.

But Medfield's John MacLean tallied his lone goal of the game with 56 seconds remaining in regulation, and along with goaltender Robert Treiber's 11 saves, the No. 9 Warriors earned a 6-5 win and a share of the TVL championship.

"It shows we can be tough in the fourth quarter," Medfield head coach John Isaf said. "They came back to tie it, so we had to make a play to win it. We were smart, patient in the fourth quarter and good things happened."

The Warriors (16-3) received multi-point games from Matt Crowell (goal, three assists) and Andrew Melvin (G, A) to shoulder the offense, but it was the defenses that were on display.

Despite suffering the loss, Raiders goaltender and ESPN Boston preseason All-State selection Ryan Goodall made 19 saves and was active in the clearing game, even earning an assist on Rogers Boylan's goal to start the second half.

Treiber was equally up to the task. The junior netminder's final save of the evening was his most important, stopping Brandon Jaeger last-ditch attempt to tie the game with about 12 seconds remaining.

"I wanted to make sure he wasn't going to come near-post, so I locked that off and got ready to explode off-post," Treiber said. "He put it out and there and I was able to catch up to it."

His performance came as somewhat of a surprise to his coach, considering Treiber has been battling a groin injury and was held out of practice this week, as a result.

"I was sitting there wondering how he's going to react when he hasn't seen a shot in four days, going into tonight," Isaf said. "But he's a tough kid, he's a gamer. He made some key saves for us tonight."

FOCAL POINTS
Both Goodall and Treiber racked up the saves, but it was their clearing game, which paid real dividends for their teams.

Goodall got on the scoresheet with his third quarter assist, drawing the Raiders (13-4) within a goal. But Treiber's feet were also an asset. On several occasions, particularly in the first half, the junior took off and created transition opportunities as D-S sought to cut off his midfield options.

"I like the run-and-gun," Treiber said. "In transition, they're always tough, and we allowed a few of them, but that's part of the game. That's what we're trying to do, that's what they're trying to do."

Although Isaf and his staff made a concerted effort to limit Goodall's ability to connect on home-run passes, the talented senior still found his spots.

"Our game plan was to keep Goody [Goodall] from open-field clearing," he said. "We didn't do a very good job of that. He can throw a 50-yard pass on a dime, we know that, we've played against him for two years and we know he's dangerous."

MOVING ON
Aside from the opportunity to sweep the season series from their rivals, the Raiders missed out on a chance to claim the TVL title.

And while the result was ultimately different (following the Raiders' 6-3 win on April 26), there were similarities between the two matchups.

"They were pretty similar games, in that they were both defensive battles," said D-S head coach Brian McLaughlin, who secured career win No. 200 last week. "We were shaky, at best, on offense, with a lot of turnovers. They were probably caused by good defenses on each end, and that's a main thing."

With just one non-league game remaining on their regular-season schedule (against Franklin on Wednesday), McLaughlin's team turns its attention to the lessons learned in Monday's shortcomings and defending their Division 3 state championship.

"It's a good measuring stick going into the playoffs," McLaughlin said of playing the Warriors. "Obviously, we need to score some more goals. But, if we can hold Medfield to six, hopefully, we can some Division 3 teams to six as well."
June, 14, 2012
6/14/12
3:19
AM ET
By
Mark Goodman
| ESPNBoston.com
ALLSTON, Mass. – It took a period, but once the Dover-Sherborn boys' lacrosse team got going, it wouldn't be denied.
The Raiders scored 11 goals in a row after the opening quarter, turning an early 2-0 deficit into a rout as they defeated North Reading, 16-6, in the MIAA Division 3 state final at Harvard Stadium.
Seniors Jared Spence (4 goals, 3 assists) and Ben Newbert (goal, 5 assists) ended their high school careers in style, with plenty of help in the attacking end from junior Brandon Jaeger (5 goals).
And after so many close calls in years past –- including four losses in the final -– Dover-Sherborn finally has its first state championship.
[+] Enlarge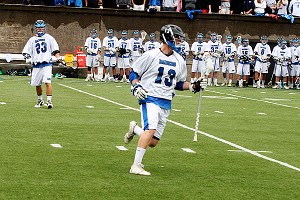 Courtesy of Ryan KilianTwo-time All-American Billy Polk helped Dover-Sherborn win 10 of its first 11 faceoffs and build a lead in Wednesaday's Division 3 state championship game at Harvard Stadium. The Raiders won their first-ever boys' lacrosse title in a 16-6 romp.
"To finally win one was a nice feeling, that's for sure," Raiders head coach Brian McLaughlin said. "Especially with the five seniors we have – this is their third time (in a state final)."
A 2-1 deficit after one turned into a 7-2 lead at halftime, with Newbert scoring one of the goals and assisting three others. Jaeger scored twice, with freshman Matt Davies, senior Billy Polk and Spence also getting in on the act in the second period.
The Raiders (19-4) dominated the faceoffs, with Polk and junior Keaton Stoner combining to win 10 of the 11 faceoffs in the first half.
"If you can keep getting the ball in lacrosse, it's tough for the other team," McLaughlin said. "Since we controlled the ball and ran our offense through, it was a big plus for us."
It was more of the same in the third period, as Davies, Spence and junior Matt Huemme all scored within the first four minutes to make it 10-2. D-S continued to dominate possession in the middle of the quarter, with only a couple saves by Hornet senior goalie Brian Conway on Newbert preventing the Raiders from increasing their lead.
They eventually did, however, with goals from seniors Peter Kostokos and Chris Flight to make it 12-2. North Reading senior Eric Valenti whipped on in from 15 yards out to finally stop the Radiers' run with 1:13 left to go in the frame. Valenti and Jaeger swapped goals in the final minute of the period, and it was 13-4 in favor of D-S going into the fourth.
North Reading (22-2) head coach Chuck Campobasso credited Dover-Sherborn's ability to keep control of the ball and limit his team's opportunities.
"We didn't have possession because they're unbelievable," Campobasso said. "They're not gonna turn the ball over, they're not gonna make mistakes."
Spence scored 1:18 into the fourth to make it 14-4. Junior Michael O'Brien and senior Cody Carbone gave Hornet fans something to cheer about with back-to-back goals, making it 14-6, but Jaeger put the exclamation point on the Raiders' fantastic season with his fourth and fifth goals in the closing minutes of the game.
North Reading started off strong, scoring the game's first two goals. Junior Cameron Knight opened the scoring 2:02 in with a well-placed bounce shot from 14 yards out. Junior Anthony Lytle made it 2-0 with 5:20 to play in the first period, taking a pass from Valenti and going top shelf over D-S junior goalie Ryan Goodall's shoulder.
Spence got the Raiders on the board just 35 seconds later with a goal from close range. Polk started the play with an excellent run from midfield, dodging three North Reading players in the process.
The Hornets outshot D-S in the first 12 minutes, 6-3, but Goodall made some good stops toward the end of the period to keep it a one-goal game.
"He made some great saves," McLaughlin said. "They have a great offense, and they shot well. [Goodall] came up big for us."
Newbert said he and his teammates were rushing their attack in the first quarter, but a more patient approach in the second turned the tide.
"After the first quarter, our coaches told us, 'We're not gonna get them back in the first 10 seconds. Just settle down; we got a whole game to play,'" Newbert said. "That's what we did. We didn't force the passes in the middle, and kids really ran their routes, made the cuts. Once that kinda settled us down, we really started getting going."
Sophomore defenseman Zach Ambrosino played a solid game for Dover-Sherborn, picking up a couple key ground balls in his own zone to prevent the Hornets' talented attackmen from getting shots on goal.
Valenti had two goals and two assists in his final game for North Reading. He's one of eight seniors whom Campobasso said will have a long-lasting effect on the program.
"You see the excitement at some of our games, with some of the youth guys that they want to play for North Reading High School," Campobasso said. "That's their legacy…This is unbelievable, but it's gonna be long-term with the amount of kids that are going to be coming out to play for us."
This was the Raiders' day, however, and one they went through plenty of growing pains to get to. The team lost in overtime to Scituate in the 2009 state championship, and fell by a goal in last year's final to Weston.
Dover-Sherborn has been knocking on the door a long time. Wednesday, they finally burst through.
"It's absolutely amazing," Newbert said. "More than anything, our coach, he's been here so many times, and to finally win it for us and him, it was just a great way for us to go out."
April, 18, 2012
4/18/12
12:34
AM ET
By
Shawn Myrick
| ESPNBoston.com


NORTH ANDOVER, Mass. -- In one of this year's top boys' lacrosse leagues, Concord-Carlisle and Lincoln-Sudbury are once more playing the role of the Dual County Leagues' perennial powerhouses.

An early season matchup between the defending conference champs may have started a potential let down, but a late push from the No. 2 Warriors in the Coaches Challenge Cup quarterfinals yesterday afternoon showed why both squads remain top in the state.

With C-C jumping ahead by five goals early, L-S (4-2) battled back but never led as they fell by a slim 8-7 margin at Joe Walsh Stadium in North Andover.

"They are the class of the league and we measure ourselves against them," C-C head coach Tom Dalicandro said. "We said 'value the ball, posses the ball, and take good shots'. I think we did a much better job today than we have done this year of valuing possession."



The No. 8 Patriots (4-0) burst out of the gate with the first three goals and a 6-1 lead to open.

Ducking defenders from the top corners of their offense, leading scorer Kevin Delehey netted all three of his goals off isolation plays in the first quarter. Slipping under a pair of Warriors, the C-C senior found himself five-yard in front of the netminder in the final seconds of the initial quarter to send the Patriots into the break up 5-1 with his final tally.

A wide-open open breakaway by long-pole Henry Bumpus left the senior walking into one-on-one with the keeper as he put the DCL (Small) defending champs up 6-1 at 11:04 in the second.

"We were able to generate some good offense out of our dodges," Delehey said. "I run through those dodges hundreds if not thousands of times. At this point so it is really just reaction."

After two turnaround tallies put the Warriors down 6-3 at half, L-S junior Jordan Dow nailed a pair of open-net man-up opportunities to help cut the deficit early in the third. L-S junior Dan Delaney rolled around his defender and hit a rip ten yards out to bring the score to 7-6 with 4:42 left in the quarter.

Delaney and Dow led the Warriors with two goals, while C-C senior Mike O'Brien also netted a pair.

"We called an invert and saw some matchups we really liked," L-S head coach Brian Vona said. "We eventually just tightened up defensively. They just out everything'd us."

Trading goals between the final quarters, L-S entered the last ten minutes down 8-7, but was unable to finish a pair of man-up chances along the post. A steal by C-C senior keeper Doug Gouchoe from behind the net sealed the victory in the final seconds.

HINGHAM ROLLS AGAIN


In other Coaches Cup quarterfinals action, No. 3 Hingham (5-0) never trailed as it was lead to a 9-5 victory over No. 14 Dover-Sherborn (7-1) with six goals from senior Kevin Blair.

"I was really finding the seams on offense," Blair said. "We are doing a lot of switches off ball, we are picking for each other and it really opens up the middle. We like to isolate and draw the men (out)."

The Raiders evened two score margin in the first, but gradually faded away as the Harbormen found open shots around the crease.

Three straight scores from Blair in the second helped Hingham run away with a 6-3 lead at 3:11. Scoring all three off motion aside the net, the senior caught a lob pass from fellow upperclassmen Reed McLeod (two goals) late in the quarter and side stepped around both the post and the goalie for his fourth tally on the afternoon.

"We have six guys on the field who are able to play well together," Hingham head coach John Todd said. "We made them practice at a high tempo. [Blair] sees the field very well and is very fast."

The Raiders managed to work the ball up top for a score from junior Matt Huemme to grab a 6-4 deficit in the final seconds of the half, but were out shot three goals to one in the final two quarters.

Hingham found Blair behind D-S's defense on a counter late in the third then buried a deep rip from senior Kevin Morris to put D-S away with a 8-4 lead at 7:24 in the fourth quarter.

"They pressured the ball real well and we did not have the ball a lot in the second half," D-S head coach Brian McLaughlin said. "It is hard to score when you can not get the ball back."

Originally trailing 3-1 in the first, senior Ben Newbert evened the score for the final time on the afternoon by finishing a ground-ball pickup next to the crease then side-arming a 10-yarder to put the score at 3-3 to end the first. Newbert lead the Raiders with two tallies.

RAIDERS PLUNDER
In the first game of the day, No. 6 Wellesley rolled past North Andover, 14-1.

Midfielder Oliver Saffery led the Raiders with four goals, in addition to a team-high seven ground balls. Ryan Cassidy collected two goals to go along with five ground balls.

Connor Darcey made eight saves in the cage to make it stand up.

"North Andover's a good team, and I'm just glad we came ready to play," Raiders head coach Rocky Batty said. "It's always nice to get a win in the Coaches' Challenge Cup, and we're already excited to play again at 2 p.m. on Thursday at Dover-Sherborn."

GOLDEN WARRIORS GIVE SACHEMS A RUN
In perhaps the day's most riveting game, No. 11 Winchester held off No. 20 Andover in a 10-9 decision.
June, 14, 2011
6/14/11
6:15
PM ET
By
James Walsh
| ESPNBoston.com


ALLSTON, Mass -- The Weston Wildcats captured their first ever boys' lacrosse state championship winning the Division 3 title, 5-4, over Dover-Sherborn.

But they were just happy be there.

"We really had no expectations," Weston junior attack Joe Pasquale said. "Everyone was saying we were going to loose. We've always been the underdogs this season and then we came back, and today we've proved them wrong."

Weston (20 -2) came out of the gates flying and scored just six seconds after the opening faceoff, Pasquale (4G, 1A) assisting Kyle Nickerson for the only score of the first quarter.

"It was kinda like shock," Pasquale said of the first goal. "We were like, OK we just got a goal we can do this, that's how it's going to be for the rest of the game and we're not letting down"

Pasquale then doubled the lead with his first goal of the afternoon, a snipe from 12 yards out after cutting nicely inside to his left at 8:07 of the second quarter.

It looked like P.J. Copponi had scored Dover-Sherborn's (19-3) first goal at 4:10, but a crease violation waived off the score. However, the Raiders got the goal they were looking for just under a minute later when Ben Newbert (1G, 1A) finished low off of a nice feed from Jared Spence (1G, 1A).

Pasquale scored the final goal of the first half, on a wrap around effort from behind the cage, and Weston took a 3-1 lead into halftime.

Spence returned the favor to Newbert for Dover–Sherborn's second goal at 8:38 of the third, but then Weston goalie Jared Fong (14 saves) put on a show. Fong had three crucial saves in the final 5:25 of the quarter including one at the buzzer to deny Robert Simms.

But Fong wasn't taking any credit.

"It was a lucky save," said the humble junior keeper. "It was a whole team effort. "



"We're all pretty proud of Jared, he's a great goalie," Wildcats head coach Jim Wilcon said. "He seems to player bigger in big games."

Pasquale scored his fourth goal of the game 1:59 into the fourth quarter with Matt Knight assisting making it 5-2 Weston but Raiders brought the game to within two goals moments later when sophomore Brandon Jaeger finished off a nice pass that Copponi sent from behind the net. D-S made it a one goal game with just 10 seconds remaining, but there wasn't enough time for an equalizer.

"We didn't finish our shots, and they played great," Dover-Sherborn head coach Brian McLaughlin. "I though we had a some good opportunities in the first half, we just didn't capitalize on them."

"They're well coached, they're the best team we played all year," Wilcon said of Dover-Sherborn. "It took everything we had to beat them."


May, 14, 2011
5/14/11
8:07
PM ET
By
Tom Layman
| ESPNBoston.com


DOVER, Mass. -- The Apri 29 loss to Tri-Valley League powerhouse Medfield could have done one of two things to the Dover-Sherborn boys' lacrosse team. It could have spiraled the Raiders' season out of control or it could have served as a launching pad for bigger and better things.

It's safe to say the Raiders chose the latter.

No. 10 Dover-Sherborn (13-2) claimed it's fourth straight victory since that defeat with a 10-5 triumph over No. 16 Walpole on Saturday afternoon at Nathaniel Frothingham Field.

"I think we had won a few game games before [the loss to Medfield] and getting to a loss you kind of take a look at yourself and say what can we do better," said Raiders head coach Brian McLaughlin. "We've been concentrating on some of those things."

The Raiders began the game with a 2-0 lead in the first quarter because of good spacing and precision passing in the offensive zone, which was just the way the game began a few weeks ago against Medfield.

However, this time the Raiders didn't go into a prolonged scoring funk as P.J. Copponi scored three goals and three other players recorded multi-goal games. Ben Newbert, Jared Spence and Brandon Jaegaer all collected two goals apiece, and Billy Polk added a goal and three assists.

"We've been in that situation before and we didn't want to let what happened against Medfield happen today," said Copponi. "We knew we had to do some things differently and we did. It worked out well."

The offensive output will be appealing to look at in the box score, but the Raiders' defensive unit provided the backbone for the scoring surges in the second half. Walpole was held to one goal in the final 21 plus minutes of the game, and McLaughlin saw some of the little things that his team has been concentrating on in practice come through in a key game.

"We did a great job of getting back in the hole today, not giving up fast breaks," said McLaughlin. "When you lose to a great team like Medfield you look at what you are doing and what you can improve at.

The Raiders don't have to wait long until that next shot at Medfield, barring the typical fluctuation of New England weather expected this upcoming week. Medfield has owned the Tri-Valley League since the start of the league, and the suddenly hot Raiders' will need a complete victory like the one they got on Saturday to knock the "King" from the thrown.

"Medfield is our rival and we like to come out strong against those guys," said Copponi. "We came out strong, but we didn't really finish the way we wanted to. We had a couple of good days of practice after that and knew that we had a lot of work to do. Medfield is a great team and we have another shot at them, luckily."
April, 29, 2011
4/29/11
11:45
PM ET
By
Tom Layman
| ESPNBoston.com



MEDFIELD, Mass. -- Medfield halted all talks about the passing of the torch in the Tri-Valley League, after an 8-5 victory over rival Dover-Sherborn on Friday night at Calvin George Fisher Memorial Field.

Sam Aronson made 15 saves and the Warriors (6-3) stifling defense held the Raiders to one goal in the final 24 minutes of action to keep its 10-year gridlock in the TVL alive and well for at least another game.

"We just stepped up the energy," Medfield head coach Bob Aronson said. "This is the first real full game that we've played. We've had some struggles. We have a younger team with some inexperienced players, but they really stepped up."

The Raiders (9-2) were the aggressors in the early moments of the first quarter and it showed on the scoreboard as they jumped out to a 2-0 lead. Chris Flight struck first, and the ball movement that has been pivotal to the success of the Raiders was on display when Jared Spence (two goals) finished off a pretty series of passes with P.J. Copponi and Ben Newbert at 7:56 of the opening quarter.

Connor Roddy (hat-trick) scored 30 seconds later to get the Warriors on the board, and Peter Gill went right through the teeth of the defense to tie things up at 2 with 1:57 left to go in the quarter.

The Warriors were able to slowly turn their defensive pressure into transition goals on the other end, and a little luck of the bounce never hurt anyone.

Calvin Given scooped up a loose ball and pocketed it for the 3-2 lead at 11:26 of the second, and Roddy got his second off a scrambled play a minute later. Sam Aronson made a save and immediately heaved the ball down the middle of the field. The ball went over the stick of the intended receiver, but luckily it bounced right to David Parsons, who found Roddy all by himself behind the defense.

"Those were great, not only for this game, but for our team and our confidence," Bob Aronson said of the opportunistic goals. "Those are the little things that we haven't been doing. To be able to convert those gives them the trust in their teammates."

The teams traded goals until halftime, but the Raiders would not find the back of the net again for over 16 minutes of play.

"They were pressing out, maybe we weren't swinging it around as much as we usually do," said Raiders head coach Brian McLaughlin. "They did a nice job defensively pressing out on us. We were getting a step on a guy, but I don't think we were moving off ball as well as we should have been."
April, 20, 2011
4/20/11
12:05
AM ET
SUDBURY, Mass. -- It was a flurry at the beginning and a breathless save at the end that delivered a riveting 12-11 victory for 20th-ranked Andover over No. 15 Lincoln-Sudbury in the first game of the first day of the Coaches Challenge Cup on Monday.

The Golden Warriors defeated the host Warriors by running out to a blazing start. However, L-S didn't go quietly and kept spectators in suspense right up till the final horn.

After cashing in on their first four shot opportunities of the game, Andover (6-0) threatened to rout the Warriors. But L-S recovered to draw within a goal, 8-7, at halftime.

There were four lead changes in the second half, but the Golden Warriors stayed ahead for good on David Belluche's goal with 6:12 to play, thanks to the defensive effort led by senior goalkeeper Crosby Nicholson and senior long-stick Ben Cook.

"That's Crosby Nicholson," Andover head coach Wayne Puglisi said. "He makes those types of saves. I don't know how many one-on-one chances there were today."

Nicholson saved the game from heading into overtime by stoning L-S midfielder Reed Spencer at point-blank range with 15 seconds to play.

"Lincoln-Sudbury made us play smarter and stronger today," Puglisi said. "They're a team that did things that we hadn't seen all year long."

Meanwhile, for L-S, which fell to 3-3 on the heels of a three-game losing streak, it's all about getting a young group of players on the same page in light of some notable absences on the field. Top attack Marc Pace is out for the season with an Achilles injury and top D-man Paul Tocci has also been on the shelf, not to mention a freak accident to midfielder Dan Delaney that occurred last week.

"We're young, but we've just got to get it done," L-S head coach Brian Vona said. "That's our issue, we don't understand how to compete at a high level yet."

C-C's on a roll


The thumping sixth-ranked Hingham administered on Concord-Carlisle during last year's Coaches Cup was not lost on the Patriots. And they used that unpleasant memory as cause to start this year's first-round matchup with the Harbormen.

"We were pretty ready to play today," Patriots senior attack Seth Bird said. "Hingham crushed us in the second round of the Coaches Cup last year in the second round, so we were pretty ready to go."

Bird and his teammates took flight in the second quarter when they scored five goals to run out to a 7-1 halftime lead. Despite a second-half run from the Harbormen, No. 2 C-C held on to return the favor, beating Hingham 11-6.

"I think Seth Bird just really had a good game," C-C head coach Tom Dalicandro said. "He was able to get by his man and I think they're a little young on defense, so that allowed us to get some opportunities and Ben Lesser was able to cash in."

Bird tallied a four-point game while notching a hat trick for the Patriots (6-0) while Lesser chipped in a three-point game (2G, 1A). Chris Walker-Jacks also added a goal and an assist.

Reed McLeod and David Freitas tallied two goals each in the second half to lead the comeback attempt for Hingham (5-1)

"We've got a lot of chemistry going this year," Bird said of C-C's offense. "We've got an attitude that this is our last chance this year to make a real run in the tournament."

Wellesley doubles up Winchester
No. 3 Wellesley (5-0) remained undefeated on the early season as they defeated Winchester 8-4 in their first game of the 2011 Coaches Challenge Cup.

Wellesley led 2-1 after the first quarter but extended the lead to 6-2 at the half behind three goals from senior midfielder Sam Lawrence.

"Sam is always one of the best athletes on the field and when he gets in the open field he can really do some nice things," said Wellesley head coach Rocky Batty. "The last five minutes of the second quarter we really pushed transition like we like to as a team."

Winchester junior goalie Alex Sharp was exceptional in net all day for the Sachems, turning away 18 shots and making countless highlight film saves, to keep Winchester in the game.

"Winchester really played well," said Batty. "A good goalie makes those saves and I think he (Sharp) was the player of the game out there today."

Wellesley junior attack Peter Crane (3 goals, assist) scored the lone goal in the third quarter on a dish from junior midfielder Paul Vasko (1G, 1A) eight minutes in to the second half.

Winchester (2-3) kept fighting the entire way as junior midfielder Brendan Kelley and junior attack Jesse Samek (2G) would score the first two goals in the fourth to cut the lead to 7-4 midway through the final quarter.

Crane would put the game away in the final minutes for Wellesley as he scored his third goal on a pass from senior midfielder Charlie Jennings (2A).

Junior midfielder Oliver Saffrey (1G, 2A) and junior goalie Connor Darcey (10 saves) also played well for Wellesley in the win.

D-S dominant
No. 11 Dover-Sherborn (6-0) got out to a 3-1 lead after the first quarter and never looked back as they controlled North Andover (3-2) to win the final game on the opening day of the 2011 Coaches Challenge Cup, 11-2.

After a slow start by both teams D-S really turned it on and were sparked by the electric play of junior midfielder Billy Polk (3 goals, assist) and senior attack P.J. Copponi (3 goals).

"I thought we played well after we started being patient against their zone," D-S head coach Brian McLaughlin said.

The third quarter proved to be the deciding quarter for D-S as they outscored North Andover 4-1 to extend the lead to 8-2 at the end of the third.

"We moved the ball well and got a couple goals in transition that proved to be the difference in the third." said McLaughlin.

D-S also received strong performances from senior goalie Jeff Williams, who did a great job clearing the ball all day, and senior midfielder Robbie Simms (1G, 2A). D-S will now play Wellesley on Thursday at 4 p.m. at Hingham in the next round of the Coaches Challenge Cup.

"We know each other well," said McLaughlin. "We played here last year (Wellesley won 6-5). Coach and I are good friends and the kids know each other from playing summer ball. It will be a match-up of the Raiders, red versus blue."