Boston High School:

Brian St. Pierre
November, 1, 2014
Nov 1
4:48
PM ET
By
Andy Smith
| ESPNBoston.com
DANVERS, Mass. -- The back-breaker came midway through the second quarter.

After a Chelmsford drive stalled at its own 39-yard line, John Campsmith launched a punt that rolled to the St. John's Prep 8. Needing a momentum swing with the team down two touchdowns, it appeared Campsmith may have started something for his team. Then, Oliver Eberth handed the ball off to Cody Harwood.

The senior charged off right tackle and broke through the first line of defense. Then it was off to the races. He outran two Chelmsford defensive backs to the end zone for a 92-yard touchdown.

"I ran forward and I ran into a guy and he wrapped me up, but I managed to get away," said Harwood. "Then I just saw a clear field so I started going. I kept looking back to see if a guy was on me, and then I saw it was a clear day from there."

He added a 59-yard touchdown run on the second play of the third quarter to help give his team a four-touchdown lead. Prep left the field Saturday afternoon with a 28-0 victory.

"(Cody) has been a great player all year for us, and we've just come to expect it from him," said Prep head coach Brian St. Pierre. "The whole offensive line was unbelievable, I thought they really carried the day on offense."

Harwood finished the game with nine rushes for 180 yards and three touchdowns. As a team, Prep (7-1) ran for 327 yards. On a day where the weather made it challenging to throw the ball, Prep's offense showed why the Eagles came into the playoffs as the No. 2 seed in Division 1 North.

"I need to credit my offensive line for making those holes," said the senior. "Half the time I didn't even have to do anything, I just made the right read and it was open."

The Eagles' first touchdown actually came through the air. After its initial pass play was fumbled away in Chelmsford (4-4) territory on its first drive, St. Pierre went back to the air on the first play of his team's next drive.

Recognizing man-to-man coverage on the outside left receiver, Eberth (5-for-12, 66 yards, TD) threw the ball up to Owen Rockett. He came down with the ball and outran the defender to the end zone for the 40-yard touchdown.

"We're a balanced team, we want to run it and throw it, throw it and run it," said St. Pierre. "We don't really care. Whatever is working is working. The weather is not going to dictate what we do, so we feel confident doing both."

Prep scored again one minute into the second quarter. After a 9-yard punt gave the Eagles the ball at the Chelmsford 29, Harwood was able to punch it into the end zone from one yard out six plays later.

Two hours after it took the field on a cold and rainy Saturday morning, St. John's Prep was right where it wanted to be: one game closer to a possible state championship.

Lions sputter: Chelmsford struggled to move the ball offensively against the Prep defense for most of the day. The combination of Saturday's steady rain and Prep's defensive pressure made for a long afternoon for the Lions. It had 10 offensive plays that resulted in negative yards, including six sacks of Campsmith (4-of-15, 25 yards).

"I love how our defense played," said St. Pierre. "We had a great week of practice and I had a really good feeling coming in that our defense was primed. They're playing the best they have all year and it's a great time to be doing that."

Chelmsford's leading rusher, Nick Philippon, had eight carries for 24 yards. As a team, the Lions did not get their first first down until midway through the second quarter. Campsmith was able to occasionally find running room on the sidelines with quarterback keepers and designed stretch runs, but was unable to escape the Prep pressure when he needed time for plays to develop downfield.

We'll see you again: With the win, St. John's Prep advances to play Central Catholic in the second round of the MIAA Division 1 North playoffs. The two teams met in the regular season, which resulted in a 27-12 Prep victory at Cronin Field.

Central advanced with a 28-21 victory over Andover Friday night. Even though it was a two-score victory, the Eagles know they will face a tall task in the next step of the playoffs.

"That game is huge," said Harwood. "We had a great game with them here the last time we played them, so we're really looking forward to it. It should be great."

"We've got plenty of time to think about that one," said St. Pierre in reference to the Central matchup. "We're going to enjoy this one for now, but we know the challenge ahead of us."
October, 18, 2014
Oct 18
10:50
PM ET


DANVERS, Mass. – The raucous environment surrounding Cronin Stadium in the lead up to Homecoming Day at St. John's Prep did little to translate to the Eagles' start on the field. In Saturday's battle with BC High, No. 3 Prep came out a little flat, allowing its Catholic Conference rival to claim an early lead. BC High also took a 14-10 lead to the half as well.

The second half was a different matter, as Prep scored 23 unanswered points during the final two quarters to capture a 33-14 win.

"We had a little bit of a slow start, but we came out flying in the second half," Prep senior quarterback Ollie Eberth said. "Our offense started clicking. We changed up a few blocking assignments and our receivers came up big making plays. Cody Harwood and [Dillon] Preston, you can't say much more about them. They're bouncing off tackles left and right."

The host Eagles (6-1, 3-0 Catholic Conf.) displayed a balanced offense, with Ebert throwing for 128 yards and three touchdowns on 11 of 16 passing, while senior running back Cody Harwood used 21 carries to run for 129 yards.

Prep's defense was a major factor in building the second-half lead. It tallied eight points, forcing a safety before Owen Rockett's 84-yard interception return for a touchdown.

"Our defense really stood up in the second half," Prep head coach Brian St. Pierre said. "They played a great game. There were a couple turns of momentum, that's when we kind of started to take over the game."

BC High (3-3, 1-1) drew first blood on a 21-yard touchdown pass from Sean Holleran (6 of 8, 87 yards) to Nick Gill (4 catches, 74 yards). It was the first of two first-half scoring plays for the duo, which also lifted BC High to a 14-10 lead at the half.

Prep tied the game, 7-7, on Eberth's 5-yard touchdown pass to Jake Burt, before a Justin Foley 33-yard field goal with 27 seconds remaining in the second quarter. BC High sophomore Connor Cady returned the ensuing kickoff 79 yards to give his team on last crack at the end zone before the half.

On the next play, Holleran hit Gill on a fade for an 11-yard touchdown in the final seconds.

That's when St. Pierre reminded his team of what was ahead of them in the second half.

"He made a point to us that we were playing flat, and that's not the way that we play the game," Harwood said. "He just made it a point that we had to leave everything on the field for the next 24 minutes."

Prep entered the third quarter reinvigorated, as Eberth led a 7-play, 75-yard drive to start the half, capped by 36-yard throw to James DiBenedetto.

Eberth had his third scoring pass of the game on Prep's next possession, hitting Rockett on a 4-yard play on the first play of the fourth quarter.

On BC High's ensuing possession, backed up in its own end at the 4-yard line, Prep defensive lineman Hunter Brown made a tackle in the end zone for a safety and a 26-14 lead.

Miscues would again haunt BC High when Rockett turned in his second touchdown of the game, turning an interception into an 84-yard return for a touchdown.

"When you get a couple of turnovers like that, that really changes the complexion of the game," St. Pierre said.

Next man up: Rockett has been a steady contributor to Prep's aerial attack throughout the season. But even as the two-way starter was hobbled while being tackled on a jet sweep in the first quarter, Eberth still have plenty of weapons at his command.

"It was great, Owen goes down for a series or two and we don't even blink," Eberth said. James [DiBenedetto], we have great trust in. He's got great size and great speed. And I throw it up, he pulls a little Megatron and brings it down. And Michael Calascibetta was making plays. The depth is great. When one guy goes down, we have a substitute right there."

Of course, Eberth also has a security blanket of sorts in Jake Burt. Despite facing consistent double-teams and bracketed coverage throughout the year, the Boston College-bound tight end has remained undaunted.

"He's a mismatch every week and you have to account for that," St. Pierre said. "They did a great job defensively, but we just kept plugging away. We just kept doing our stuff and we believe in our system and our guys."

Rockett returned to the game after a couple of missed series, and he left his imprint with both an offensive and a defensive touchdown. It's something the Eagles have come to rely on.

Just as Harwood has contributed in the ground game as well. The stout running back is a burden to tackle and has made it habit of turning in 100-yard rushing performances this year.

"Everybody knows what kind of guy he is," St. Pierre said. "Owen [Rockett] and Jake [Burt] get a lot of the headlines and [Eberth] get a lot of the headlines – and rightfully so – but I'll take Cody on my team any day. He knows that. He's so tough. He plays the game the right way."
September, 20, 2014
Sep 20
8:56
PM ET


DANVERS, Mass. – From an outsider's perspective, things can't be much better than they've been at the start for No. 8 St. John's Prep.

The Eagles have now collected three straight wins against Top 10-ranked opponents to start the season, following Saturday's 27-12 win over defending Division 1 state champion No. 2 Central Catholic.

But Eagles first-year head coach Brian St. Pierre sees it a little differently.

"We've majored in making it difficult," the Prep alum said after his team's home opener.

After a relatively lackluster first half, the second half provided crescendos and dips in momentum in just about each play.

The Eagles (3-0) defense was the fulcrum for the victory, forcing five Central turnovers in the second half, including three interceptions.

"We were giving up yards early, but they just kept playing and they kept getting the ball for us," St. Pierre said of his defense.

After Prep tallied the first score of the game on a 74-yard touchdown run by Cody Harwood (14 carries, 149 yards), the Raiders (2-1) responded before the first half was out with a resounding 10-play, 63-yard drive. Michael Milano hit Steven Jackson on an inside slant for a 6-yard touchdown with 13 seconds to play in the half.

Central parlayed the offensive momentum into their opening possession of the second half. Milano (14 of 26, 158 yards; 12 carries, 83 yards) willed the Raiders downfield with several well-executed inside draw plays, including a 32-yard touchdown run with 7:54 remaining in the third. A botched snap on the ensuing two-point attempt kept the Raiders' lead at 12-7.

After going three-and-out on its ensuing possession, Prep leaned on its defense to get the ball back and, perhaps, reignite the offense.

Sophomore corner Hayden Rockett undercut a route for the first of four Eagles' picks in the second half with 4:48 to play in the third. Two plays later, Prep regained the lead on Oliver Eberth's 11-yard out to tight end Jake Burt. Another failed two-point conversion kept the Eagles' lead at a single point.

Eagles senior safety Art Churchwell provided the next spark, pocketing his first of two takeaways in the game. Churchwell's interception set up another Prep touchdown drive, coming on another Eberth touchdown pass to Owen Rockett – this time from 57 yards out – for a 20-12 lead at 10:47 of the fourth quarter.

Churchwell was at it again on the next Central possession, recovering a fumble.

While the Eagles were unable to cash on their third straight takeaway, they'd soon have the ball back again with 6:35 remaining in the game on a John Churchwell interception. Prep then salted away any Central comeback bid with a plodding 10-play drive (with a punt and another fumble recovery mixed in the middle), capped with Harwood's second touchdown run of the day from 22 yards out.

"I think that was one of the most frustrating games I've ever coached in because the turnovers just killed us," Central head coach Chuck Adamopoulos said.

Fearsome twosome: When Eberth transferred to St. John's Prep, he inherited a pretty good surrounding cast. The Eagles offensive line has been steady throughout the early season in both pass protection and in run support. Harwood has continued producing.

And, of course, there are his top targets: wide receiver Owen Rockett and tight end Jake Burt.

"It's amazing, defenses are playing us to pass. They're playing our guys Owen [Rockett] and Jake Burt right now," St. Pierre said. "They're putting guys on them, they're accounting for them, so we're picking our spots."

The combination has pushed opposing defenses to pick their poison. In the early going, both Bridgewater-Raynham and Brockton chose to key on Burt – the 6-foot-4, 230-pound Boston College commit. That's translated to fewer pass targets for Burt – who's receiving bracketed coverage for the most part – but great opportunity for Rockett to work in space, both underneath and on intermediate and long routes along the boundary.

"Teams key on [Burt], so that opens things up for other players – Rockett, Michael Calascibetta and James DiBenedetto," Eberth said. "[On the touchdown] and on that fourth down, he's old reliable. He can go up and get the ball, he can go down and get the ball. He can do anything."

On Saturday, Prep fans saw perhaps the most balanced offensive attack the Eagles have shown to date. Eberth was more than efficient, completing 8 of 14 for 114 yards. Rockett and Burt had balls delegated to them with balance, with the wideout and tight end hauling in four catches for 84 yards and three catches for 29 yards, respectively.

"The last few weeks I think they've game-planned for me a little more, drawing a little extra attention to me," Burt said. "And then Cody Harwood has stepped up and made plays."

But what Burt adds to Prep's offense is more than just a big target.

"What goes maybe not seen [but] is obvious is what he does for us in the run game," St. Pierre said. "There's not a better tight end blocking in the run game in Massachusetts, hands down. He does a tremendous job for us. He is just a great player. He's very unselfish, does what the team asks him to do. People are keying him – and they should, he's a very good player."

Harwood once again eclipsed the 100-yard rushing mark as well, creating further balance in St. Pierre's offense.

It's a question that opposing defensive coordinators will have to consider as the Eagles go screaming toward a playoff berth.

It's also something that Central, at least on Saturday, couldn't overcome.

"What's hard this year is because of the inexperience in our secondary with two new starters it makes it hard for us to just take one guy and put him on someone," Adamopoulos said. "Last year, we could do something like that, but I think that's harder this year."


September, 20, 2014
Sep 20
8:36
PM ET
DANVERS, Mass. -– The play called for Owen Rockett to run a "go" route, his favorite pattern, and instantly his eyes widened.
Then, the St. John's Prep receiver read man coverage from the Central Catholic defense, with no safety help. And when you see that, as the senior explains it, "That's when you start licking your chops."
[+] Enlarge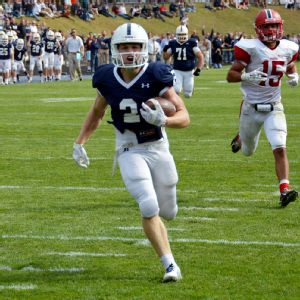 Brendan Hall/ESPNSt. John's Prep receiver Owen Rockett (4 catches, 83 yards, TD) has emerged as the Eagles' most dangerous scoring threat.
Rockett came across the face of his defender playing off the line of scrimmage, spun 180 degrees and backpedaled as he hauled in Ollie Eberth's high-arching pass some 25 yards downfield. Then he spun back around, planted his outside foot, cut across his defender's face, then did it once more to the another defender for good measure, sprinting out the last 25 yards for the 57-yard touchdown and back-breaking 20-12 lead over the No. 2 Raiders with 10 minutes to go.
Just like he drew up countless times this summer with his father, on the turf at Marblehead Middle School.
"I don't really do any drills or anything, I just run routes," Rockett, a Marblehead resident, said. "In a game situation, you're not gonna be running ladders."
On the day, Rockett finished with four catches for 84 yards and a score as the Eagles knocked off their third straight Top 10 team in as many weeks, an unprecedented start even by Prep standards.
A year ago, he was just working his way into the lineup, his first year at the wide receiver position after showing some sure-handed promise during 7-on-7 season. There were flashes of brilliance, but often they were sandwiched with inconsistency.
After a rugged offseason out on the field, Rockett is playing with a lot more confidence in 2014. One of the most eye-opening plays of the season's opening weekend was at Bridgewater-Raynham, when Rockett snared a dangerous swing pass in the flat and evaded three Trojans defenders up the sideline for a 35-yard catch-and-run TD. These types of plays are becoming more of the routine than the exception.
"My biggest problem last year was overthinking, so I'm trying to simplify, have trust in myself and Ollie," Rockett said. "Ollie's been outstanding, and Coach Saint [head coach Brian St. Pierre] has given us a great platform, obviously. Everything is just set up well."
Prep tight end Jake Burt, a burly Boston College commit, calls Rockett "the best route runner I've ever seen."
"He's got really strong hands," Burt said. "It just makes it easy for me when I'm lined up on his side, because they should be paying attention to him –- not me. He's the better pass catcher.
"He's got great footwork. His deception in and out of routes...I mean, our corners never know what to do in practice, and you can see that in the game, they don't know what to do either."
By disentangling the clutter, and broadening his muscle memory, Rockett has become Prep's go-to threat in the crunch. St. Pierre chalked up the maturity to a natural procession from fitting into a new position.
"Any time you're learning a new position, it takes a while. But he's so athletic, and so smooth," St. Pierre said. "He's a great kid to coach, and like a lot of our guys he works hard. He applies his trade during the week and shows up ready to go."
But at a pedestrian 5-foot-10 and 184 pounds, a player of his stature is often type-cast as a "slot" receiver, running short routes along the perimeter designed to get him in space with a full head of steam. Rockett wants you to know it's not that simple.
"The eight [post] or nine [fade], anything going deep, if we've got time, I love it. One-on-one, nothing better," he said. "The biggest thing about a receiver, if you can't get anything inside, try and break it deep and over the top."
September, 20, 2014
Sep 20
6:23
PM ET
DANVERS, Mass. -- After claiming a 27-12 win over No. 2 Central Catholic, St. John's Prep football was greeted in their postgame huddle by a special visitor -- esteemed alumnus and former Eagle, Pete Frates.
As the No. 8 Eagles knocked off a Top 10 opponent for the third straight week, first-year head coach Brian St. Pierre, also a Prep alum, bestowed Frates with the game ball from the victory in his team's home opener. Frates, who played safety during his high school career, also
visited Eagles practice earlier in the week
.
Correspondent Greg Story captured the moment here:
September, 6, 2014
Sep 6
8:16
PM ET
BRIDGEWATER, Mass. – St. John's Prep's first half offensively was characterized by missed opportunities. Three times during the first 22 minutes of their road contest at No. 6 Bridgewater-Raynham, the 10th-ranked Eagles were flagged with penalties while in the red zone.

But Prep figured things out in time, scoring 20 unanswered points to close out a 23-12 win over the Trojans, avenging a home loss to B-R one year ago. The victory was the first for new head coach and alumnus Brian St. Pierre, who was award the game ball by his team in their postgame huddle.

"I was chomping at the bit," said the eight-season NFL veteran. "I got a little animated during the pregame speech."

That enthusiasm didn't translate to early success for St. Pierre's team, however. B-R (0-1) systematically marched 80 yards downfield on the opening drive of the game, as Trojans quarterback Matt Clement completed all three of his passes to wide receiver Matt Reagan, culminating in a 9-yard touchdown pass. It resulted in an instant 6-0 Trojans' lead that required only 2 minutes, 25 seconds of game clock.

Prep (1-0) also was able to move the ball effectively on its first drive, but the Eagles stalled with a first-and-goal from the 8-yard line. An offensive holding call backed them up to the 18 and, three plays later, Prep was forced to settle for a 36-yard field goal but Justin Foley.

After B-R thwarted a Prep fourth-and-goal bid from the 5, the Trojans took a 12-3 lead midway through the second quarter, when Clement hit Reagan for their second touchdown connection on the day – this time from 56 yards.

The Eagles would again be confronted with a fourth-down decision deep in Trojans' territory before the half was out. With a fourth-and-six from the B-R 13, St. Pierre remained aggressive.

"I didn't want to settle for a field goal, we did on the first drive," he said.

The move paid off as first-time starting quarterback Oliver Eberth hit Owen Rockett for their first of two scores, whittling B-R's lead to 12-10 at the half.

Eberth (9 of 17, 143 yards) and Rockett (5 catches, 60 yards) resumed play in the second half as they'd left it in the first, as the senior wideout took a simple swing pass upfield for a 35-yard touchdown.

"We were hoping to get the linebacker pinched in a little bit and we hit it just in time," Rockett said. "From there, it was just making a play."

Knock, knock, knockin': Prep ran away with the game in the second half, thanks to a relentless rushing attack, led by senior Cody Harwood. The Eagles rushed for 225 yards on the game, with nearly three-quarters of those yards coming in the second half.

Harwood punched in 23 of his game-high 123 yards on the Eagles' final score with 7:50 remaining in the game. Junior Dillon Preston (10 carries, 47 yards) also provided tough yards on the ground running behind junior fullback Nick Spofford.

"The whole game they played really well," Harwood said of Prep's offensive line. "It was just opening the holes and then it was just me one-on-one with the backer, trying to make the play. They were just worn down that second half."

Lack of thump: While Saturday's affair looked to be a test of rushing attacks entering action, B-R was limited in its ability to run the ball consistently.

ESPN Boston preseason Mr. Football candidate Brandon Gallagher left the game in the first quarter due to an ankle sprain. Matters were made worse when Gallagher's replacement – senior Isaiah Bell (4 carries, 22) was injured while attempting to make a defensive tackle in the second quarter.

With the Trojans' thunder out of the lineup, the offense was left to Clement primarily. He acquitted himself well, completing his first seven consecutive pass attempts, while completing 9 of 15 attempts for 122 yards.

"We live and die with the play-action pass and the running game," B-R head coach Dan Buron said. "It wasn't there, so [Clement] had to work with it. I though he did a nice job considering – it was a good day, not a great day."

Clement's comfort with Reagan was apparent, as the junior wide receiver caught five balls for 94 yards.

"He did well, he made some plays and Matty [Clement] found him," Buron said of Reagan. "So we're going to be OK. I'm disappointed in the loss, but, in the big picture, I think we improved today."

A new era: Following the victory, St. Pierre reflected on the legacy former Prep coach and current athletic director Jim O'Leary left with the program. St. Pierre is just the third Prep coach in the last 47 years, following O'Leary (30 seasons) and Fred Glatz (17 seasons).

"When you follow a legend, the bar's set pretty high," said St. Pierre, who won a Super Bowl title while quarterbacking the Eagles in 1997. "You feel that. We've been a successful program for a long time and you fell that. But this is where I feel I belong. I had a great experience here as a player and as a student."
August, 23, 2014
Aug 23
10:21
PM ET
By
Nate Weitzer
| ESPNBoston.com
DANVERS, Mass. -– For most high school football programs, hiring a new head coach and replacing all but three offensive starters would mark the beginning of a transitional year, but St. John's Prep is no ordinary program.

Since 1967, the Eagles have won four state championships and 14 Catholic Conference titles under the tenure of just two head coaches. So when Jim O'Leary, who took over coaching duties for Fred Glatz in 1984, retired this winter, he says he was thrilled to be replaced by Prep alum Brian St. Pierre.

"I'm really pleased we found one of our guys," said O'Leary, who is now solely the school's Athletic Director. "[Brian's] philosophy is very close to mine, and the entire staff is back from last year, so it's not as big of a transition as compared to how it be in other places."

St. Pierre wasn't just a student at Prep. He was on the sidelines from the time he could walk, accompanying his father, who spent some 38 years as the football team's physician.

After an impressive career as the Eagles' quarterback, St. Pierre played at Boston College before getting drafted by the Pittsburgh Steelers in the 2003 NFL Draft. He spent eight years in the NFL, but came back to his high school alma mater every offseason to work out.

It was during one of those throwing sessions that St. Pierre first met standout tight end Jake Burt, who was just a freshman at the time. Now a senior that has verbally committed to Boston College next year, Burt says that St. Pierre was an invaluable resource throughout the recruiting process.

"I would go and meet with him about all the different colleges, and it was great because he went through the same process. He was able to give me great advice. He told me not to rush anything, and I was able to make the best decision for me."

Like St. Pierre, Burt has been around campus since he was a kid, and says that he began using the field to practice when his oldest brother enrolled at Prep in 2007. He's one of four siblings that have graduated, or are currently attending the all-boys school, and has been an integral part of the football team since he joined the varsity squad as a fullback and special teamer during his sophomore year.

"My family's been around here for a long time," Burt said during the break between practices this Thursday. "And it helps being familiar with the program. There were a lot of things going on this offseason, so having someone who is also familiar with program in coach St. Pierre come on board has definitely made the transition smoother."

Last year, the 6-foot-4, 235-pound tight end hauled in 28 balls for 367 yards as a featured part of the Eagles offense. Now Burt will play alongside a primarily new offensive line, and catch passes from a new quarterback, as senior A.J. Carrigan competes with junior transfer Oliver Eberth for the starting job.

The two signal callers were able to build a rapport with Burt as St. John's won the Under Armour Northeast 7-on-7 North Sectional tournament this July. Eberth and Carrigan split reps during the tournament, and while they both targeted senior wideouts Owen Rockett and James DiBenedetto often, they were effusive in their praise of Burt.

"Jake's the guy you want on your team," Carrigan said. "He can do it all. He blocks well, he's got great hands, he's got speed, he's just the all around package that you're looking for as a quarterback because you can always trust he's going to make a play."

Since Burt is an experienced player that was a part of the 2012 Super Bowl winning team at Prep, his coach is holding him to a high standard as a senior.

"I just want him to take on a leadership role, and he's already started to do that. I don't worry about Jake, but I want him to raise the performance of the guys around him," said St. Pierre.

Whichever QB starts this year will be grateful to have a dependable target like Burt, because four of the top 10 teams in our statewide preseason polls are on the Eagles' schedule. They'll open 2014 the season with games against No. 6 Bridgewater-Raynham, No. 9 Brockton, No. 2 Central Catholic, and No. 3 Everett during the month of September, and it doesn't get much easier after that.

"Our schedule is brutal," St. Pierre said before a practice, "but that's why I came to this school as a football player, that's why these kids come here, and that's why I wanted to coach here. There are no easy weeks. Every week's a playoff game and that's part of the allure of coming here. It's certainly going to be a challenge, and we're looking forward to it."

Regardless of the results, St. Pierre says he's glad to be back at St. John's Prep. "I had opportunities to coach at the college or NFL level, and could've gone that route, but this just felt right. I had a great experience here, and this place has always felt like home to me, so it's just a natural fit."

April, 8, 2014
Apr 8
7:07
PM ET
Earlier today, St. John's Prep tight end Jake Burt
announced his commitment to Boston College
, the fourth Bay Stater to pledge to the Eagles' 2015 recruiting class in the last 25 days.
When Burt, a Lynnfield resident, arrives in Chestnut Hill in the fall of 2015, he'll be the program's first scholarship player from St. John's Prep since Jon Loyte graduated in 2008. Ironically enough,
that's the player he draws comparisons to
, with former head coach Jim O'Leary telling a group of reporters last August, "I love Jon Loyte, but he [Burt] is more athletic."
[+] Enlarge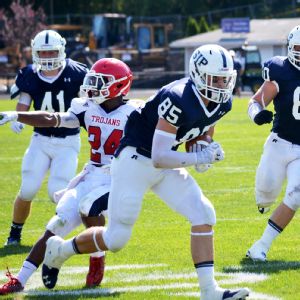 Brendan Hall/ESPNBoston.comNewest Boston College commitment Jake Burt is an intriguing tight end prospect with plenty of upside.
While 2013 was a rough season for a Prep squad ravaged by injuries -- including Penn State-bound tailback Johnathan Thomas, the state's top prospect, who went down for the season after just three games -- it was a bright one for Burt, a 6-foot-4, 230-pound flex end who demonstrated some impressive intangibles despite limited touches.
"He's legitimately a 6-4, 230-pound kid... he could be a 250-260 pound tight end in 2-3 offseasons, he projects that way," said new Prep head coach Brian St. Pierre, a former Prep and BC star who spent nearly a decade in the NFL as a backup quarterback. "He's very athletic, and you see that on film. He's a very natural catcher of the ball -- which sounds silly, but it's true. He makes it look easy, there's not a lot of people who do that.
"He's a unique talent. He's a very good blocker. BC runs multiple tight end sets, they want their tight ends on the field, and he's very comfortable in a situation where he's blocking and going downfield to make a catch. He's a prototype tight end, and that's what BC has done for a long time."
For Burt -- who also held offers from Virginia, Holy Cross, Harvard and Brown -- a commitment to BC today fulfills a childhood dream, saying it's always been a desire for him to suit up for the Eagles.
Burt spoke with ESPNBoston.com tonight for a few thoughts on that, and more:
Deciding factors:
"I knew I wanted to go into business when I get older. Boston College has a great business program, and being in the Boston area, where want to live, it's as good as any. Their football is also really good, and I wanted to play big-time college football. This has been a dream of mine since I was little, and being close to home everyone I know from Mass. can come and watch."
On Brian St. Pierre's guidance in the recruiting process:
"I'm really close with coach St. Pierre. I know he went there, but he had no bias or nothing in this. Wherever I wanted to go, he helped schedule rec trips. He talked to a bunch of coaches for me. I know he was excited about this.... He told me [the recruiting process] is going to be tough, there's going to be a lot of people calling me. He always said whenever I need anything, 'Come talk to me'."
On the coaching staff at BC:
"Just the BC program in general is on the rise, with their bowl game last season. I like what the staff is doing, they said want to put walls around Mass. and not let anyone out. They're building the program up real well, and I'm excited be a part of that. I like how excited they are, how committed they are to football. They're all very enthusiastic about everything, and that's exciting."
January, 17, 2014
Jan 17
4:16
PM ET
DANVERS, Mass. – After longtime St. John's Prep football head coach Jim O'Leary announced his retirement from coaching earlier this week, the school named former Eagles star quarterback Brian St. Pierre as successor Friday morning.
The Boston College product and 8-year NFL pro becomes just the third coach to head Prep's program in the last 47 years, following Fred Glatz (17 seasons) and O'Leary (30 seasons).
Beyond his gridiron exploits, St. Pierre's connection to the program runs deep. His father, David, was the Eagles' team physician, so the 34-year-old Salem native has been on Prep's sidelines from before the time he could walk.
[+] Enlarge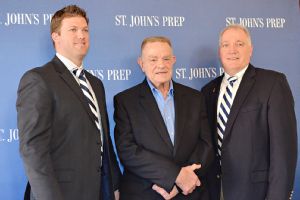 Scott Barboza/ESPNFormer St. John's Prep star and NFL quarterback Brian St. Pierre (left) became just the third Eagles head coach in the last 47 years, following Fred Glatz (center) and Jim O'Leary. O'Leary retired this week after 30 seasons at the helm.
St. Pierre continued his time with the Eagles last season, as an assistant coach under O'Leary, following his retirement from the NFL.
"The memories of my formative years were on the sideline at St. John's Prep," St. Pierre said during a press conference on Friday. "This place is very special to me. Playing for Coach [O'Leary] was one of the best experiences of my life. I played football for a while, but the memories I have playing for him, here, stand out as much as any that I ever had."
Following his pro career, St. Pierre weighed other coaching opportunities at the college level and in the NFL, along with a stint working as a sideline reporter for BC football radio broadcasts.
But the previous year, spent back at his alma mater, brought St. Pierre full circle.
"The year I had this year, as an assistant coach, was as fun as I've had in football in a long time," St. Pierre said. "I understand it's time, but I'm sad that after 30 years it's over for [O'Leary], but he knows that I want him around the program as much as possible and he'll be a huge benefit and resource for me to have him still on campus in the A.D. role."
O'Leary said he'd considered stepping away from coaching "thirty times" before, but decided the moment was appropriate after three decades at the helm and with his responsibilities as Prep's athletic director increasing.
He compiled a career record of 207-11-2, with 24 winning seasons. During O'Leary's tenure, the Eagles won nine Catholic Conference titles, making six Super Bowl appearances, including a pair of wins in 1997 – with St. Pierre under center – and 2001.
"I've been blessed with great players, not just the great ones who went on to play in the NFL," O'Leary said, gesturing toward St. Pierre, "but the little guys who didn't play much and every day who made the program great. The good players would have been good no matter they'd went, but those guys — the special teams players — and there's hundreds of those guys who came to practice every day, put up with my nonsense and bought in. They made us successful."
Before introducing St. Pierre, O'Leary took to time to thank his wife, Doris, and his children, Emily and Michael, for having supported him during his time spent focused on matters of football.
St. Pierre admitted his coaching style is influenced by his mentor and that fans should expect to see the same brand of football that made the Eagles successful under O'Leary. He also added he expects to have O'Leary around the program as much as he desires.
"He's as good as a motivator as I ever came across," St. Pierre said of O'Leary. "I played for a lot of guys and Bill Cowher was a great motivator, but Bill Cowher couldn't hold a candle to some of his pregame speeches."
After graduating from BC, St. Pierre was drafted by the Pittsburgh Steelers in the fifth round of the 2003 NFL Draft. He also played with the Baltimore Ravens and Arizona Cardinals before making his first and only career start with the Carolina Panthers in 2010.
St. Pierre, who now resides in Georgetown, also works with the school's alumni relations staff.
When asked by Glatz, who was in attendance for the ceremony, whether he hopes to match O'Leary's win total, St. Pierre responded that he only wants to emulate those who've come before him.
"You're living up to two living legends in the coaching fraternity," St. Pierre said. 'I'm not going to be as successful as them, I'm sure, but I will aspire to be. But they're perfect examples of what coaching's all about. Obviously, they are great examples for me, but it's a daunting responsibility to take over this program."
With that comes great responsibility, but it's what's familiar to St. Pierre. He confessed to "having a problem" with football.
"I think I like [football] too much," he added.
Ultimately, that's what brought St. Pierre back to roost.
"The games are great and the competition is why you're doing it, but it's Monday, Tuesday, Wednesday, Thursday, Friday, being out in the field with those kids in the fall — I love it. That's when I'm at my happiest."