Boston High School:

Bristol Central
May, 16, 2012
5/16/12
1:21
PM ET
By
Roger Brown
| ESPNBoston.com
Has Mark Ecke's tenure as Cheshire High School's varsity football coach come to an end?

Right now that's a question Ecke can't answer.
Ecke was suspended following an incident during a junior varsity lacrosse game between Cheshire and Glastonbury on May 3. According to published reports, Ecke berated officials after his son Tucker, a freshman who plays for Cheshire, was hit by a Glastonbury player. Ecke apparently felt the hit was illegal and was upset that no penalty was called.
"Whatever happen with my future as a coach at Cheshire High, it doesn't matter," Ecke told the
Connecticut Post
. "For me, my family is first priority. This was about my son and I'm very protective of him. That's what this was about."
Ecke was reportedly escorted from the field by three police officers. According to the incident report, police were summoned to deal with "unruly behavior."
Ecke, who is employed as a Cheshire police officer, is awaiting a personnel hearing with the Cheshire Board of Education. He was reportedly asked to resign, but refused.
"It was among one of the worst hits I've ever seen in lacrosse," Ecke told the
Post
. "I've been involved in lacrosse for 15 years. I've been a player. I've been a coach. I've taken officiating courses. The official didn't call a blatant illegal hit.
"That's what got me. That's what brought this all about. And as a father, watching this happen, I got upset. I probably yelled more than I should have and I regret that it went down the way it did."
Ecke has guided Cheshire to four state titles in his 17 years as the program's head coach. He coached under current Temple coach Steve Addazio on the Cheshire staff, and was promoted to head coach after the 1994 season.
Cheshire had a 49-game winning streak, which ended in 1996.
Ecke's overall record is 118-64-3.
SOFTBALL STREAK ENDS
When the St. Joseph softball team defeated Westhill 10-6 on May 7 it ended the Vikings' 54-game winning streak in FCIAC games.
Westhill grabbed a two-run lead by scoring three runs in the sixth, but the Cadets responded with a six-run seventh. Taryn Figmic collected the game's big hit, a three-run double with two outs in the seventh and the score tied, 6-6. Figmic had two hits and five RBIs in the victory.
It was Westhill's first regular-season FCIAC loss since a 3-2 setback against Darien in 2009. The program's only other conference loss since then came against Fairfield Ludlowe in the opening round of last year's playoffs.
RALLY KILLER
The Simsbury baseball team was in position to hand Northwest Catholic-West Hartford its first loss of the season. Trailing 7-5, Simsbury loaded the bases with no outs in the seventh, but Northwest Catholic-West Hartford erased the threat by turning a game-ending triple play.
Second baseman Ryan Coursey fielded a soft liner for the first out. The runners were moving on the pitch, so Coursey stepped on second for the second out and then threw to to first for the game's final out.
KINGS OF THE HILL
The first victory of Noah Hahn's varsity pitching career was a memorable one. Hahn, a sophomore, pitched a no-hitter to lead the Avon baseball team to a 12-0 victory over Windsor on April 30.
Hahn, who plays shortstop when he's not pitching, struck out 12 and walked three.
Three other no-hitters have been thrown since that contest. Bristol Central's Matt Blandino didn't allow a hit during a 7-0 triumph over Maloney on May 7, Hamden Hall's T.J. Linta tossed a no-hitter in a 4-0 victory over Greens Farms Academy on May 8 and John Amoroso tossed a no-hitter to help St. Joseph defeat McMahon on May 12.
Blandino struck out 16 and walked one. Linta, a sophomore, struck out six. Amoroso struck out seven and walked two, but wasn't in position to collect the win until Mark Hirschbeck singled in the go-ahead run in the seventh.
LAX POWERS
Henry West and Peter Lindley each scored four goals and Case Matheis collected five assists as the Darien boys lacrosse team defeated Ridgefield 14-11 on May 8 in a matchup between teams that entered the contest undefeated in the FCIAC.
Roger Brown is a freelance writer who has been reporting on high school sports in New England since 1992.
July, 5, 2011
7/05/11
3:59
PM ET
By
Roger Brown
| ESPNBoston.com
At halftime of Saturday's Governor's Cup All-Star football game there were those who probably thought Connecticut's eight-game winning streak against Rhode Island was in jeopardy. If so, those thoughts disappeared early in the second half.

Connecticut, which led by four points at halftime, scored three touchdowns in the first 7:18 of the third quarter and cruised to a 37-6 triumph over Rhode Island at Southington High School.
It was Connecticut's 10th victory in the 13-year history of the event.
Things began to turn sour for Rhode Island when Montrell Dobbs (Ansonia) scored on a 77-yard run to help Connecticut increase its lead to 17-6.
Dobbs, who was held to two yards on five carries in the first half, finished the game with 96 yards on 10 carries. He was selected as Connecticut's offensive MVP.
"At halftime we talked about taking care of business in our house, and that's what we did in the second half," Dobbs said.
Rhode Island fumbled the ball away on the next play from scrimmage. Two plays later Connecticut's Max Delorenzo scored on a 15-yard run to help made it a 24-6 contest.
Jack DeBiase intercepted a pass on Rhode Island's next possession, and Connecticut cashed in when Joe DellaVecchia tossed a 20-yard touchdown pass to Brian Kelly.
Kelly also caught a 13-yard TD pass from Kyle Nolan. He had three receptions for 69 yards in the victory.
"We just had to fix some problems," Kelly said. "Our coach [Masuk's John Murphy] told us that if we fix our mistakes we'd win."
Connecticut's only TD in the first half came on a 59-yard TD catch by Temple-bound wide receiver Nainy Bah.
Matt Cassidy's fourth point-after kick followed Kelly's second TD reception and capped the scoring. Cassidy also made a 33-yard field goal in the first half.
The Connecticut defense set a Governor's Cup record by holding Rhode Island to six points. It was also the first time a team didn't score a touchdown in the contest. Rhode Island scored on two Chad Bacon field goals.
Defensive lineman Wille Maxen (Pomperaug) was named Connecticut's defensive MVP. Maxen, who will play at Central Connecticut State next season, made three tackles behind the line of scrimmage.
Murphy said although his team had a slim lead at halftime, he had plenty of confidence entering the third quarter.
"I watched this defense for two weeks so I knew how good we were," he said. "I knew they weren't going to score a lot of points on that defense."
June, 2, 2011
6/02/11
11:16
PM ET
By
Roger Brown
| ESPNBoston.com
Shelton's High School's James Tate has certainly received his share of media attention recently. Perhaps even more attention than he would have liked.

Tate found himself in the national spotlight last month after he was banned from attending his senior prom when he asked his date, Sonali Rodrigues, to the event by taping cardboard letters to the front wall of his high school.
The controversy died when Shelton school officials reversed their original decision and allowed Tate to attend the prom, which will be held this Saturday. Then Tate made headlines for a completely different reason.
His 5-over-par 76 at Race Brook Country Club on Tuesday earned him medalist honors at the Southern Connecticut Conference golf championship.
"I made tons of putts," Tate said. "That's how I got it done. I shot lights out. Best round I've ever shot."
His low round helped Shelton win the program's first team championship as well.
The Gaels shot a 317 team total. Amity finished second with a 332, and Notre Dame-West Haven was third with a 333.
Tate's round included three birdies. Fairfield Prep's Matt Mastronardi finished second with a 77.
"It's been a pretty crazy few weeks, but I had fun [Tuesday] and shot well," Tate said.
September, 17, 2010
9/17/10
12:35
PM ET
By
Brendan Hall
| ESPNBoston.com
As a New Englander, Aaron Hernandez's career path is quite the anomaly.
[+] Enlarge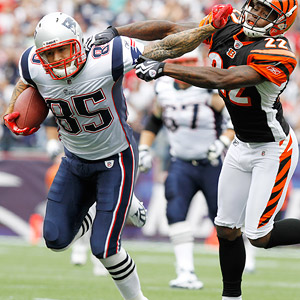 AP Photo/Robert E. KleinAmong other things, Aaron Hernandez explained to ESPN Boston why he was such a big fan of play action in high school.
Usually, it's an overachiever from Boston College or UConn, or a guy who had to put on a clinic at the Division 1 FCS level (see: James Ihedigbo, Sean Morey). But Hernandez was a highly-touted prospect at Bristol (Conn.) Central High, a five-star recruit at tight end who first committed to UConn but then switched to Florida after taking in the spring game in Gainesville. Hernandez then enrolled at UF in January 2007, right as they were done pounding Ohio State for their first BCS National Championship, and made an immediate impact. After three stellar seasons, Hernandez is now a rookie with the Patriots, and at 20 years old one of the league's youngest players (he'll be 21 in November).
Meanwhile back home, older brother D.J.
made his coaching debut
Wednesday night as the head man at Southington (Conn.) High. If you ever want to know who set the ball rolling for Aaron, it's his brother D.J., a high school legend who was a two-time captain at UConn.
Yesterday, during media availability at Gillette Stadium, Hernandez sat down with ESPNBoston for a few minutes to chat about his high school playing days, the tone his brother set for him as a youngster, how he ended up at Florida, and why he's such a big Drew Bledsoe fan.
Q: Your brother made his high school coaching debut last night. When was the last time you spoke with him, and what did you say?
A:
"This morning...I told him congrats, I was in a little rush. He said 'Thanks, I love you', and I said 'I love you' back, and that was the end of the conversation."
Q: How much of an influence has he been on your life?
A:
"He's the reason why I am where I am today. He was always the one working hard, grinding harder than everybody else, always had that dream to be on top. I was one of the lazy kids, just wanted to have fun, but then I finally saw him get a scholarship when I was a freshman, and he ended up going to UConn. It opened my eyes up to (realizing) I've got to do something. So that's what made me start working, getting me to where I am today."
Q: You've mentioned in the past about being a big Drew Bledsoe fan growing up. What about him appealed to you?
A:
"He was just a big name, he was a star, everybody knew him. When you're a kid, you just want to be known, be that popular kid, be the kid that everyone talks about, and he was definitely on top of the world -- especially around Connecticut. He was just someone I wanted to be (like)."
Q: What play did you like running the most at Bristol Central?
A:
"I'd say, in high school, it's hard to stop play action. So, we always ran play action, which would get the defense to flow. I'd be on the opposite side of the field wide open, and when you're in high school and you've got open field, it's alot of fun (laughs)."
Q: What lessons did you learn from coach Doug Pina that still stick with you?
A:
"Coach Pina, he was a really strict coach, he was hard on us. Going to college, coaches were hard on us there, so he got me ready for that next level."
Q: You don't often see players from New England going to Top 5 programs. How did you get exposed to a school like Florida?
A:
"Really, they don't look up north much. To get recruited in Connecticut, especially when I was there, you had to put up crazy numbers, because they didn't really respect the talent you were going against. But my high school coach, Mike Bakayza, was a huge Florida Gators fan and still is. He sent my film out to them, and that's the reason they ended up getting in contact with me."

Q: What advice would you give to high school athletes who want to follow your career path?
A:
"As long as you go to sleep every day feeling that you did everything you could that day, and you feel like you're one of the hardest workers at your position or in the country, then you should be fine. It's all about how hard you work."
Q: On draft day, when you heard your name called by the Patriots, what were your emotions?
A:
"I was excited because it was close to home, but obviously disappointed because it wasn't where I wanted to be picked at. But it's just an honor to be here, and I wanted to play for the Patriots. It's a dream come true to play here. It couldn't be any better."