Boston High School:

Brody Ciarcello
November, 30, 2011
11/30/11
1:56
AM ET
By
Ryan Kilian
| ESPNBoston.com
LOWELL, Mass. --- Concord-Carlisle is heading back to Gillette Stadium for the second consecutive year, as they defeated Holliston 32-27 in one of the most exciting contests of the 2011 Eastern Massachusetts season.
Holliston (9-2) got on the board first in the opening quarter as senior quarterback Dan Barone tossed the first of his three touchdown passes on the evening to a leaping Brody Ciarcello for a 38-yard score.
[+] Enlarge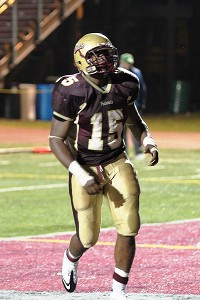 Ryan Kilian for ESPN.comC-C's George Craan (35 carries, 220 yards, 4 TDs) put in a heavy workload to keep feisty Holliston at bay.
The constant misdirection, no huddle offense and unbalanced alignments had C-C (12-0) befuddled early, as Holliston moved the ball up and down the field through the air in the first half.
"Holliston is an incredibly tough team to prepare for," said C-C head coach Mike Robichaud. "I think we did a good job against their run but they are so multi-faceted that they were able to execute in their passing game."
C-C bounced back in the second quarter on two consecutive George Craan scoring runs. The senior tailback was a workhorse on the day as he carried the ball 35 times for 220 yards and four touchdowns.
After some great back and forth play through the middle portions of the game it would come down to the final stages of the fourth quarter as both teams had critical defensive stands within the final five minutes of the game.
C-C got a final time-consuming drive that ended in a six-yard surge through the line by Craan to all but ice the game.
Barone, however, would not settle for defeat after the C-C score, as he led Holliston all the way down the field and into the end zone. The quick drive was capped off by a fantastic individual effort, as the senior signal-caller dove for the pylon and scored from five yards out to cut the lead to five, 32-27, with 35 seconds to play.
The ensuing two-point conversion attempt was unsuccessful, and the Patriots recovered the onside kick to advance to the 9 a.m. Eastern Massachusetts D3 Super Bowl game on Saturday morning at Gillette Stadium in Foxborough.
"We basically knew it was going to be a hard fought game," said Craan. "Coming into the game Coach said it was going to be a senior game so we all just had to step up."
Low Numbers, Big Effort:
Holliston had one of the smallest rosters in the 2011 Eastern Massachusetts playoffs, with 40 players. With what they lacked in numbers they made up for with experience, skill and effort as the defending Eastern Massachusetts Division 3 Super Bowl Champions did not quit at any point on the night.
"They are really well coached so they knew what we were trying to do," said Robichaud. "We kind of out physical'd them but they got us a little more one dimensional then we wanted to be."
Down Lineman:
In the fourth quarter C-C lost senior offensive lineman Owen Guattaduaro to a knee injury as they were driving toward the end zone.
After the game, instead of huddling at midfield, the team all ran over to the sideline bench to be with their fallen teammate and celebrate the win while listening to the coaches.
"It was a group effort and without my O-line I would not have got any of the yards I had," said Craan.
On Saturday's opponent Oliver Ames:
"They have an unbelievable tradition in that town", said Robichaud of Oliver Ames. "We know that they have been down for awhile but Coach (Jim) Artz has done a great job of getting them back."
CONCORD-CARLISLE 32, HOLLISTON 27
C-C (12-0) - 0 - 16 - 8 - 8 --- 32
HOL (9-2) - 8 - 6 - 7 - 6 --- 27
1st Quarter
H – Brody Ciarcello 38 pass from Dan Barone (Stephen Hennessy run)
2nd Quarter
C – George Craan 3 run (Craan run)
C – Craan 24 run (Henry Bumpus pass from Ryan Hoey)
H – Ciarcello 17 pass from Barone (rush failed)
3rd Quarter
C – Craan 4 run (Craan run)
H – Max Athy 24 pass from Barone (Barone kick)
4th Quarter
C – Craan 6 run (Tyquan Culbreath run)
H – Barone 5 run (rush failed)
October, 28, 2011
10/28/11
10:42
PM ET
By
Adam Kurkjian
| ESPNBoston.com
HOLLISTON, Mass. -- There isn't a single positional unit on No. 24 Holliston that lacks speed.

From the skill position players to the linemen, every Panther can run like one, and at the end of the day, there isn't a team in the Tri-Valley League that can catch up.

Millis/Hopedale found that out the hard way Friday night as the smaller but speedier Panthers ran them ragged in a 35-13 TVL crossover win.

Jake Frechette (154 yards rushing, two TDs) eclipsed 3,120 yards to break Matt Bellomo's school record and senior quarterback, running back, kicker, kick and punt returner and just plain playmaker Dan Barone compiled 283 all-purpose yards and a pair of scores in the victory.

It was Barone's special teams play that helped the Panthers pull away from what looked to be an even game going into the half. Jimmy Perkins (114 yards rushing) punched in a 1-yard touchdown to pull the Mohawks to within 14-13 but the extra point was blocked by Holliston's Brody Ciarcello. Barone then applied the big blow with an 82-yard kickoff return with 46 seconds left in the half.

M/H never recovered, as the Mohawks were held to three first downs the entire second half. Max Athey and Frechette, who set the new school record with a 27-yard carry in the third quarter, punched in second-half touchdowns to complete the scoring.

ALL GROWN UP
When Frechette was a freshman, he was pretty fast, but also pretty skinny. Still, Holliston coach Todd Kiley knew he had a special back and now the senior has the strength to match his quickness, carrying defenders for extra yardage at the second level.

"I am so proud of him," Kiley said. "I remember the first day he stepped on the field as a varsity player, a little freshman and probably, in most cases, shouldn't be playing because of his size. And freshmen as a whole shouldn't be playing. He just fought the battle that year and he's continued year after year."

After the game, the understated Frechette talked about replacing Bellomo, who went on to play at Holy Cross, in the record books.

"I was in eighth grade [when Bellomo was a senior]. I remember watching him running up and down the field. ... It's a good accomplishment, but it's a team award. I couldn't have done it by myself. The coaches work their tails off week in and week out putting us in the best position to win and they're a big part of why this happened."

"It's well-deserved," Barone said. "[Frechette has] been working his tail off for four years now so I think he deserves all the praise and all the accolades that he's going to get. A job well done, well-deserved for him."

SUPER-SIZED
Millis/Hopedale may be in the TVL Small, but there is nothing tiny about the players in the trenches for Dale Olmstead's squad. The offensive line includes a right side of sophomore guard Jon Baker (6-3, 290) and junior tackle Adam Tyks (6-1, 240) that was able to get good push for Perkins, a tough and elusive senior who got plenty of yards after contact. Baker, a 4.0 student whose older brother David plays at Williams, has already attracted the attention of some Division I coaches. Even if he doesn't end up at that level, Olmstead said "it won't be for a lack of work ethic," as the mauler, who also plays nose guard, is one of the most committed players on the team in terms of his offseason strength and conditioning work according to his coach. One way or another, the future looks bright for both Baker and the Mohawks program as a whole, which can clinch a postseason berth with a win over Bellingham next week.

Millis/Hopedale (7-1) 0 13 0 0 - 13
Holliston (6-1) 7 14 7 7 - 35

1st quarter
H - Dan Barone 11 run (Barone kick)

2nd quarter
H - Jake Frechette 5 run (Barone kick)
M - Ian Strom 9 pass from Bay Tangney (Tyler Angel kick)
M - Jimmy Perkins 1 run (kick blocked)
H - Barone 82 kickoff return (Barone kick)

3rd quarter
H - Max Athey 3 run (Barone kick)

4th quarter
H - Frechette 1 run (Barone kick)
December, 1, 2010
12/01/10
12:57
AM ET
By
Matt Stout
| ESPNBoston.com
HOLLISTON, Mass. -- Its lead slipping and Rockland charging behind 235-pound senior Mike Driscoll, the Holliston High School football team needed not a stop, but a game-changing blow in its Eastern Mass Division 3A semifinal game on its home turf.

"We like to call it 'punching adversity in the face,' " senior Sean Mayo said.

David Kriegsman did his teammate one better: He knocked it stone cold.

Clinging to a one-score lead, Kriegsman's fourth-down tackle for a loss early in the fourth quarter Tuesday re-energized Holliston, which rode Mayo's arm to a score on the ensuing drive and a 35-20 victory over South Shore League champion Rockland.

The victory catapulted the two-time Tri-Valley League champs into their second straight Super Bowl on Saturday at Gillette Stadium, where they'll meet Cardinal Spellman, a 28-16 winner over Hamilton-Wenham in the other 3A semifinal. The Panthers (11-1) hope to atone for last year's 38-15 blowout loss to Austin Prep in Foxborough.

"We want to finish it with a win this time," said Mayo, who threw for a pair of touchdowns and rushed for two more Tuesday.

Kriegsman helped give them that chance. After Devyn Flipp hauled in a touchdown pass between two defenders to slice Holliston's 20-7 halftime lead to six points in the third quarter, Rockland (10-2) forced the Panthers into a three-and-out before moving the ball back downfield.

That mainly came on the back of Driscoll, a 5-foot-10 rhinoceros posing as a high school senior in shoulder pads, who epitomizes Rockland's bruising run-control offense. But after Driscoll (176 yards and a touchdown on 29 carries) carried the ball on three of four straight possessions to put Rockland into a fourth-and-one situation just over midfield, Bulldogs coach Ken Owen opted for the unexpected, running a counter to Tim Fitzgerald.

While most of the defense bit on Driscoll charging into the line, Kriegsman did not, wrapping Fitzgerald up for a two-yard loss, a turnover on downs and all the momentum this side of Framingham.

"We knew they were going to run it from the get-go, and I saw an open window and I just filled the hole," Kriegsman said.

The impact of the play was magnified by the stark contrast between the teams' styles. Rockland, riding a defense that entered allowing just over eight points per game, has built it season upon tough-nosed victories in the trenches. Holliston, toting around its 40-plus-points-per-game scoring average, has largely won with style.

But Kriegsman drew just as many "ooohs" as any touchdown catch with his punishing hit.

"Huge," Holliston coach Todd Kiley said of the tackle. "That was huge. They're going down, I think we were up a score at that point, and they ran a counter play. Kriegsman read it beautifully … and our offense just fed off of that. You could see it. Our team fed off that play."

A 13-yard catch by Adam Camilli coupled with a late-hit penalty put the Panthers within 21 yards from the end zone, where Mayo hit Brody Ciarcello with an absolute strike on third down across the middle for a 28-14 lead.

Rockland fumbled on its very next offensive play -- an attempted lateral after a catch that Ciarcello recovered -- and Kevin Curry ran for 49 of his 115 yards on the following drive, capping it with a spinning, tackle-breaking 19-yard touchdown run with 5:52 to play.

Fitzgerald scored on a one-yard run after Driscoll left due to injury, and Rockland recovered an onside kick. But the Bulldogs committed their fourth turnover of the second half thereafter, ending any comeback.

"This team battles," Mayo said.

So does its quarterback. Mayo fought off cramps in the first half and an apparent arm injury in the second to rush for 73 yards, throw for 119 more and score his team's first two touchdowns.

The second -- which came directly after Driscoll's five-yard scoring plunge to tie at a 7-7 in the second quarter -- was sheer will. The senior darted to the left sideline on a quarterback keeper and dove headfirst while being pushed out of bounds to catch the pylon.

Later in the quarter, with the Panthers on their own 41-yard line with 1:31 until the intermission, Mayo orchestrated a 68-second scoring drive, either throwing or running it himself on every play. He finished it with a 10-yard slant pass to Camilli, but Mayo needed several moments to pull himself from the turf after cramping up.

"He was outstanding, with his legs, with his arm," Kiley said of his quarterback. "He's the guy who's led this team all season. And he's a tough kid, mentally, physically. As he goes, we go. … Gusty, gusty performance."

HOLLISTON 35, ROCKLAND 20

ROC 0 7 7 6 --- 20
HOL 7 13 0 15 --- 35

First Quarter
H - Sean Mayo 13 run (Christian Baker kick).

Second Quarter
R - Mike Driscoll 5-yard run (Ricky Witt kick).
H - Mayo 10 run (Baker kick).
H - Adam Camilli 10 pass from Mayo (kick no good).

Third Quarter
R - Devyn Flipp 15 pass from D.J. Austin (Witt kick).

Fourth Quarter
H - Brody Ciarcello 21 pass from Mayo (Curry run).
H - Curry 19 run (Baker kick).
R - Tim Fitzgerald 1 run (pass failed).