Boston High School:

Brookfield (Conn.)
October, 2, 2012
10/02/12
11:26
PM ET
By
Roger Brown
| ESPNBoston.com
St. Sebastian's Connor Strachan has a message for those eager to learn where he will be playing college football: Be prepared to wait.
"Yeah, right now recruiting isn't really the focus," Strachan said. "We have a chance for an undefeated season, so I think it's best to play the season out and then narrow it down."
Strachan, a 6-foot-1, 230-pound junior, has scholarship offers from four schools: Boston College, Connecticut, Virginia and Wake Forest. He received his offers after attending each school's camp last summer. Although he's being recruited primarily as an inside linebacker, he said Connecticut and Virginia have shown interest in his skills as a running back as well.
[+] Enlarge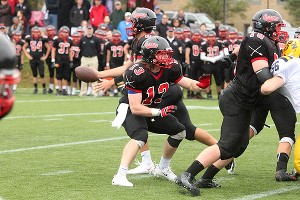 Ryan Kilian for ESPNBoston.com St. Sebastian's junior linebacker/running back Connor Strachan already claims offers from Boston College, Virginia, UConn and Wake Forest.
"I've been playing linebacker longer," Strachan said. "I feel I'm geared more toward defense."
Strachan, who lives in Wellesley, is the only New England player from the Class of 2014 in the ESPN 300 Watch List, which was released last week.
"Strachan may play at a small school, but he's a big-time talent on a national level," ESPN recruiting coordinator Billy Tucker said. "He was recently named to the 2014 ESPN 300 Watch List as we saw prototypical size and speed measurables for the inside linebacker position, as well as deceptive athleticism and run-stopping instincts to be very productive at the BCS level."
Strachan's uncle Steve played at Boston College and in the NFL for the Los Angeles Raiders, and his brother Brian is a sophomore wide receiver at Brown.
Maryland, North Carolina, Notre Dame and Penn State are among the other schools showing significant interest in Strachan.
"I really want to play at the highest level possible, but I'm definitely looking for a place with good academics," Strachan said. "After the season I'll try to do some visits and narrow it down to two or three schools. I'd like to have it done before next summer."
Back in action:
Former Everett High School quarterback Jonathan DiBiaso isn't the only Division I recruit in the Phillips Exeter Academy backfield this season.
Running backs Andreas Robinson (Dartmouth, Nova Scotia) and Devon Carrillo (Middletown, Conn.) will both have plenty of Division I options to choose from.
"They're like clones of each other," Phillips Exeter coach Bill Glennon said. "Carillo is a free safety, but we're real tough when he's in the [offensive backfield]. Carillo is tougher inside, Andreas is a kid who can get to the outside."
Robinson was the NEPSAC's leading rusher in 2010, but missed most of last season with an injury. He has taken visits to N.C. State, North Carolina and Stanford. Glennon said both Robinson and Carrillo are drawing heavy interest from FCS schools as well.
"Maine has already offered both, and UNH is gonna offer," Glennon said. "I think the [FBS] schools are more interested in Andreas as a defensive back, and then everyone else on the I-AA level is interested in him as a running back."
Conn. man
: Boston College landed one of the top athletes in Connecticut when Manchester High School quarterback/linebacker Marquis Little committed to the Eagles late last month. Little is expected to play outside linebacker in college.
Andrew Isaacs, Little's high school teammate, decommitted from BC to accept a scholarship offer from Maryland earlier this year.
Footnotes
: Brookfield (Conn.) High School's Boeing Brown, the No. 11 recruit from Connecticut in the Class of 2013, has been moved from quarterback to wide receiver this season. ESPN has Brown rated s two-star quarterback...Roxbury Latin quarterback Mackay Lowery completed 24 of 37 passes for 291 yards and five touchdowns in last weekend's 34-33 victory over Thayer Academy. Lowery has committed to Boston College.
Recruiting information regarding high school or prep school players in New England can be sent to Roger Brown at
rbrown@nhfootballreport.com
.
December, 31, 2011
12/31/11
3:45
PM ET
By
Roger Brown
| ESPNBoston.com
Masuk High School quarterback Casey Cochran made it official Thursday when he signed a national letter of intent to play football at the University of Connecticut.

Cochran, Connecticut's Gatorade Player of the Year in 2010 and 2011, gave a verbal commitment to Connecticut in August, and said it's a honor to be able to play college football in his home state.

"Not that many college players get to stay at home and play for the state school," Cochran said. "I believe Coach Pasqualoni (Connecticut coach Paul Pasqualoni) is a very good coach. I really like the coaching staff and everyone on it. I got closer with them during the offseason, so it was a very easy choice once the [scholarship] offer came."

Cochran completed his high school career as Connecticut's career leader in passing yards, completions and passing touchdowns. He is scheduled to graduate from Masuk in early January and will begin college classes on Jan. 17.

His early enrollment will allow Cochran to participate in spring practice.

Cochran chose Connecticut over several Ivy League schools. His first scholarship offer came from Boston College, but BC pulled that offer last year after it changed offensive coordinators.

Cochran's father Jack has coached high school football at Bloomfield, New Britain and New London. He guided his teams to 14 state championship games and won eight state titles during his 16-year coaching career.

He coached Casey during his freshman season at New London. Casey transferred to Masuk for his final three years of high school.

"UConn became a very good option for him once Pasqualoni took over," Jack said. "We have a relationship that goes back to his days as the coach at Syracuse. I think Casey felt very comfortable with his decision. Looking forward to watching him play in college."

STAR POWER

Cochran was one of 26 players named to the 2011 Connecticut High School Coaches' Association All-Star Football Team. Here is the complete team:

OFFENSE
QB — CASEY COCHRAN, Masuk
WR — AARON BERARDINO, Windsor
WR — NICK VITALE, Hand
WR — THOMAS MILONE, Masuk
RB — ARKEEL NEWSOME, Ansonia
RB — MIKE MASTROIANNI, Xavier
RB — ALEX MANWARING, Ledyard
RB — BRENDAN LYTTON, Torrington
RB — KYLE McKINNON, New London
RB — DAVE DiGIORGI, Holy Cross
OL — AUSTIN WEZENSKI, Xavier
OL — DYLAN VANO, Ansonia
OL — RENNICK BRYAN, Hillhouse

DEFENSE
DL — SEAN MARINAN, Xavier
DL — JOE DeMICHELE, Hand
DL — LUDOVIC RICHARDSON, Notre Dame-West Haven
DL — COLE ORMSBY, Windsor
LB – TYLER WOOD, Ansonia
LB — SHANE NASTAHOWSKI, Greenwich
LB — AUSTIN CALITRO, Danbury
LB — KEVIN McDONOUGH, New Canaan
LB — MARK ZURLIS, North Haven
DB — DELSHAWN WILSON, Norwalk
DB — RYAN MURPHY, Xavier
DB — TOMMY UNDERCUFFLER, Berlin
DB — RYAN JACOBUCCI, Xavier

NEW LONDON'S STREAK HALTED

Richard Bronson scored a team-high 21 points to lead the Hillhouse boys basketball team to a 64-61 triumph over New London in the Doc Hurley Classic at Weaver High School.

The loss ended New London's 28-game winning streak. The Whalers were 27-0 last season, when they won the Class L title.

Providence-bound guard Kris Dunn scored 26 points and grabbed 12 rebounds in the loss.

New London led 49-45 entering the fourth quarter, but missed seven of its nine free throw attempts in the final eight minutes. The Whalers missed 15 of 36 free throw attempts in the game.

BROOKFIELD COACH STEPS DOWN

Brookfield girls basketball coach Tom Marks handed in his letter of resignation last week, days after the season began. Marks cited personal reasons.

Lisa Schang has been named Brookfield's interim coach. Brookfield is off to a 1-5 start this season.

Marks has also coached the cross country team at New Milford for the last 15 seasons.

Roger Brown has covered high school sports in New England since 1992. He currently covers high school and college football in the Northeast for ESPN/Scouts Inc.
August, 15, 2011
8/15/11
10:25
AM ET
ESPN's Roger Brown
checks in today
with Brookfield (Conn.) junior quarterback Boeing Brown, who is patiently awaiting that elusive first offer but has already pointed out a favorite.
South Carolina, Wisconsin, Notre Dame and Northwestern are the most notable Division 1 programs to inquire about Brown, considered one of the state's top Class of 2013 prospects. But Boeing's dream is to play in-state for UConn.
Roger Brown writes:
"We don't want to focus on just one school, but we'd like him to play at UConn and be a UConn Husky," Boeing's father, Chris, said. "Boeing has a relationship with [Connecticut quarterbacks coach Joe Morehead] I haven't seen with any other coach."

Brown threw for 1,511 yards and 18 touchdowns [five interceptions] last season, when Brookfield lost to New London in the Class M semifinals. He's 6-foot-3 and said he has a 3.47 GPA.

"I feel like I have a strong arm and that I'm accurate with my throws downfield," Brown said. "If I have to run I'll do it."

Brown has taken unofficial visits to Connecticut, Northwestern and Notre Dame. He said Boston College, Central Florida, Duke, Illiniois, North Carolina, South Carolina, Vanderbilt and Wisconsin are also in the picture. He's scheduled to visit Boston College this weekend. His father played at Central Florida.

"Our head coach is talking to BC's head coach," Chris said. "They've reached out to Boeing a couple different ways.

"We've been invited to quite a few games this fall. We're gonna try to get to a Duke game, a South Carolina game, a Vanderbilt game and a game at Notre Dame.

"I'd say UConn is No. 1 followed by Notre Dame and Northwestern. We're big fans of UConn."
For more recruiting updates on New England's top high school football talent, be sure to check out
Brown's ESPN blog
.